Cycling Nepal's Backcountry: Kathmandu to Pokhara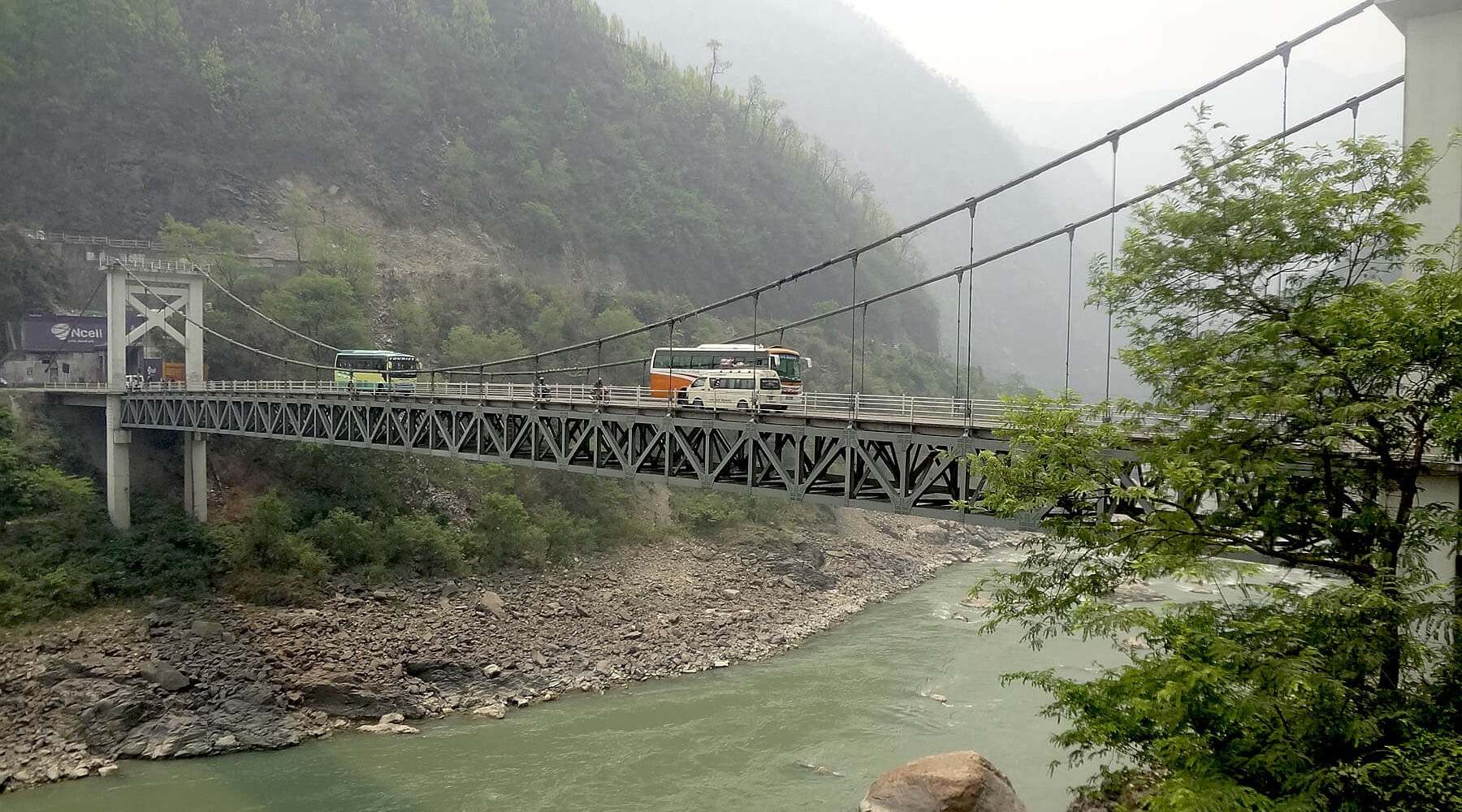 ---
Overview
This Nepal cycling tour takes cyclists from Kathmandu to Pokhara, covering over 250 km in a north-westerly direction. While Kathmandu is the administrative and cultural capital of Nepal, Pokhara is called its tourism capital as it serves as the base camp for mountaineering expeditions to some of the highest mountains on earth, all of which are located in its vicinity. This tour offers a unique experience, connecting these two major cities through an array of mountains and backcountry routes - truly an offbeat one.
This 14-day Nepal cycling tour is of moderate to high difficulty level with several days of challenging uphill climbs. The entire route unfolds along an elevated plateau at an average altitude of 1200m above sea level.
Start
Kathmandu | 13:00hrs
Level
moderate to challenging
Avg. dist. cycled
45km/27mi
Highlights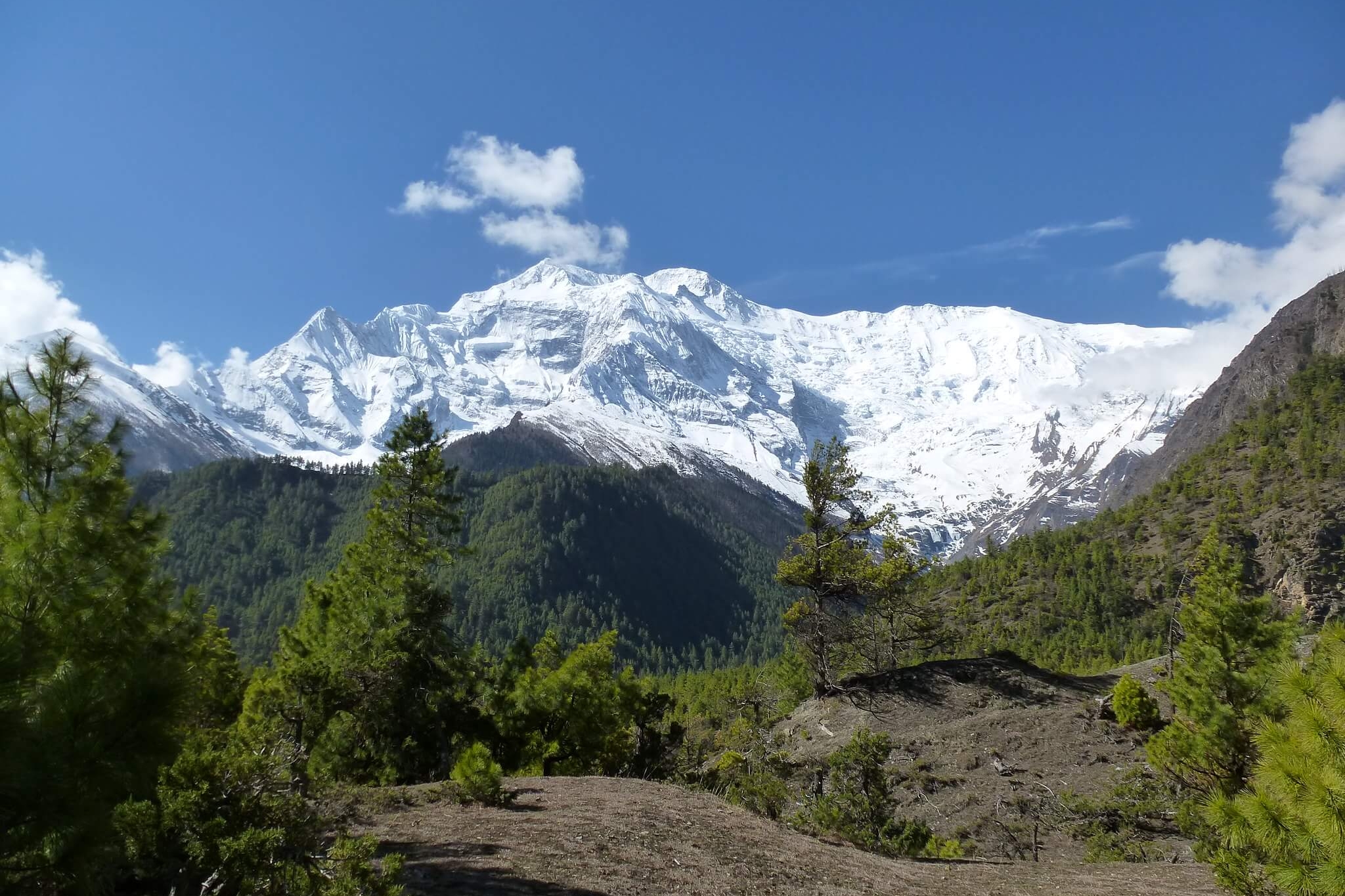 Manaslu & Annapurna
Ride under the shadow of Manaslu and Annapurna, the eighth and the tenth highest mountain peaks in the world respectively
Brief Itinerary
| Day | Place | Hotel | Meals | Distance | Activity |
| --- | --- | --- | --- | --- | --- |
| DAY 1 | Kathmandu | The Inn | D | | |
| DAY 2 | Trishuli | Tea Lodge | B,L,D | 55km/34mi | cycling |
| DAY 3 | Dhading | Tea Lodge | B,L,D | 40km/25mi | cycling |
| DAY 4 | Aarughat | Tea Lodge | B,L,D | 40km/25mi | cycling |
| DAY 5 | Gorkha | Tea Lodge | B,L,D | 40/km/25mi | cycling |
| DAY 6 | Sundari Bazar | Tea Lodge | B,L,D | 50km/31mi | cycling |
| DAY 7 | Begnas Lake | Tea Lodge | B,L,D | 55km/34mi | cycling |
| DAY 8 | Begnas Loop | Tea Lodge | B,L,D | 30km/19mi (optional) | |
| DAY 9 | Astam | Tea Lodge | B,L,D | 45km/28mi | cycling |
| DAY 10 | Bhumdi Village | Tea Lodge | B,L,D | 25km/15mi | cycling |
| DAY 11 | Pokhara | Mount Kailash Resort | B,L,D | 30km/19mi | cycling |
| DAY 12 | Chitwan | Green Mansion Jungle Resort | B,L,D | | walking |
| DAY 13 | Kathmandu | The Inn | B,L,D | 30km/19mi (optional) | |
| DAY 14 | Departure | | B | | |
Detailed Itinerary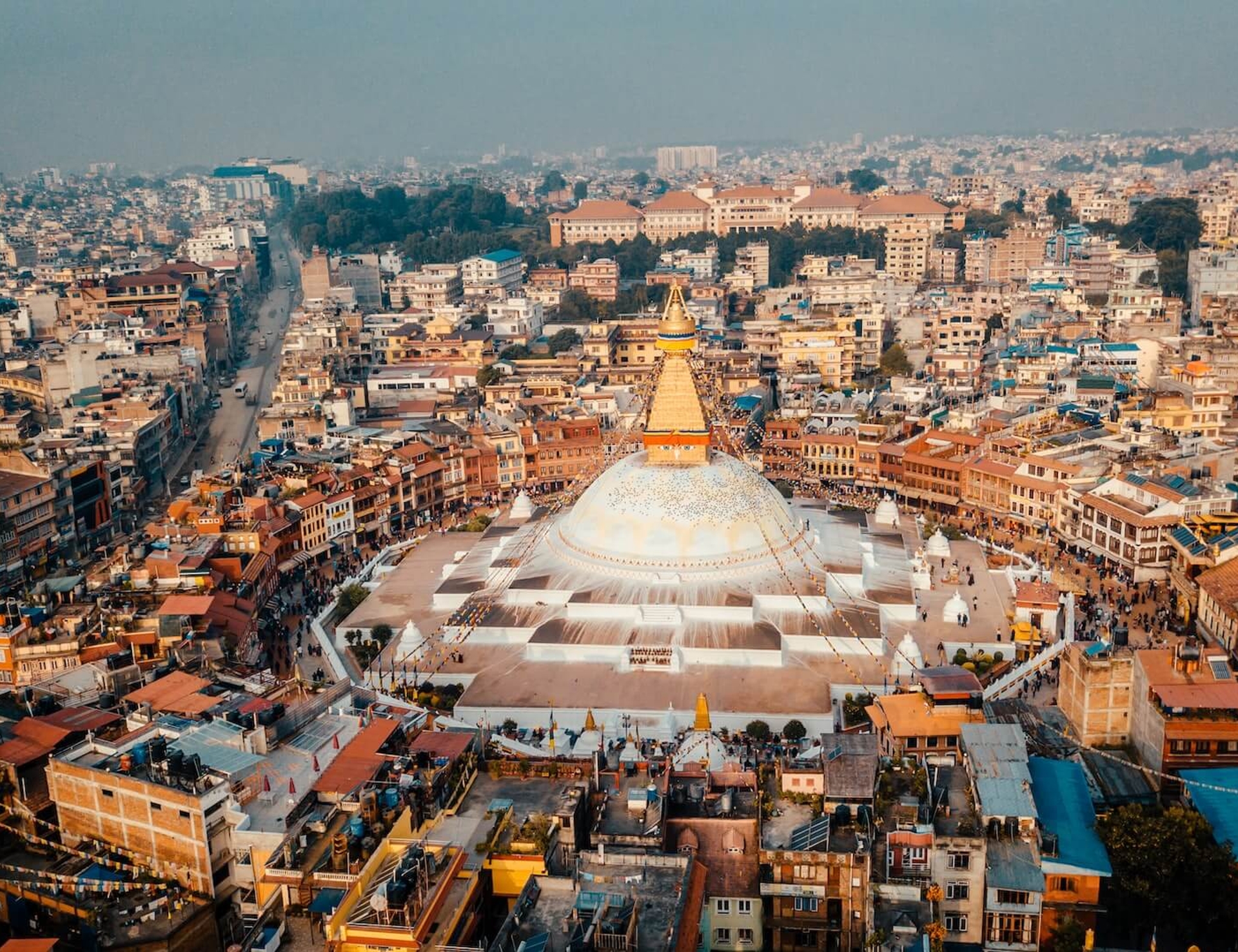 Day 1: Kathmandu
Arrive at Kathmandu and be welcomed by our tour guide. Kathmandu is the capital of Nepal and has direct air connectivity to most major cities in the world. It is a bustling city of close to 3 million people located in a valley in the central Himalayas at about 1400m above sea level. Considered among the oldest continually inhabited cities in the world, Kathmandu is a charming mix of the ancient and the modern. In the 60s and 70s, it was the terminal point of the famous hippie trail. From the 1990s onwards, it became a hub for mountaineers heading to Everest. It isn't for nothing that legendary musicians such as Cat Stevens and Bob Seger have penned odes to Kathmandu.
We meet for a bike fit in the afternoon followed by a walking tour exploring the sights and sounds of the famous Durbar Square and several of its famous temples.
We convene tonight over dinner to celebrate the commencement of a spectacular adventure through the highest mountain range on earth.
Meals:
D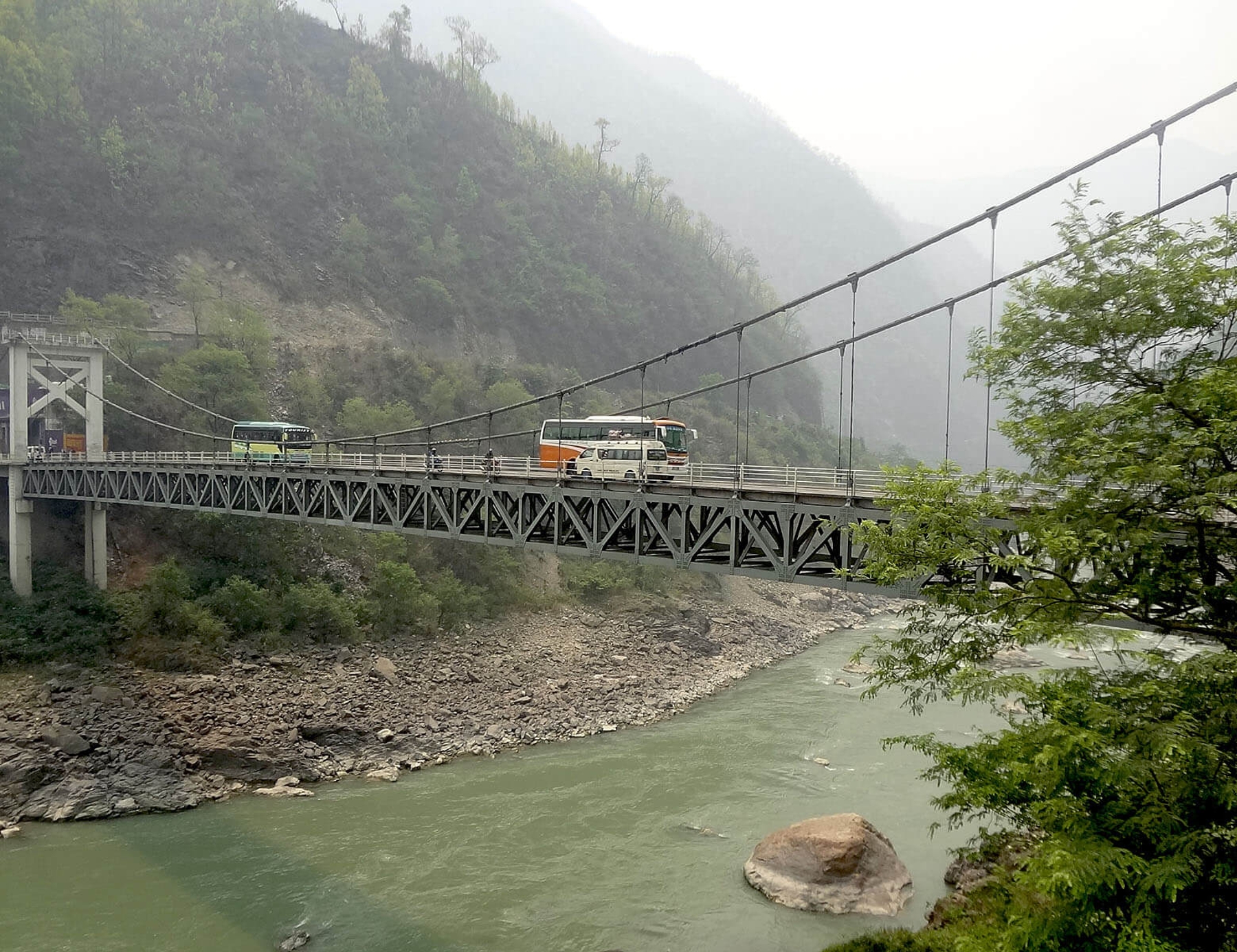 Day 2: Trishuli
We begin the day with a quick shuttle transfer to leave the bustle of Kathmandu behind and head out into the countryside to begin our cycling adventure. We strike a north-westerly route along little-used backroads and cycle through undulating hills until we reach the town of Nuwakot. Once an important center on ancient trading routes between India, Nepal, Tibet, and China, the town is home to the ruins of a 300-year-old hilltop palace which is under consideration by UNESCO to be declared a World Heritage Site. We ride under its watchful shadow to head further to the northwest, riding over undulating hills and crossing pretty mountain streams to reach our stop for the night — Trishuli. Trishuli is a zesty, fast-flowing mountain river that originates from the perennially snow-bound glaciers of Tibet and forces its way through the mountain gorges of Nepal. For this reason, it is considered the best destination for water sports in Nepal. We spend the night at a campsite close to the banks of the Trishuli river, and under the Himalayan sky.
Meals:
B,L,D
Cycling Distance:
55km/34mi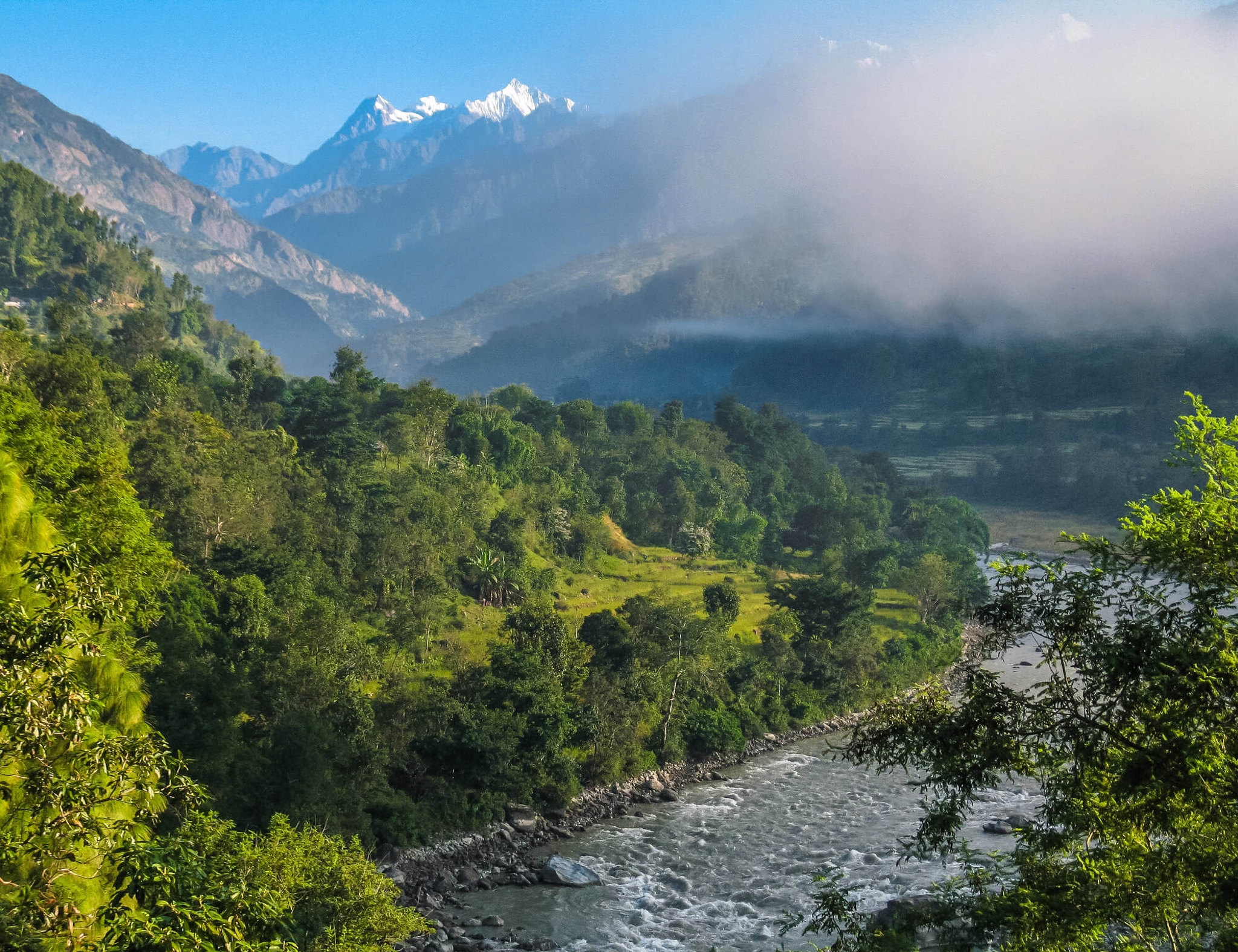 Day 3: Dhading
We begin this day's cycling with the perky Trishuli river as our constant companion as we follow its meandering path through hills, ravines and plains, eventually heading in a westward direction to a small town called Dhading. Known as Nepal's Ruby Valley because of the rubies that were once abundant in this region, Dhading presents a picture postcard view of a mountain hamlet framed under towering snow-clad mountains. The day's cycling is idyllic and picturesque, passing through villages, forests of rhododendron and pine, and beautiful valleys.
Meals:
B,L,D
Cycling Distance:
40km/25mi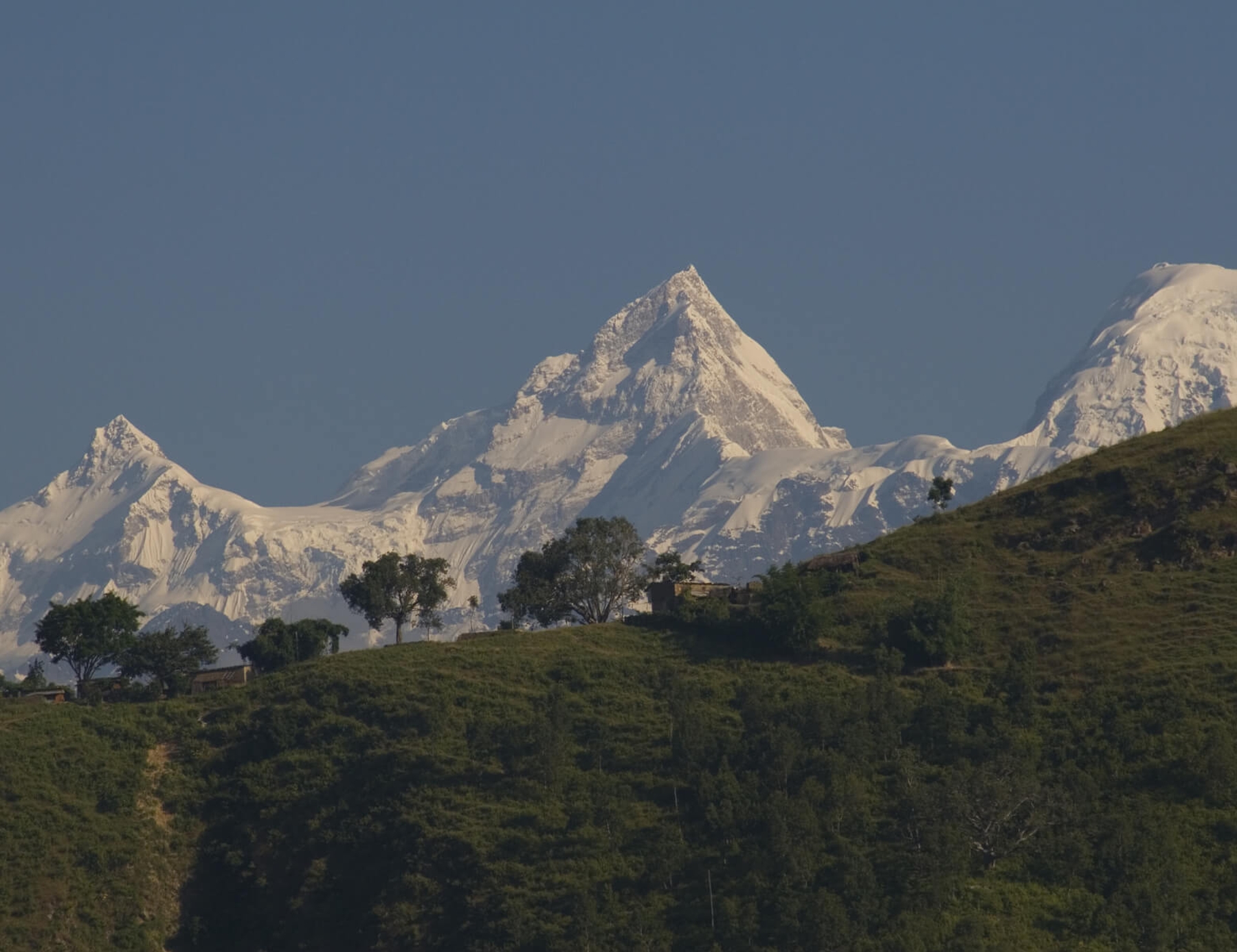 Day 4: Aarughat
We begin cycling in the morning from Dhading itself. As the sun comes out from the mountain mist, we are welcomed by spectacular views of Manaslu, the eighth-highest mountain on earth at 8,148m above sea level. Manaslu, in fact, remains a constant companion as we ride towards our destination for the day, Aarughat. Aarughat is another small mountain hamlet that is popular for being the starting point of trekking expeditions to and around Manaslu. The day's riding begins with a challenging uphill, before petering out into a gentle downhill.
Meals:
B,L,D
Cycling Distance:
40km/25mi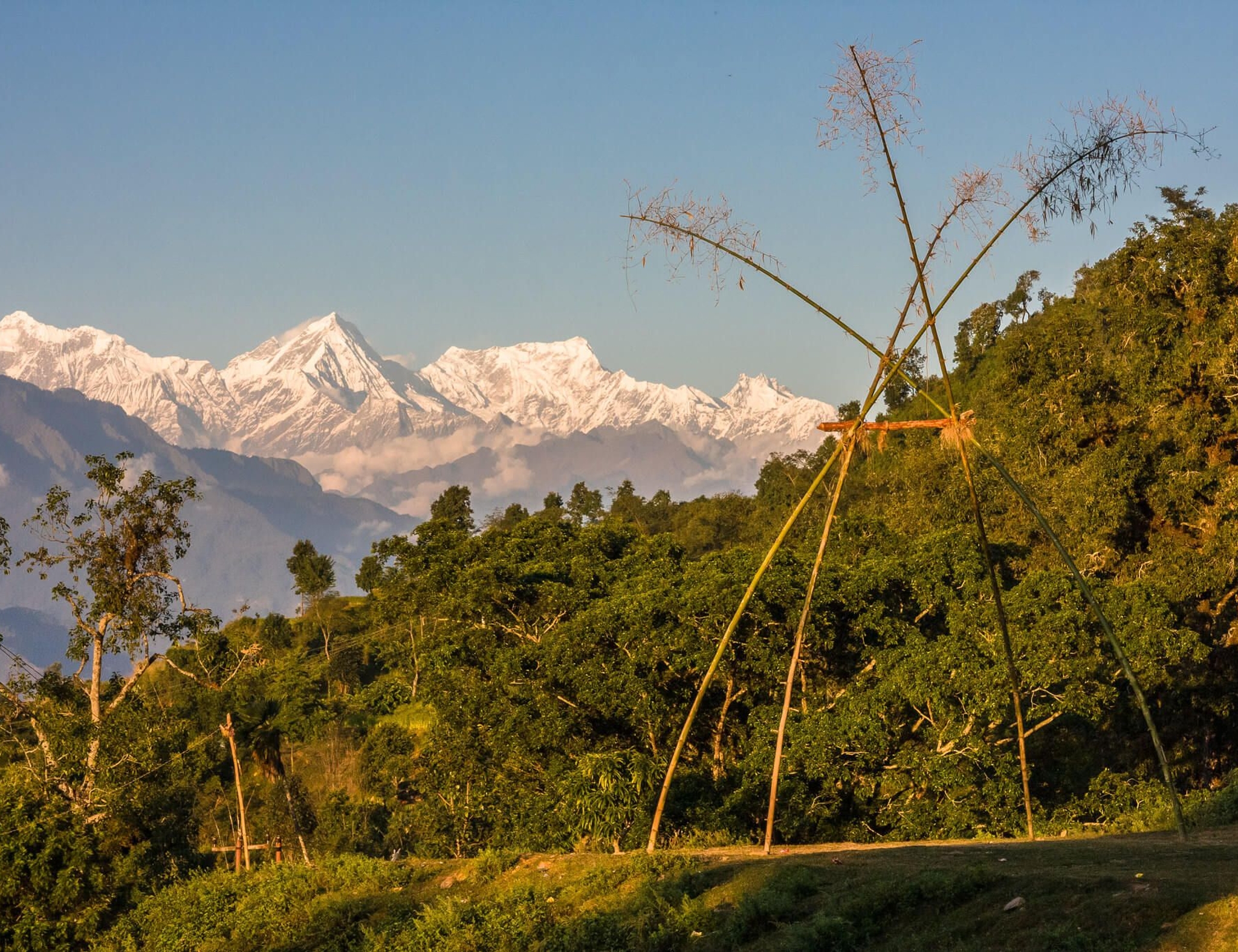 Day 5: Gorkha
We begin cycling today from Aarughat itself, taking a northerly course to the town of Gorkha, located close to the border with Tibet/China. Gorkha is a town intimately connected to the formative history of Nepal and its ruling dynasties, remnants of its eventful past still lying scattered across the town in the form of various monuments and ruins. Aarughat is surrounded by more than 14 peaks over 7000m in altitude that rises up all around it like sheer walls of stone and snow, giving it the appearance of a Tolkien-esque citadel.
Meals:
B,L,D
Cycling Distance:
40/km/25mi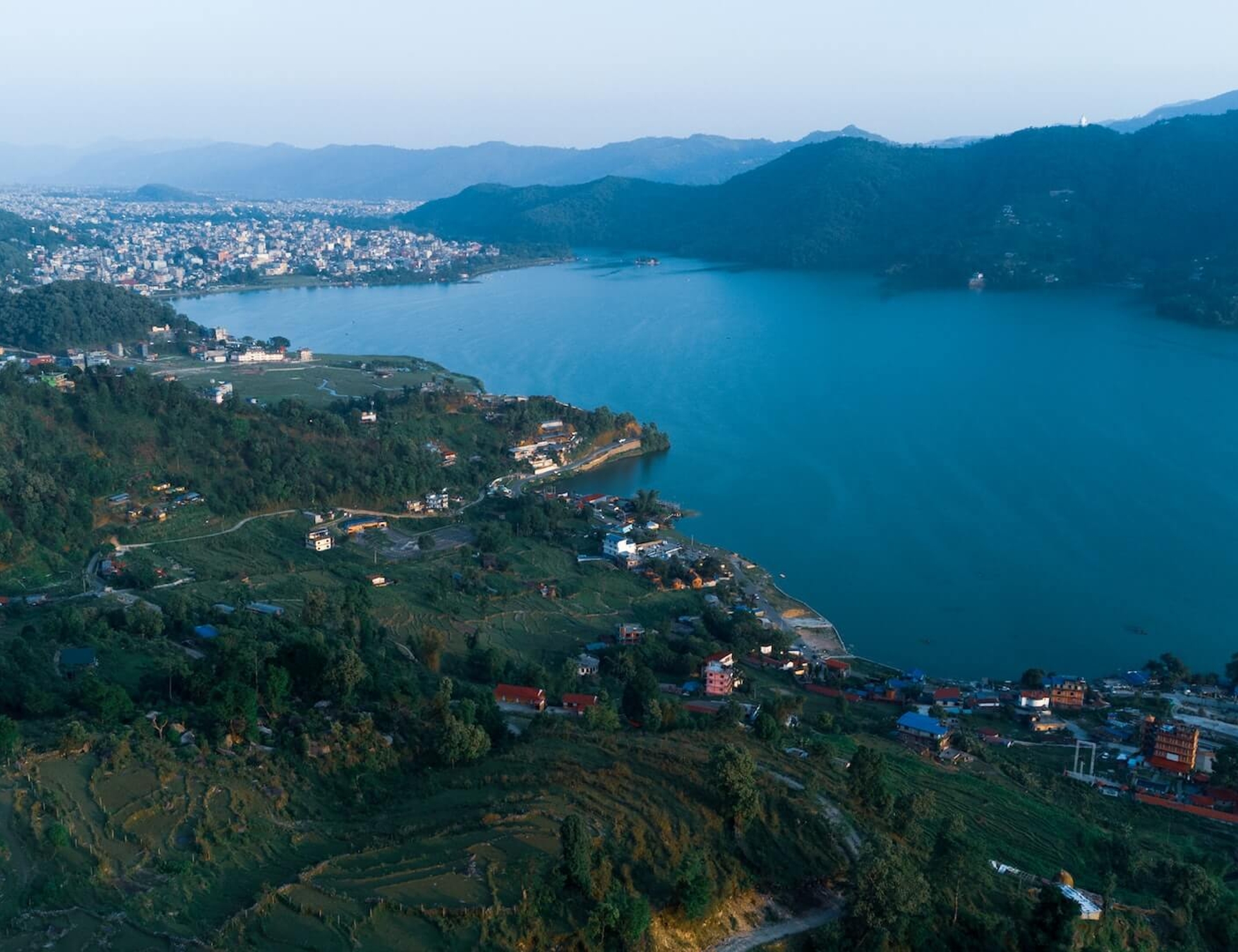 Day 6: Sundari Bazar
Today is a long and fun day of cycling. We strike a western path through some gorgeous scenery consisting of rice paddies, small villages, quiet village roads, and clean mountain air. Our companion for much of the ride will be the Marshyangdi river, a swift-flowing mountain stream famous as a destination for white-water rafting. Today's ride brings us close to Pokhara, as we stop for the night at Sundari Bazar, a quaint mountain town on the outskirts of Pokhara.
Meals:
B,L,D
Cycling Distance:
50km/31mi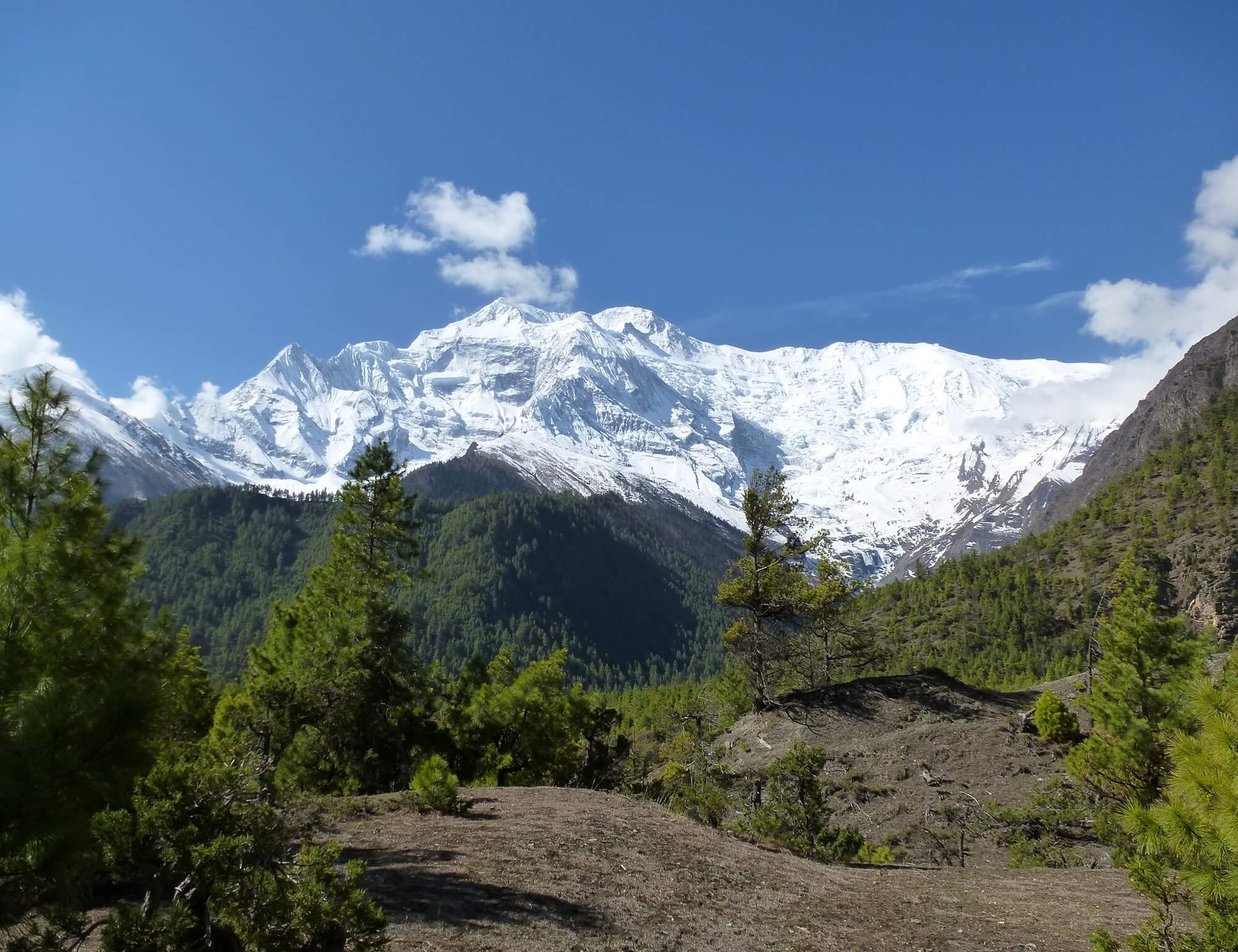 Day 7: Begnas Lake
This is one of the longest days of biking on the tour. We head out towards Begnas Lake, a high-altitude, freshwater lake situated on the outskirts of Pokhara. The waters of the lake change colors depending on the season of the year. On clear days, visitors can see the imposing white massif of the Annapurna mountain — the tenth highest mountain in the world at 8091 m above sea level — reflected in its blue waters. Along the way, we pass by small mountain rivulets and numerous small villages, stopping to chat with the ever-friendly farmers and villages about life, lemons, philosophy, and everything else under the sun.
Meals:
B,L,D
Cycling Distance:
55km/34mi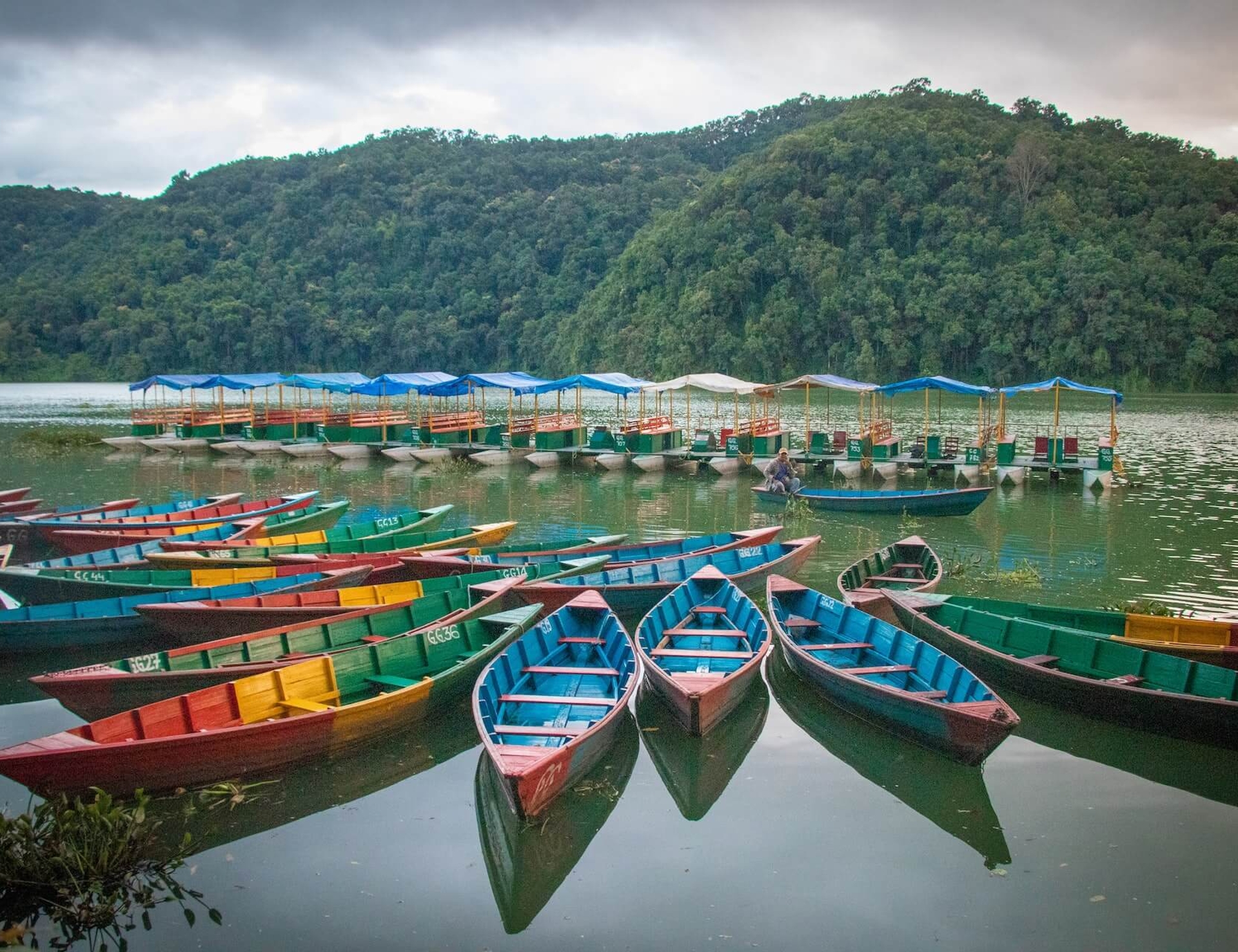 Day 8: Begnas Loop
After yesterday's long hours spent in the saddle, we take this day as a rest day or go cycling; leisurely around more lakes. Beginning from the Begnas, we head over to another, an even bigger lake called Lake Phewa. Phewa is the second-largest lake in Nepal and is famous for adventure sports. The lake is also known for offering mesmerizing reflections on its clear waters of the Machapuchare or the Fish-tail mountain — one of the few mountains in Nepal that have never been climbed.
Meals:
B,L,D
Cycling Distance:
30km/19mi (optional)
Day 9: Astam
We bike today towards Astam, a small village known as a trekking destination for novice trekkers. The village offers spectacular views of the Annapurna mountain range. Visitors especially come here for the sunrise and sunset over the magnificent Annapurna. Astam is known for its many eco-tourism resorts. We spend the night at one such comfortable eco-resort.
Meals:
B,L,D
Cycling Distance:
45km/28mi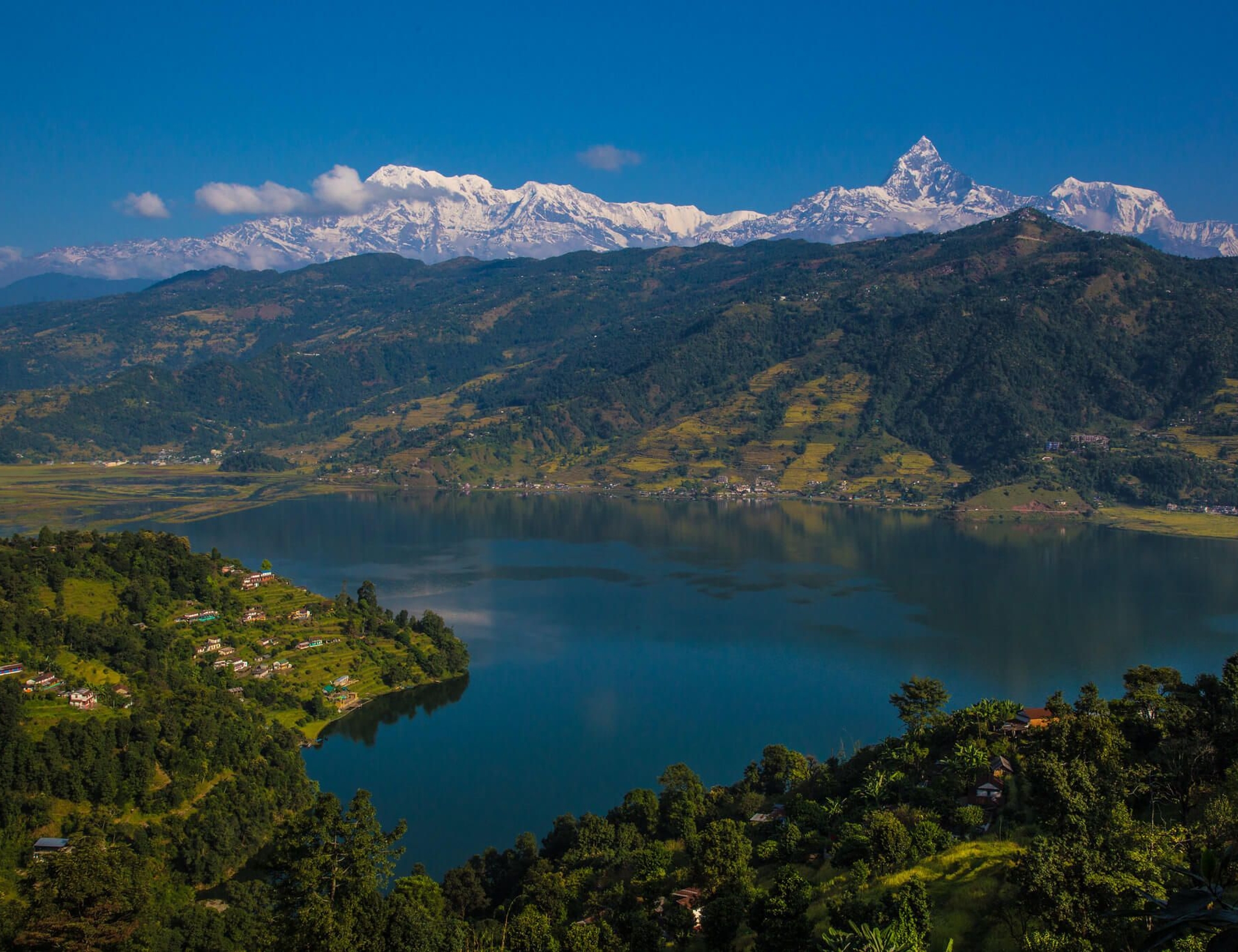 Day 10: Bhumdi Village
This is another relaxed day of biking in which we ride from Astam to Bhumdi, another idyllic village set in the valleys around Pokhara. We take many stops along the way to admire the natural beauty of the Pokhara valley, click pictures of the snow-clad mountains and chat with the farmers.
Meals:
B,L,D
Cycling Distance:
25km/15mi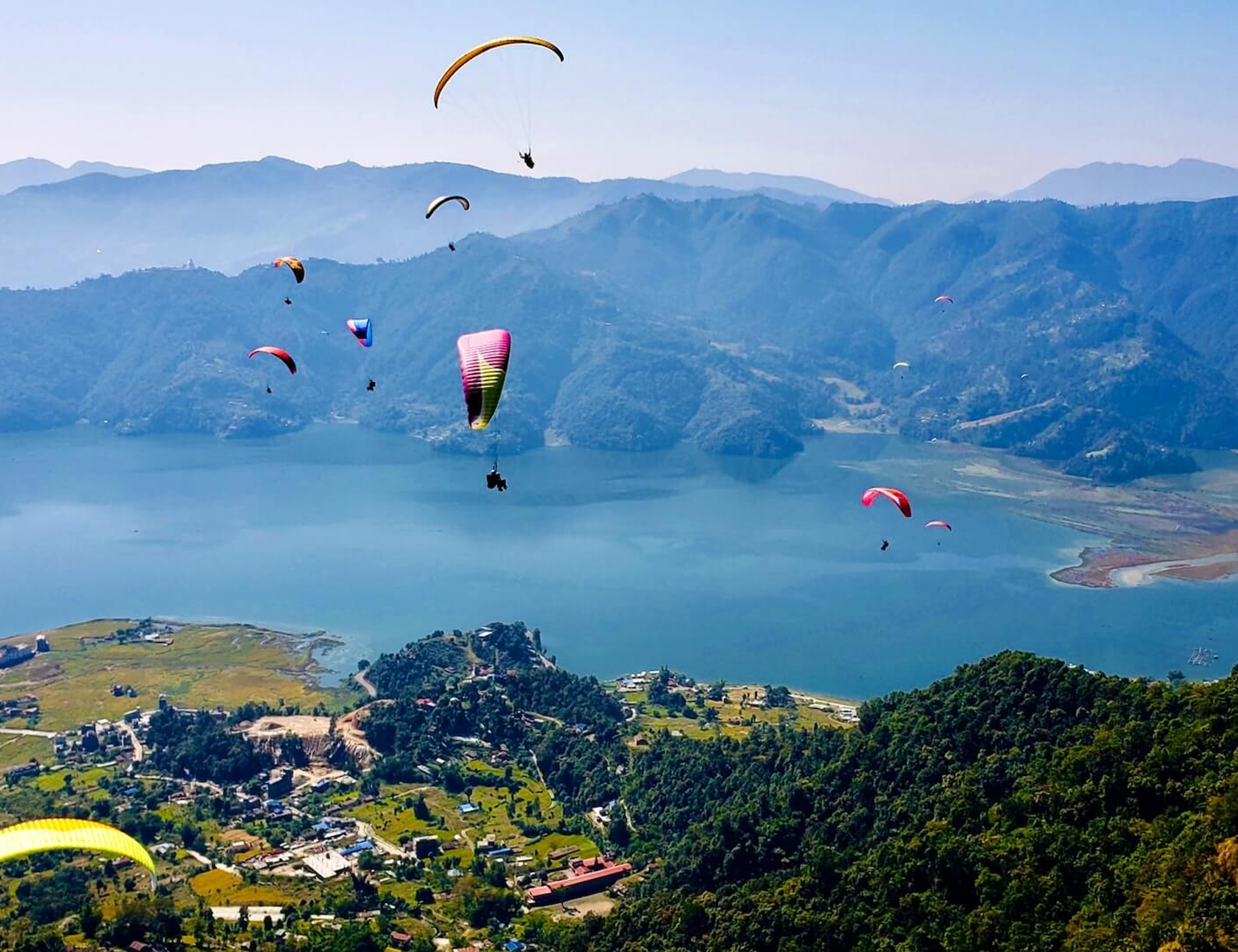 Day 11: Pokhara
After 10 days of riding through a mesmerizing Himalayan landscape, we finally arrive at our destination — the famed town of Pokhara. Today's ride begins with a short uphill and then descends into a knuckle-gripping downhill into Pokhara. A metropolitan town of over half a million inhabitants, Pokhara is marked by two striking geographical features — the Annapurna mountain and the Phewa Lake.
In the evening, you are free to explore Pokhara on your own. Pokhara offers a blend of the old and the new, and after 10 days of riding through remote villages and country roads, the cosmopolitan vibes of Pokhara will come as a pleasant surprise to the senses.
Meals:
B,L,D
Cycling Distance:
30km/19mi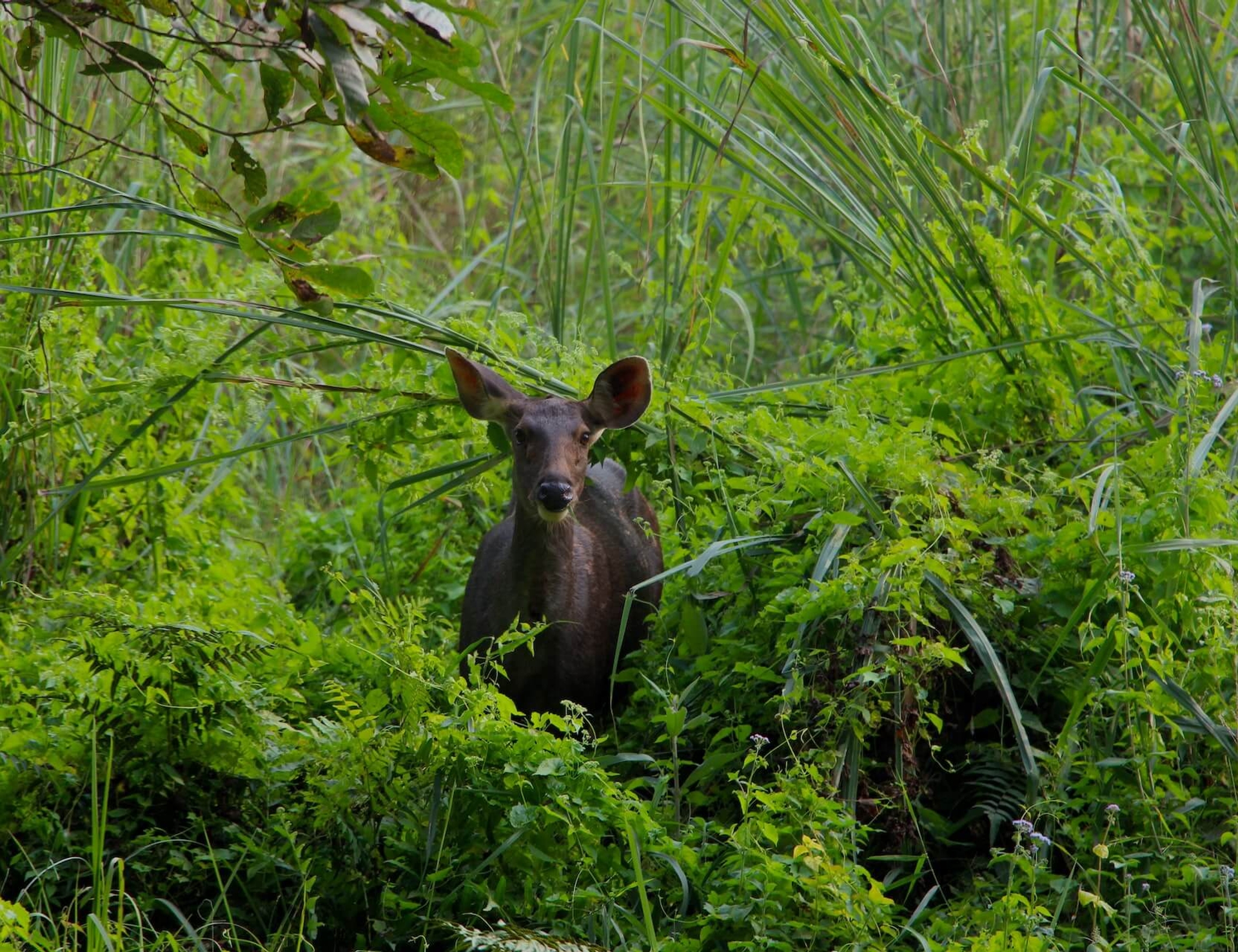 Day 12: Chitwan
We swap our biking cleats for jungle boots today as we head into the world-famous Chitwan National Park, a UNESCO World Heritage Site. Chitwan is a dense forest of sal and pine drenched in a dreamy, smoky mountain mist. It is home to some of the most endangered flora and fauna on earth including the Bengal Tiger, the one-horned rhino, the sloth bear, and the king cobra. After a thrilling jungle safari, we relax at a dinner and cultural event hosted by the local forest communities.
Meals:
B,L,D
Day 13: Kathmandu
We do a relaxed bike ride around the national park in the morning. The terrain consists of plains and rolling hills, and the landscape is mostly forests and small villages. In the evening, we drive back to Kathmandu.
We meet again for dinner to celebrate the end of an epic adventure that will stay etched in our memories for a lifetime.
Meals:
B,L,D
Cycling Distance:
30km/19mi (optional)
Day 14: Departure
Please make arrangements as per your onward travel plans.
Meals:
B
Map
Dates and Prices
Note:
Our base pricing is in USD. However, we can also quote in AUD, GBP, CAD, and EUR, and you can pay in the same. Please write us.
---
Couldn't find a trip with convenient dates?
Open your date as a join-in tour or customize further as private one.
We offer private departures on almost all our itineraries, and for groups of four or more, they cost the same as our standard trips!
---
Essential Info
Inclusions
LODGING
All hotels as mentioned in the tour details or similar (subject to availability).
trip leader
Expert Trip Leader(s) who look after your every need and add meaning to your vacation.
bike
Immaculately maintained bike with helmet, suited to a terrain.
shuttle
A Van support follows the group of riders and carries all belongings.
meals
Meals as per itinerary. Guests are given the opportunity to dine on their own so that they discover a location independently.
refreshments
Refreshments and mineral water while cycling.
entrance
Entrance fees to most of the monuments and temples.
Exclusions
Airport pickup and drop
We recommend to book direclty from airport or hotel.
meals
Some meals may not be included. Please check your itinerary.
Beverages
Beverages such as alcohol, tea, coffee, juice at a hotel or restaurant.
Weather
The best time to visit Nepal is between October to December and March to May when average temperatures range from 5-28°C. January and February are cold and June to September is the rainy season.