Bhutanese Dragon Bike Tour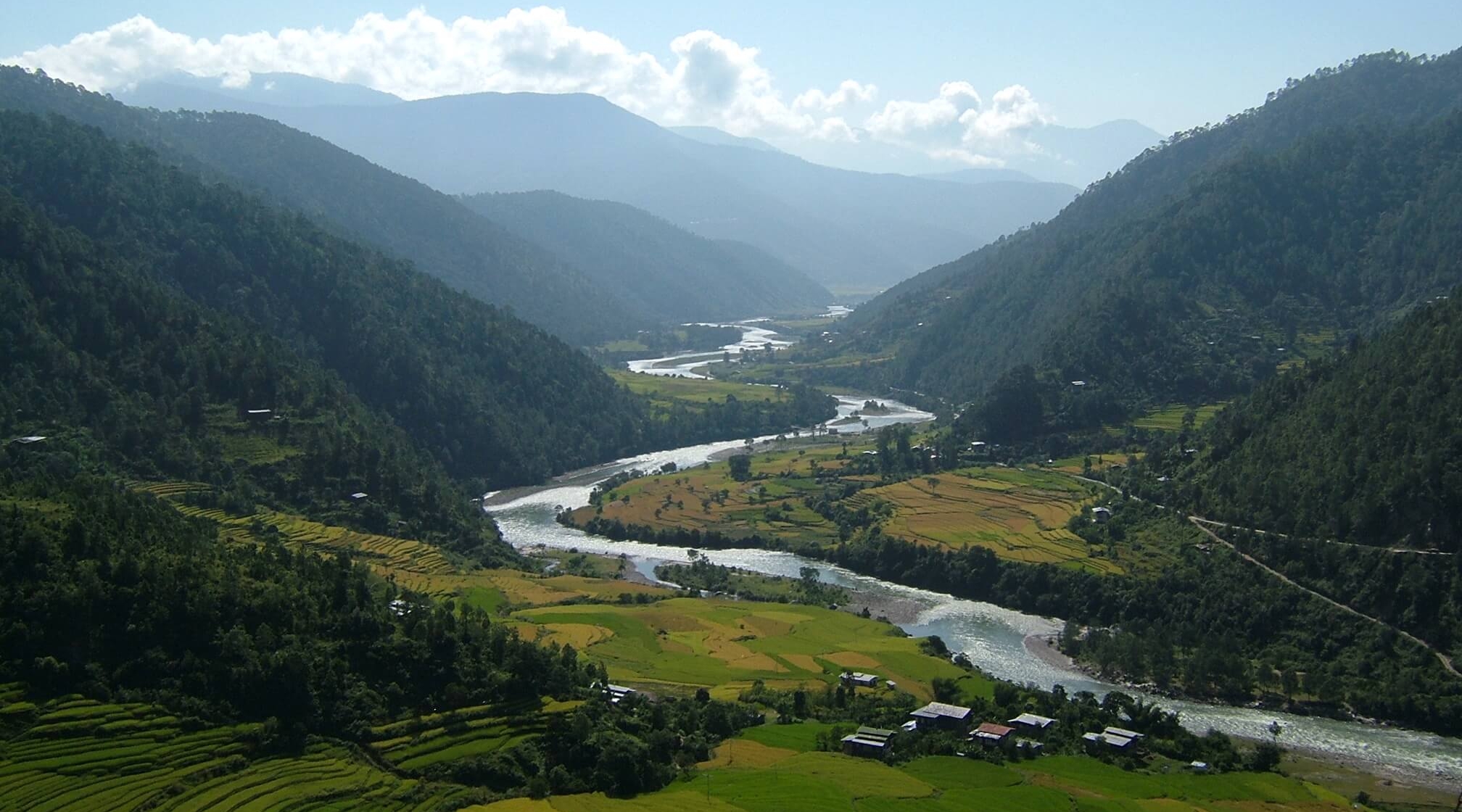 ---
Overview
Immerse yourself in a wholesome cycling holiday in Bhutan, where the enchanting beauty of the land will leave you awe-inspired. With a sky painted in an indescribable shade of blue and breathtaking vistas of majestic mountains, Bhutan is a topographical wonder like no other. The sight of monasteries perched on hilltops and traditional white-washed houses adorned with vibrant windows will captivate your senses.
As you pedal through this surreal landscape, you will find yourself breathless, not just from the altitude but from the sheer magnificence of your surroundings. Surrender to the warm hospitality of the Bhutanese people, who will embrace you with open arms. Take the time to savor every moment, allowing the serenity of the surroundings to wash over you and create lasting memories of this extraordinary destination.
Avg. dist. cycled
50km or 30mi
Highlights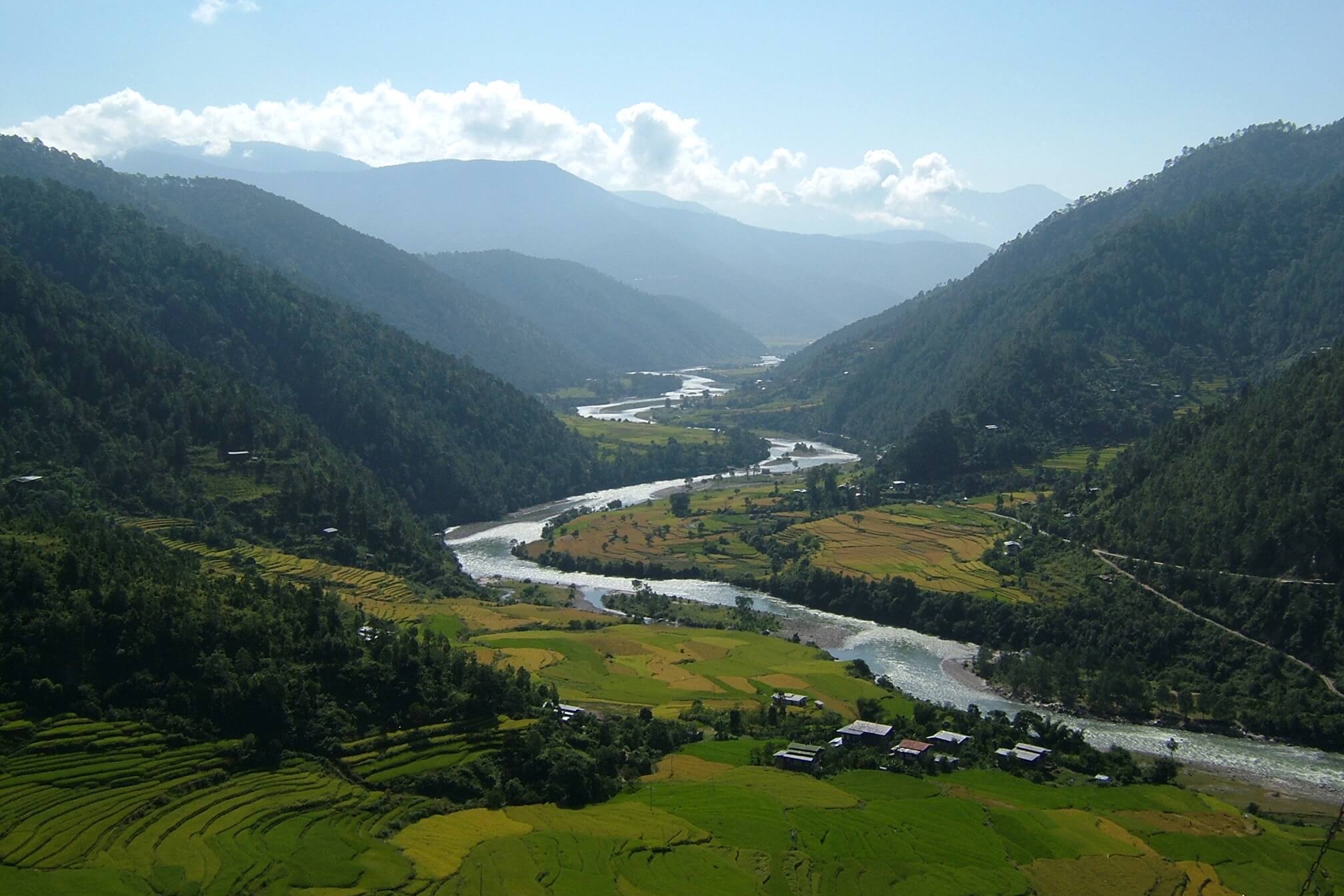 diverse topography
Soak into the stunning and dramatically diverse topography of Bhutan and regions around
Brief Itinerary
| Day | Place | Hotel | Meals | Distance | Activity |
| --- | --- | --- | --- | --- | --- |
| DAY 1 | Thimphu | Thimphu Tower | L,D | | |
| DAY 2 | Thimphu | Thimphu Tower | B,L,D | 40km/24mi* | cycling |
| DAY 3 | Punakha | Hotel Lobesa | B,L,D | 65km/39mi | cycling |
| DAY 4 | Punakha | Hotel Lobesa | B,L,D | 30km/18mi | cycling |
| DAY 5 | Phobjikha Valley | Gakiling | B,L,D | 70km/42mi | cycling |
| DAY 6 | Phobjikha Valley | Gakiling | B,L,D | 20km/12mi | cycling |
| DAY 7 | Trongsa | | B,L,D | 50km/30mi | cycling |
| DAY 8 | Bumthang Valley | | B,L,D | 50km/30mi | cycling |
| DAY 9 | Bumthang Valley | | B,L,D | | |
| DAY 10 | Fly to Paro | Metta Resort | B,L,D | | |
| DAY 11 | Haa Valley | Ugyen Homestay | B,L,D | 50km/30mi | cycling |
| DAY 12 | Haa Valley | Ugyen Homestay | B,L,D | | hiking |
| DAY 13 | Paro | Metta Resort | B,L,D | | hiking |
| DAY 14 | Paro | | B | | |
Detailed Itinerary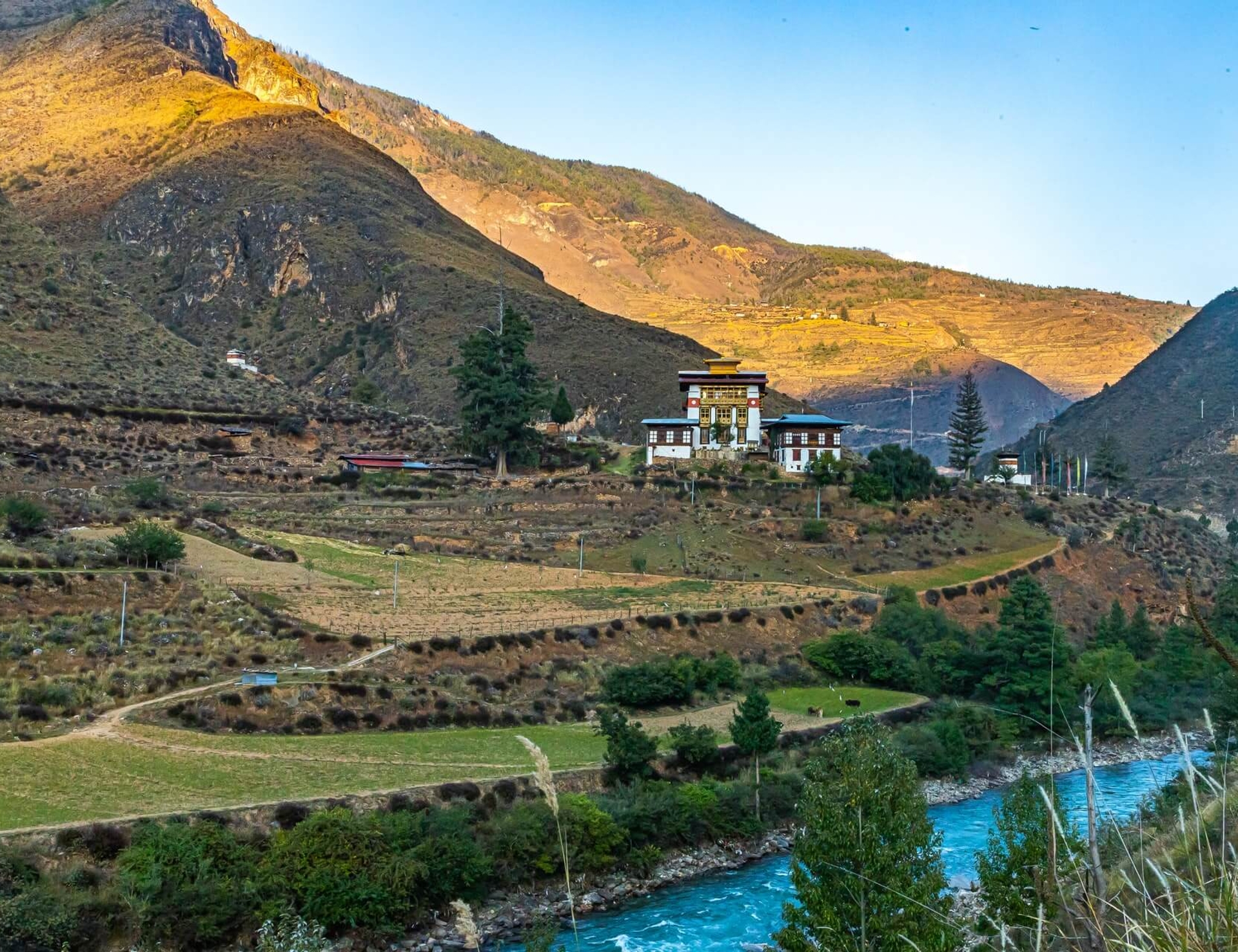 Day 1: Thimphu
Enjoy a flight to Bhutan over a stack of snow-topped mountains for a large part of the journey. Pray for a clear sunny day for a stunning view! Here we'll be greeted by Mt. Everest, Mt. Kanchenjunga, as well as Bhutan's unique peaks, Mt. Jomolhari and Mt. Jichu Drakey. To enhance your Himalayan range vistas, please ensure that you are seated on the left side of the aisle.
We meet at the Paro airport and drive to Thimphu. During the journey, make a stop to explore Tamchog Lhakang and enjoy a brief respite in Bhutan's pristine natural environment. We'll have the opportunity to stroll across the historic iron bridge, which has been faithfully reconstructed using the original chain links crafted by the renowned Tibetan bridge builder TangThong Gyalpo in the 15th century.
On arrival at Thimphu, we do a bike fit and later in the evening, visit the Memorial Chorten Stupa, a revered monument erected in honor of Bhutan's third king. Following this visit, savor a delightful welcome dinner at a top-notch restaurant, followed by briefing.
Meals:
L,D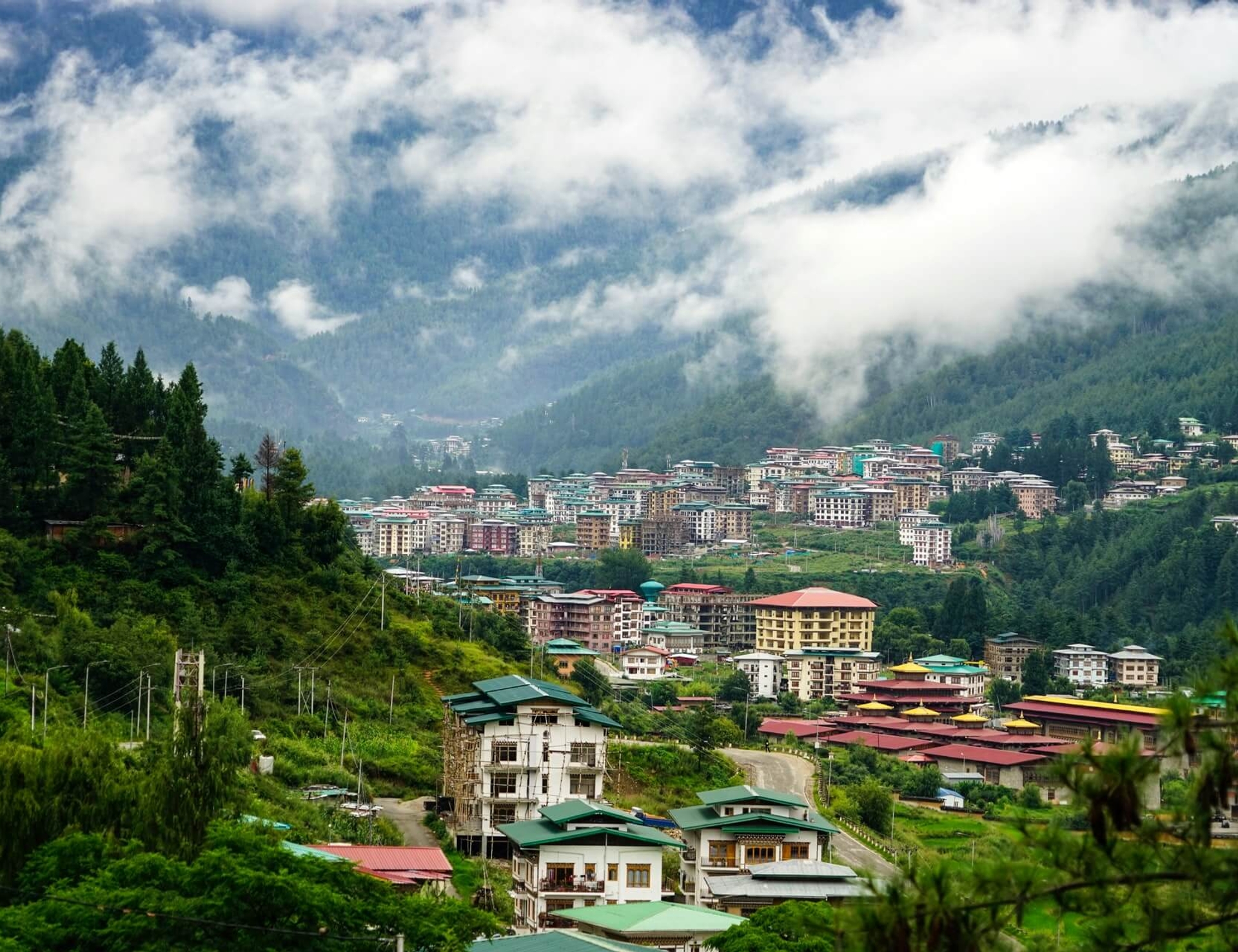 Day 2: Thimphu
Today we warm up with a short ride around Thimphu. Visit museums, textile weavers, post offices, and markets, and watch archery at the stadium. After lunch, we ride north on tarmac roads passing through Thimphu's various residential neighborhoods and surrounding villages. On the way back, visit the Changangkha Lhakhang and Trashichhodzong Fortress, a fine example of Bhutan's rich architecture that holds the office of His Majesty the King and the Prime Minister.
Meals:
B,L,D
Cycling Distance:
40km/24mi*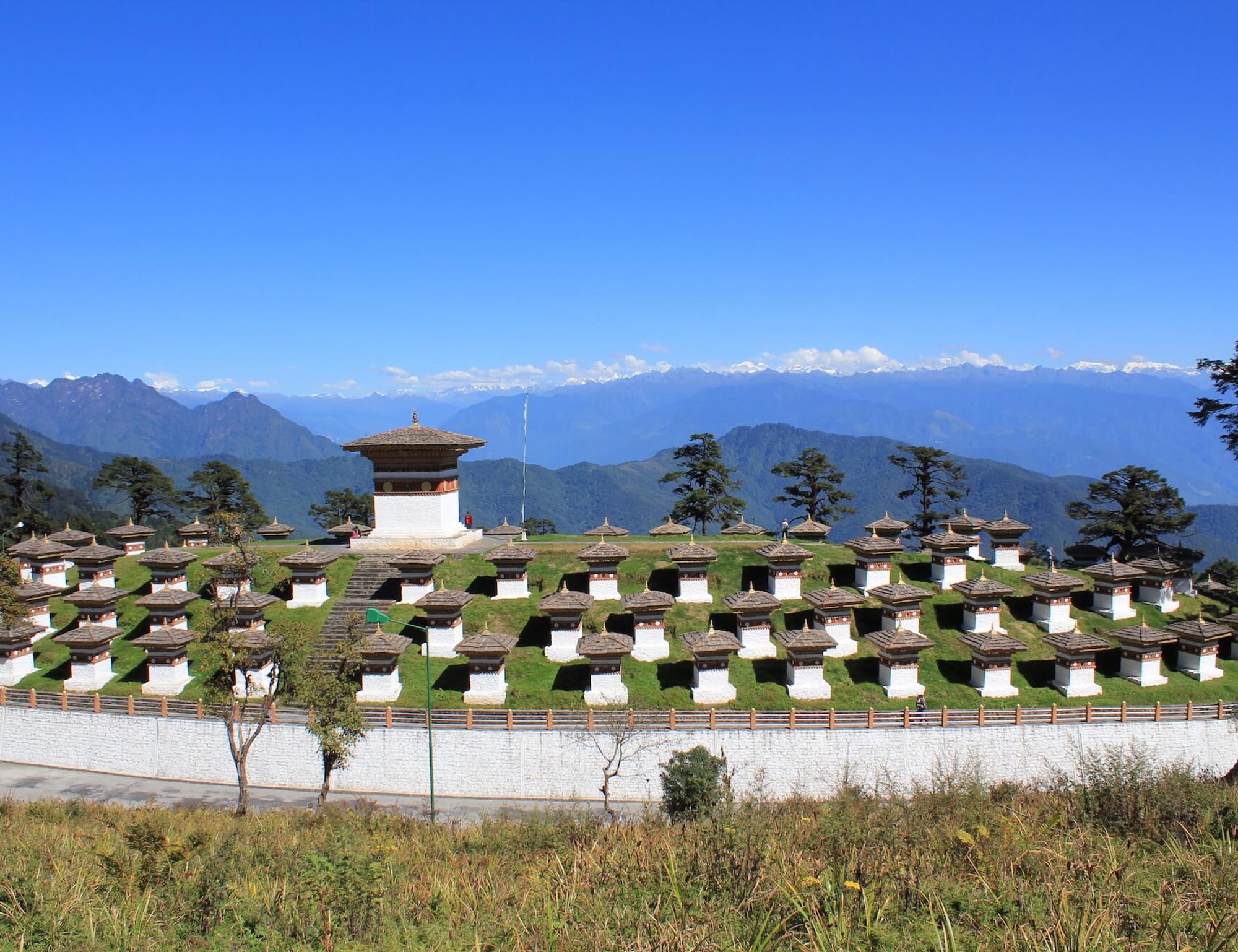 Day 3: Punakha
We take up with a bit longer ride to balmy Punakha over the mountains. The route takes us through apple orchards and pine forests and passes through Dochu La Pass (3,140m). The landscape changes dramatically from here to rhododendron forest and fir. Take in the breathtaking vistas of the Himalayan ranges from the mountain pass, and then explore the Druk Wangyal Chortens, a series of 108 stupas constructed to symbolize the remarkable legacy of the Fourth King.
After a lengthy descent, we continue our journey along a picturesque stretch of rolling roads that run alongside the river, eventually leading us to Punakha, a picturesque settlement where you can see small stands of apple orchards and locals busying themselves over farmlands.
Meals:
B,L,D
Cycling Distance:
65km/39mi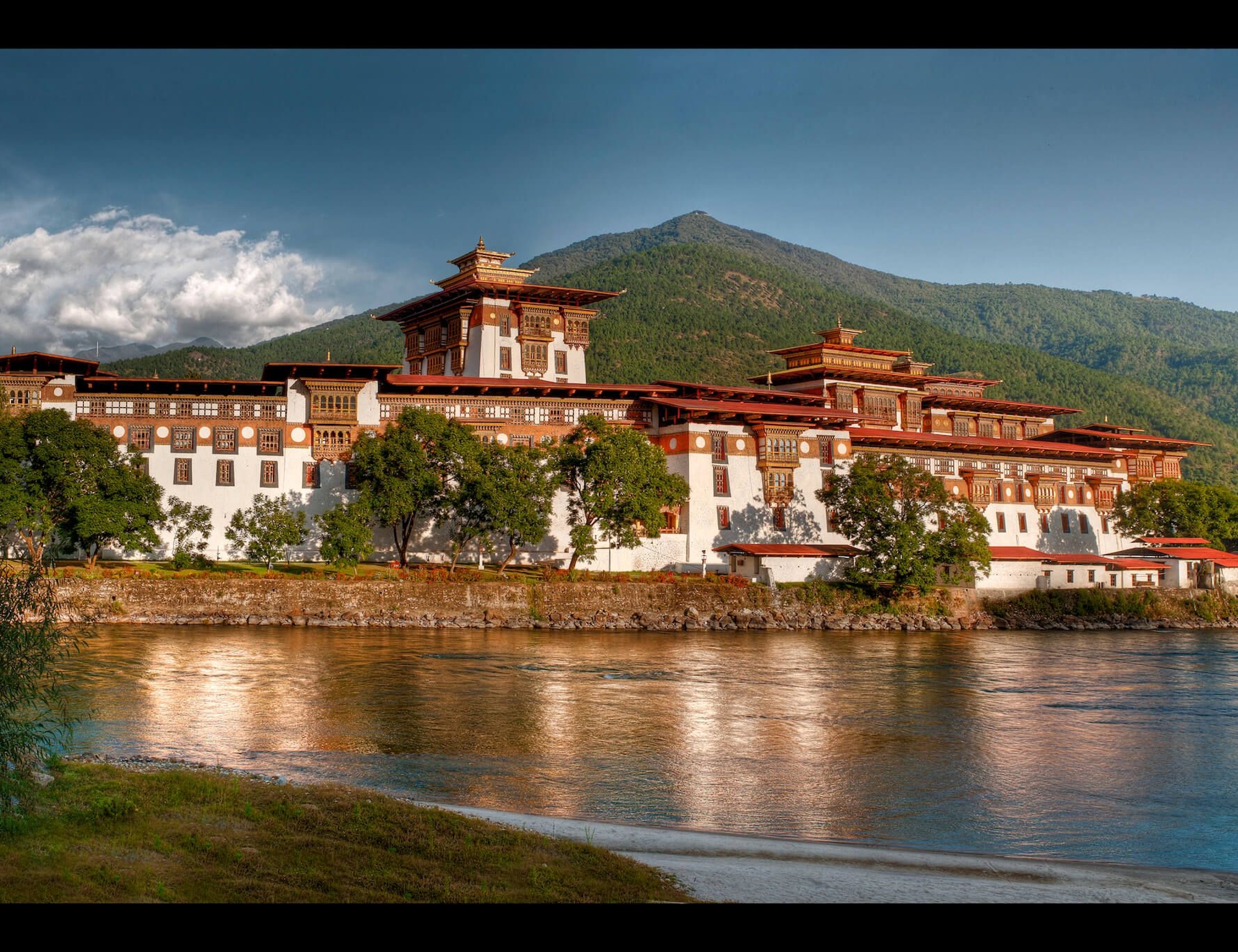 Day 4: Punakha
Today, enjoy a beautiful countryside ride visiting ancient fortresses, suspension bridges, paddy fields, temples and a school. Soak your feet in the glacial rivers over a picnic lunch.
Post-lunch visit Punakha Dzong. Sitting majestically at the confluence of Pho Chhu and Mo Chhu rivers.
From here, head towards the longest suspension bridge, then proceed northwards to Samdingkha along a charming expanse of rural roads. Afterward, continue riding further towards Khuruthang town before returning to the hotel, completing a pleasant loop.
Meals:
B,L,D
Cycling Distance:
30km/18mi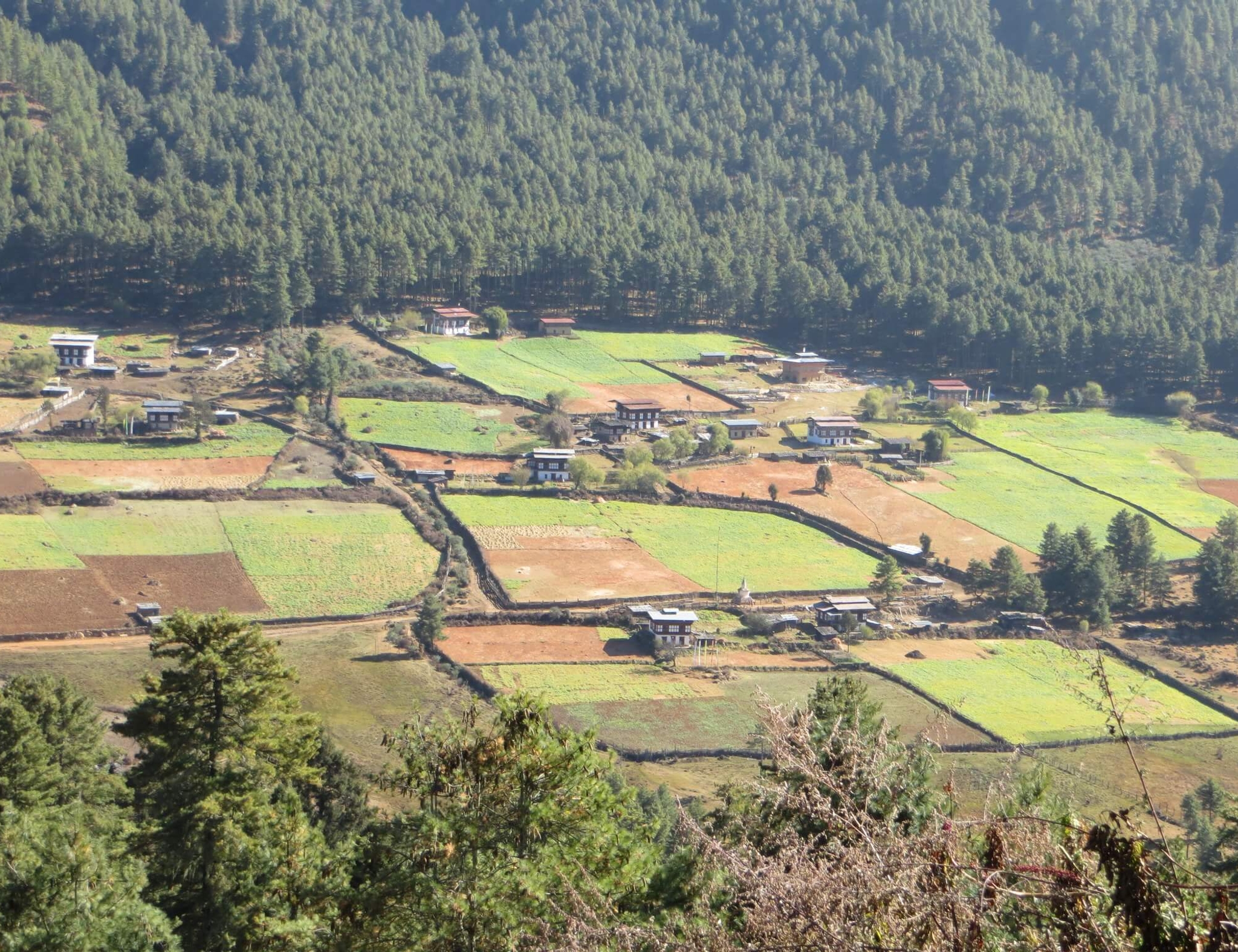 Day 5: Phobjikha Valley
The landscape undergoes a dramatic transformation as we transition from the lush valley to the wetlands in the Nobding valley. Having cycled through enchanting rhododendron forests for most of our journey, the stark contrast of descending into the distinctive open marshlands of the valley is truly remarkable.
Along the way, cross Lha Wang La Pass for a glimpse of Phobjikha Valley. This area is known for black-necked cranes. Wild boars, sambars, Himalayan black bears, leopards and red foxes are also there in surrounding hills.
Meals:
B,L,D
Cycling Distance:
70km/42mi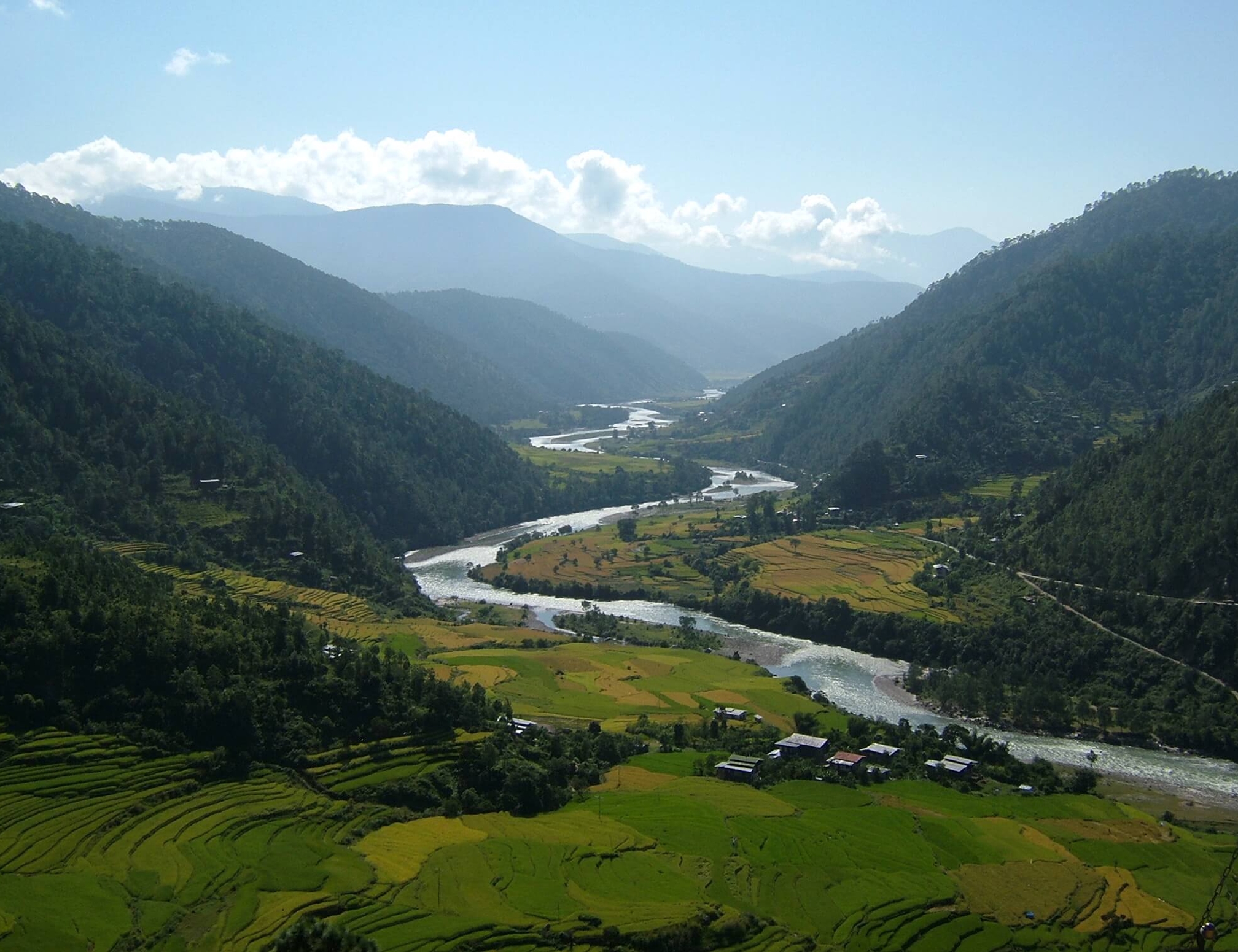 Day 6: Phobjikha Valley
Phobjikha valley is a paradise for bikers and today enjoy a ride on beautiful single-track trails that traverses through pine-forests festooned with prayer flags and overlooking the bowl-shaped marshland and meadows. Visit the famous Gangtey Gompa monastery and the Black-necked Crane Information Centre on the way.
Meals:
B,L,D
Cycling Distance:
20km/12mi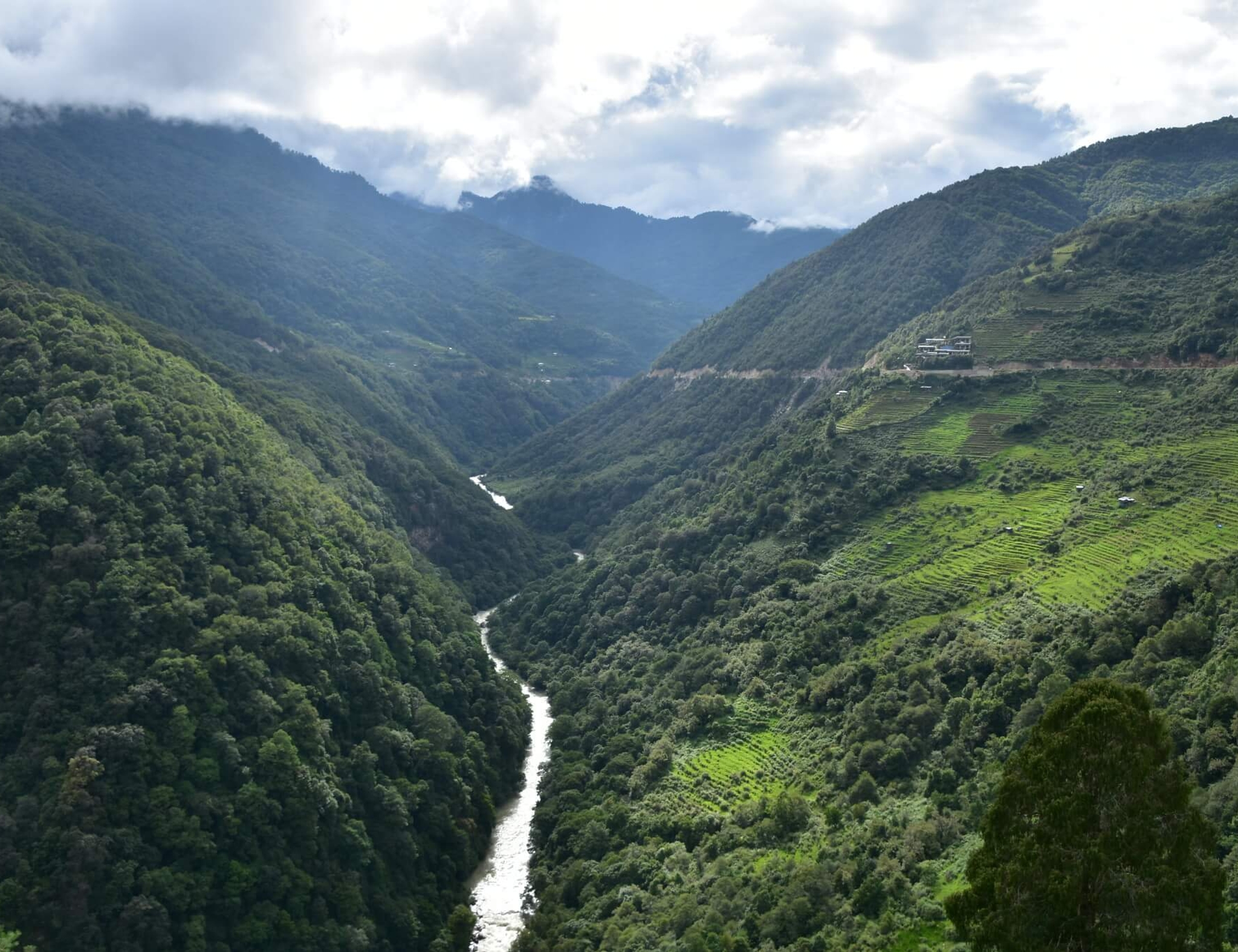 Day 7: Trongsa
Today we ride to Trongsa past gorges, meadows and through snow bound passes connecting east to west of Bhutan. The town is based on a steep ridge and commands spectacular views of the valleys.
Visit Trongsa Dzong, a spectacularly sited dzong, situated atop a steep ridge with a sheer drop into the clouds on its other side.
Meals:
B,L,D
Cycling Distance:
50km/30mi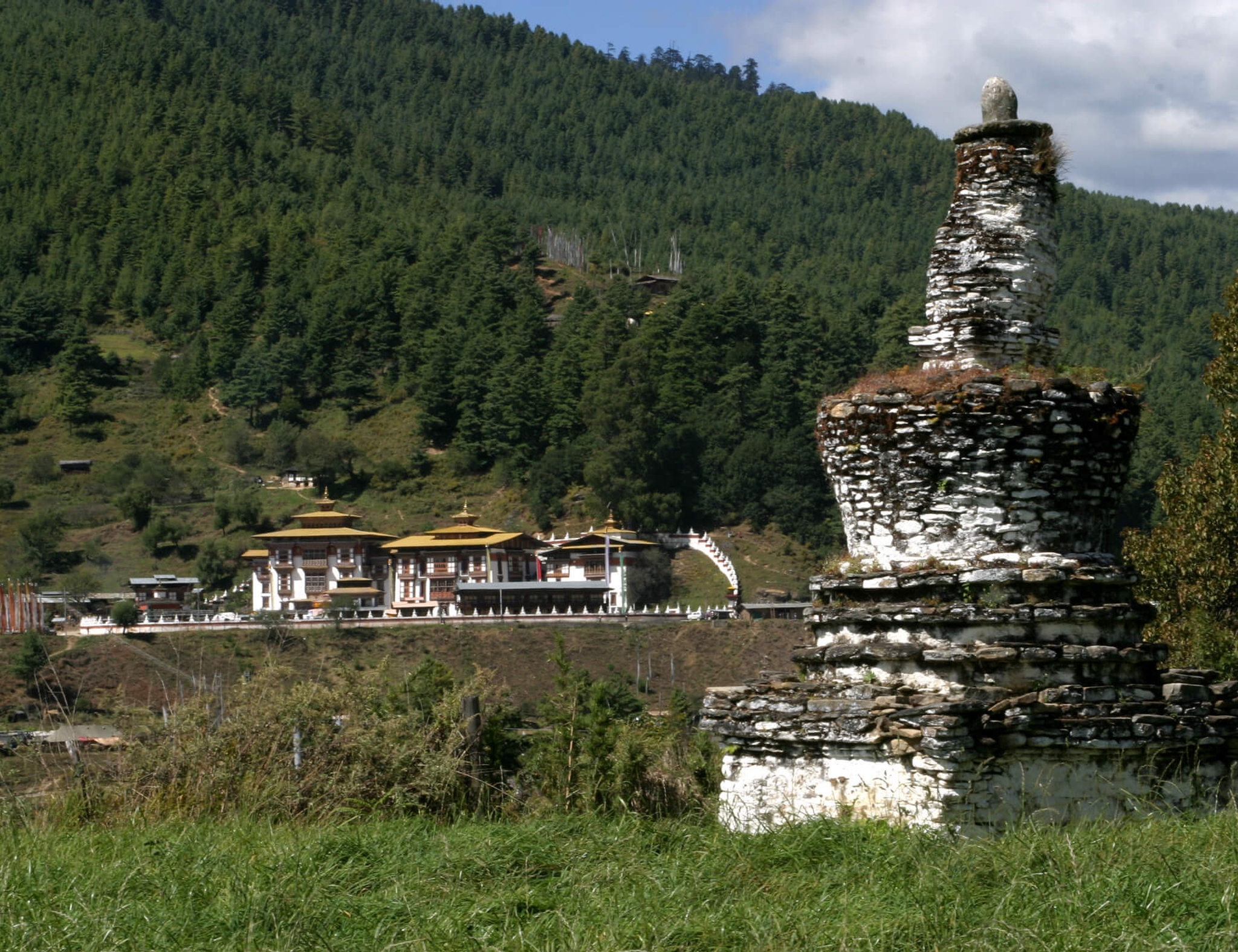 Day 8: Bumthang Valley
Get ready for a tough yet rewarding day and ride to Bumthang valley comprising of Chokhor, Tang, Ura and Chhume valleys. It's a long switchback route today with Yutung La Pass at 3,400m.
Meals:
B,L,D
Cycling Distance:
50km/30mi
Day 9: Bumthang Valley
Today you can plan your own day. Spend the day at leisure or take a stroll around the Valley. Visit Kurjey Lhakhang, Jakar Dzong, and Tamshing Lhakhang.
Alternatively, ride to Ura Valley over the Shertang La Pass. Post-lunch, we drive back to Bumthang Valley.
Meals:
B,L,D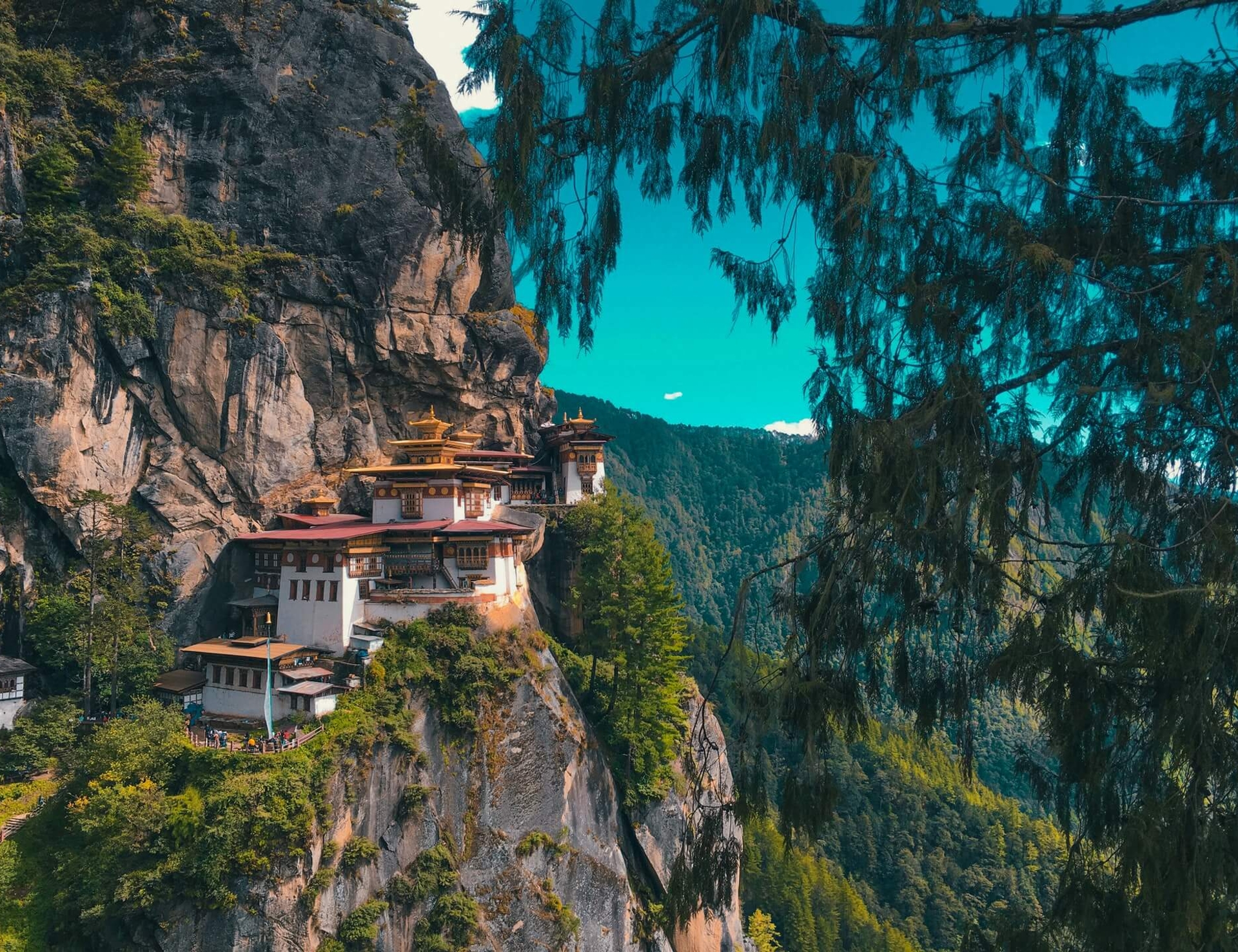 Day 10: Fly to Paro
Enjoy a gorgeous flight to Paro and later visit Paro National Museum followed by Rinpung Dzong. Enjoy the evening shopping around for various handicrafts and artefact.
Meals:
B,L,D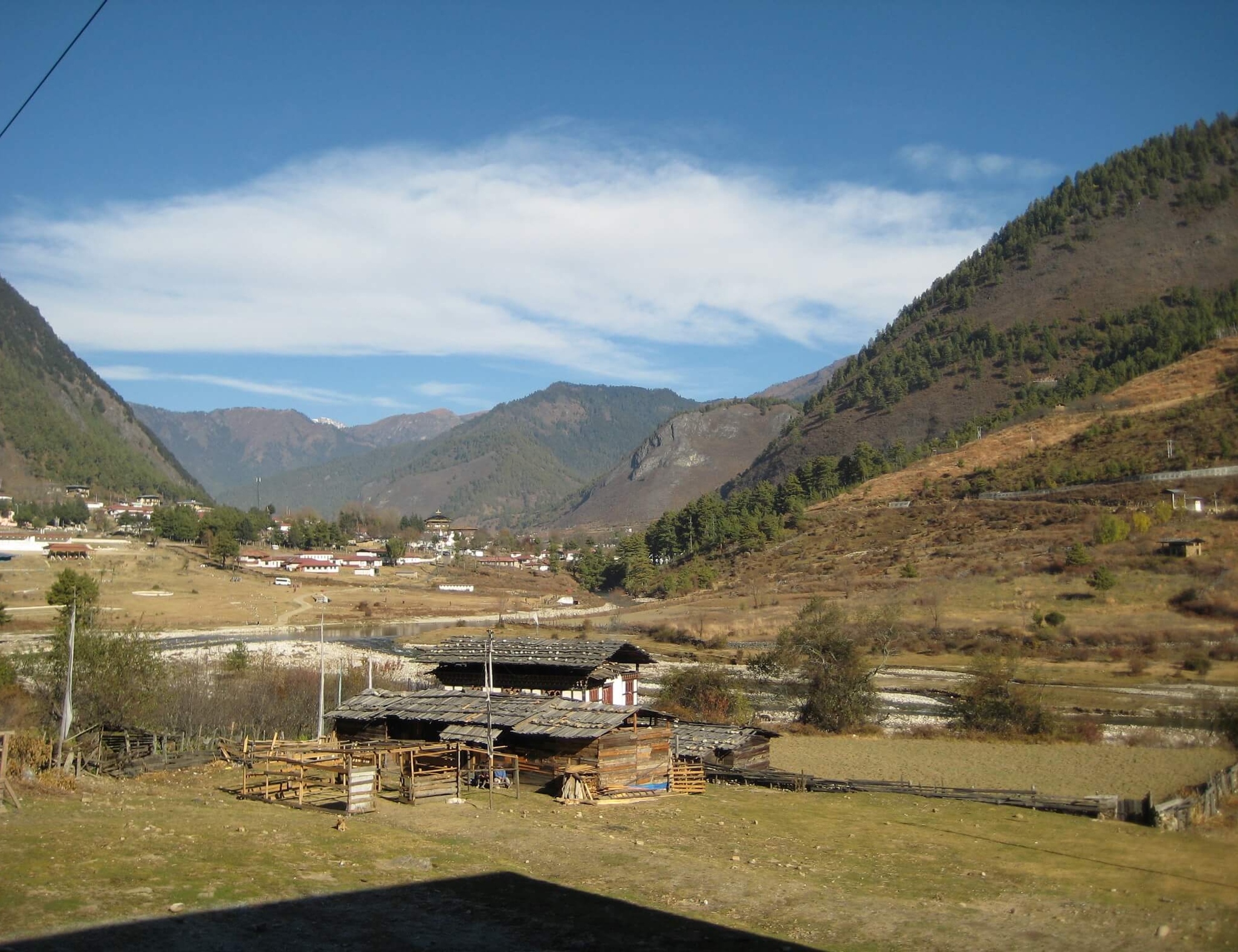 Day 11: Haa Valley
Take the switchback road to get that blood pumping over the Cheli la Pass; that panoramic views from Haa will be highly rewarding.
Meals:
B,L,D
Cycling Distance:
50km/30mi
Day 12: Haa Valley
Today spend the day at leisure or go for a hike to nearby majestic mountain peaks.
Meals:
B,L,D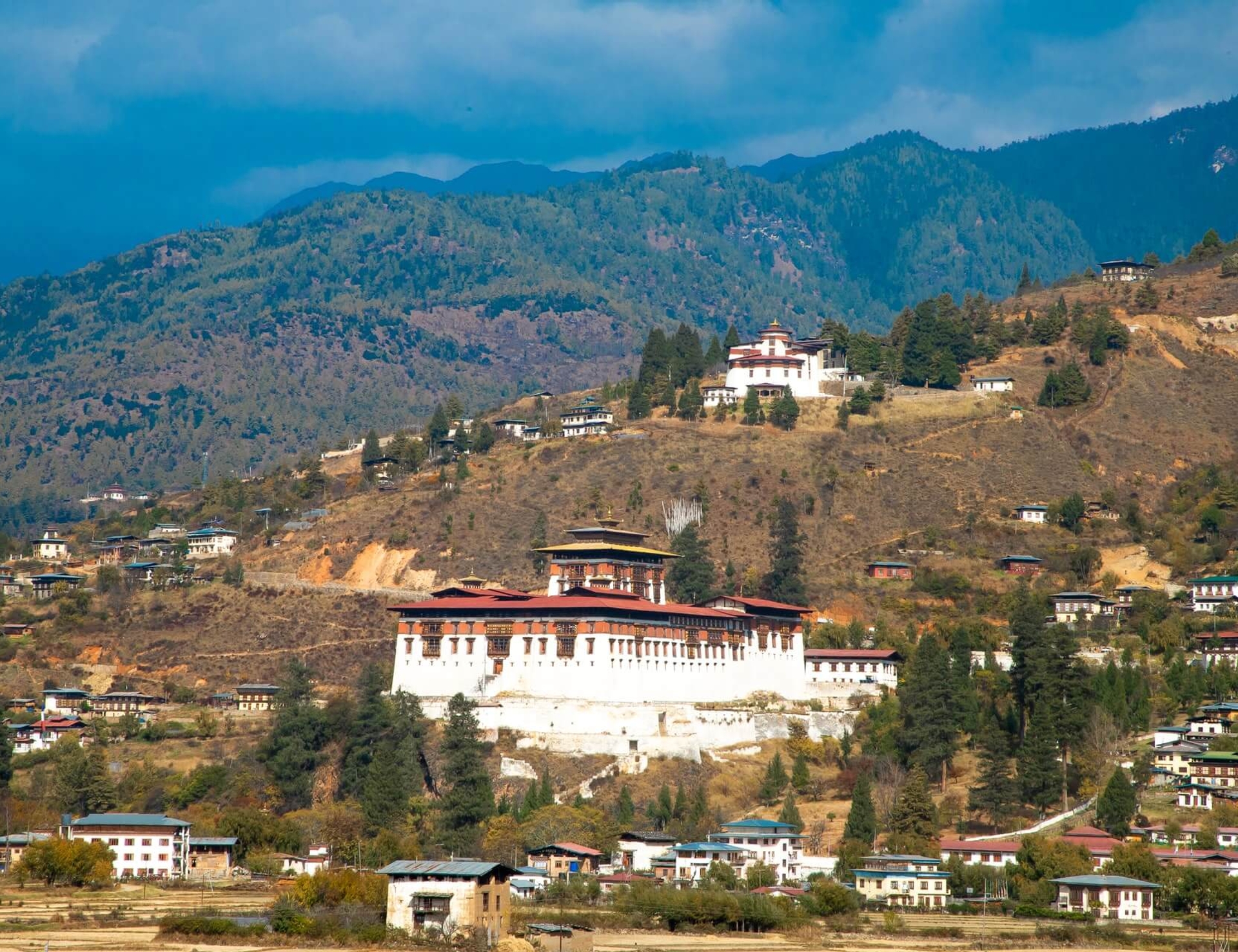 Day 13: Paro
Today, ride to the parking lot and leave the bikes behind and hike up to the Tiger's Nest, which overlooks the town from its perch on a sheer hill. The 17th-century monastery is a perfect place to get a breathtaking bird's eye view of the region. Lovely Kyichu Lhakhang is another monastery worthy of your time.
During the return journey, make a stop at the remnants of the Drugyal Dzong fortress, a significant piece of Bhutanese heritage. This fortress served as a strategic watchtower and played a vital role in repelling numerous Tibetan invasions during the 1600s. On a clear day, we can catch a glimpse of the majestic Jumolhari, also known as the 'Mountain of the Goddess,' towering at 7,329 meters (24,029 feet). Afterward, proceed to the 7th-century Kichu monastery, believed to be Bhutan's earliest Buddhist monastery, established by the renowned Tibetan King Songsan Gyempo. Finally, conclude the ride by returning to the hotel.
Meals:
B,L,D
Day 14: Paro
Today we transfer to the Paro airport.
Meals:
B
Map
Dates and Prices
Note:
Our base pricing is in USD. However, we can also quote in AUD, GBP, CAD, and EUR, and you can pay in the same. Please write us.
Single Supplement
From US $1,135
---
Couldn't find a trip with convenient dates?
Open your date as a join-in tour or customize further as private one.
We offer private departures on almost all our itineraries, and for groups of four or more, they cost the same as our standard trips!
---
Essential Info
Inclusions
LODGING
All hotels as mentioned in the tour details or similar (subject to availability).
trip leader
Expert Trip Leader(s) who look after your every need and add meaning to your vacation.
bike
Immaculately maintained bike with helmet, suited to a terrain.
shuttle
A Van support follows the group of riders and carries all belongings.
meals
Meals as per itinerary. Guests are given the opportunity to dine on their own so that they discover a location independently.
refreshments
Refreshments and mineral water while cycling.
entrance
Entrance fees to most of the monuments and temples.
Additional Inclusions
Sustainable Tourism Fee/Tourism Tax (US $200 per day per person)
Visa Fees (US $40 per person)
All necessary permit fees
Airport pick-up and drop
All meals
Exclusions
Airport pickup and drop
We recommend to book direclty from airport or hotel.
meals
Some meals may not be included. Please check your itinerary.
Beverages
Beverages such as alcohol, tea, coffee, juice at a hotel or restaurant.
Weather
Bhutan's climate exhibits distinct seasonal variations, making it an enchanting destination for cycling enthusiasts. The country can be broadly categorized into four seasons: spring, summer, autumn, and winter. The most favorable months for cycling are during spring (March to May) and autumn (September to November). During these seasons, the weather is relatively mild, with clear skies and pleasant temperatures, creating ideal conditions for cycling adventures.
In spring, Bhutan's landscape comes alive with vibrant blooms, and the cycling trails are adorned with colorful rhododendrons and other wildflowers. In particular, the lower geographic zones of Bhutan, such as the valleys and lowlands, are ideal for cycling in spring. The temperature ranges from cool to warm, providing a comfortable experience for riders exploring the picturesque valleys and rolling hills.
Similarly, autumn presents a magical spectacle as the lush greenery transforms into a stunning tapestry of gold and crimson foliage. During autumn, the higher geographic zones of Bhutan, particularly the mountainous regions, offer fantastic cycling opportunities. The weather remains dry, with refreshing temperatures, making it perfect for cyclists to traverse the diverse terrains and immerse themselves in Bhutan's rich cultural heritage.
Visa
All visitors require a visa before traveling to Bhutan (except those from India, Bangladesh and the Maldives, for whom the relevant processes and fees are different).
We will be handling your visa application on your behalf. To proceed, all participants must share the following documents with us for the application process:
Passport copy
Recent passport size photo (digital)
Arrival and departure flight copy
Copy of travel insurance coverage during travel time in Bhutan