Splendid Sikkim Bike Tour
---
Overview
Landlocked between the towering Himalayas from sides, the most striking part of Sikkim, apart from its astounding natural beauty, is the' happiness quotient' of the people. Call it the result of good weather, the company of the Himalayas, or just a genetic marvel, you will love the cheerful vibe of the place. The fluttering flags of high monasteries share whispery legends with the winds, as small villages busy themselves with farming. For a cyclist, riding from one mountain to another with terraced paddy fields, dense forests, and the haunting chants of monasteries for company, is a lifetime experience. This cycling tour gives you an experience of the simple living of the hills and fantastic landscapes infused with brilliant local food and a tryst with the local customs and traditions.
Avg. dist. cycled
45km or 27mi
Highlights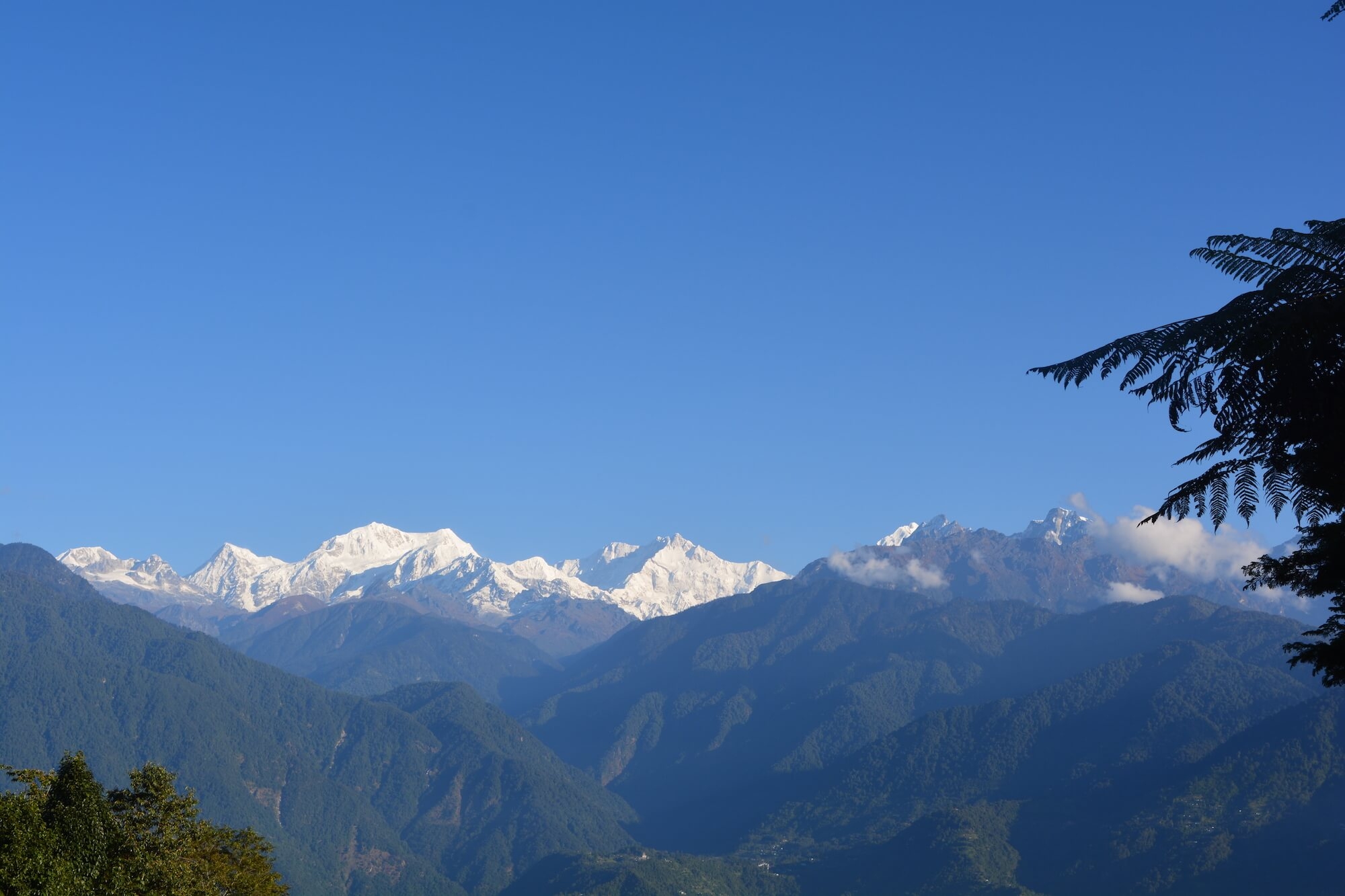 Majestic mountains
Ride past the majestic mountains and monasteries
Itinerary
Brief Itinerary
| Day | Place | Hotel | Meals | Distance | Activity |
| --- | --- | --- | --- | --- | --- |
| DAY 1 | Gangtok | Sonam Delek | D | 15km/9mi | cycling |
| DAY 2 | Gangtok | Sonam Delek | B,L | 25km/15 | cycling |
| DAY 3 | Rumtek | Teen Taley | B,L,D | 30km/18mi | cycling |
| DAY 4 | Temi Tea Garden | Cherry Resort | B,L,D | 50km/31mi | cycling |
| DAY 5 | Ravangla | Buddha Retreat | B,L,D | 20km/12mi | cycling |
| DAY 6 | Yuksom | Ejam Residency | B,L,D | 55km/33mi | cycling |
| DAY 7 | Yuksom | Ejam Residency | B | | |
| DAY 8 | Pelling | Norbu Ghang Resort | B,L,D | 35km/21mi | cycling |
| DAY 9 | Hee | Dhungay Homestay | B,L,D | 30km/18mi | cycling |
| DAY 10 | Kalimpong | Himalayan Hotel | B,L,D | 45km/27mi | cycling |
| DAY 11 | Kalimpong | Himalayan Hotel | B,L,D | | |
| DAY 12 | Shuttle to Bagdogra Airport | | B | | cycling |
Accommodation - Casual Inns
Small luxury and boutique hotels that are true to their heritage and character and reflect local ethos are listed here as Casual Inns. They hold within them an unassuming charm and regional character that is an extension of the destination itself. Most of them fall under the 3-star or 4-star category with a possible mix of homestays.
We have chosen them carefully so that you are well-rested; get a drift of the local character or an enthralling view from your verandah. The above brief itinerary gives you a clickable list of hotels for your perusal.
Detailed Itinerary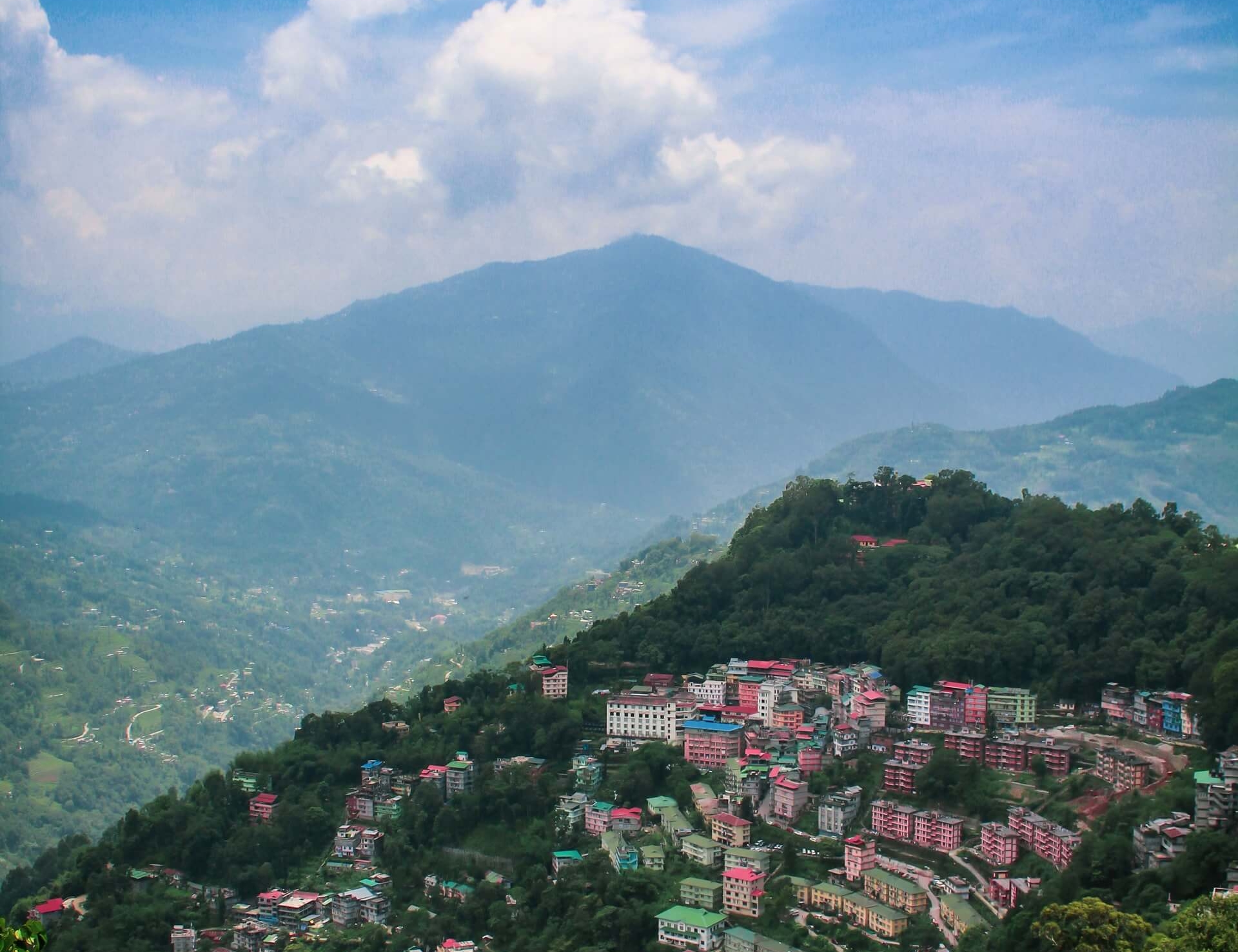 Day 1: Gangtok
The closest air link to Sikkim is at Bagdogra in neighboring West Bengal. On your arrival at Bagdogra, our drivers will get you to Gangtok, the capital of Sikkim.
Sikkim is the second smallest state in India; so do not expect the capital to be a sprawling mass of buildings. Gangtok, the capital of Sikkim, is perched at a height of 5,800 ft, along the trade route between India and Tibet.
Once checked in and rested, your Trip Leader will meet you at your hotel. Shortly after, you will get to try out your bike and ride up to Enchey Gompa giving you a neat little introduction to biking in Gangtok and its cultural practices.
Meals:
D
Cycling Distance:
15km/9mi
Accommodation:
Sonam Delek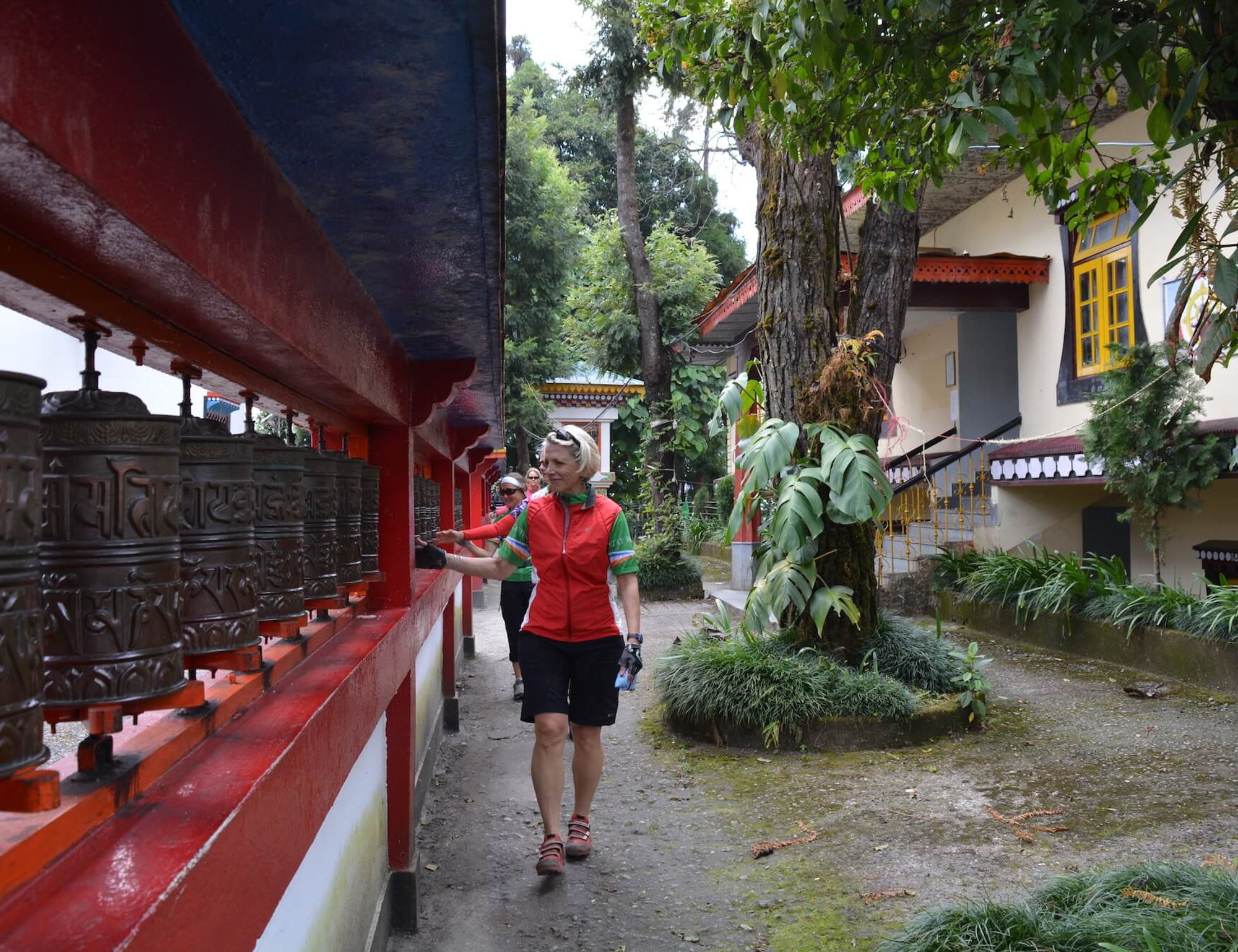 Day 2: Gangtok
We start early today from the hotel for the Gangtok to Hanuman Tok loop. With smiling locals and prayer flags fluttering along the mountainsides, you will get a chance to kick off your Sikkim bike tour on a high note with this lengthier ride through town up to Gangtok's highest point and back.
After lunch, we head to Gangtok's Handicraft and Handloom Emporium for a look at a variety of handicrafts and hand-woven fabrics. Keep an eye out for Thankas (Tibetan wall hangings of paintings made on cloth) and carpets besides which cane, bamboo & wood craft articles are also available. After the shopping session, a delectable local meal awaits you in town in the evening.
Meals:
B,L
Cycling Distance:
25km/15
Accommodation:
Sonam Delek
Day 3: Rumtek
We start early this morning to the pilgrimage town of Rumtek. Built in the 16th century, by Karmapa Wangchuk Dorje, the Rumtek monastery is one of the most important seats of Buddhism in the state. The ride starts with a 20 km downhill ride after which we ride back up the hill to our next hotel. Since is there a fair amount of traffic initially, you can use the backup shuttle at any time if you need it. The road is bumpy but as you get away from central Gangtok, you will get the hang of it. Prayer flags will flutter in the breeze as you pass paddy terraces and each little house has its own little garden in bloom colorfully in the front on this route. At Rumtek, we check in at Hotel Teen Taley, an eco-conscious resort with landscaped gardens, comfy rooms, and excellent hospitality. The food here is made with care the traditional way with locally sourced ingredients. You will find that the small world charm of an era gone by lingers here still in these soulful valleys.
After lunch, we join worshippers at Rumtek Monastery where a Golden Stupa located inside the monastery encompasses the relics of the 16th Karmapa. The monastery also hosts several Tibetan festivals throughout the year including the Tse-Chu Chaam and Kagyat Dance. The Tibetan New Year, Losar, is celebrated with great vigor here.
Meals:
B,L,D
Cycling Distance:
30km/18mi
Accommodation:
Teen Taley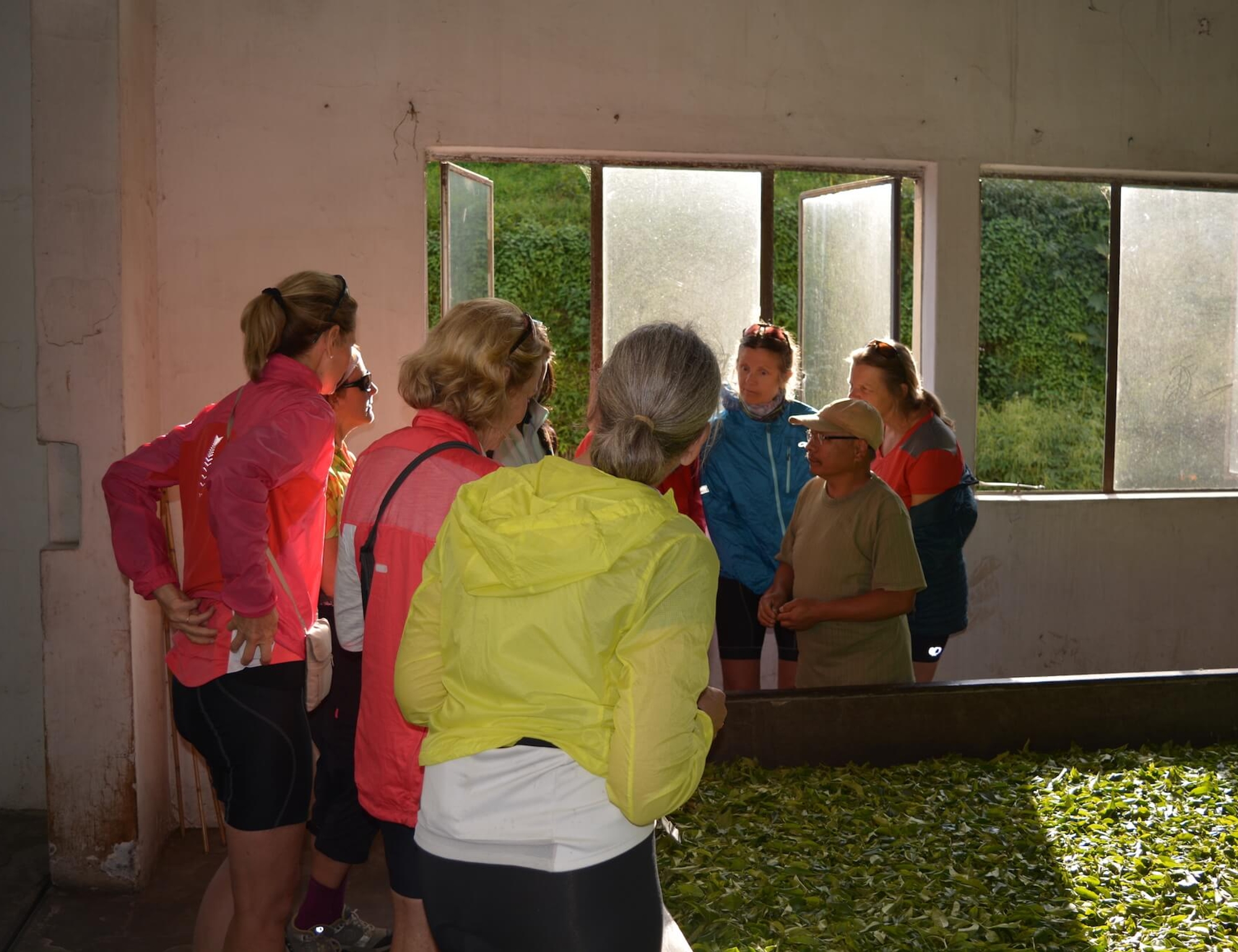 Day 4: Temi Tea Garden
The journey from Rumtek to Temi Tea Garden, the only tea estate in Sikkim, is long and arduous. It starts with a winding descent through rustic terrain followed by a slow climb up to the tea gardens. As the sprawling tea estates open up around you, you will find the effort to be worth the trouble.
Having biked till Tarku our lunch point, the stretch that follows after lunch will be covered in the shuttle vehicle. By the time the ride ends, there is a distinct possibility that the mountains might have cast their spell on you and you might even be itching to ride more! We drive up from Tarku to Temi however in time for a tour of the organic Temi tea gardens. Established in 1969, the Temi tea garden covers an area of 440 acres. Here you will get a chance to watch the tea pickers at work bent over due to the strain of their heavy baskets. We check in to the government-run Cherry Resort after this and this hotel is the only accommodation at the top here.
Meals:
B,L,D
Cycling Distance:
50km/31mi
Accommodation:
Cherry Resort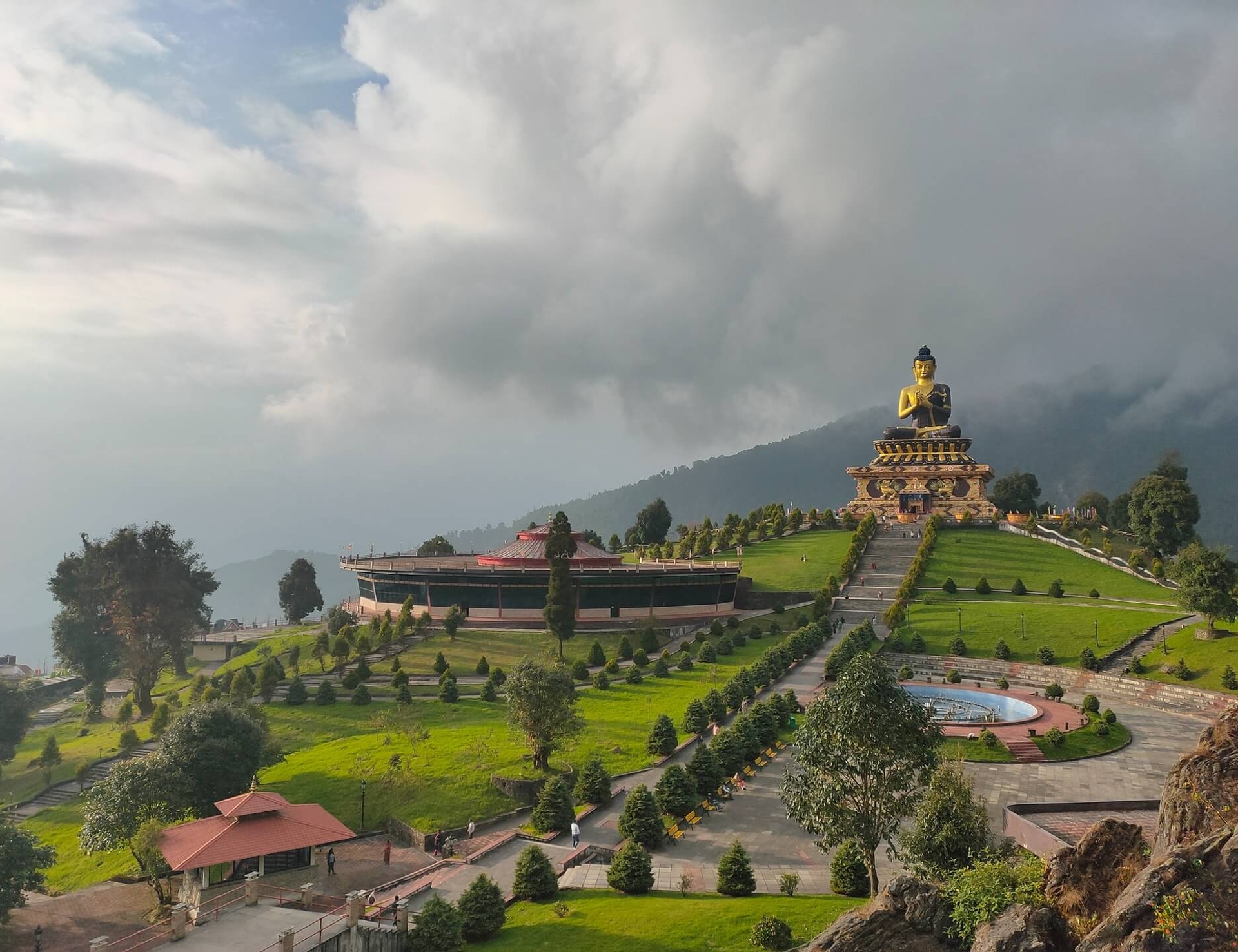 Day 5: Ravangla
There is an initial gradual climb with the therapeutic green of the tea gardens giving way to small villages tucked away in between the wild forests. The route then flattens out before going downhill to Ravangla.
We take this day as a semi-rest day to prepare for a long and arduous climb the next day.
Meals:
B,L,D
Cycling Distance:
20km/12mi
Accommodation:
Buddha Retreat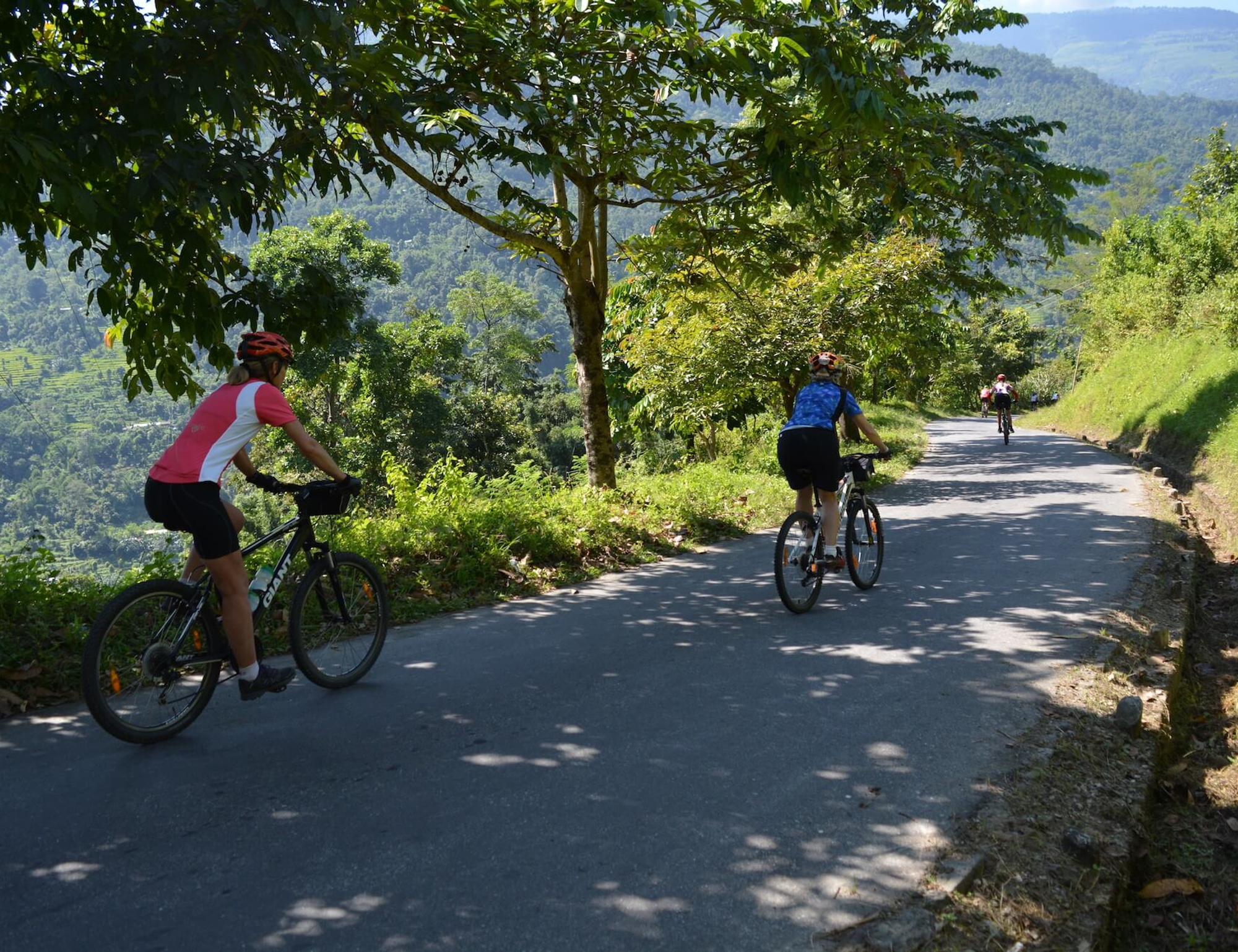 Day 6: Yuksom
Today's route is likely to be one of the most awe-inspiring bits of your Sikkim cycling trip! A long and challenging climb with unmatched views all around.
We take a break at Tashiding in time for a visit to the Tashiding monastery. It is an important monastery for the Buddhist pilgrims as it is said to be the meeting point of the three Holy Lamas of Tibet in 1641 A.D. Perched on a conical hill, this is where Lhatsun Chenpo, the patron saint of Sikkim, is said to have built the famous Chorten or Stupa of Tashiding Thongwa Rangdol. The tranquil environs of the monastery will leave you in a zen state of mind.
The stay tonight is at Ejam Residency run by a lovely local family. Tucked away in the mountains, here you will get to try more of the local cuisine. Adventurous foodies can pair that with the local beer 'chhang', made of millet, it is pretty potent and a lifeline for the hill folks!
Meals:
B,L,D
Cycling Distance:
55km/33mi
Accommodation:
Ejam Residency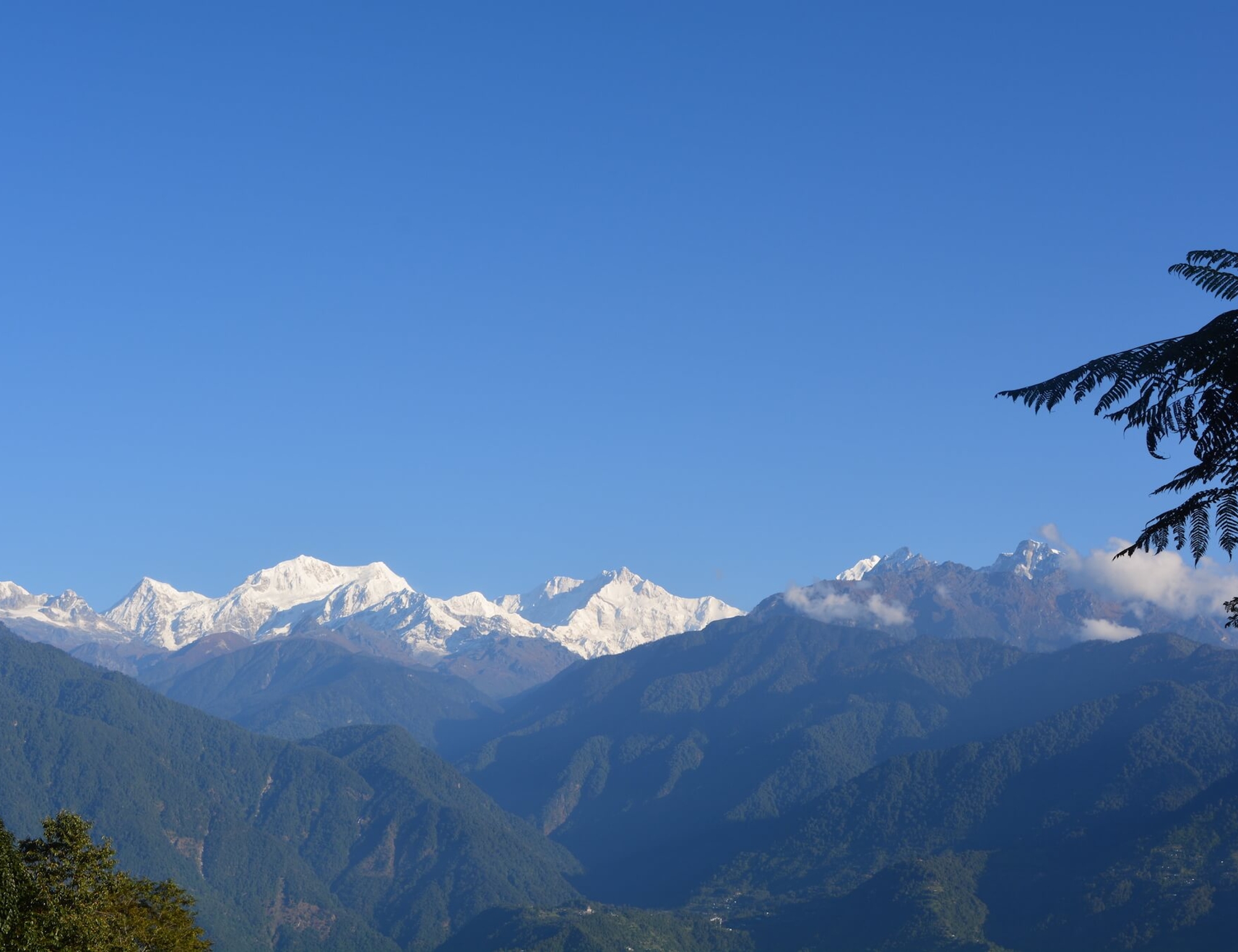 Day 7: Yuksom
We take a break from riding this day so you can enjoy the mountainous environs of this alpine village. Take a walk around to explore Yuksom. One can visit the Gompa and the lake where the First King of Sikkim was crowned or trek up to the Dubdi monastery if you feel like hiking a bit. Dubdi monastery is the oldest monastery of Sikkim and can be reached in less than an hour from the hotel. Once up there, sit back, and relax, you have plenty of time to take it all in.
Meals:
B
Accommodation:
Ejam Residency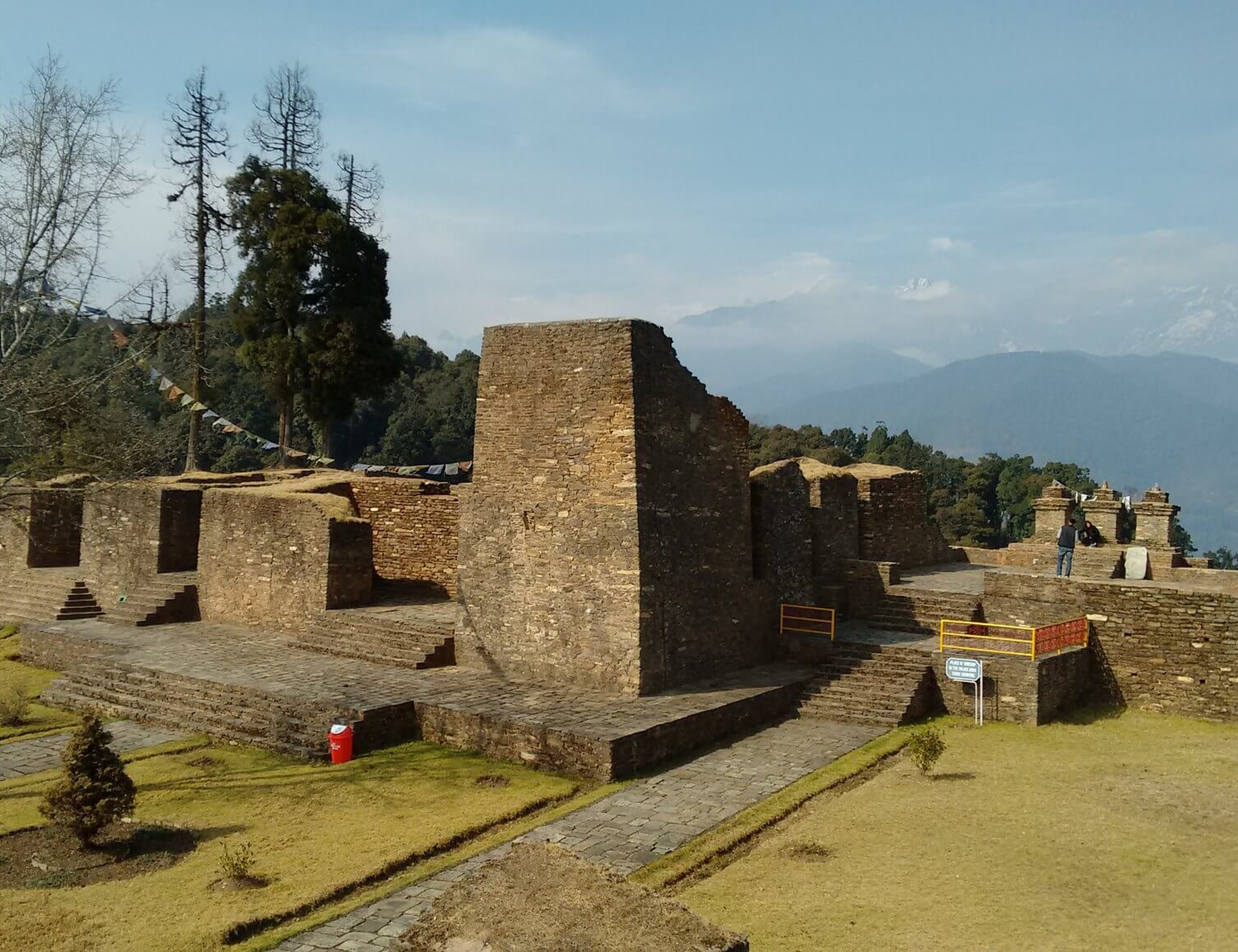 Day 8: Pelling
Back on our bikes nice and early again, the route in this section begins with long downhill sections in the first half and rolling, uphill sections in the second half. There are several waterfalls en route including the Kanchenjunga falls. And if you have somehow managed to turn enough prayer wheels to please the Weather Gods, the views of the mighty Kanchenjunga Range will enthrall you as you reach Pelling.
At 2,072 m/6,800 feet above sea level, the crisp air of Pelling is refreshing and inspiring. Quaint villages, deep valleys, and forested mountains surround you as you bike into this unhurried little town.
Pelling is renowned for the Pemayangtse Monastery, which was founded in 1705 A.D. It is one of the oldest monasteries in Sikkim and is replete with ancient relics, wall murals, and sculptures. We will visit this monastery after check-in and lunch at the Norbu Ghang Resort Hotel. If time allows, we will also visit Rabdentse ruins, the remains of what was once the capital of the kingdom of Sikkim.
Meals:
B,L,D
Cycling Distance:
35km/21mi
Accommodation:
Norbu Ghang Resort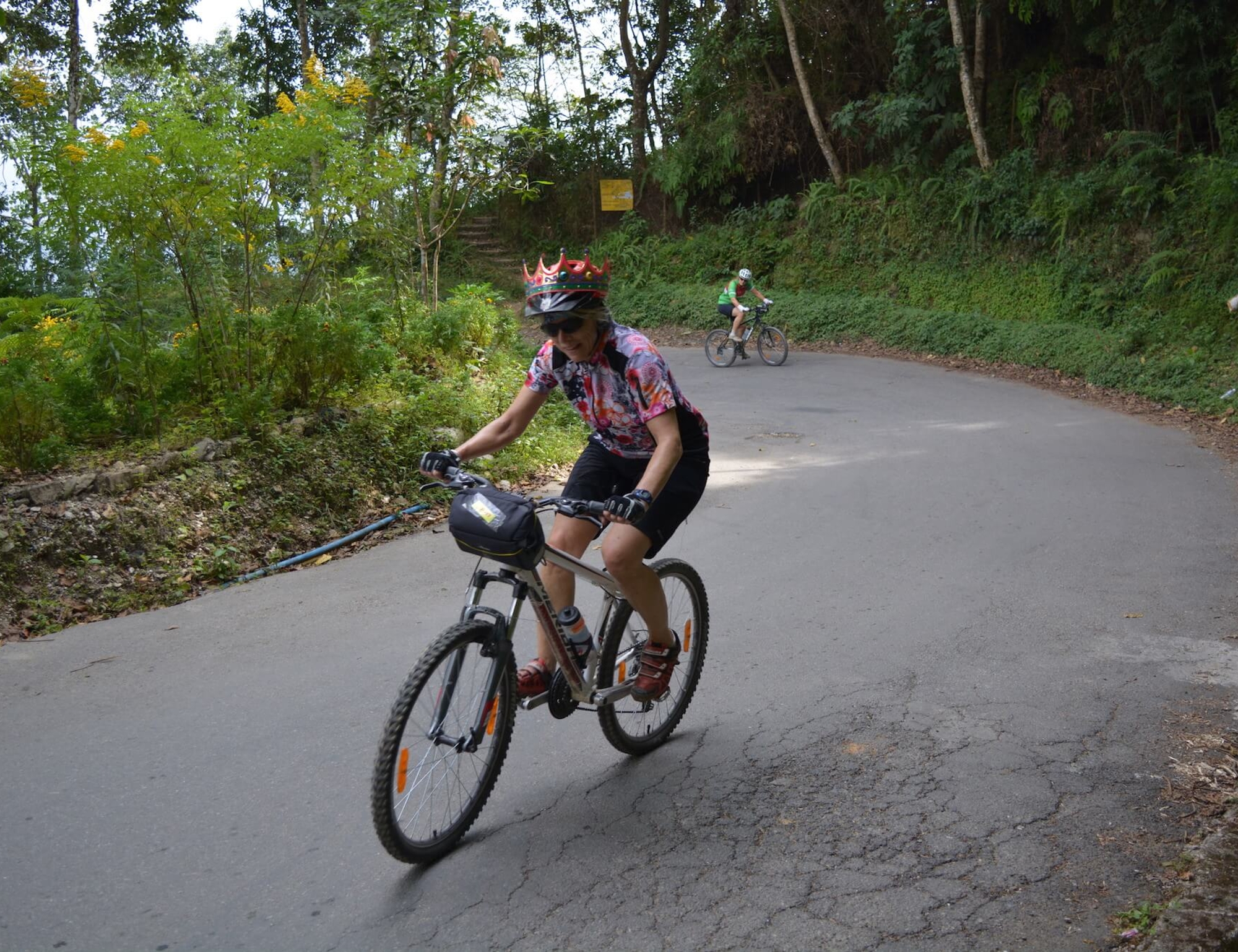 Day 9: Hee
A week into the hills you will now be familiar with the wafting smell of momos (baked dumplings), 'Chhang', and the topography of Sikkim. The journey to Hee Bermick is across paddy fields and villages; an easier ride as compared to others. On the way, we detour to see the second highest bridge in Asia, the Singshore Bridge. This is one of the most untouched parts of Sikkim, dotted with vast farmland. To give you an up-close experience of a typical Sikkimese house, we stay at the Dhungay Homestay. Here you can get your hands dirty with the farm life; help in milking the cows, digging for veggie sowing, and picking some in the mornings. The organic food of this farm stay is crunchy and delicious.
Meals:
B,L,D
Cycling Distance:
30km/18mi
Accommodation:
Dhungay Homestay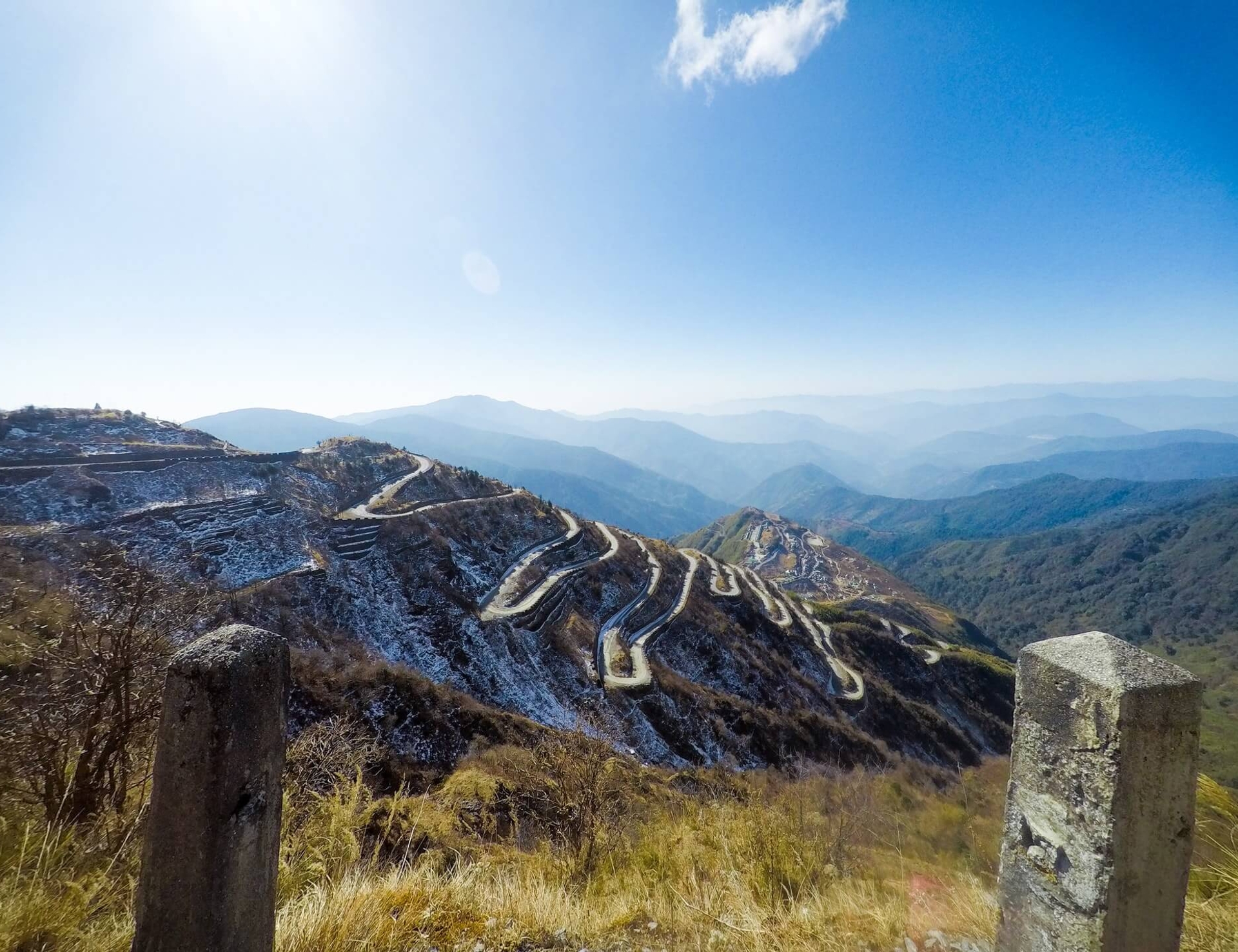 Day 10: Kalimpong
This will be the last riding day of this Sikkim cycle tour. Mostly downhill, we head out to Jorethang. Having braved innumerable switchbacks and winding roads until the town of Jorethang, we stop for lunch at Hotel Namgyal after which we will jump into the vehicle to reach Kalimpong by evening.
Meals:
B,L,D
Cycling Distance:
45km/27mi
Accommodation:
Himalayan Hotel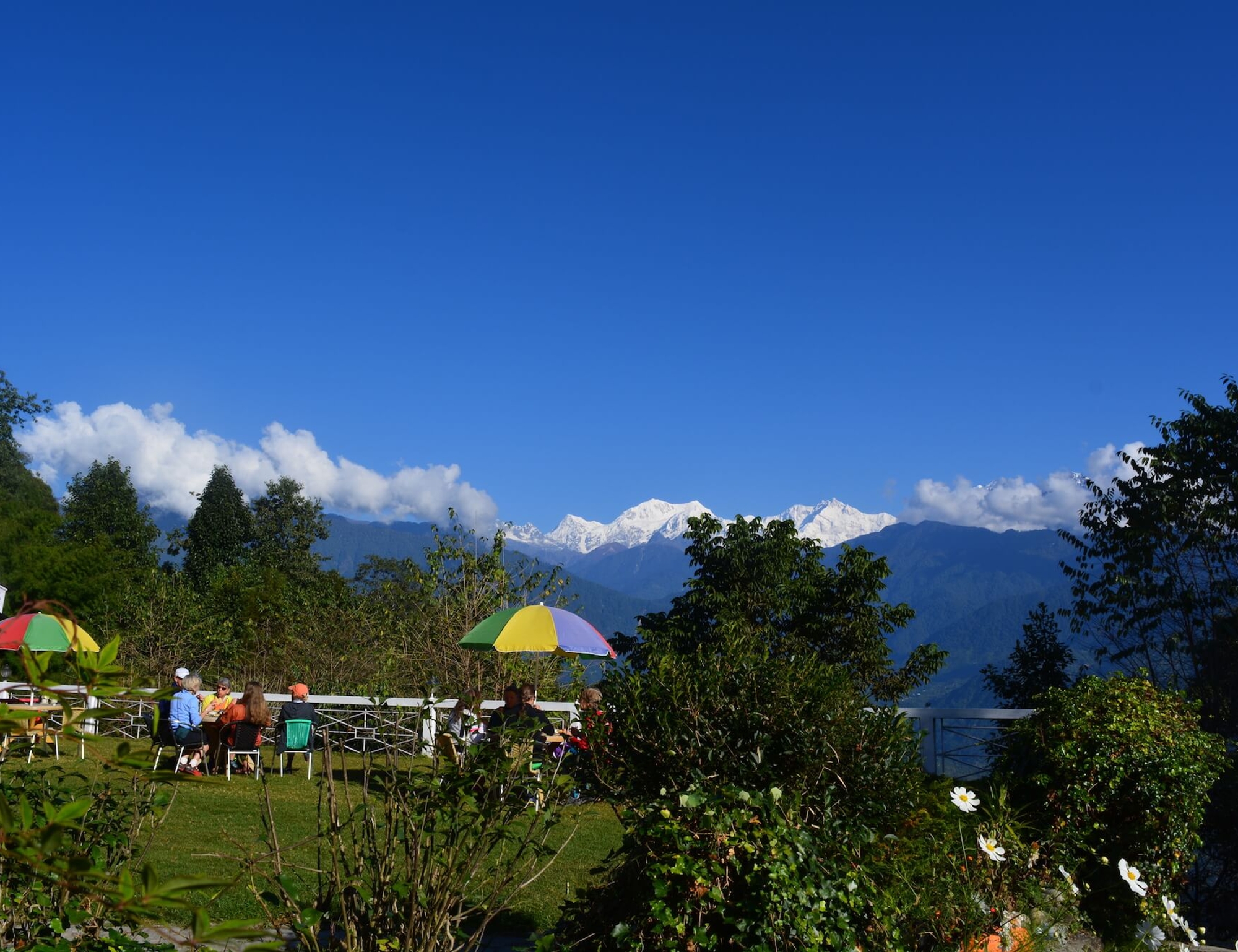 Day 11: Kalimpong
This is a great place for you to pick up some souvenirs; Darjeeling tea for black tea lovers, Tibetan carpets, jewelry, and bric-a-brac, there is plenty to choose from. So make sure you leave enough room in your bags when you start packing at home.
We stay here at the Himalayan Hotel, which has been home to Everest expeditions from the days of Mallory and Irving in the 1920s. In the early days of the last century, the hotel was the family home of David Macdonald. After accompanying the Younghusband Mission to Lhasa in 1904 as an interpreter, Macdonald was posted to Tibet as a British Trade Agent, serving in Yatung and Gyantse until his retirement in 1924. Today it is managed by Nilam and Tim Macdonald, David Macdonald's grandson. They have ensured it remains, in the words of the distinguished travel writer James Cameron, "a collector's piece among hotels" and that little has changed since.
Meals:
B,L,D
Accommodation:
Himalayan Hotel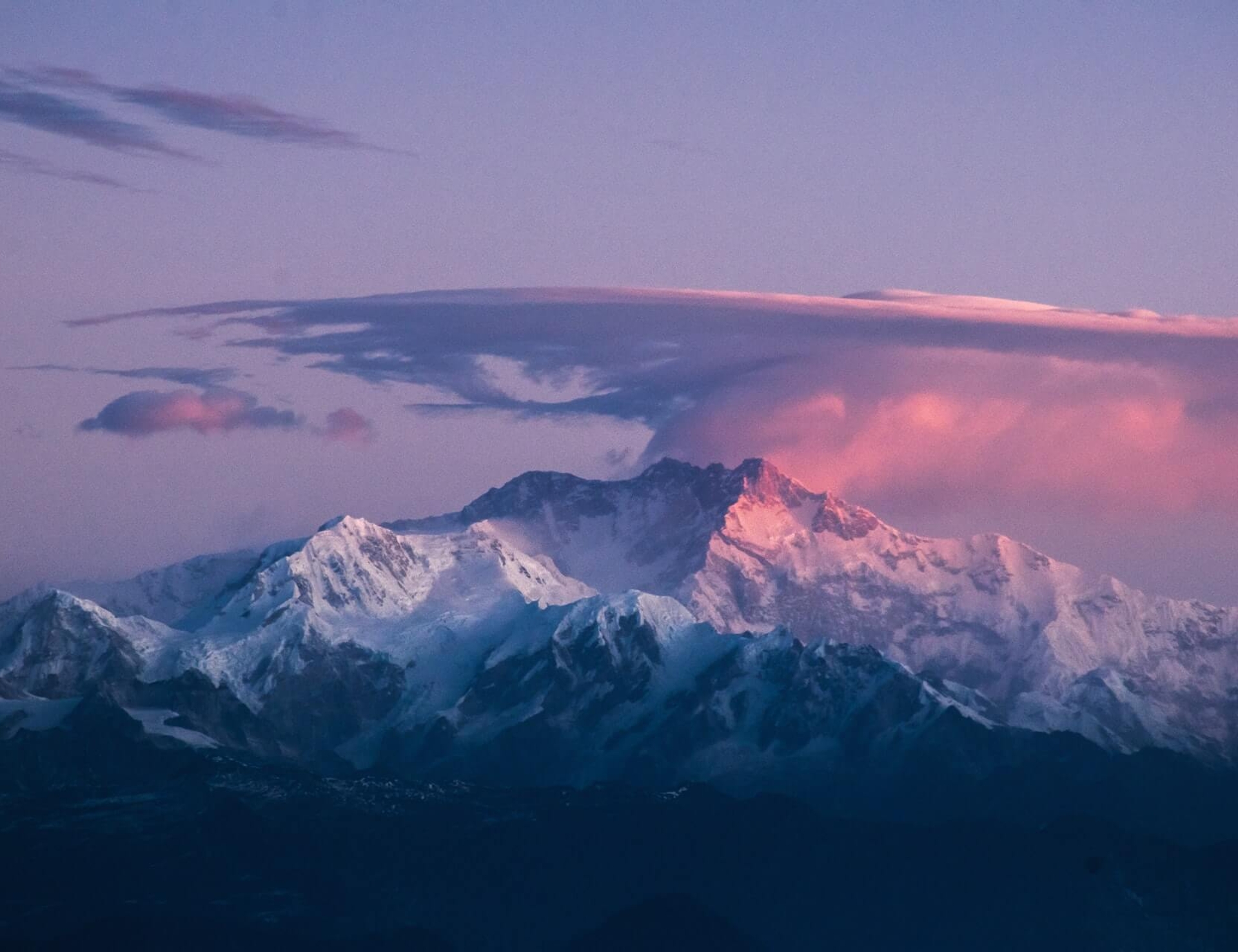 Day 12: Shuttle to Bagdogra Airport
Our trip concludes late-morning at the hotel. Your leaders will make arrangements for transportation to the Bagdogra Airport.
Meals:
B
Map
Dates and Prices
Note:
Our base pricing is in USD. However, we can also quote in AUD, GBP, CAD, and EUR, and you can pay in the same. Please write us.
---
Couldn't find a trip with convenient dates?
Open your date as a join-in tour or customize further as private one.
We offer private departures on almost all our itineraries, and for groups of four or more, they cost the same as our standard trips!
---
Essential Info
Inclusions
LODGING
All hotels as mentioned in the tour details or similar (subject to availability).
trip leader
Expert Trip Leader(s) who look after your every need and add meaning to your vacation.
bike
Immaculately maintained bike with helmet, suited to a terrain.
shuttle
A Van support that follows the group of riders and carries all belongings.
meals
Meals as per itinerary. Guests are given the opportunity to dine on their own so that they discover a location independently.
refreshments
Refreshments and mineral water while cycling.
entrance
Entrance fees to most of the monuments and temples.
Bikes
When you have a road and the thrill of a journey ahead of you, it's imperative to have a good bike to enjoy it. Our fleet majorly consist of the below bikes as a part of this tour. However, sometimes due to height or availability constraints, we may provide a different but similar quality bike.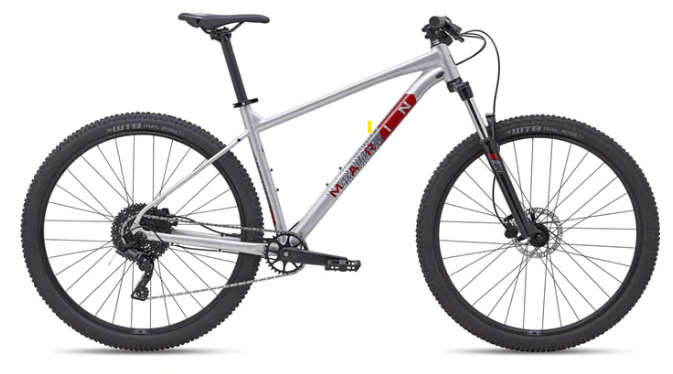 mountain
Included in your trip price
Exclusions
Airport pickup and drop
We recommend to book direclty from airport or hotel.
meals
Some meals may not be included. Please check your itinerary.
Beverages
Beverages such as alcohol, tea, coffee, juice at a hotel or restaurant.
Reviews from our friends
memorable experience in Sikkim
Art of Bicycle Trips gave our group of ten women a memorable experience in Sikkim. The condition of the roads and the mountainous landscape made riding challenging, but it was worth every moment to experience the vistas of the Himalaya, the lush landscape, prayer flags everywhere and colorful cultural sites around every corner.
Simply awesome
Ten white women on mountain bikes, who were definitely not in their twenties still turned plenty of eyes in Sikkim! Art of Bicycling did a great job customizing a route for us, plenty challenging, but also time to rest, relax and enjoy the beauty of this special place.