High in the Himalayas Bike Tour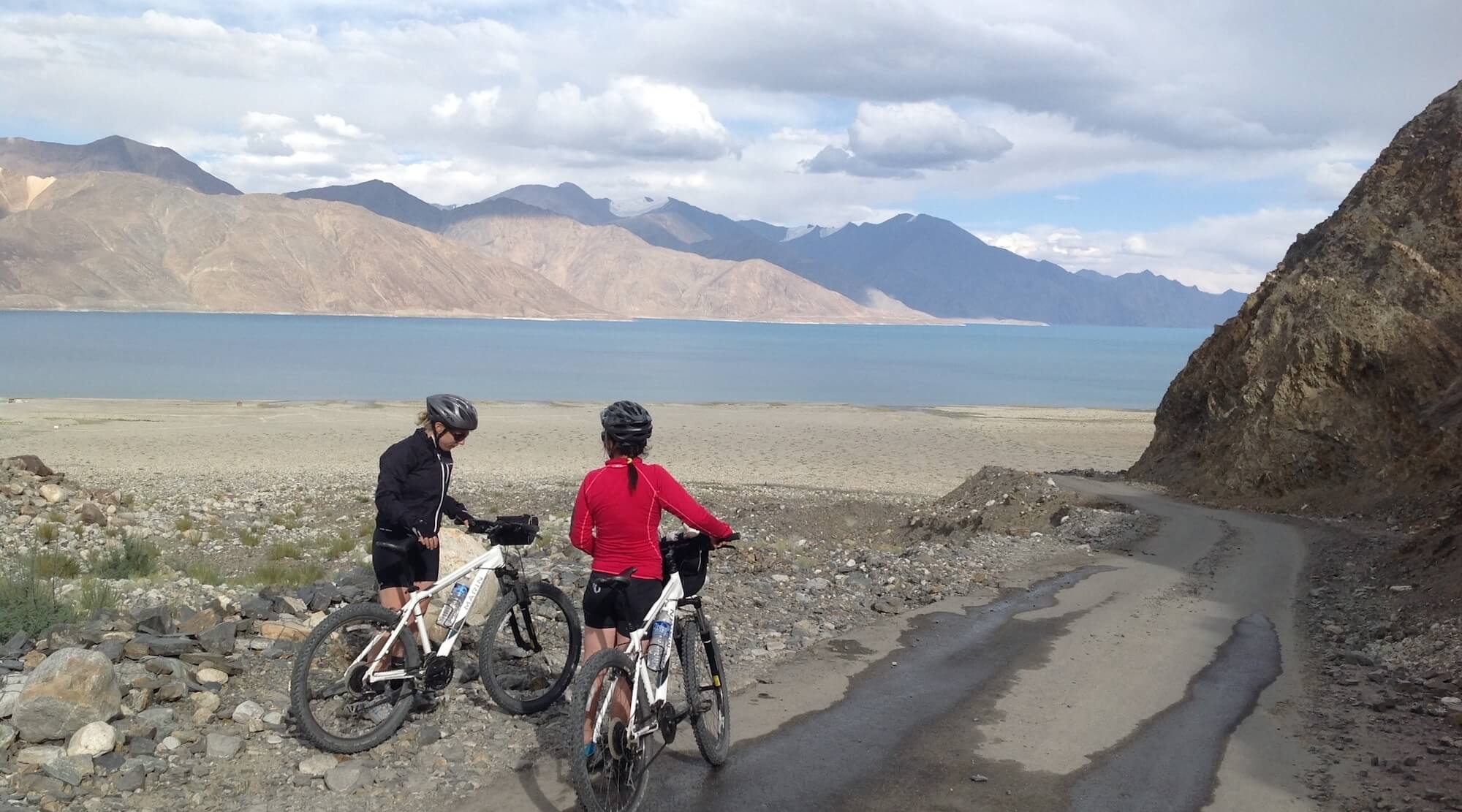 ---
Overview
With an unmatchable 'blueness' in the sky and wonderfully unique vistas of lofty brown desert mountains, monasteries perched on hilltops and bright windows adorning white washed 'Lego like' houses, Leh is nothing short of a topographical wonder! Looking at the surreal landscape around you, you will certainly be gasping from something other than the altitude. Surrender to the warm Tibetan hospitality and savour your surroundings.
This trail is perfect for those who like a blend of challenging portions to pedal, as well as easy fun rides with enough downhill sections to whizz through. From the perspective of physical challenge, you will be up against an average altitude of 12000 feet, windy passes, sharp meandering turns and virtually no roads at times, though at any given time, the backup van will be close at hand for those who want to be more indulgent.
Avg. dist. cycled
45km or 27mi
Highlights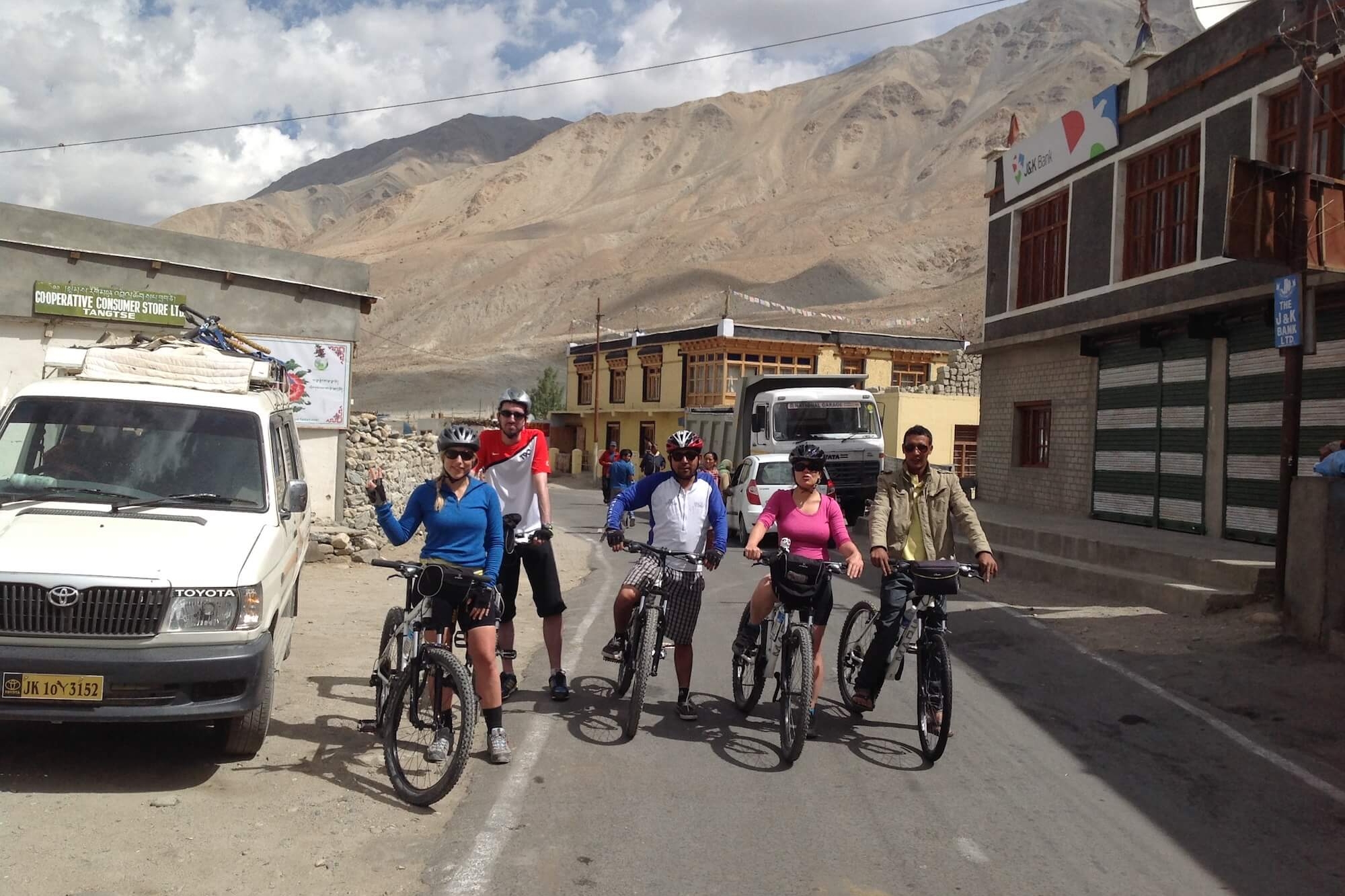 Leh
Soak into the stunning and dramatically diverse topography of Leh and regions around
Brief Itinerary
| Day | Place | Hotel | Meals | Distance | Activity |
| --- | --- | --- | --- | --- | --- |
| DAY 1 | Leh | Hotel Dragon | D | | |
| DAY 2 | Leh | Hotel Dragon | B,L | 30km/18mi | cycling |
| DAY 3 | Leh | Hotel Dragon | B,L | 25km/15mi | cycling |
| DAY 4 | Sakti | Saktivilla | B,L,D | 50km/30mi | cycling |
| DAY 5 | Tangtse | Pangong Residency | B,L,D | 70km/42mi | cycling |
| DAY 6 | Tangtse | Pangong Residency | B,L,D | 30km / 18mi | cycling |
| DAY 7 | Sakti | Saktivilla | B,L,D | | |
| DAY 8 | Hunder, Nubra Valley | Karma Inn | B,L,D | 50km/30mi | cycling |
| DAY 9 | Hunder, Nubra Valley | Karma Inn | B,L,D | 50km/30mi | cycling |
| DAY 10 | Khardung Village | Camping | B,L,D | | |
| DAY 11 | Leh via Khardung La Pass | Hotel Dragon | B,L | 70km/42mi | cycling |
| DAY 12 | Leh | | B | | |
Detailed Itinerary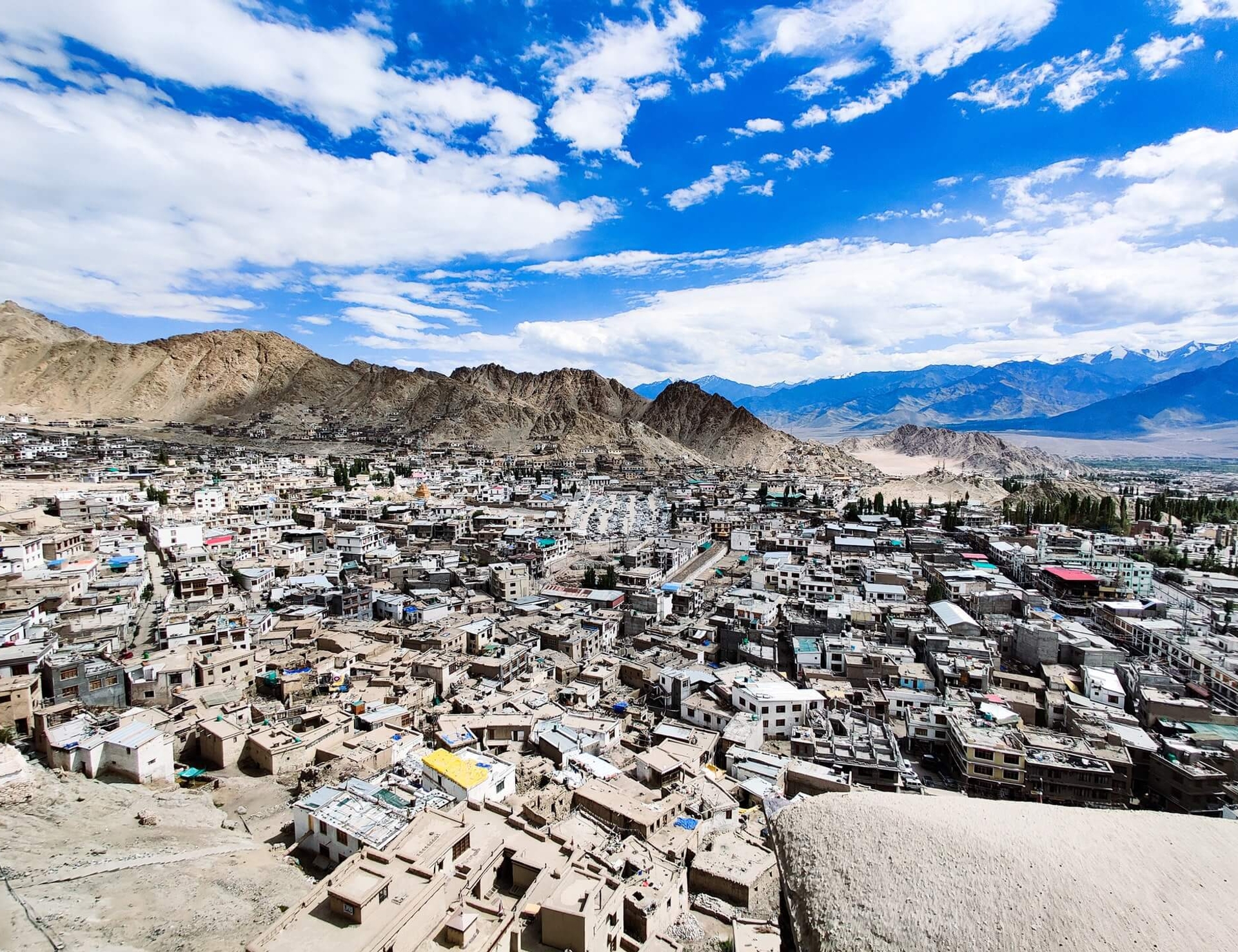 Day 1: Leh
Take a flight from Delhi to Leh (flight is not included in tour price) over a stack of snow-topped mountains for a large part of journey. Pray for a clear sunny day for a stunning view! This day is entirely dedicated to acclimatizing the body to the altitude of 3524 meters / 11,562 ft.
Leh is the capital town of the Himalayan district of Ladakh, and falls in the Jammu and Kashmir state of India. A former stop on the silk route, which cut across the vast Afro-Eurasian landmass, the unassuming town still has an unquestionable allure about it. Being a backpacking hub for decades, Leh and the surrounding areas have an exquisite mix of a Bohemian vibe and a diffident rustic environment. Experience the best of both in the small cafes bursting with different nationalities and international cuisines along with the contrasting local life, steeped in simplicity and strong Buddhist leanings. Today you can plan your own day. We recommend to explore on foot and stroll to the Leh palace, which overlooks the town from its perch on a small hill. The 17th century palace is a perfect place to get a breathtaking bird's eye view of the region. The Japanese Shanti Stupa, is another sightseeing spot worthy of your time. Take the steps rather than the road to get that blood pumping; that panoramic views from here will be even more rewarding after that little trek.
It is imperative for us to get the body used to the rarified air of the mountains before we hit the pedal.
Meals:
D
Accommodation:
Hotel Dragon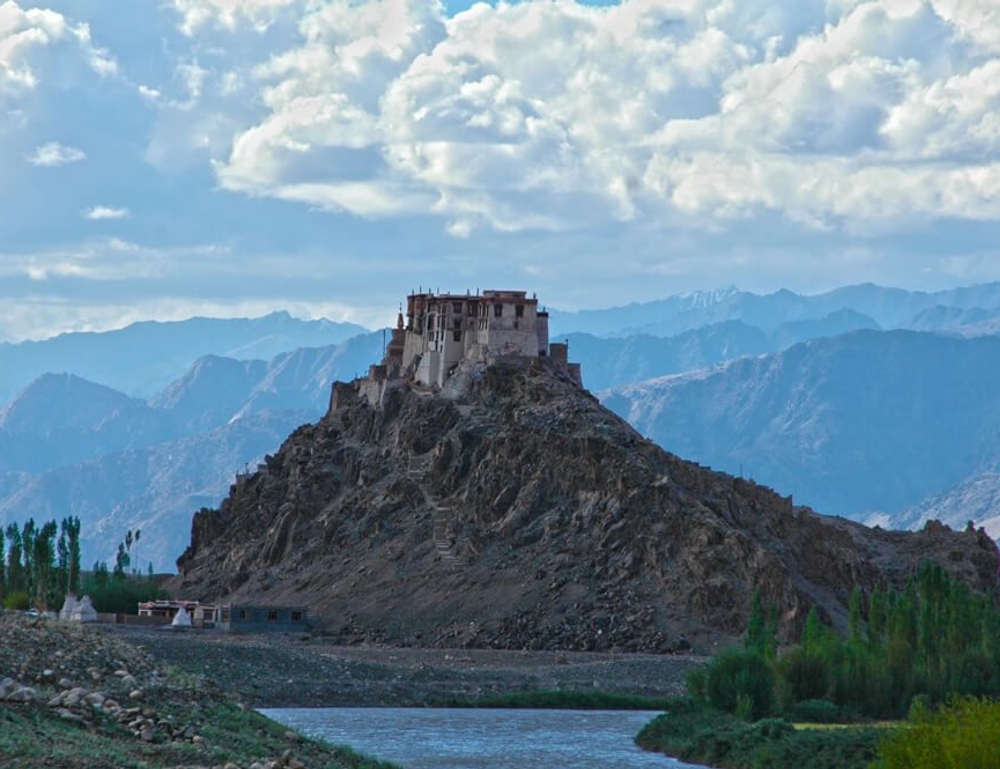 Day 2: Leh
We warm up with a short ride to Spituk monastery. This day takes you past stunning mountainous landscape of Ladakh. We visit the majestic Spituk Gompa along the way and then cross the majestic Indus river – the cradle of one of the world's greatest civilizations before looping back to Leh.
You can also take this day to acclimatize further for your trip ahead.
Meals:
B,L
Cycling Distance:
30km/18mi
Accommodation:
Hotel Dragon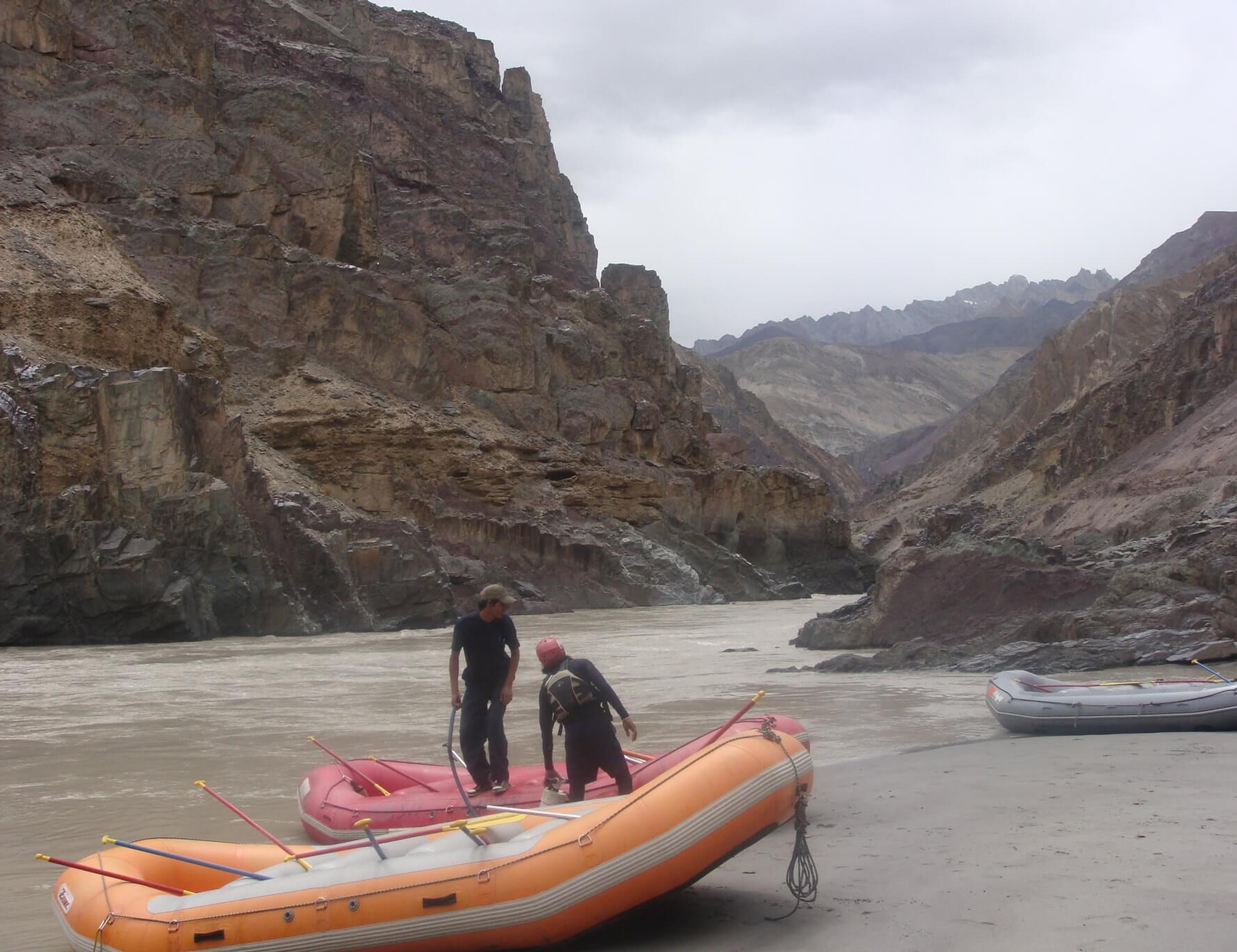 Day 3: Leh
We take a transfer to Nimoo and then ride along Zanskar river to Chilling. From here we switch bike to a raft and head back on Zanskar river on Grade 3 rapids to Nimoo. It's an exhilarating ride back on a raft. Enjoy it to the fullest.
Meals:
B,L
Cycling Distance:
25km/15mi
Accommodation:
Hotel Dragon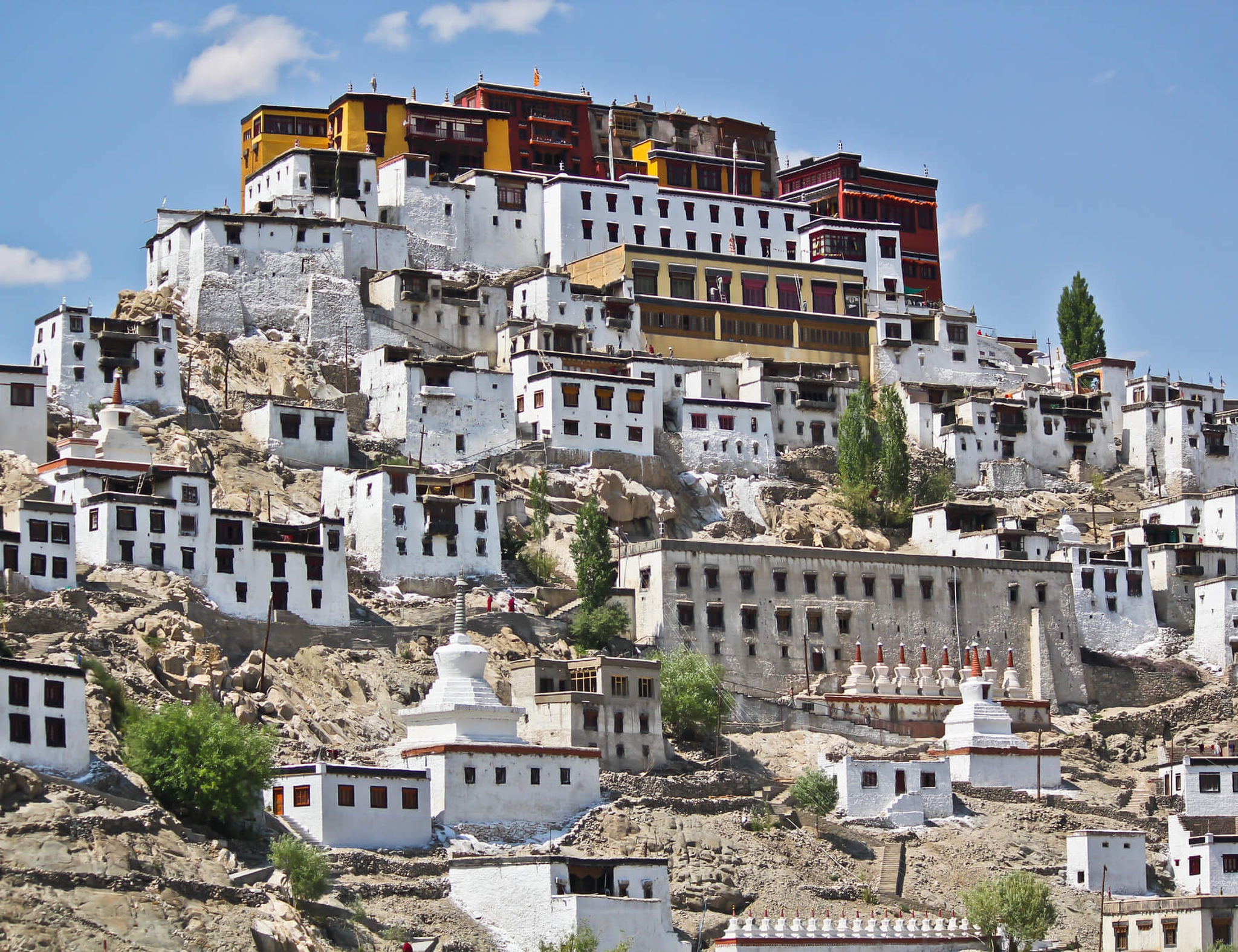 Day 4: Sakti
Today, we ride to Stakna past the famous Thikse monastery to Sakti. The Stakna Gompa (Buddhist monument/monastery) is a treasure trove of cultural heritage. Also known as the 'Tiger Nose monastery', Stakna stores invaluable artifacts and paintings from late 16th century.
It's gradual ride to the Sakti after a small infusion of culture yesterday. Time to rest well and gear up for some serious climb ahead!
Meals:
B,L,D
Cycling Distance:
50km/30mi
Accommodation:
Saktivilla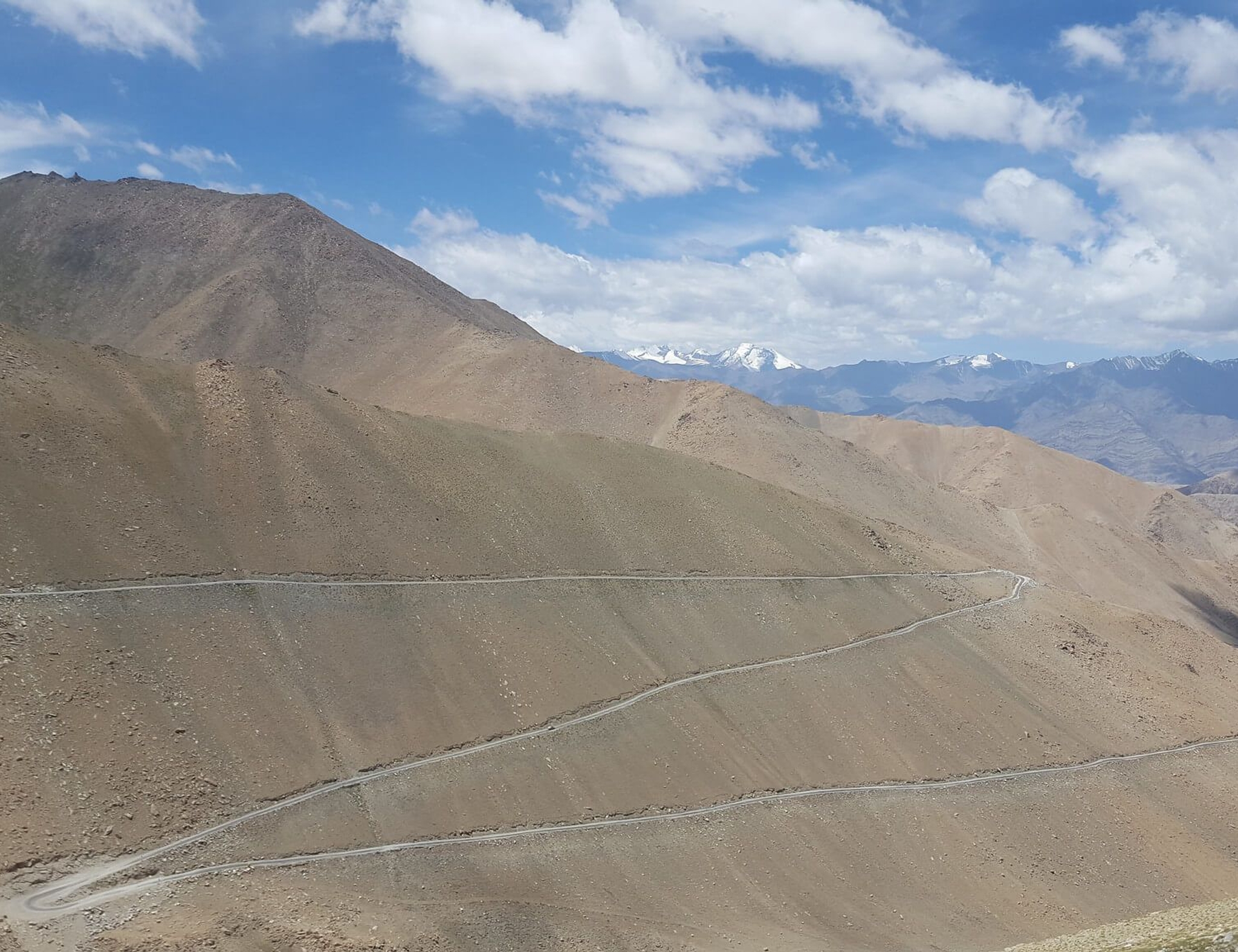 Day 5: Tangtse
We leave early to reach one of the most distinguished destinations of Ladakh- the Chang La pass. The steep climb to pass is narrow and often rubbly for long patches a wholesome one for cycling nevertheless. Along with the steep climbs, you will also encounter downhill dips and flat roads – this one will be perfect for your cycling sensibilities!
Meals:
B,L,D
Cycling Distance:
70km/42mi
Accommodation:
Pangong Residency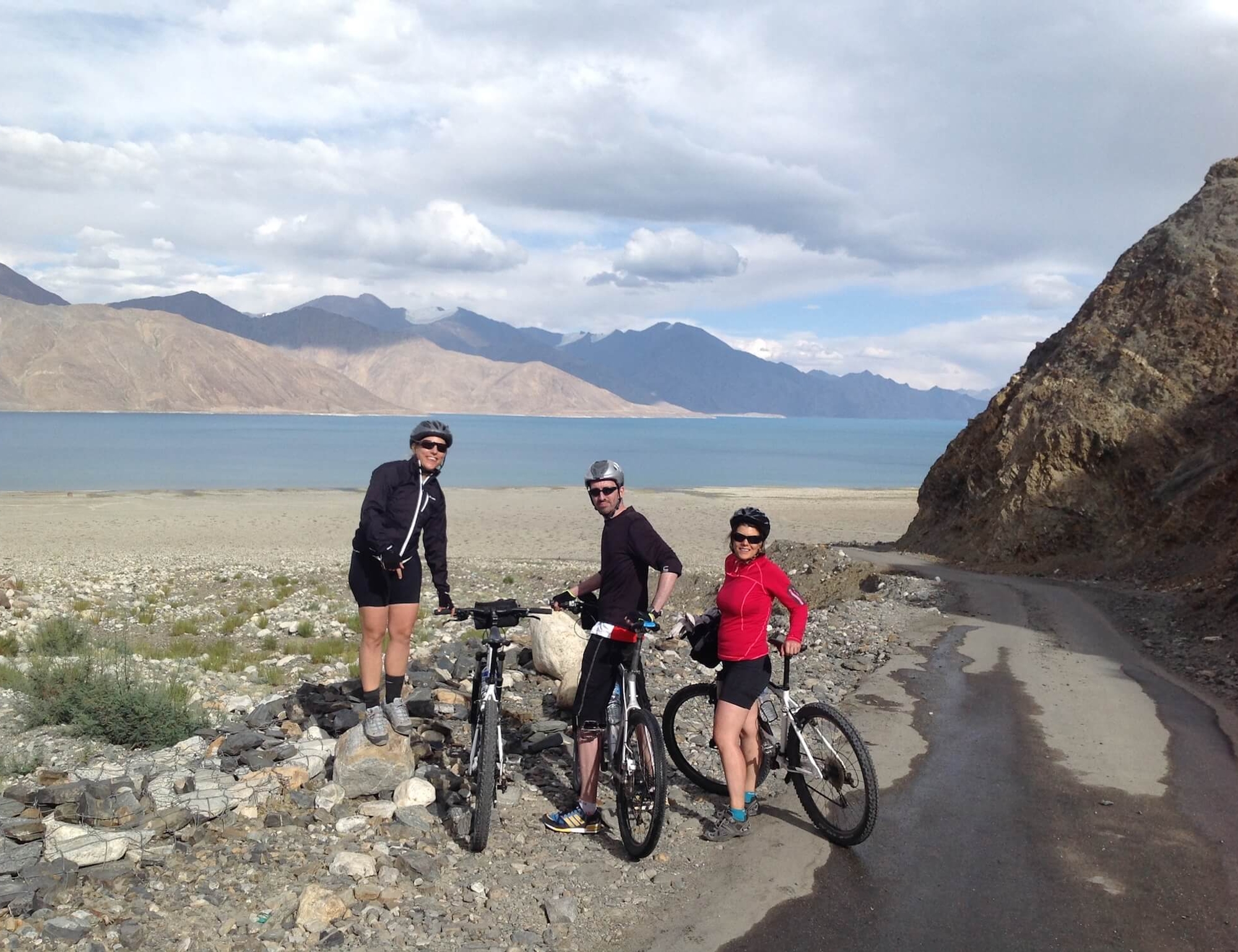 Day 6: Tangtse
Ride to spectacular Pangong Lake. Admire the unmatched beauty all around before shuttling back to Tangtse.
Meals:
B,L,D
Cycling Distance:
30km / 18mi
Accommodation:
Pangong Residency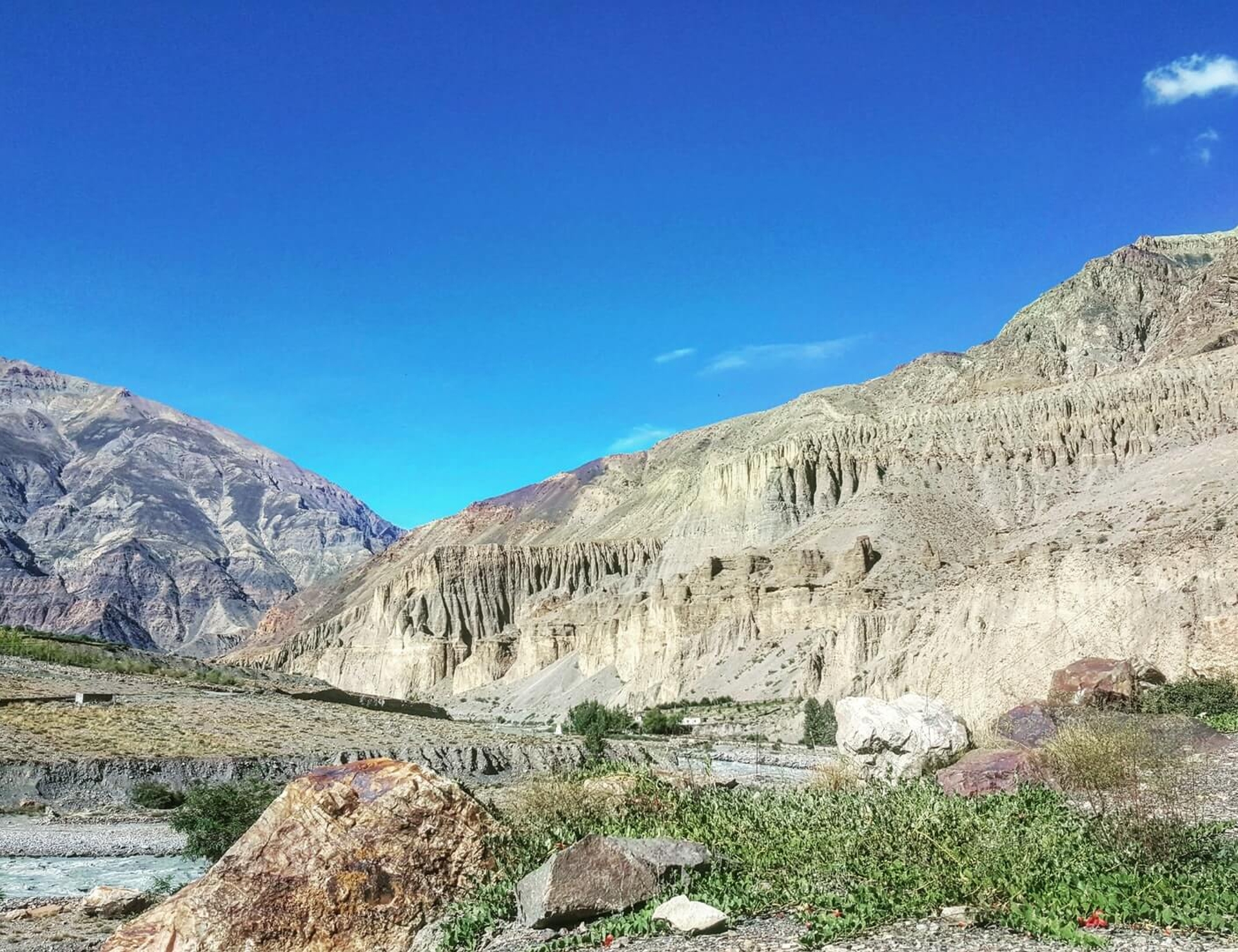 Day 7: Sakti
Today we shuttle to Sakti and take it as a rest day. You have ample time today to walk through bucolic Sakti village.
Meals:
B,L,D
Accommodation:
Saktivilla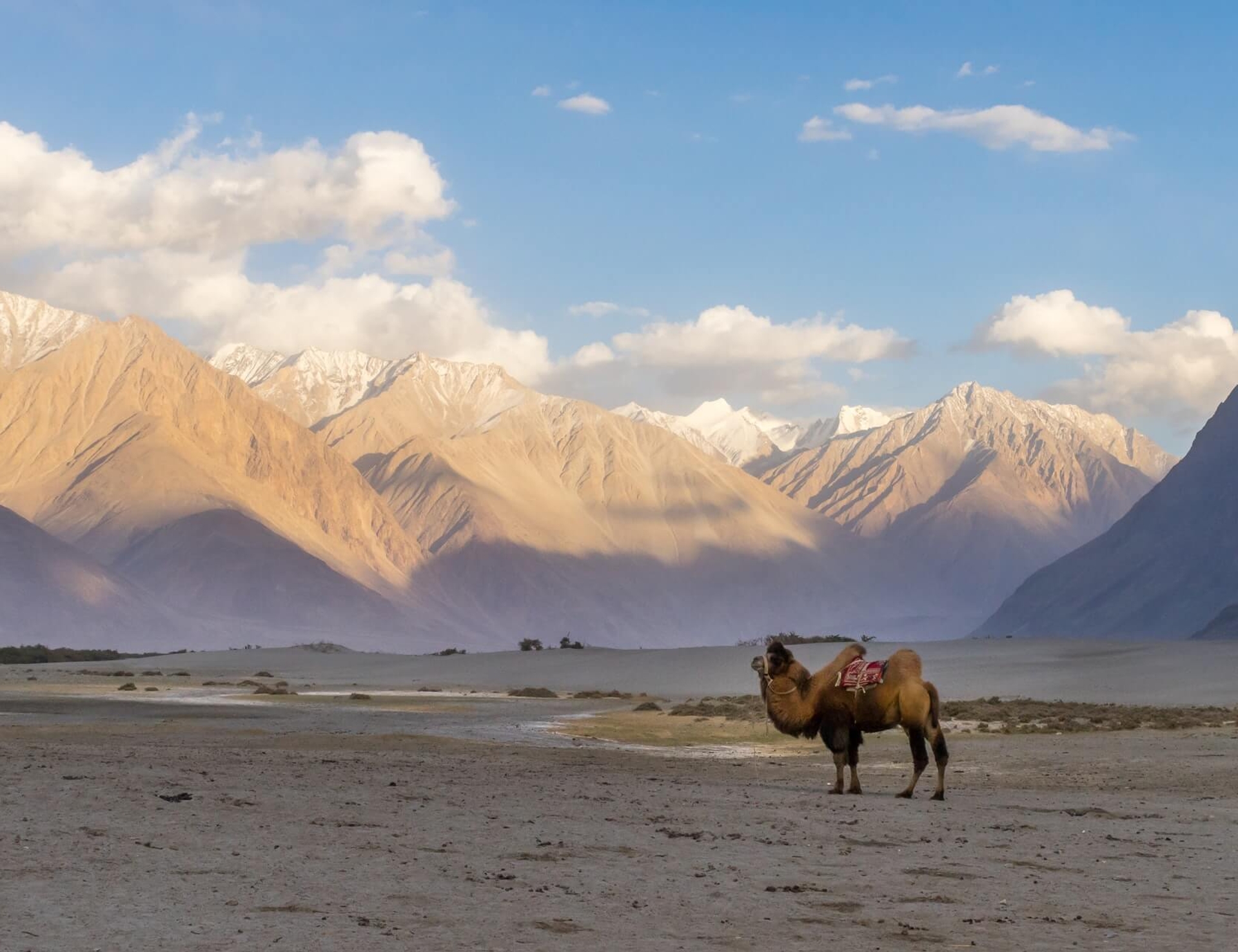 Day 8: Hunder, Nubra Valley
We take a shuttle to the top of Wari La pass and then ride to Hunder. The topography changes dramatically from washed out browns to the lush green meadows dotted with black yaks. Soon you hit the cusp of the Shyok and Siachen Rivers that flow through a vast sandy valley. Scant vegetation, a snaking black river seemingly diving the Tibetan plateau give Nubra a dramatic topographical edge over the other destinations in Ladakh.
Hunder, one of the largest villages of the Nubra Valley, is a picturesque settlement where you can see small stands of apple orchards and locals busying themselves over farmlands. En-route, we visit Diskit monastery. Diskit is the oldest and largest Gompa of the Nubra Valley and has many legends attached to it since it was built in the 14th century. Another intriguing sight that cannot be missed is Hunder, the land of sand dunes. It is intriguing to see double humped Bactrian camels here.
Meals:
B,L,D
Cycling Distance:
50km/30mi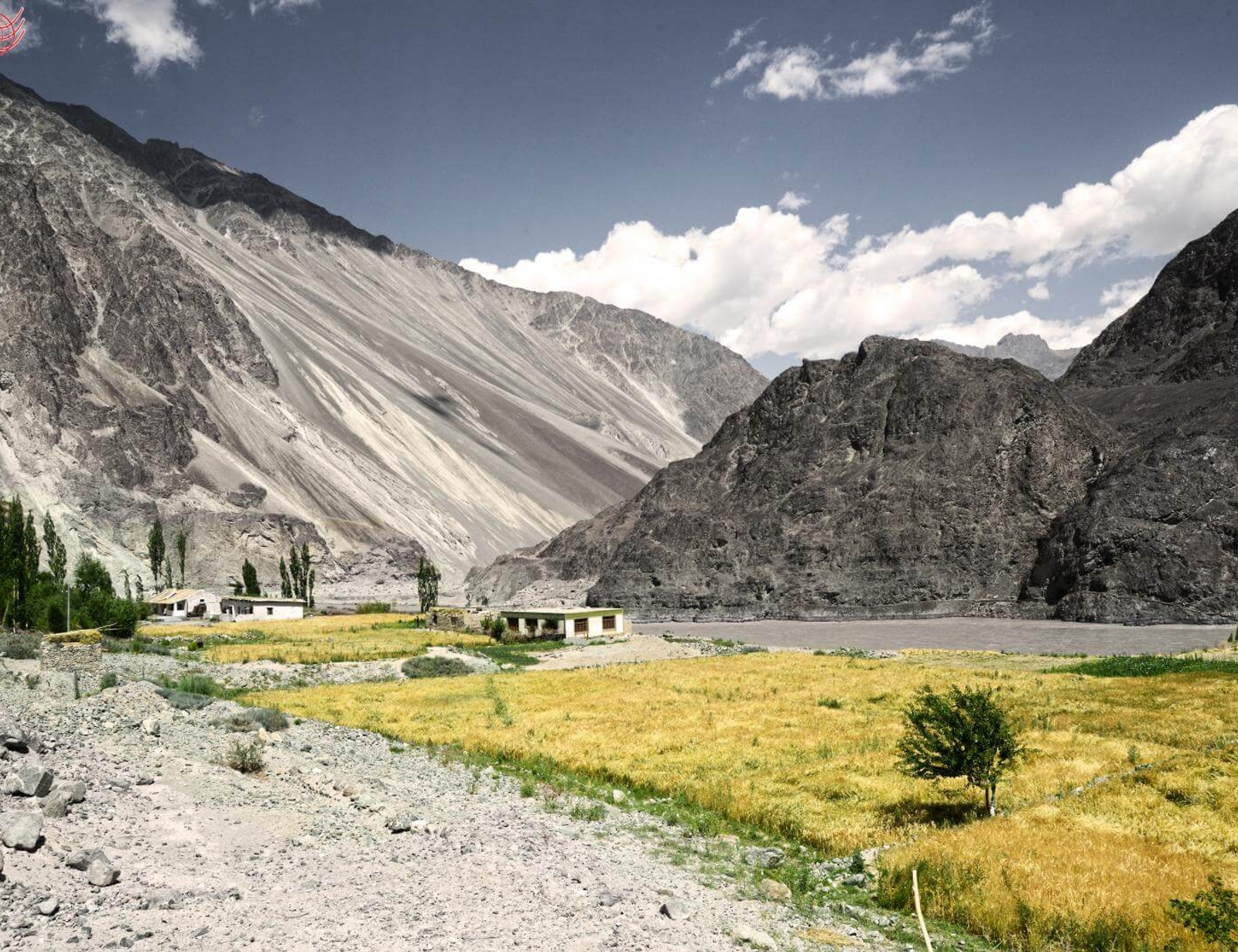 Day 9: Hunder, Nubra Valley
Today we ride towards Turtuk village. It is a border village between India and Pakistan. The culture changes dramatically here from other parts of Ladakh.
Meals:
B,L,D
Cycling Distance:
50km/30mi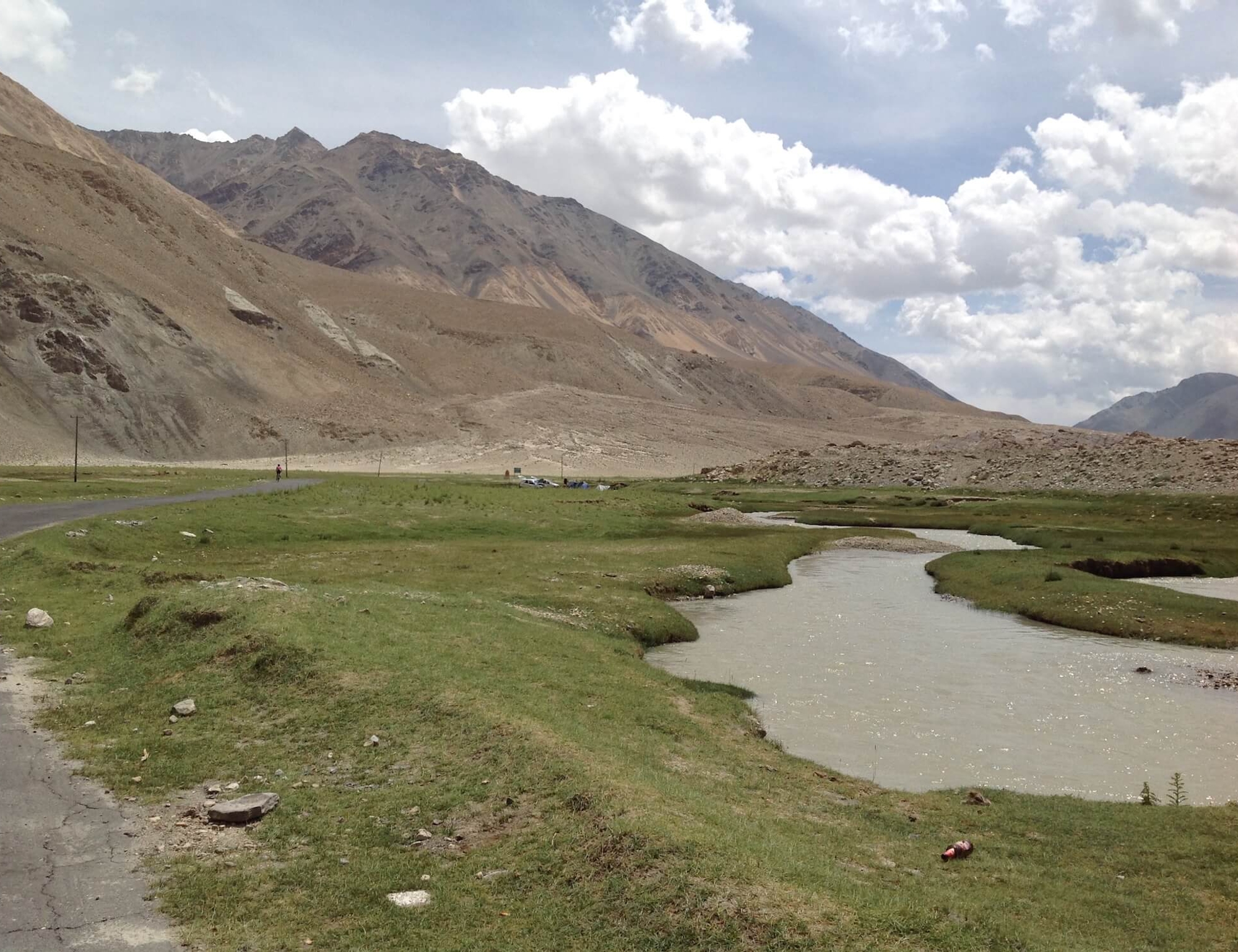 Day 10: Khardung Village
Today we take a shuttle to Khardung village and set up a camp here. This is in preparation towards a long and arduous climbing day ahead tomorrow to Khardung La.
Meals:
B,L,D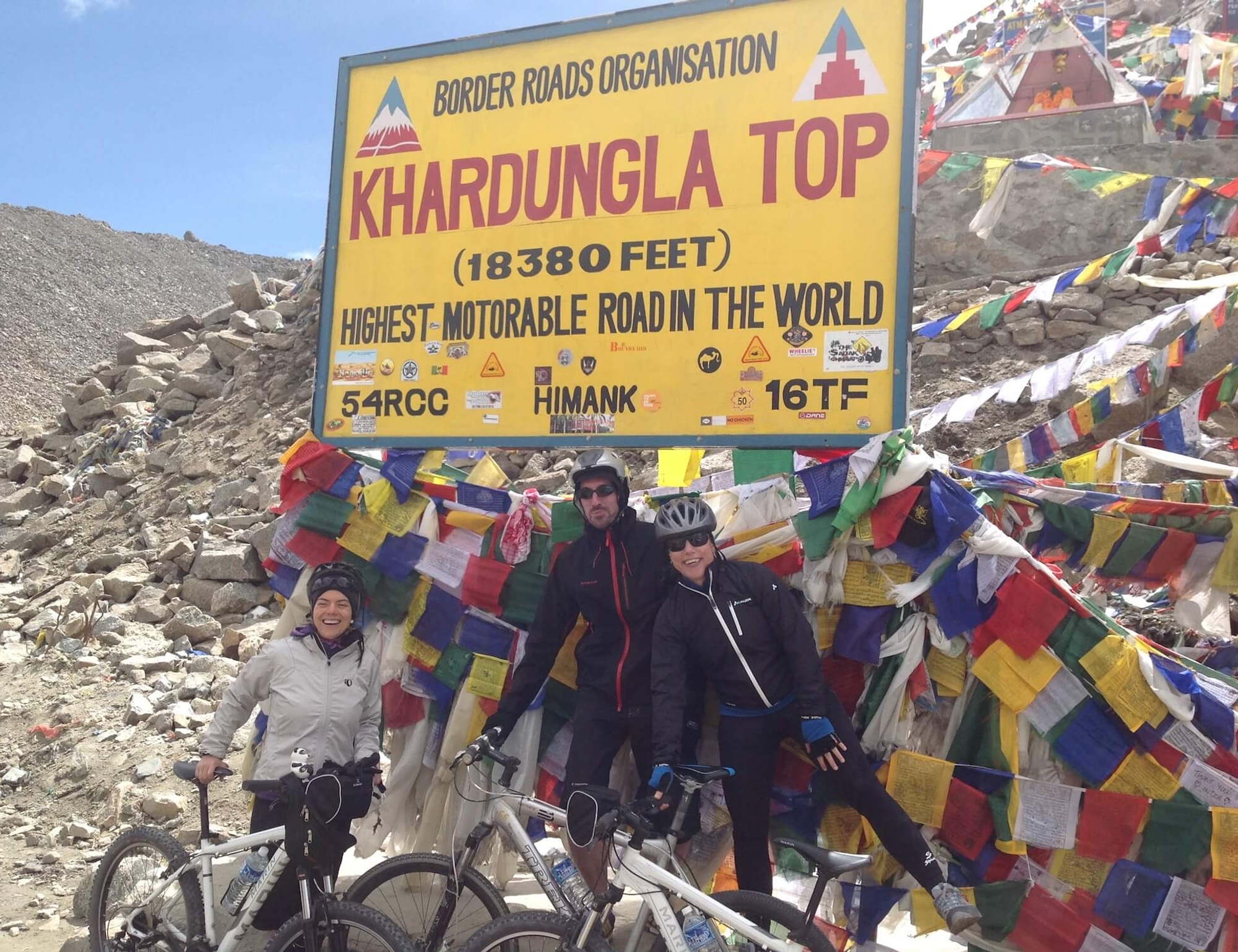 Day 11: Leh via Khardung La Pass
Get ready for a tough yet rewarding day and ride to the highest motorable pass in the world, Khardung La. It's a long switchback route. Arrive at the mish-mash of snow, military sheds, plenty of motorbike teams and make a stop for the famous maggi again. We bet you will be addicted by then. Spend time here to take in the last of the snowy peaks, shivering prayer flags and top view of the Shyok river valley. Hop onto the cycles for the last exhilarating stretch downhill till Leh.
Meals:
B,L
Cycling Distance:
70km/42mi
Accommodation:
Hotel Dragon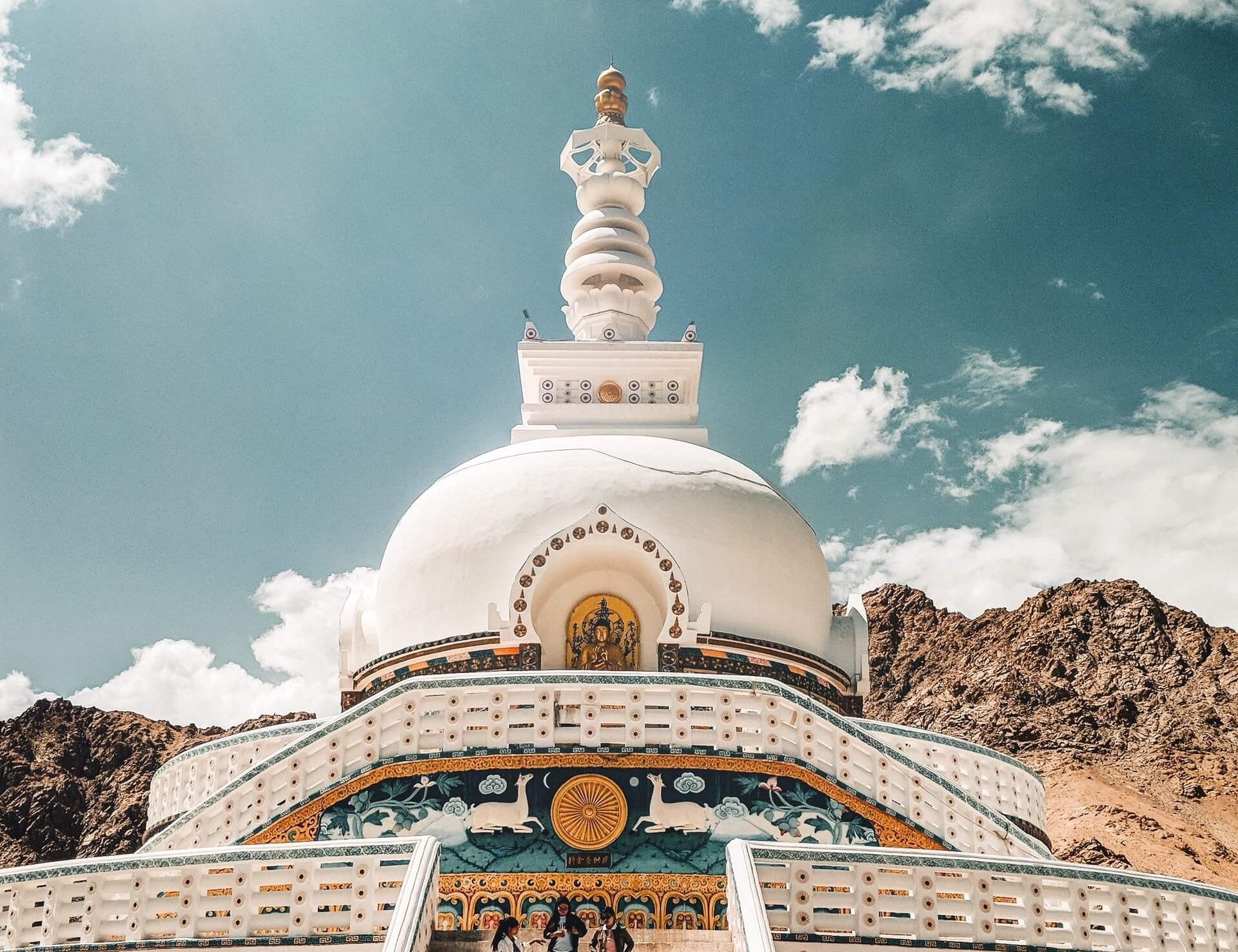 Day 12: Leh
Depart for your onward journey.
Meals:
B
Map
Dates and Prices
Note:
Our base pricing is in USD. However, we can also quote in AUD, GBP, CAD, and EUR, and you can pay in the same. Please write us.
---
Couldn't find a trip with convenient dates?
Open your date as a join-in tour or customize further as private one.
We offer private departures on almost all our itineraries, and for groups of four or more, they cost the same as our standard trips!
---
Essential Info
Inclusions
LODGING
All hotels as mentioned in the tour details or similar (subject to availability).
trip leader
Expert Trip Leader(s) who look after your every need and add meaning to your vacation.
bike
Immaculately maintained bike with helmet, suited to a terrain.
shuttle
A Van support follows the group of riders and carries all belongings.
meals
Meals as per itinerary. Guests are given the opportunity to dine on their own so that they discover a location independently.
refreshments
Refreshments and mineral water while cycling.
entrance
Entrance fees to most of the monuments and temples.
Exclusions
Airport pickup and drop
We recommend to book direclty from airport or hotel.
meals
Some meals may not be included. Please check your itinerary.
Beverages
Beverages such as alcohol, tea, coffee, juice at a hotel or restaurant.