Pristine Uttarakhand Cycling Tour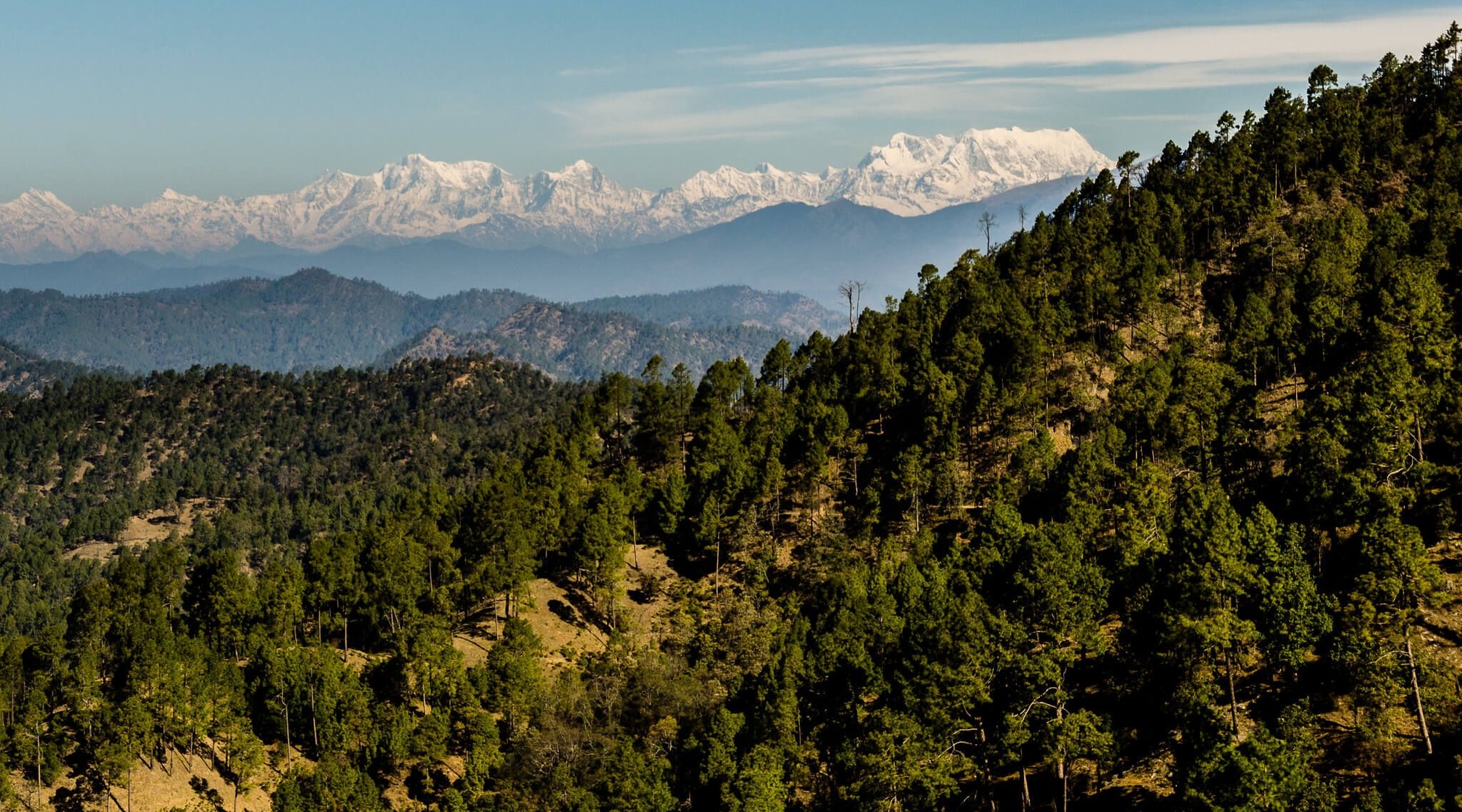 Overview
Uttarakhand is home to some of the highest mountains on earth, including Nanda Devi, the highest mountain peak located entirely within India. Stunning vistas of the snow-clad Himalayas, magical forests of fir, pine, oak, and cypress, and clear blue skies make Uttarakhand a place right out of a fairy tale. However, this cycling tour isn't just about mountains. It takes you from the quaint hamlet of Dhanachuli to the famous Nainital lake. In between the two, this adventure unfolds like a series of magical experiences that include hiking in the endangered broad-leaf oak forests of Binsar and cycling past the lower Himalayan range.
Avg. dist. cycled
60km Or 36mi
Highlights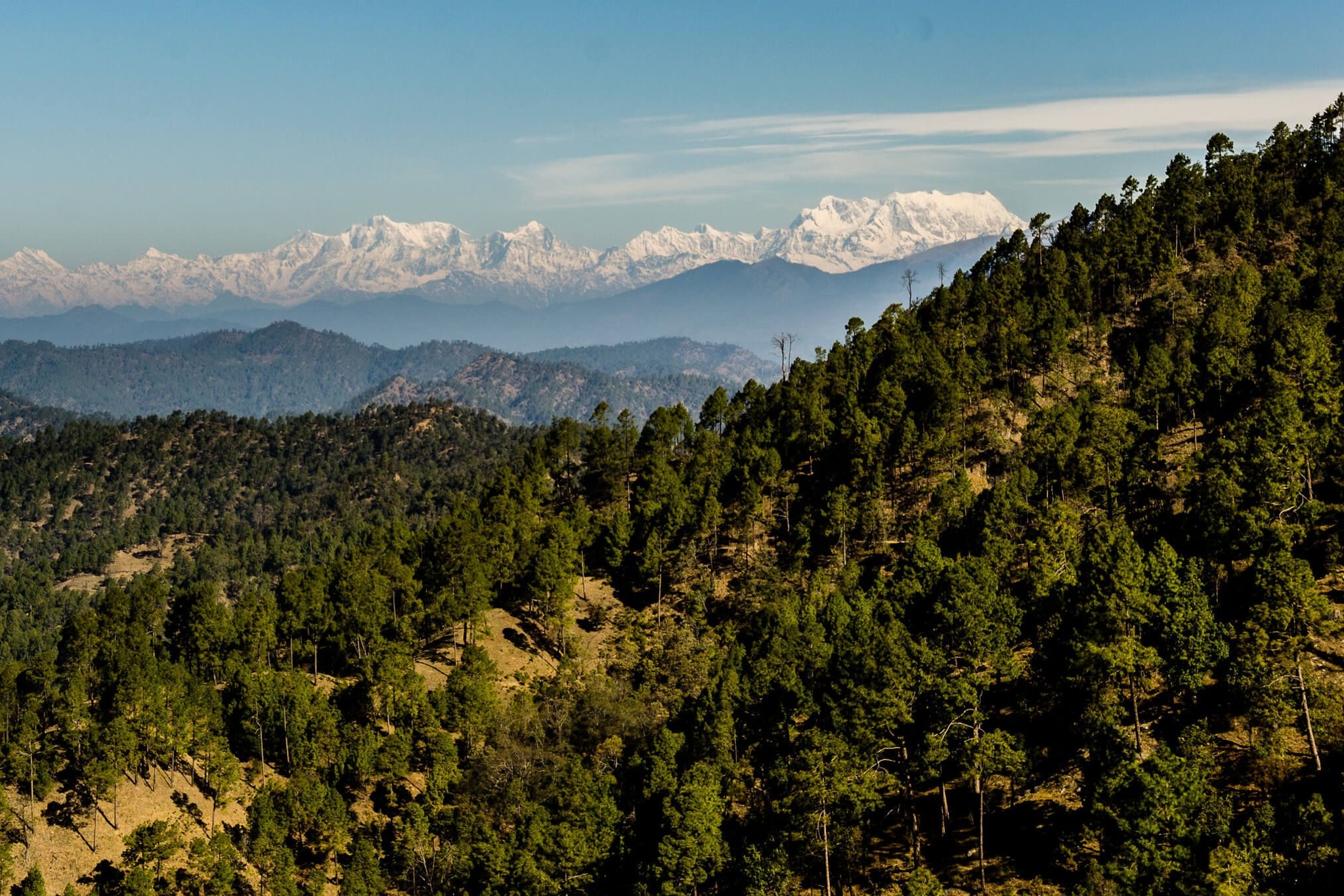 cycling above 2000m
Bike through the Himalayas at over 2000m above the sea level with great views of snow-clad peaks.
Brief Itinerary
Detailed Itinerary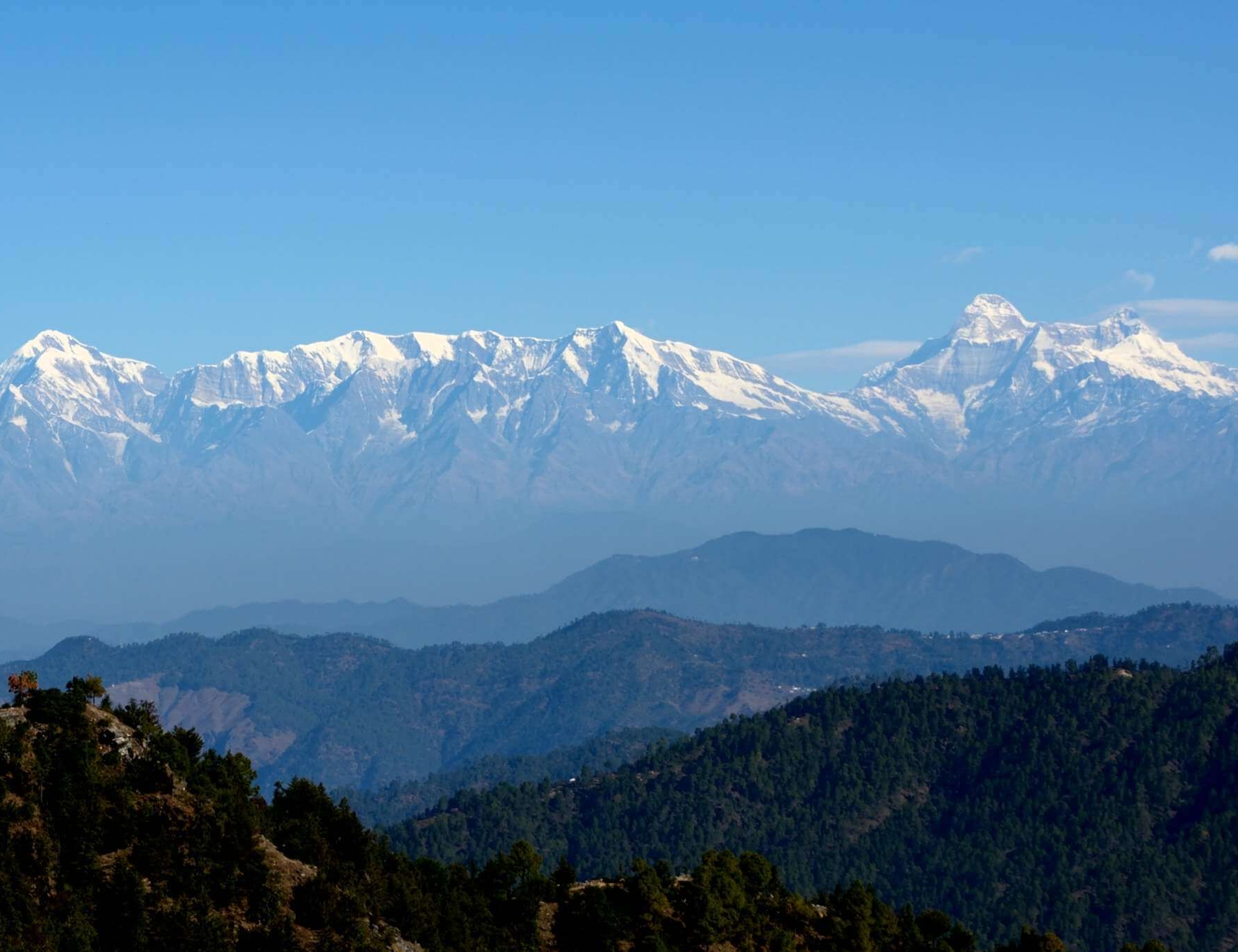 Day 1: Dhanachuli
Dhanachuli is a pristine hamlet located close to the better-known town of Mukteshwar. On this day you will be picked up from Pant Nagar airport and driven to Dhanachuli, some 80kms due north and high up in the Himalayas. At 2100m above sea level, Dhanachuli is home to apple orchards, lush green forests, and some great vistas of the western Himalayas. In case you arrive early, we recommend taking a stroll around the village to take in the crisp mountain air and clear blue skies. In the evening we meet over dinner for a briefing and to perform a bike fit.
Meals:
D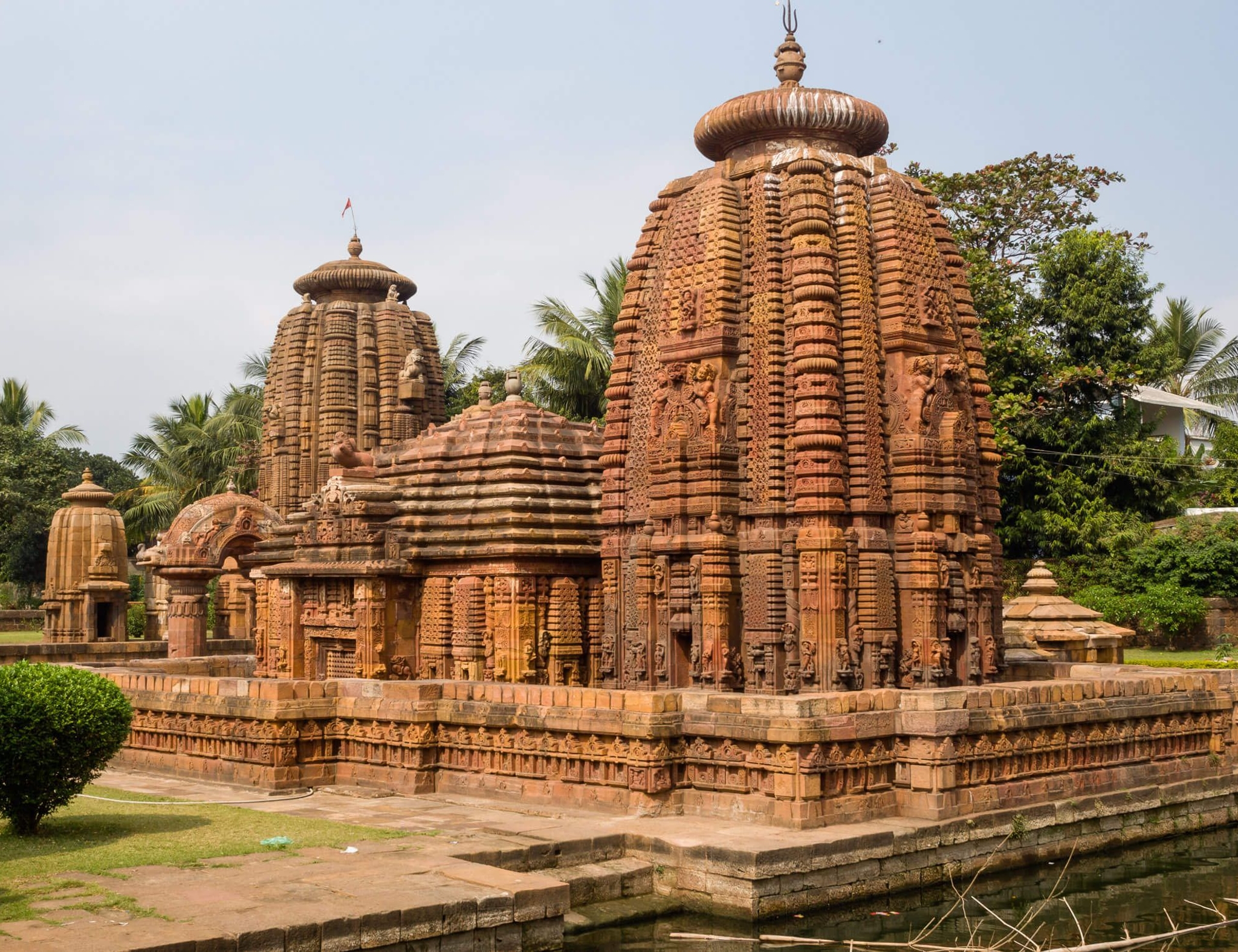 Day 2: Dhanachuli
This is the first day of cycling. Today, we ride to the town of Mukteshwar some 15km from Dhanachuli. Mukteshwar is a small town immortalized by the British conservator and hunter Jim Corbett in his famous account of tiger hunting in Kumaon, the Man-eaters of Kumaon. Corbett called Mukteshwar one of the most beautiful spots in Kumaon, and it is a description that still holds true a hundred years later. We cycle up to a 350-year old Shiva temple that is perched atop the highest spot in Mukteshwar and offers great views of the surrounding valleys. We loop back to Dhanachuli through some beautiful scenery comprising of sylvan forests of pine, fir, and cypress.
Meals:
B,L,D
Cycling Distance:
50km/31mi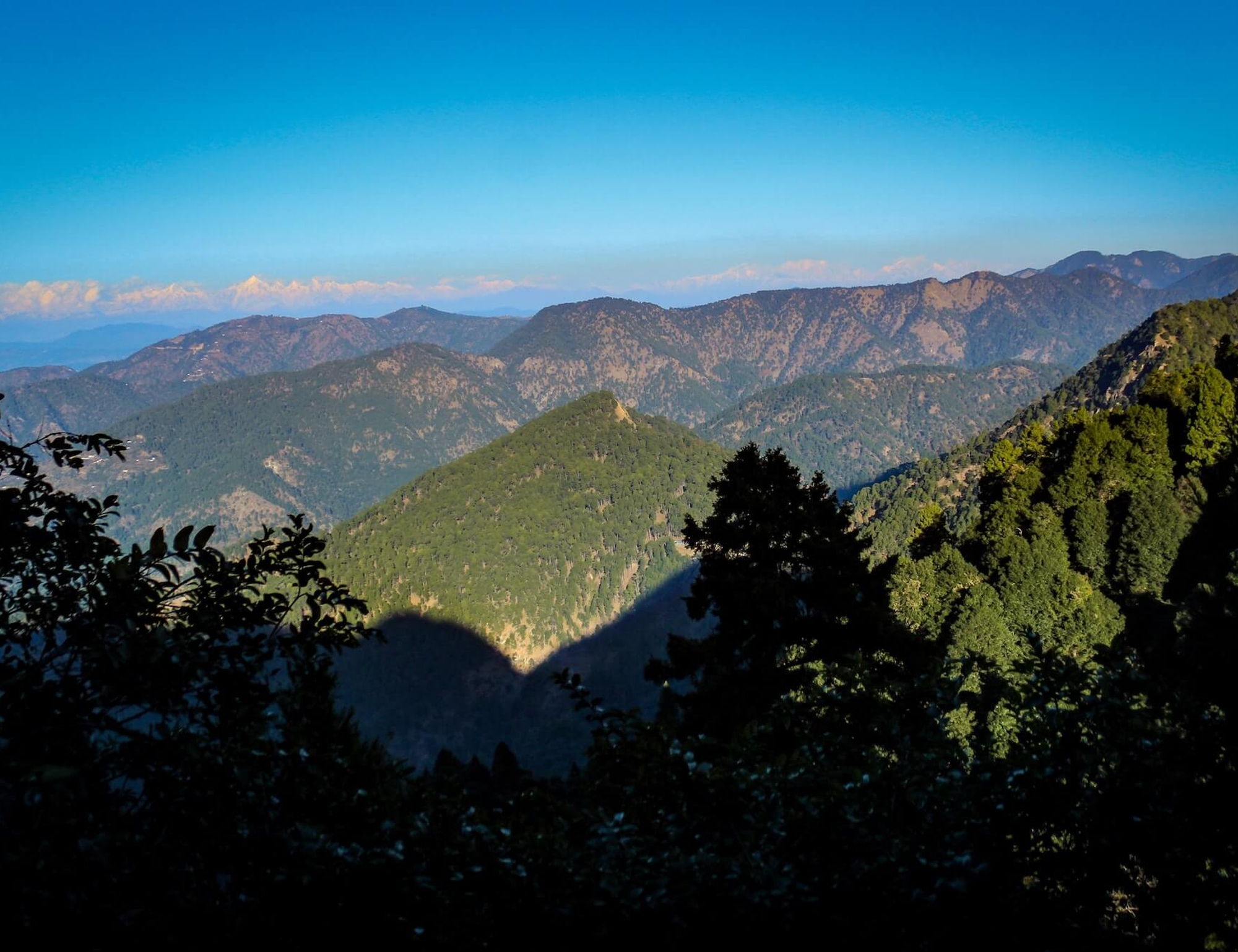 Day 3: Chalnichinna
Today's ride offers panoramic views of the Himalayas including the majestic Nanda Devi as we cycle to Itmenaan Estate, a fairytale resort in a peaceful rural setting near Binsar in the Kumaon Himalayas. The 100-year-old traditional Kumaoni style stone house in the resort has been painstakingly restored.
Meals:
B,L,D
Cycling Distance:
45km/27mi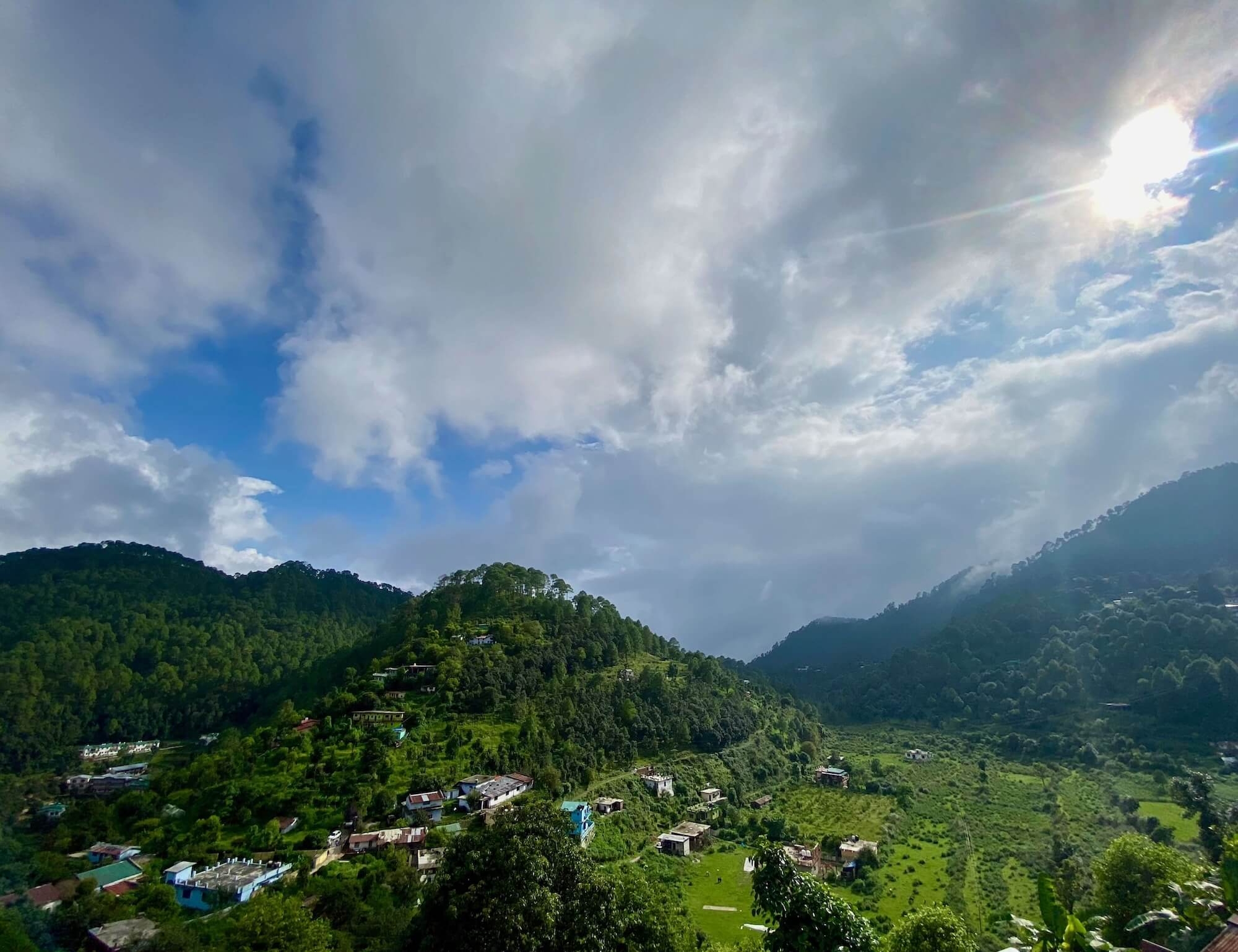 Day 4: Binsar
We ride north towards the hamlet of Binsar, famous for its wildlife sanctuary and its forests of the Himalayan broadleaf oak, a tree that once covered large parts of the western Himalayas but is now under threat. At 2400m above sea level, Binsar is the highest elevation we stay at during our trip. You can expect a few challenging uphills on today's ride as we gain altitude. However, the effort comes with its just rewards. From its commanding height, Binsar offers views of Nanda Devi, the second-highest mountain in India, and one of the highest peaks in the world.
Meals:
B,L,D
Cycling Distance:
60km/36mi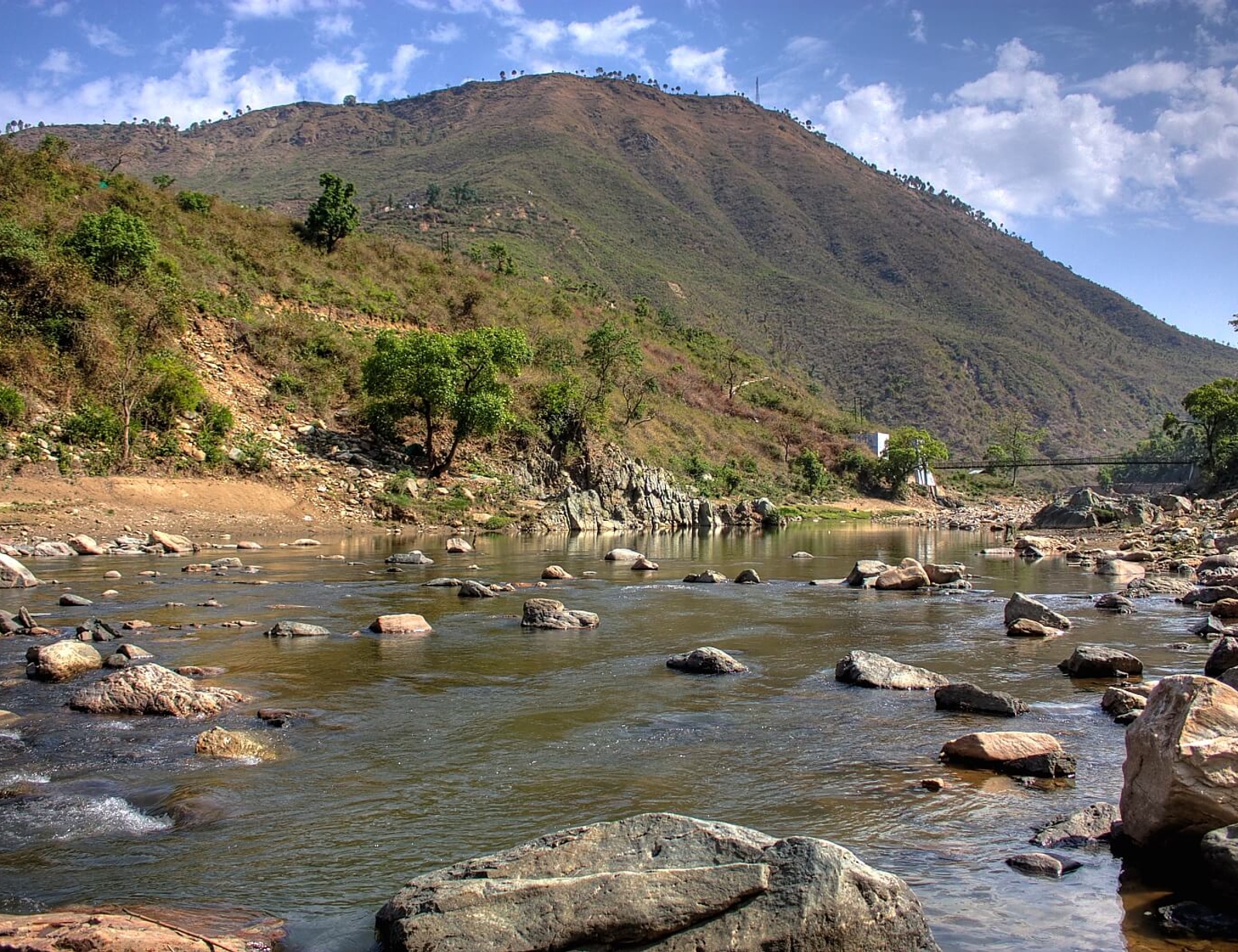 Day 5: Binsar
We give our bikes a rest to go hiking through the Binsar wildlife sanctuary. The sanctuary was built to preserve endangered Himalayan flora such as the Himalayan broad-leaf oak and the rhododendron. It is home to some 25 varieties of trees, 200 bird species, and wild animals such as leopards, the Himalayan goral, the red giant flying squirrel, and the pine marten. The hike through the sanctuary takes up to 4 hours. After the safari, we return to our hotel to enjoy a quiet evening.
You are in the august company here, for the hamlet of Kasar Devi in which our hotel is located was once an important node in the 1960s counterculture movement, having played home to singers Bob Dylan and George Harrison, the psychologist Timothy Leary, the poet Allen Ginsberg, and the writer D.H. Lawrence who spent two summers here. We highly recommend that you sit back and enjoy the vistas that inspired the creativity and inflamed the passions of some of the greatest artists, thinkers, and scientists of the twentieth century.
Meals:
B,L,D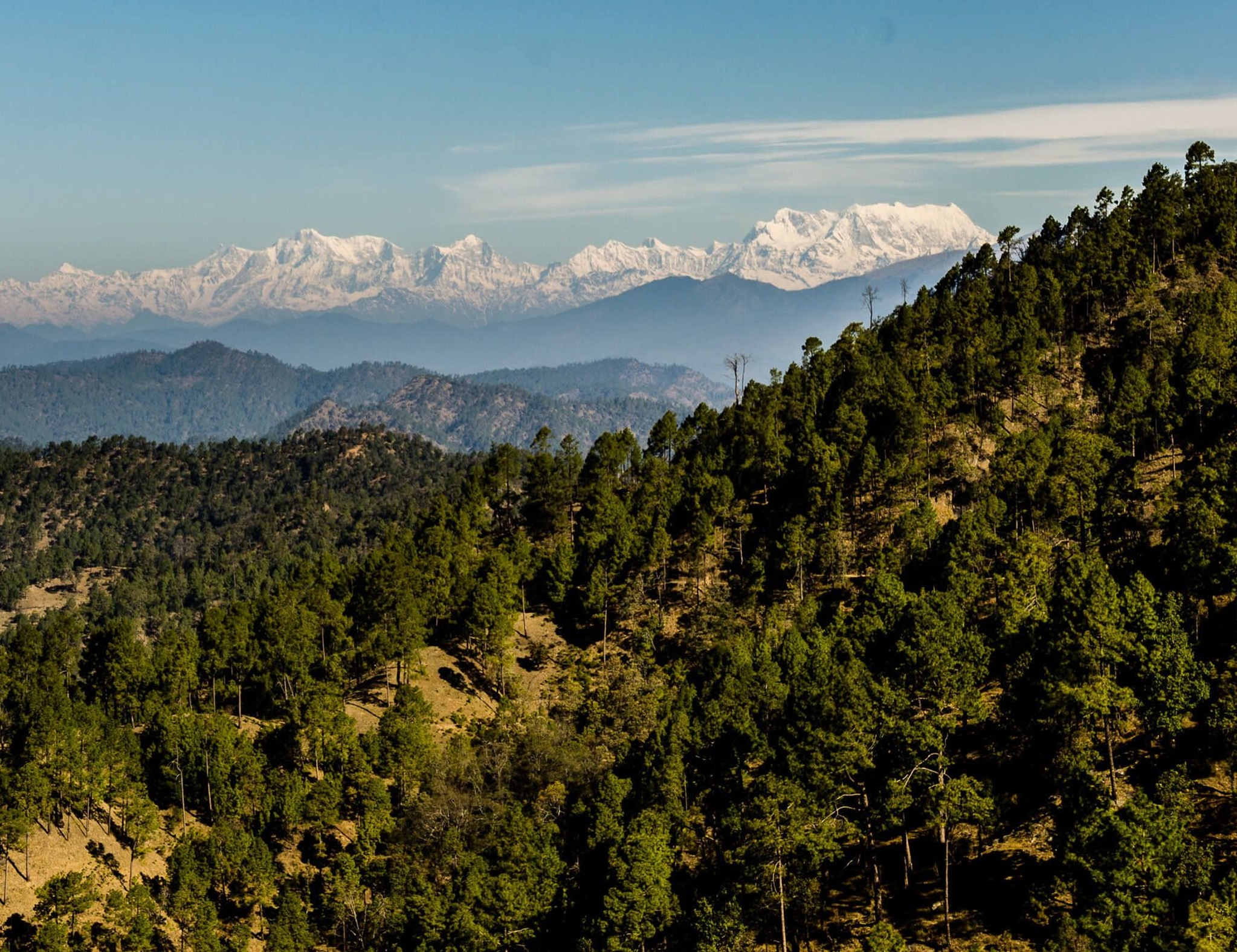 Day 6: Ranikhet
Get back on our bikes and head south-east towards Ranikhet, a small cantonment town nestled within sylvan forests of oak, pine, deodar, and rhododendron. Ranikhet is located at 1869m above sea level so we drop a little altitude on this day.
Meals:
B,L,D
Cycling Distance:
50km/30mi
Day 7: Jim Corbett
After breakfast, we ride due west to the world famous Jim Corbett national park. Named after the legendary British conservationist and hunter, it is the oldest national park in India and home to the endangered Bengal Tiger. Jim Corbett is located at an average altitude of 800m above the sea level so today's ride has quite a few spectacular down hills that we are sure you will enjoy zipping through.
Meals:
B,L,D
Cycling Distance:
60km / 36mi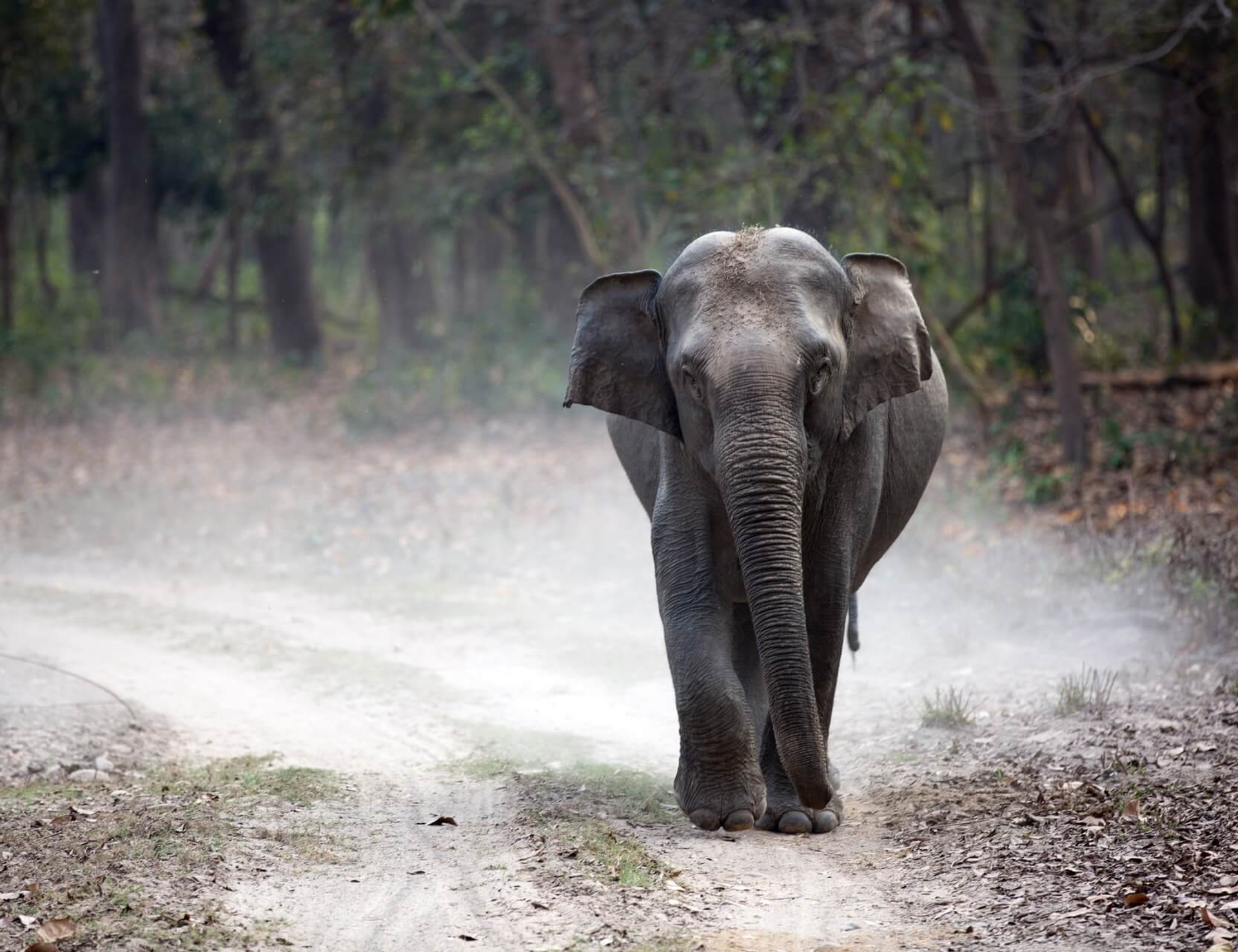 Day 8: Jim Corbett
The Jim Corbett national park needs no introduction. Synonymous on the one hand with tales of splendor of the Raj and royalty, and on the other hand with the spectacular diversity of wildlife that India has to offer, the park is in many ways, the highlight of this mesmerizing trip. Spread over 520 sq kms of forests, rivers, swamps, and hills, Corbett is home to 50 species of mammals including the Bengal tiger, the wild Indian elephant, the Himalayan Black Bear, and leopards. We take a Jeep Safari into the national park on this day and enjoy our tryst with wildlife. In the evening we meet to celebrate the culmination of a fantastic adventure.
Meals:
B,L,D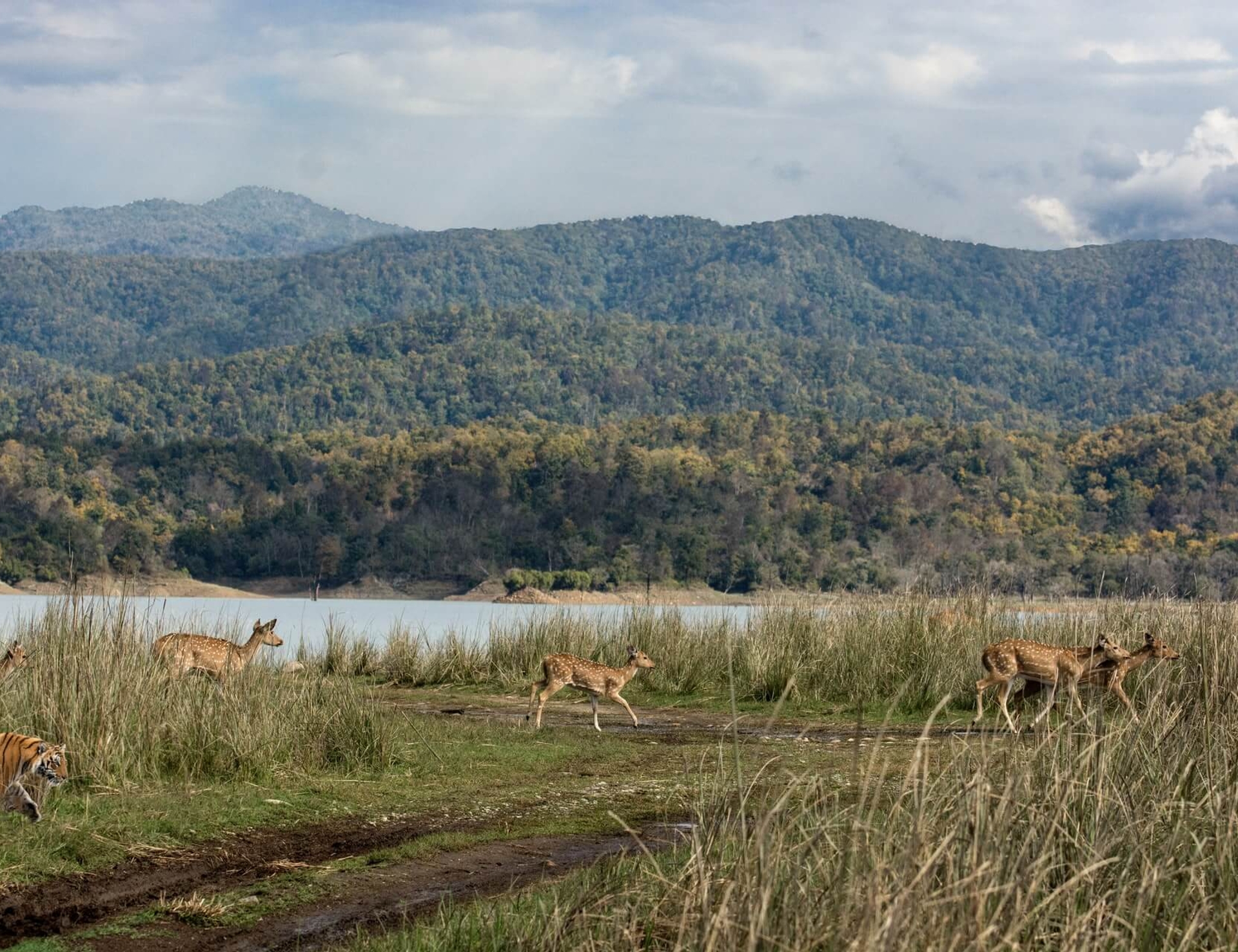 Day 9: Departure
Late morning, we will make arrangements for a drop to the Pantnagar airport.
Meals:
B
Ready to plan your adventure? Download a print-ready detailed itinerary.
Map
Dates and Prices
Members get an estimated 10% off on this trip.
---
$50/yearLearn more
---
Couldn't find a trip with convenient dates?
Open your date as a join-in tour or customize further as a private one.
---
Essential Info
Inclusions
LODGING
All hotels as mentioned in the tour details or similar (subject to availability).
trip leader
Expert Trip Leader(s) who look after your every need and add meaning to your vacation.
bike
Immaculately maintained bike with helmet, suited to a terrain.
shuttle
A Van support follows the group of riders and carries all belongings.
meals
Meals as per itinerary. Guests are given the opportunity to dine on their own so that they discover a location independently.
refreshments
Refreshments and mineral water while cycling.
entrance
Entrance fees to most of the monuments and temples.
Exclusions
Airport pickup and drop
We recommend to book direclty from airport or hotel.
meals
Some meals may not be included. Please check your itinerary.
Beverages
Beverages such as alcohol, tea, coffee, juice at a hotel or restaurant.
Visa
All foreign nationals entering India are required to possess a valid international travel document in the form of a national passport with a valid visa obtained from an Indian Mission or Post abroad. E-Visa has been made available by the Government of India to citizens of certain countries, including the United States of America. Details of the scheme are available on the dedicated website created for this purpose: e-Visa
e-Visa has 5 sub-categories viz. e-Tourist Visa (for 30 days/01 year/ 05 years), For e-Tourist and e-Business visa, Applicants may apply online minimum 4 days in advance of the date of arrival. Recent front-facing photographs with white backgrounds and photo pages of passports containing personal details like name, date of birth, nationality, expiry date etc, are to be uploaded mandatorily by the applicant. Additionally, one more document depending upon the e-Visa type would also be required to be uploaded. The application is liable to be rejected if the uploaded documents and photograph are not clear / as per specification.