Enchanting Goa Bike Tour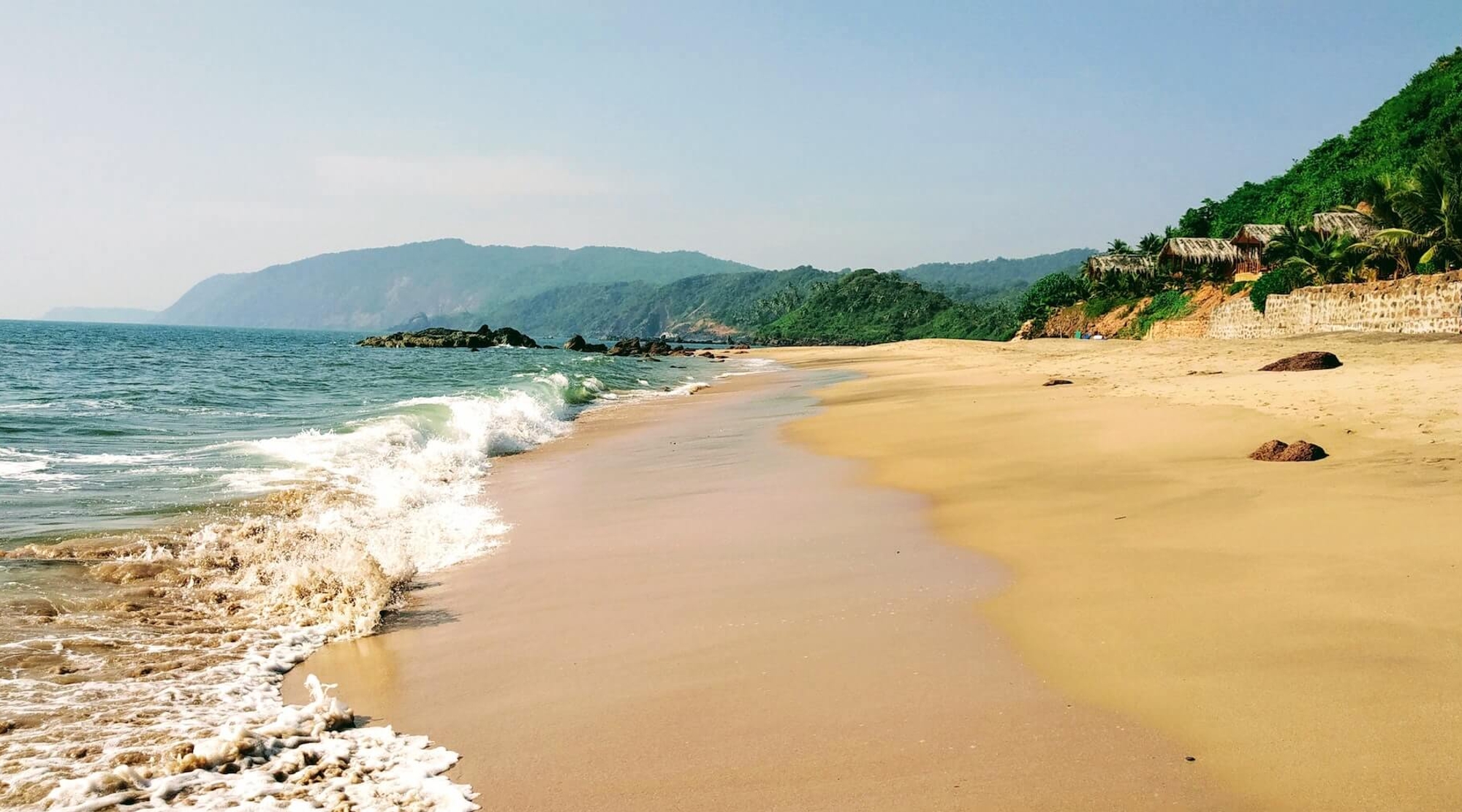 ---
Overview
Though Goa is India's smallest state, it packs in a variety of experiences; from the breezy seaside routes to bio-diversity hot spots, meandering rivers, and crumbling heritage monuments. Discover the comparatively untreaded paths of Goa on this cycling tour.
This trip is an amalgam of the magnificent Sahyadri Western Ghats covered in thick forests, the ecologically devastated mining belt in Sanguem, and the splendid Dudhsagar Waterfalls. The voyage winds its way from the wildlife sanctuaries to the calm and peaceful banks along the River Mandovi and also skirts past the World Heritage site of Old Goa. Experience Goa in a whole new way with us!
Finish
Cavelossim Beach | 14:00hrs
Avg. dist. cycled
50km or 30mi
Highlights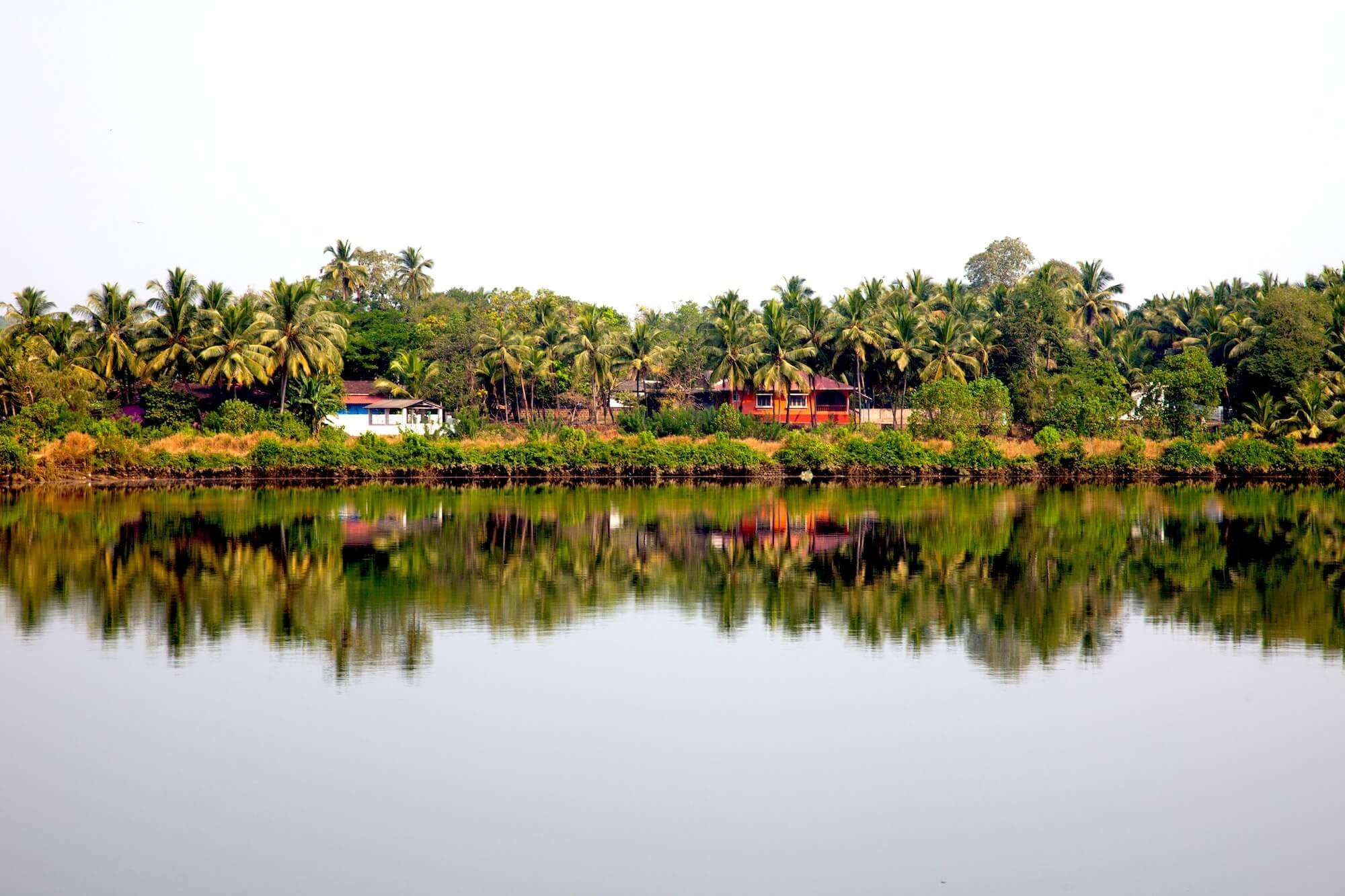 wholesome biking
A wholesome biking trail with forest paths, beach side and waterfalls
Brief Itinerary
Detailed Itinerary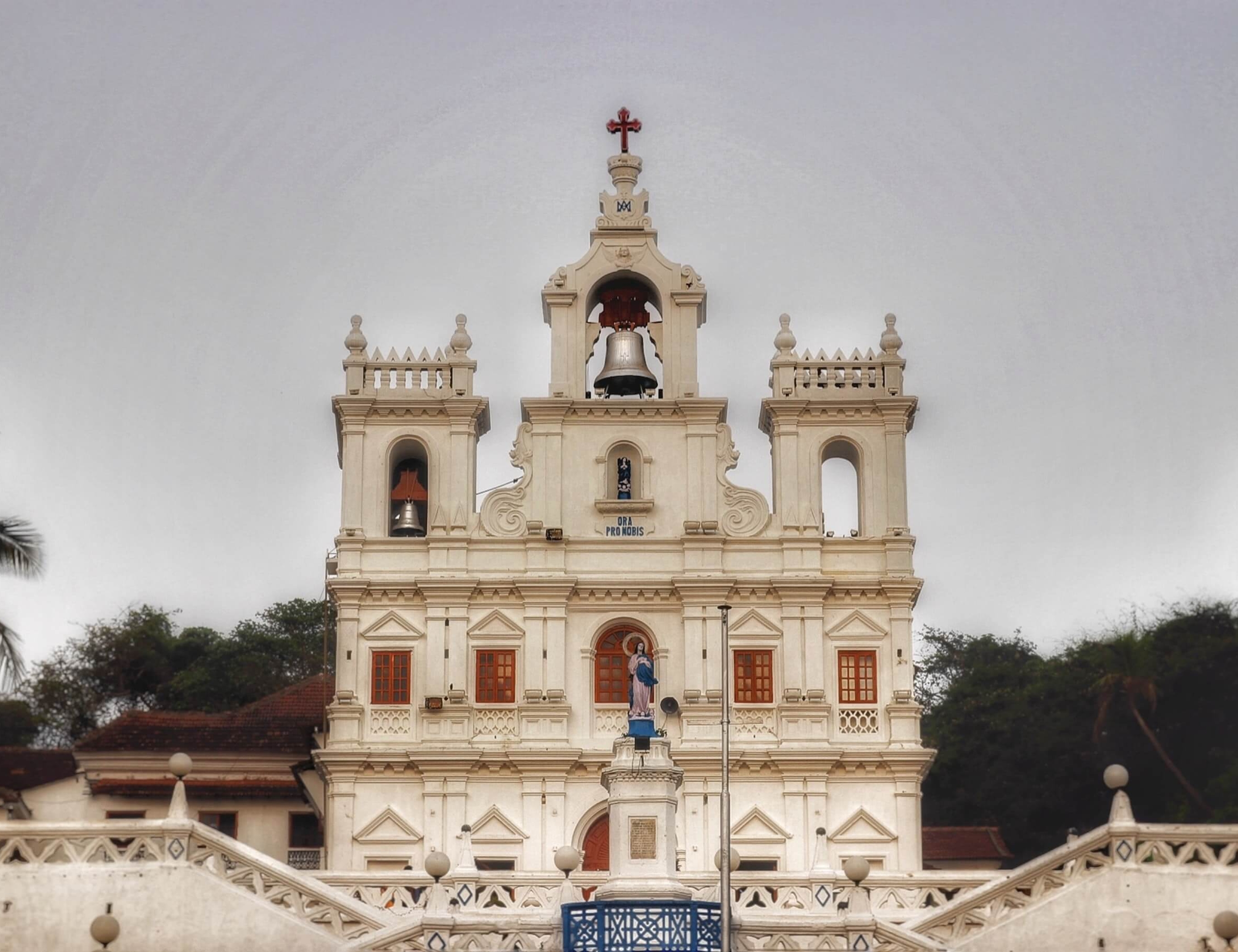 Day 1: Panjim
Arrive in Goa and check into the first heritage hotel of Goa, Panjim Inn, in the Latin Quarter area of Goa. Our guide meets you at your hotel at about 17:00hrs for bike fit and briefing over dinner.
Meals:
D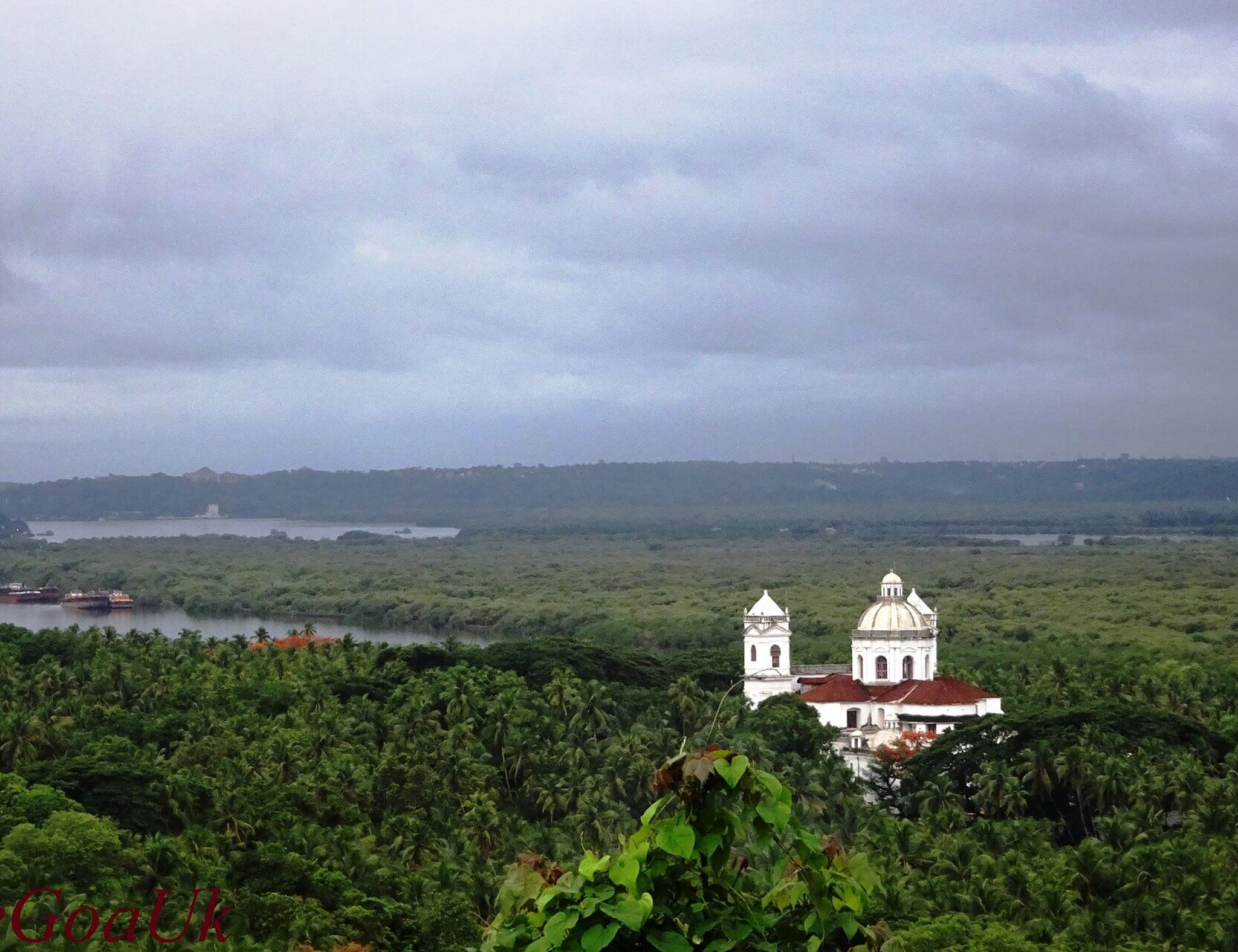 Day 2: Chorla
The blue, yellow, ochre, port, brick red, and white heritage homes of the area mark the characteristic atmosphere of the Latin Quarter. We step out early in the morning for a ride around the area. We ride past the iconic 30 January bakery, small cafes, and old pubs on the streets.
We continue riding towards Old Goa, which was built by the Bijapur Sultanate in the 15th century. It served as the capital of Portuguese India from the 16th century until it was abandoned in the 18th century when a bucolic plague hit the region. Remnants of Old Goa are a UNESCO World Heritage Site, replete with old churches like St. Francis, Basilica of Bom Jesus, and Church of Saint Cajetao. From we take a ferry to pristine Divar Island with our bikes and later catch another ferry to Naroa.
Later, we ride past a road flanked by beautiful forests with a robust wildlife population, then past some long gradual climbs till we hit the hotel. Settle here in a Nature Resort and admire the spectacular valley. If your legs still have energy, go on a short hike in the surrounding forest. Enjoy the picturesque waterfall, rich wildlife, and splendid views.
Meals:
B,L,D
Cycling Distance:
50km / 30mi
Day 3: Mollem
With a few uphills and a constantly green-forested region for the company, we head to the 13th-century temple, Tambdi Surla's Mahadeva Temple. The ancient temple is built in a Jain style with basalt. The countryside area is brilliant to cycle around with rich green thickets and nothing but birdsong filling the air around. Our next stop is the Bhagwan Mahavir Sanctuary close to Mollem, set amidst the foothills of the Western Ghats and the largest wildlife preserve within the state of Goa. It is also home to the famous Dudhsagar waterfall, the Devil's Canyon, the Tambdi Surla temple, the Tambdi falls, and a huge variety of plant, bird, and animal life.
Meals:
B,L,D
Cycling Distance:
50km / 30mi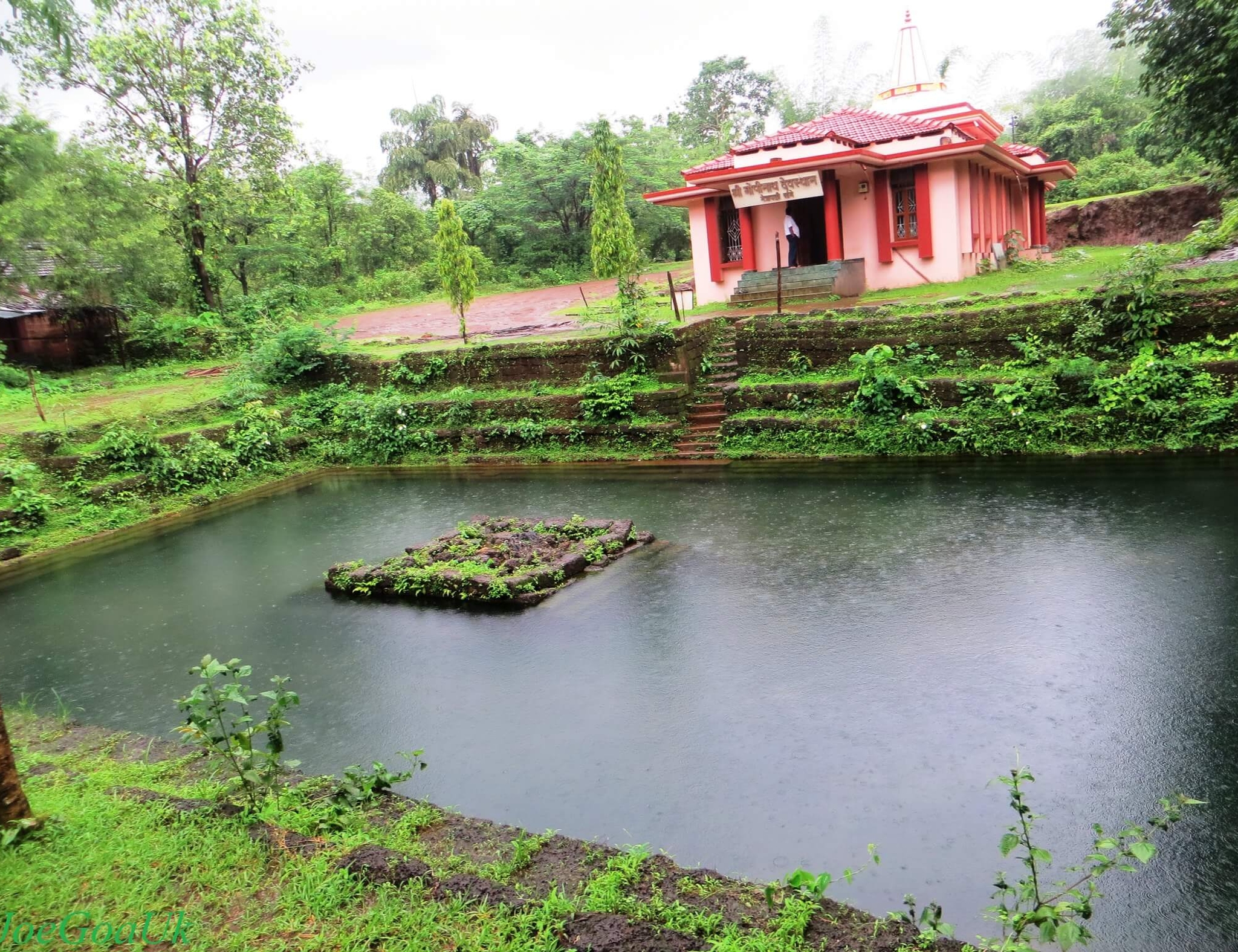 Day 4: Netravali
We ride with gradual climbs and past sugarcane fields to reach Netravali. This is one of the most undiscovered spice plantation areas and a major attraction for nature lovers, usually away from the touristic ardor of the beaches. After settling in, head out for a 3km trek to the waterfall if you wish, worth the effort to see the gushing waters.
Meals:
B,L,D
Cycling Distance:
55km / 33mi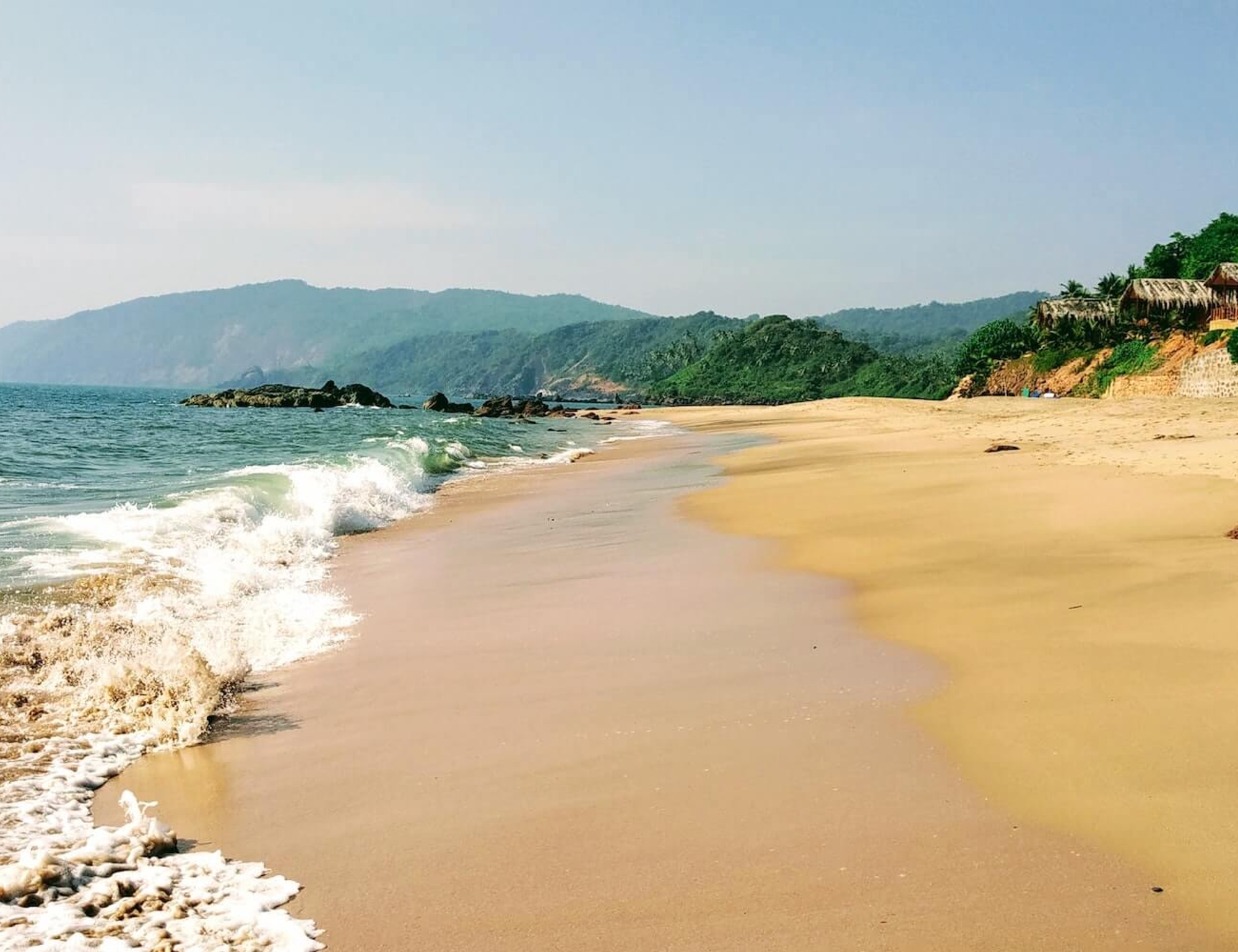 Day 5: Cavelossim Beach
Start with a climb of about 5km and then it's a downhill ride past paddy fields and forest hills to Goan beaches. Ride along the stunning Goan coastline and admire the spectacular views from the top of Cabo de Rama, a medieval hillfort on the coast of Goa. Spend the rest of the day in leisure at the beach. The constant sound of the sea is therapeutic as you settle with a good book in the breezy verandah.
Extend your stay in Goa and spend time in leisure at the beach or travel further as per your onward plans.
Meals:
B
Cycling Distance:
55km / 35mi
Map
Dates and Prices
Note:
Our base pricing is in USD. However, we can also quote in AUD, GBP, CAD, and EUR, and you can pay in the same. Please write us.
---
Couldn't find a trip with convenient dates?
Open your date as a join-in tour or customize further as private one.
We offer private departures on almost all our itineraries, and for groups of four or more, they cost the same as our standard trips!
---
Essential Info
Inclusions
LODGING
All hotels as mentioned in the tour details or similar (subject to availability).
trip leader
Expert Trip Leader(s) who look after your every need and add meaning to your vacation.
bike
Immaculately maintained bike with helmet, suited to a terrain.
shuttle
A Van support follows the group of riders and carries all belongings.
meals
Meals as per itinerary. Guests are given the opportunity to dine on their own so that they discover a location independently.
refreshments
Refreshments and mineral water while cycling.
entrance
Entrance fees to most of the monuments and temples.
Exclusions
Airport pickup and drop
We recommend to book direclty from airport or hotel.
meals
Some meals may not be included. Please check your itinerary.
Beverages
Beverages such as alcohol, tea, coffee, juice at a hotel or restaurant.
Bikes
When you have a road and the thrill of a journey ahead of you, it's imperative to have a good bike to enjoy it. Our fleet majorly consist of the below bikes as a part of this tour. However, sometimes due to height or availability constraints, we may provide a different but similar quality bike.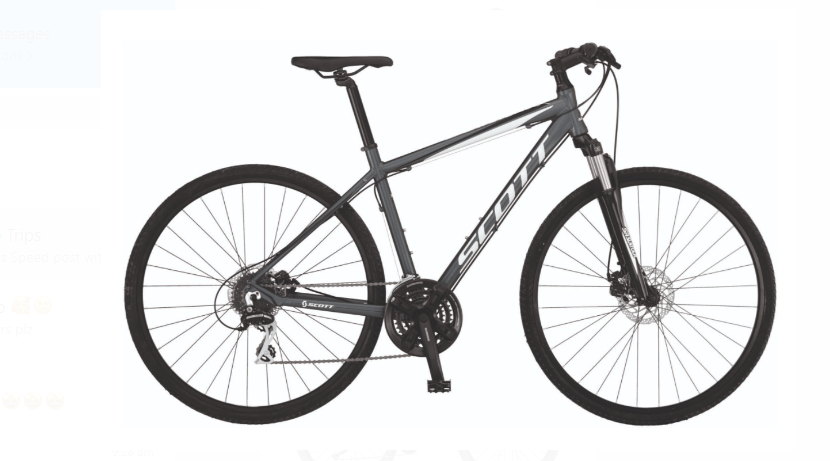 hybrid
Included in your trip price
Visa
All foreign nationals entering India are required to possess a valid international travel document in the form of a national passport with a valid visa obtained from an Indian Mission or Post abroad. E-Visa has been made available by the Government of India to citizens of certain countries, including the United States of America. Details of the scheme are available on the dedicated website created for this purpose: e-Visa
e-Visa has 5 sub-categories viz. e-Tourist Visa (for 30 days/01 year/ 05 years), For e-Tourist and e-Business visa, Applicants may apply online minimum 4 days in advance of the date of arrival. Recent front-facing photographs with white backgrounds and photo pages of passports containing personal details like name, date of birth, nationality, expiry date etc, are to be uploaded mandatorily by the applicant. Additionally, one more document depending upon the e-Visa type would also be required to be uploaded. The application is liable to be rejected if the uploaded documents and photograph are not clear / as per specification.
Reviews from our friends
Loved & enjoyed all the hotels
We have taken many bike trips and like to select a local company. I think that the value is better and there are more choices for itineraries. Loved & enjoyed all the hotels!! Maybe we will take a trip to India with the Art of Bicycling.