Southern India Sojourn Bike Tour
---
Overview
This tour combines the three spectacular states of Southern India: Karnataka, Tamil Nadu, Kerala. Be ready for some serious green therapy riding amidst the Western Ghats – the long stretch of mountains on the South Western edge of the country. Considered a notable hotspot for bio diversity, it is a UNESCO World Heritage Site. Expect to be submerged in the lush environs of national parks, wildlife sanctuaries and reserve forests along with tea plantations of Nilgiris and backwaters of Kerala.
We have planned this cycling tour in a way that you are up against the challenge of the mighty mountains and get to soak in the comfort of estate homes as well. Local food, abundant wildlife and gorgeous views enthrals and keep you hooked through on this cycling trip.
Start
Bangalore | 17:00hrs
Avg. dist. cycled
50km or 30mi
Highlights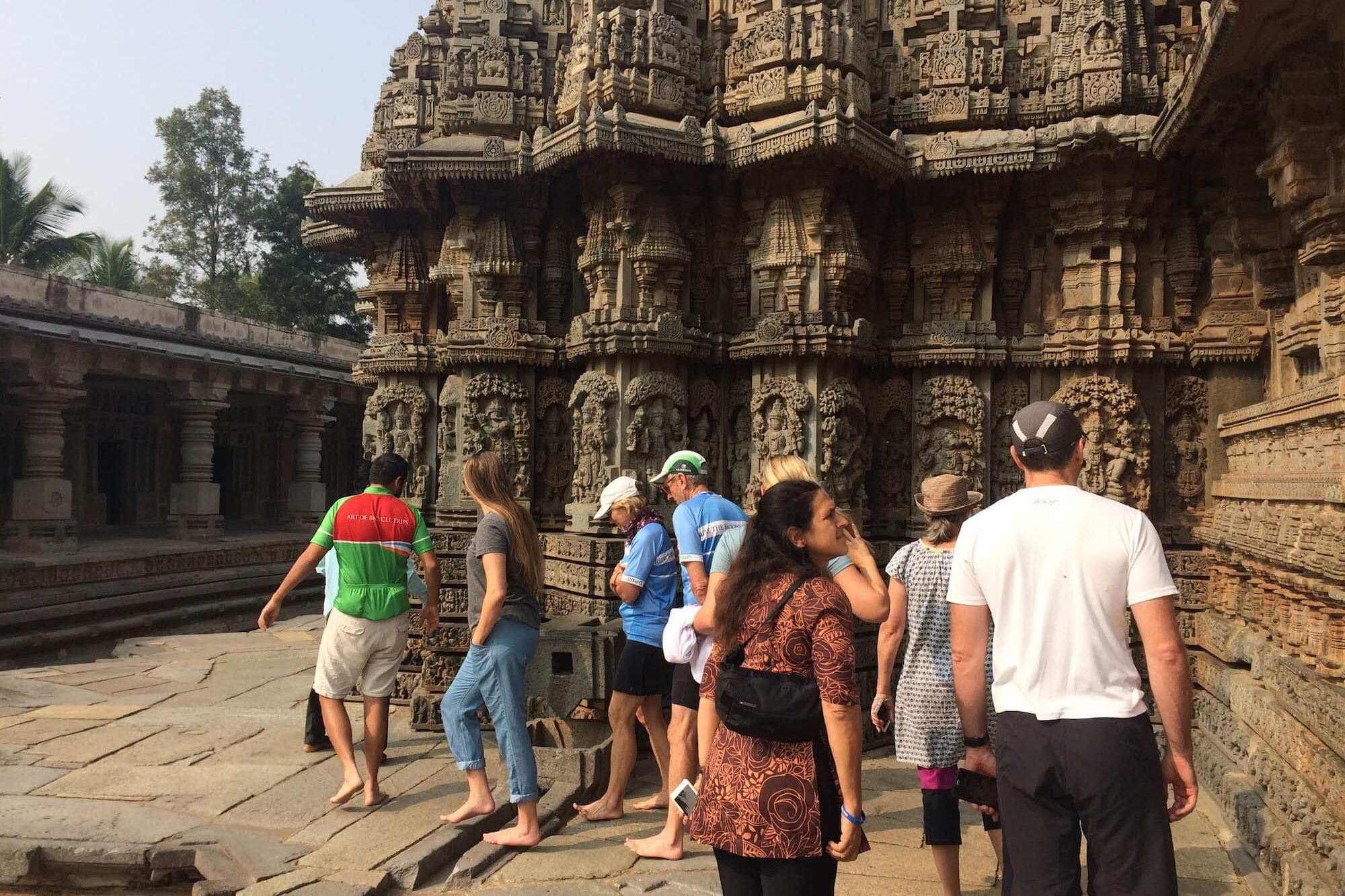 Flavour of South India
Witness a vivid concoction, which represents the entire mood of South India
Itinerary
Brief Itinerary
| Day | Place | Hotel | Meals | Distance | Activity |
| --- | --- | --- | --- | --- | --- |
| DAY 1 | Bangalore | Casa Cottage | D | | |
| DAY 2 | Train to Mysore | Green Hotel | B,L,D | | |
| DAY 3 | Mysore | Green Hotel | B,L | 50km / 30mi | cycling |
| DAY 4 | Wayanad | Varnam Homestay | B,L,D | 70km / 42mi | cycling |
| DAY 5 | Mudumalai | Bamboo Banks | B,L,D | 80km / 48mi | cycling |
| DAY 6 | Red Hills | Red Hills Nature Resort | B,L,D | 30km / 18mi | cycling |
| DAY 7 | Red Hills | Red Hills Nature Resort | B,L,D | | hiking |
| DAY 8 | Coonoor | Mciver | B,L,D | 50km | |
| DAY 9 | Pollachi | Coco Lagoon | B, L, D | 40km / 25mi* | cycling |
| DAY 10 | Dindigul | Cardamom House | B, L, D | 70km / 44mi* | cycling |
| DAY 11 | Madurai | JC residency | B, L, D | 60km / 36mi* | cycling |
| DAY 12 | Madurai | JC residency | B, L | | |
| DAY 13 | Periyar | Wildernest | B, L, D | 60km / 36mi* | cycling |
| DAY 14 | Alleppey | Pamba Heritage Villa | B, L, D | 50km / 30mi* | cycling |
| DAY 15 | Vembanad Lake | Abad Whispering | B, L, D | 40km/24mi* | cycling |
| DAY 16 | Kochi | The Killians | B, L, D | 40km / 24mi* | cycling |
| DAY 17 | Kochi | | B | | |
Accommodation - Casual Inns
Small luxury and boutique hotels that are true to their heritage and character and reflect local ethos are listed here as Casual Inns. They hold within them an unassuming charm and regional character that is an extension of the destination itself. Most of them fall under the 3-star or 4-star category with a possible mix of homestays.
We have chosen them carefully so that you are well-rested; get a drift of the local character or an enthralling view from your verandah. The above brief itinerary gives you a clickable list of hotels for your perusal.
Detailed Itinerary
Map
Dates and Prices
Note:
Our base pricing is in USD. However, we can also quote in AUD, GBP, CAD, and EUR, and you can pay in the same. Please write us.
---
Couldn't find a trip with convenient dates?
Open your date as a join-in tour or customize further as private one.
We offer private departures on almost all our itineraries, and for groups of four or more, they cost the same as our standard trips!
---
Essential Info
Inclusions
LODGING
All hotels as mentioned in the tour details or similar (subject to availability).
trip leader
Expert Trip Leader(s) who look after your every need and add meaning to your vacation.
bike
Immaculately maintained bike with helmet, suited to a terrain.
shuttle
A Van support that follows the group of riders and carries all belongings.
meals
Meals as per itinerary. Guests are given the opportunity to dine on their own so that they discover a location independently.
refreshments
Refreshments and mineral water while cycling.
entrance
Entrance fees to most of the monuments and temples.
E-bikes
E-bikes are available on this trip at a surcharge. Please send a note to your tour consultant to book one.
Bikes
When you have a road and the thrill of a journey ahead of you, it's imperative to have a good bike to enjoy it. Our fleet majorly consist of the below bikes as a part of this tour. However, sometimes due to height or availability constraints, we may provide a different but similar quality bike.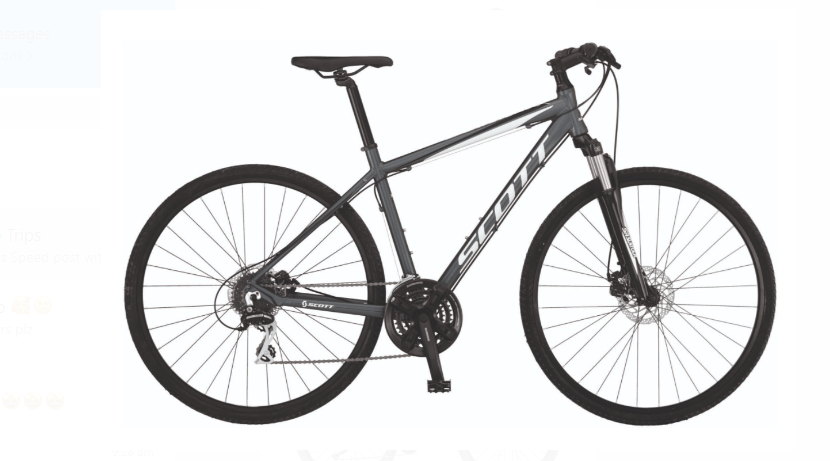 hybrid
Included in your trip price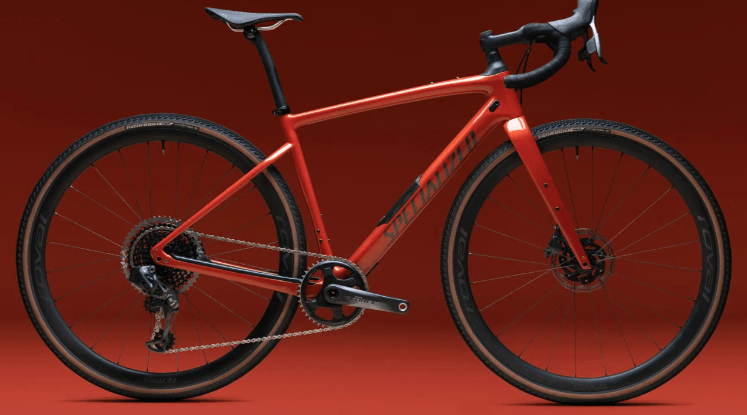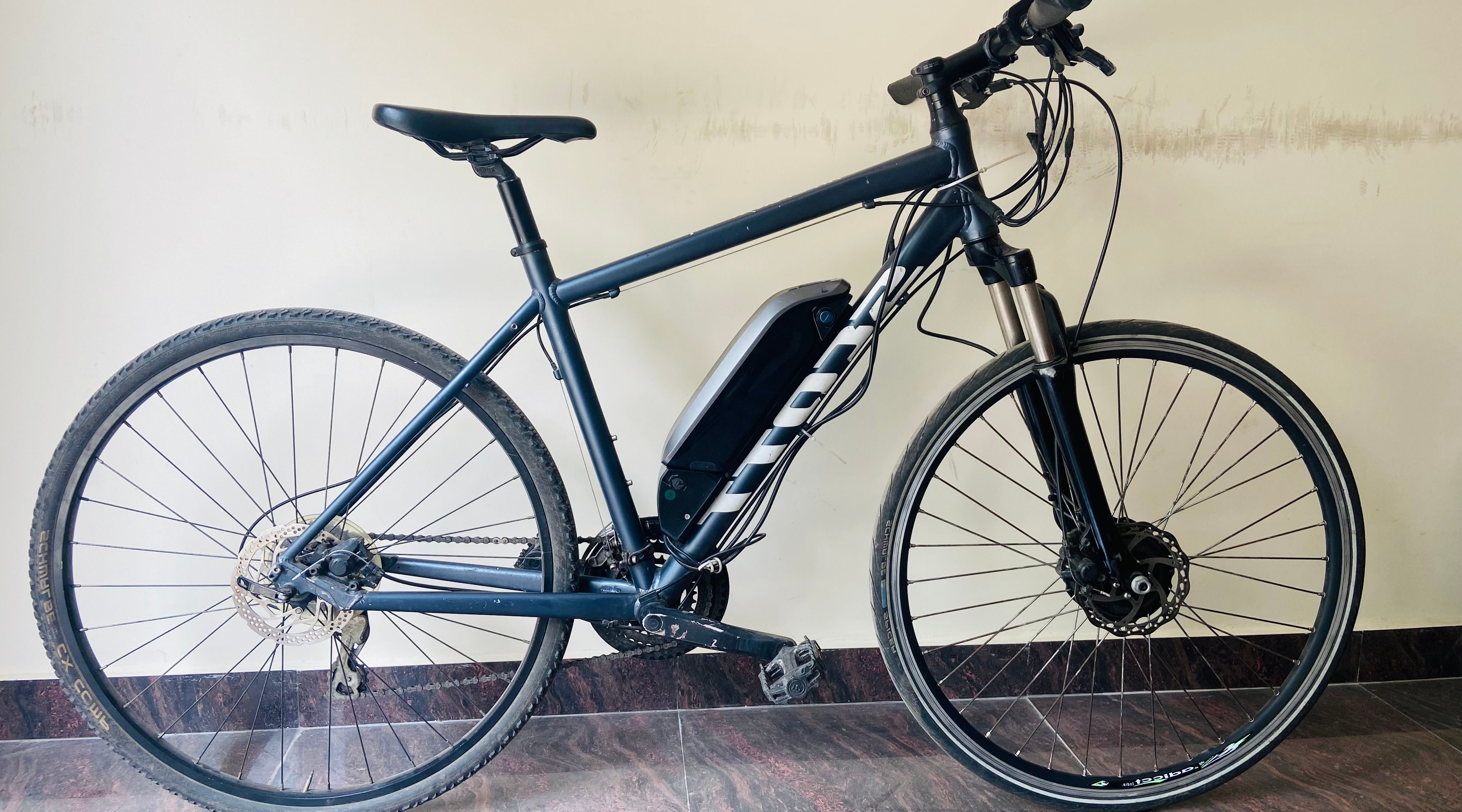 Weather
With varied terrain, starting from below sea level in coastal plains to 1900m in the mountains, Kerala has a diverse climate. A typical tropical climate remains cooler in the highlands and hot and humid in the coastal plain throughout the year.
Mid-November to the end of February is the winter time in Kerala, which is best experienced in the highlands with a pleasant climate in the mornings and temperature falling below 10°C at the night. A fleece jacket or warm sweater and long pants may be needed for the cooler evenings and mornings in hill stations. The temperature in plains averages between 25°C to 31°C during this time.
From the beginning of March till the end of May, it is summer. The temperatures go above 40°C during some days in coastal pains and generally remain very hot and humid. The highlands still offer some relief during this time with comparatively cooler climates.
The start of June is the beginning of the Monsoon season in Kerala. Kerala receives two cycles of Monsoon. From June till September, it's the southwest monsoon, which brings heavy rainfalls till mid of August and it slowly weakens towards the end of September. The second cycle, the Northeast monsoon, starts from the beginning of October till mid-November with light to heavy showers mainly during the evening hours.
Exclusions
Airport pickup and drop
We recommend to book direclty from airport or hotel.
meals
Some meals may not be included. Please check your itinerary.
Beverages
Beverages such as alcohol, tea, coffee, juice at a hotel or restaurant.
Reviews from our friends
Catherine Fogarty from AU
5.0
a fantastic company
Art of Bicycles is a fantastic company and along with a group of family and friends had a most excellent time in India back in January 2018. Everything was great from the itinerary, accommodation, food but most of all being surrounded by an amazing country. From a bike everything is up close and personal. And there is always the back up vehicle when you need it. A decent level of fitness is definitely an advantage but the Art of Bicycles will move at your pace, create a flexible itinerary and aspire to meet your needs.
Mike Hulme Moir from NZ
5.0
wonderful trip through south india
wonderful trip through south india. very well organised with great accommodation and food. excellent guides,bikes and transport. would do it again
The company is great, their support teams are outstanding
I took the Jodhpur-Udaipur bicycle trip in 2012. It was fantastic. That's why, in 2017, I took the Bengaluru-Kochi trip: it was even better cycling. The company is great, their support teams are outstanding, I recommend them to all my friends, I've personally used them twice, and I have a friend who's gone with them three times. Obviously you will have to do your own careful research and decide what's right for you. But I was very happy.