Enthralling Meghalaya Bike Tour
---
Overview
Meghalaya literally means the abode of the clouds ( Megh + Alaya). And for good reason. This tiny state tucked away in India's northeast corner is home to the wettest place on earth. - Mawsynram As moisture-laden winds from the Bay of Bengal blow towards the Indian landmass, they are trapped by three mountain ranges of Meghalaya - Garo, Khasi, and Jaintia, and forced to shower all their bounty upon this emerald shape land, turning it into a little paradise of misty mountains, lush green valleys, and the northernmost rainforests in the world. This means that no two days are alike on the (Misty/Magical/Mesmerizing) Meghalaya trip.
From the rolling meadows around Shillong to the dense rainforests of Mawkyrwat to the stunning gorges of Cherrapunji, each day unfolds like a new landscape in front of your eyes. All this, experienced with countless cups of locally brewed red tea makes for an unforgettable travel story.
Avg. dist. cycled
50km Or 30mi
Group size
Min. 2, Max. 14
Highlights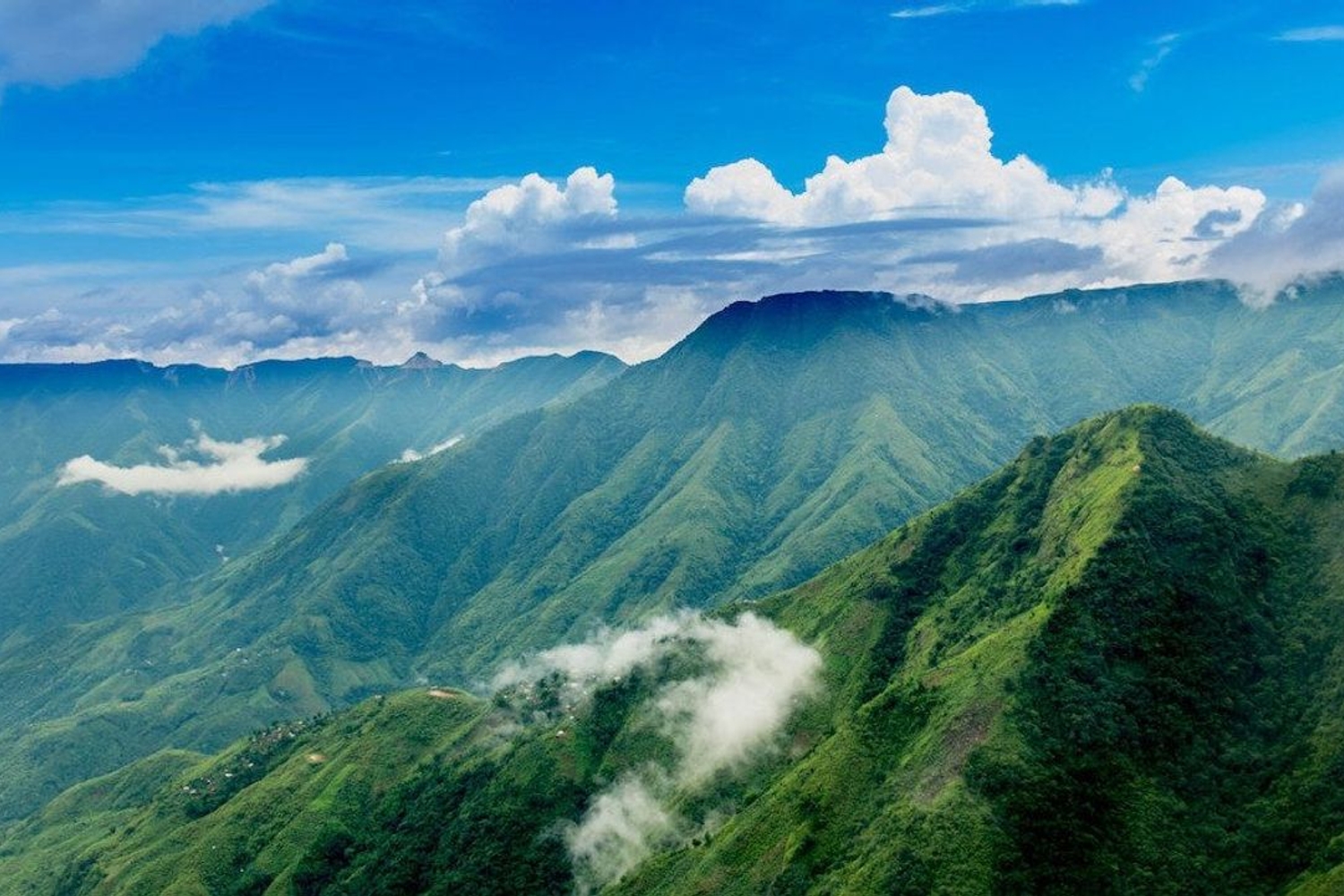 Scotland of the East
Experience the vibrant culture of Scotland of the East, Shillong
Itinerary
Brief Itinerary
| Day | Place | Hotel | Meals | Distance | Activity |
| --- | --- | --- | --- | --- | --- |
| DAY 1 | Shillong | Cafe Shillong | D | | |
| DAY 2 | Shillong | Cafe Shillong | B,L,D | 40km / 24mi | cycling |
| DAY 3 | Mawphanlur | Traveller's Nest | B,L,D | 50km / 30mi | cycling |
| DAY 4 | Mawkyrwat | Domtiewsaw Resort | B,L,D | 40km / 24mi | cycling |
| DAY 5 | Mawlyngbna | Weiing Lakefront | B,L,D | 45km / 27mi | cycling |
| DAY 6 | Cherrapunji | Saimika Resort | B,L,D | 60km / 36mi | cycling |
| DAY 7 | Cherrapunji | Saimika Resort | B | | |
| DAY 8 | Dawki | Riverside Camp | B,L,D | 50km / 30mi | cycling |
| DAY 9 | Jowai | Traveller's Nest | B,L,D | 50km / 30mi | cycling |
| DAY 10 | Shillong | Cafe Shillong | B,L,D | 60km / 36mi | cycling |
| DAY 11 | Departure | | B | | |
Accommodation on this trip - Casual Inns
Small luxury and boutique hotels that are true to their heritage and character and reflect local ethos are listed here as Casual Inns. They hold within them an unassuming charm and regional character that is an extension of the destination itself. Most of them fall under the 3-star or 4-star category with a possible mix of homestays.
We have chosen them carefully so that you are well-rested; get a drift of the local character or an enthralling view from your verandah. The above brief itinerary gives you a clickable list of hotels for your perusal.
Detailed Itinerary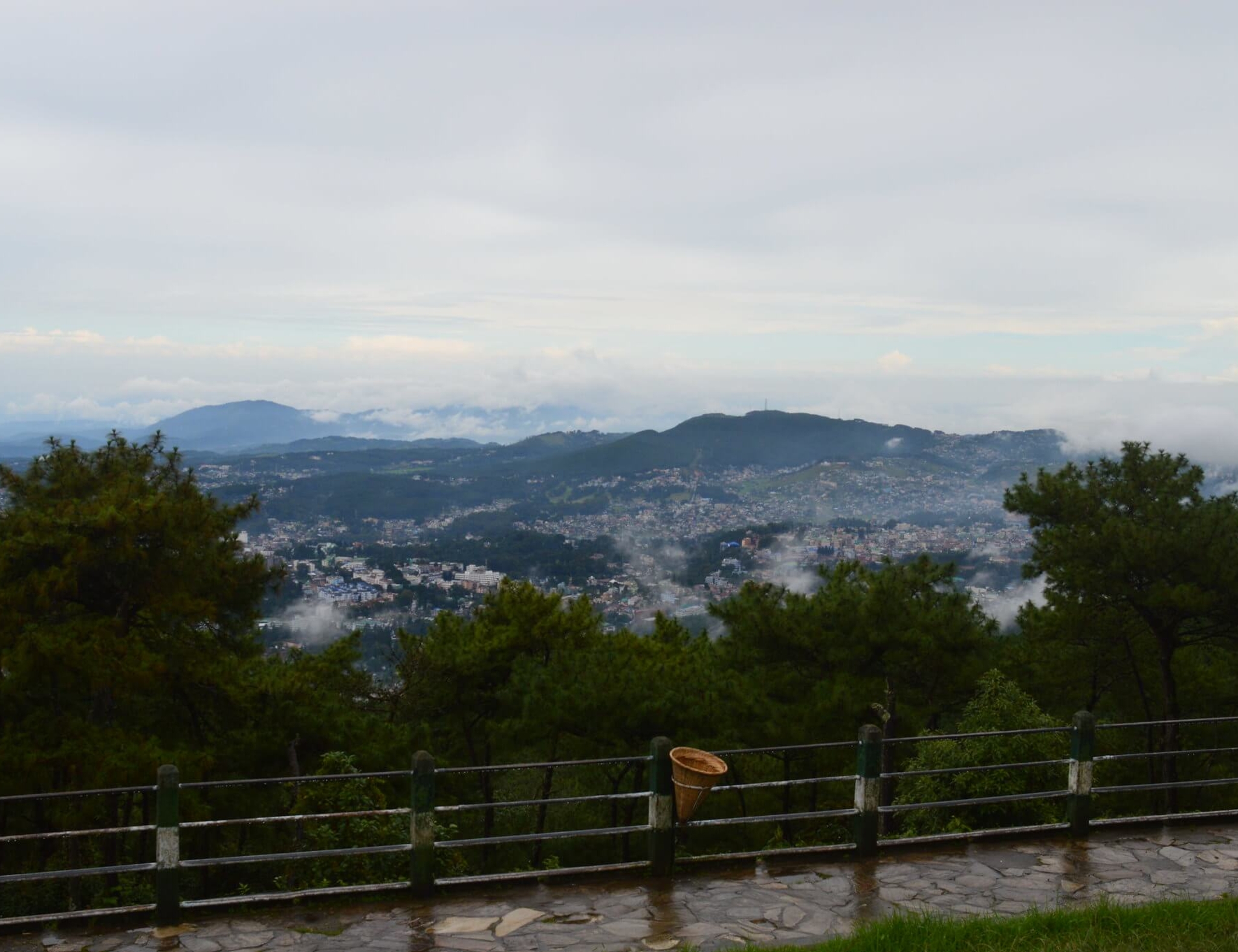 Day 1: Shillong
Our guide meets you at the hotel for a tour briefing and bike fit. Shillong is the capital city of Meghalaya and is a vibrant city that presents a colorful mosaic of different cultures. The city is inhabited by three indigenous tribes – Khasi, Garo, and Jaintia, along with a number of immigrant communities from places near and far such as Bengalis, Nepalis, and Assamese. Located between 1500 to 1900m above sea level, Shillong has a salubrious highland climate that reminded the British so much of the Scottish highlands that they began calling Shillong the "Scotland of the East". Shillong is also known as the "Rock Music Capital of India" for its vibrant music scene and cosmopolitan vibes. We convene over dinner tonight to celebrate the start of a magical journey.
Meals:
D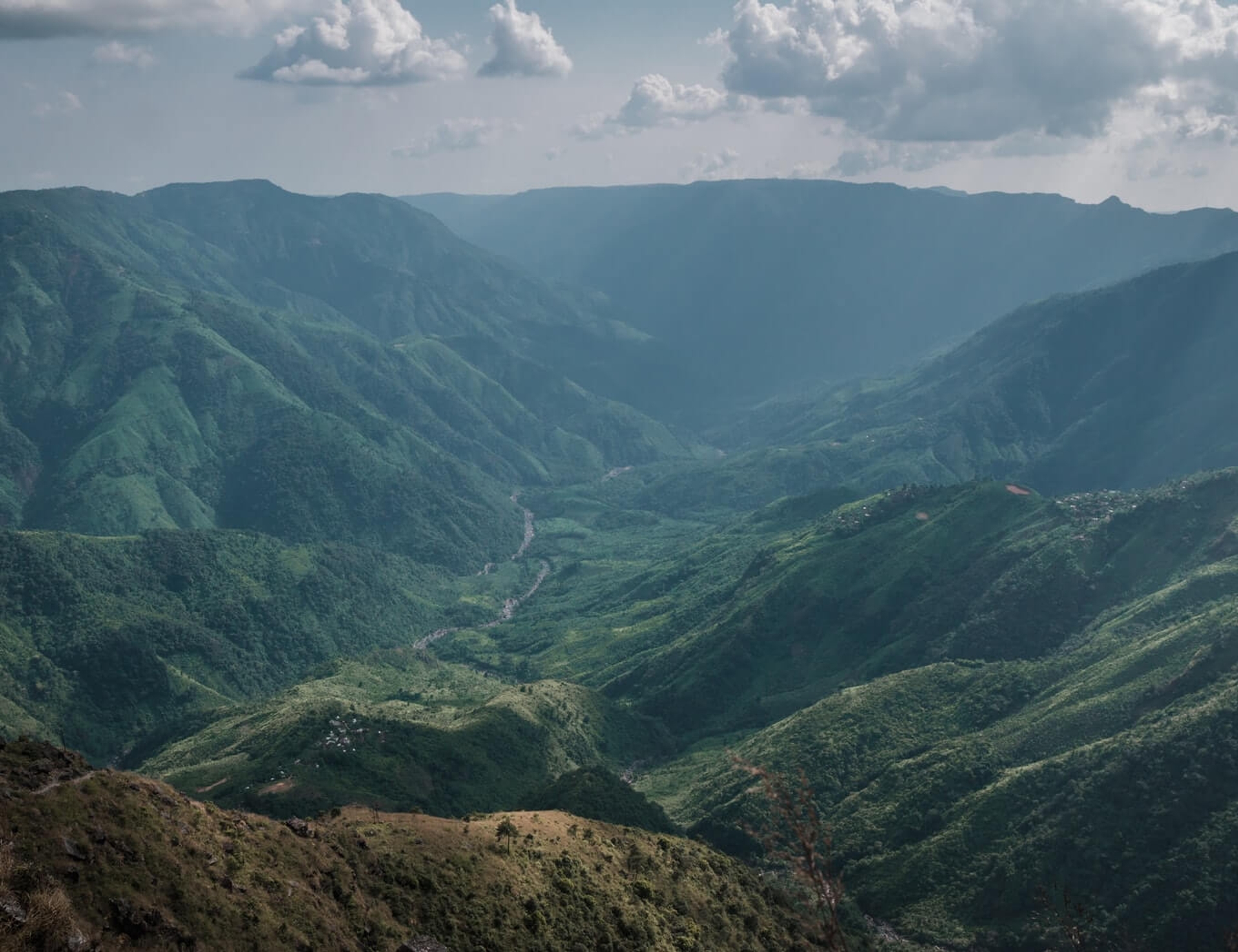 Day 2: Shillong
On this day we bike to the Laitlum Canyon. Laitlum in the Khasi language means 'the end of the hills', and that is exactly what the Laitlum Canyon is – a jaw-dropping cliff at which the rolling hills of Shillong seem to suddenly come to an end giving way to a vast nothingness surrounded by all sides by mountains. This day's ride gives you a preview of what to expect for the rest of the trip. You're free to have your own dinner today. We recommend trying Bamboo Shoot Fry, a local delicacy made from tender Bamboo shoots, fenugreek, and red chilies and served with the local molasses tea. Bamboo grows abundantly in Meghalaya and is an integral part of the everyday lives of the people who use it for a variety of purposes ranging from food to making furniture, houses, utensils, and more.
Meals:
B,L,D
Cycling Distance:
40km / 24mi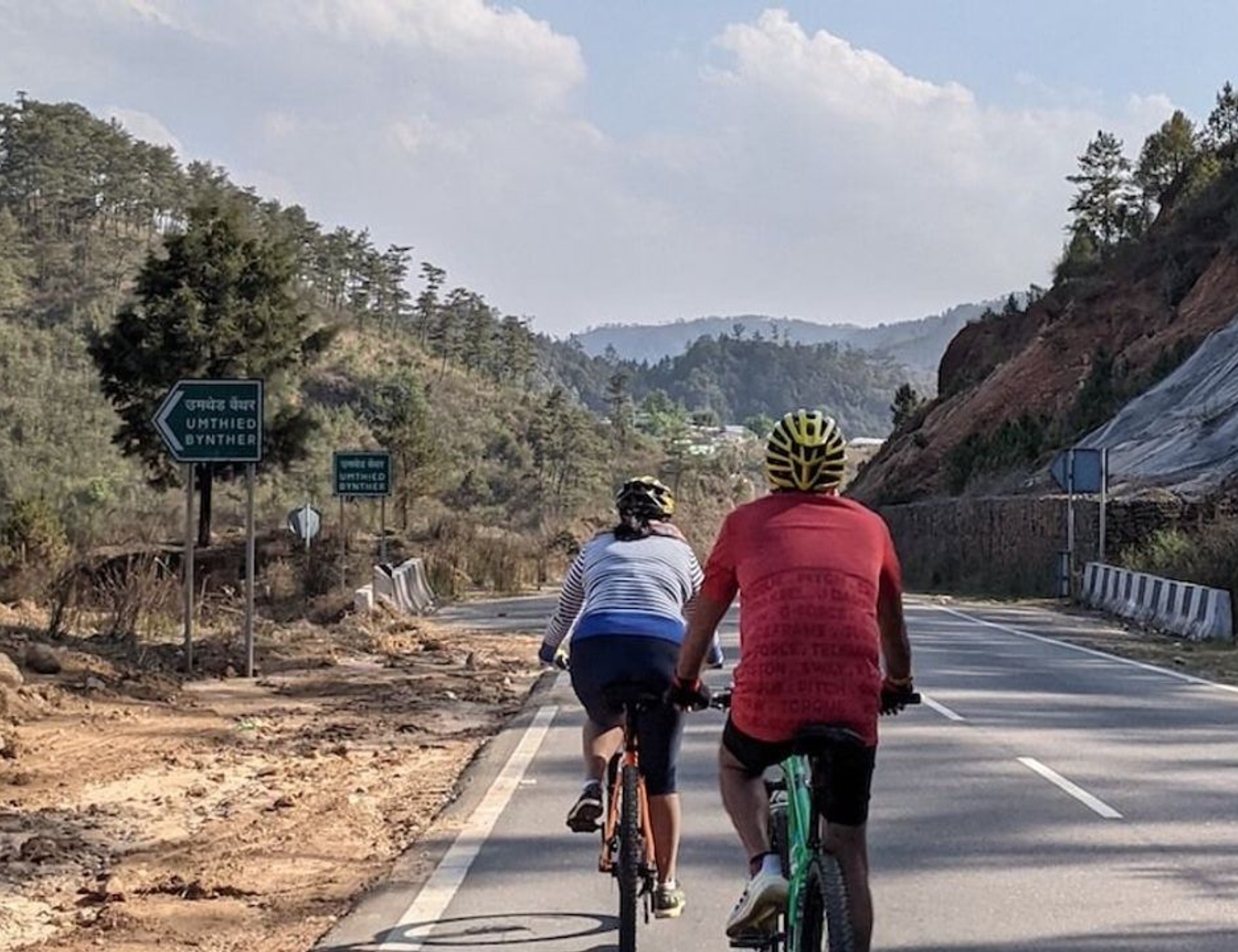 Day 3: Mawphanlur
We start with a van transfer of about 45kms before beginning the day's biking. We ride through some gorgeous scenery comprising of rolling hills and verdant forests to reach the tiny hamlet of Mawphanlur, the icing on the cake of the day's delectable riding. Mawphanlur is perhaps Meghalaya's best-kept secret. A highland village of a handful of inhabitants, Mawphanlur is mile upon mile of grassland and rolling meadows interspersed by seven lakes. It's the kind of dreamy, faraway place one usually finds pictures of on desktop wallpapers. If time permits, we make a visit to Kyllang Rock – a giant grey monolith shaped like an ice cream dollop jutting out hundreds of feet above the surrounding meadows and forests, that is home to some rare flora such as the white rhododendrons.
Today's stay is at a simple guest house managed by a local community-run cooperative. These cooperatives operate on a model that involves the local tribal communities in tourism, ensuring that the indigenous communities become equal stakeholders and beneficiaries of tourism. It also ensures that tourism in Meghalaya stays sustainable The room is neat and comfortable. Expect slow service, typical of Meghalaya, and possibly, no hot shower. Although, with a stunning view outside the window that overlooks a mesmerizing lake, you'll probably not mind it much.
Meals:
B,L,D
Cycling Distance:
50km / 30mi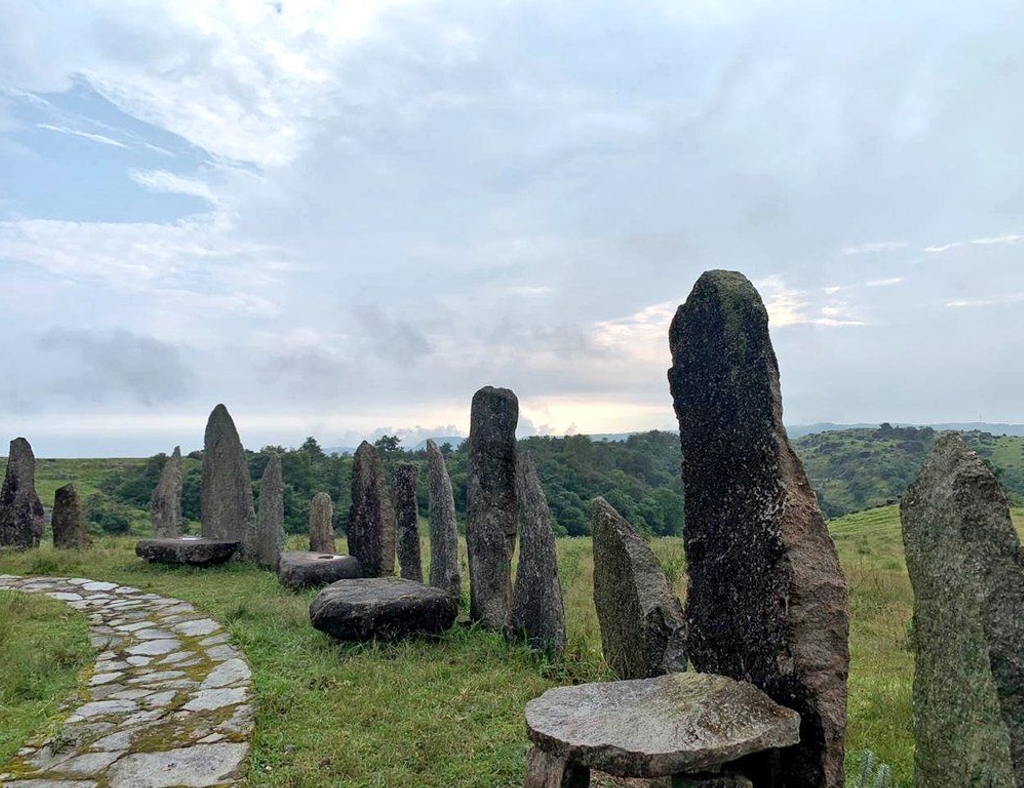 Day 4: Mawkyrwat
Mawkyrwat is a small hill village with little connectivity with the outside world and even less desire to have any. It's the kind of place where time comes to standstill. Velvet green grass, violet wildflowers, bubbly mountain streams, and gushing rivers. Talking of rivers, Mawkyrwat offers delightful views of the Rilang river that snakes ribbon-like through the Khasi hills, like the innocent paintings we all drew when we were children and just beginning to make sense of the world. That is what Mawkyrwat offers – a return to the beginnings and simple, child-like joys of life. Be prepared however to earn your stay in this little paradise as the ride to Mawkyrwat is a little bumpy and through a canopy of thickly wooded forests. Stay is once again at a simple community-run guest house. However, this time you can expect hot water. Try bathing using a bucket, Indian style.
In the early evening, we visit the Mawkyrwat monolith, a series of stone structures that are of cultural significance to the local tribal communities, and which show a striking resemblance to the Stone Henge in Great Britain.
Meals:
B,L,D
Cycling Distance:
40km / 24mi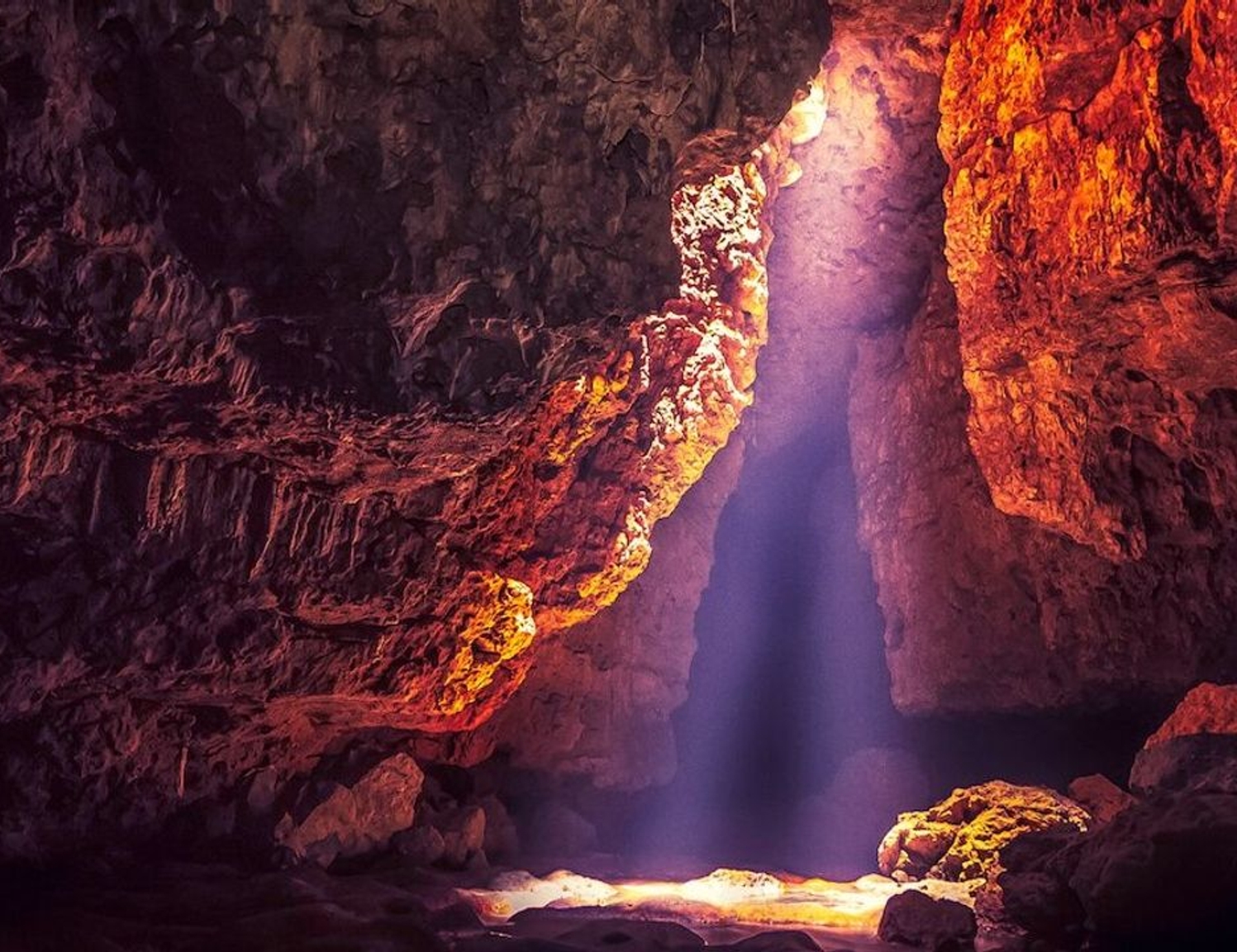 Day 5: Mawlyngbna
On this day we bike to Mawlyngbna, a picturesque hilltop village dotted with a number of natural, freshwater springs that offer a panoramic view of the Khasi hills merging into the plains of neighboring Bangladesh. However, Mawlyngbna is more than just another pretty hilltop hamlet. It is also home to India's only carnivorous pitcher plant species – the Nepenthes Khasiana. Named after the Khasi tribe, the Nepenthese Khasiana is a rare and endangered plant that is endemic to the region around Mawlyngbna. Pitcher plants attract insects with their vivid colors and then devour them by trapping them inside their pitcher-shaped flowers. The Nepenthes Khasiana is on the IUCN Red List of endangered flora, and at Mawlyngbna, you have your best chance of seeing this fascinating flora.
This is one of the best riding days as we bike through a route that has meadows on one side and a sheer drop on the other with misty clouds rolling in through the mountains. You will experience today why Meghalaya is known as the abode of the clouds.
In the evening or tomorrow early morning, we visit Mawjymbuin Cave which is a fascinating natural formation of calcerous sandstone over 200m in height studded with numerous stalagmites. Mawlyngbna is also home to Krem Puri, the longest sandstone cave in the world with a staggering length of 24.3 Kms. The Syntein village in the vicinity is known for its world-renowned Bamboo handicrafts.
Meals:
B,L,D
Cycling Distance:
45km / 27mi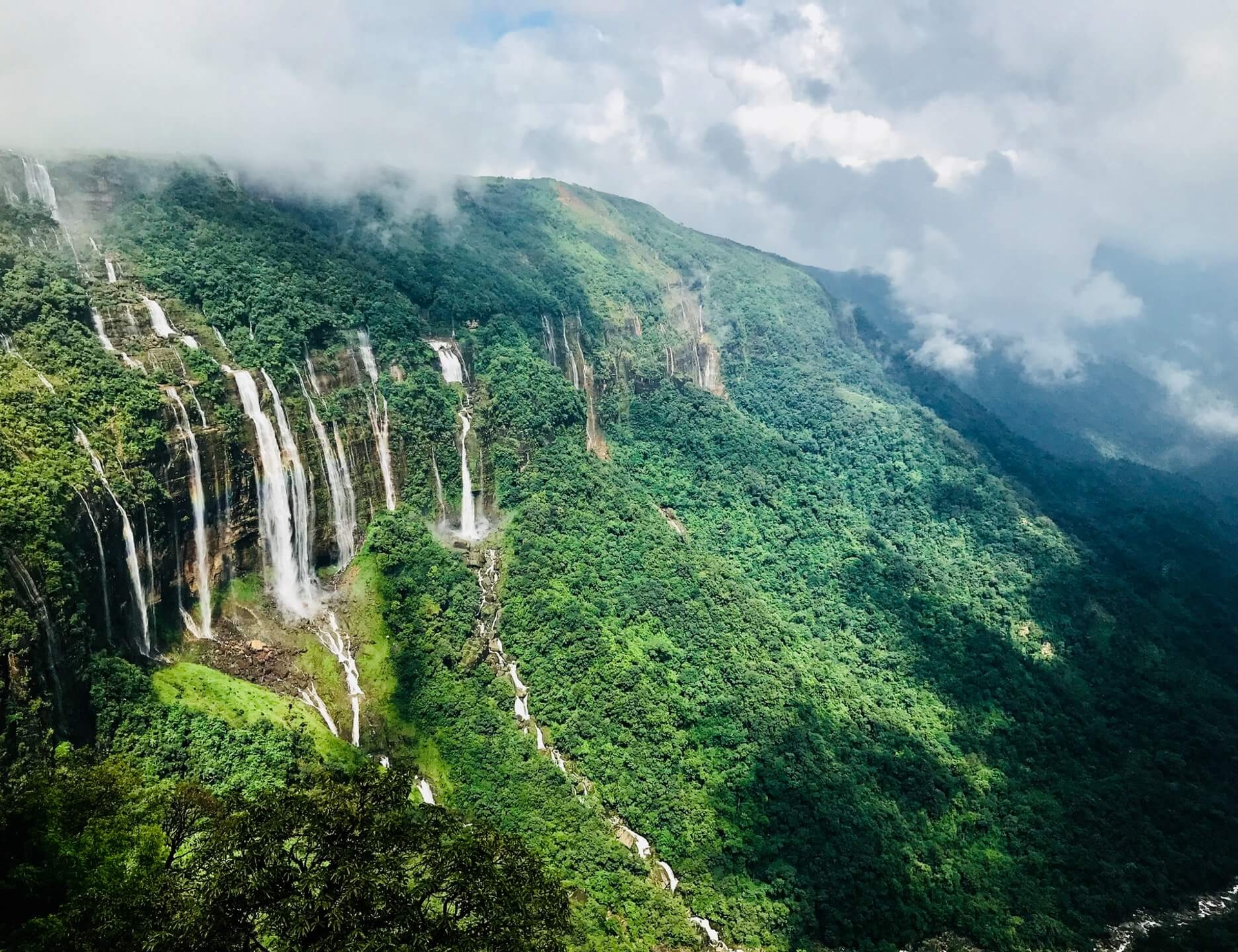 Day 6: Cherrapunji
Today we ride towards the fabled Cherrapunji, one of the wettest places on earth. With 11,700 mm of annual rainfall, Cherrapunji is second only to the tiny hamlet of Mawsynram which is located some 15kms from Cherrapunji. At 1490m above sea level, Cherrapunji lies at the center of a funnel-like formation made of three mountain ranges – Garo, Khasi, and Jaintia – that obstruct any rain-bearing winds that flow in from the Bay of Bengal leading to more rainfall than any other place on earth. As a result, the countryside around Cherrapunji is as unique as its high rainfall, with limestone caves, lush green valleys, and rubber trees with roots that grow for hundreds of meters.
While riding on the way, if time permits we visit the Mawphlang Sacred Grove, an ancient forest considered sacred by the local Khasi tribal communities.
Meals:
B,L,D
Cycling Distance:
60km / 36mi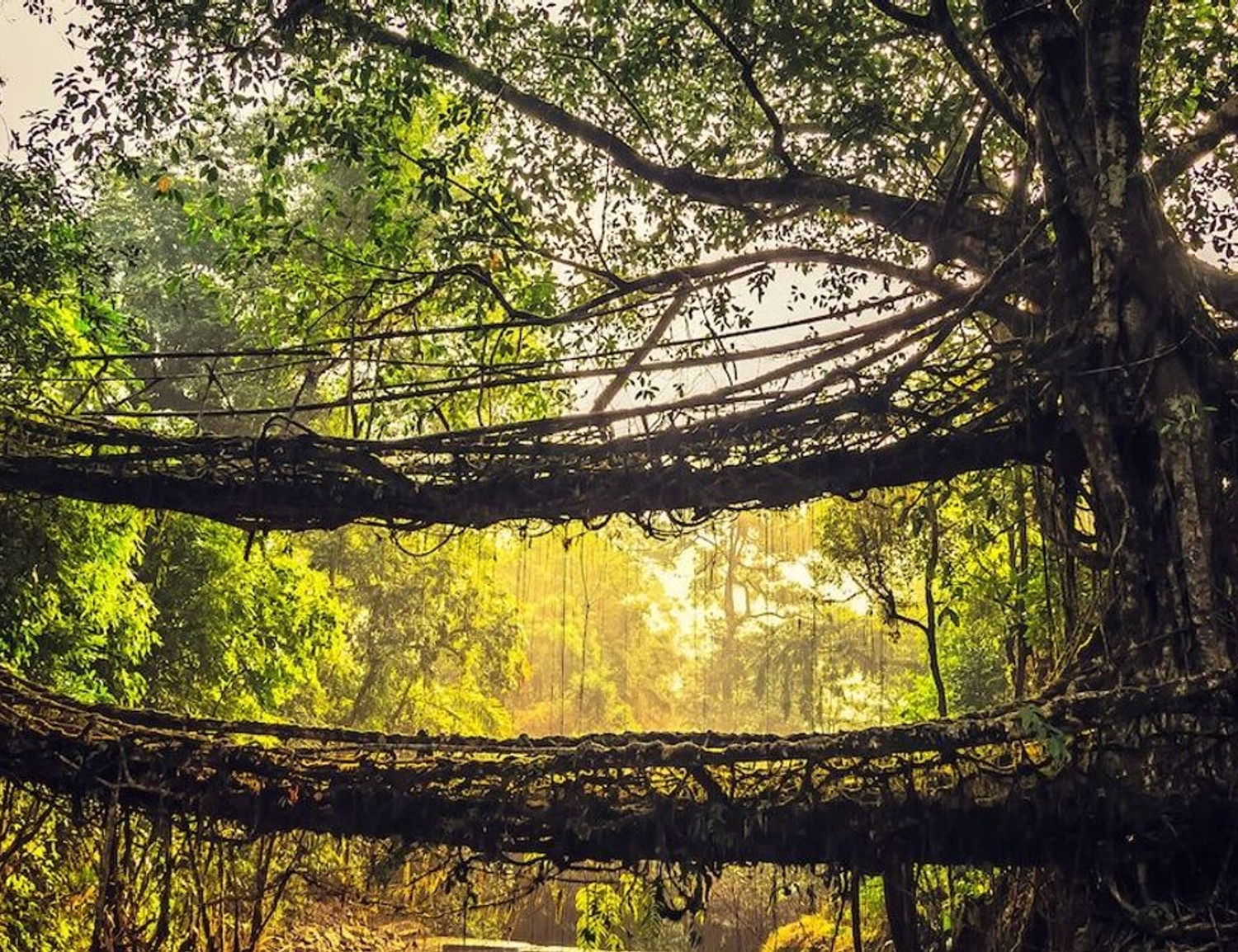 Day 7: Cherrapunji
If you've still got the legs for it, we walk to one of the most unique sights anywhere in the world – a bridge made from living roots of trees, that has not just one, but two levels. These famous living root bridges of Cherrapunji are a result of its unique climate, and are a testimony to what happens when man and nature live in harmony – they support and nurture each other, growing strong together. The Khasi and Jaintia people of Meghalaya believe that as long as the tree remains healthy, the bridge will continue to grow and strengthen with time, repairing any damage it incurs by healing itself. Be warned, however, that mother nature will test your strength and endurance as it's a challenging walk up to and down from the bridge.
If you're not up for a challenge, we recommend visiting the Mawsmai caves and the Seven Sister Falls - a 1033 feet waterfall over the limestone cliffs of the Khasi Hills.
While riding, do stop by at Mawkdok Dympep Valley, a vantage point that offers a panoramic view of the V-shaped valley that looks like something right out of a picture postcard.
Meals:
B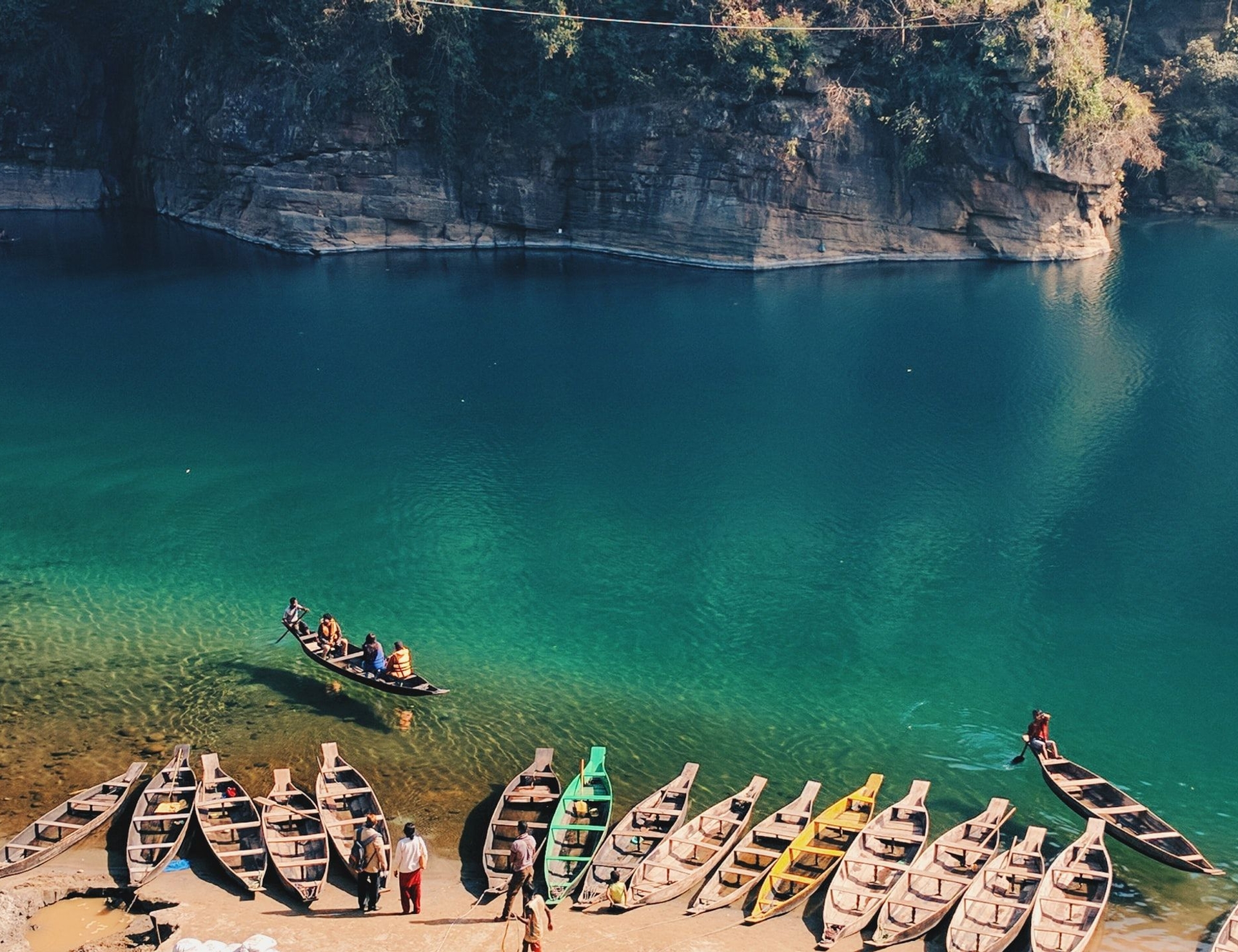 Day 8: Dawki
Dawki is that little slice of tropical heaven we have all daydreamed of on hot summer afternoons at work. A beautiful lake surrounded by lush green hills, with water so clear you can see all the way to the bottom. Next, picture a canoe lazily carried away by ripples, and mountains all around. That is Dawki for you. On this day we ride through some gorgeous green valleys to make our way to this picturesque place.
You might want to save up some steam to enjoy boating, snorkeling, and Kayaking here which offers a great way to explore the marine life under the crystal clear waters.
Meals:
B,L,D
Cycling Distance:
50km / 30mi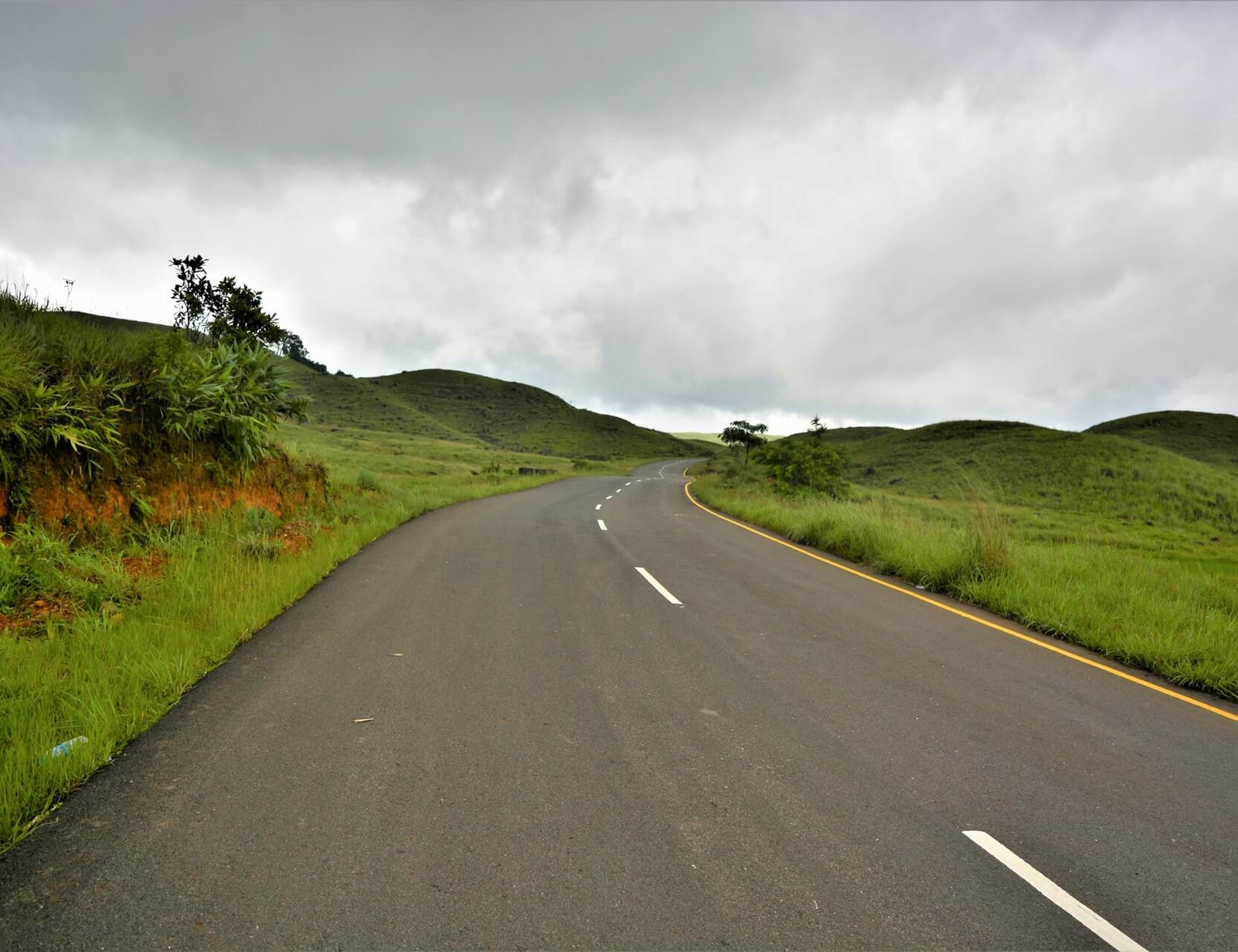 Day 9: Jowai
We know you hate peaking too early which is why we've saved the best for the last. Jowai is a tough climb of about 1000m to a beautiful plateau surrounded on three sides by the Myndtu river that the locals call "our guardian angel". However, if you feel like simply enjoying the beautiful countryside, you may choose to ride in the support van.
Meals:
B,L,D
Cycling Distance:
50km / 30mi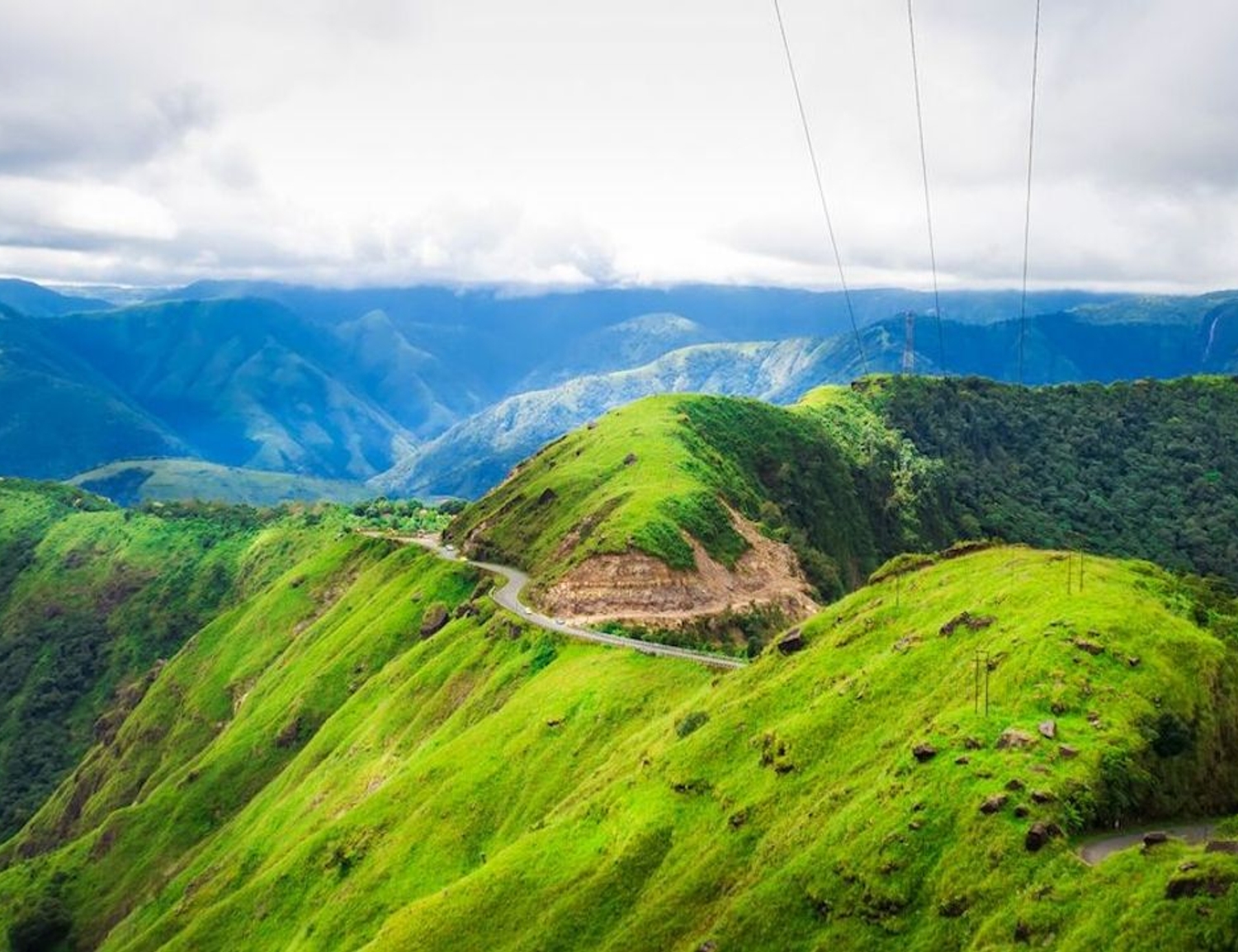 Day 10: Shillong
The last day of biking. We start from Jowai and pass through some beautiful hamlets set amongst the lush green hills on our way back to Shillong. To beat the traffic, we ride the last few km into Shillong in the support van. In the evening we meet for dinner to raise a farewell toast to a beautiful journey that will remain imprinted in your memories for a long time to come.
Meals:
B,L,D
Cycling Distance:
60km / 36mi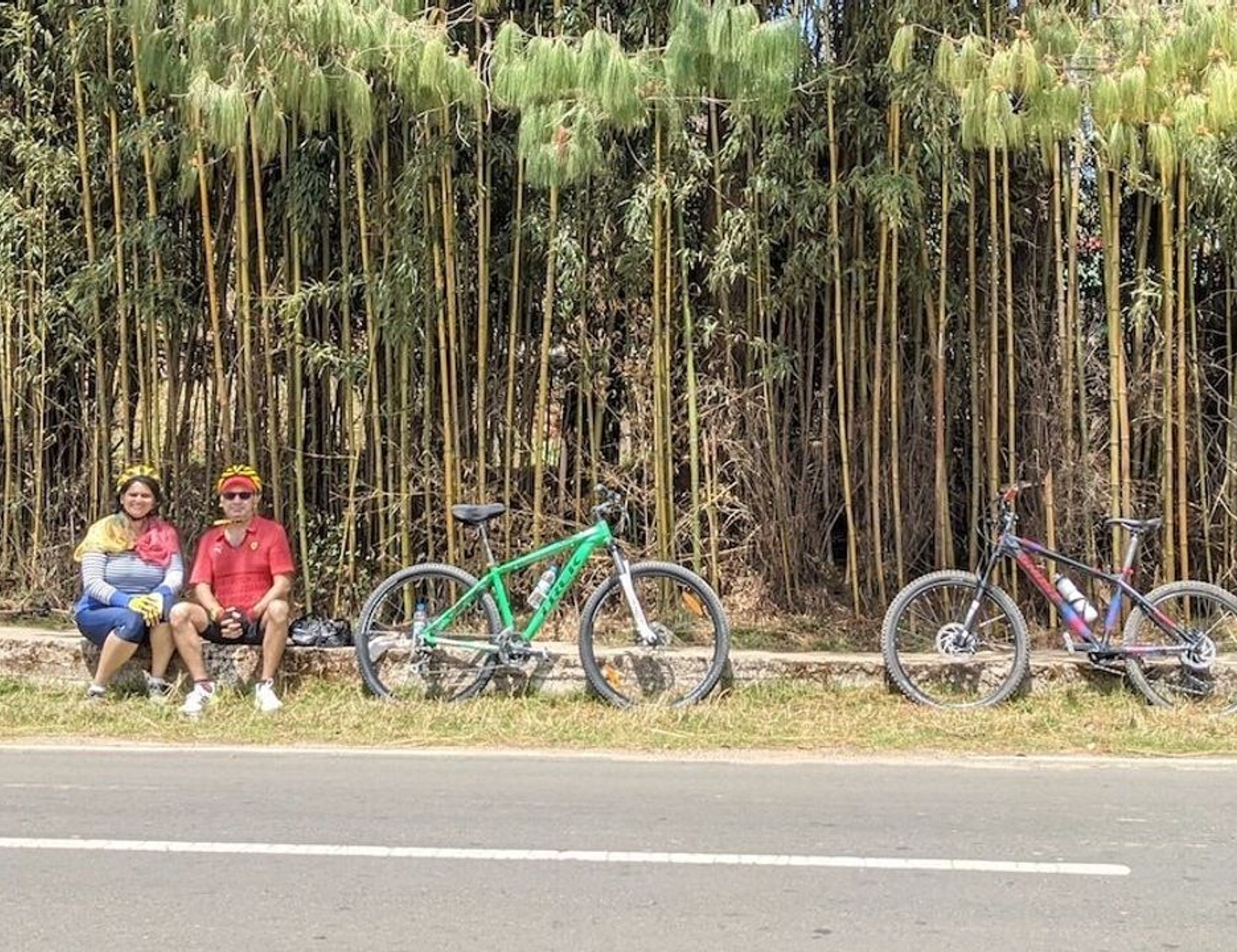 Day 11: Departure
Depart as per your own travel plans.
Meals:
B
Dates and Prices
NOTE:
Our base pricing is in USD. However, we can also quote in AUD, GBP, CAD, and EUR, and you can pay in the same. Please write us.
---
Couldn't find a trip with convenient dates?
Open your date as a join-in tour or customize further as private one.
We offer private departures on almost all our itineraries, and for groups of four or more, they cost the same as our standard trips!
---
Essential Info
Inclusions
LODGING
All hotels as mentioned in the tour details (subject to availability). All options are personally reviewed.
trip leader
Expert Trip Leader(s) who look after your every need and add meaning to your vacation.
bike
Immaculately maintained bike with helmet, suited to a terrain.
shuttle
A Van support that follows the group of riders and carries all belongings.
meals
Meals as per itinerary. Guests are given the opportunity to dine on their own so that they discover a location independently.
refreshments
Refreshments and mineral water while cycling.
entrance
Entrance fees to most of the monuments and temples.
Exclusions
Airport pickup and drop
We recommend to book direclty from airport or hotel.
meals
Some meals may not be included. Please check your itinerary.
Beverages
Beverages such as alcohol, tea, coffee, juice at a hotel or restaurant.