Guided Island Hopping the Dalmatian Coast Bike Tour
---
Overview
Croatia is a country famous for looking like something out of a fairy tale. With gorgeous white sand beaches looking out over the crystal clear waters of the Adriatic, mountainsides covered with vineyards and olive groves, quaint fishing villages where time does not appear to have moved since the Renaissance, and some of the best food and drink in Europe, Croatia is every traveler's delight. However, there is more to Croatia than just breathtakingly beautiful landscapes, with which it doubtless abounds. It is also home to some of the best preserved ancient and medieval architecture in Europe, with 4 of its cities recognized as UNESCO World Heritage sites. It is between two such magnificent cities — Split and Dubrovnik — that this Croatian adventure unfolds.
Avg. dist. cycled
50km or 30mi
Highlights
Diocletian's Palace
Visit the 1700 Diocletian's Palace in Split
Itinerary
Brief Itinerary
| Day | Place | Hotel | Meals | Distance | Activity |
| --- | --- | --- | --- | --- | --- |
| DAY 1 | Split | Hotel Marul | D | 17km / 10mi | cycling |
| DAY 2 | Split - Exploring the Island of Solta | Hotel Marul | B,L | 40km / 24mi | cycling |
| DAY 3 | Split - Exploring the Island of Brač | Hotel Marul | B,L | 60km / 36mi | cycling |
| DAY 4 | Island of Hvar | Hotel Villa Nora | B,L | 50km / 30mi | cycling |
| DAY 5 | Island of Korčula | Hotel Korčula | B,L | 55km / 33mi | cycling |
| DAY 6 | Island of Korčula - Marco Polo's home | Hotel Korčula | B,L | 80km / 48mi | cycling |
| DAY 7 | Dubrovnik | Hotel Lapad | B,L | 60km / 36mi | cycling |
| DAY 8 | Dubrovnik | | B | | |
Accommodation
These hotels include some of the most prestigious ones. Heritage properties, art décor contemporary places or chic boutique stays that are a notch above the rest is a part of this list.
Hotel Marul
Hotel Marul is a 4-star hotel and is set 500 meters from UNESCO-protected Diocletian's Palace and features an a la carte restaurant and a bar. The popular Riva Promenade with numerous bars, restaurants, and charming shops can be reached in a 10-minute walk, while the well-known Bacvice Beach is 1.5 From the property.
Detailed Itinerary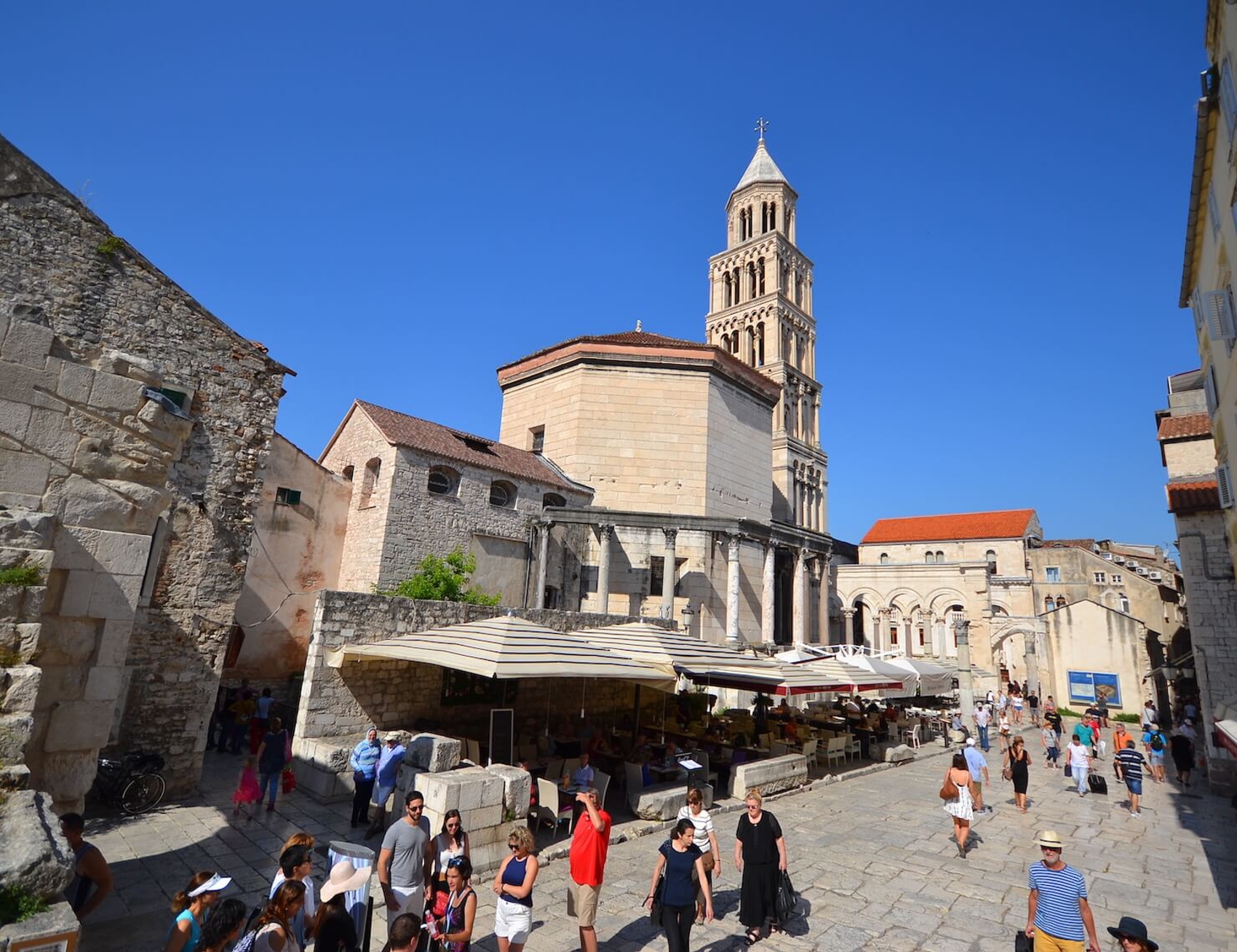 Day 1: Split
Our tour begins in the historic city of Split in southern Croatia. Split is the second largest city in Croatia after Zagreb and is well connected by air and sea to major European destinations. We meet at our hotel for introductions and bike fitting. We then head out for a short bike ride along Split's beautiful Adriatic coast, climbing to the top of the 178m high Marjan hill. The hill is a landmark of the city and is covered in dense pine forests. From its top, it offers breathtaking views of the Adriatic sea on the one hand and the city of Split on the other hand.
With the day's biking done, we head out on a guided tour of the city. Founded more than 2000 years ago as a Greek colony, Split's city center is recognized as a UNESCO World Heritage site. The highlight of the day is a visit to the 1700-year-old Diocletian's Palace. Built in the 4th century CE by the Roman emperor Diocletian, the palace was a small fortress that housed an entire military garrison. It is recognized today as a UNESCO World Heritage site.
Meals:
D
Cycling Distance:
17km / 10mi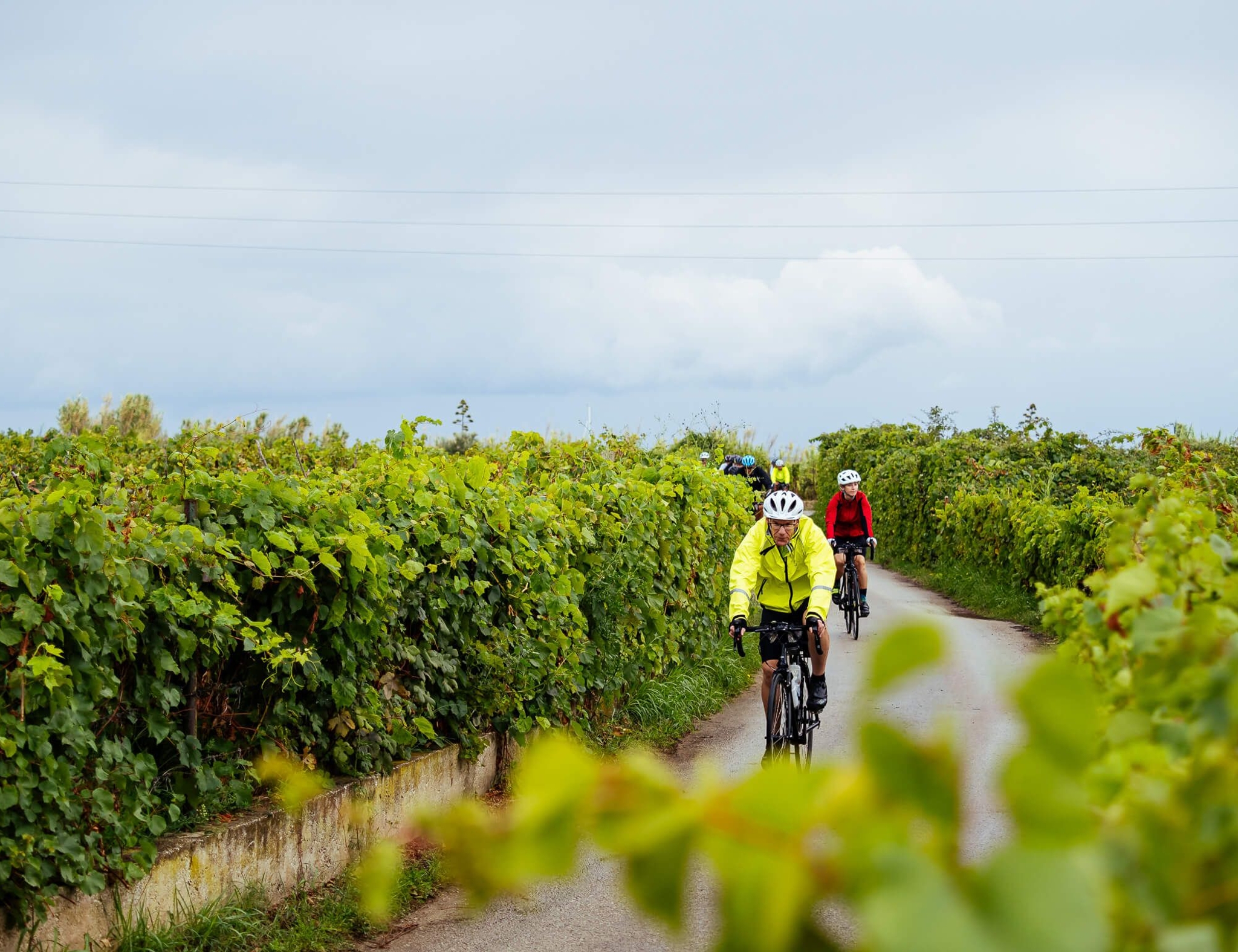 Day 2: Split - Exploring the Island of Solta
Today we load our bikes onto a ferry and sail across the Adriatic to the charming island of Solta. As one of the oldest wine-growing regions in Dalmatia, Solta is known for its old-world wines, its olives, and its honey. Solta is home to the world-famous Dobricic variety of grapes from which is produced the wine of the same name. Needless to say, much of the day's biking would be through narrow rural backroads that take us past vineyards, olive plantations, and bee farms. In the evening, we take the ferry back to Split and spend the night in town. You are free to explore the city of Split on your own this evening.
Meals:
B,L
Cycling Distance:
40km / 24mi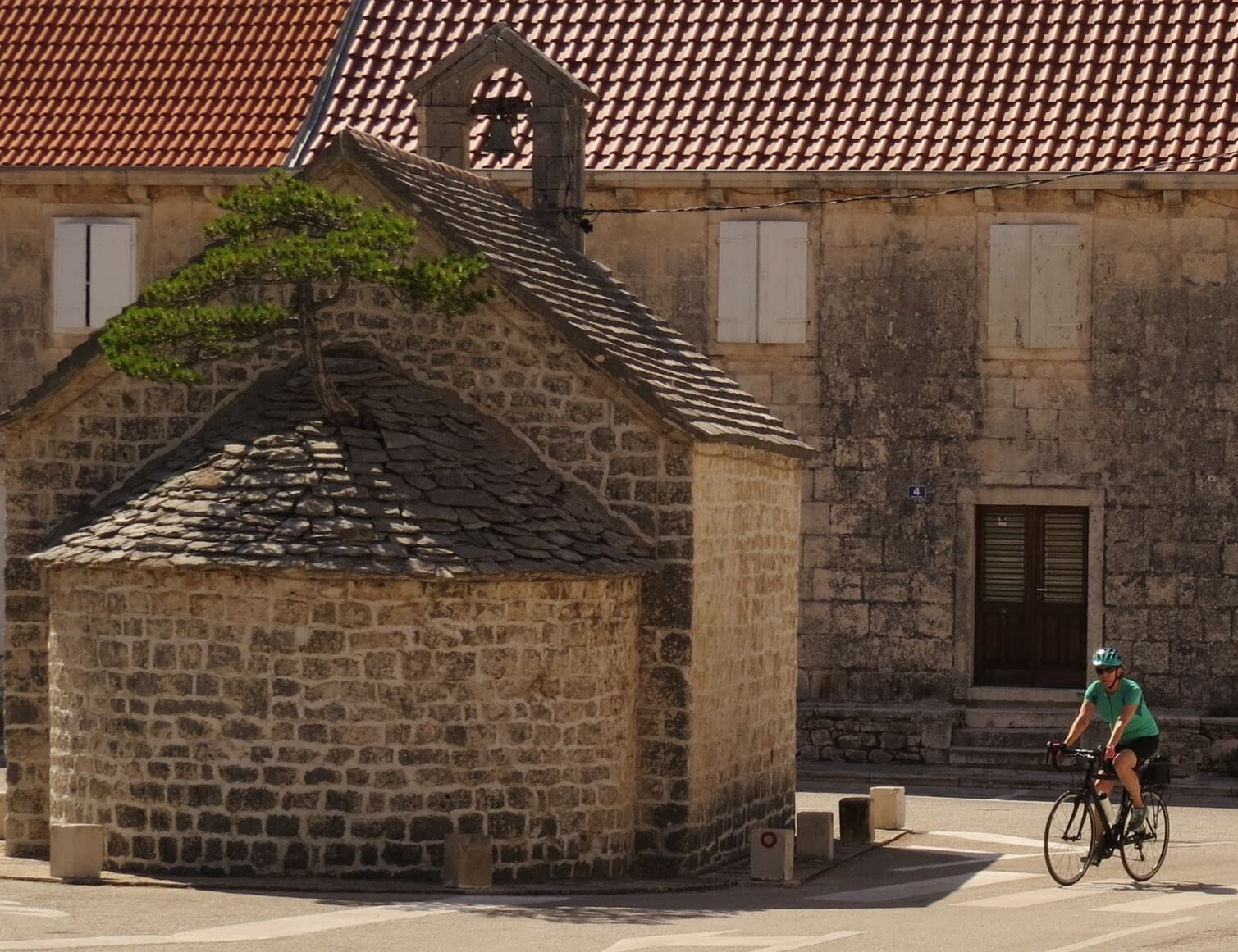 Day 3: Split - Exploring the Island of Brač
Today we once again hop onto a ferry and sail across to the island of Brač. Brač is an island made mostly of white limestone, whose stone has been quarried and used in famous buildings across the globe and throughout history, including the Diocletian Palace, and, according to some sources, the American White House. We get to visit a family-owned art gallery where we see stone sculptures made from Brač limestone at close quarters. We bike once again through quiet rural roads, passing by olive groves, and ending at the coast. If time permits, we can relax on the excellent white sand beaches the island has to offer. In the evening, we once again board the ferry and return to Split.
Meals:
B,L
Cycling Distance:
60km / 36mi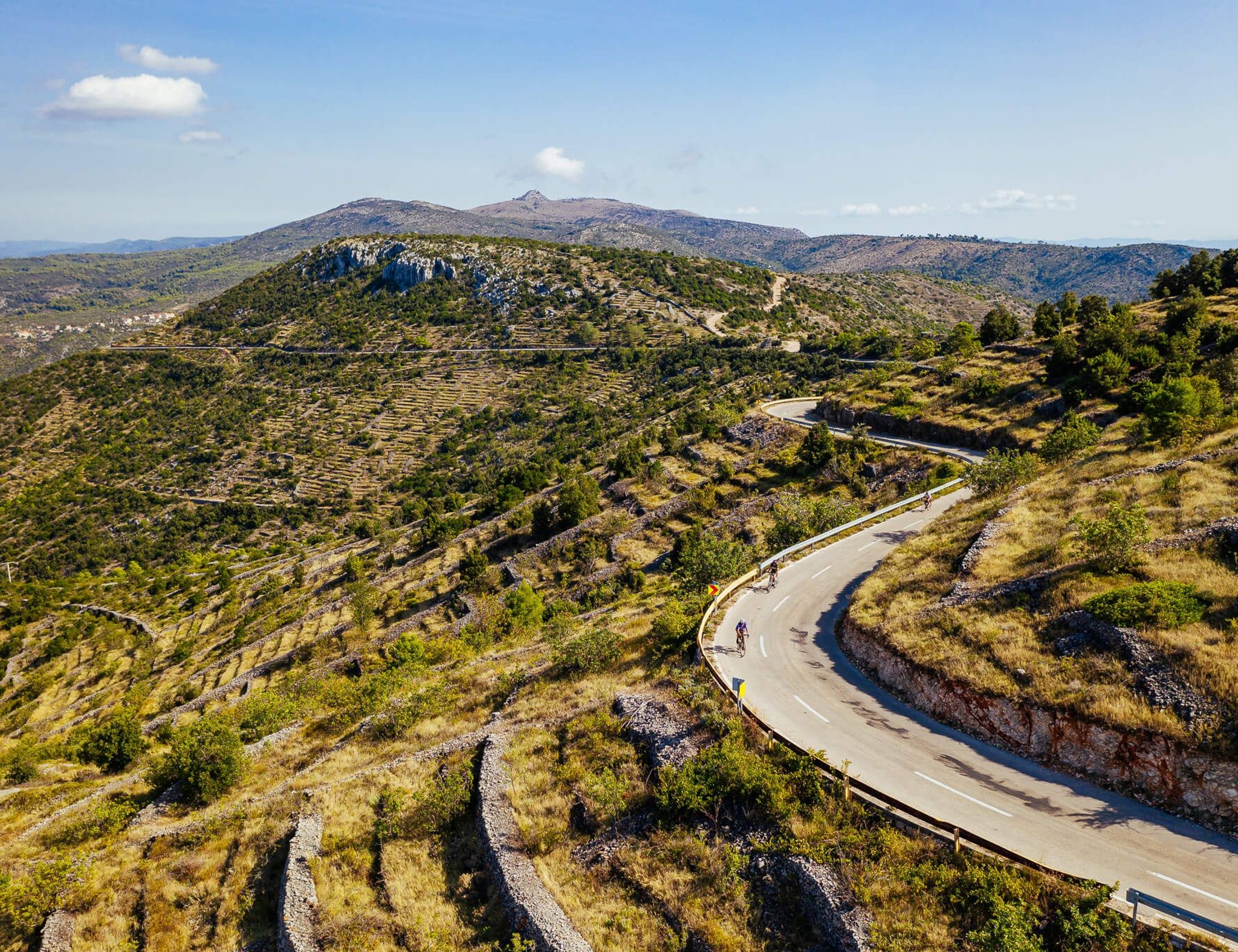 Day 4: Island of Hvar
Today we once again sail off across the Adriatic to bike on the world-famous island of Hvar. Hvar is known for many things, but perhaps what it is known for the most is its field-upon field of lavender that comes alive in spring and early summer, painting the entire countryside a mesmerizing shade of purple. We stop to admire Stari Grad, a Greek village dating back to 400 BC and a UNESCO World Heritage site, before continuing on with the day's biking through olive groves and vineyards. We have a sumptuous Mediterranean lunch with plenty of local olives and honey before riding further to Hvar.
Meals:
B,L
Cycling Distance:
50km / 30mi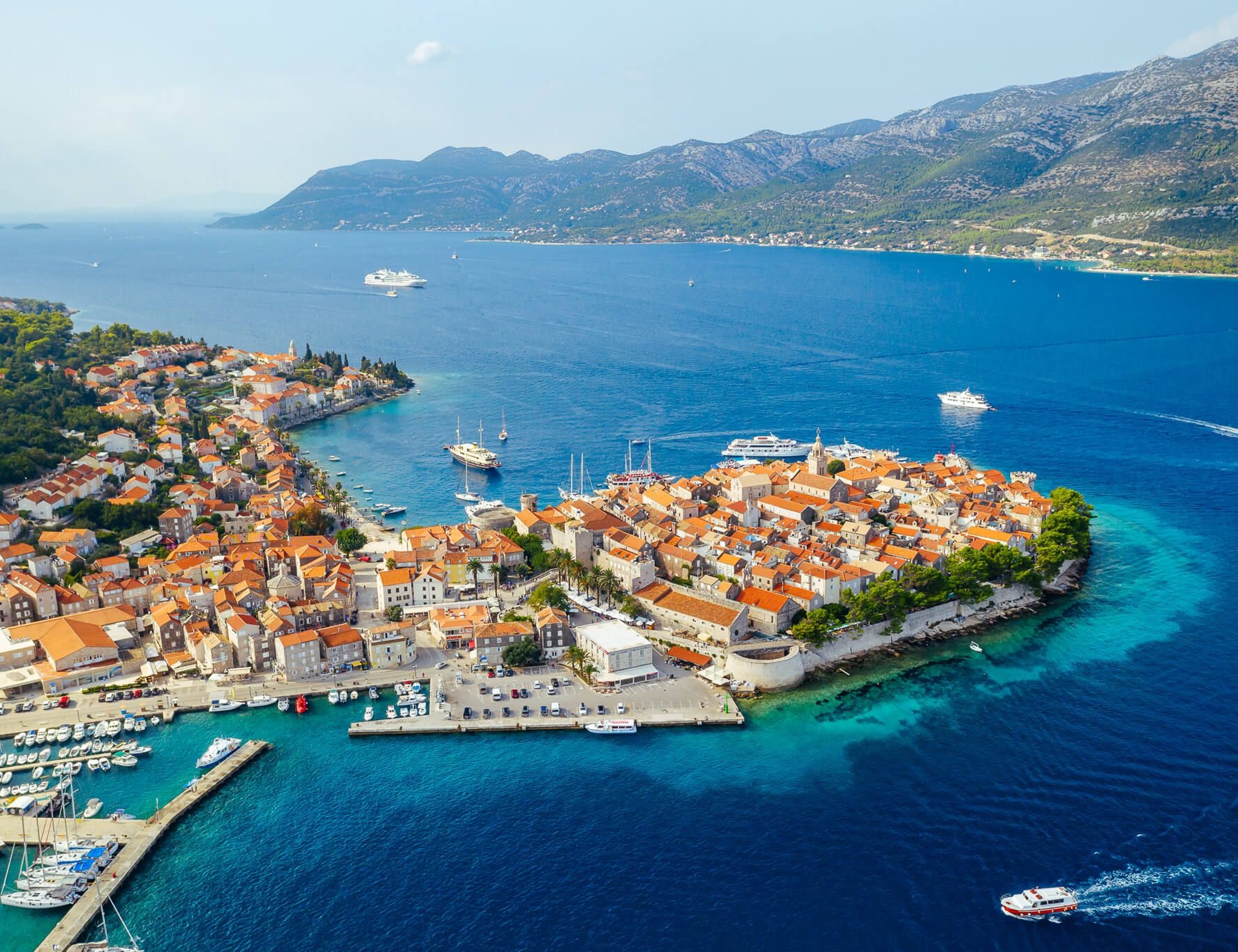 Day 5: Island of Korčula
We continue island-hopping on the Adriatic as we board the ferry this morning and sail along with our bikes to the lesser-known island of Korcula. The island is covered with thick forests of holm oak and pine that the Greeks used for building ships. It has excellent white sand beaches and great views of the clear blue waters of the Adriatic. But above all, Korcula is known for the excellent white wines it produces, three of which, namely, Posip, Rukatac, and Grk are especially noted among wine lovers. We stop by a small village and have a traditional Mediterranean lunch with a local family before heading to our hotel. And for the first time on our journey, we are not heading back to Split. We spend the night at a charming little hotel on Korcula itself.
Meals:
B,L
Cycling Distance:
55km / 33mi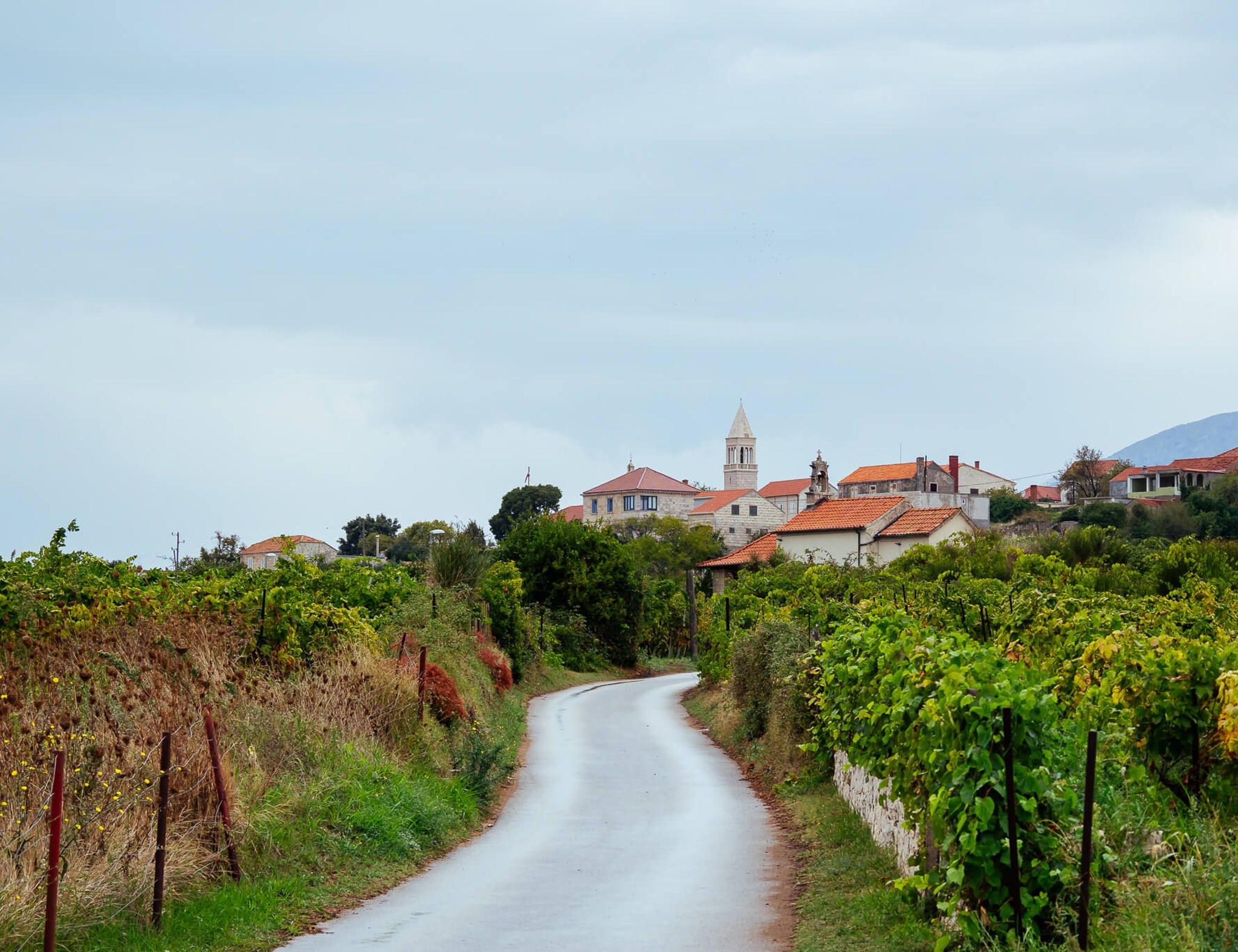 Day 6: Island of Korčula - Marco Polo's home
So beautiful is Korcula that we spend an entire day cycling its backroads, vineyards, and olive groves. We take a break from cycling to visit a special place — the house where the adventurer Marco Polo was born. Marco Polo is known today in history as among the earliest Europeans to leave behind extensive records of his travels in China, Mongolia, and India which he undertook in the 13th century. His travels and his writings paved the way for greater interaction between Europe and Asia. And it was in this humble abode, overlooking the sparkling waters of the Adriatic that some of the greatest adventures in history began.
Meals:
B,L
Cycling Distance:
80km / 48mi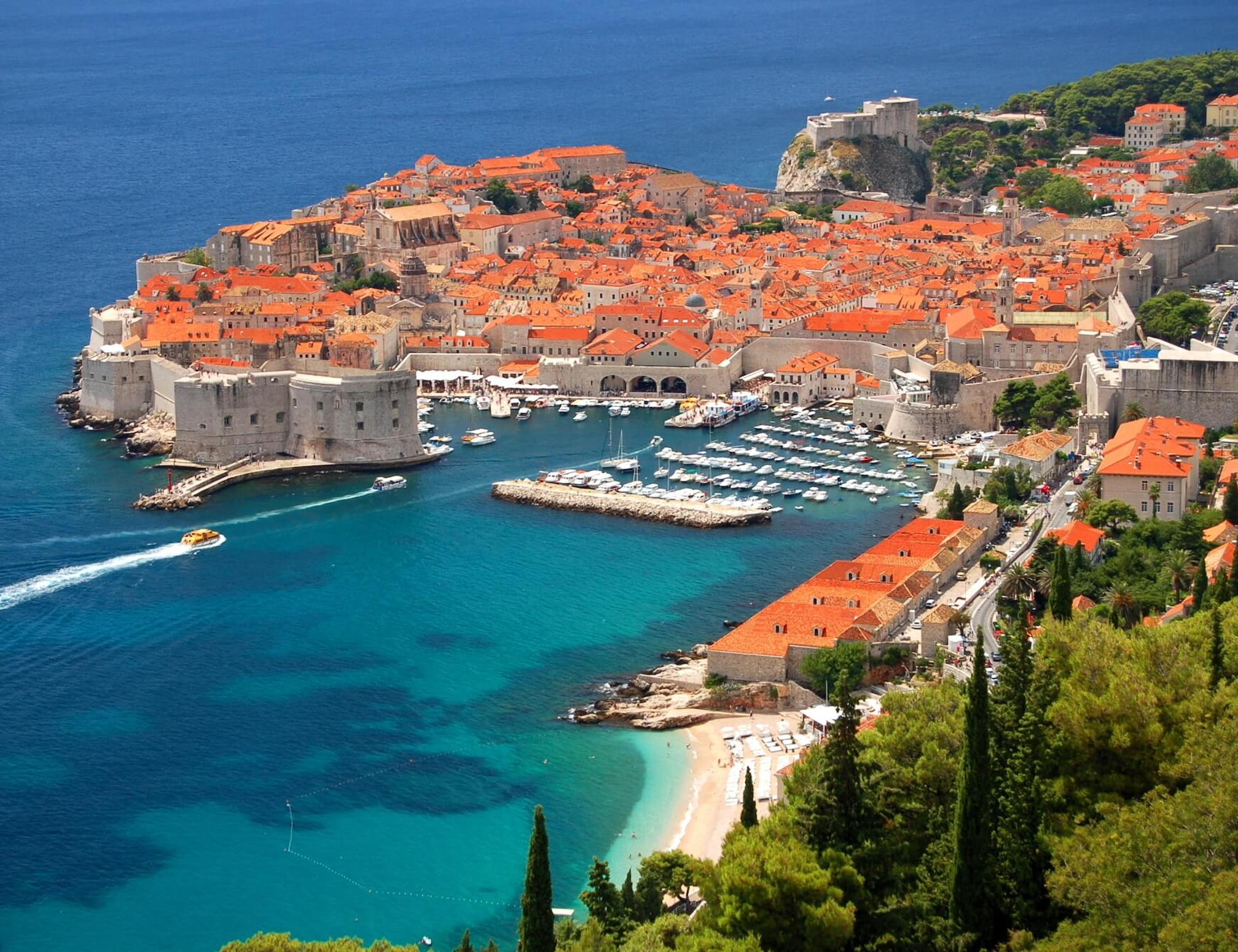 Day 7: Dubrovnik
We begin the day with a short ferry ride to the peninsula of Peljesac. Peljesac is famous for producing Croatia's finest wine — the Peljesac wine. A hilly island dotted with vineyards, Peljesac is also known for producing great oysters and mussels. As we bike through the beautiful countryside, we stop at a quaint village called Ston, famous for having the longest fortified wall in Europe built back in the 14th century. We end the day's biking shortly thereafter and take a transfer to the city of Dubrovnik.
Meals:
B,L
Cycling Distance:
60km / 36mi
Day 8: Dubrovnik
We meet one last time for breakfast to celebrate the culmination of a fine cycling journey. Dubrovnik is a UNESCO World Heritage Site because of its fine medieval architecture and we suggest you spend some time exploring all the wonders it has to offer. It also has an international airport with connectivity to major European cities for your onward journey.
Meals:
B
Map
Dates and Prices
Note:
Our base pricing is in USD. However, we can also quote in AUD, GBP, CAD, and EUR, and you can pay in the same. Please write us.
Single Supplement
From US $575
E-Bike Upgrade
From US $190
---
Couldn't find a trip with convenient dates?
Open your date as a join-in tour or customize further as private one.
We offer private departures on almost all our itineraries, and for groups of four or more, they cost the same as our standard trips!
---
Essential Info
Inclusions
LODGING
All hotels as mentioned in the tour details or similar (subject to availability).
trip leader
Expert Trip Leader(s) who look after your every need and add meaning to your vacation.
bike
Immaculately maintained bike with helmet, suited to a terrain.
shuttle
A Van support that follows the group of riders and carries all belongings.
meals
Meals as per itinerary. Guests are given the opportunity to dine on their own so that they discover a location independently.
refreshments
Refreshments and mineral water while cycling.
entrance
Entrance fees to most of the monuments and temples.
Bikes
When you have a road and the thrill of a journey ahead of you, it's imperative to have a good bike to enjoy it. Our fleet majorly consist of the below bikes as a part of this tour. However, sometimes due to height or availability constraints, we may provide a different but similar quality bike.
Cannondale Synapse Di2 Carbon
road
Weather
The best period for biking in Croatia is late spring (end of April till the end of June) and early autumn (end of August till the end of October). In the period mentioned it is not extremely hot, there is not too much traffic, and if you did not pre-book accommodation you can find it almost anywhere as it is not the main tourist season. It can happen if you have a couple of days of rain (rain showers). Summer temperatures vary from 22°C to 26°C in the continental part of the country, 15°C to 20°C in mountain regions, and 26°C to 30°C in the coastal region. The highest tourist season is from mid-July to mid-August, and usually not so easy to find accommodation (if not pre-booked).
Exclusions
Airport pickup and drop
We recommend to book direclty from airport or hotel.
meals
Some meals may not be included. Please check your itinerary.
Beverages
Beverages such as alcohol, tea, coffee, juice at a hotel or restaurant.
Reviews from our friends
I will never forget
The Croatian bicycle trip was an experience that I will never forget. This trip is for those who want to experience real Croatia, not just from the travel brochures. I highly suggest this bicycle trip, It will definitely change your perspective.
A Well Organised, Enjoyable Cycling Experience
A well organised, enjoyable cycling experience. Local guide knew all the best sights and experiences. A very good variety of accommodation. So highly recommended by me.