South Vietnam and Grand Cambodia Bike Tour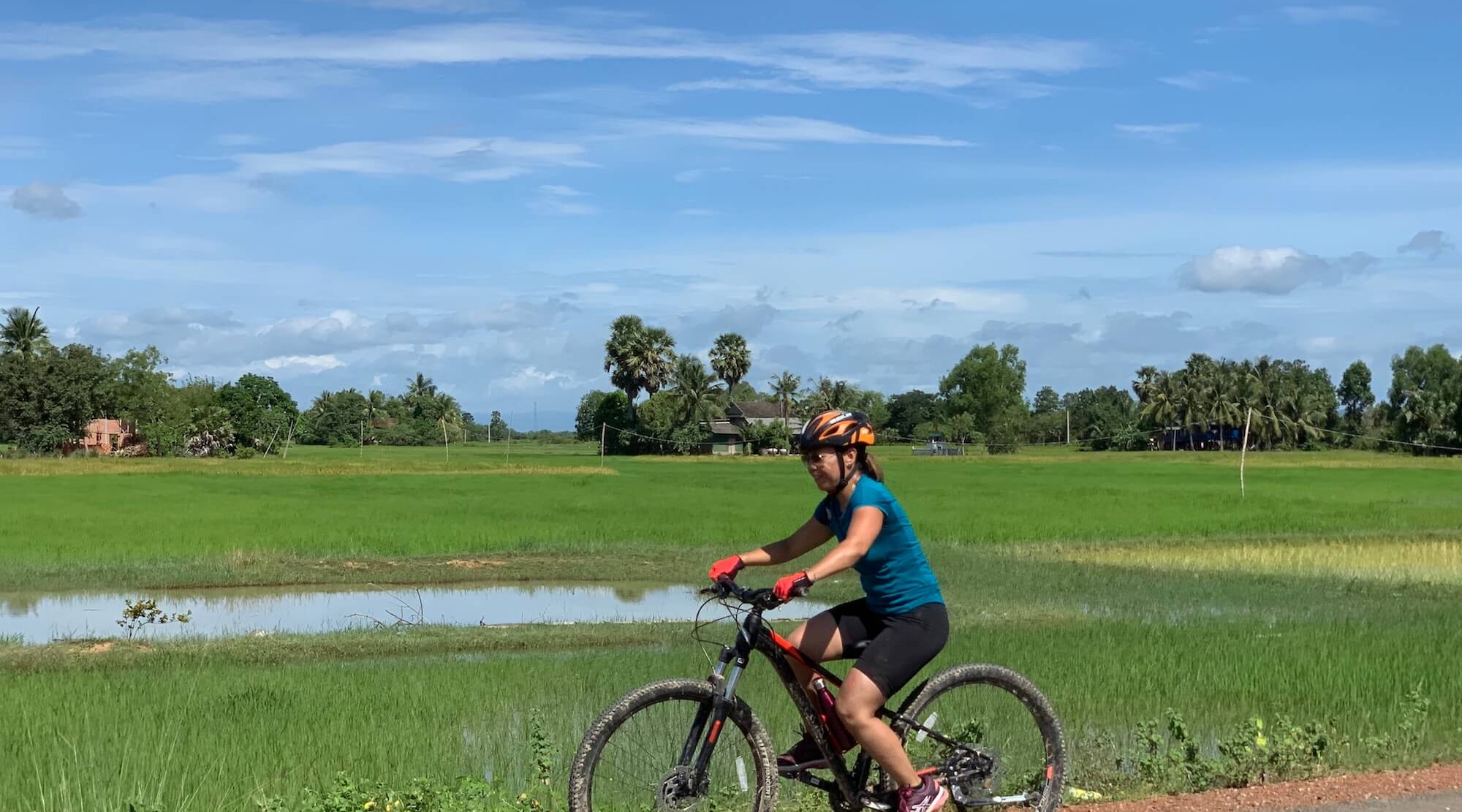 Overview
Journey deep through the two most fascinating countries of Southeast Asia: Vietnam & Cambodia. We spend ample time traversing through the interiors of the Mekong Delta in South Vietnam and then ride into the South Coast of Cambodia ending at Angkor.
Our trip is aimed at travelers who want to pace out their journey to really let the region sink in well. With that add a dash of a dramatic temple city, the central Tonle Sap river along with paddy-clad countryside, fishing villages, and quaint cafes – this is going to be one packed trip.
Terrain Info:
The terrain largely remains flat, however, road surface varies often from small gravel to large gravel, to the pavement, to dirt, to sand, to rutted narrow dirt, to narrow « crescent bridges, » some without rails, and requires frequent turns in the villages. Also, please note, most days there will be a shuttle transfer, varying from 1 to 2 hrs.
Start
Saigon, Vietnam | 17:00hrs
Finish
Siem Reap, Cambodia
Avg. dist. cycled
60km or 36mi
Highlights
off-beat ride
Experience the contours of two countries of Southeast Asia on an off-beat trail
Brief Itinerary
| Day | Place | Hotel | Meals | Distance | Activity |
| --- | --- | --- | --- | --- | --- |
| DAY 1 | Saigon | Silverland Yen | D | | |
| DAY 2 | Tra Vinh | Coco Riverside Lodge | B,L,D | 50km / 30mi | cycling |
| DAY 3 | Can Tho | TTC Premium | B,L | 60km / 36mi | cycling |
| DAY 4 | Chau Doc | Chau Pho | B,L,D | 60km / 36mi | cycling |
| DAY 5 | Ha Tien | River Hotel | B,L,D | 60km / 36mi | cycling |
| DAY 6 | Kep | Sabbay Kep | B,L | 30km / 18mi | cycling |
| DAY 7 | Ta Keo | Meas Homestay | B,L,D | 60km / 36mi | cycling |
| DAY 8 | Phnom Penh | Duong Chan Hotel | B,L,D | 60km / 36mi | cycling |
| DAY 9 | Phnom Penh | Duong Chan Hotel | B,L | | |
| DAY 10 | Kampong Cham | LBN Asian Hotel | B,L,D | 60km / 36mi | cycling |
| DAY 11 | Kampong Thom | Sambor Village | B,L,D | 50km / 30mi | cycling |
| DAY 12 | Siem Reap | Steung Siemreap | B,L | 60km / 36mi | cycling |
| DAY 13 | Siem Reap | Steung Siemreap | B,L,D | 30km / 18mi | cycling |
| DAY 14 | Siem Reap – onward travel | | B | | |
Detailed Itinerary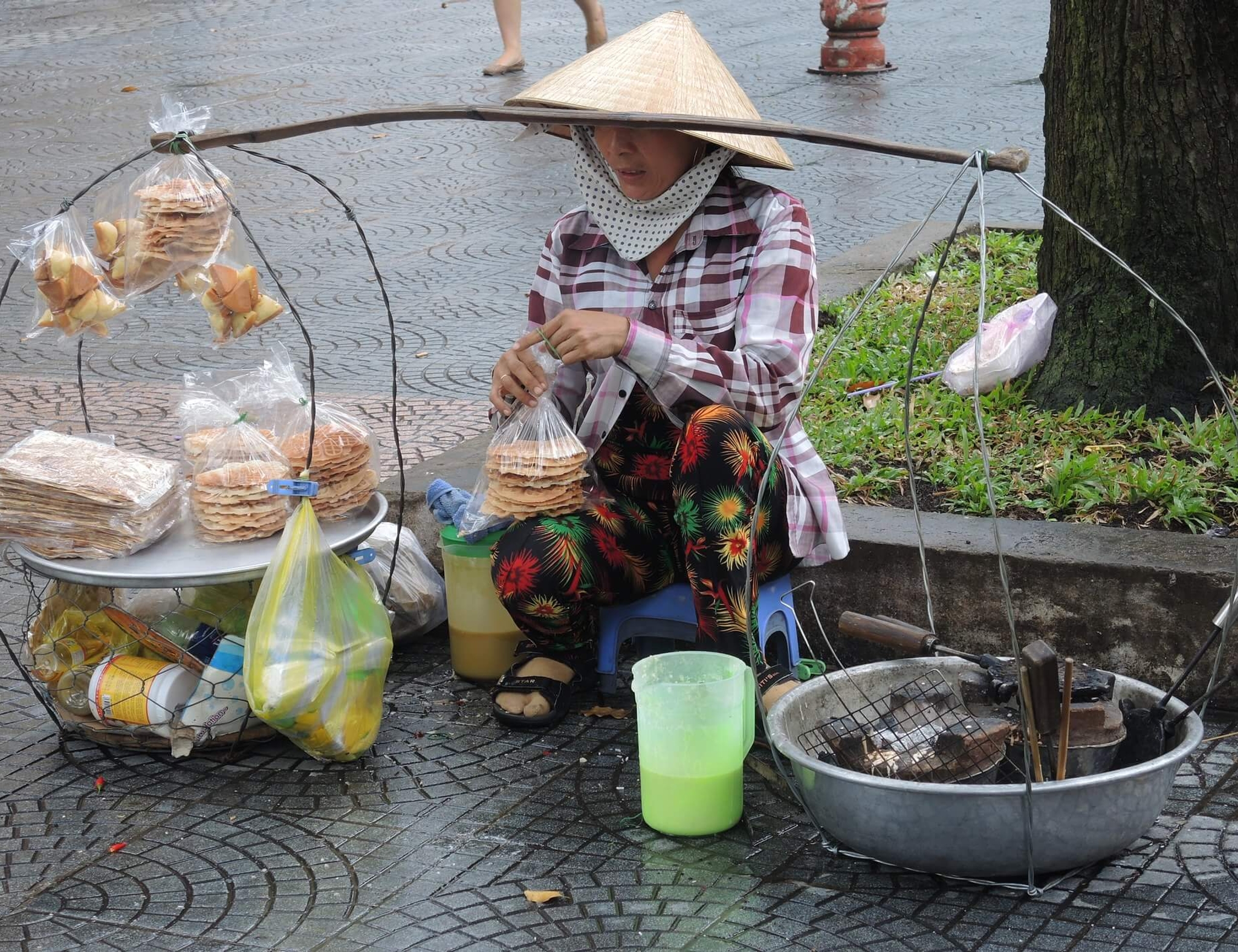 Day 1: Saigon
Our guide meets you at your hotel at 17:00hrs for a bike fitting followed by dinner to celebrate the start of our journey on a bike.
The morning is free for you to explore the city. We recommend exploring some of the most popular sites - Ben Thanh Market, Saigon Opera House, Continental Hotel, The Reunification Palace, Notre Dame Cathedral and Post Office, The War Remnants Museum, China Town (Cho Lon in Dist 5), Thien Hau Pagoda, Landmark 81 building and Jade Emperor Pagoda. It gives you an excellent introduction to the city's history with plenty of opportunities to soak up the unique mix of chaos and tranquility that is modern-day Saigon.
If you intend to arrive in Ho Chi Minh City a day in advance, we recommend seizing the chance to explore the Cu Chi Tunnels—an elaborate network of underground passages that were extensively used during the Vietnam War.
Meals:
D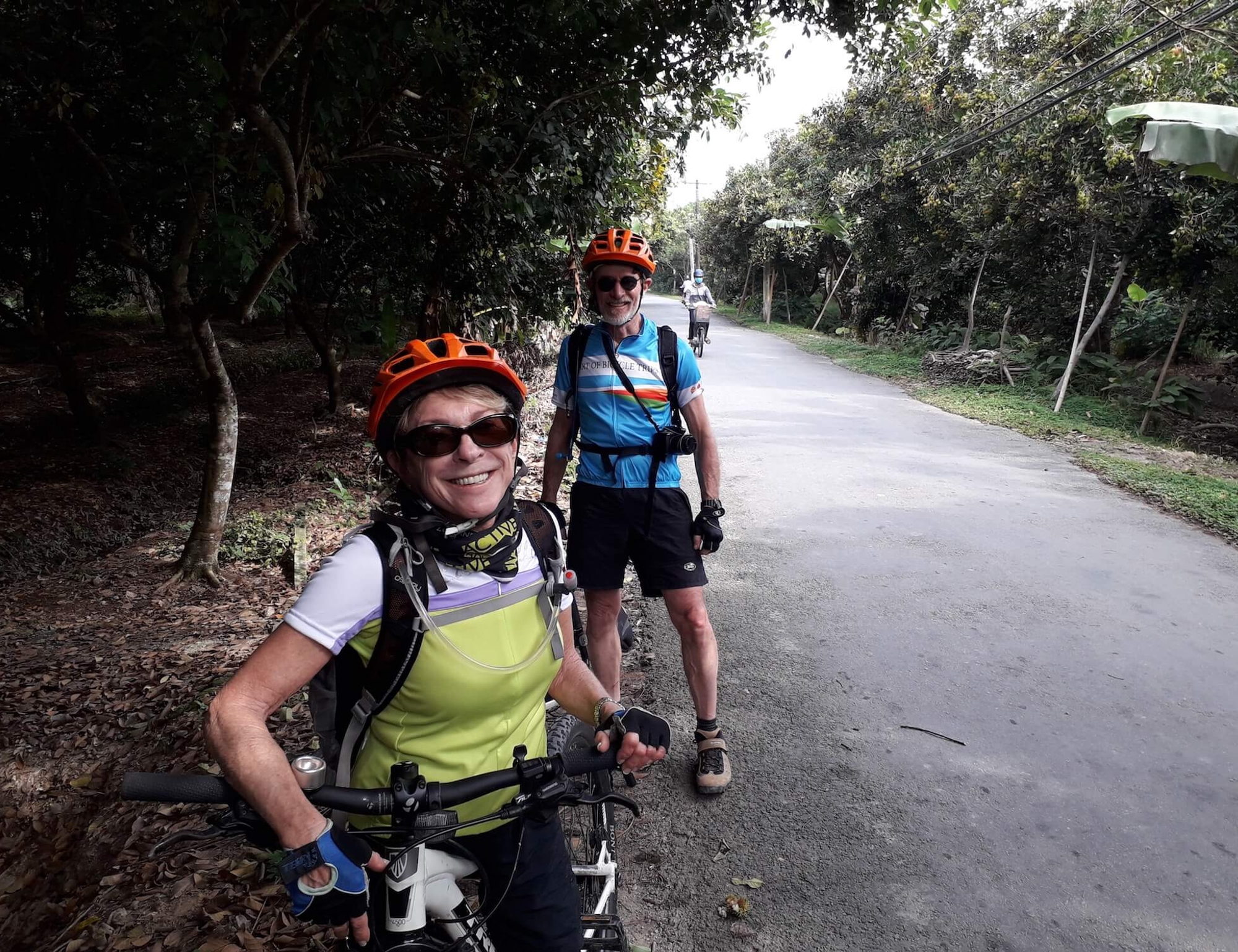 Day 2: Tra Vinh
A short shuttle transfer brings us to My Tho – the gateway of the Mekong delta. Ride along a small creek to Mekong estuary past gorgeous paddy fields and lush orchards. Along the way, we may also see how local people use water-coconut leaves to make thatch roofs. Lunch is served en route at a local restaurant.
Meals:
B,L,D
Cycling Distance:
50km / 30mi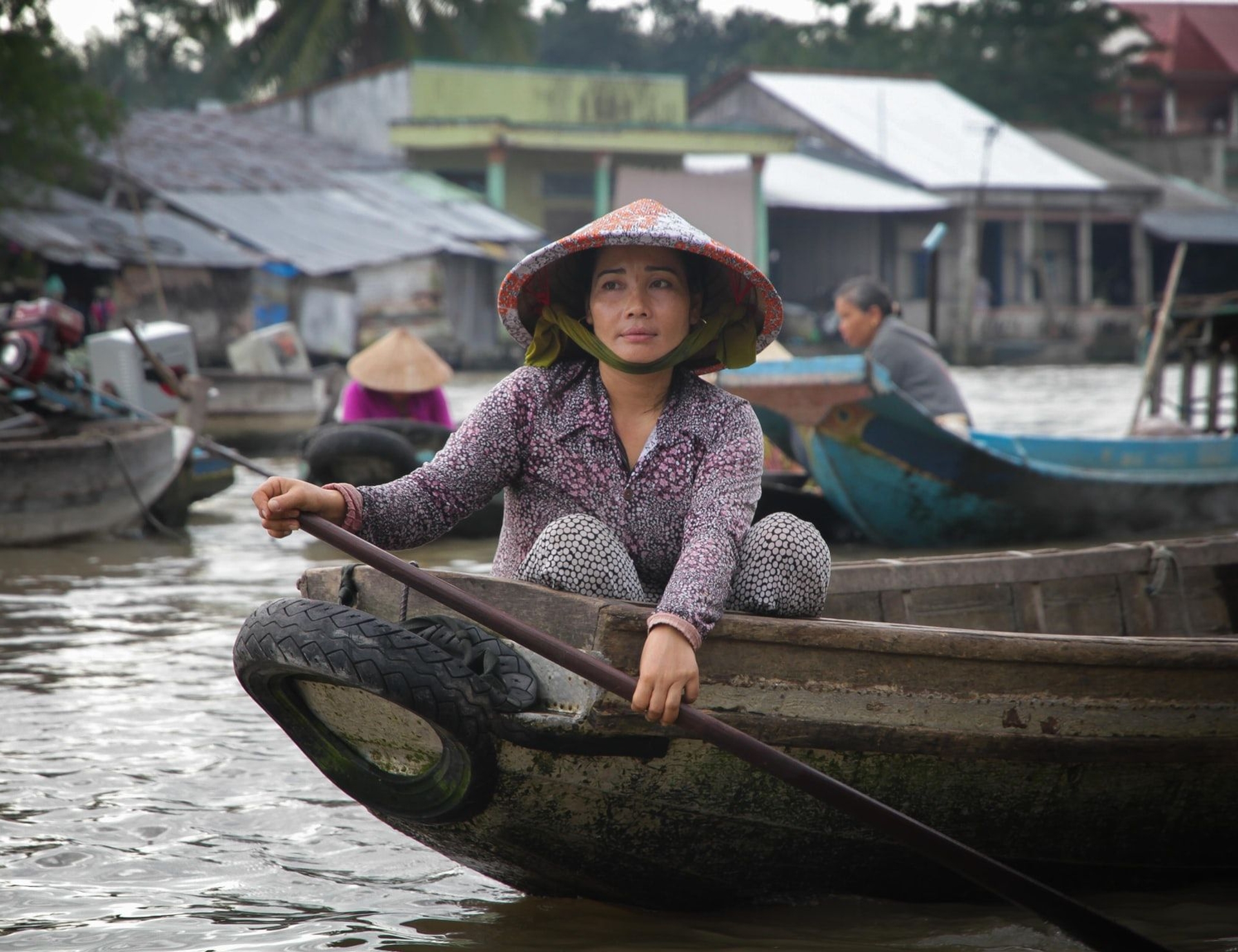 Day 3: Can Tho
We go deeper into the delta. We ride past numerous rice fields, rivers, and canals, and over a multitude of bridges that may offer views of floating villages. Apart from rice fields, the region is dotted with many plantations of banana, coconut, and citrus trees. It's a long ride today through the interior trails of Mekong Delta to Can Tho. Set on the southern bank of the Hau River, Can Tho is known for its network of canals and nearby floating markets.
Meals:
B,L
Cycling Distance:
60km / 36mi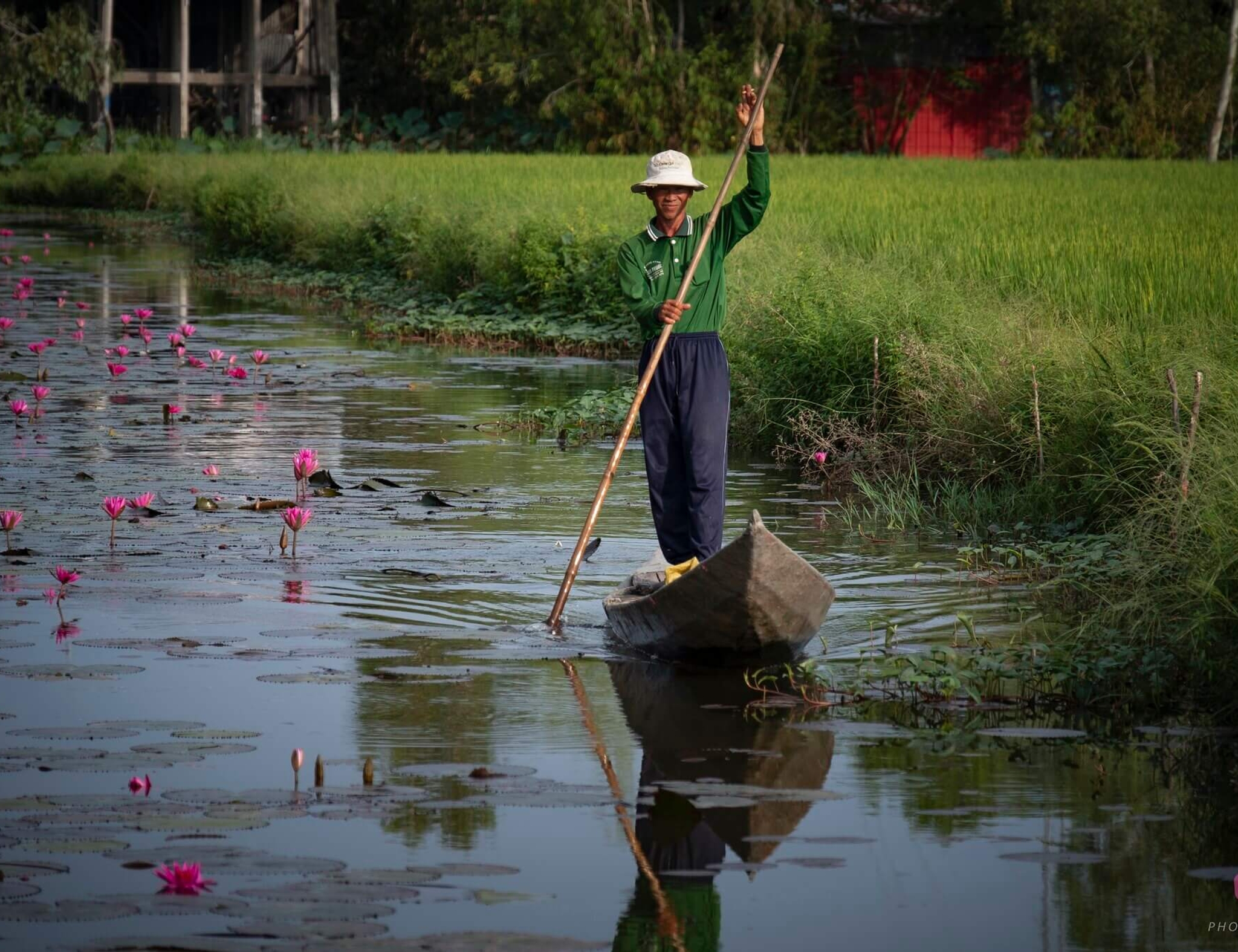 Day 4: Chau Doc
Experience the early morning Cai Rang floating market on a boat ride. Each boat in this market showcases its distinct specialty, which can be identified by the items hanging on tall poles. While many boats anchor in place, a few gracefully float around, particularly those dedicated to snacks or coffee, catering to the shop owners' needs. The majority of the boats appear weathered, constructed from aged wood and exude a rustic charm.
This bustling market primarily focuses on the sale of fresh produce and food items, ranging from sweet potatoes and watermelons to lychee. Unlike clothing or household goods, the market solely revolves around agricultural products. Exploring this lively marketplace provides a fascinating glimpse into the authentic daily life of the locals. After the boat ride, we disembark onto a pathway made of old railroad ties and proceed to walk along a busy road lined with numerous meat markets, eventually making our way back to the van.
Later ride through country roads flanked by coconut and palm trees, and through rice paddies, and banana plantations to the culturally diverse Chau Doc as you get to see mosques, temples, and churches here. If we make it on time, take a boat trip to the Cham communities across the river.
Meals:
B,L,D
Cycling Distance:
60km / 36mi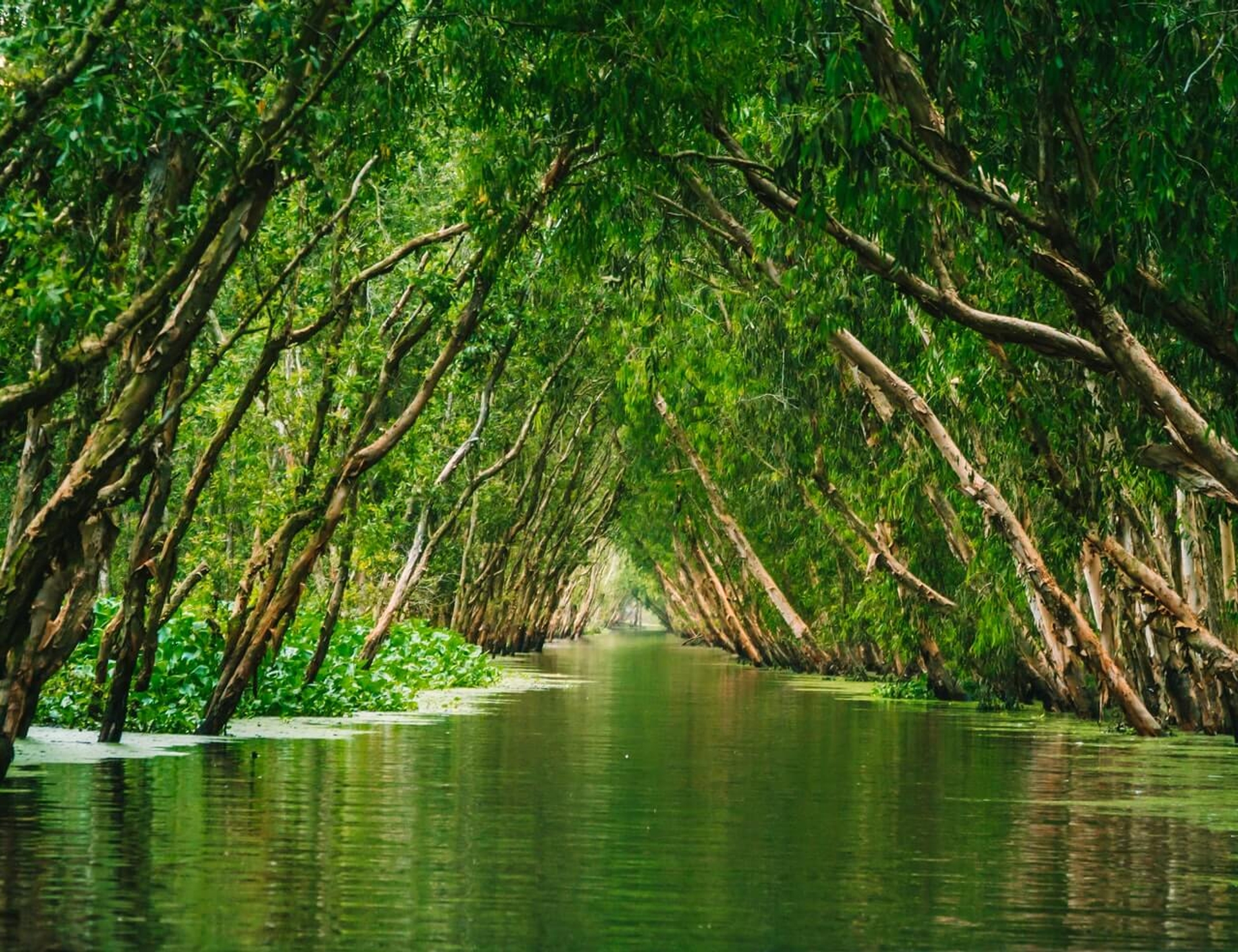 Day 5: Ha Tien
Another stretch of riverside villages and exquisite countryside awaits us today. Here, we begin cycling towards Tra Su, a national reserve forest and a bird sanctuary. The road is quite hilly, but the path is unique. If time permits, at the national forest, experience a classic boat ride through the forest including rowed sampan boats and hiking amidst Cajeput trees. The wetlands here attract a tremendous variety of birds including storks, egrets, cormorants, peafowl, and water cocks. Witness dramatic limestone formations along the way and later ride to the quaint riverside town of Ha Tien.
Meals:
B,L,D
Cycling Distance:
60km / 36mi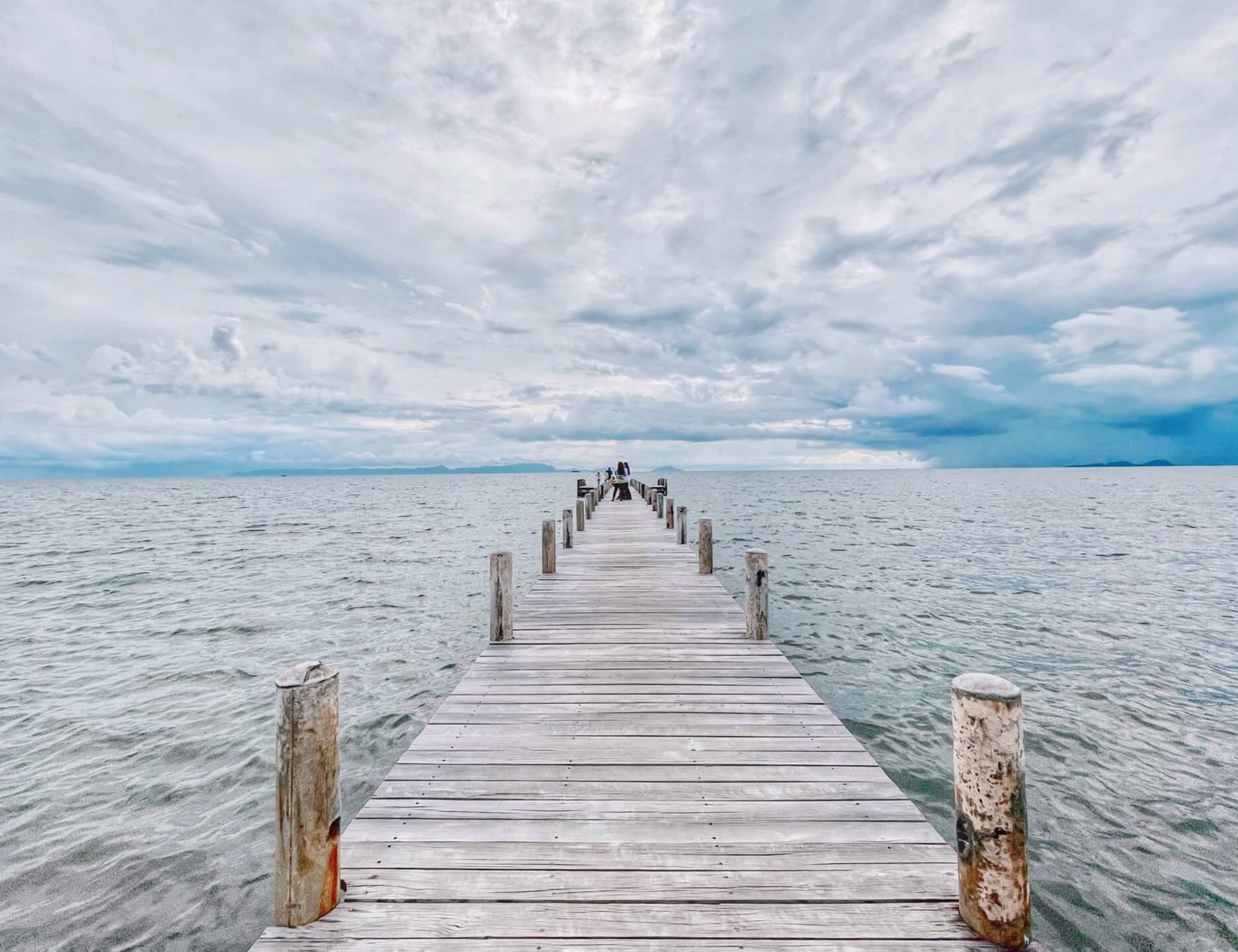 Day 6: Kep
Our Cambodian representative welcomes you at the border. Today, it's a short coastal ride to Kep through salt flats and coastal villages. We ride slowly, taking pictures along the way and taking in the stunning vistas.
Kep's seaside front is the perfect place for weary legs to feel rejuvenated. Earthy colors and breezy wind make for the perfect ambiance to unwind.
Meals:
B,L
Cycling Distance:
30km / 18mi
Day 7: Ta Keo
The topography that will be forever etched in your mind is that of a sprawling countryside of fields, palm trees, and lotus farms. Ta Keo is a small town situated amidst beautiful lakes.
Meals:
B,L,D
Cycling Distance:
60km / 36mi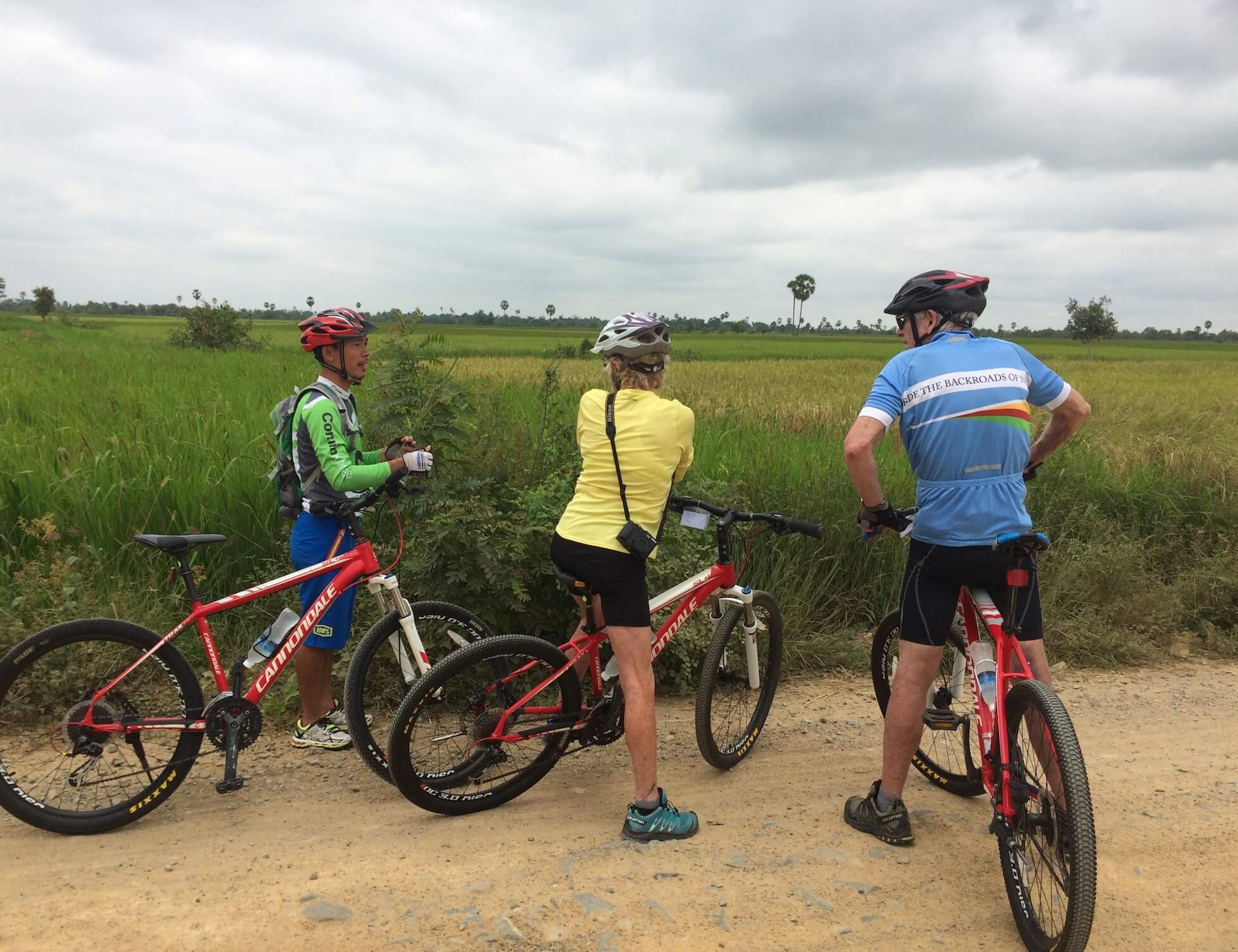 Day 8: Phnom Penh
Get ready for a ride towards Phnom Penh past some amazing lake scenery surrounded by paddy fields and lotus farms. We stop by along the way at Phnom Chiso Temple, situated on the top of a hill with 400 steps to climb up. Later ride to Killing Fields. An essential on the itinerary due to the historic hook and for understanding the country better, we walk through the killing fields. Experience the painful story of a country that leads to the death of 2 million Cambodian people between 1974-1979.
We take a shuttle and arrive at the capital city of Cambodia, Phnom Penh, at the edge of the Mekong River. Historical splendors are spread in every corner whether it's the local palace or the horrific remnants of the Khmer atrocities.
In the evening, taste some local Khmer cuisine at one of Phnom Penh's finest dining place, Romdeng. End day with a walk or tuk-tuk rides back to the hotel.
Meals:
B,L,D
Cycling Distance:
60km / 36mi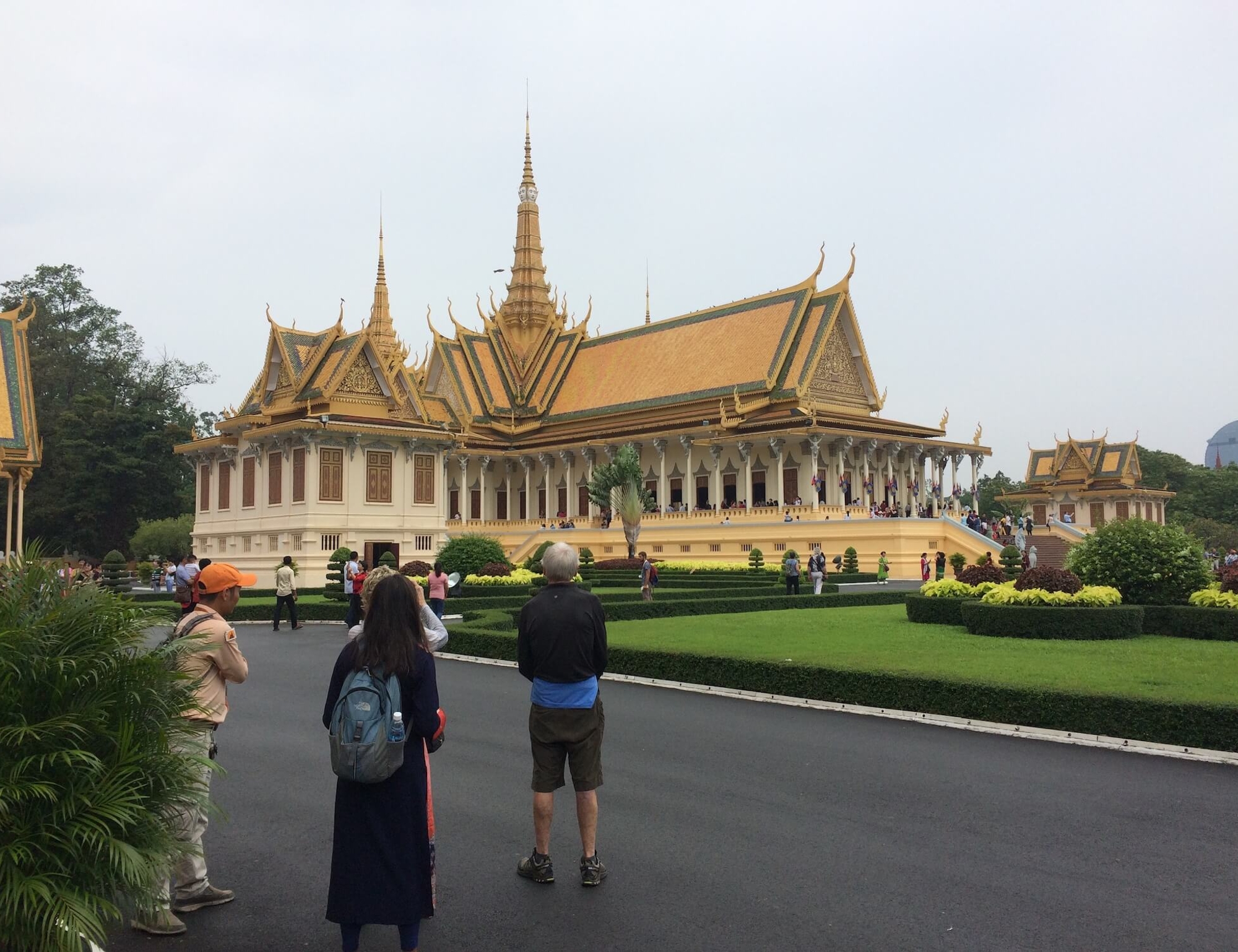 Day 9: Phnom Penh
Today get ready to be immersed in the Cambodian culture and history of the city as we kick off our walking tour from Independence Monument. Enjoy walking along the Tonle Sap river, considered the lifeline of the region. Continue towards the National Museum, which houses several national treasures from three different eras: Pre-Angkorian, Angkorian, and Post-Angkorian, giving the flavor of diverse culture and architecture. The last leg of our walk takes us to the gilded Royal Palace, shimmering with silver tiles and sculptures of Buddha, which gives an insight into Cambodian Royal Life. After the museum, hike up the steps of a small hill to see Wat Phnom Temple, the birthplace of Phnom Penh. Later, enjoy some leisure evening time walking around the beautiful riverfront.
We insist that you step outside for dinner after a short break, to enjoy the local nightlife and enjoy the street food. Traditional dishes like amok (coconut fish curry served in a banana leaf), bobor (rice porridge), and lok lak (stir-fried beef) are easy to find on the streets.
Meals:
B,L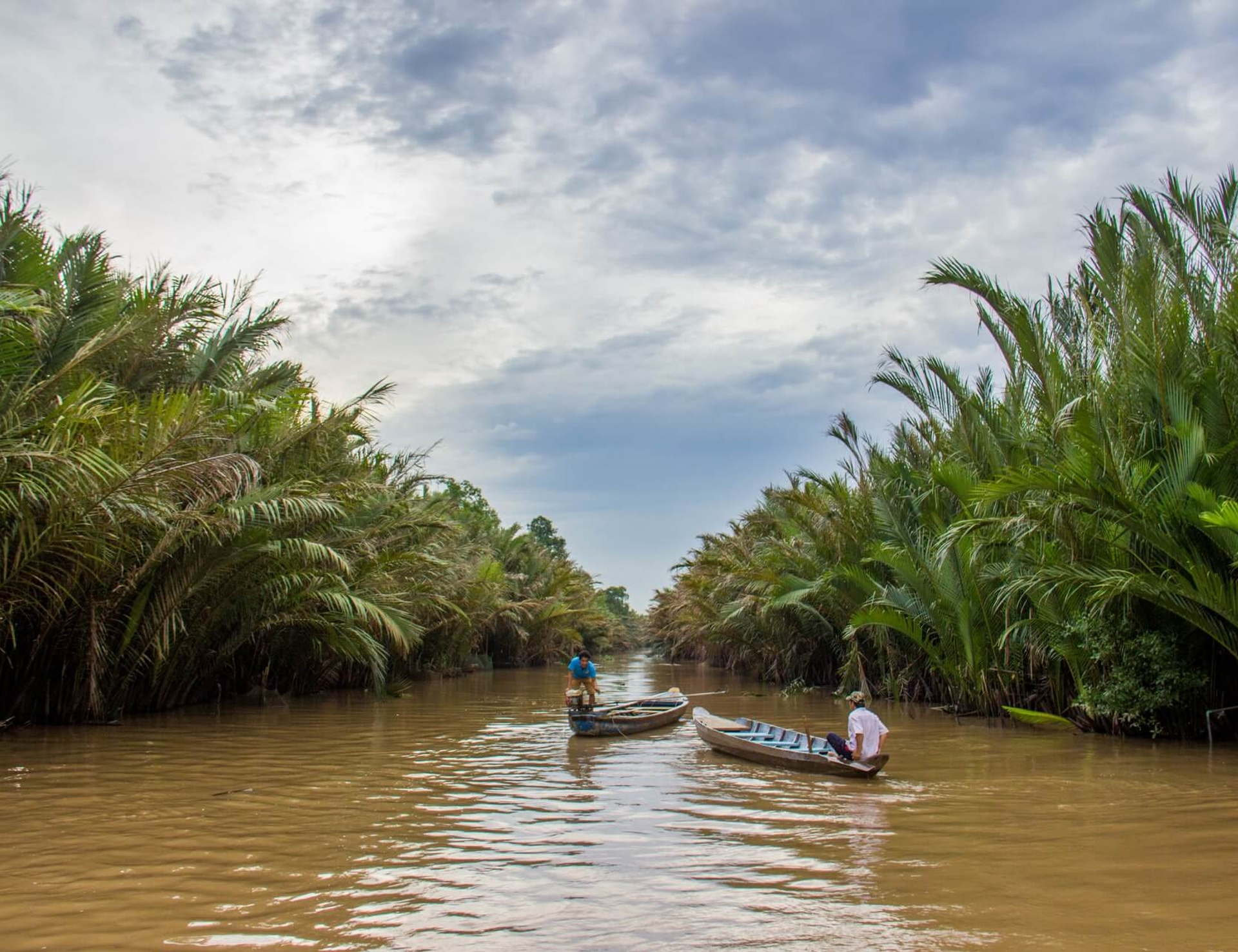 Day 10: Kampong Cham
After a short transfer to the outskirts of Phnom Penh, ride along the Mekong River for a good part, and through a tropical plantation landscape consisting of rubber, cashew, and cotton. Today's ride takes us through remote bucolic villages, and past beautiful wats and riverside towns. Kampong Cham is a less visited place yet has the charm of a beautiful riverside town.
Meals:
B,L,D
Cycling Distance:
60km / 36mi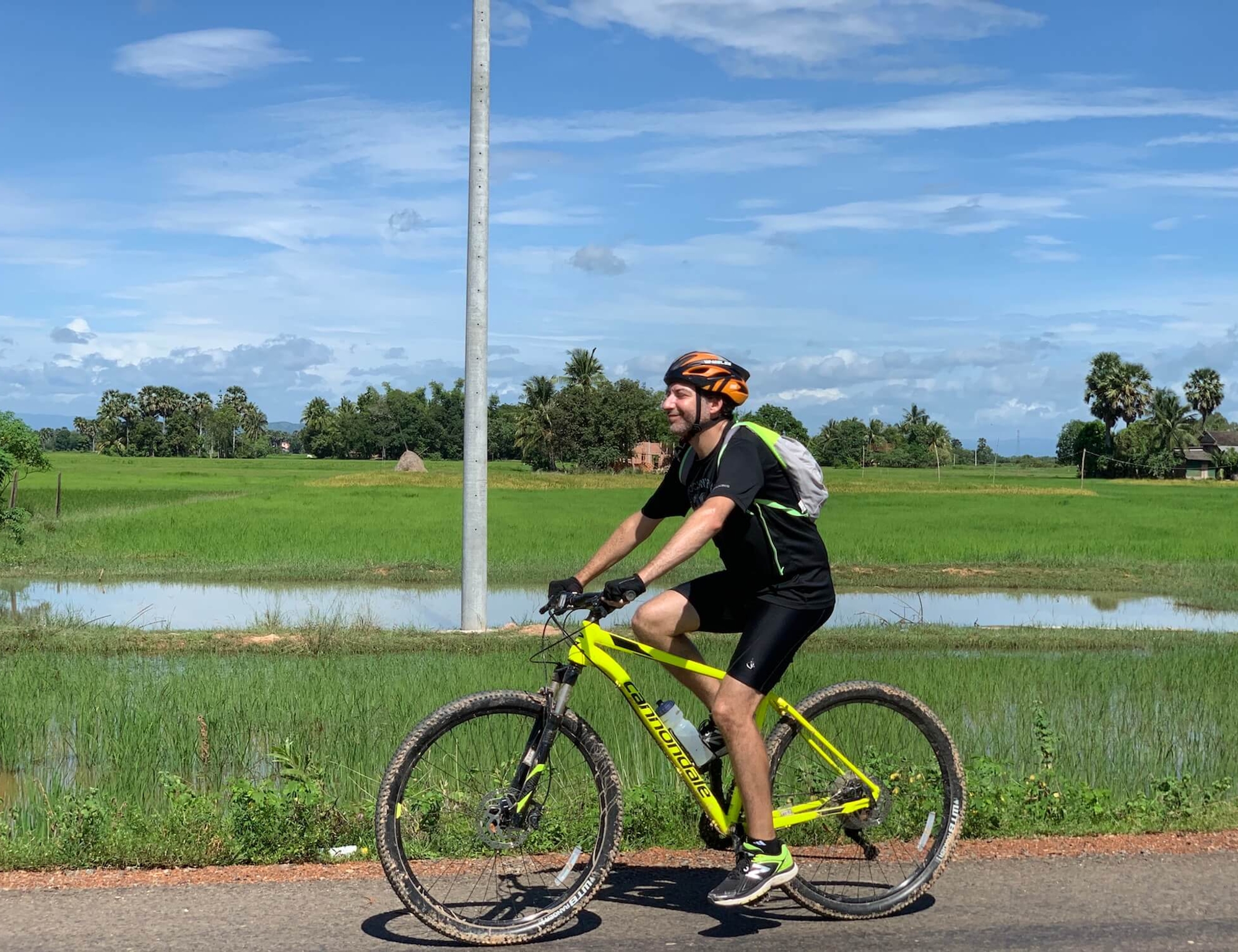 Day 11: Kampong Thom
A short ride along the Mekong River brings us to Wat Hanchey, an 8th-century hilltop pagoda offering the best views of Mekong in Cambodia. Continue riding along tropical farmlands dotted with cashew and rubber plantations and bucolic villages. Later take a transfer and arrive at Kompong Thom.
Meals:
B,L,D
Cycling Distance:
50km / 30mi
Day 12: Siem Reap
In the morning, ride around Kampong Thom's Sambor Prei Kuk temple complex, which predates Angkor Wat by at least 200 years.
Later, ride through the bucolic countryside with a spectacular view of paddy fields and lotus farms all around.
In the evening, explore some of the local food in the cafes that flank the narrow roads.
Meals:
B,L
Cycling Distance:
60km / 36mi
Day 13: Siem Reap
The Angkor temple complex is synonymous with Cambodia, so a ride around the temple is essential. We start riding directly from the hotel and reach the moat of Angkor Wat. Exquisite sculptures, tall towers, and maze-like trails flanked by large banyan roots, you might want to spend ample time photographing as you would have seen nothing like this before. We will loop back to Angkor Wat for a detailed tour at the end of our ride.
Continue riding towards Angkor Thom and enter the city from the South gate. Beat the crowd and climb the surrounding wall of the city and ride on top of it. Take a break here for a rich fascinating account of the city from our guide. A further ride through East gate takes us to Bayon, a richly decorated face temple within the Angkor complex is one of the highlights here. Exit from the second East gate of the city and ride towards jungle-clad TA Prohm. Our guide shares historical anecdotes and walks you through temples along the way.
The Angkor Wat requires more than a morning, so we loop back for a more detailed guided tour. The UNESCO World Heritage Site is considered one of the largest religious complexes in the world and it's bound to enthrall you. If time permits, climb Phnom Bakheng for a classic view of Angkor during sunset.
Meals:
B,L,D
Cycling Distance:
30km / 18mi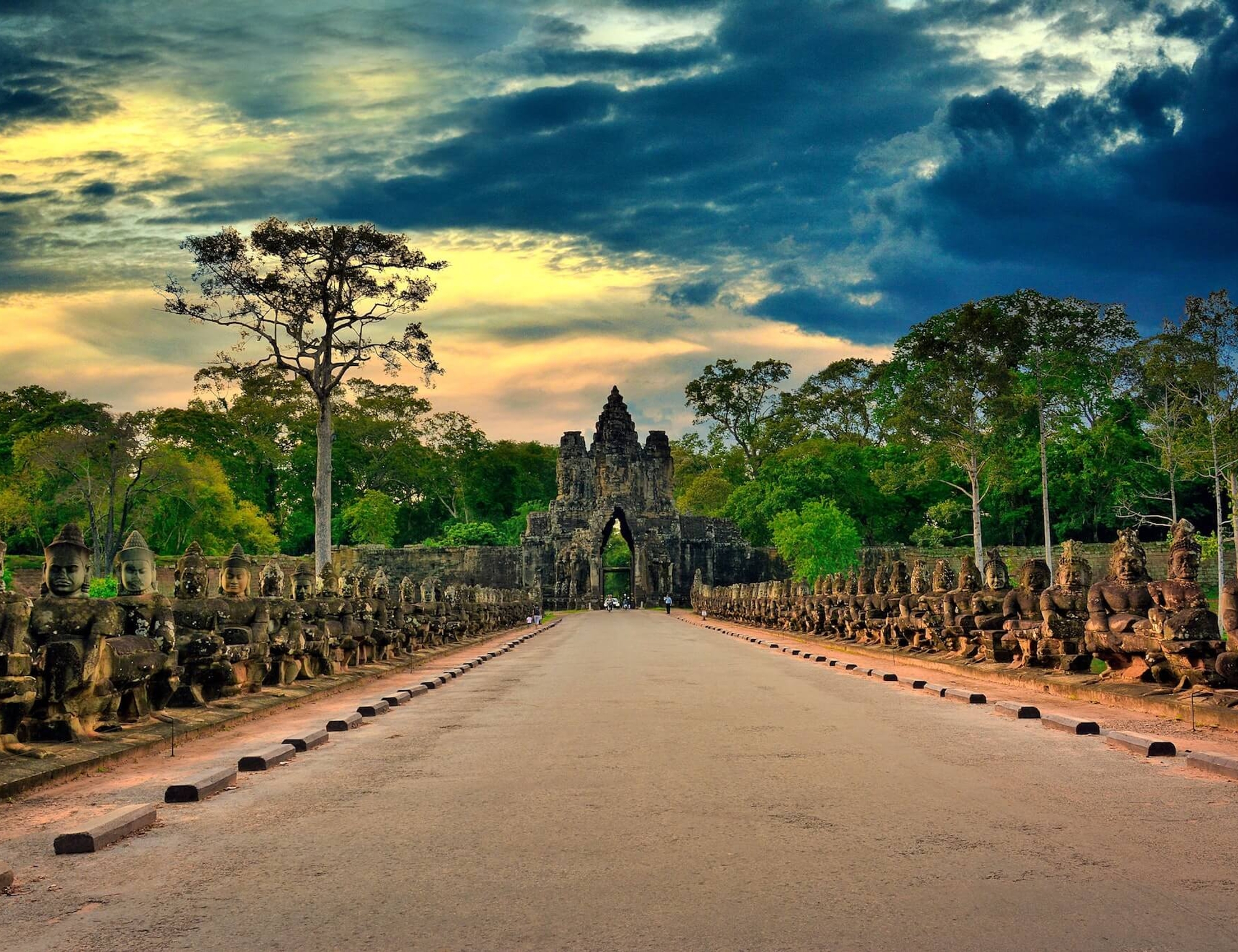 Day 14: Siem Reap – onward travel
We recommend making a final early morning visit to Angkor and witnessing the magnificent views in the backdrop of sunrise. If you prefer to do, please have a chat with your guide about the same. There may be further entry charges for Angkor that you can pay directly.
Meals:
B
Ready to plan your adventure? Download a print-ready detailed itinerary.
Map
Dates and Prices
Members get an estimated 10% off on this trip.
---
$50/yearLearn more
Single Supplement
From US $550
E-Bike Upgrade
From US $235
---
Couldn't find a trip with convenient dates?
Open your date as a join-in tour or customize further as a private one.
---
Essential Info
Inclusions
LODGING
All hotels as mentioned in the tour details or similar (subject to availability).
trip leader
Expert Trip Leader(s) who look after your every need and add meaning to your vacation.
bike
Immaculately maintained bike with helmet, suited to a terrain.
shuttle
A Van support follows the group of riders and carries all belongings.
meals
Meals as per itinerary. Guests are given the opportunity to dine on their own so that they discover a location independently.
refreshments
Refreshments and mineral water while cycling.
entrance
Entrance fees to most of the monuments and temples.
E-bikes
E-bikes are available on this trip at a surcharge. Please send a note to your tour consultant to book one.
Exclusions
Airport pickup and drop
We recommend to book direclty from airport or hotel.
meals
Some meals may not be included. Please check your itinerary.
Beverages
Beverages such as alcohol, tea, coffee, juice at a hotel or restaurant.
Bikes
When you have a road and the thrill of a journey ahead of you, it's imperative to have a good bike to enjoy it. Our fleet majorly consist of the below bikes as a part of this tour. However, sometimes due to height or availability constraints, we may provide a different but similar quality bike.
Specialized Rockhopper (Vietnam)
mountain
Included in your trip price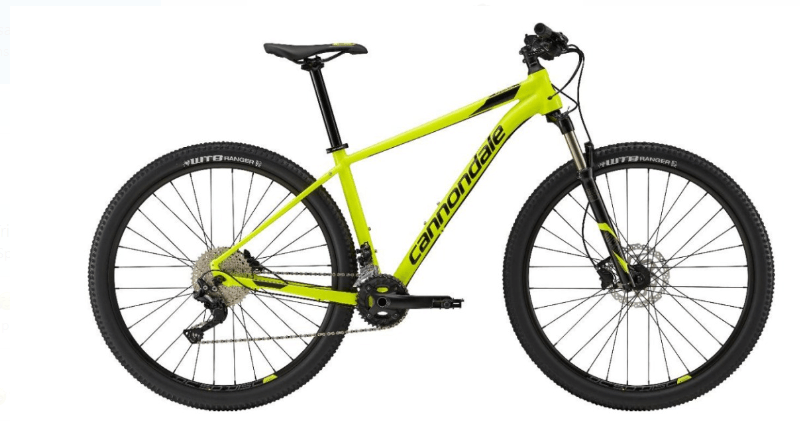 Cannondale Trail 4 (Cambodia)
mountain
Included in your trip price
Bianchi Metropol-e (Vietnam)
ebike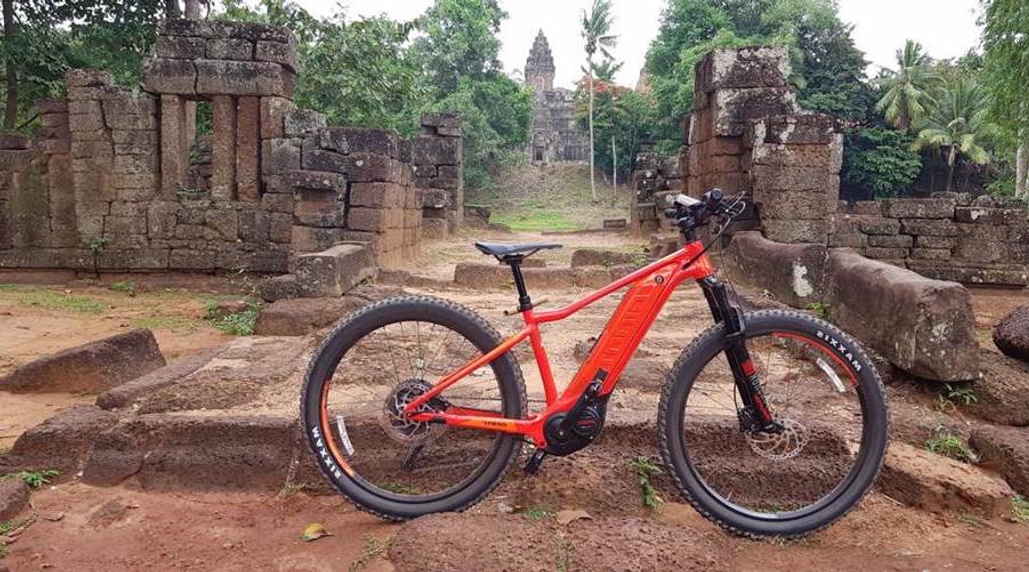 Giant Talon E+3 (Cambodia)
ebike
Weather
South Vietnam and Cambodia is a year-round cycling destination because of its pleasant tropical climate. April and May can be hot, but for the rest of the year, the temperature hovers around 30°C. There is moderate rainfall from May to early November but it settles soon, leaving the weather cool and the countryside lush. November to February is the best time for cycling in South Vietnam with warm weather, clear blue skies, and a light ocean breeze blowing in from the Pacific.
Visa
Vietnam Visa
Residents from a number of countries have visa exemption status for tourist visits to Vietnam. For a full list of up-to-date visa-exempt countries, see the Vietnam Foreign Affairs website.
Starting August 15, 2023, the Vietnam government will start offering an e-visa valid for up to 90 days with multiple entries, replacing the current 30-day, single-entry option. Furthermore, passport holders from Denmark, Finland, France, Germany, Italy, Japan, South Korea, Russia, Spain, Sweden, and the United Kingdom will benefit from an extended visa exemption period of 45 days, up from the current 15 days. Eligible foreign nationals will either benefit from a longer duration of stay and greater flexibility with the extended e-visa validity of up to 90 days and multiple entries, or enjoy an extended visa exemption period of 45 days.
e-Visa – You can apply for an e-visa through the government website, then, once approved, simply print it out and present it upon arrival in Vietnam. The additional benefit of the e-visa is that it's valid at land borders, not just airports. The processing time ranges from 2 to 7 working days. We recommend applying 2 weeks in advance to avoid unexpected delays. Read more about tourist e-visas for Vietnam at the Vietnam Immigration portal and apply there.
While applying online for an approval letter, please ensure that you have the following documents:
Passport scanned copy: A scanned copy of your passport - front (main) page. It shouldn't be a mobile photo or a photo taken from a laptop. Strictly scanned copy done through a computer scanner.
Passport size photo: portrait photo (4*6 size, colored photo, white background, straight looking without glasses). A photo taken from a mobile or laptop may or may not work, so I would strictly advise getting one made through a nearby photo studio (retail shop) that specializes in taking photos for visas.
Here is an excellent resource on Vietnam visas that may be worth looking at.
Cambodia Visa
Cambodia has three international gateways for arrival by air – Phnom Penh, Siem Reap, and Sihanoukville – and a large number of land borders with neighboring Thailand, Vietnam, and Laos. Formalities at Cambodia's international airports are generally smooth.
Travelers can get a Cambodia visa upon arrival at the airport with a valid passport for 6 months and no longer need to have a pre-arrival COVID-19 test, present a full COVID-19 vaccination card/certificate, or a passenger's health declaration form on arrival in Cambodia. Remote electronic temperature-checking systems remain at the entry and exit gates for Immigration officers to check and advise passengers who may have COVID-19 symptoms.
On this tour, we will cross into Cambodia via the land border between Vietnam and Cambodia through Ha Tien. Here, you can apply for a Cambodian visa at the border during your bike tour wherein we enter Phnom Penh via Ha Tien. The port on the Vietnam side is Ha Tien Landport (known as Xa Xia border). Its counterpart across the Cambodian border is Prek Chak. Please bring 2 current colored passport photos and ensure you have the visa fee of US $30-40 each. Please note that the Cambodian e-Visa is not applicable at the port of entry during your bike tour. Please apply for a Cambodian visa in advance with the embassy or obtain a visa on arrival at the port.
For Visa on arrival at the Cambodian border, please make sure to bring the following things:
2 current passport photos
Ensure you have the visa fee of US $30-40 each
Passport copy
Vaccine card copy (proof of vaccination)
Reviews from our friends
We loved every day of the ride
Art of Bicycle Trip exceeded our expectations in every area. Our experience was absolutely amazing…we overused the word "awesome" every single day. Our guides, and drivers felt like FAMILY to us. So fun and caring and determined to make sure every need was met. We loved every day of the ride and didn't want it to end!
Beyond expectations
I want to say first and foremost, our cycling trip throughout Vietnam and Cambodia was life-changing! From the start, our guides, Mr. Phuc and Mr. Art, along with their crews, far exceeded our expectations. Their caring support and confidence were what helped to build our group into a strong unit. Their expertise and knowledge of the areas and of their country's history was amazing, taking us to such a fabulous assortment of wonderful buildings, temples, pagodas, markets and rich historical features. With each passing day, our "family" grew closer and better prepared to take on each day. With tearful goodbyes, we had great difficulty parting ways when our adventure ended. Finally, we all agreed there are no better ways to discover the culture of a region, but by cycling throughout its back country hills and valleys. Our group was stunned by your country's beauty both of its landscape, but more importantly, of its people. We now know what is meant by your slogan "it changes perspectives." We have much gratitude to all of you for producing such wonderfully designed trips and hope that we can return someday in the future. Thank you is not enough!!
Couldn't have asked for more!
Well planned routes and tours and Wonderful guides that made the trip smooth and easy!