Enchanting Goa Bike Tour
---
Overview
Though Goa is India's smallest state, it packs in a variety of experiences; from the breezy seaside routes to bio-diversity hot spots, meandering rivers, and crumbling heritage monuments. Discover the comparatively untreaded paths of Goa on this cycling tour.
This trip is an amalgam of the magnificent Sahyadri Western Ghats covered in thick forests, the ecologically devastated mining belt in Sanguem, and the splendid Dudhsagar Waterfalls. The voyage winds its way from the wildlife sanctuaries to the calm and peaceful banks along the River Mandovi and also skirts past the World Heritage site of Old Goa. Experience Goa in a whole new way with us!
Finish
Palolem Beach | 12 noon
Avg. dist. cycled
50km or 30mi
Highlights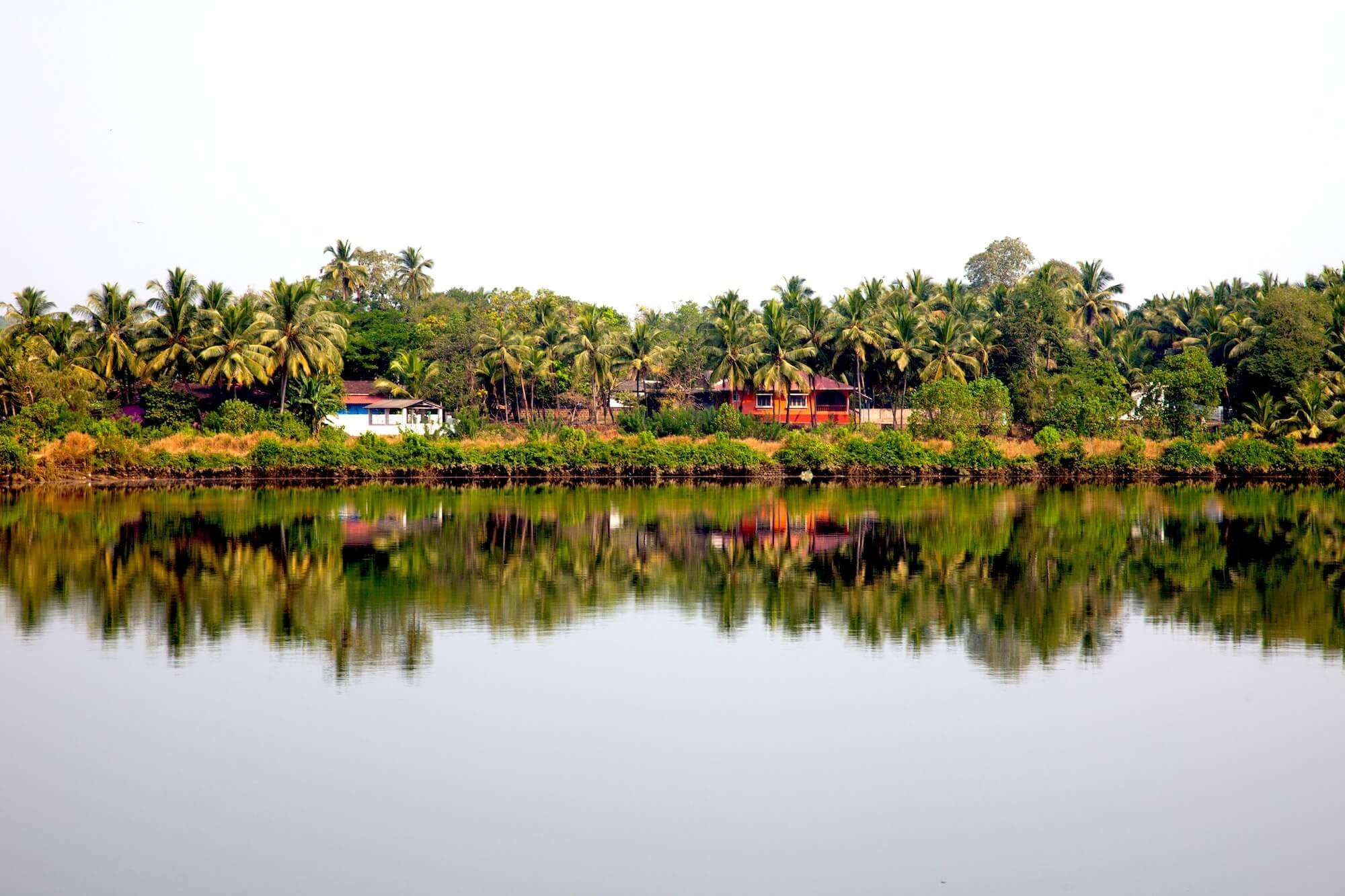 wholesome biking
A wholesome biking trail with forest paths, beach side and waterfalls
Itinerary
DAY 1
Panjim
Panjim Inn
D
30km / 18mi
cycling
Day 1: Panjim
Arrive in Goa and check into the first heritage hotel of Goa, Panjim Inn, in the Latin Quarter area of Goa. Our guide meets you at your hotel at about 13:00hrs. After bike fit, we go on a warm-up ride around Chorao & Divar Islands. From Panjim, we take a ferry to pristine Divar Island with our bikes and later catch another ferry to Naroa. We loop back to Panjim visiting Corjuem Fort and Mayem Lake along the way.
DAY 2
Chorla
Wildernest Nature Resort
B,L,D
50km / 30mi
cycling
Day 2: Chorla
Our guide meets you at your hotel in the early morning. From Panjim, we head towards Chorla. Today, we ride past a road flanked by beautiful forests with a robust wildlife population, then past some gradual long climb till we hit the hotel. Settle here into a Nature Resort and admire the spectacular valley. If your legs still have energy, go on a short hike in the surrounding forest. Enjoy the picturesque waterfall, rich wildlife, and splendid views.
DAY 3
Mollem
Nature's Nest Goa
B,L,D
60km / 36mi
cycling
Day 3: Mollem
With a few uphills and a constantly green-forested region for the company, we head to the 13th-century temple, Tambdi Surla's Mahadeva Temple. The ancient temple is built in a Jain style with basalt. The countryside area is brilliant to cycle around with rich green thickets and nothing but birdsong filling the air around. Our next stop is the Bhagwan Mahavir Sanctuary close to Mollem, which is one of the largest national parks in Goa.
DAY 4
Mollem
Nature's Nest Goa
B,L,D
Day 4: Mollem
Spend the day visiting the Bhagwan Mahavir Wildlife Sanctuary, set amidst the foothills of the Western Ghats and the largest wildlife preserve within the state of Goa. It is also home to the famous Dudhsagar waterfall, the Devil's Canyon, the Tambdi Surla temple, the Tambdi falls, and a huge variety of plant, bird, and animal life.
DAY 5
Netravali
Tanshikar's Spice Farm
B,L,D
55km / 33mi
cycling
Day 5: Netravali
We ride with gradual climbs and past sugarcane fields to reach Netravali. This is one of the most undiscovered spice plantation areas and a major attraction for nature lovers, usually away from the touristic ardor of the beaches. After settling in, head out for a 3km trek to the waterfall if you wish, worth the effort to see the gushing waters.
DAY 6
Palolem Beach
B
35km / 21mi
cycling
Day 6: Palolem Beach
Start with a climb of about 5km and then it's a downhill ride past paddy fields and forest hills to Goan beaches. Spend the rest of the day in leisure at the beach. The constant sound of the sea is therapeutic as you settle with a good book in the breezy verandah.
Extend your stay in Goa and spend time in leisure at the beach or travel further as per your onward plans.
Dates and Prices
---
Couldn't find a trip with convenient dates?
Open your date as a join-in tour or customize further as private one
---
Essential Info
Inclusions
LODGING
All hotels as mentioned in the tour details (subject to availability). All options are personally reviewed.
shuttle
A Van support that follows the group of riders and carries all belongings.
refreshments
Refreshments and mineral water while cycling.
trip leader
Expert Trip Leader(s) who look after your every need and add meaning to your vacation.
meals
Meals as per itinerary. Guests are given the opportunity to dine on their own so that they discover a location independently.
entrance
Entrance fees to most of the monuments and temples.
bike
Immaculately maintianed bike with helmet, suited to a terrain.
Exclusions
Airport pickup and drop
We recommend to book direclty from airport or hotel.
meals
Some meals may not be included. Please check your itinerary.
Beverages
Beverages such as alcohol, tea, coffee, juice at a hotel or restaurant.