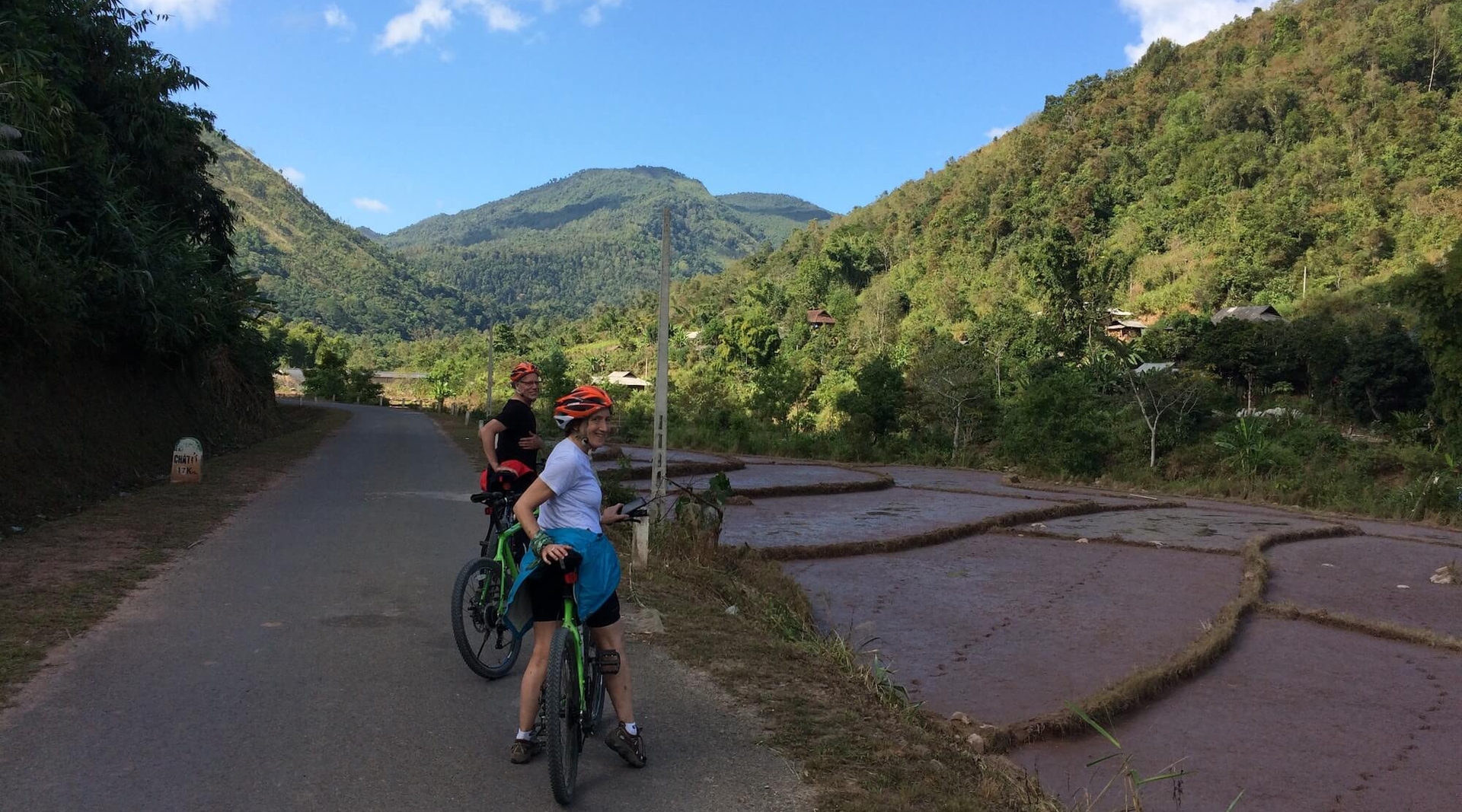 Cycling guides | Last updated:
The Complete Guide to Cycling in Vietnam

Understanding Vietnam
Topography — Vietnam is a tropical country in South-East Asia located between the latitudes 8° and 24° N. The country is shaped like a slim, curving scythe, that is a narrow strip in the middle, and broader at either end, resembling Italy in shape. It has a long coastline along the South China Sea, which is a western extension of the Pacific Ocean. Vietnam is mostly hilly, with mountains accounting for over 40% of its land area, and is densely forested, with tropical rainforests covering some 42% of its landmass. Hills, tropical rainforests, and the Pacific coast are thus the dominant topographical features of Vietnam and one should expect them to make up a large part of the cycling experience in Vietnam. The north-eastern end of Vietnam, bordering China, called the Red River Delta is a fertile swathe of flatland that accounts for much of the country's population and its agricultural productivity. Rice paddies are the dominant topographical feature of this region.
Fauna & Flora — Vietnam is extremely rich in biodiversity and is home to 16% of the world's species of flora and fauna. Its lush forests are home to a variety of unique species, including clouded leopards, douc langurs, and the critically endangered Javan rhinoceros. The country's extensive coastline supports thriving marine ecosystems, and its wetlands provide habitat for numerous bird species.
Climate — The country has a wet and generally pleasant climate with high levels of precipitation. Proximity to the sea and the presence of mountains have a moderating effect on the climate of most parts of the country despite its nearness to the equator.
Economy — It has a population of close to 100 million people, most of whom enjoy a relatively high standard of living. Agriculture, petroleum extraction, tourism, and of late, the services sector are the primary drivers of its economy. The country is relatively prosperous and is rated as among the fastest-growing economies in the world. Vietnam is recognized as a regional power in South East Asia, and globally, as a middle power in international affairs.
Why Choose Vietnam for Cycling?
Vietnam offers a unique blend of natural beauty, cultural heritage, and friendly locals that make it an ideal destination for cycling enthusiasts.
Here are 4 reasons why you should consider Vietnam for your cycling holiday:
Breathtaking Natural Beauty — From the lush paddy fields of the Mekong Delta to the towering mountains of Sapa and the breathtaking coastline of the central region, Vietnam's landscapes are diverse and awe-inspiring.

Rice Terraces and Karst Mountain Scenery — Northern Vietnam, particularly around Sapa, Ninh Binh and Mai Chau, is known for its terraced rice fields and karst mountain lanscapes. Cycling through these regions offers not only challenging rides but also the chance to witness the beauty of these unique landscapes.

Rich Cultural Heritage — Vietnam boasts a fascinating history and diverse ethnic groups, each with its traditions and customs. Cycling through the countryside allows you to witness authentic rural life and interact with locals along the way.

Delicious Cuisine — Vietnamese cuisine is renowned worldwide for its fresh ingredients, vibrant flavors, and balance of sweet, sour, salty, and spicy tastes. Cycling through Vietnam allows you to indulge in delicious street food and regional specialties.

Welcoming Locals — Vietnamese people are known for their warm hospitality and friendly nature. You'll often find yourself greeted with smiles and waves as you cycle through local villages.
Dreaming of Cycling in Vietnam?
Explore our amazing bike tours in Vietnam now!
What are the Best Places to Cycle in Vietnam?
Vietnam offers a diverse range of landscapes and regions that are perfect for cycling enthusiasts. From scenic coastal routes to mountainous terrain and cultural gems, here are some of the top destinations for cycling in Vietnam:
Hanoi and Surrounding Areas
The capital city of Vietnam, Hanoi, serves as an excellent starting point for cycling adventures. Explore the city's bustling streets and immerse yourself in its rich history and culture. From Hanoi, you can venture out to the surrounding areas, such as:
Ninh Binh: Known as "Halong Bay on Land," Ninh Binh is a stunning region of karst landscapes, rice paddies, and winding rivers. Cycle through the picturesque countryside and visit attractions like Tam Coc, Trang An, and Bai Dinh Pagoda.
Mai Chau: Located in the Hoa Binh Province, Mai Chau offers beautiful rural scenery and the opportunity to experience the local hill tribe culture. Cycle through lush valleys, visit ethnic minority villages, and enjoy the tranquility of the area.
Northern Vietnam
Northern Vietnam is known for its stunning mountain ranges, ethnic minority communities, and terraced rice fields. Consider these destinations for your Northern Vietnam cycling adventure:
Northwest Vietnam: Northwestern Vietnam, known as Tay Bac is a mountainous province that has a pleasant tropical highland climate that is favorable for cycling all year round. The region has some gorgeous scenery comprising mist-covered mountains, terraced fields, fast-flowing streams, and wildflower-covered hillsides. Vietnam's highest mountain peak, Fansipan, standing 3143m above sea level is located in this region. A cycle tour in northwest Vietnam can also be combined with a trip to neighboring Laos.
Sapa: Nestled in the Hoang Lien Son Mountains, Sapa offers spectacular views and opportunities to experience local hill tribe culture. Cycle through terraced rice fields, visit local villages, and immerse yourself in the region's natural beauty.
Ha Giang Loop: The Ha Giang Province offers one of the most challenging and rewarding cycling routes in Vietnam. The Ha Giang Loop takes you through remote mountainous regions, breathtaking landscapes, and traditional villages. It's an adventure for experienced cyclists seeking a thrilling and immersive experience.
Northeast Vietnam: Northeastern Vietnam is the region to the north of Hanoi. It has an interesting mix of topography. The region immediately to the north of the Red River Delta is plain, which rapidly gives rise to mountains yet again. On the east, the region has a small coastline along the Pacific Ocean. Northeastern Vietnam is also crisscrossed by a large number of rivers that add to the geographical diversity of its terrain.
Central Vietnam
Central Vietnam boasts a diverse range of landscapes, from coastal stretches to mountainous terrain. Here are a few cycling routes and destinations worth exploring:
Hue to Nha Trang: Cycling along the coastline from the ancient city of Hue to the coastal town of Nha Trang is a popular route. Enjoy scenic views, explore fishing villages, and tackle the famous Hai Van Pass. Don't miss the chance to explore Hoi An's well-preserved Old Town.
Da Nang: This coastal city offers beautiful beaches and serves as a gateway to numerous cycling routes. Enjoy the stunning coastline and visit attractions like the Marble Mountains and the famous Golden Bridge.
Phong Nha-Ke Bang National Park: Located in the Quang Binh Province, this national park is home to impressive cave systems and breathtaking landscapes. Cycle through the park and explore caves like Phong Nha Cave and Paradise Cave.
Southern Vietnam
Southern Vietnam presents a different landscape and cultural experience. Explore the vibrant cities, picturesque countryside, and the famous Mekong Delta. Here are some destinations to consider:
Ho Chi Minh City: Begin or end your cycling journey in the bustling metropolis of Ho Chi Minh City. Explore its historic landmarks, vibrant markets, and bustling streets filled with motorbikes. Don't miss a visit to the Cu Chi Tunnels, a network of underground tunnels used during the Vietnam War.
Mekong Delta: Cycling through the Mekong Delta allows you to witness the daily life of locals, floating markets, and scenic waterways. Explore the intricate network of canals, visit fruit orchards, and savor the unique flavors of the region.
To Cambodia: Culturally and historically, Vietnam is a part of the larger Indochina region that also includes Cambodia and Laos. Biking in Vietnam thus can also incorporate adjoining Cambodia which is home to the famous Angkor Wat temple. The Cambodian capital Phnom Penh is located in close proximity to Saigon and makes for a great cycle tour from Saigon across the mighty Mekong River which is the economic and cultural lifeline of Indochina. The terrain in Southern Vietnam and into Cambodia, unlike the rest of Vietnam, is mostly flat.
These are just a few highlights of the many cycling destinations in Vietnam. Each region offers its own unique charm and cycling opportunities, allowing you to immerse yourself in Vietnam's natural beauty, cultural heritage, and local communities.
Love what you're reading? Dive deeper into similar content!
Stay updated by signing up. We'll email you when new articles are published on this topic.
What are the Best Cycling Routes in Vietnam?
Vietnam offers an array of cycling routes catering to different preferences and skill levels. Here are some popular routes worth exploring:
This classic route covers approximately 1,700 kilometers and takes you through the heart of Vietnam. Starting from Ho Chi Minh City in the south, you'll pass through historic towns, coastal landscapes, and picturesque rural areas before reaching the capital city of Hanoi. The two largest cities in Vietnam are Hanoi located at its northern edge, which is also its capital, and Saigon (Ho Chi Minh City) at its southern tip, which is its most populous city. The ride takes you across the length of Vietnam, skirting its azure pacific coast and through its numerous hills, tropical rainforests, and rice fields, and is a great way to experience the country at close quarters. Ha Long Bay, one of the most recognizable sights in Vietnam and a UNESCO World Heritage Site is located close to Hanoi. The terrain around Hanoi and northern Vietnam, in general, is hilly and ideal for people who love hills. Southern Vietnam, around Saigon, is flatter and ideal for those who prefer riding on the plains.
This biking route takes you through the Mekong Delta in Southern Vietnam, then continues into Cambodia along the South Coast, concluding at the magnificent Angkor. The terrain largely remains flat. Some sections of Cambodia are on gravel roads and on Vietnam side through narrow country roads frequents by locals.
Cycling along the coast from the ancient city of Hue to the coastal town of Nha Trang is a delightful experience. This route takes you through fishing villages, pristine beaches, and the Hai Van Pass, known for its panoramic views. Don't miss the chance to explore Hoi An's lantern-lit streets and its UNESCO World Heritage-listed Old Town.
The journey from Hanoi and ending again at Hanoi is a favorite among cycling enthusiasts. This route combines breathtaking mountain scenery, terraced rice fields, and encounters with ethnic minority communities. Sapa, nestled in the Hoang Lien Son Mountains, offers stunning views and a chance to experience local hill tribe culture.
The Mekong Delta in southern Vietnam is a lush, water-filled region known as the "rice bowl" of the country. Cycling through the delta allows you to witness the daily life of locals, floating markets, and scenic waterways. You can also take boat trips to explore the intricate network of canals and enjoy the region's unique cuisine.
Planning a Cycling Holiday in Vietnam?
Dive into our curated Vietnam cycling adventures today!
When is the Best Time to Cycle in Vietnam?
Choosing the best time to cycle in Vietnam is crucial to ensure favorable weather conditions and an enjoyable experience. Like most tropical regions, Vietnam has hot summers, mild pleasant winters, and an extremely wet rainy season.
Being located in the northern hemisphere, the best season for cycling in Vietnam is generally from September to May, with regional variations as described below:
Northern Vietnam
Northern Vietnam, including Hanoi, Sapa, and Ninh Binh, experiences four seasons:
Spring (March to April): Spring in northern Vietnam is characterized by mild temperatures and blooming flowers. It's an ideal time for cycling, with pleasant weather and colorful landscapes.

Summer (May to August): The summer months bring hot and humid weather, with occasional rain showers. It can be challenging to cycle in the heat and humidity, but if you're well-prepared and take precautions, it can still be enjoyable.

Autumn (September to November): Autumn is considered the best time to go cycling in northern Vietnam. The weather is cool and dry, making it comfortable for long rides and exploring the scenic countryside.

Winter (December to February): Winter in the north can be cold, particularly in mountainous areas like Sapa. While the temperatures may be lower, it can still be a good time for cycling, especially if you're prepared with appropriate clothing.
In summary, cycling is best suited for the northern mountains of Vietnam from late August through May. December and January experience colder temperatures with occasional light showers, so travelers should be well-prepared for these conditions.
Halong Bay
Located in northeastern Vietnam, has a distinct weather pattern influenced by its coastal location. Understanding the weather conditions in Halong Bay is essential for planning your cycling adventure in the region. Here's an overview of the weather in Halong Bay throughout the year:
Spring (March to April): During spring, Halong Bay experiences mild temperatures and relatively stable weather. The average temperature ranges from 20°C (68°F) to 25°C (77°F), making it a pleasant time for cycling. However, occasional rain showers can occur, so it's advisable to carry rain gear and check weather forecasts before setting off on your cycling routes.

Summer (May to August): The summer months bring warmer temperatures and higher humidity to Halong Bay. Average temperatures range from 25°C (77°F) to 30°C (86°F), with July and August being the hottest months. While cycling during this time is still possible, it's important to stay hydrated, wear lightweight and breathable clothing, and take precautions against the heat and sun exposure. Be aware that summer is also the rainy season, so expect occasional heavy rain showers and thunderstorms.

Autumn (September to November): Autumn is widely considered the best time to visit Halong Bay. The weather is mild, with temperatures ranging from 20°C (68°F) to 28°C (82°F). The skies are clearer, and rainfall decreases compared to the summer months. This makes it an ideal time for cycling, as you can enjoy comfortable temperatures and beautiful scenery. However, it's still a good idea to check weather forecasts as occasional rain showers can occur.

Winter (December to February): Winter in Halong Bay brings cooler temperatures, particularly in the evenings and early mornings. The average temperatures range from 15°C (59°F) to 20°C (68°F). While it's still possible to go cycling during this time, be prepared with warm clothing, especially if cycling early in the morning or later in the day. Winter also sees a higher chance of foggy conditions, which may affect visibility, particularly on the water. Checking weather conditions and being flexible with your plans are advisable during the winter months.
In summary, cycling in this region is ideal between October and May. December and January can bring cooler temperatures and occasional rain. From May to October, the weather is hot, with the heaviest rainfall typically occurring in August and September.
It's worth noting that Halong Bay can be a popular tourist destination, so the number of visitors may vary depending on the season. Peak tourist seasons, such as summer and holidays, may see more crowds and higher accommodation prices. If you prefer a quieter experience, consider visiting during the shoulder seasons of spring or autumn.
Central Vietnam
Central Vietnam is a narrow crescent-like coastal strip that is at times only 60 km wide. As a result, it experiences coastal weather phenomena such as high rainfall and occasional typhoons during the wet season that runs from September to December.
Central Vietnam, including Hue, Hoi An, and Da Nang, experiences a different climate pattern with two distinct seasons:
Dry Season (February to August): The dry season in central Vietnam is characterized by sunny and hot weather. It's a great time for coastal cycling, exploring the beautiful beaches, and enjoying water activities. However, be prepared for high temperatures and consider starting your rides early in the morning or late in the afternoon to avoid the hottest part of the day.

Rainy Season (September to January): The rainy season brings frequent showers and occasional typhoons. Cycling during this time can be challenging due to heavy rain and potential road disruptions. It's advisable to check weather forecasts and plan your rides accordingly.
In summary, the most favorable season for cycling in this region spans from January to early September, with an average temperature of approximately 30°C.
Southern Vietnam
Southern Vietnam, including Ho Chi Minh City and the Mekong Delta, experiences a tropical climate with two distinct seasons:
Dry Season (December to April): The dry season in the south is the best time for cycling. The weather is relatively cool and dry, making it comfortable for long rides. However, note that temperatures can still be quite hot, especially in March and April.

Rainy Season (May to November): The rainy season in the south brings high humidity and frequent rain showers. While cycling is still possible, be prepared for wet roads and sudden downpours. The countryside is lush and vibrant during this time, but it's advisable to check weather conditions and plan your rides accordingly.
In summary, Southern Vietnam is an all-year-round cycling destination thanks to its delightful tropical climate. While April and May can be quite hot, the remainder of the year offers temperatures around 30°C. There's moderate rainfall from May to early November, but it clears up quickly, resulting in cool, lush surroundings. November to February stands out as the prime period for cycling in South Vietnam, with warm weather, clear blue skies, and a gentle ocean breeze coming in from the Pacific.
Love what you're reading? Dive deeper into similar content!
Stay updated by signing up. We'll email you when new articles are published on this topic.
Enjoying Vietnamese Cuisine
One of the highlights of cycling in Vietnam is indulging in the local cuisine. Vietnamese food is known for its fresh ingredients, vibrant flavors, and balance. Don't miss out on trying these iconic dishes:
Pho — Vietnam's most famous dish, pho, is a flavorful noodle soup with either beef or chicken, topped with fresh herbs and condiments.

Banh Mi — This delicious Vietnamese sandwich combines French influences with local ingredients. It typically includes a baguette filled with various options like grilled meats, pâté, pickled vegetables, and fresh herbs.

Bun Cha — A Hanoi specialty, bun cha consists of grilled pork served with rice noodles, herbs, and a side of dipping sauce.

Banh Xeo — These savory pancakes are made from rice flour and filled with shrimp, pork, bean sprouts, and herbs. Wrap them in lettuce leaves and dip them in a tangy sauce for a delightful bite.

Ca Phe — Vietnamese coffee is a must-try. Enjoy a cup of ca phe sua da (iced coffee with condensed milk) or ca phe trung (egg coffee) for a unique local experience.
Vietnam Visa Requirements
Residents from several countries have visa exemption status for tourist visits to Vietnam. For a full list of up-to-date visa-exempt countries, see the Vietnam Foreign Affairs website.
E-Visa
The 'e-visa' process is newer and more streamlined. You can apply for an e-visa through the government website, then, once approved, simply print it out and present it upon arrival in Vietnam. The additional benefit of the e-visa is that it's valid at land borders, not just airports. The processing time ranges from 2 to 7 working days. We recommend applying 2 weeks in advance to avoid unexpected delays. Read more about tourist e-visas for Vietnam at the Vietnam Immigration portal and apply there.
While applying online for an approval letter, please ensure that you have the following documents:
Passport scanned copy: A scanned copy of your passport - front (main) page. It shouldn't be a mobile photo or a photo taken from a laptop. Strictly scanned copy done through a computer scanner.
Passport size photo: portrait photo (4*6 size, colored photo, white background, straight looking without glasses). A photo taken from a mobile or laptop may or may not work, so I would strictly advise getting one made through a nearby photo studio (retail shop) that specializes in taking photos for visas.
Here is an excellent resource on Vietnam visas that may be worth looking at.
Cambodia Visa Requirements
Cambodia has three international gateways for arrival by air – Phnom Penh, Siem Reap, and Sihanoukville – and a large number of land borders with neighboring Thailand, Vietnam, and Laos. Formalities at Cambodia's international airports are generally smooth.
Travelers can get a Cambodia visa upon arrival at the airport with a valid passport for 6 months and no longer need to have a pre-arrival COVID-19 test, present a full COVID-19 vaccination card/certificate, or a passenger's health declaration form on arrival in Cambodia. Remote electronic temperature-checking systems remain at the entry and exit gates for Immigration officers to check and advise passengers who may have COVID-19 symptoms.
If crossing via land border between Vietnam and Cambodia through Chau Doc:
For rides that involve land crossing via Vietnam, you can apply for a Cambodian visa at the border. The port on the Vietnam side is Vinh Xuong border gate named Sông Tiền. Its counterpart across the border is Khaorm Sam Nor Kaoh Roka border gate, Kandal Province, Cambodia. Please bring 2 current colored passport photos and ensure you have the visa fee of US $30-40 each. Please note that e-Visa is not applicable at the port of entry. Please apply for a visa in advance with the embassy or obtain a visa on arrival at the port.
If crossing via land border between Vietnam and Cambodia through Ha Tien:
For rides that involve land crossing via Vietnam, you can apply for a Cambodian visa at the border. The port on the Vietnam side is Ha Tien Landport (known as the Xa Xia border). Its counterpart across the Cambodian border is Prek Chak. Please bring 2 current colored passport photos and ensure you have the visa fee of US $30-40 each. Please note that the Cambodian e-Visa is not applicable at the port of entry. Please apply for a Cambodian visa in advance with the embassy or obtain a visa on arrival at the port.
For Visa on arrival at the Cambodian border, please make sure to bring the following things:
2 current passport photos
Ensure you have the visa fee of US $30-40 each
Passport copy
Vaccine card copy (proof of vaccination)
Vaccines and Medicines
Although there are no specific vaccinations required for Vietnam travel by Vietnamese law other than potentially yellow fever in some instances, you are strongly recommended to meet with a medical provider to determine the vaccinations needed for Vietnam. Your medical provider will give you specifics on which vaccinations for Vietnam you are recommended to have based on your prior vaccinations and other health factors.
Our travelers normally don't do any special vaccination before visiting Vietnam and we also don't recommend any particular vaccine.
Here is an excellent resource for recommended vaccinations for Vietnam that may be worthy to look at.
Handy Info
Currency – The official Vietnamese currency is the Vietnamese Dong (VND). As of May 2021, One Dollar equals 23112 Dong. The American Dollar may be accepted as a mode of payment in large business establishments, especially in the two major Vietnamese cities, Hanoi & Saigon. In smaller business establishments, smaller towns, and in rural Vietnam, the Dong is preferred. Most ATMs will dispense only Dong. In neighboring Cambodia, ATMs dispense the American Dollar as well. Mastercard/Visa are accepted in large business establishments. You should keep some local currency handy at all times.
Transport – For traveling within Vietnamese cities, there are several options such as the Cyclo ( a three-wheeled bicycle taxi) and the Xe Om, a motorcycle taxi. One can also use taxi cabs to get around. There is a frequent intra-city bus service as well. For traveling between Vietnamese cities, there is frequent bus and rail connectivity. Saigon and Hanoi are connected by air service.
Language – Vietnamese (Tieng Viet) is the official language of Vietnam. English is widely spoken and understood by a large section of the population. French is also spoken and understood by many people, a legacy of Vietnam's colonial past.
Culture – A large section of the Vietnamese population identifies as atheists, while Buddhism, Christianity, and folk religions are practiced by smaller numbers. Vietnamese people are generally warm and hospitable. However, one needs to be mindful of local traditions. It is advisable to dress appropriately when visiting sacred spaces or people's homes. It is considered respectful to take off one's shoes when entering people's homes or religious places. Vietnamese people are generally polite and may not object to being photographed out of courtesy but it is advisable to seek people's permission before doing so. Avoid photographing military establishments or military personnel in Vietnam.
Appliances & Devices - Vietnamese electricity supply voltage is 220V at 50 Hz. Most countries in the world use electricity at 220-240V except North America and Japan where 100-120V is used. You should check the back of your device to see if it is compatible with the voltage before plugging it in. Most hotels in Vietnam use two-pin Type A, Type C, and Type F chargers. If your device has a 3-pin plug, it is advisable to carry an adapter with you.
Mobile Coverage – Vietnam has reliable mobile networks in most regions except the remote mountains. You can use your mobile phone in most Vietnamese cities as long as you have global roaming activated. If you plan to stay longer, you can buy a local Vietnamese SIM card that you can use on unlocked mobile phones. Mobile internet is generally cheap and reliable in Vietnam. Viettel, MobiFone, and Vinaphone are the most popular Vietnamese network operators.
Cuisine – Vietnamese cuisine relies heavily on rice, soy, fish, and pork. Peanut sauce is also a part of several Vietnamese street food items. If you are allergic to any of these foods, you might want to inform your tour guide beforehand. Green tea is a popular beverage. Vietnamese cuisine is generally rich and varied and enjoyed the world over.
Religion – Vietnam is officially an atheist state. As per polls, a majority of the population doesn't believe in a God. The others however practice Buddhism or are Christians.
Time Zone – The Vietnamese time zone is GMT+7.
What you may find – Conical hats: Traffic: Silk Shops; Rice paddies: Buffalos: Landscapes: Lot of two-wheelers.
Through the Notes
Some references that will help understand Vietnam better:
Read — Writings by Vietnamese writer Bao Ninh.
Listen — to US-based Khanh Ly, a contemporary pop music icon
Eat — the staple pho( noodle soup) or Ga Tan( stewed chicken with medicinal herbs, dates, and grilled baguettes)
Watch — The Quiet American, based on Graham Greene's 1954 novel and starring Michael Caine.
Drink — the cheap and widely available Bia Hoi (draught beer), and Ca Phe( coffee) served with condensed milk.
Embrace the Bike Tour in Vietnam
Overall, a well-organized bike tour in Vietnam can be a fantastic way to explore this beautiful country. It offers a unique perspective and a more immersive experience compared to other forms of travel.
Art of Bicycle Trips, a pioneer in crafting curated cycling holidays for over a decade, offers expertly guided cycling tours in Vietnam. Experience the pinnacle of comfort and safety with handpicked hotels, local cultural encounters, seasoned tour leaders, and a dedicated support vehicle.
Ready to Cycle Vietnam?
Get started with your cycling adventure today!