Southern India Sojourn Bike Tour
---
Overview
This tour combines the three spectacular states of Southern India: Karnataka, Tamil Nadu, Kerala. Be ready for some serious green therapy riding amidst the Western Ghats – the long stretch of mountains on the South Western edge of the country. Considered a notable hotspot for bio diversity, it is a UNESCO World Heritage Site. Expect to be submerged in the lush environs of national parks, wildlife sanctuaries and reserve forests along with tea plantations of Nilgiris and backwaters of Kerala.
We have planned this cycling tour in a way that you are up against the challenge of the mighty mountains and get to soak in the comfort of estate homes as well. Local food, abundant wildlife and gorgeous views enthrals and keep you hooked through on this cycling trip.
Start
Bangalore | 17:00hrs
Avg. dist. cycled
50km or 30mi
Group size
Min. 2, Max. 14
Highlights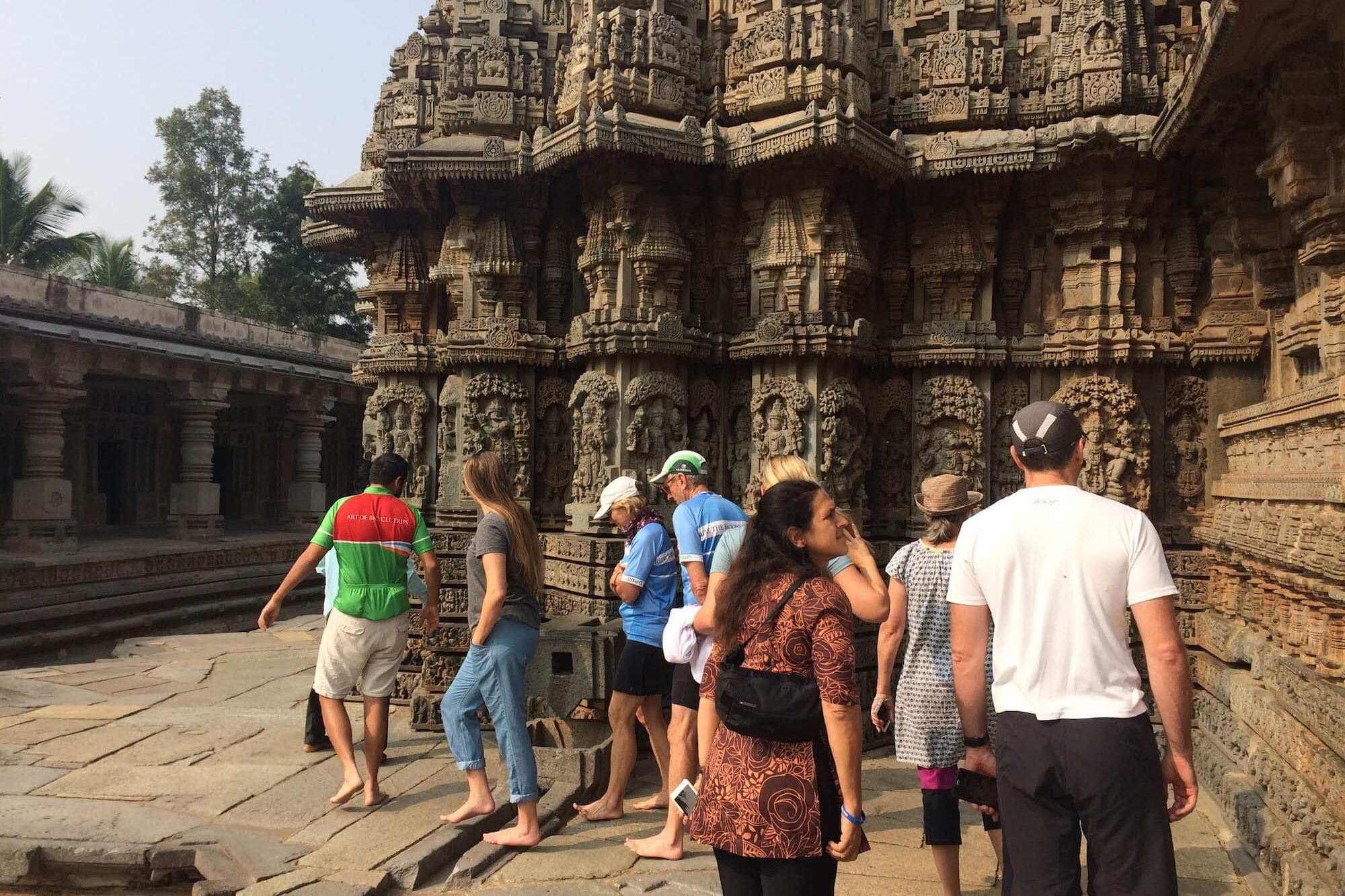 Flavour of South India
Witness a vivid concoction, which represents the entire mood of South India
Itinerary
Brief Itinerary
| Day | Place | Hotel | Meals | Distance | Activity |
| --- | --- | --- | --- | --- | --- |
| DAY 1 | Bangalore | Casa Cottage | D | | |
| DAY 2 | Train to Mysore | Green Hotel | B,L,D | | |
| DAY 3 | Mysore | Green Hotel | B,L | 50km / 30mi | cycling |
| DAY 4 | Wayanad | Varnam Homestay | B,L,D | 70km / 42mi | cycling |
| DAY 5 | Mudumalai | Bamboo Banks | B,L,D | 80km / 48mi | cycling |
| DAY 6 | Red Hills | Red Hills Nature Resort | B,L,D | 30km / 18mi | cycling |
| DAY 7 | Red Hills | Red Hills Nature Resort | B,L,D | | hiking |
| DAY 8 | Coonoor | Mciver | B,L,D | 50km | |
| DAY 9 | Pollachi | Coco Lagoon | B, L, D | 40km / 25mi* | cycling |
| DAY 10 | Dindigul | Cardamom House | B, L, D | 70km / 44mi* | cycling |
| DAY 11 | Madurai | JC residency | B, L, D | 60km / 36mi* | cycling |
| DAY 12 | Madurai | JC residency | B, L | | |
| DAY 13 | Periyar | Wildernest | B, L, D | 60km / 36mi* | cycling |
| DAY 14 | Alleppey | Pamba Heritage Villa | B, L, D | 50km / 30mi* | cycling |
| DAY 15 | Vembanad Lake | Abad Whispering | B, L, D | 40km/24mi* | cycling |
| DAY 16 | Kochi | Fort House | B, L, D | 40km / 24mi* | cycling |
| DAY 17 | Kochi | | B | | |
Map
The above map gives you an excellent idea about the region on the trip. Though there may be internal flights and trains, shuttle transports and hence the cycling route may be a bit different than shown, however, it allows you to understand the overall geography of the tour.
Accommodation - Casual Inns
Small luxury and boutique hotels that are true to their heritage and character and reflect local ethos are listed here as Casual Inns. They hold within them an unassuming charm and regional character that is an extension of the destination itself. Most of them fall under the 3-star or 4-star category with a possible mix of homestays.
We have chosen them carefully so that you are well-rested; get a drift of the local character or an enthralling view from your verandah. The above brief itinerary gives you a clickable list of hotels for your perusal.
Detailed Itinerary
Day 1: Bangalore
Arrive at Bengaluru Airport and get transferred to a boutique stay, Casa Cottage Hotel, in the heart of the city. After resting for a short while, hit the arterial high street of the city, M.G Road. Criss-crossed by narrow streets lined with bookshops, contemporary clothes, pubs, cafes, and trinkets, the place is abuzz with shoppers in the evenings. Bangalore acquired itself the moniker of the 'beer capital' of India, with around 70 pubs in a radius of 2 km in this area.
Your Art of Bicycle Trips (ABT) tour leader meets you at 05:00 pm for bike fit and trip briefing over dinner.
Get well rested tonight.
Meals:
D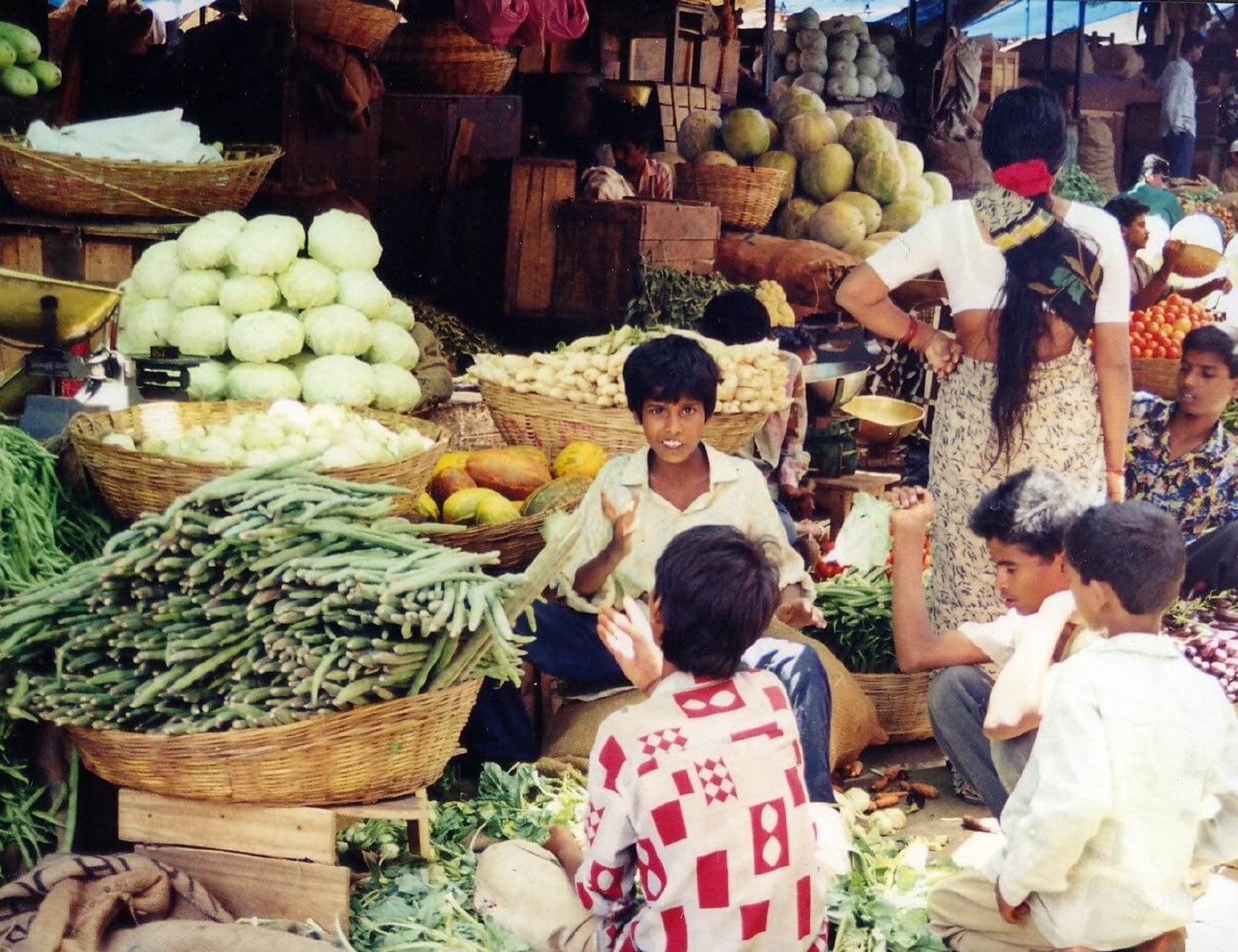 Day 2: Train to Mysore
We know you are eager to ride, but we get on a different set of wheels (a train), to omit the traffic and long transfer between the cities. Post-lunch (lunch is served on the train) is to take in the magnificent structures of Mysore.
We start with the palace, also known as Amba Vilas Palace is a 14th-century enthralling structure, which is beautifully lit at night on special days. After the historic sight, we make our way into the busy Devaraj market. The market is a concoction of sights, sounds, and smells – a real visual treat. Walk around the stalls stacked with conical mounds of Kumkum, stacks of glittering bangles, blocks of jaggery, and huge mounds of fragrant marigolds, jasmine, asters, and even antiques!
We convene tonight at the dinner to celebrate the start of a fabulous cycling journey.
Meals:
B,L,D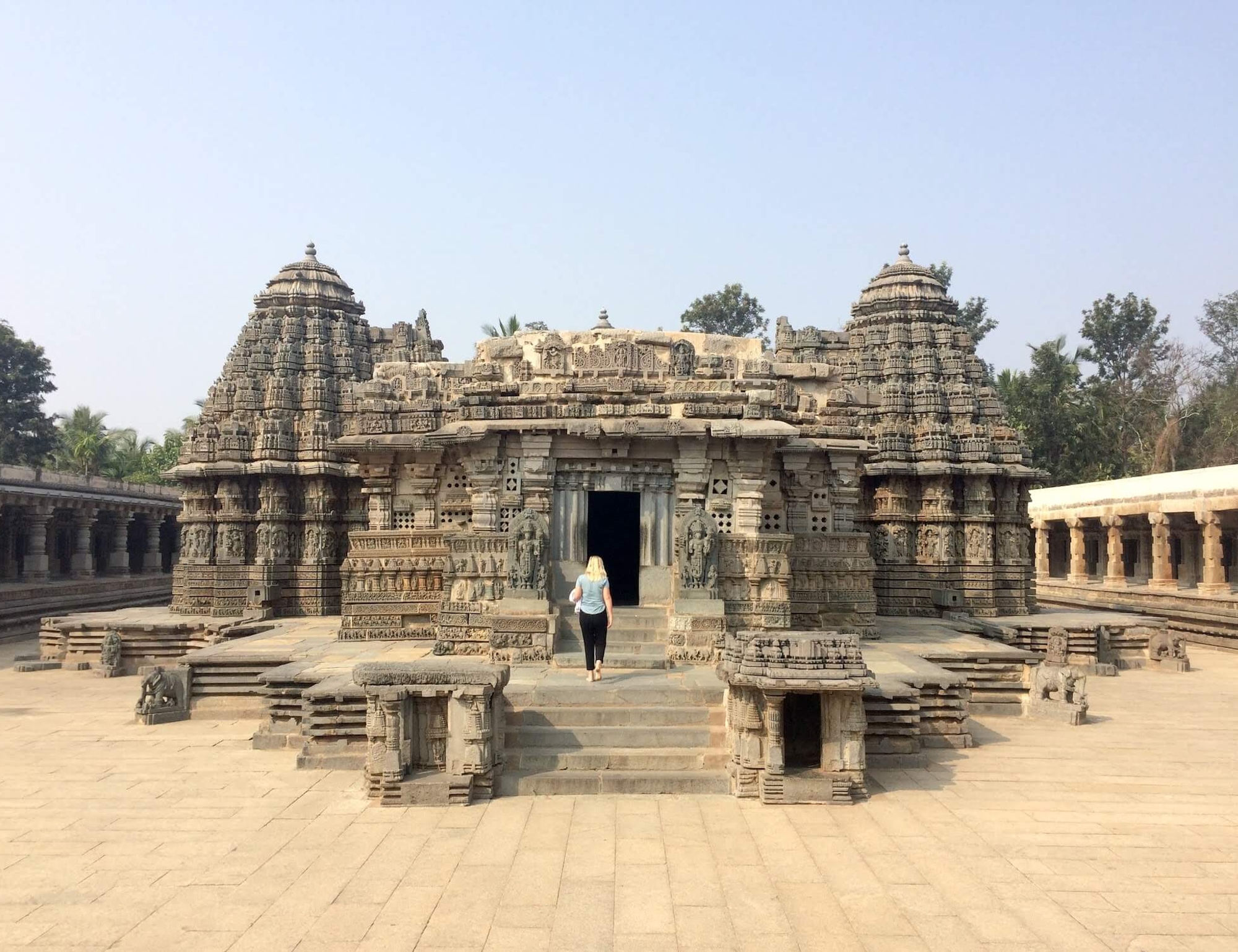 Day 3: Mysore
A short transfer of about 1hr brings us to Somnathpur Temple, a 13th century Vaishnava Hindu temple on the banks of River Kaveri at Somanathapura, Karnataka. The ornate temple is a classic illustration of the Hoysala architecture, built-in soapstone. Enjoy the stunning temple with our local guide.
Bike from here along the idyllic river Kaveri past paddy fields, sugarcane, banana plantations towards Srirangapatna, enclosed by the river Kaveri to form a river island. Srirangapatna was a scene of the decisive battle fought between Tipu Sultan and the British East India Company, a turning point in Indian history. End the ride with a well-deserved local meal.
Meals:
B,L
Cycling Distance:
50km / 30mi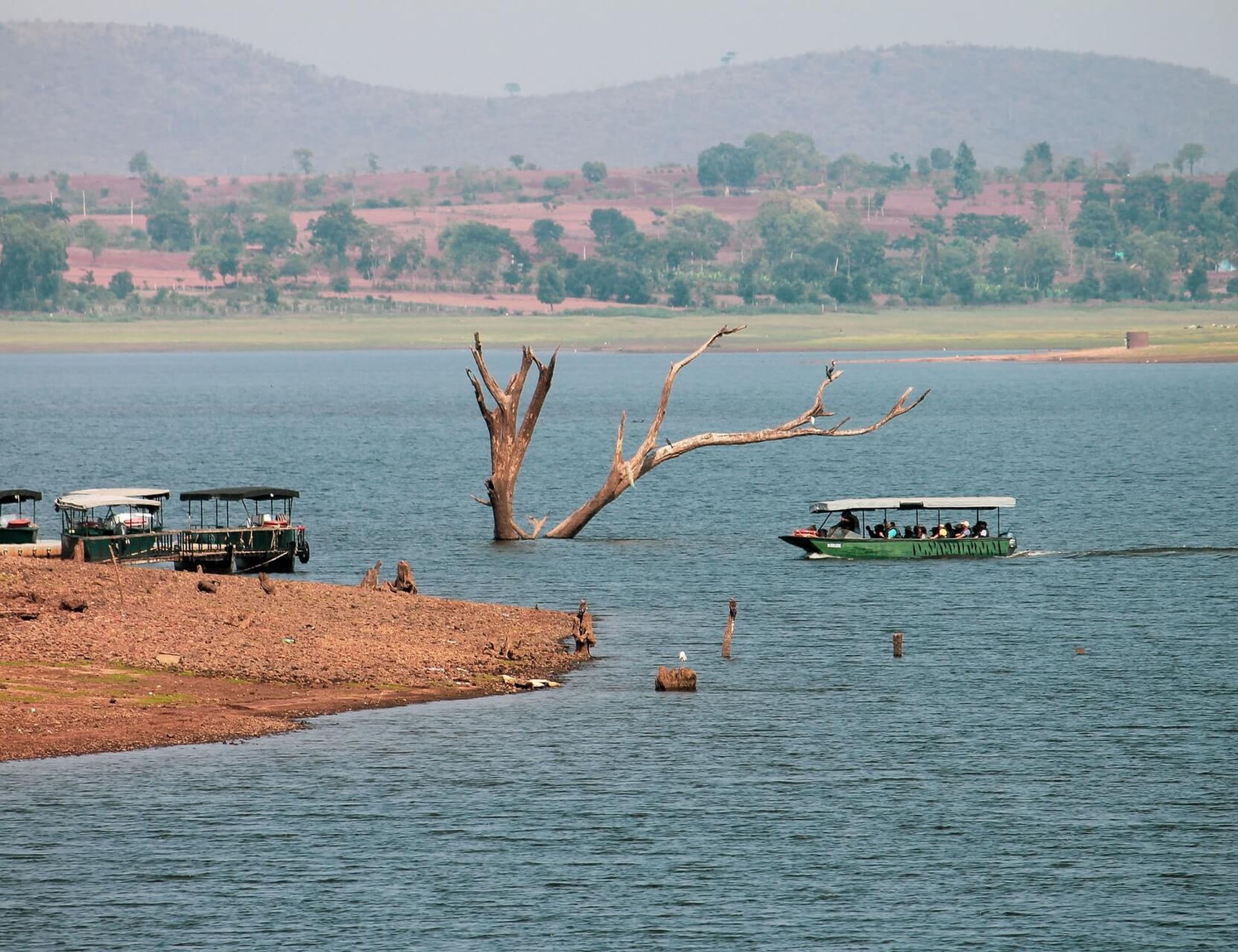 Day 4: Wayanad
The river Kabini flows alongside us as we cycle through farms and forests. Located on the southern fringes of the Nagarahole National Park, nature has endowed Kabini with excellent weather throughout the year. Damned in 1974, the Kabini reservoir supports a fascinating range of wildlife – tiger, leopard, elephant, gaur, crocodile, blackbuck, sloth bear, and peafowl. Further, we cross the Karnataka border to reach a state of Kerala, also promoted as God's Own Country. The ride largely remains a rolling one.
Tonight, we stay in a Keralan homestay in the hilly town of Wayanad. Later take a dip into their gorgeous pool and rejuvenate taste buds with a sumptuous home-cooked local meal.
Meals:
B,L,D
Cycling Distance:
70km / 42mi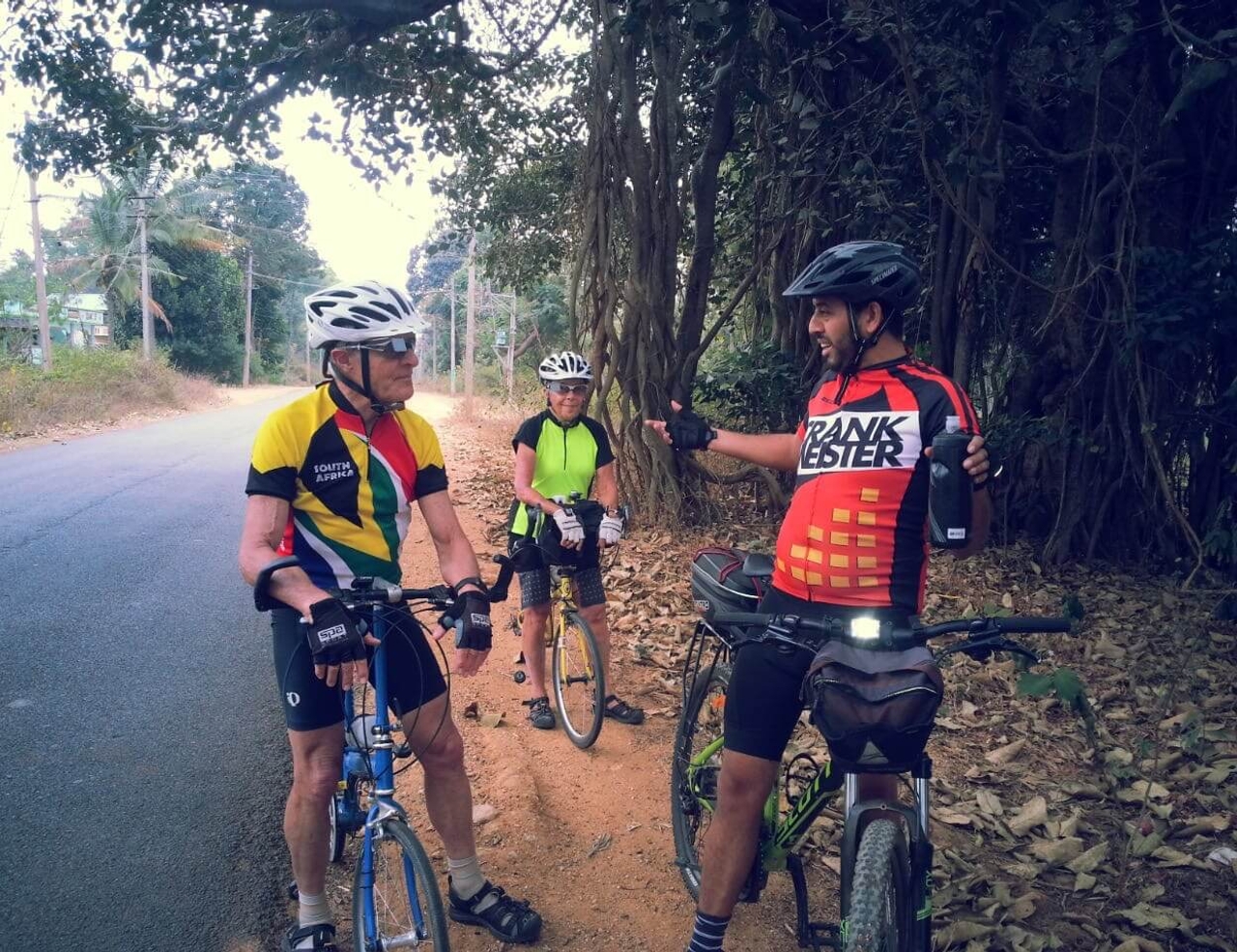 Day 5: Mudumalai
This morning, wind your way through the tropical forest and tea plantations to enter the state of Tamil Nadu and immerse yourself in a complete wilderness as we cycle through. The initial leg of the ride is through a canopy of dense forest largely consisting of teak trees and the second leg is past gorgeous tea plantations. Today is a stunning day on the saddle.
Later we take a short transfer to Mudumalai National Park, a favorite haunt of wildlife buffs & professional wildlife photographers from around the world.
Meals:
B,L,D
Cycling Distance:
80km / 48mi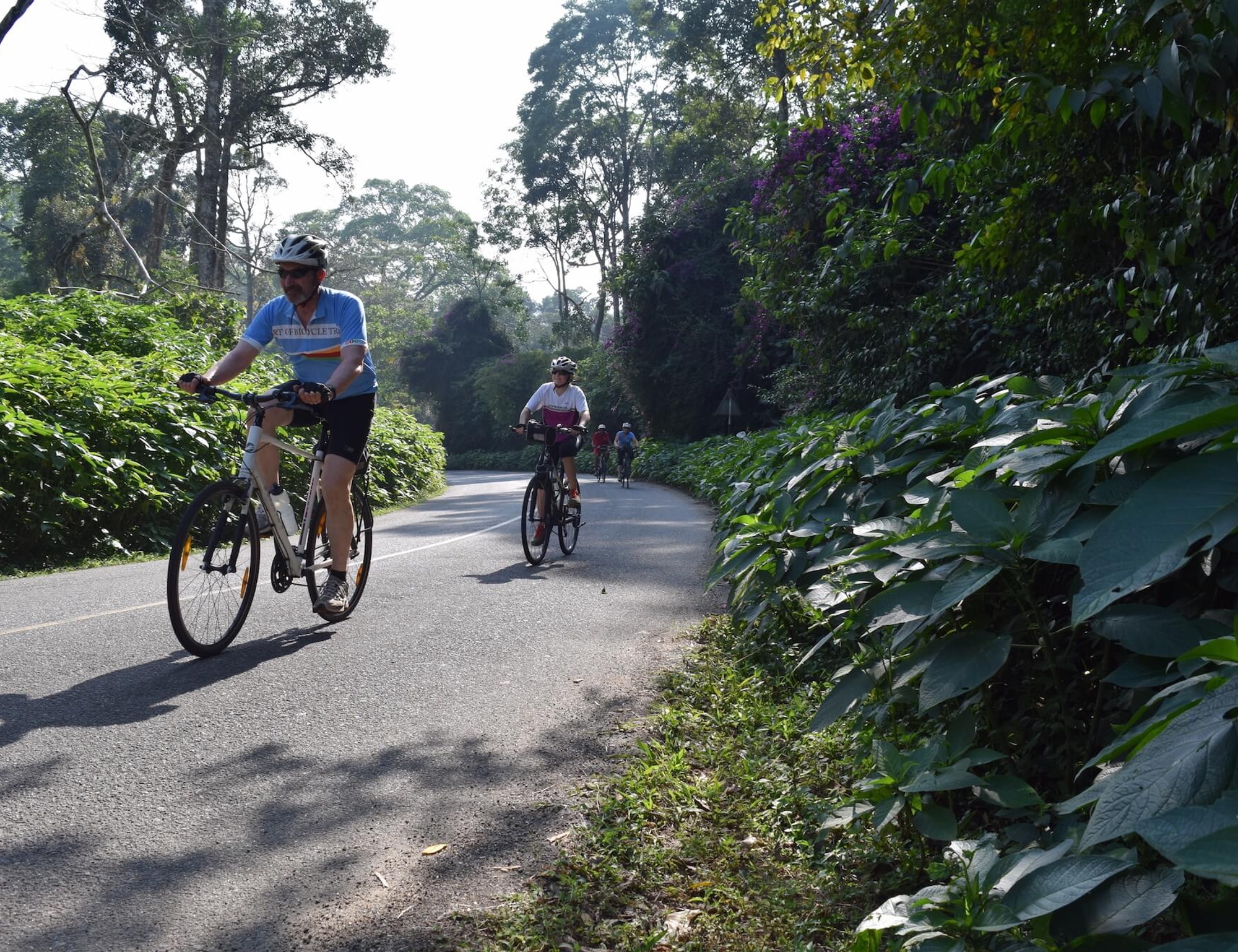 Day 6: Red Hills
Take an early morning safari in Mudumalai National Park.
We begin our journey with a drive from the to Ooty. Be rewarded with a breathtaking misty view of rolling hills carpeted with shola forest as we shuttle through hairpin bents and reach Ooty, situated at a level above 2,000m and part of the amazing Nilgiris biosphere. This combination of high elevation and low latitude is typical of the Nilgiris, giving them their unique equatorial highland climate.
From Ooty, we begin the day's cycling by heading due west. The terrain consists of undulating hills covered by Shola forests – a tropical montane forest-grassland complex endemic to the Nilgiris. The Shola forests consist of stunted forests and grasslands that occur together covering entire mountains whose monotony is broken only by numerous crystal clear lakes gleaming under a mellow sun, giving the appearance of a patchwork quilt of multiple hues. We ride through villages where forests have been cleared to plant cash crops such as tea, coffee, wattle, blue gum, and exotic spices such as cardamom.
The British found the Nilgiris climate so salubrious that they introduced the cultivation of their favorite drink, tea, to this region. Red Hills is thus a place that is surrounded by lush green forests and tea estates that spread out over its mountain slopes like exotic oriental rugs of green velvet. We end the day with a cup of the finest Nilgiri tea, a befitting toast to the commencement of an unforgettable journey.
Meals:
B,L,D
Cycling Distance:
30km / 18mi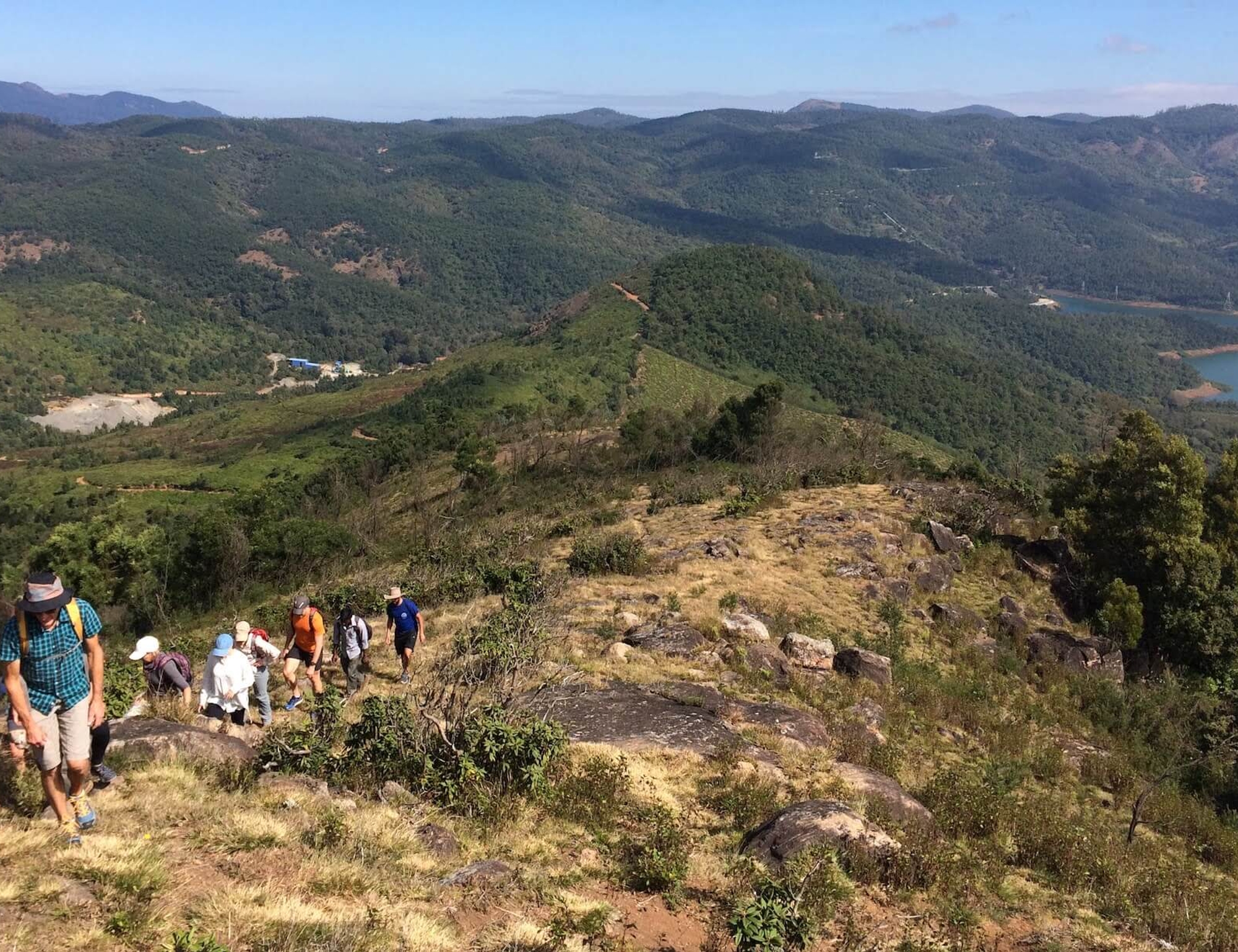 Day 7: Red Hills
Today we exchange our cycling gear for hiking boots as we go hiking into the Nilgiri forests. The Nilgiri Biosphere Reserve is recognized as a biodiversity hotspot and a world heritage site by UNESCO on account of the extremely rich flora and fauna it supports, much of which is not found anywhere else in the world. Some of the rare animals found in this region are the Nilgiri Tahr, a critically endangered mountain goat of which a little over 3000 individuals are left in the wild today, and the Gaur or Indian bison. In the distance, we can spot the Doddabetta peak, the highest mountain in the Nilgiris standing tall at 2637m above sea level. We hike for 3-4 hours through the picture-postcard landscape of the Nilgiris. The rest of the day is free for relaxing and enjoying the fabulous views from your window. We recommended trying some traditional Badaga cuisine today that is prepared by the Badaga tribal community of the region using locally available ingredients and traditional techniques such as cooking in wood-fired ovens.
Meals:
B,L,D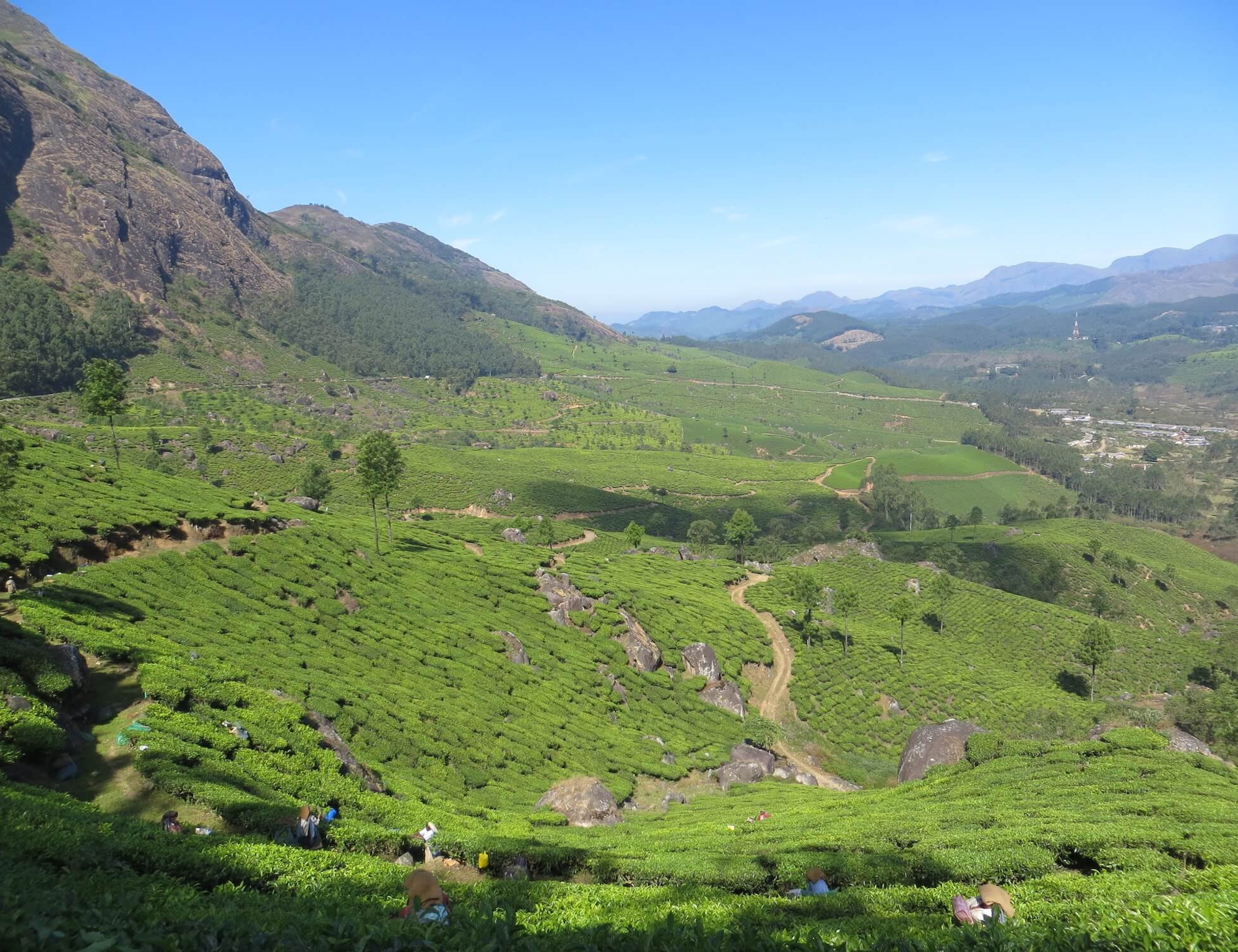 Day 8: Coonoor
We get back on our bikes today and cycle towards the hill station of Coonoor, a quaint town surrounded by tea estates and drenched in an old-world, colonial charm. The twin towns of Ooty and Coonoor, once ruled by Toda tribals, were discovered for the modern world by the British civil servant John Sullivan who wrote that they "resembled Switzerland more than any country of Europe, the hills beautifully wooded and fine, strong springs with running water in every valley". It is a description that still holds true, the only difference being that the beautifully wooded hills and strong springs have been added the charm of verdant tea gardens and quaint colonial bungalows. As we ride past garden upon a garden of lush green tea leaves glistening under a soft highland sun, kissed ever so lightly by the cool mountain breeze so that the very air is diffused with their pleasing aroma, we know we are in a region that produces one of the finest teas in the world.
Meals:
B,L,D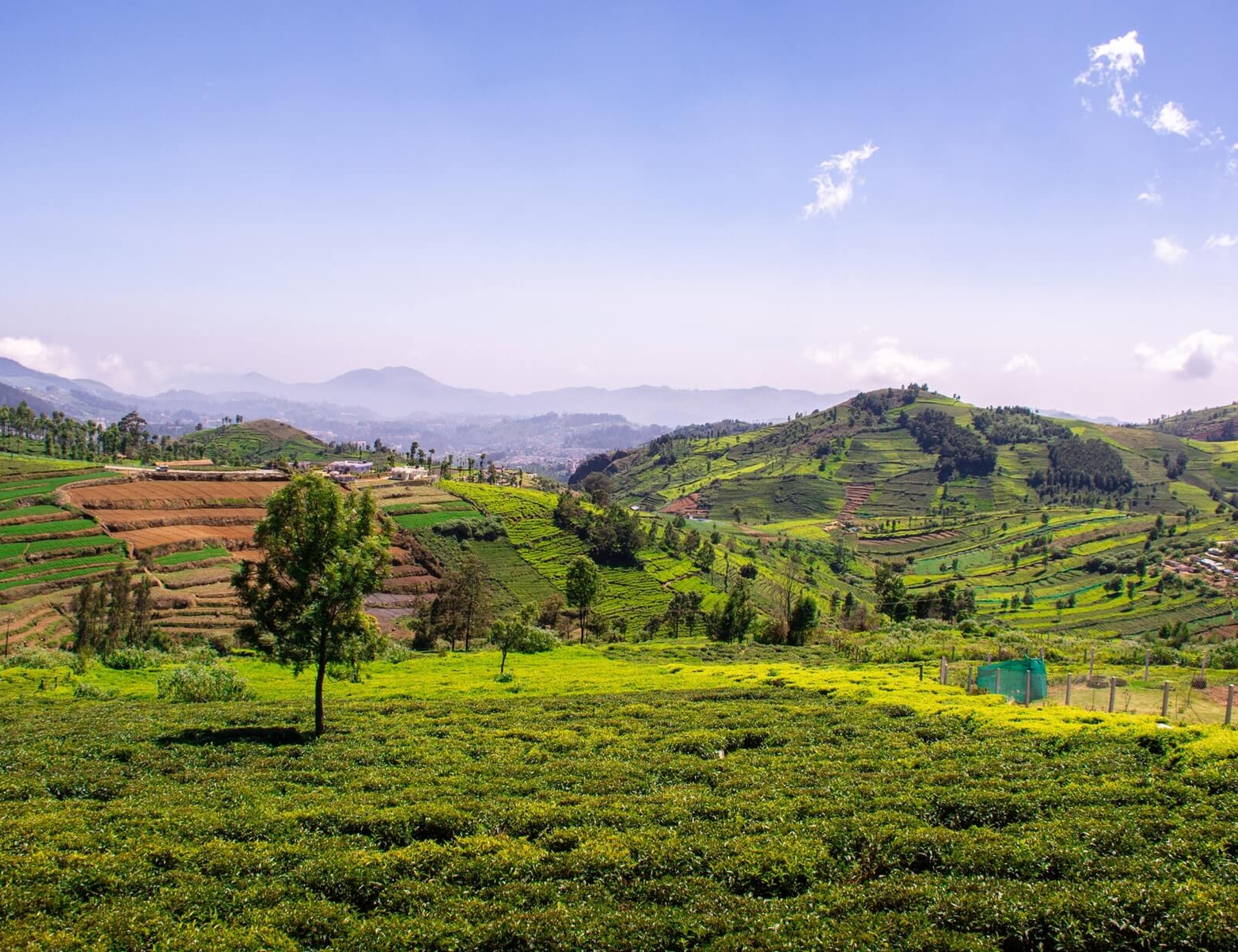 Day 9: Pollachi
An amazing rolling downhill awaits you from Coonoor, with spectacular views of Mountains followed by a ride through the hinterland.
Immerse yourself in a countryside living as you stay in a rural village of Pollachi, an unexplored tract in the Indian tourism arena.
Meals:
B, L, D
Cycling Distance:
40km / 25mi*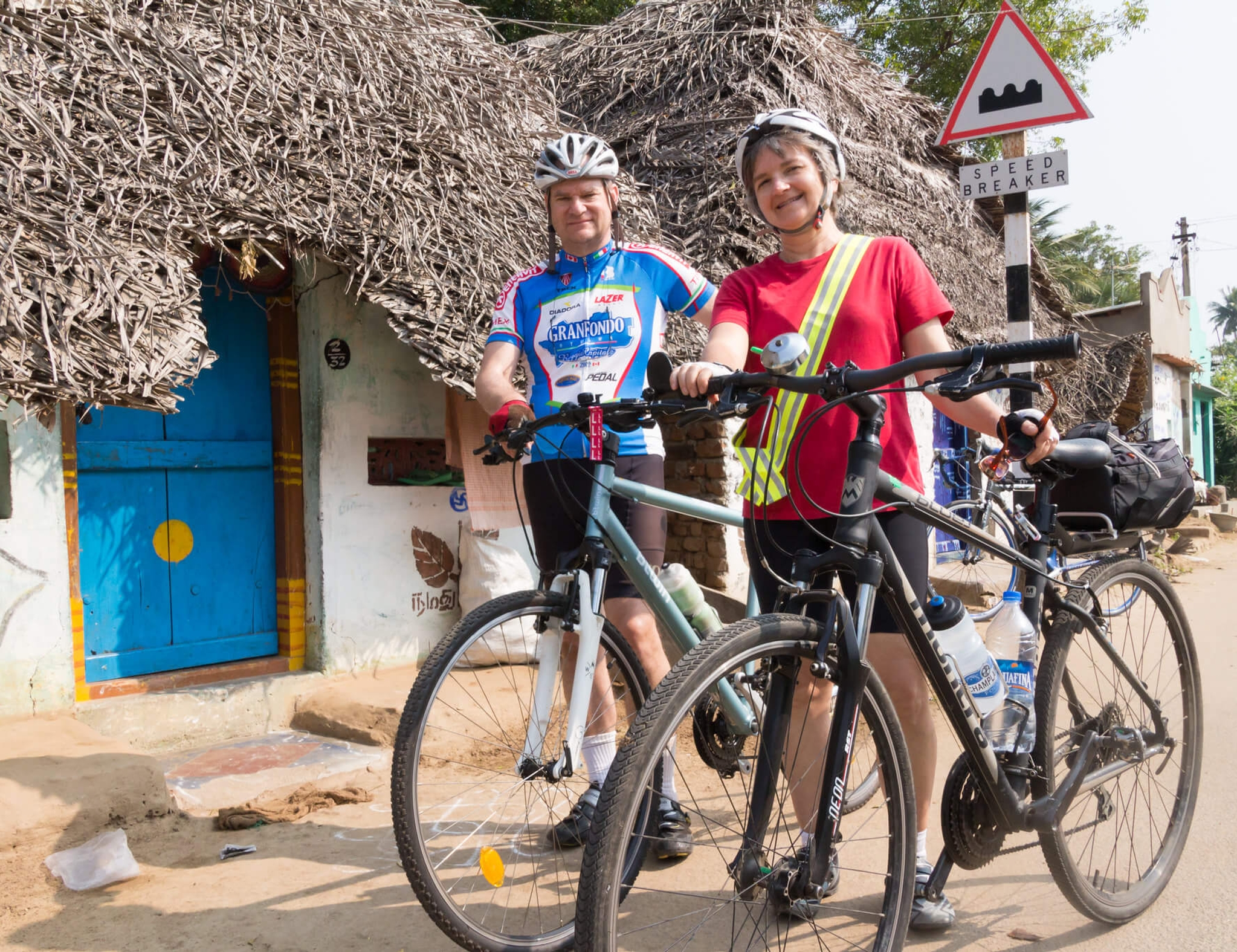 Day 10: Dindigul
This morning after breakfast, ride through Palani, the temple town of Tamil Nadu to reach a village in Dindigul.
We stay at a family homestay near Kamaraj lake.
Meals:
B, L, D
Cycling Distance:
70km / 44mi*
Day 11: Madurai
Our last cycling day through Tamil Nadu as we arrive at Madurai. Madurai is one of South India's oldest cities and has been a center of learning and pilgrimage for centuries. This is where Mahatma Gandhi took the decision, in 1921, to wear nothing but khadi (homespun cloth). Khadi textiles and tailors' shops are everywhere in town.
Meals:
B, L, D
Cycling Distance:
60km / 36mi*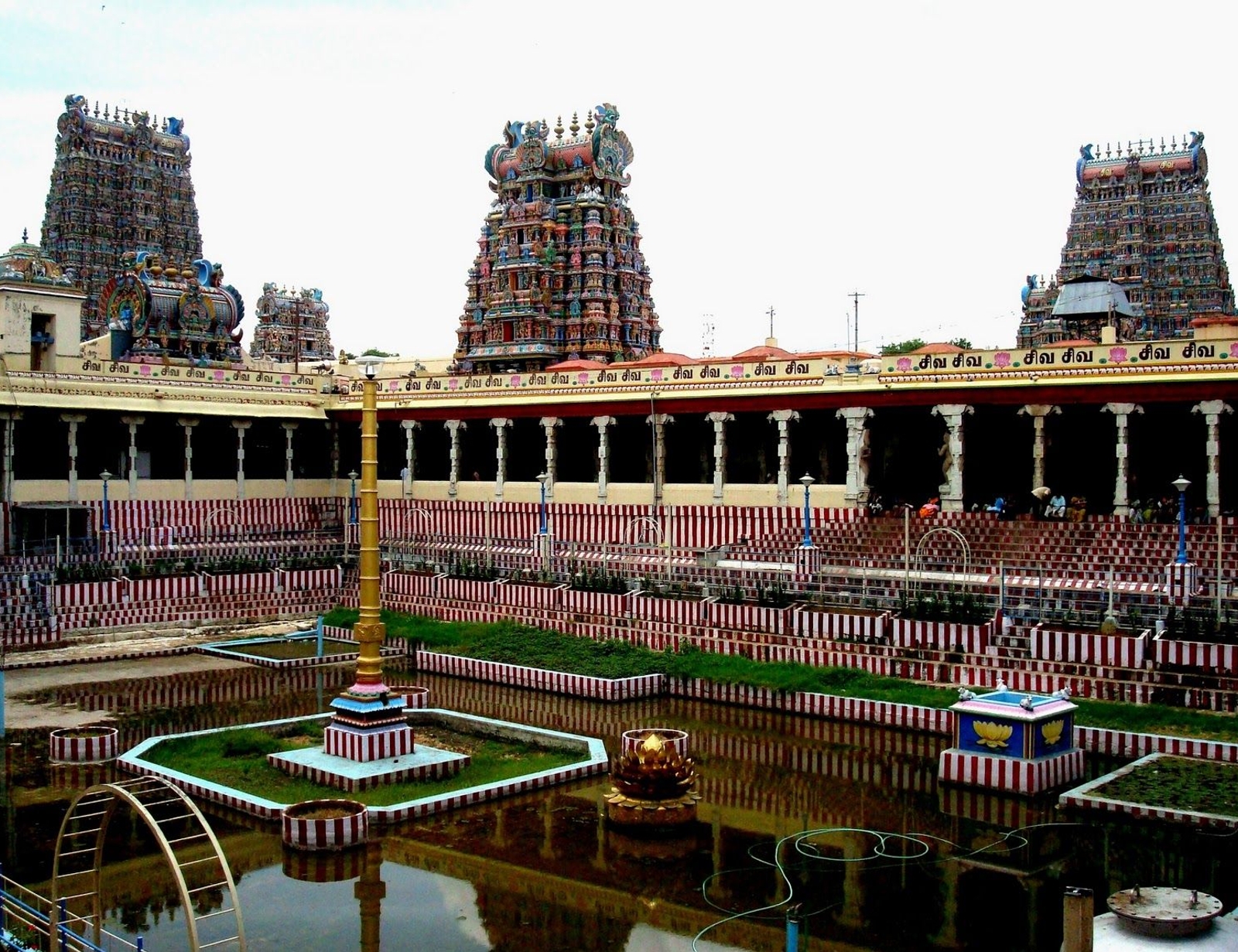 Day 12: Madurai
It's best to visit the main temple early in the morning when it is relatively less busy. Meenakshi Amman (Sri Meenakshi) temple is dedicated to Lord Shiva and his consort, Goddess Parvati. The temple forms the heart and lifeline of the 2500-year-old city of Madurai. The temple complex houses 14 magnificent Gopurams or towers including two golden Gopurams for the main deities.
Meals:
B, L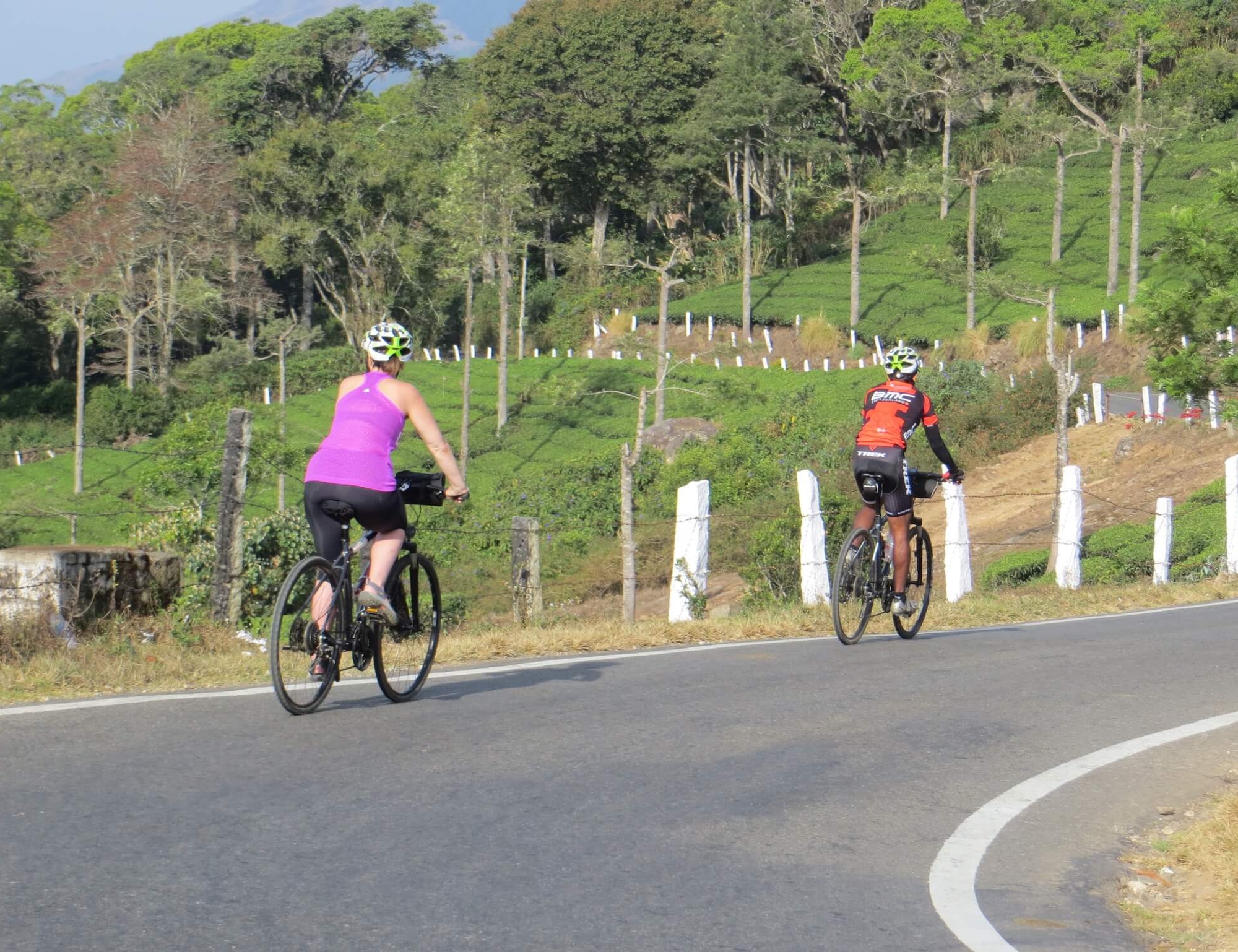 Day 13: Periyar
We take in the spectacular views of the western ghat mountains as we ascend to the neighboring state of Kerala. The last leg has a steep climb and we may decide to that in a shuttle.
If time permits, we head to a garden of spices and learn about the spices from a local farmer.
Meals:
B, L, D
Cycling Distance:
60km / 36mi*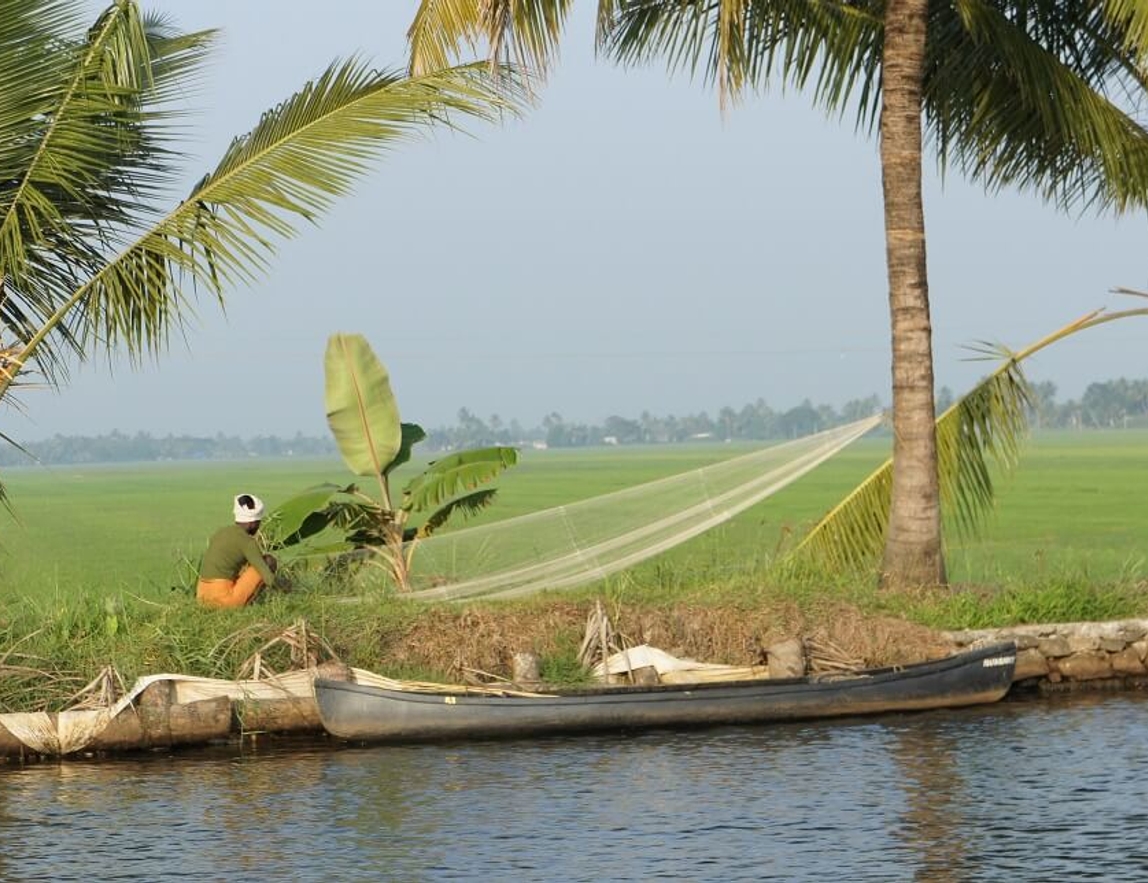 Day 14: Alleppey
This is going to be a beautiful ride – from the Cardamom Hills of Thekkady, through the tea gardens that lie lower. A hilly ride, with both dips and steep climbs, but the cool weather helps you grapple with this challenging ride better.
After biking, we transfer to Alleppey. Alleppey is the backwater destination of India, as it lies at the edge of the massive Vembanad Lake.
Meals:
B, L, D
Cycling Distance:
50km / 30mi*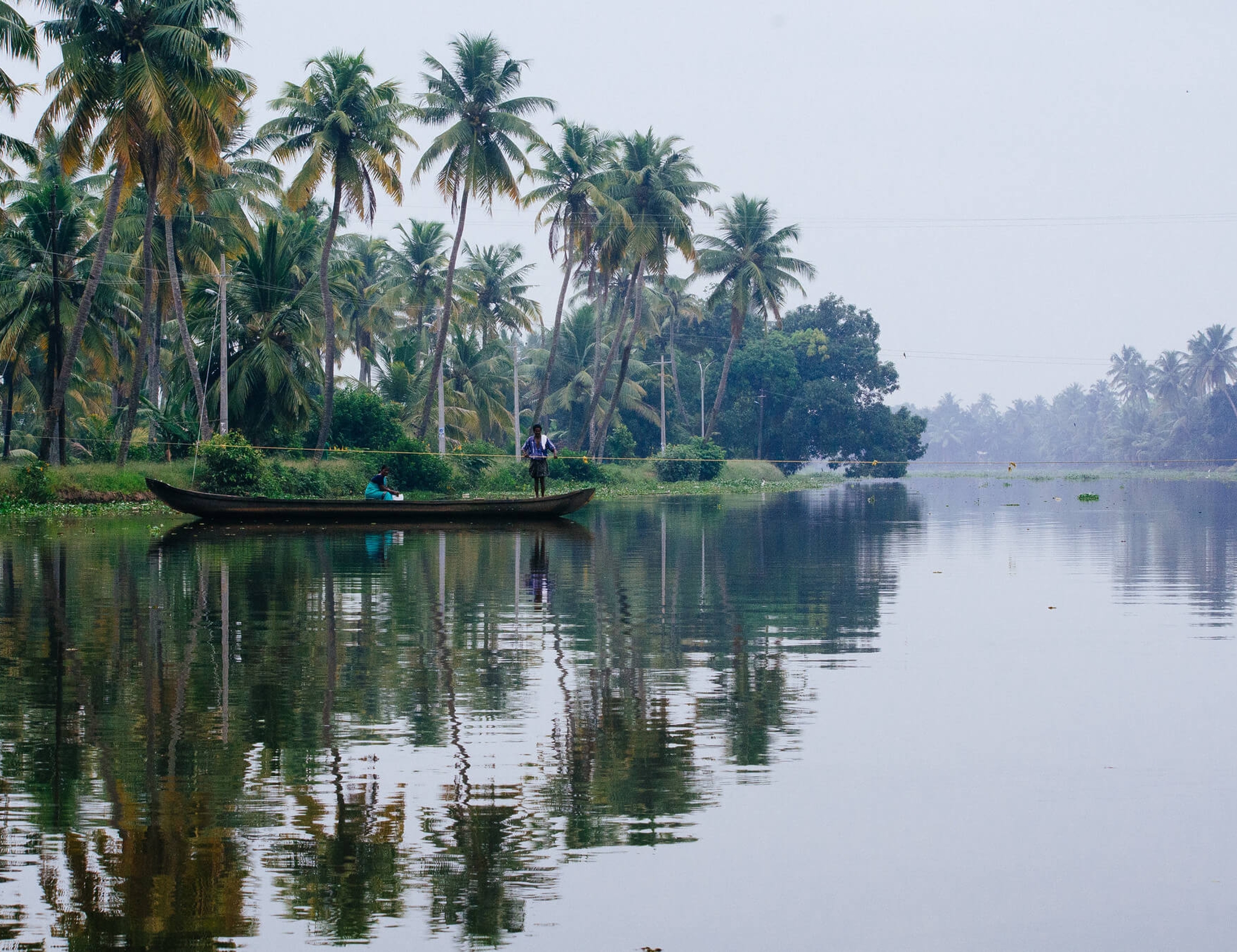 Day 15: Vembanad Lake
Ride through the narrow lanes and experience a fabulous birdlife before arriving at Kumarakom, situated right at the edge of mesmerizing Vembanad Lake.
Meals:
B, L, D
Cycling Distance:
40km/24mi*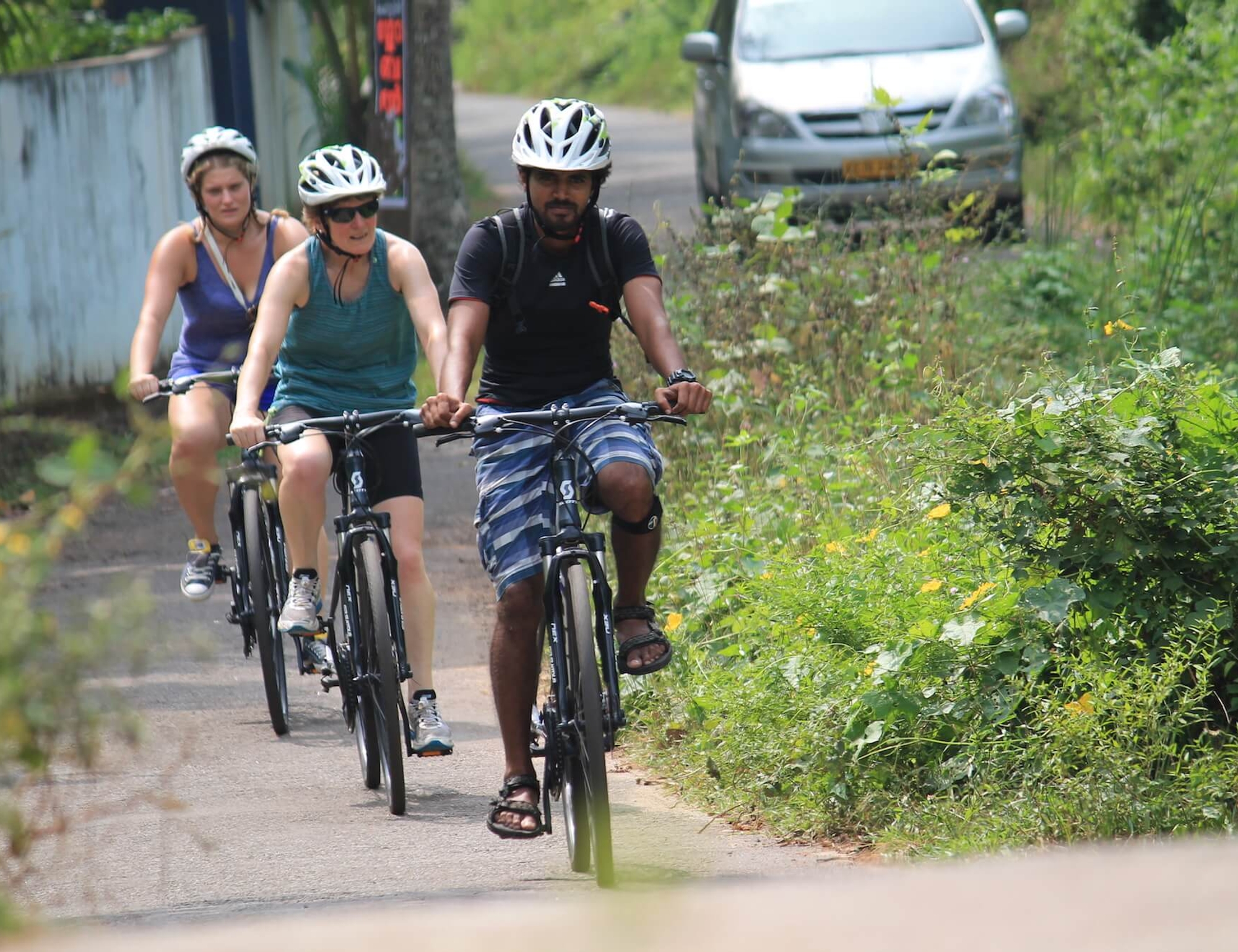 Day 16: Kochi
On the last biking day, ride along the beach road and past fishing villages and numerous Christian churches along the coast towards Fort Kochi, the historical port city in Kerala, once glorified for its spice trade.
The tour support staff will say goodbyes, as you reach Fort Kochi and check-in to the hotel.
Meals:
B, L, D
Cycling Distance:
40km / 24mi*
Accommodation:
Fort House
Day 17: Kochi
Depending on your time in the morning you can explore Fort Kochi and learn more about the history of this old port city.
Please make your arrangements for onward travel.
Meals:
B
Dates and Prices
NOTE:
Our base pricing is in USD. However, we can also quote in AUD, GBP, CAD, and EUR, and you can pay in the same. Please write us.
---
Couldn't find a trip with convenient dates?
Open your date as a join-in tour or customize further as private one.
We offer private departures on almost all our itineraries, and for groups of four or more, they cost the same as our standard trips!
---
Essential Info
Inclusions
LODGING
All hotels as mentioned in the tour details or similar (subject to availability).
trip leader
Expert Trip Leader(s) who look after your every need and add meaning to your vacation.
bike
Immaculately maintained bike with helmet, suited to a terrain.
shuttle
A Van support that follows the group of riders and carries all belongings.
meals
Meals as per itinerary. Guests are given the opportunity to dine on their own so that they discover a location independently.
refreshments
Refreshments and mineral water while cycling.
entrance
Entrance fees to most of the monuments and temples.
E-bikes
E-bikes are available on this trip at a surcharge. Please send a note to your tour consultant to book one.
Bikes
When you have a road and the thrill of a journey ahead of you, it's imperative to have a good bike to enjoy it. Our fleet majorly consists of the below bike as a part of this tour. However, sometimes due to height or availability constraints, we may provide a different but similar quality bike.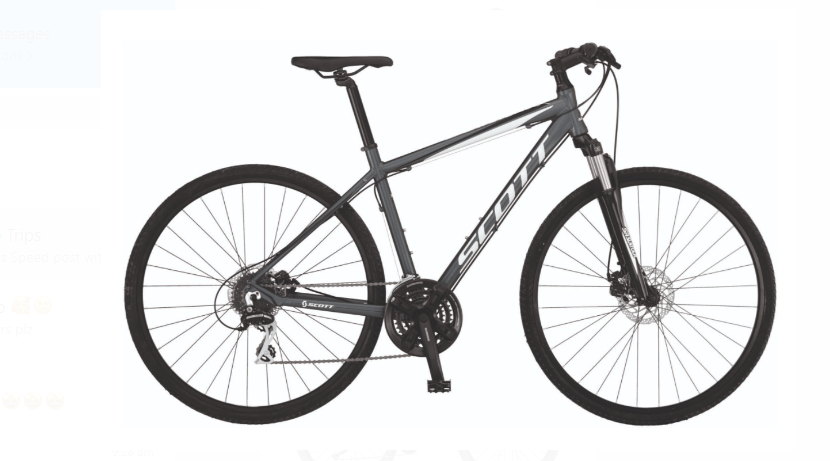 hybrid
Included in your trip price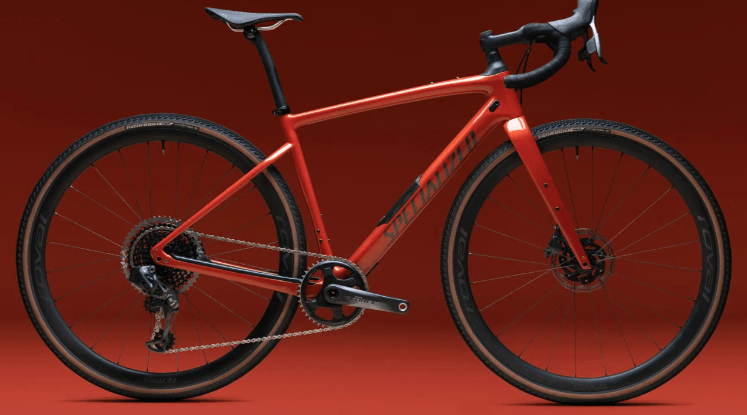 Exclusions
Airport pickup and drop
We recommend to book direclty from airport or hotel.
meals
Some meals may not be included. Please check your itinerary.
Beverages
Beverages such as alcohol, tea, coffee, juice at a hotel or restaurant.
Reviews from our friends
Catherine Fogarty from AU
5.0
a fantastic company
Art of Bicycles is a fantastic company and along with a group of family and friends had a most excellent time in India back in January 2018. Everything was great from the itinerary, accommodation, food but most of all being surrounded by an amazing country. From a bike everything is up close and personal. And there is always the back up vehicle when you need it. A decent level of fitness is definitely an advantage but the Art of Bicycles will move at your pace, create a flexible itinerary and aspire to meet your needs.
The company is great, their support teams are outstanding
I took the Jodhpur-Udaipur bicycle trip in 2012. It was fantastic. That's why, in 2017, I took the Bengaluru-Kochi trip: it was even better cycling. The company is great, their support teams are outstanding, I recommend them to all my friends, I've personally used them twice, and I have a friend who's gone with them three times. Obviously you will have to do your own careful research and decide what's right for you. But I was very happy.
Lisa Valencia-Svensson from CA
5.0
Definitely take a trip with this company
I am still absorbing my wonderful trip with Art of Bicycle Trips, several weeks after it ended, and trying to figure out how quickly I will be able to take more trips with the company. Our guides and drivers were wonderful - fun, friendly, thoughtful, very attentive, they guided me personally up and down some steep hills and adjusted the itinerary to best suit our collective abilities. The places we visited on our Southern India trip were beautiful, serene, bustling, always fascinating, often rejuvenating. The food was beyond delicious, southern Indian flavouring and spices are phenomenal and perhaps without comparison in our world. And who can argue with fresh coconut water, fresh papaya, fresh bananas as cycling snacks! The cycling itself was invigorating. I especially enjoyed building up my uphill abilities day after day, and the gorgeous views that we enjoyed on several days were more than worth the effort. Definitely take a trip with this company!