Northern Vietnam: bike, hike, kayak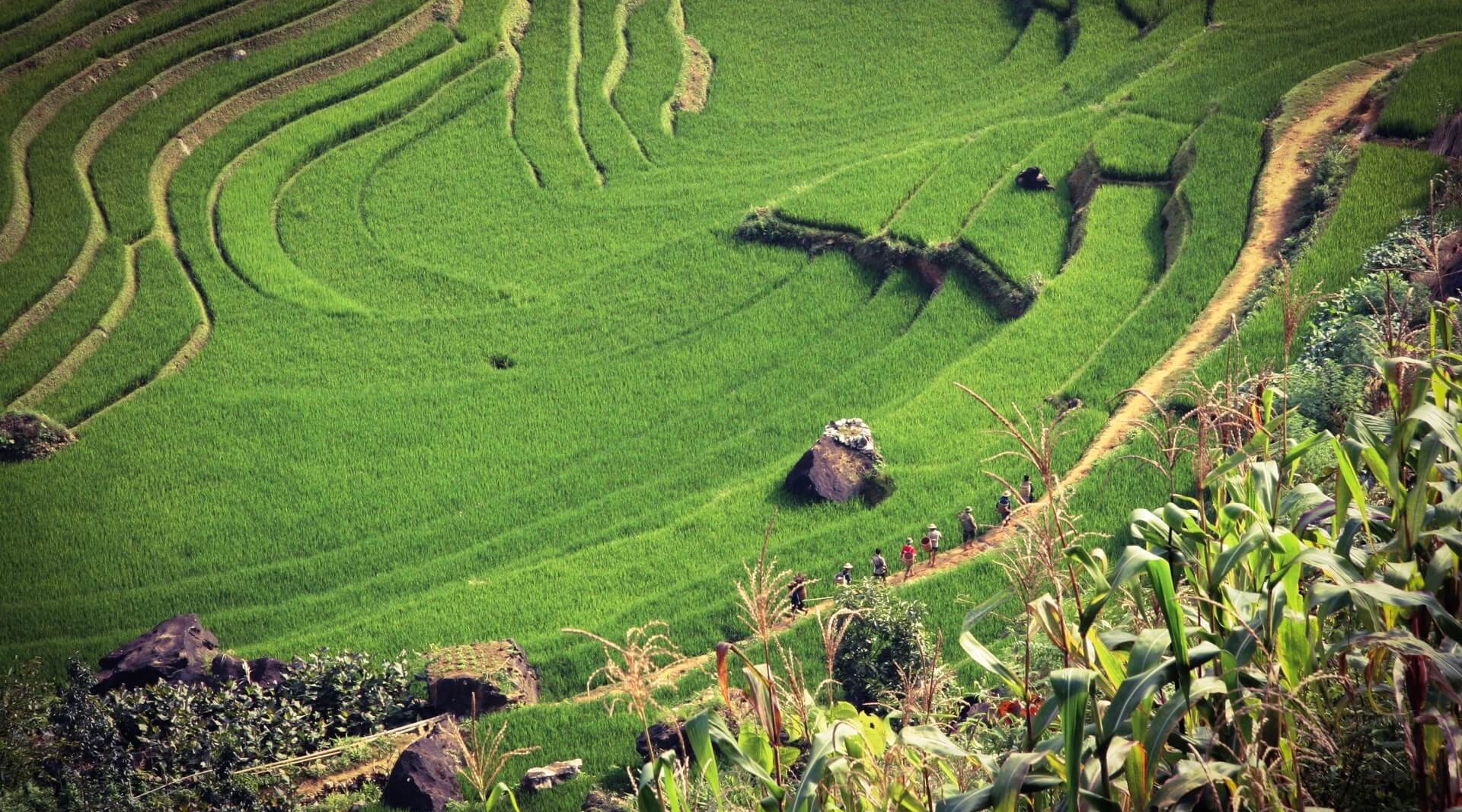 Overview
Bursting with a variety of experiences, Northern Vietnam throws up myriad experiences; deep-rooted culture, verdant surroundings, unique food, and a slice of Vietnam like none other. Experience stretches of biking through Vietnam's spectacular karst mountain ranges and lush valleys, hiking with enchanting views of terraced rice fields, tea plantations, and innumerable streams in and around Vietnam's most popular hill station Sapa, and kayaking in the Halong Bay! The diverse landscape apart, Vietnam's cultural hook is also what intrigues visitors.
This is an excellent way to experience life in Northern Vietnam.
Please note, that the hiking is through minority villages and hence we stay at basic homestays, clean and well-kept.
Avg. dist. cycled
50km or 30mi
Highlights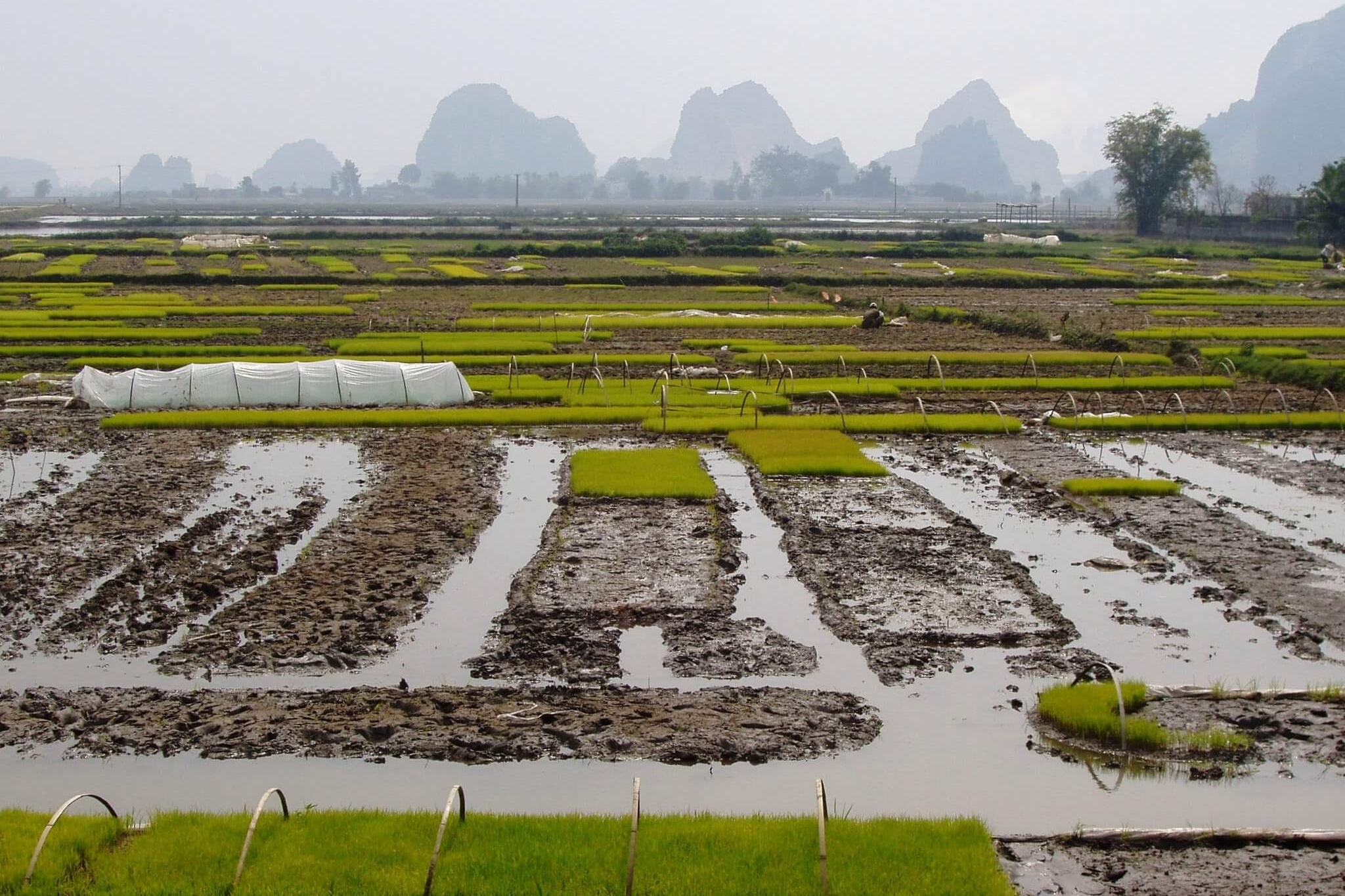 Limestone mountains
The mighty rivers and karst mountain ranges become the focus of the trip
Brief Itinerary
Detailed Itinerary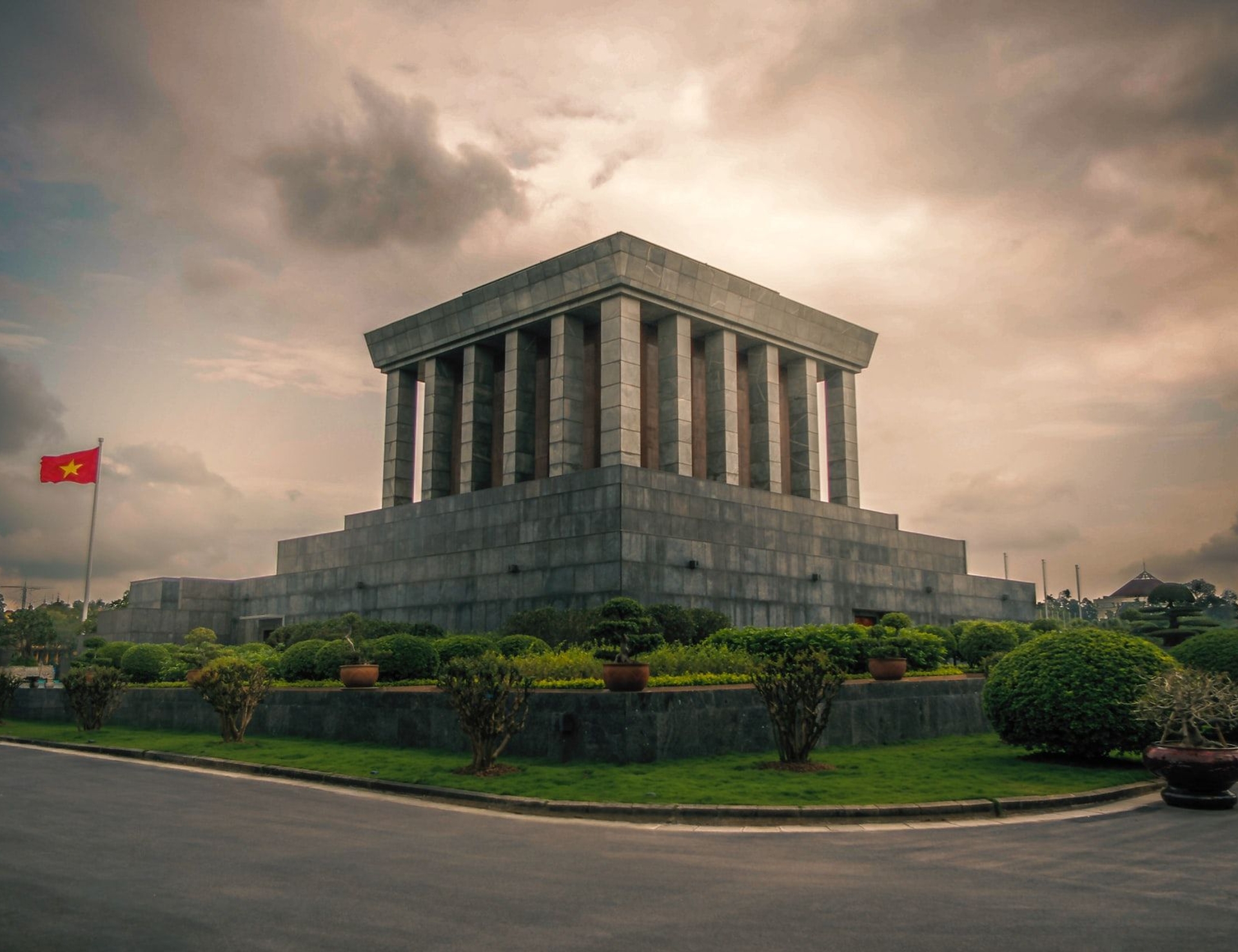 Day 1: Hanoi
Our guide meets you at your hotel at 13:00hrs for a bike fit.
Post that, walk the busy streets of Hanoi visiting some of the cultural and historical highlights of Hanoi. Visit the Ho Chi Minh Mausoleum, One Pillar Pagoda, which was constructed nearly a millennium ago, and is delicately elevated in a pond. Also visit the Temple of Literature, dating back close to a thousand years, is a wonderfully preserved piece of ancient Vietnamese architecture and stands to honor the scholarly achievements of the country's academics and philosophers. Continue exploring the area around Hoan Kiem (Sword) Lake, the old quarter including Ngoc Son Temple, which sits perched on a little island in the lake. In the evening, we convene over dinner.
Meals:
D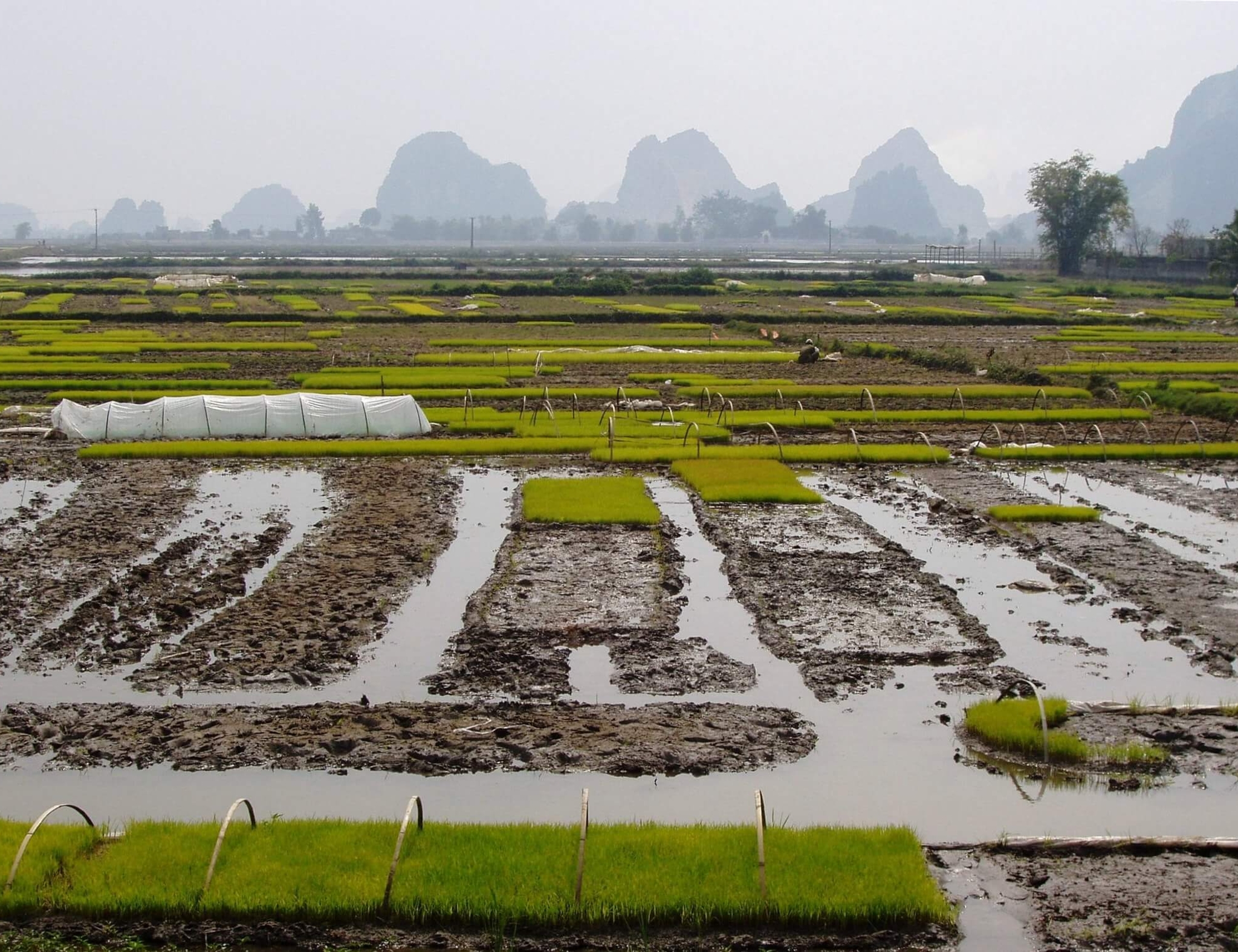 Day 2: Halong City
Ride past the rich farmlands of the Red River Delta before taking a shuttle to Halong City. The river rises in Yunnan province, and flows across the Tonkin region, through Hanoi, and enters the Gulf of Tonkin. We criss-cross the rivers and ride over a multitude of bridges.
Meals:
B,L,D
Cycling Distance:
50km / 30mi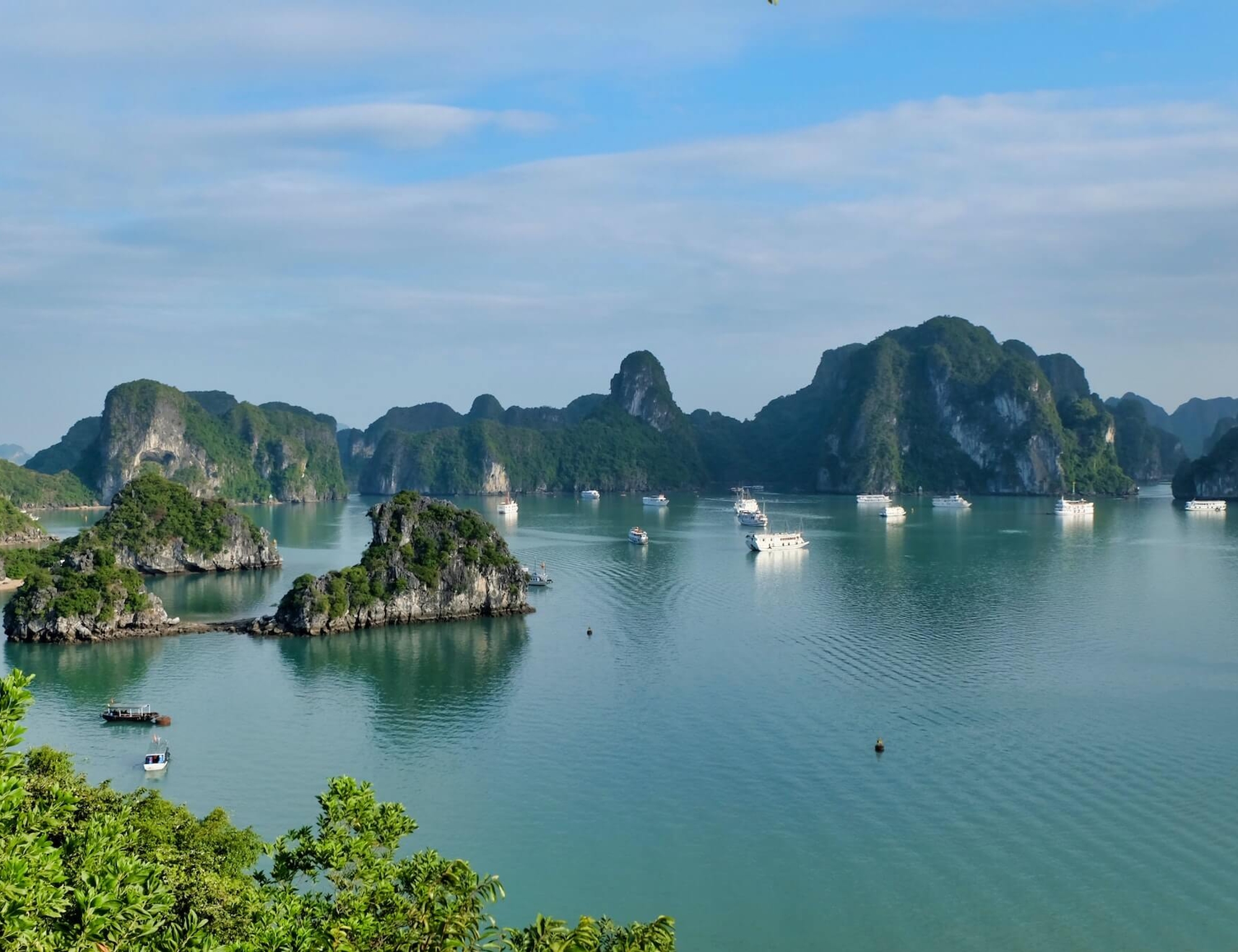 Day 3: Cat Ba Island
A quick ferry journey amidst spectacular limestone mountain scenery brings us to Cat Ba Island. After lunch, get on the bike for a loop around the island. Enjoy the stunning sunset over the limestone mountains.
Meals:
B,L,D
Cycling Distance:
30km / 18mi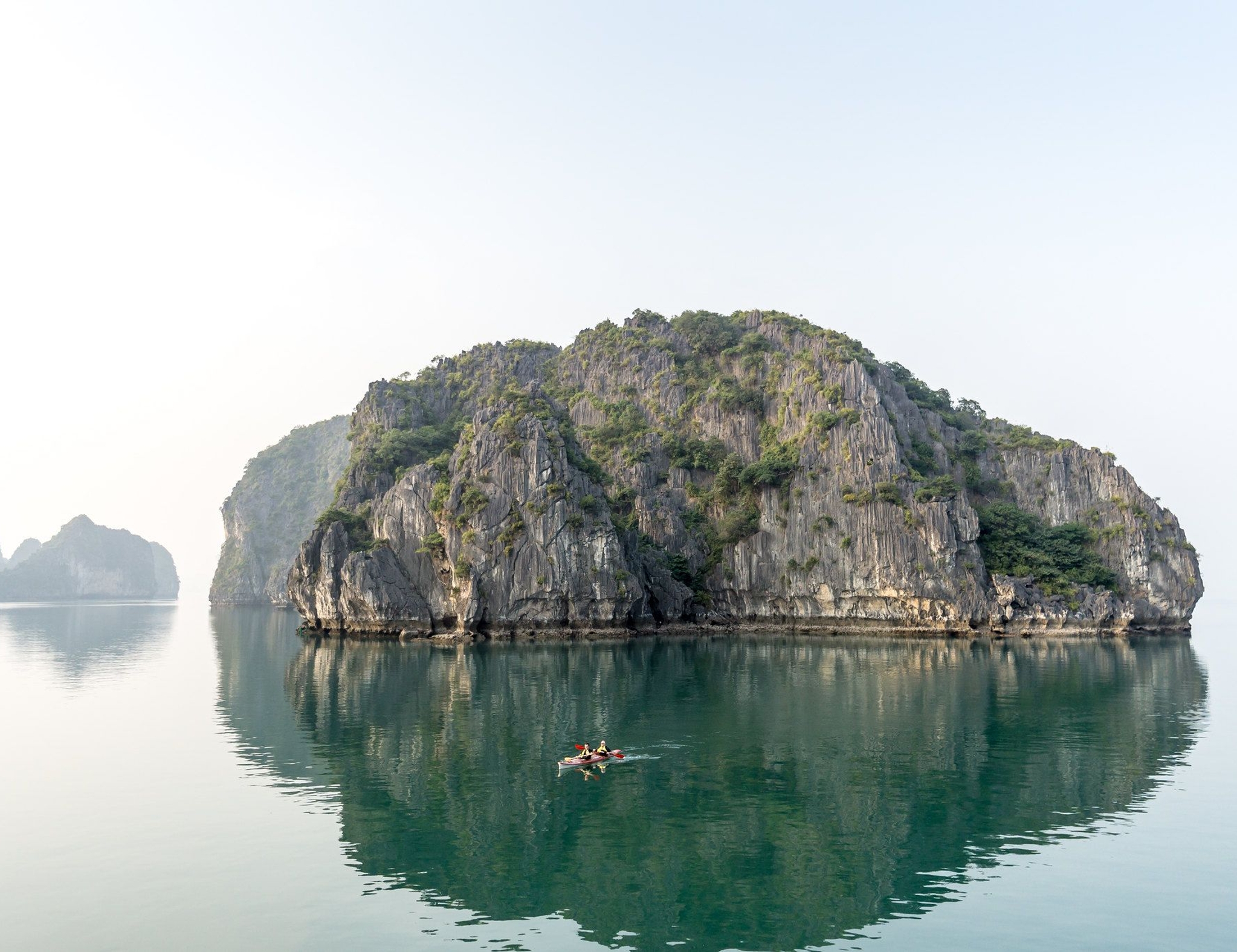 Day 4: Ninh Binh
After a hearty breakfast, get on board a smaller boat and take a journey to the more remote and secluded parts of the Lan Ha Bay waters and islands. Trade your boat with a kayak and explore the lagoons, the coral reef, beaches, and limestone peaks. Ferry back to Hai Phong and shuttle to Ninh Binh. The transfer to Ninh Binh takes about 3 hrs.
Meals:
B,L,D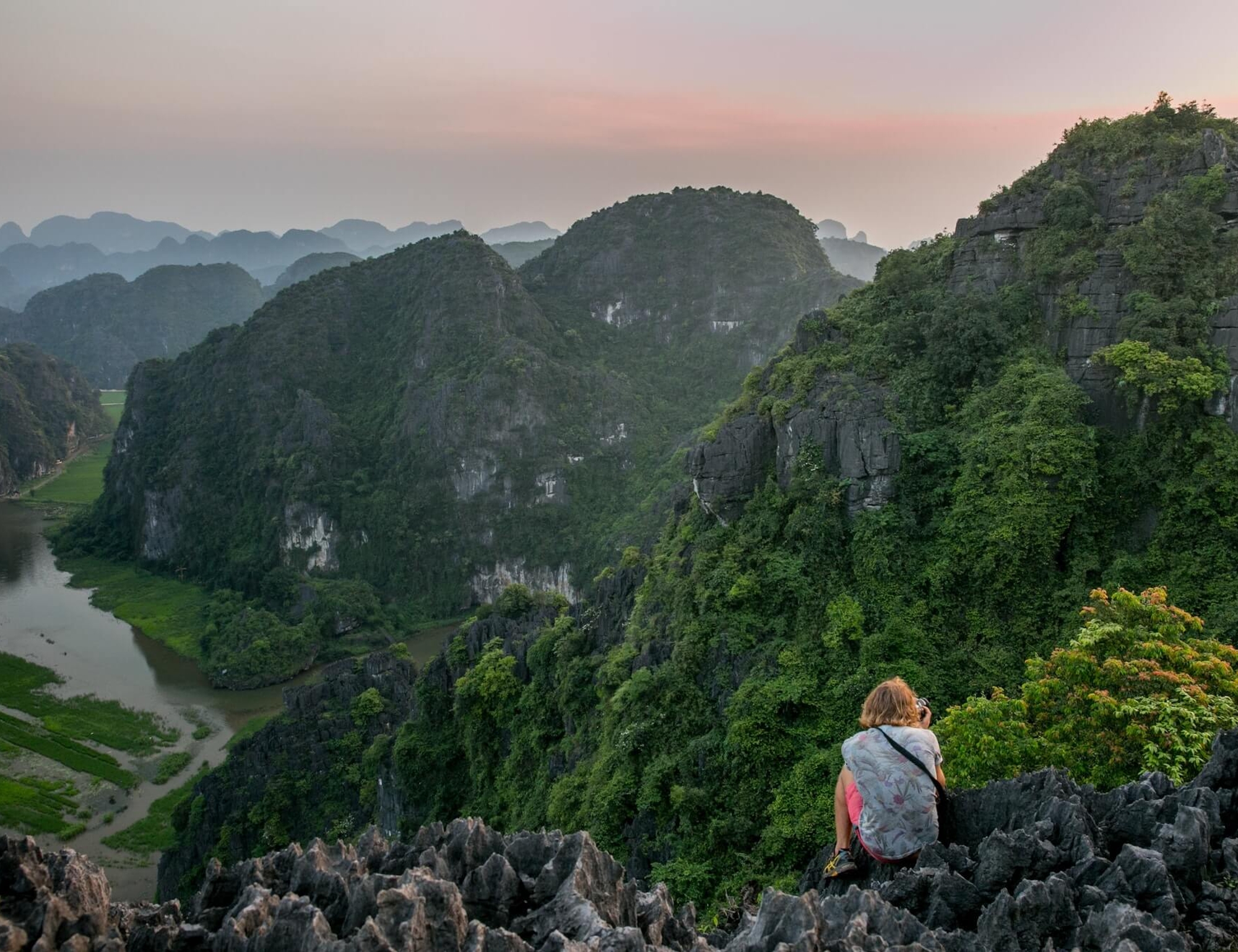 Day 5: Cuc Phuong National Park
A short cycling ride along the river brings us to Trang An, known as Halong Bay on land. The landscape is largely dominated by limestone mountains, rivers, caves, and pagodas. Here we take a boat ride and get to experience the magical scenery dotted with natural and cultural wonders.
We take a break at the ancient city of Hoa Lu for a quick temple tour and then continue riding toward Cuc Phuong National Park through the stunning landscape.
Meals:
B,L,D
Cycling Distance:
40km / 24mi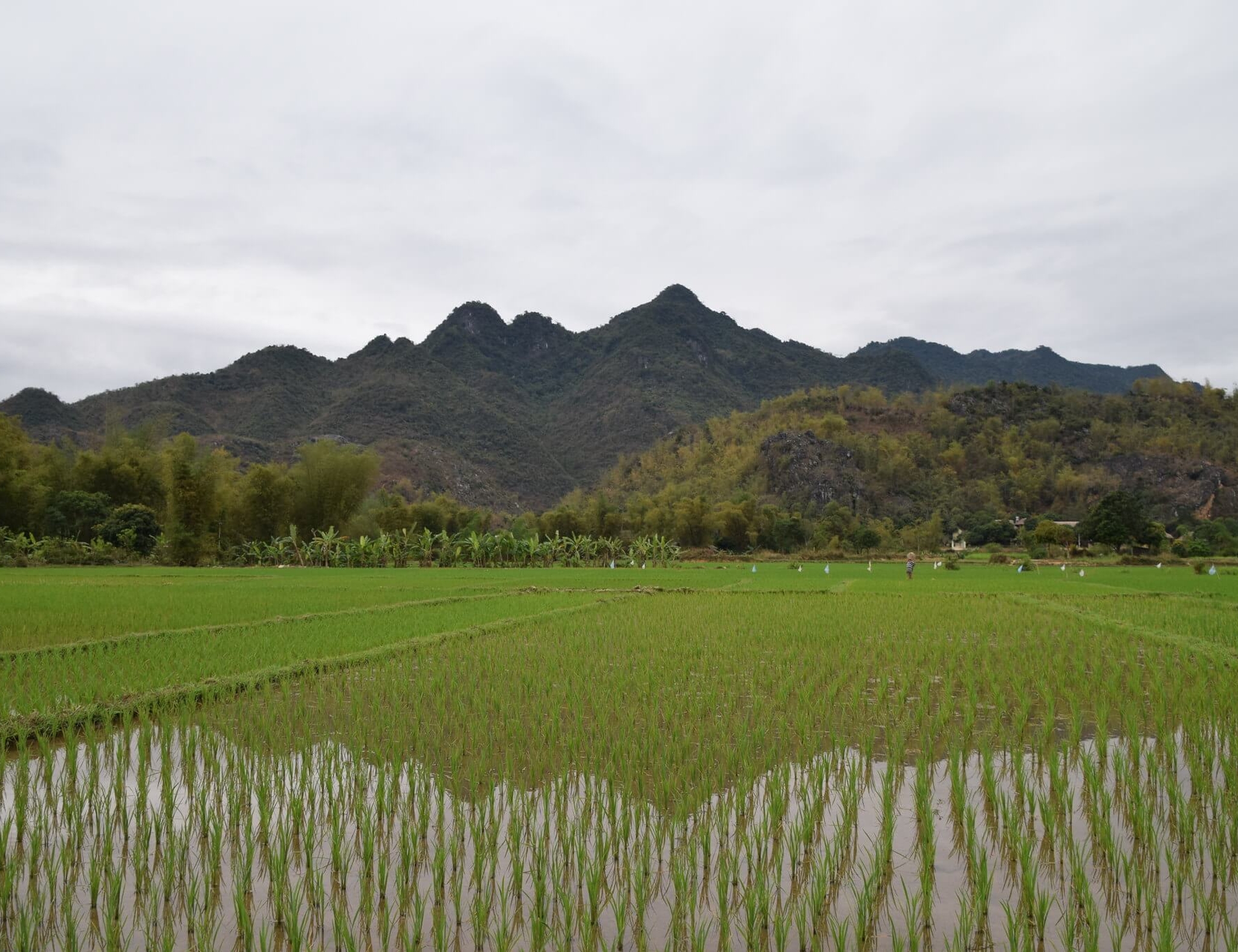 Day 6: Pu Luong
In the early morning hours, visit the Cuc Phuong National Park, an important site for biodiversity in Vietnam
It's a long day interspersed with transfers and rides. We start with a transfer of about 90min to the starting point for our cycling. Unload the bikes and cycle on largely undulating paths. We continue cycling past acacia plantations, sugarcane fields, and corn farms dotted with Thai and Muong Tribes' villages. Arrive in Pu Luong, and check in at a family lodge located in the heart of Pu Luong Nature Reserve.
Meals:
B,L,D
Cycling Distance:
70km / 42mi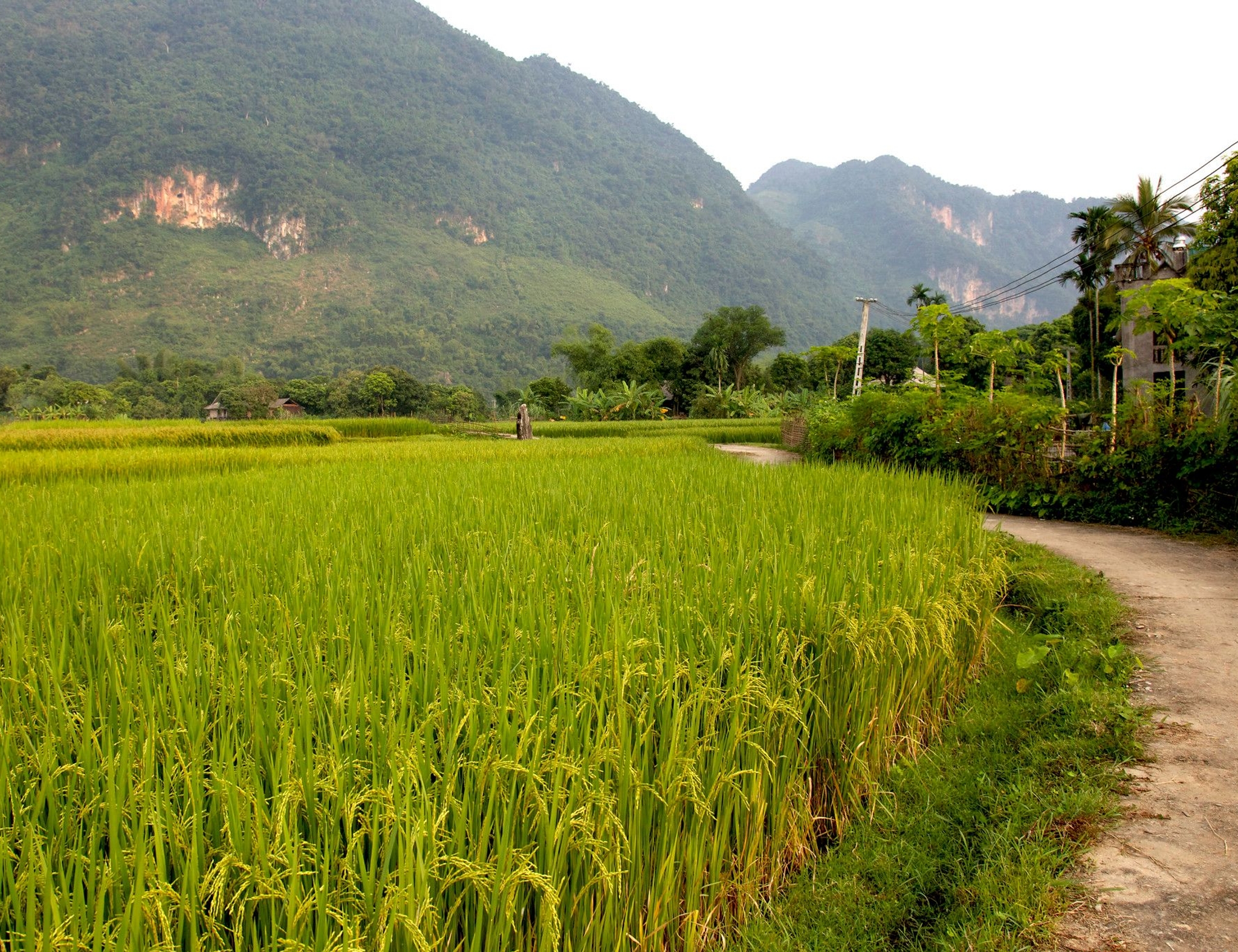 Day 7: Mai Chau
Another day of the undulating ride. Cycle past a spectacular mountain range with karst cliffs, terraced rice fields, and a typical agricultural landscape, ending at the beautiful valleys of Mai Chau. The experience is truly unique as we get to experience a good change in landscape.
Mai Chau is a collection of villages and offers a true rural cycling experience. Do enjoy the evening walking around the valley and admiring simple rural life amidst spectacular scenery.
Meals:
B,L,D
Cycling Distance:
60km / 36mi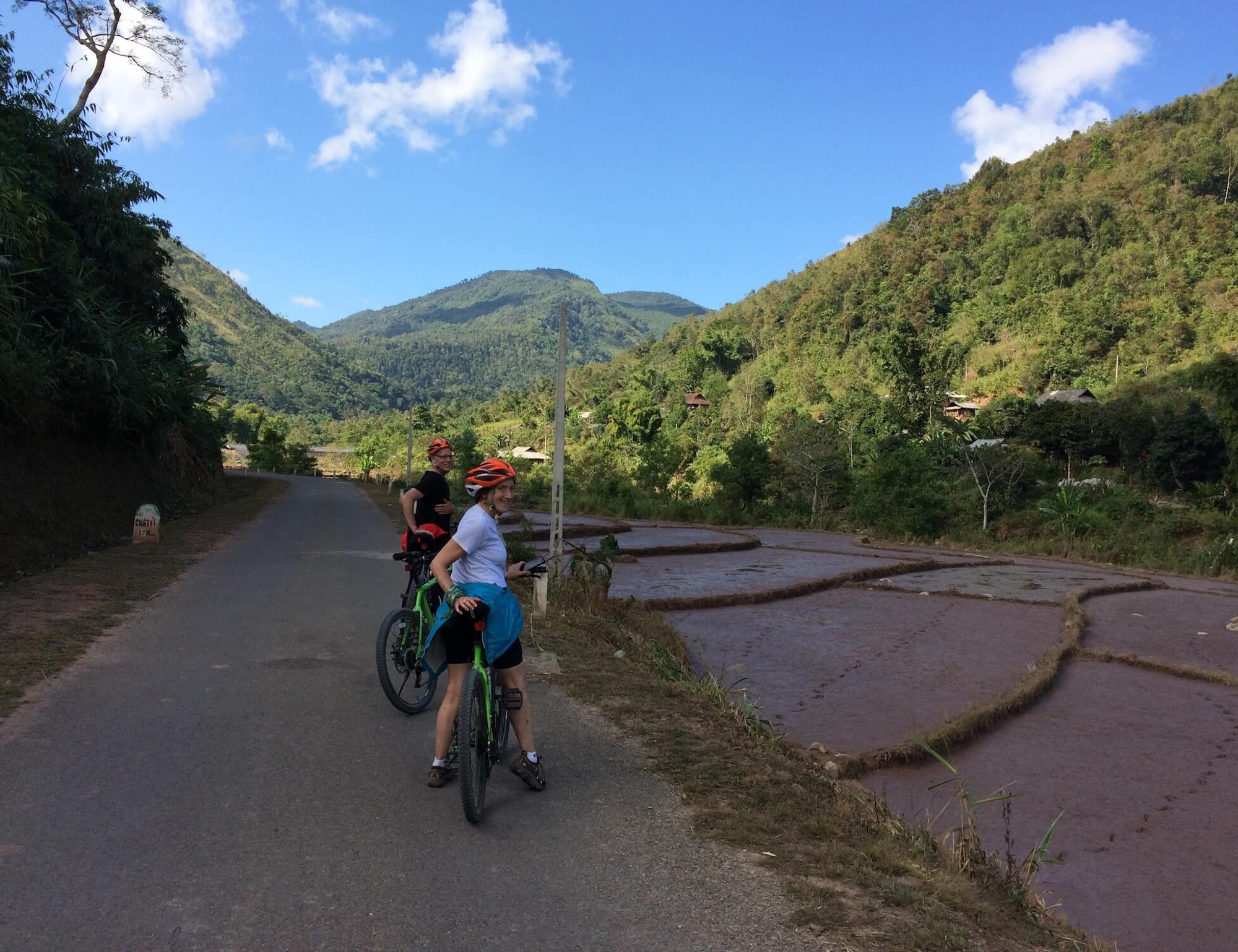 Day 8: Hanoi
The initial stretch has a bit of climb and then it delves down to the foothills of mountains. The topography is adorned with timber and fern trees. After around 45km, we stop for lunch along the Da reservoir and then make a transfer to Ky Son to cycle further along rivers and lakes. The cycling is up to yen Trung and then take a shuttle transfer to Hanoi.
Meals:
B,L
Cycling Distance:
60km / 36mi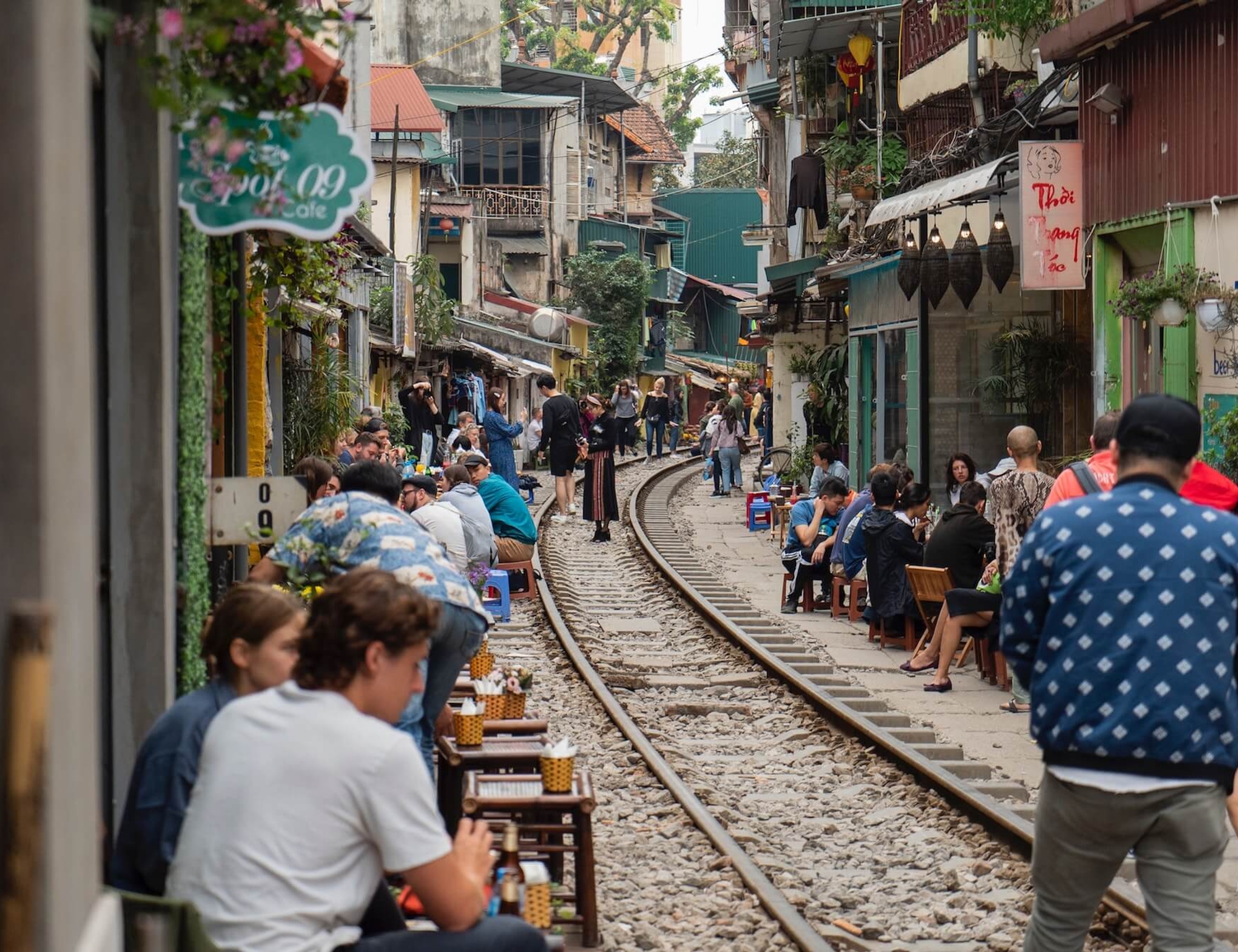 Day 9: Overnight Train From Hanoi To Lao Cai
Today is a rest day and you can plan your own day.
In the evening, we take an overnight train from Hanoi to Lao Cai.
Meals:
B
Day 10: Sapa
Meet your tour guide at Lao Cai railway station and get transferred to Sapa. Sapa is a spectacular hill station and home to the region's largest ethnic groups, H'mong and Dao people.
After having breakfast at a local restaurant, we drive out of Sapa to Binh Lu town. On the way, enjoy a short break at the Silver Waterfall and then head to Tram Ton Pass (Heaven Gate), and be amazed by breathtaking views of the surrounding mountains including Mt. Fansipan, the highest peak of Indochina reaching 3143metres above sea level. Continue driving downhill to Chu Va village of the Red H'mong. Walk for an hour to visit this village which beautifully sits near the foot of the pass by the side of a river before continuing 8 km to Binh Lu. The hike is rewarded with enchanting views of terraced rice fields, tea plantations, and innumerable streams. After lunch, take a short shuttle of 2 km through the lush Binh Lu Valley to Pa Pe village of the Lu ethnic people who wear beautiful traditional costumes and still dye their teeth black. The rest of the afternoon is for exploring villages of the tribal peoples in the countryside including the Black Zao and Zao Tien (Zao with coins) and enjoying a peaceful walk to see a tea farm in the suburb of Lai Chau. Later we return to Sapa.
Meals:
B,L,D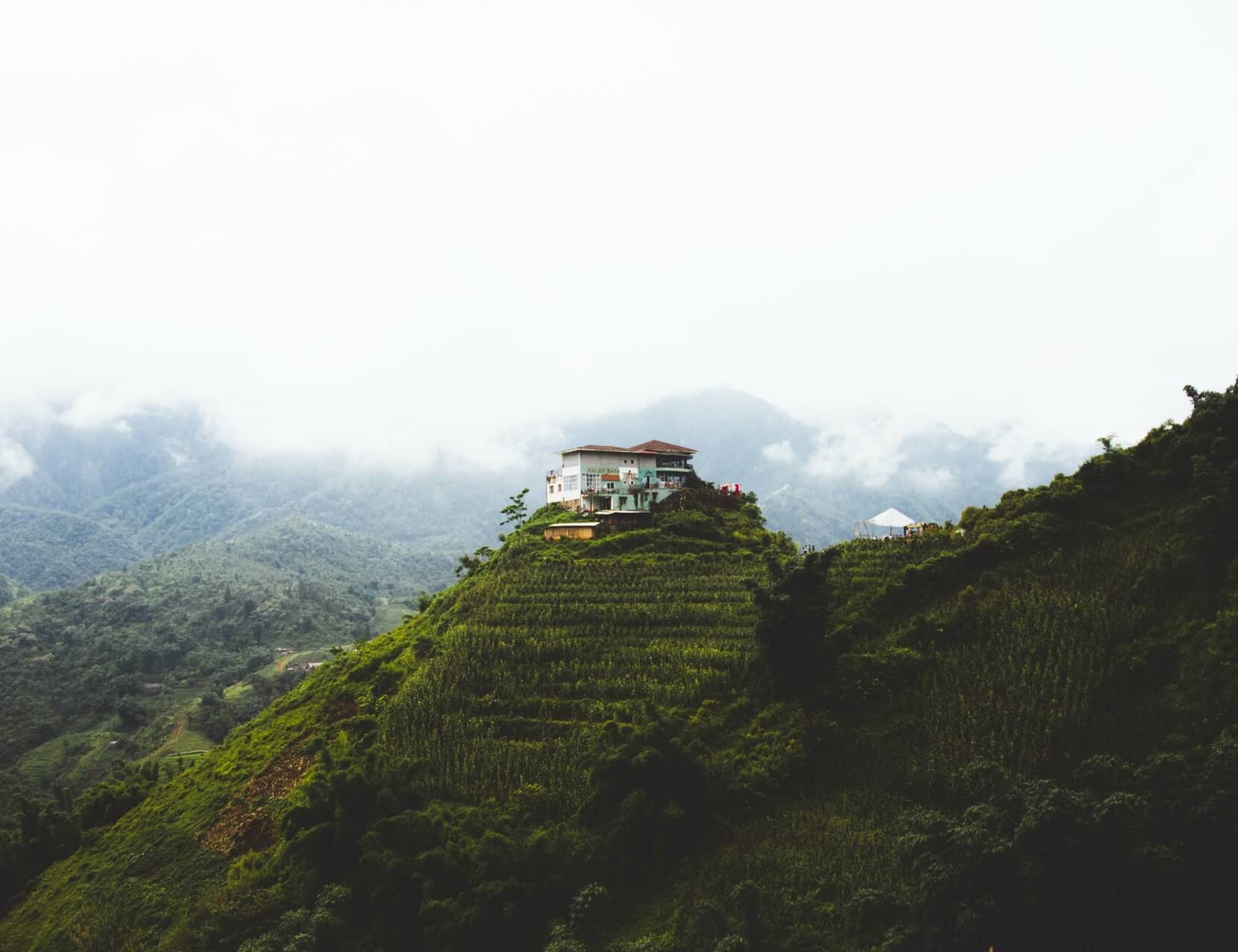 Day 11: Ta Van
Today enjoy a full-day hike of about 12km (7mi) exploring the spectacular Muong Hoa towards the Lao Chai village of Black H'mong ethnic people. Here, we get to learn about their fascinating culture and daily chores and how they make traditional clothes, and handicrafts. Visit the biggest valley which provides the best views of golden rice terrace fields in Vietnam. After Lao Chai, we walk to Ta Van village of Giay people. It is a small group of ethnic people in Vietnam with a rich culture and beautiful houses located on rice paddy fields. The scenery is spectacular throughout the day and gives an opportunity for plenty of landscape photos. Dinner and overnight at homestay with a local family in Ta Van village.
Meals:
B,L,D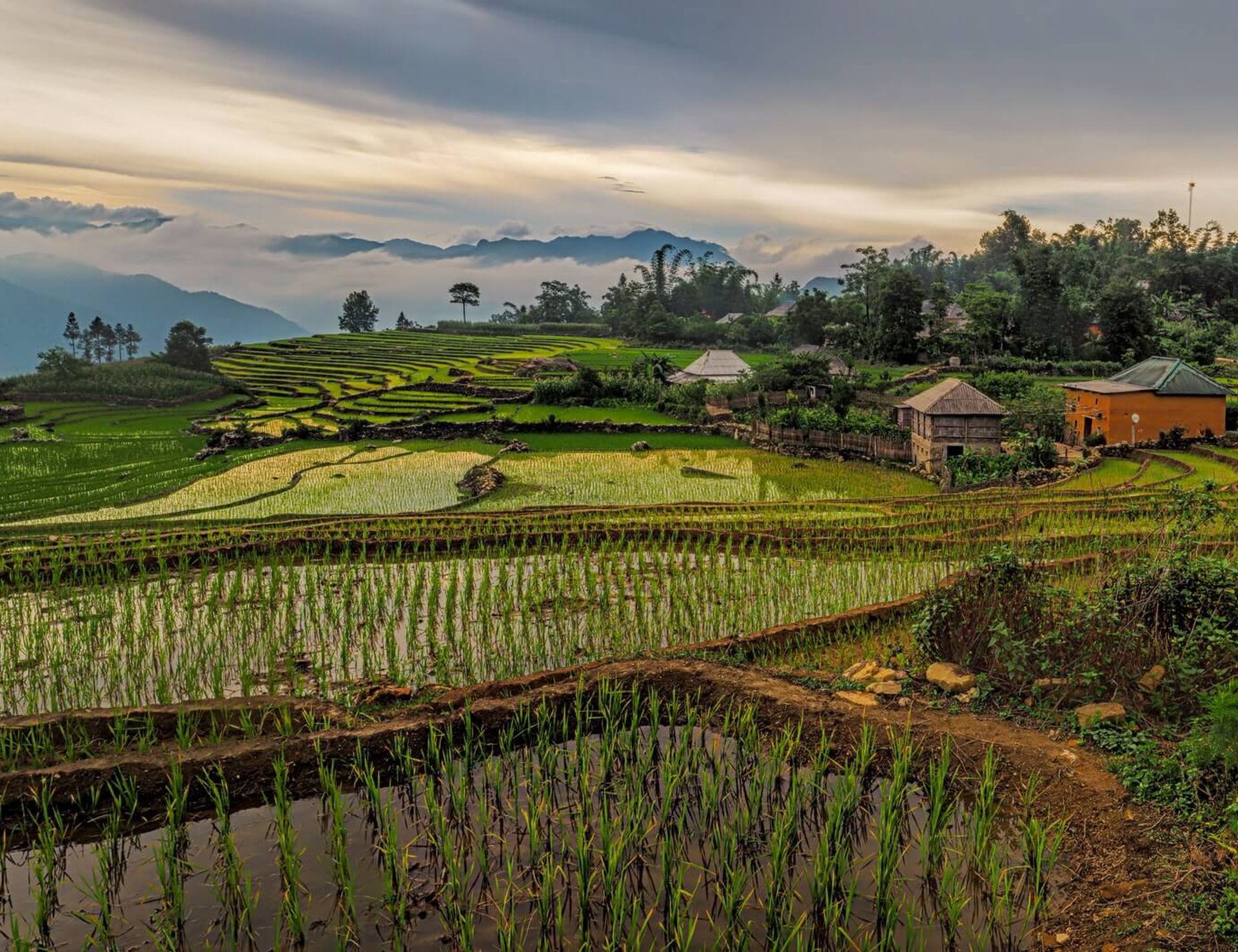 Day 12: Ban Ho
Today hike past terraced rice fields, and a typical agricultural landscape, ending at the beautiful valleys of Ban Ho village. Enjoy the pristine Lavie Stream, the Ca Nhay Waterfalls, and the tranquility of Ban Ho.
Meals:
B,L,D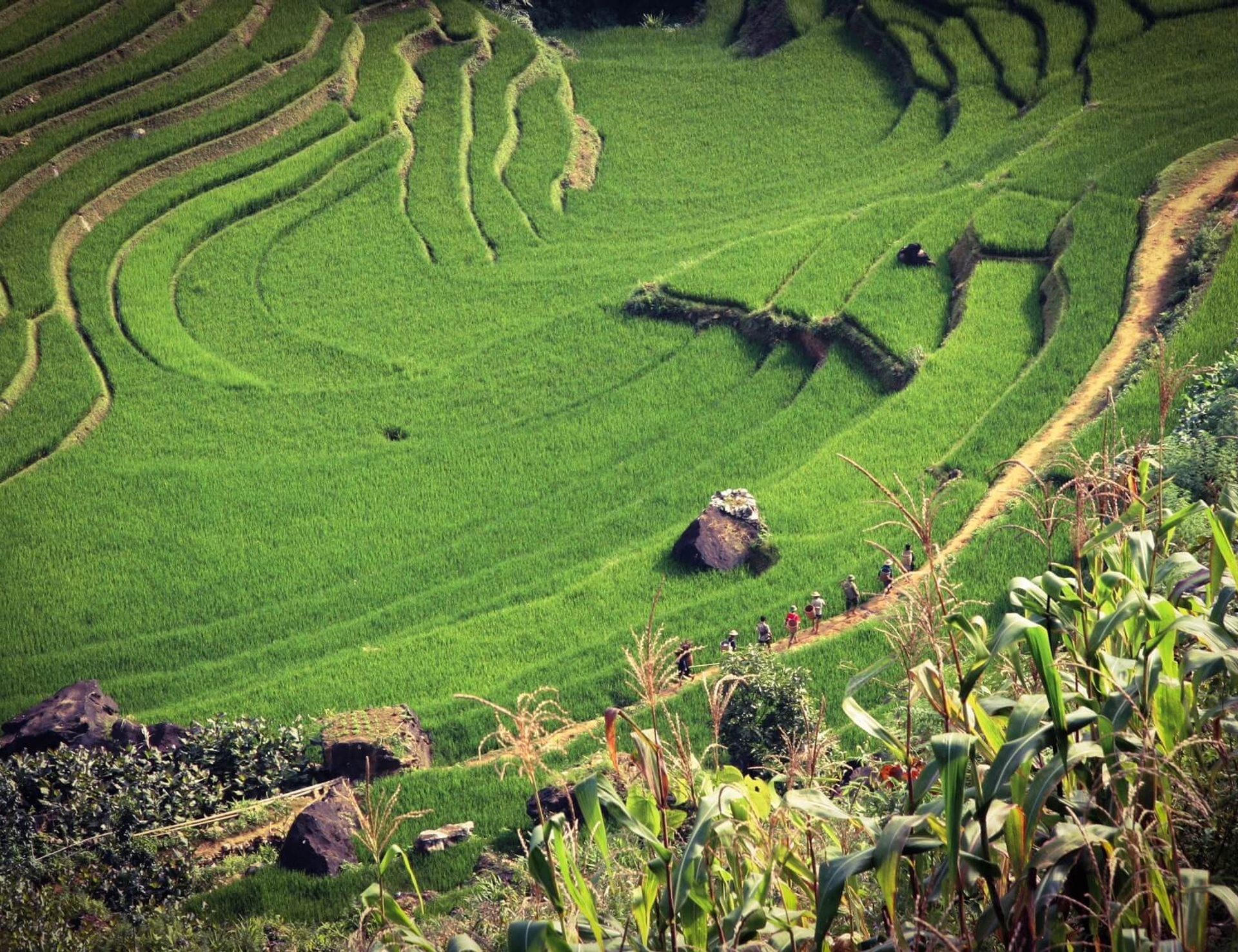 Day 13: Hanoi
Today we go for another short hike in the surroundings. The scenery is again typical of mountain villages, with stilt houses, streams, waterfalls, terraced fields, and ethnic villages. Post-lunch, we shuttle back to Hanoi. The transfer takes about 5 hours and we aim to reach Hanoi by 7 pm.
Meals:
B,L
Day 14: Hanoi
Please make arrangements as per your onward travel plans.
Meals:
B
Ready to plan your adventure? Download a print-ready detailed itinerary.
Map
Dates and Prices
Members get an estimated 10% off on this trip.
---
$50/yearLearn more
Single Supplement
From US $500
E-Bike Upgrade
From US $100
---
Couldn't find a trip with convenient dates?
Open your date as a join-in tour or customize further as a private one.
---
Essential Info
Inclusions
LODGING
All hotels as mentioned in the tour details or similar (subject to availability).
trip leader
Expert Trip Leader(s) who look after your every need and add meaning to your vacation.
bike
Immaculately maintained bike with helmet, suited to a terrain.
shuttle
A Van support follows the group of riders and carries all belongings.
meals
Meals as per itinerary. Guests are given the opportunity to dine on their own so that they discover a location independently.
refreshments
Refreshments and mineral water while cycling.
entrance
Entrance fees to most of the monuments and temples.
E-bikes
E-bikes are available on this trip at a surcharge. Please send a note to your tour consultant to book one.
Exclusions
Airport pickup and drop
We recommend to book direclty from airport or hotel.
meals
Some meals may not be included. Please check your itinerary.
Beverages
Beverages such as alcohol, tea, coffee, juice at a hotel or restaurant.
Bikes
When you have a road and the thrill of a journey ahead of you, it's imperative to have a good bike to enjoy it. Our fleet majorly consist of the below bikes as a part of this tour. However, sometimes due to height or availability constraints, we may provide a different but similar quality bike.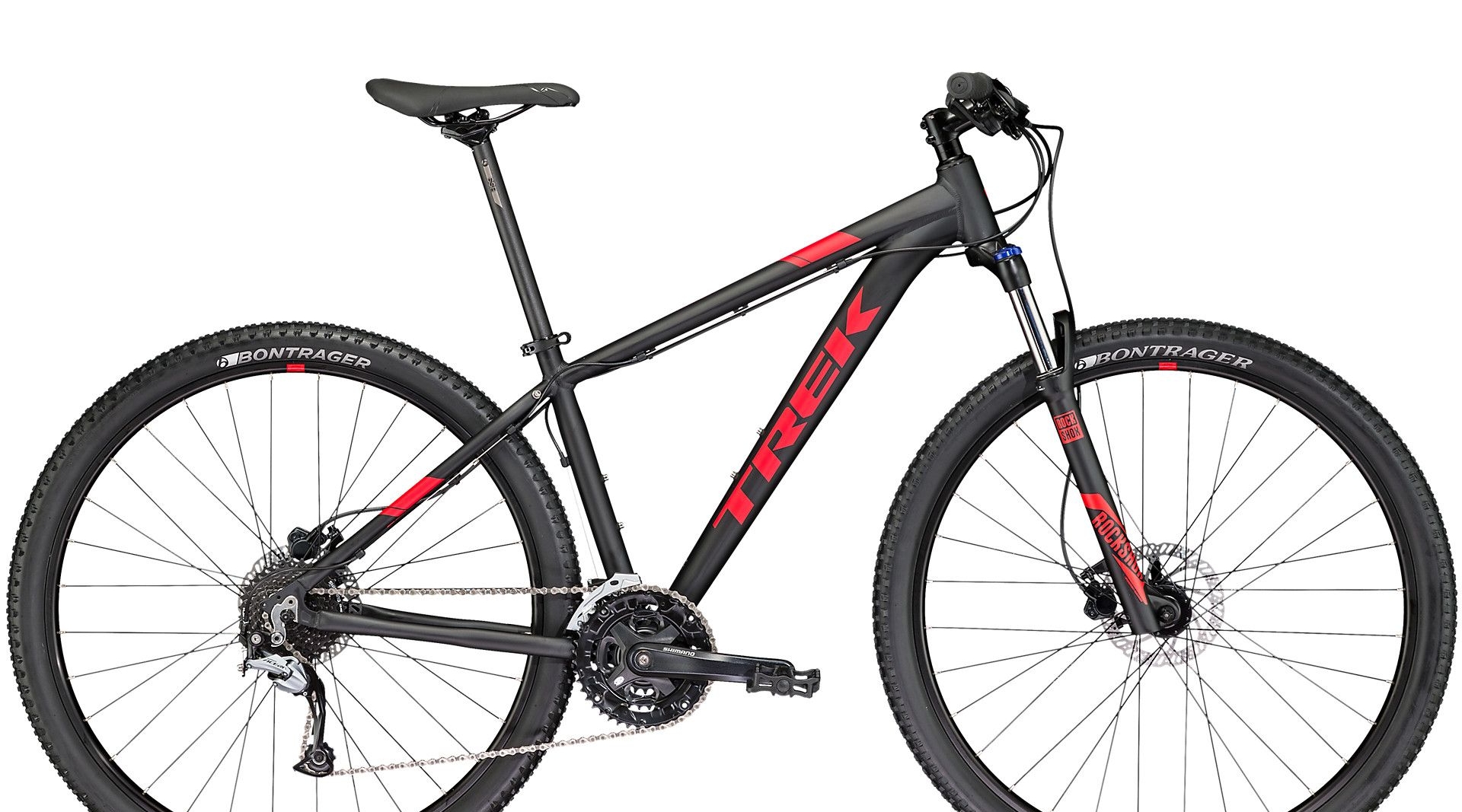 mountain
Included in your trip price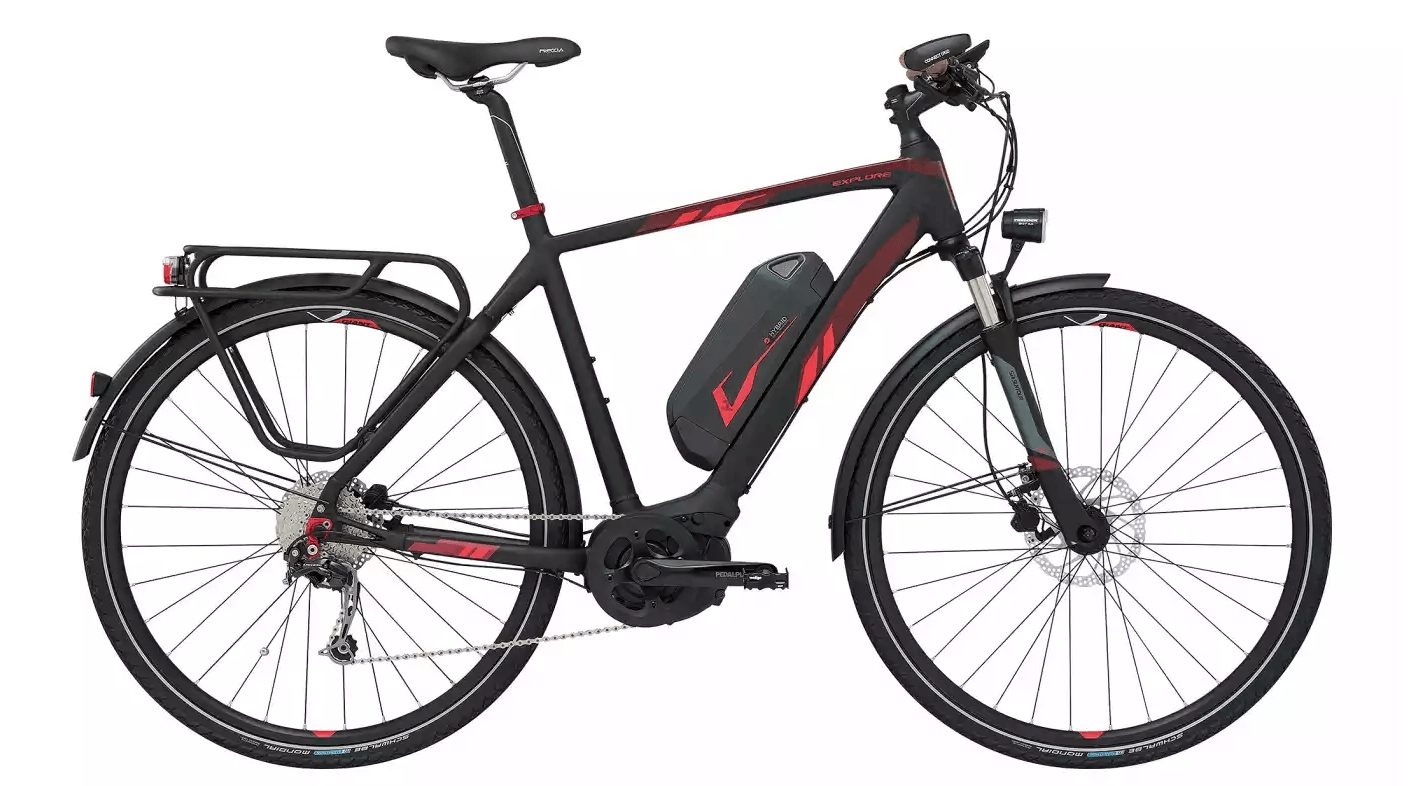 Weather
Like most tropical regions, Vietnam has hot summers, mild pleasant winters, and an extremely wet rainy season. Being located in the northern hemisphere, the best season for cycling in Vietnam is generally from September to May, with regional variations as described below:
Northern Mountains – Sapa, Ha Giang: The cycling season in the northwestern mountains of Vietnam runs from September to June. December and January are cold with light showers, and travelers need to prepare accordingly. July and August are a no-go in this region as the floods season in Sapa often coincides with the rainy season of the North. The peak is in July and August, and the rains appear with storms causing floods.
North Vietnam – Hanoi and Halong Bay: The cycling tour season in this region runs from October to May. December and January can be cold with occasional rainfall. May to October is hot, with heavy rain in the months of August and September.
Visa
Residents from a number of countries have visa exemption status for tourist visits to Vietnam. For a full list of up-to-date visa-exempt countries, see the Vietnam Foreign Affairs website.
Starting August 15, 2023, the Vietnam government will start offering an e-visa valid for up to 90 days with multiple entries, replacing the current 30-day, single-entry option. Furthermore, passport holders from Denmark, Finland, France, Germany, Italy, Japan, South Korea, Russia, Spain, Sweden, and the United Kingdom will benefit from an extended visa exemption period of 45 days, up from the current 15 days. Eligible foreign nationals will either benefit from a longer duration of stay and greater flexibility with the extended e-visa validity of up to 90 days and multiple entries, or enjoy an extended visa exemption period of 45 days.
e-Visa – You can apply for an e-visa through the government website, then, once approved, simply print it out and present it upon arrival in Vietnam. The additional benefit of the e-visa is that it's valid at land borders, not just airports. The processing time ranges from 2 to 7 working days. We recommend applying 2 weeks in advance to avoid unexpected delays. Read more about tourist e-visas for Vietnam at the Vietnam Immigration portal and apply there.
While applying online for an approval letter, please ensure that you have the following documents:
Passport scanned copy: A scanned copy of your passport - front (main) page. It shouldn't be a mobile photo or a photo taken from a laptop. Strictly scanned copy done through a computer scanner.
Passport size photo: portrait photo (4*6 size, colored photo, white background, straight looking without glasses). A photo taken from a mobile or laptop may or may not work, so I would strictly advise getting one made through a nearby photo studio (retail shop) that specializes in taking photos for visas.
Here is an excellent resource on Vietnam visas that may be worth looking at.
Reviews from our friends
We loved this trip
We loved this trip. We cycled for 1 week with a brilliant guide and excellent van back up.The second week we hiked with another equally excellent guide. Both took us through amazing scenery and taught us so much about the history, flora, and fauna of this beautiful country. We sampled delicious local food and stayed in a great variety of accommodation along the way. This was booked as a special holiday for us celebrating our retirement. It exceeded all expectations and we would highly recommend this company
great cross-section of experiences
This itinerary provides a great cross-section of experiences in north Vietnam. All the highlights are covered, and with your own personal guide, you'll see the country and people up close and first hand. Be aware that the homestay portion, spending time amongst the village people, includes very primitive, food, and lodging. Would not appeal to everyone.
Wonderful Two Week Experience
Wonderful two week experience of Vietnam Halong Bay and mountains. Biking 40-60km day, a couple of days hiking and a day kayaking, with plenty of time to relax and explore. Highlights include watching the sunrise from Halong Bay, hiking in Sapa valley, and cycling through Mai Chau valley. Knowledgable guides and good minibus support made the daily routing comfortable. Thank you for such a well designed, superbly led trip.