Bhutanese Dragon Bike Tour
---
Overview
With an unmatchable 'blueness' in the sky and wonderfully unique vistas of lofty mountains, monasteries perched on hilltops and bright windows adorning white-washed 'Dzong like' houses, Bhutan is nothing short of a topographical wonder! Looking at the surreal landscape around you, you will certainly be gasping from something other than the altitude. Surrender to the warm hospitality and savour your surroundings.
Avg. dist. cycled
50km or 30mi
Highlights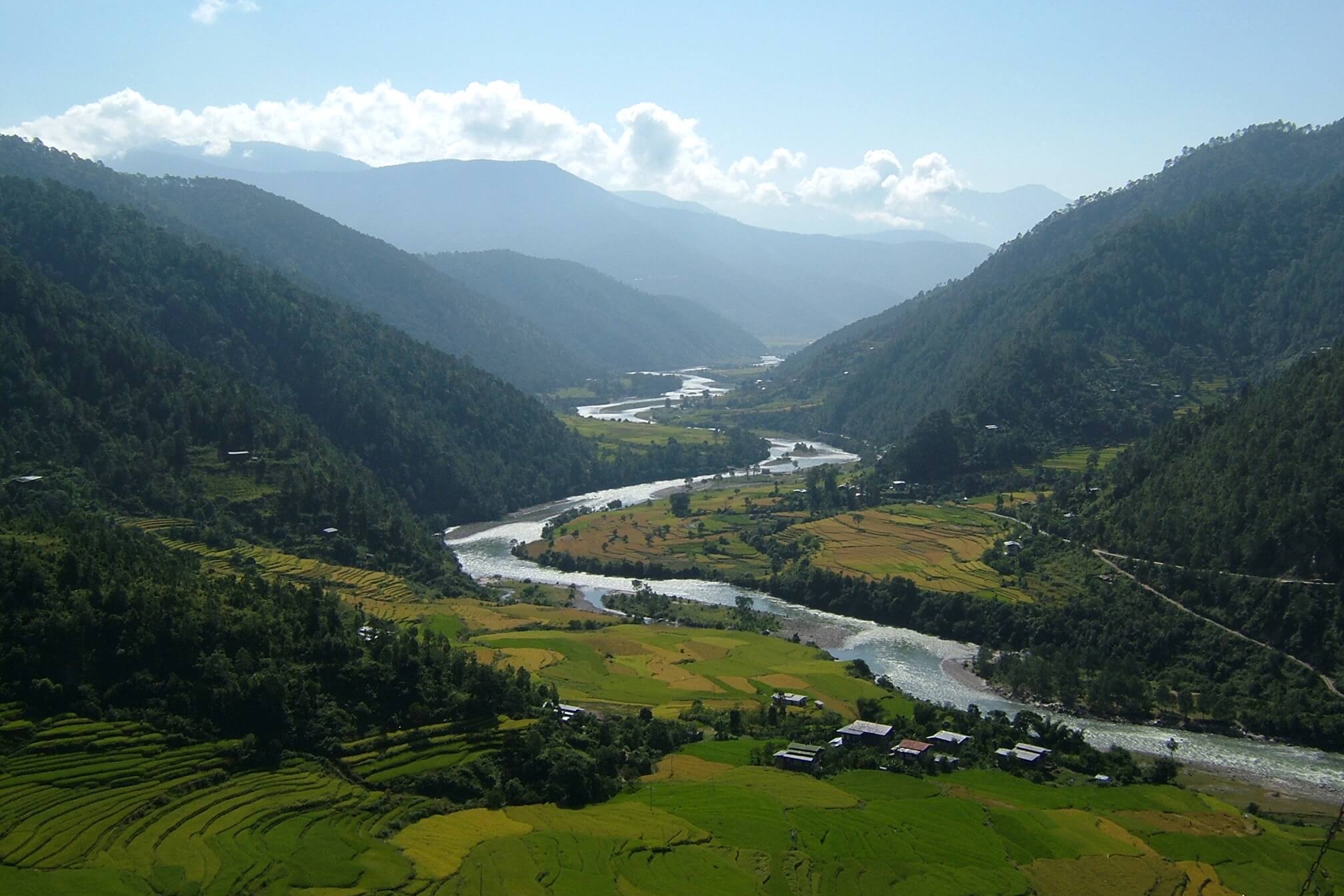 diverse topography
Soak into the stunning and dramatically diverse topography of Bhutan and regions around
Itinerary
DAY 1
Thimphu (~2,400m)
L,D
Day 1: Thimphu (~2,400m)
Enjoy a flight to Bhutan over a stack of snow-topped mountains for a large part of journey. Pray for a clear sunny day for a stunning view!
We meet at the Paro airport and drive to Thimphu and have a relaxing evening.
DAY 2
Thimphu
B,L,D
40km/24mi*
cycling
Day 2: Thimphu
We warm up with a short ride around Thimphu. Visit museums, textile weavers, post office, markets and watch archery at the stadium. After lunch, ride up north on tarmac roads passing through Thimphu's various residential neighbourhoods and surrounding villages. On the way back, visit the Changangkha Lhakhang and Trashichhodzong Fortress, a fine example of Bhutan's rich architecture that holds the office of His Majesty the King and the Prime Minister.
DAY 3
Punakha (~1,300m)
B,L,D
65km/39mi
cycling
Day 3: Punakha (~1,300m)
We take up with a bit longer ride to balmy Punakha over the mountains. The route takes us through apple orchards and pine forests and passes through Dochu La Pass (3,140m). The landscape changes dramatically from here to rhododendron forests and fir. We stop by for a lunch here and admire stunning views all around.
A long descend from here takes us to Punakha, a picturesque settlement where we can see small stands of apple orchards and locals busying themselves over farmlands.
Time to rest well and gear up for some serious cycling ahead!
Elevation Gain: 940m
DAY 4
Punakha
B,L,D
30km/18mi
cycling
Day 4: Punakha
Today, enjoy a beautiful countryside ride visiting ancient fortresses, suspension bridges, paddy fields, temples and a school. Soak your feet in the glacial rivers over a picnic lunch.
Post-lunch visit Punakha Dzong. Sitting majestically at the confluence of Pho Chhu and Mo Chhu rivers.
DAY 5
Phobjikha Valley (~3,000m)
B,L,D
70km/42mi
cycling
Day 5: Phobjikha Valley (~3,000m)
The topography changes drastically from lush valley to wetlands over the Nobding valley. Along the way, cross Lha Wang La Pass for a glimpse of Phobjikha Valley. This area is known for black-necked cranes. Wild boars, sambars, Himalayan black bears, leopards and red foxes are also there in surrounding hills.
Undisputedly, this is the most spectacular valley during the ride.
Elevation Gain: 2,000m
DAY 6
Phobjikha Valley
B,L,D
30km/18mi
cycling
Day 6: Phobjikha Valley
Phobjikha valley is a paradise for bikers and today enjoy a ride on beautiful single-track trails that traverses through pine-forests festooned with prayer flags and overlooking the bowl-shaped marshland and meadows. Visit the famous Gangtey Gompa monastery and the Black-necked Crane Information Centre on the way.
DAY 7
Trongsa (~2,200m)
B,L,D
50km/30mi
cycling
Day 7: Trongsa (~2,200m)
Today we ride to Trongsa past gorges, meadows and through snow bound passes connecting east to west of Bhutan. The town is based on a steep ridge and commands spectacular views of the valleys.
Visit Trongsa Dzong, a spectacularly sited dzong, situated atop a steep ridge with a sheer drop into the clouds on its other side.
DAY 8
Bumthang Valley (~2,800m)
B,L,D
50km/30mi
cycling
Day 8: Bumthang Valley (~2,800m)
Get ready for a tough yet rewarding day and ride to Bumthang valley comprising of Chokhor, Tang, Ura and Chhume valleys. It's a long switchback route today with Yutung La Pass at 3,400m.
Elevation Gain: 800m
DAY 9
Bumthang Valley
B,L,D
cycling
Day 9: Bumthang Valley
Today you can plan your own day. Spend day at leisure or take a stroll around the Valley. Visit Kurjey Lhakhang, Jakar Dzong and Tamshing Lhakhang.
DAY 10
Bumthang Valley
B,L,D
45km/27mi
cycling
Day 10: Bumthang Valley
Ride to Ura Valley over the Shertang La Pass. Post-lunch, we drive back to Bumthang Valley.
Elevation Gain: 940m
DAY 11
Paro (~2,200m)
B,L,D
cycling
Day 11: Paro (~2,200m)
Enjoy a gorgeous flight to Paro and later explore on foot and hike up to the Tiger's Nest, which overlooks the town from its perch on a sheer hill. The 17th century monastery is a perfect place to get a breathtaking bird's eye view of the region. Lovely Kyichu Lhakhang, is another monastery worthy of your time.
DAY 12
Haa Valley
B,L,D
50km/30mi
cycling
Day 12: Haa Valley
Take the switchback road to get that blood pumping over the Cheli la Pass; that panoramic views from Haa will be highly rewarding.
Elevation Gain: 1,500m
Day 13: Paro
Descend to the Paro and later visit Paro National Museum followed by Rinpung Dzong. Enjoy the evening shopping around for various handicrafts and artefact.
Day 14: Paro
Travel further as per your onward travel plans.
Dates and Prices
---
Couldn't find a trip with convenient dates?
Open your date as a join-in tour or customize further as private one
---
Essential Info
Inclusions
LODGING
All hotels as mentioned in the tour details (subject to availability). All options are personally reviewed.
shuttle
A Van support that follows the group of riders and carries all belongings.
refreshments
Refreshments and mineral water while cycling.
trip leader
Expert Trip Leader(s) who look after your every need and add meaning to your vacation.
meals
Meals as per itinerary. Guests are given the opportunity to dine on their own so that they discover a location independently.
entrance
Entrance fees to most of the monuments and temples.
bike
Immaculately maintianed bike with helmet, suited to a terrain.
Exclusions
Airport pickup and drop
We recommend to book direclty from airport or hotel.
meals
Some meals may not be included. Please check your itinerary.
Beverages
Beverages such as alcohol, tea, coffee, juice at a hotel or restaurant.