Kerala Backwaters Bike Tour
---
Overview
This cycling trip offers a unique way to experience life around the backwaters of Kerala. We will be cycling through roads flanked by thick forests, breezy seashores, interior backwaters trail, and along the canal.
With routes mostly remaining flat and staying in a mix of beautiful places by the river, lake, and backwater, this cycling tour perfectly suits families with kids and beginner riders.
Avg. dist. cycled
40km or 24mi
Highlights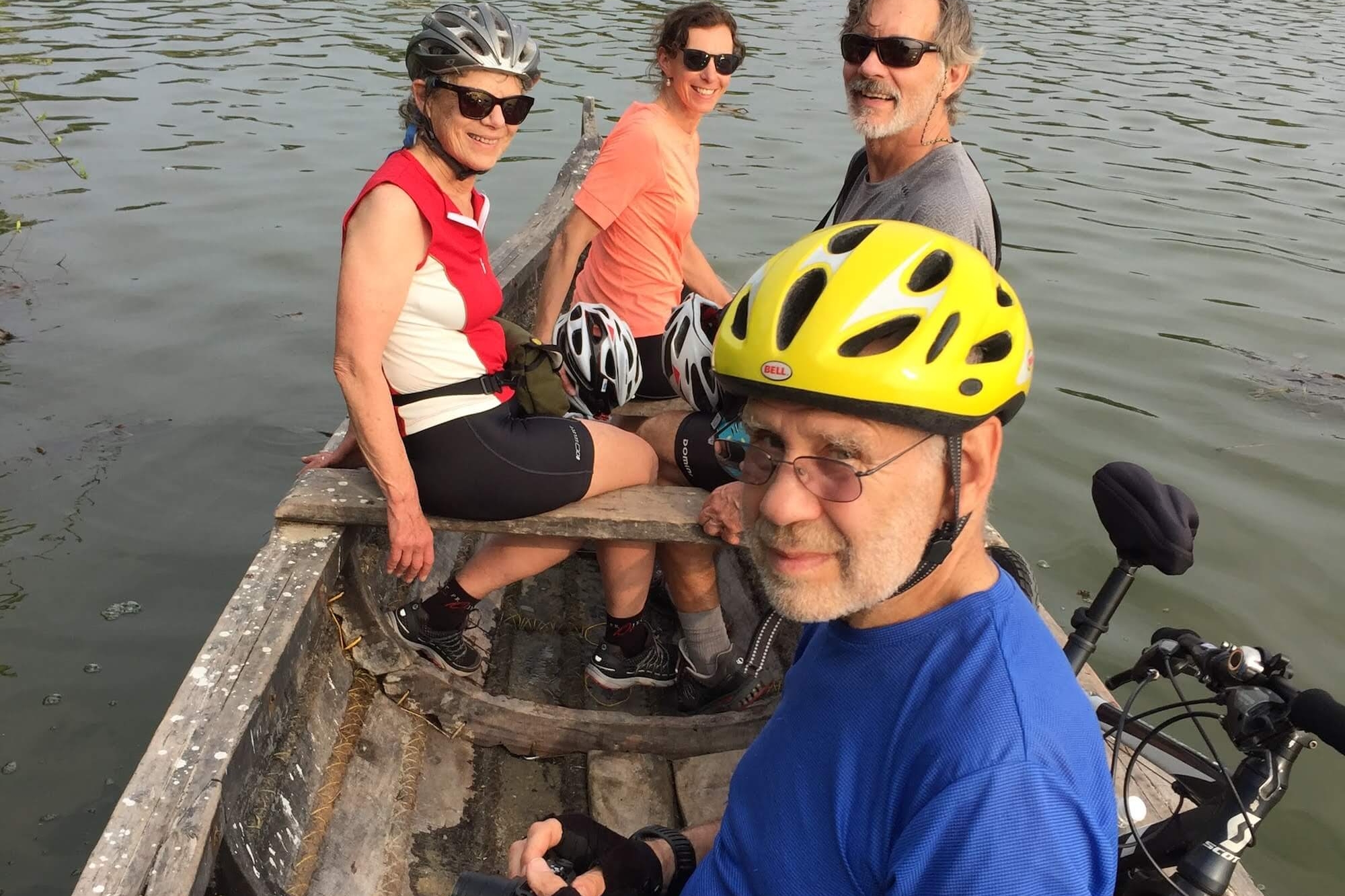 backwaters
Get to see the backwaters, its meandering canals, the birds and people life
Itinerary
Brief Itinerary
Accommodation - Casual Inns
Small luxury and boutique hotels that are true to their heritage and character and reflect local ethos are listed here as Casual Inns. They hold within them an unassuming charm and regional character that is an extension of the destination itself. Most of them fall under the 3-star or 4-star category with a possible mix of homestays.
We have chosen them carefully so that you are well-rested; get a drift of the local character or an enthralling view from your verandah. The above brief itinerary gives you a clickable list of hotels for your perusal.
Detailed Itinerary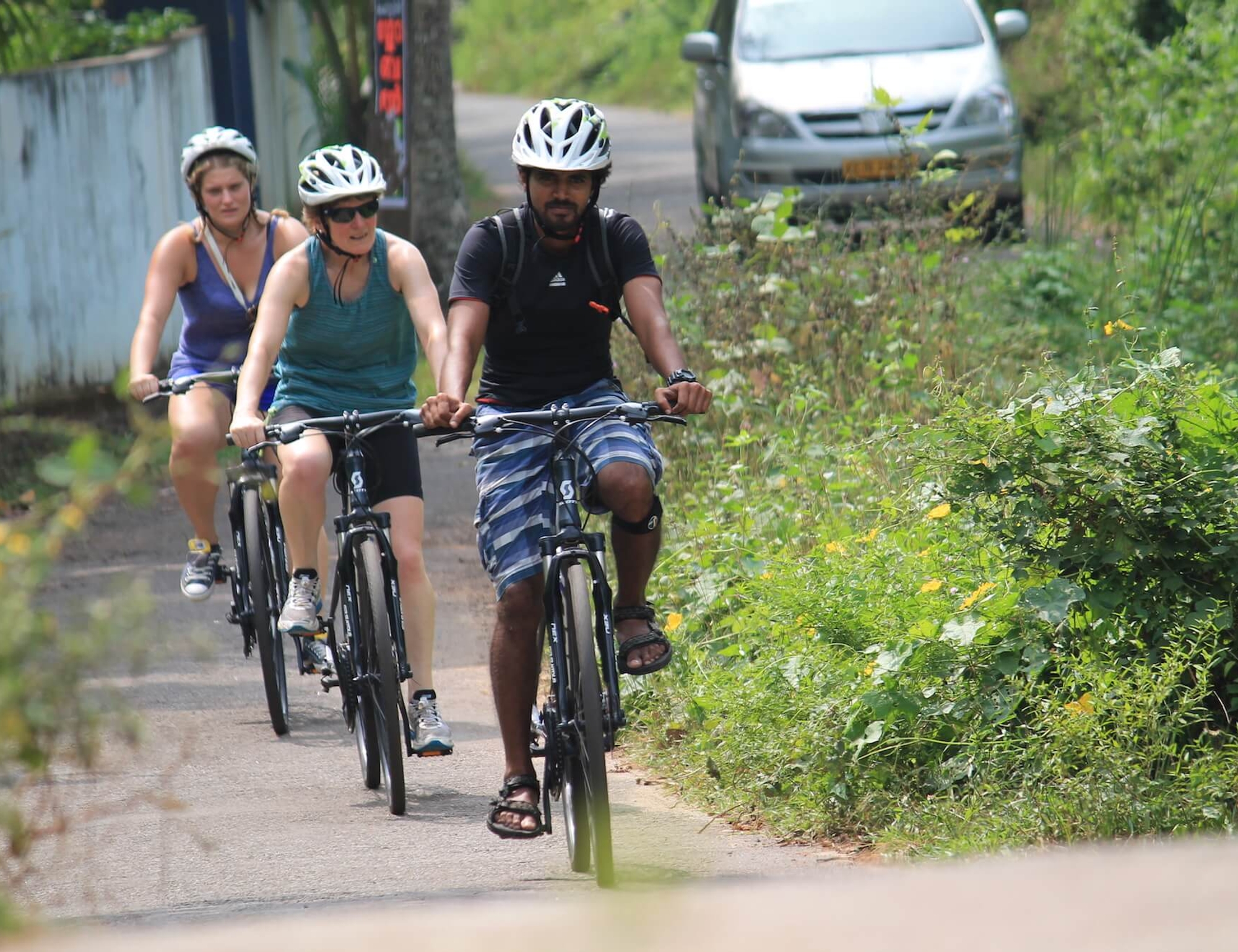 Day 1: Kochi to Thodupuzha
Today we ride to the ancient town of Thodupuzha. Passing fertile spice farms and rubber plantations along the way, we make our way to the historic town dating back to 300 BC when the Buddhist and Jain religions first made their inroads into Kerala. We will ride through undulating terrain, rubber plantations, and forests, cross a river, and visit a local village. Our destination today is Madaparambil resort – an exceptionally beautiful riverside resort.
Meals:
L,D
Cycling Distance:
40km/24mi*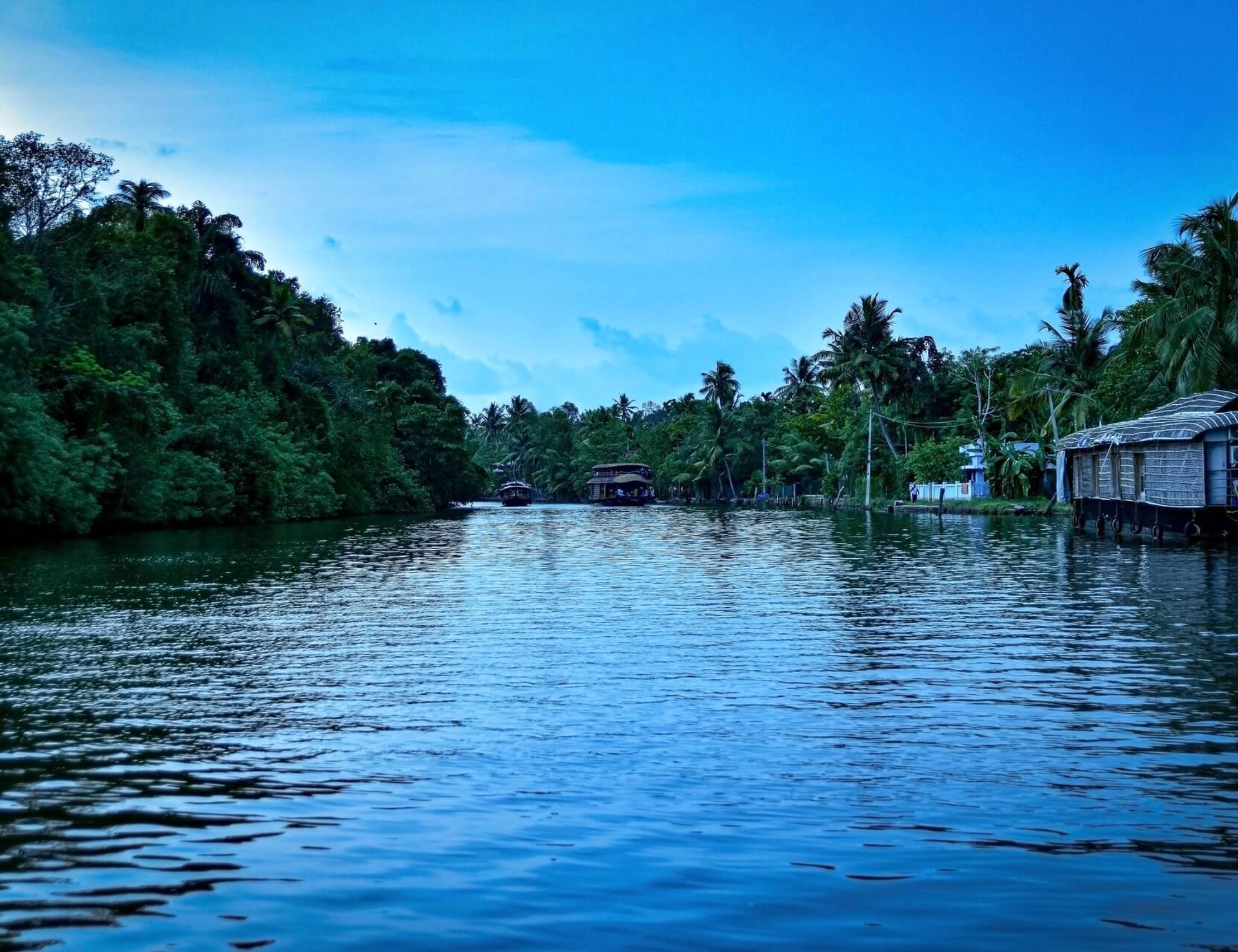 Day 2: Kumarakom
We ride through vast paddy fields, fish farms, and coconut tree canopies to reach one of the Vembanad lake edges. We are rewarded with stunning views of the surrounding area as we ride through rubber and spice plantations and finish our ride of the day when we hit the water's edge. What you take back from this beautiful ride is a true village experience spiced up with a few untold local stories. Today look forward to your stay at Abad Whispering Palms, set in a beautiful natural environment on the banks of the pristine Vembanad Lake.
Meals:
B,L,D
Cycling Distance:
50km / 24mi*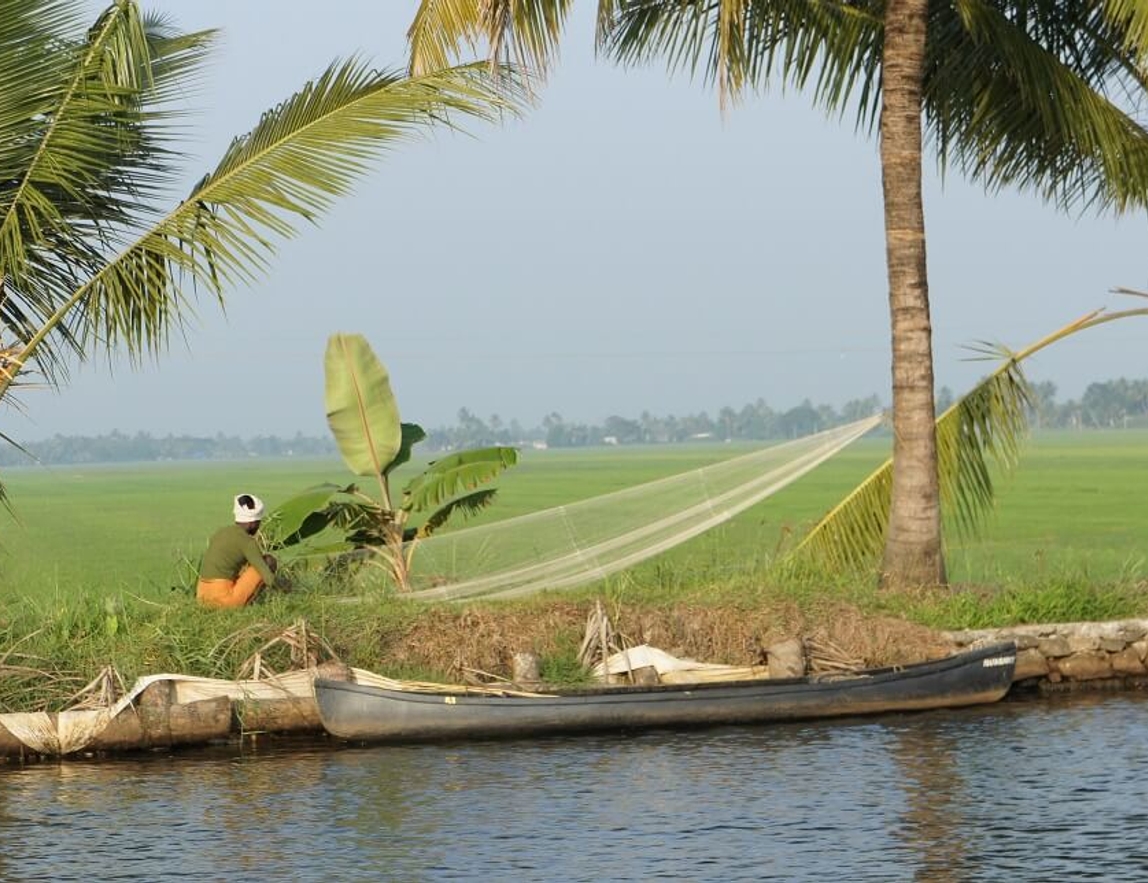 Day 3: Alleppey
A beautiful ride today takes us near spectacular backwaters. Enjoy stunning vistas in all directions. Small canals, country canoes, fisherman throwing nets into the water, a coconut climber climbing up the coconut tree, women working in the rice fields, all come into scene one after the other. Our stay today is at a stunning Pamba Heritage Villa. The villa is more than a 110 year old wooden mansion, situated on the eastern bank of the holy river Pamba.
Meals:
B,L,D
Cycling Distance:
40km / 24mi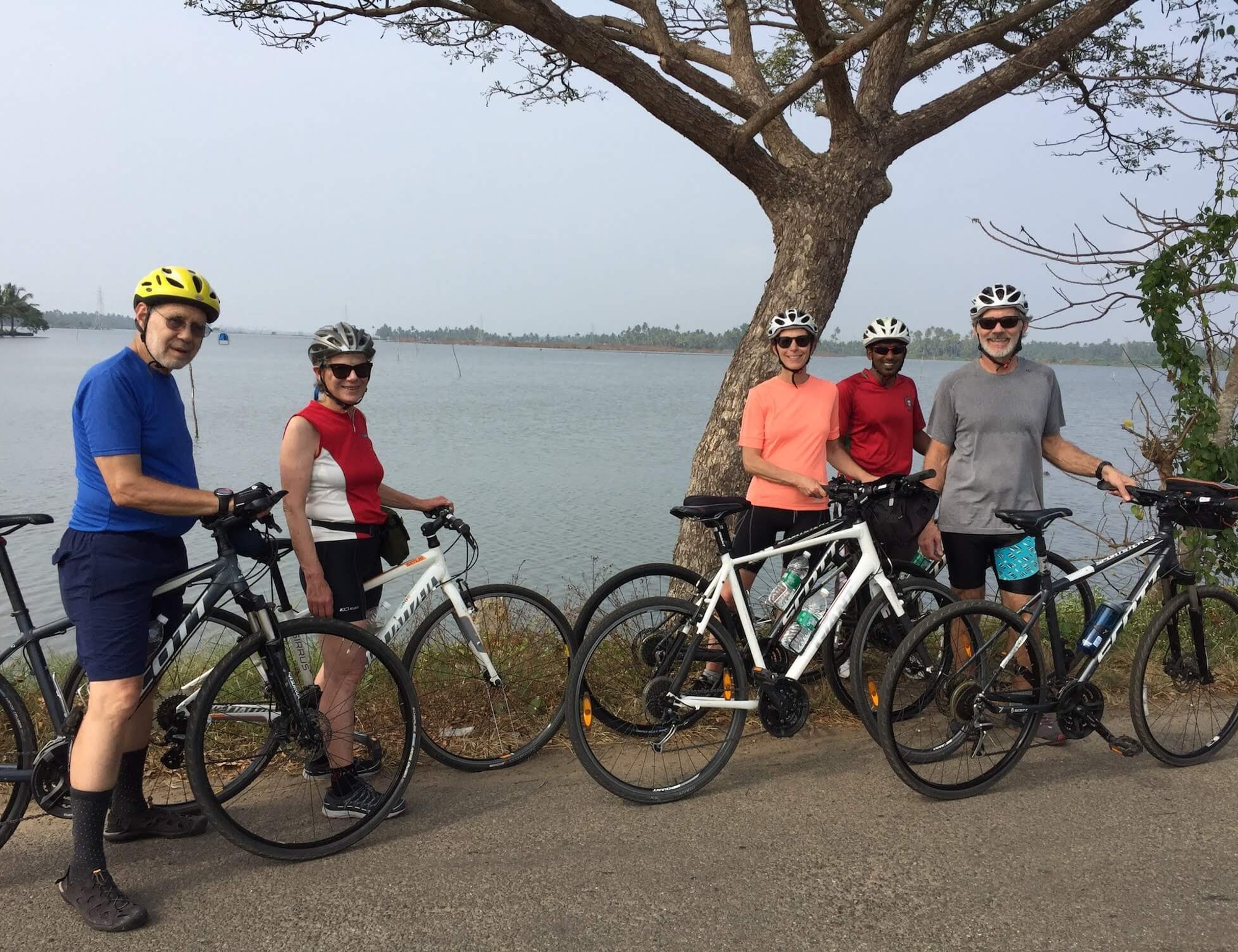 Day 4: Fort Kochi
A classic ride along the Kochi coast with glimpses of unevenly spread backwaters accompanying you all the way. Cycling through small fishermen villages and lush coconut trees, we reach one serene end of the backwaters. Hop on to a country canoe and immerse yourself in the beautiful backwater sceneries, while we row together through a small stretch of backwaters. Enjoy a short break in a village before the tour comes to an end.
Meals:
B
Cycling Distance:
40km / 24mi
Map
Dates and Prices
Note:
Our base pricing is in USD. However, we can also quote in AUD, GBP, CAD, and EUR, and you can pay in the same. Please write us.
---
Couldn't find a trip with convenient dates?
Open your date as a join-in tour or customize further as private one.
We offer private departures on almost all our itineraries, and for groups of four or more, they cost the same as our standard trips!
---
Essential Info
Inclusions
LODGING
All hotels as mentioned in the tour details or similar (subject to availability).
trip leader
Expert Trip Leader(s) who look after your every need and add meaning to your vacation.
bike
Immaculately maintained bike with helmet, suited to a terrain.
shuttle
A Van support that follows the group of riders and carries all belongings.
meals
Meals as per itinerary. Guests are given the opportunity to dine on their own so that they discover a location independently.
refreshments
Refreshments and mineral water while cycling.
entrance
Entrance fees to most of the monuments and temples.
Bikes
When you have a road and the thrill of a journey ahead of you, it's imperative to have a good bike to enjoy it. Our fleet majorly consist of the below bikes as a part of this tour. However, sometimes due to height or availability constraints, we may provide a different but similar quality bike.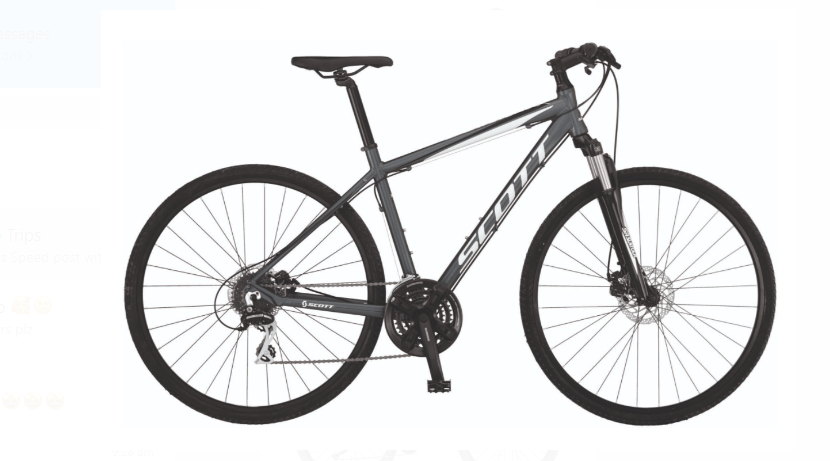 hybrid
Included in your trip price
Weather
With varied terrain, starting from below sea level in coastal plains to 1900m in the mountains, Kerala has a diverse climate. A typical tropical climate remains cooler in the highlands and hot and humid in the coastal plain throughout the year.
Mid-November to the end of February is the winter time in Kerala, which is best experienced in the highlands with a pleasant climate in the mornings and temperature falling below 10°C at the night. A fleece jacket or warm sweater and long pants may be needed for the cooler evenings and mornings in hill stations. The temperature in plains averages between 25°C to 31°C during this time.
From the beginning of March till the end of May, it is summer. The temperatures go above 40°C during some days in coastal pains and generally remain very hot and humid. The highlands still offer some relief during this time with comparatively cooler climates.
The start of June is the beginning of the Monsoon season in Kerala. Kerala receives two cycles of Monsoon. From June till September, it's the southwest monsoon, which brings heavy rainfalls till mid of August and it slowly weakens towards the end of September. The second cycle, the Northeast monsoon, starts from the beginning of October till mid-November with light to heavy showers mainly during the evening hours.
Exclusions
Airport pickup and drop
We recommend to book direclty from airport or hotel.
meals
Some meals may not be included. Please check your itinerary.
Beverages
Beverages such as alcohol, tea, coffee, juice at a hotel or restaurant.