High in the Northwest Bike Tour
---
Overview
Northern Vietnam is home to mountains covered with lush tropical forests. The rolling terrain combined with gradual long climbs from low-lying riverside valleys to highlands is just perfect – a cyclist's delight. Here you get to ride along the beautiful rivers and through spectacular karst mountain ranges and the lush valleys. This is an excellent way to experience life in the highlands of Vietnam.
Avg. dist. cycled
50km or 30mi
Highlights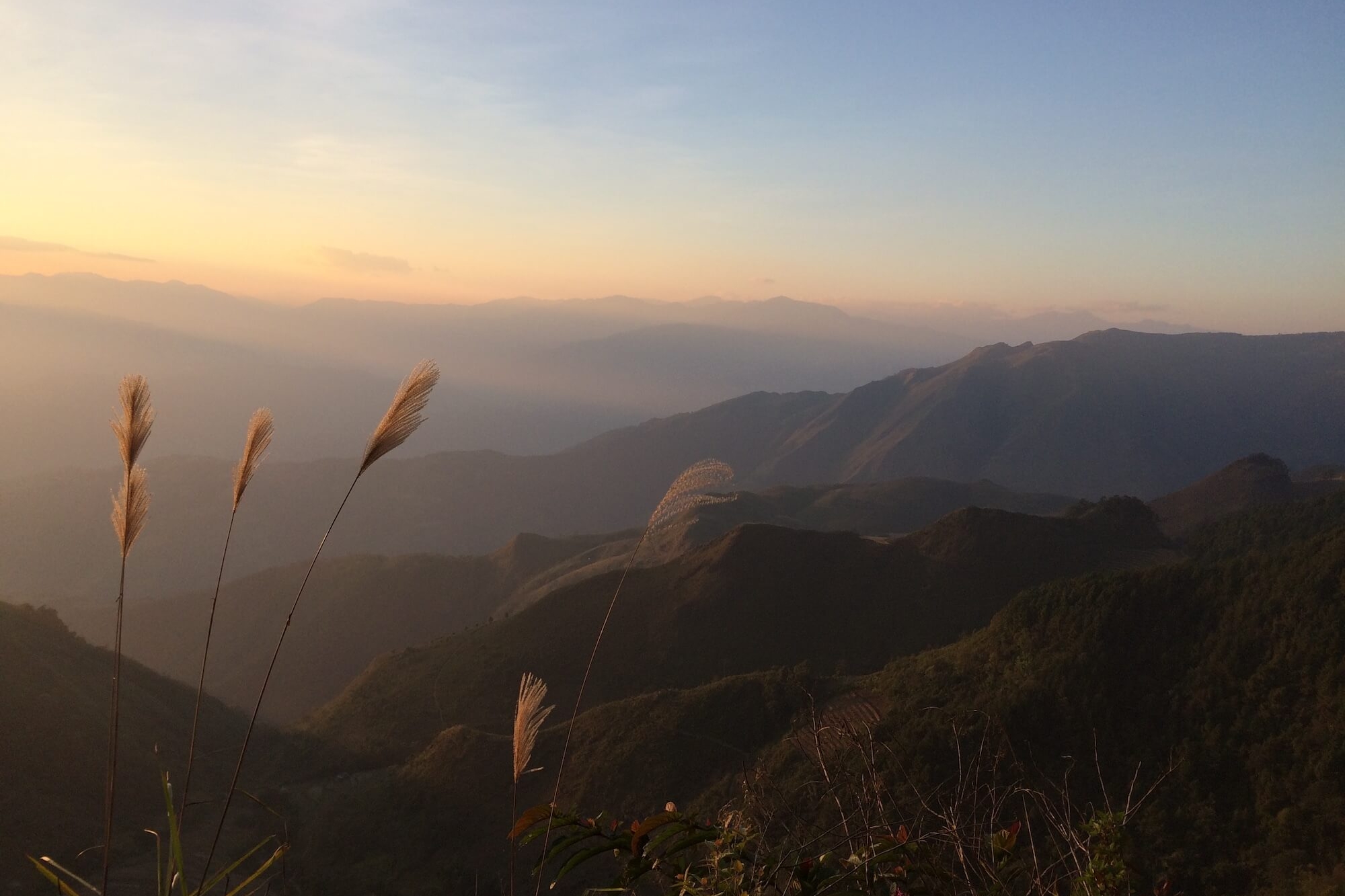 karst mountain ranges
The mighty rivers and spectacular karst mountain ranges become the focus of the trip as we skirt the edges of the two watery snakes for a long time. Once you are done with the trip, you will miss them.
Itinerary
Day 1: Hanoi
Arrive in Hanoi and enjoy the day at leisure.
DAY 2
Overnight train from Hanoi to Lao Cai
Train
B,D
Day 2: Overnight train from Hanoi to Lao Cai
Our guide meets you at your hotel around 13:00hrs.
Today, walk the busy streets of Hanoi visiting some of the cultural and historical highlights of Hanoi. Visit the Ho Chi Minh Mausoleum, One Pillar Pagoda, which was constructed nearly a millennium ago, and is delicately elevated in a pond. Also visit the Temple of Literature, dating back close to a thousand years, is a wonderfully preserved piece of ancient Vietnamese architecture and stands to honour the scholarly achievements of the country's academics and philosophers. Continue exploring the area around Hoan Kiem (Sword) Lake, old quarter including Ngoc Son Temple, which sits perched on a little island in the lake.
We break for a bike fit and later convene over dinner tonight.
Later take an overnight train from Hanoi to Lao Cai. The train journey is included in your tour price and the tickets will be emailed prior to your journey.
Day 3: Lao Cai to Sapa (1600m)
Meet your tour guide at Lao Cai railway station and get transferred to Sapa. This morning, take a short hike around and visit some of the ethnic villages. After lunch, we go for a short bike ride, giving a glimpse of spectacular karst scenery and what is to come in the next few days.
Sapa is a spectacular hill station and home to the region's largest ethnic groups, H'mong and Dao people.
DAY 4
Lai Chau (700m)
Muong Thanh
B,L,D
70km / 42mi
cycling
Day 4: Lai Chau (700m)
A classic ride today. Starting from your hotel at Sapa, we make a gradual climb up to Tram Ton Pass (2000m), Vietnam's highest mountain pass on the northern side of Fansipan and 15km from Sapa. The climb is rewarded with enchanting views of terraced rice fields, tea plantations, and innumerable streams. Enjoy a sheer drop to 750m in about 25km to the Lai Chao side. We stop here for lunch at a roadside restaurant and continue cycling to Lai Chau. The scenery is spectacular throughout the day and gives an opportunity for plenty of landscape photos. The region is mainly inhabited by white Thai and White H'mong people.
DAY 5
Sin Ho (1600m)
Thanh Binh Hotel
B,L,D
60km / 36mi
cycling
Day 5: Sin Ho (1600m)
Sin Ho is regarded as a sleeping beauty. You'll be surprised that hardly anybody comes here and yet it boasts some of the best mountain scenery in this region. Another amazing day on a bike as we ride the old highway and reach Sin Ho. A tough day on a bike today, rewarded with amazing views all around.
DAY 6
Muong Lay
Lan Anh 1
B,L,D
60km / 36mi
cycling
Day 6: Muong Lay
Go for a hike in a nearby area and discover the local life at close quarters. In the late morning, get ready to bike towards Muong Lay. Another good day on the bike as we make way past amazing topography to Muong Lay. Mostly a downhill ride today.
DAY 7
Dien Bien Phu
Him Lam
B,L,D
100km / 60mi*
cycling
Day 7: Dien Bien Phu
Today is a long riding day. We cross few not-so-high passes along the way before arriving at Dien Bien Phu. The river plays a big part in today's cycling journey as we ride largely along Nam Na river flanked by bananas and bamboo plantations, and past lush paddy fields.
DAY 8
Dien Bien Phu
Him Lam
B,L
Day 8: Dien Bien Phu
Visit some classic highlights of Dien Bien Phu such as A1 Hill and Dien Bien Phu Museum.
DAY 9
Son La
Ha Noi
B,L
70km / 42mi
cycling
Day 9: Son La
We take a good 2-2.5hrs transfer in the morning to Tuan Giao in preparation for riding towards Son La. Start the ride with a gradual climb and reach the peak (1,450m). From here it's a sheer drop to about 600m. The last leg is undulating.
The region is dotted with fields of corn, rice, and plum trees with occasional Karst mountains and picturesque gorges. The area is mainly inhabited by White H'mong and is one of the most unvisited parts of Vietnam.
Day 10: Mai Chau
It's a long day interspersed with transfers and rides. Cycle past spectacular mountain range with karst cliffs, terraced rice fields, and a typical agricultural landscape, ending at beautiful valleys of Mai Chau. The experience is truly unique as we get to experience a good change in landscape.
Mai Chau is a collection of villages and offers a true rural cycling experience.
Day 11: Mai Chau
Today enjoy a thrilling loop around the gorgeous valley and experience Mai Chau village life at close quarters. It's an off-beat trail and some sections are over a gravel road. We pass by many bucolic villages where children come to greet us and through tumbling steams. The region is mainly inhabited by White Thai people.
Do enjoy the evening walking around the valley and admiring simple rural life amidst spectacular scenery.
DAY 12
Hanoi
B,L
60km / 36mi*
cycling
Day 12: Hanoi
The initial stretch has a bit of climb and then it delves down to the foothills of mountains. The topography is adorned with timber and fern trees. After around 45km, we stop for lunch along the Da reservoir and then make a transfer to Ky Son to cycle further along rivers and lakes. The cycling is up to yen Trung and then take a shuttle transfer to Hanoi.
Dates and Prices
---
Couldn't find a trip with convenient dates?
Open your date as a join-in tour or customize further as private one
---
Essential Info
Inclusions
LODGING
All hotels as mentioned in the tour details (subject to availability). All options are personally reviewed.
shuttle
A Van support that follows the group of riders and carries all belongings.
refreshments
Refreshments and mineral water while cycling.
trip leader
Expert Trip Leader(s) who look after your every need and add meaning to your vacation.
meals
Meals as per itinerary. Guests are given the opportunity to dine on their own so that they discover a location independently.
entrance
Entrance fees to most of the monuments and temples.
bike
Immaculately maintianed bike with helmet, suited to a terrain.
Exclusions
Airport pickup and drop
We recommend to book direclty from airport or hotel.
meals
Some meals may not be included. Please check your itinerary.
Beverages
Beverages such as alcohol, tea, coffee, juice at a hotel or restaurant.