Exotic India Bike Tour
---
Overview
Discover the comparatively untreaded paths of the most popular travel circuit in India on this exotic bike tour combining Rajasthan, Agra & Delhi. This trip encompasses all the elements of India that makes it unique in persona, to any other country. The trip unveils with spellbinding lakes and palaces of Udaipur and traverses through amazing intricate temples and bucolic villages of Rajsamand; the deserts and forts of Jodhpur; chaotic streets of Jaipur; bird and tiger sanctuaries of Bharatpur and Sariska; Taj Mahal, and ends at Delhi with the Aravalli range of mountains in the backdrop throughout the tour.
Avg. dist. cycled
50km or 30mi
Group size
Min. 2, Max. 14
Highlights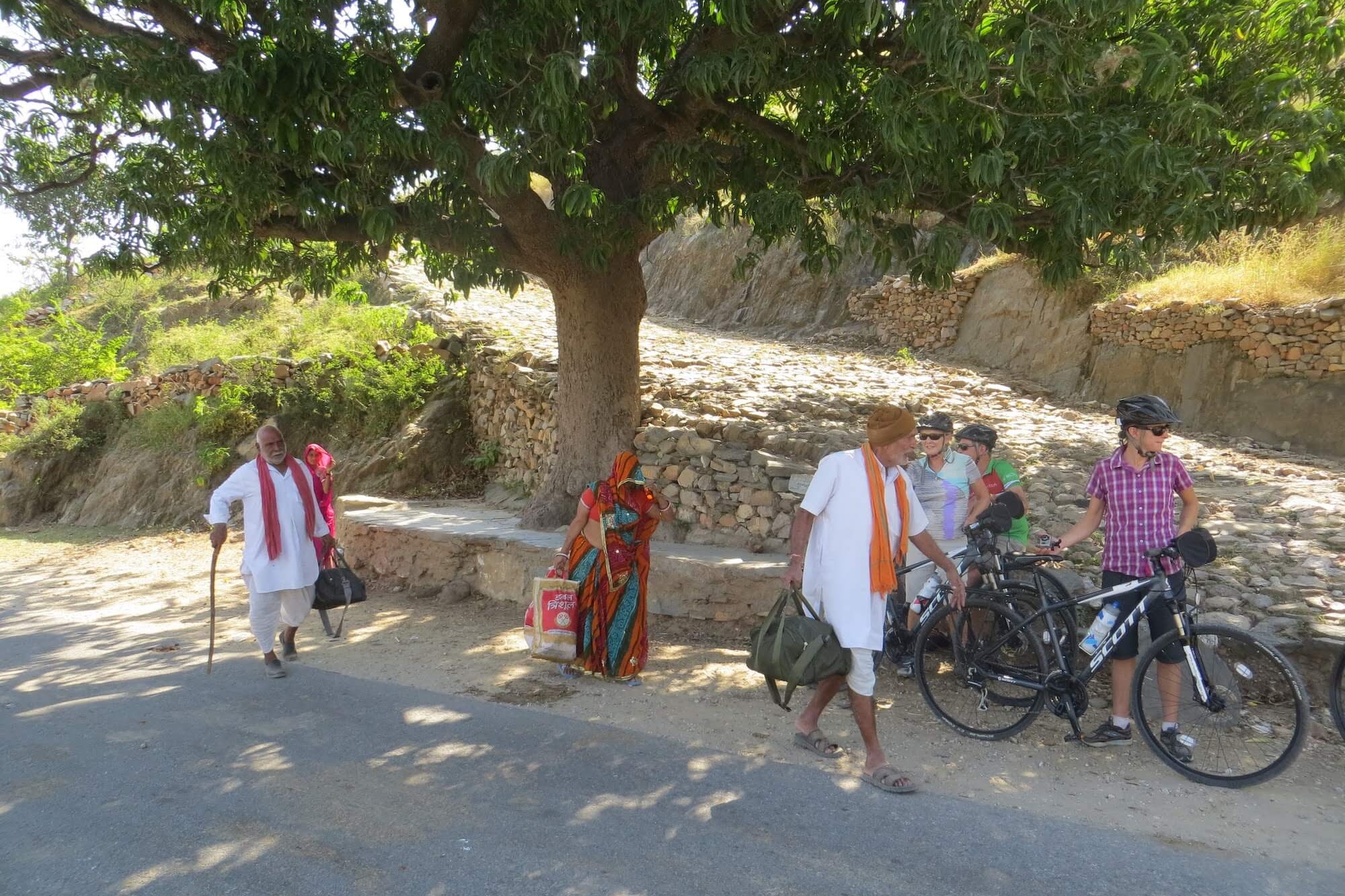 Countryside Cycling
Ride past some of the most interior landscapes
Itinerary
Brief Itinerary
| Day | Place | Hotel | Meals | Distance | Activity |
| --- | --- | --- | --- | --- | --- |
| DAY 1 | udaipur | Hotel Mahendra Prakash | D | | |
| DAY 2 | Udaipur | Hotel Mahendra Prakash | B, L | 40km / 24mi | cycling |
| DAY 3 | Kumbhalgarh | Aodhi | B, L, D | 50km / 30mi | cycling |
| DAY 4 | Ghanerao | Ghanerao | B, L, D | 50km / 30mi | cycling |
| DAY 5 | Sardar Samand Lake | Sardar Samand Lake Palace | B, L, D | 50km / 30mi | cycling |
| DAY 6 | Jodhpur | Pal Haveli | B, L | 45km / 27mi | cycling |
| DAY 7 | Train to Jaipur | Dera Rawatsar | B, D | | |
| DAY 8 | Jaipur | Dera Rawatsar | B, L | | |
| DAY 9 | Shahpura | Shahpura Haveli | B, L, D | 50km / 30mi | cycling |
| DAY 10 | Sariska | Vanaashraya | B, L, D | 45km / 27mi | cycling |
| DAY 11 | Bharatpur | The Bagh | B, L, D | 45km / 27mi | cycling |
| DAY 12 | Delhi via Taj Mahal | Colonel's Retreat | B, L | | |
| DAY 13 | Delhi | | B | | |
Map
The above map gives you an excellent idea about the region on the trip. Though there may be internal flights and trains, shuttle transports and hence the cycling route may be a bit different than shown, however, it allows you to understand the overall geography of the tour.
Accommodation - Casual Inns
Small luxury and boutique hotels that are true to their heritage and character and reflect local ethos are listed here as Casual Inns. They hold within them an unassuming charm and regional character that is an extension of the destination itself. Most of them fall under the 3-star or 4-star category with a possible mix of homestays.
We have chosen them carefully so that you are well-rested; get a drift of the local character or an enthralling view from your verandah. The above brief itinerary gives you a clickable list of hotels for your perusal.
Detailed Itinerary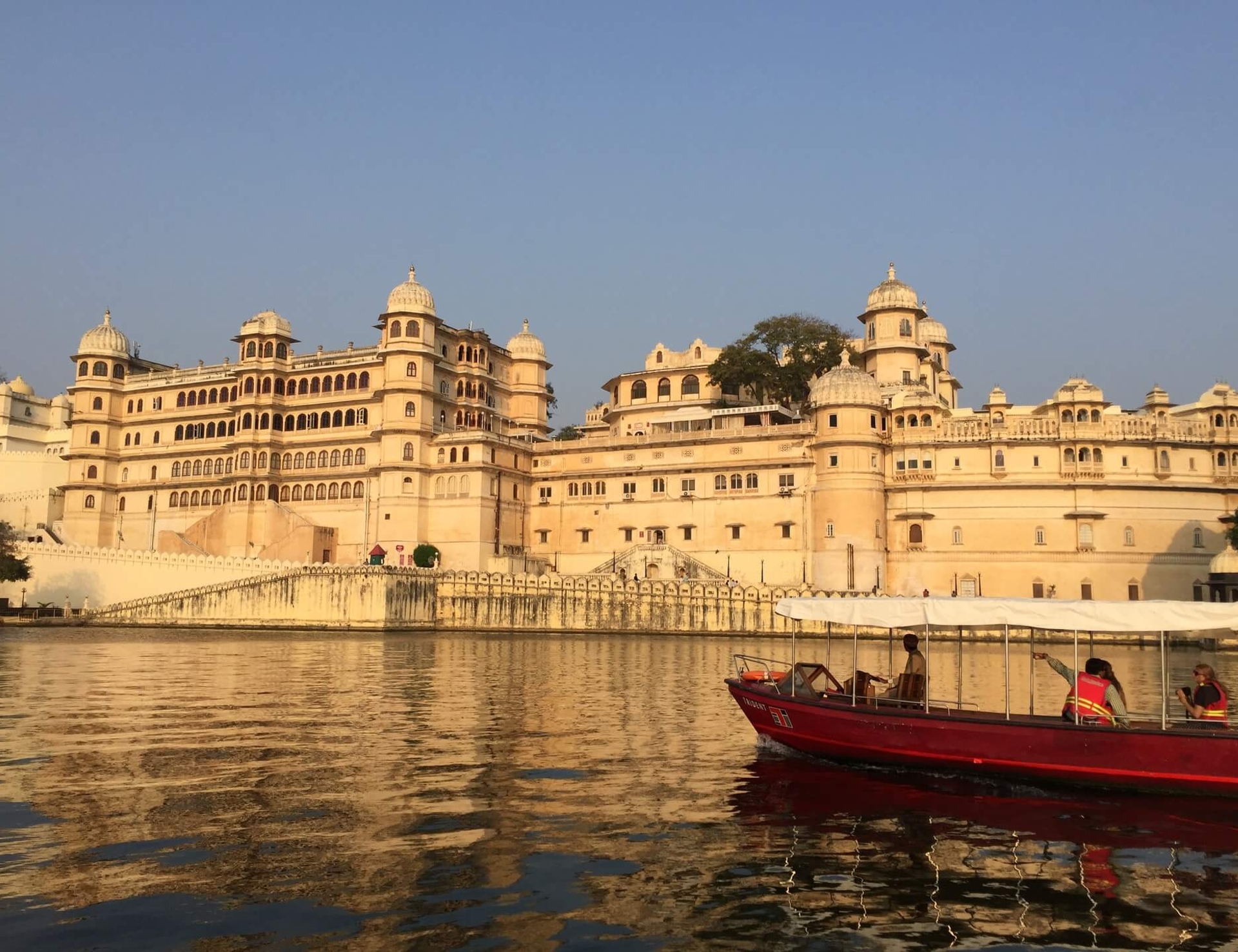 Day 1: udaipur
Udaipur can be a jumble of sights, sounds, and smells but is an absolute must for travelers. On the first day of the trip, our guide meets at your hotel at 13:00, and we cover some Udaipur highlights – a guided walk of the City Palace. The City Palace is enclosed in a large complex on the banks of Lake Pichola and has many more palaces inside.
Enjoy walking the old market and eating street food at Paliwal Kachori, take an amazing cooking class with Sashi, or a boat ride in Pichola Lake.
We convene tonight at the dinner, next to the beautiful lake, to celebrate the start of a fabulous cycling journey.
Meals:
D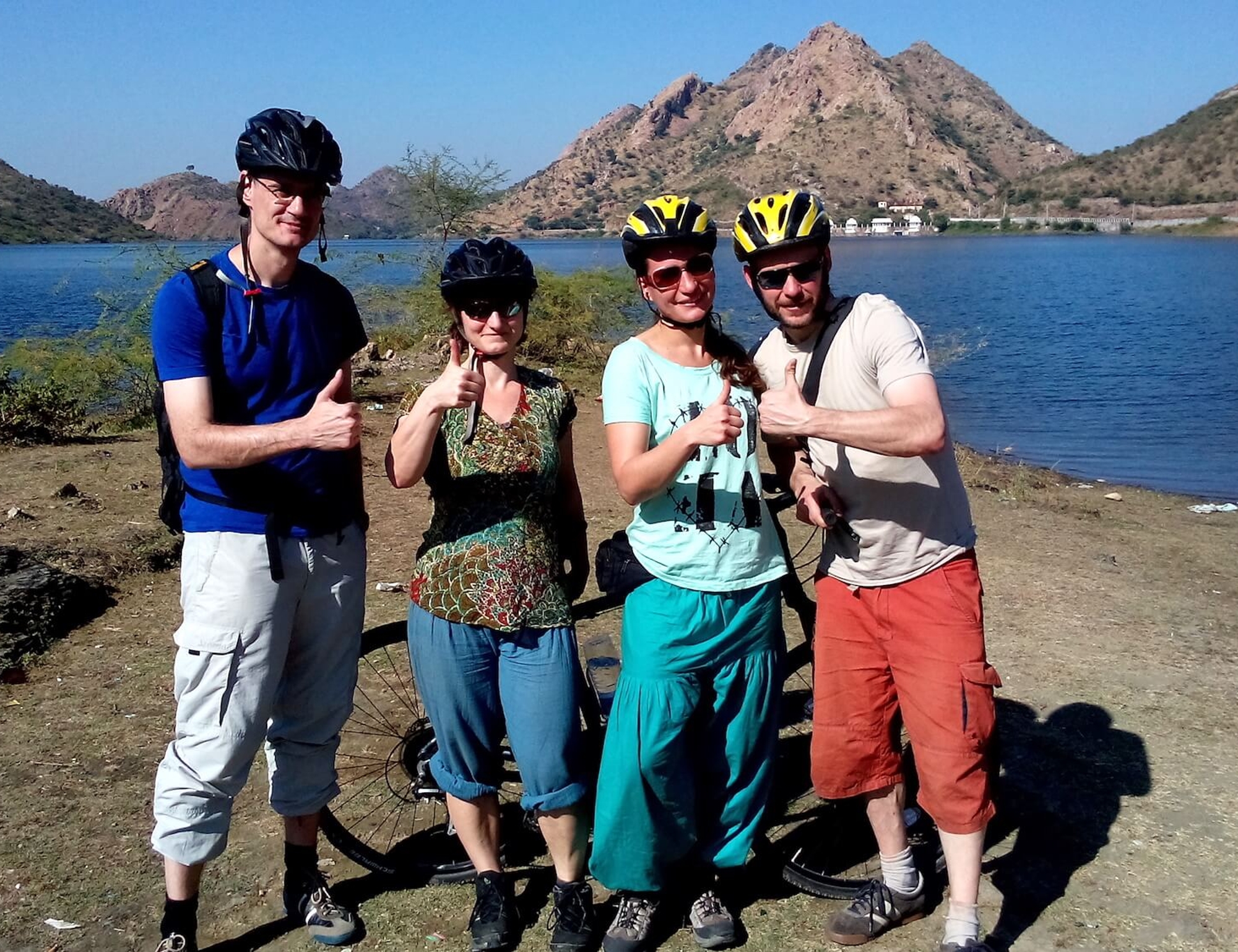 Day 2: Udaipur
Today we explore the 'City of lakes' on a short half-day-long loop on a bike, swerving to untreaded nooks and corners through the beautiful rural countryside and absorbing this historic capital of Mewar at your own pace. A colourful landscape unfolds here with brightly clothed village women. Here you can see a typical hamlet of Rajasthan with people busy with farming. We get to discover kingfisher, langoors, cows, goats, peacocks along the way, and a chance to take a refreshing ride around Lake Pichola, Fateh Sagar, and Badi Lake.
In the evening, we recommend enjoying an enthralling cultural show organized at Bagore Ki Haveli.
Meals:
B, L
Cycling Distance:
40km / 24mi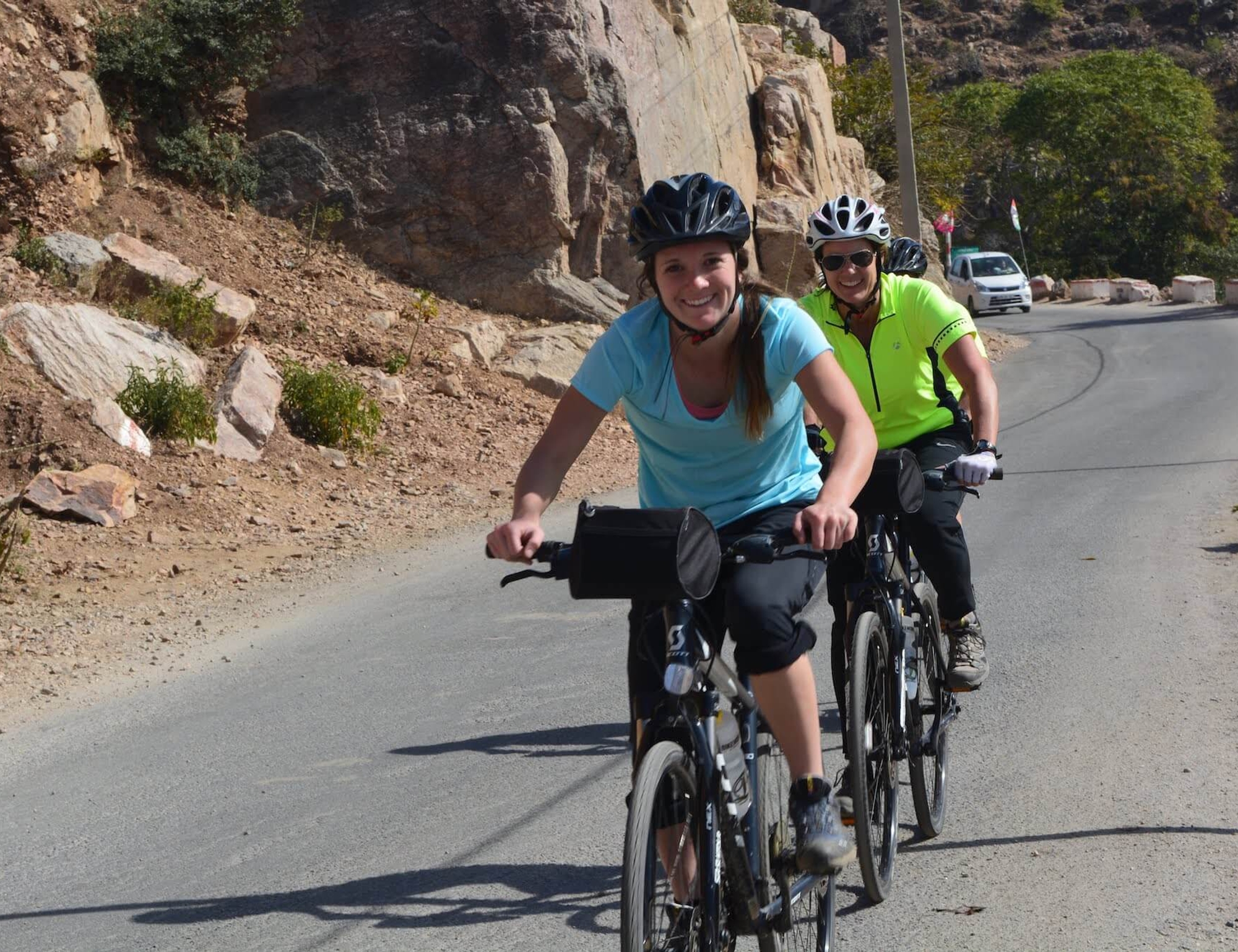 Day 3: Kumbhalgarh
This day we start early and take a shuttle to a short distance and ride to the next town of Kumbhalgarh. This is the most scenic ride of the trip as you climb the Aravalis, maneuver through the rolling hills, and cycle past a Dhonk (Anogeissus Pendula) strewn topography. The plant adds a spattering of colour to the pale brown stretches along the way. Kumbalgarh is yet another historic fort town from the 15th century.
In the evening, we climb the rugged Kumbalgarh Fort, surrounded by a 35km wall with 365 temples within.
Meals:
B, L, D
Cycling Distance:
50km / 30mi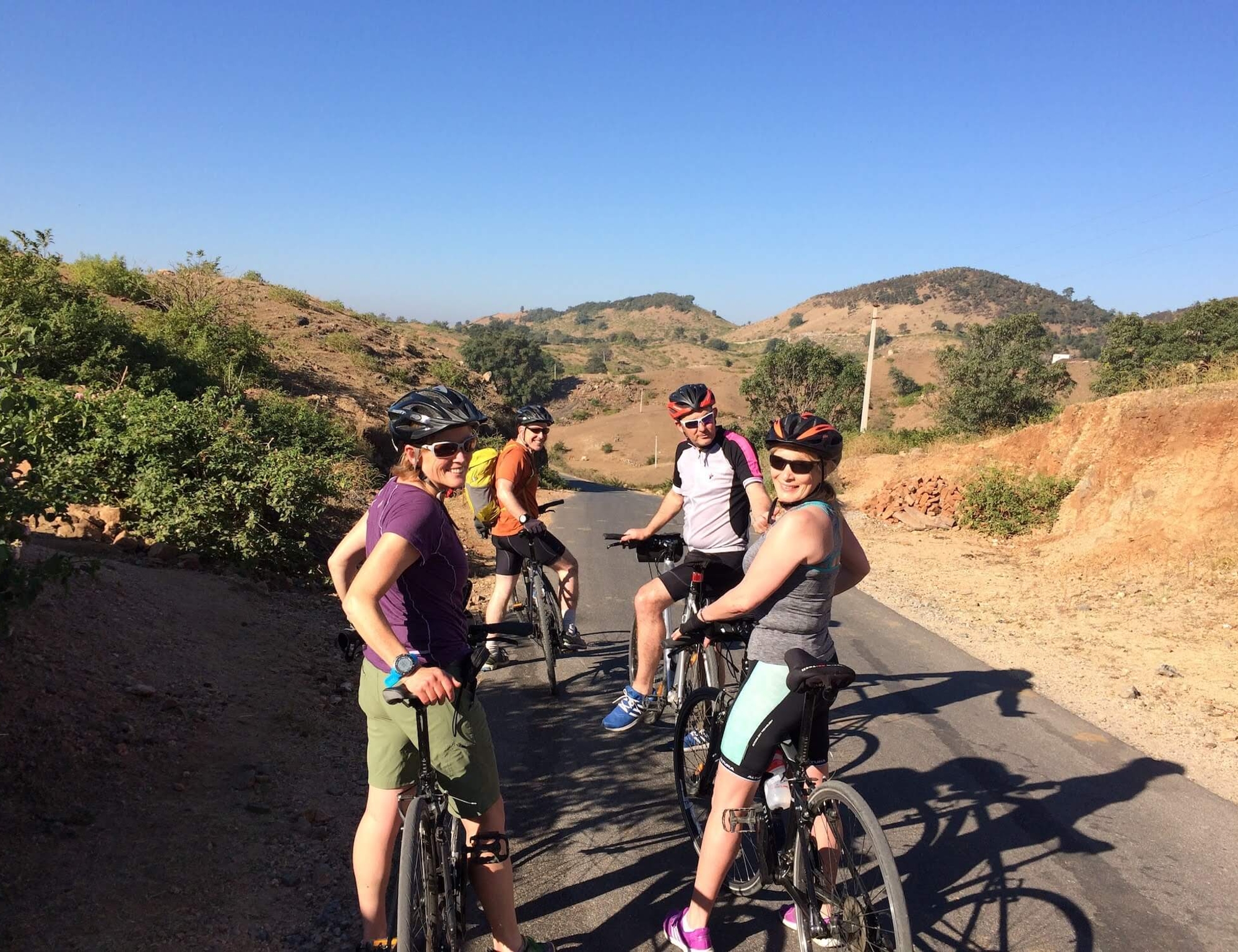 Day 4: Ghanerao
Another beautiful day on a bike through the dense forest and undulating stretches takes you close to the Aravalis and later to the famous Ranakpur Jain Temple here. After you have rested and had lunch, use this time to see the magnificent temple. Made of marble, the temple is an intricate artwork of local craftsmen; do not miss two of the most exquisite carvings here – one made out of a single marble rock, which showcases 108 snakes and 1444 pillars, which will leave you awestruck.
Meals:
B, L, D
Cycling Distance:
50km / 30mi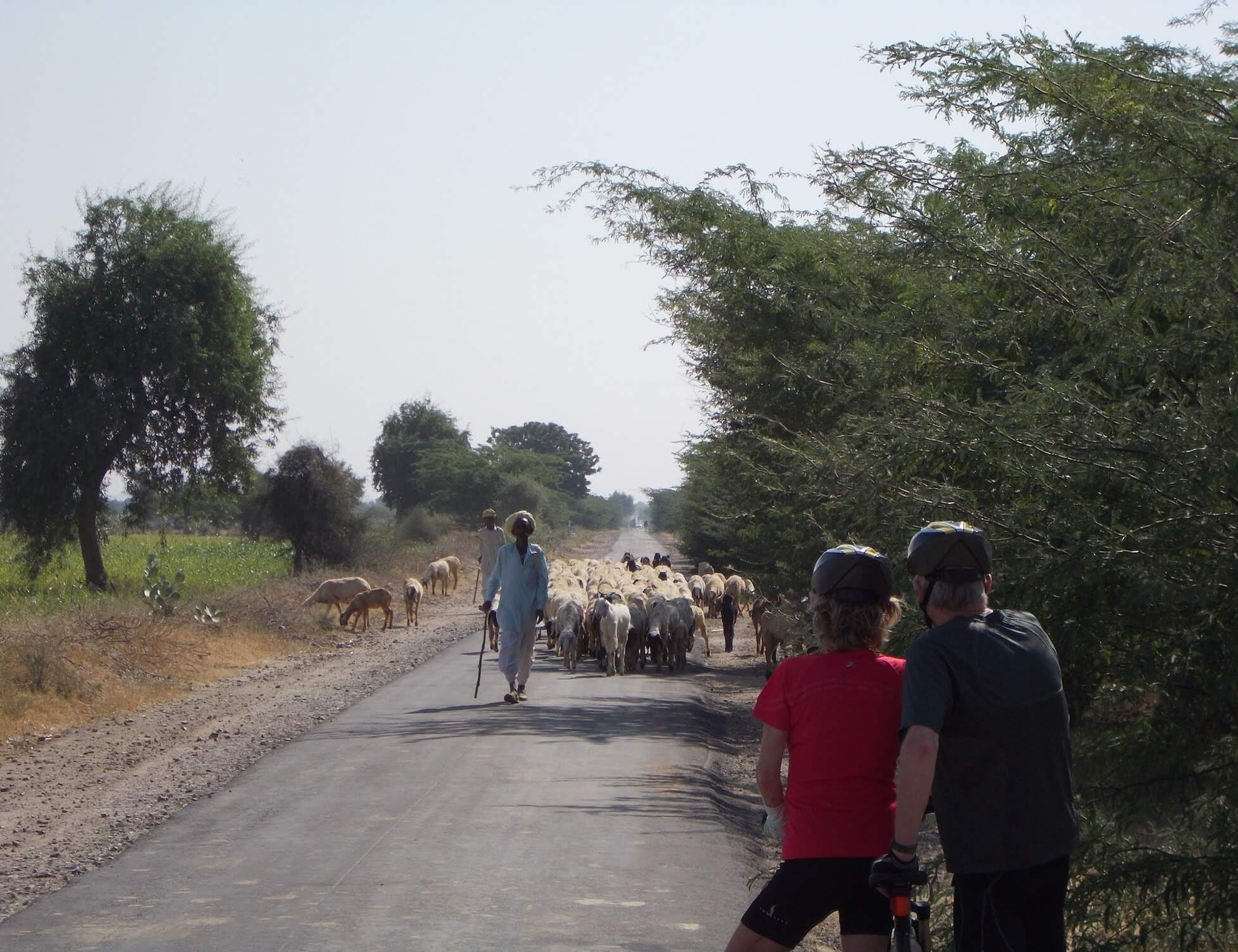 Day 5: Sardar Samand Lake
We start cycling early this day across lush millet vegetation and carpets of yellow mustard fields. The ride remains largely flat. You can enjoy the vistas with ease and look forward to your stay at the Sardar Samand Palace.
An erstwhile hunting lodge, the palace was built by Maharaja Umaid Singh in 1933. Set in tranquil surroundings of a lake, the low lying Aravalli hill ranges visible in the distance, and vast shrubby forests teeming with wildlife, the heritage resort is a great stop. Here you can relax in the comfort of a pool with peacocks strutting by the side or if you feel you still have the legs, take a walk around the property spread over hundreds of acres of land.
Meals:
B, L, D
Cycling Distance:
50km / 30mi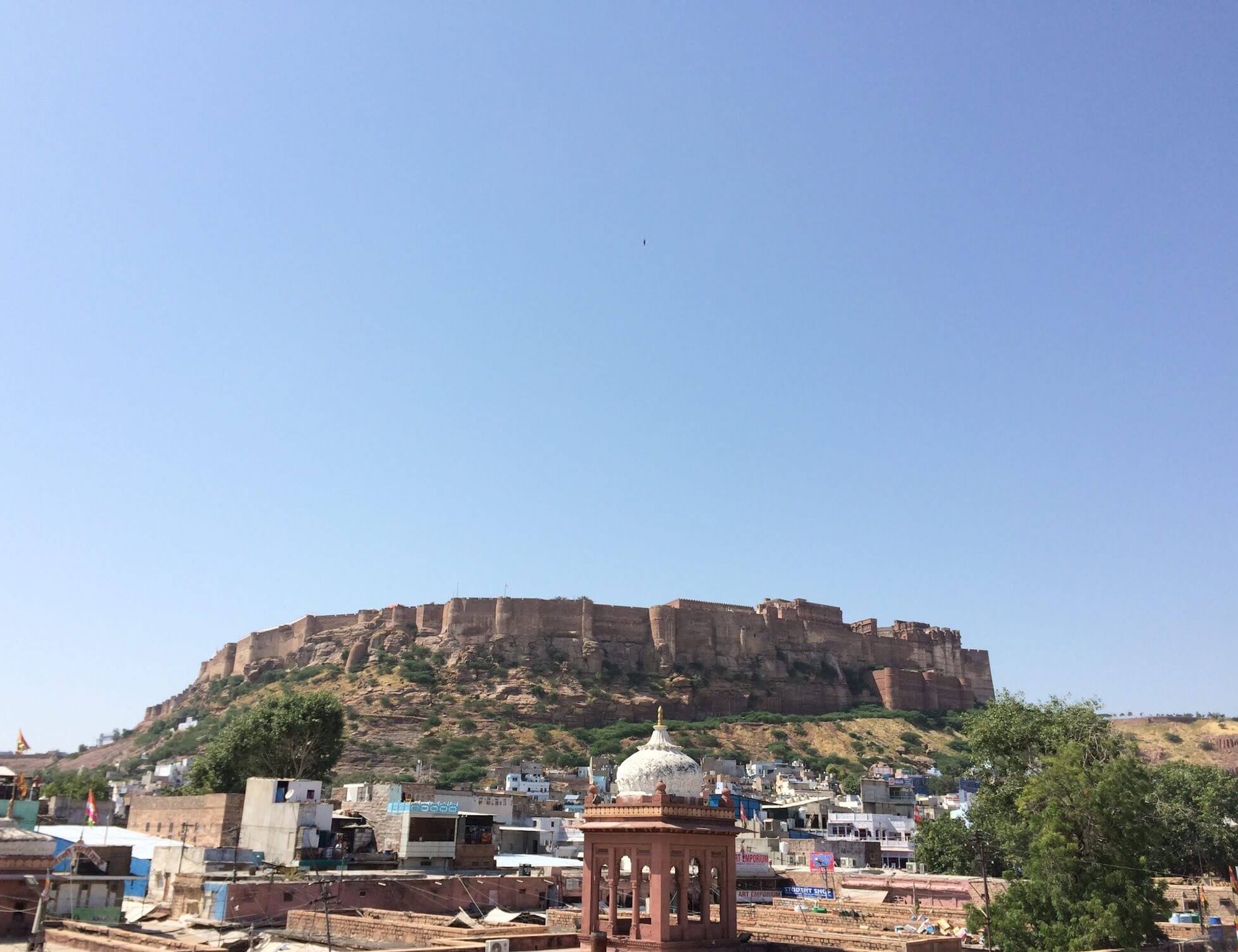 Day 6: Jodhpur
Today we make our way towards the fabled blue city of Jodhpur. We ride through a quiet and narrow backroad that offers ample opportunities for spotting wild animals like the blackbuck, blue bulls and if we're lucky, the shy but extremely graceful Indian Gazelle too. As we ride past swaying masses of yellow mustard and wheat, run into hordes of camels and goats as well as friendly villagers always happy to pose for a photograph or two.
Along the way, we stop by for a lunch at the village homestay, Chandelao Garh, and later shuttle to Jodhpur.
We arrive at Jodhpur and visit the towering Mehrangarh Fort, a key highlight of Jodhpur, which looms over the city from a small hill and can be seen from everywhere. The rest of the evening is free and you can spend as per your plan visiting a local market or spending quiet time at nearby rooftop restaurants.
Meals:
B, L
Cycling Distance:
45km / 27mi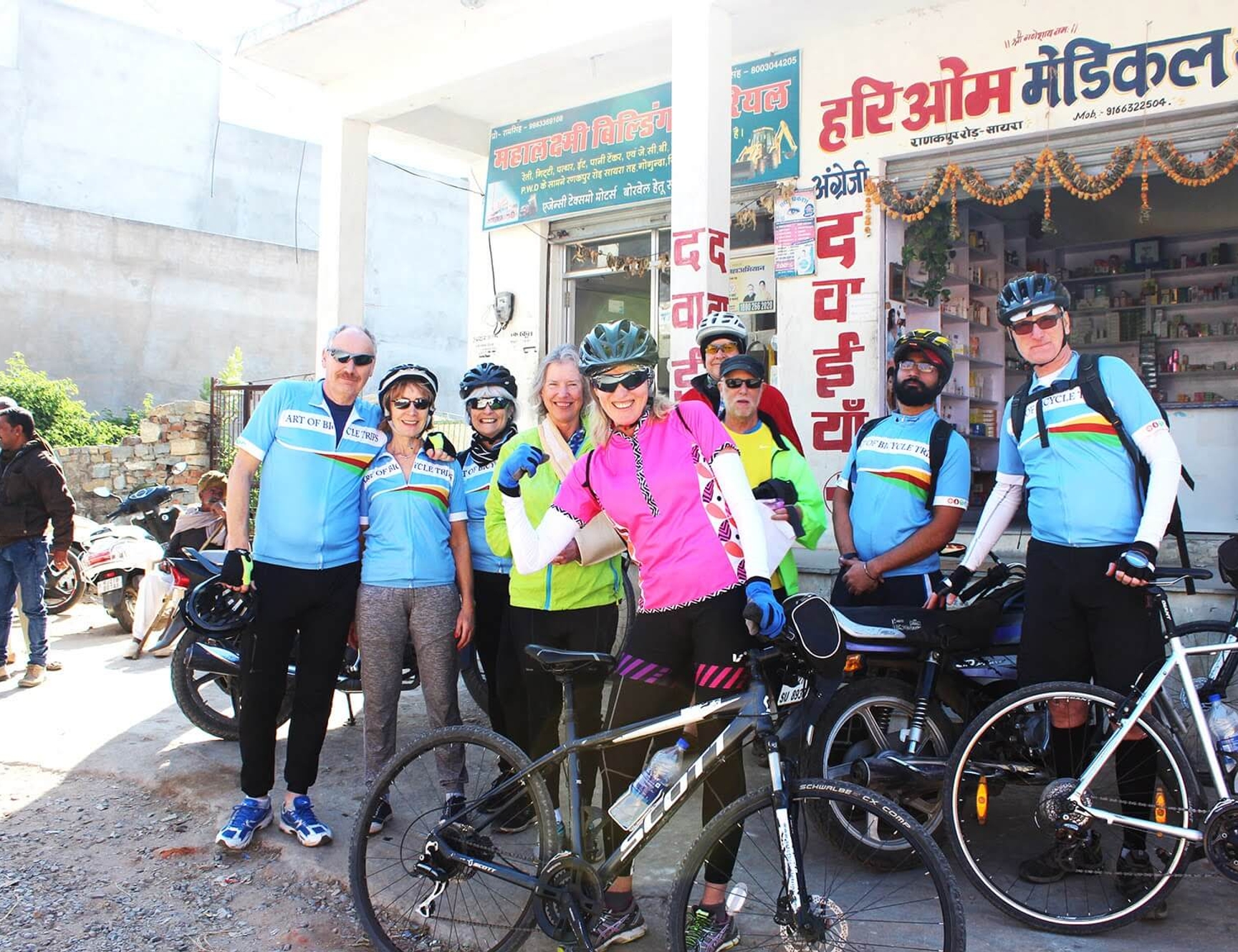 Day 7: Train to Jaipur
We take an early morning train (06:05 – 10:50) from Jodhpur to Jaipur. In the afternoon, we take an Arts & Crafts Walk with our local expert Vineet, in the pink city bazaar, to get up-close and personal with the life of Jaipur. The walk covers areas of Marble statue makers, lacquer bangle makers, Metalworkers, Jewelry workers, Embroidery workers, etc. In this walk, we crisscross the medieval center of the city, recapping the most important historical events, while briefly introducing the basic cultural fabric that Jaipur has to offer from its history.
We wind up the day with an early dinner at one of the top restaurants in Jaipur.
Meals:
B, D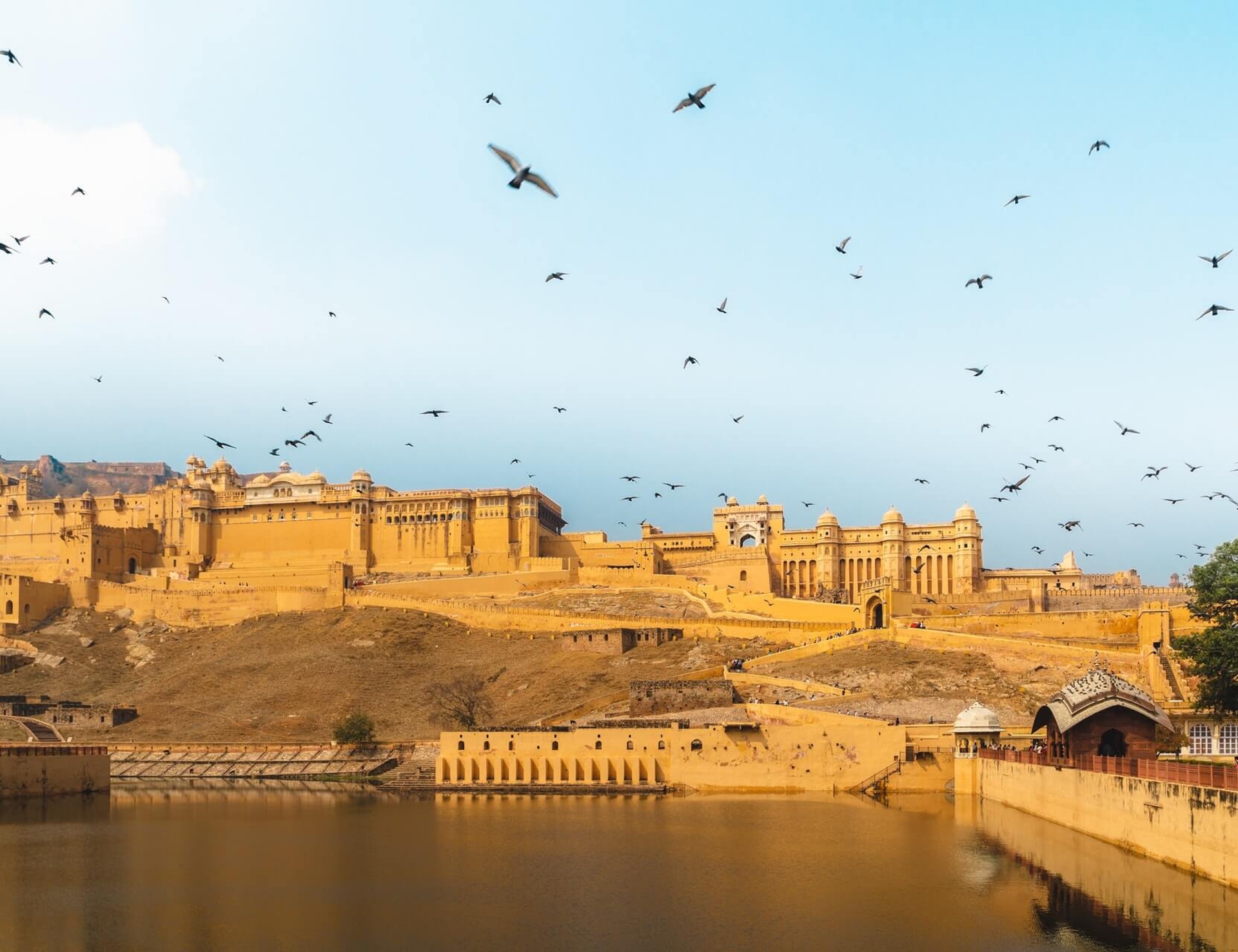 Day 8: Jaipur
We start a trip to the pink city of Jaipur with the famous fortress of Kacchawaha kings at Amber. Large courtyards, intricate carvings on formidable structure, and nuances of Rajput rule can be seen in the fort overlooking the Maota Lake. If you're up for a walk, take a tunnel to Jaigarh Fort.
The rest of the day is at leisure. Jaipur is the erstwhile capital of the ruling Kacchawahas in the early eighteenth century. We recommend taking a walk in the old city and experience the delightful ancient markets at ease. Hawa Mahal and the numerous bazaars selling bright textiles and silver are worth every hour spent.
Meals:
B, L
Day 9: Shahpura
Today's ride is through beautiful rural countryside, chequered with mustard fields and millet farms. Here you can see a typical hamlet of Rajasthan with people busy with farming.
The ride remains largely flat and gives a chance to witness the rural life around Jaipur from close quarters.
Meals:
B, L, D
Cycling Distance:
50km / 30mi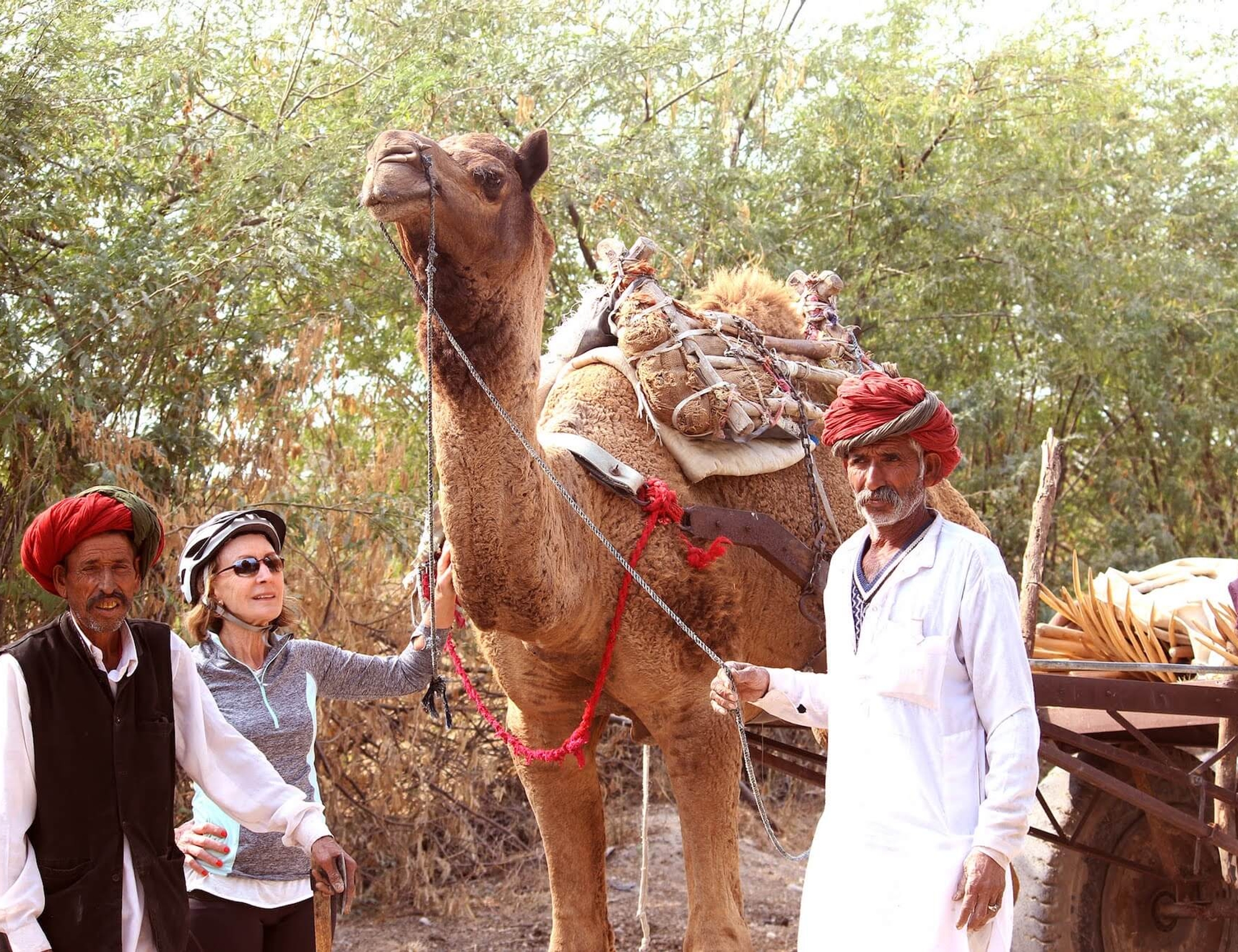 Day 10: Sariska
We cycle towards the forest of Sariska through the amazing Aravalli hills. We end our ride at Pratapgarh Fort and then take a shuttle to Sariska National Park, a favorite haunt of wildlife buffs & professional wildlife photographers from around the world. The topography of Sariska supports scrub-thorn arid forests, rocky landscapes, dry deciduous forests, rocks, grasses, and hilly cliffs. The park is famous for its Bengal Tigers, one of the most magnificent animals of India, which has long fascinated people with its awesome power and beautifully striped coat. It is the first tiger reserve in the world to have successfully relocated tigers.
Sariska is also ethereal for bird watchers with some of the rarest feathered species like Grey Partridge, White-throated kingfisher, Indian peafowl, Bush Quail, Sandgrouse, Treepie, Golden-backed Woodpecker, Crested serpent eagle, and the Indian eagle-owl.
Please note, we don't take the Safari in Sariska National Park. If you wish to take one then please book on arrival with the hotel.
Meals:
B, L, D
Cycling Distance:
45km / 27mi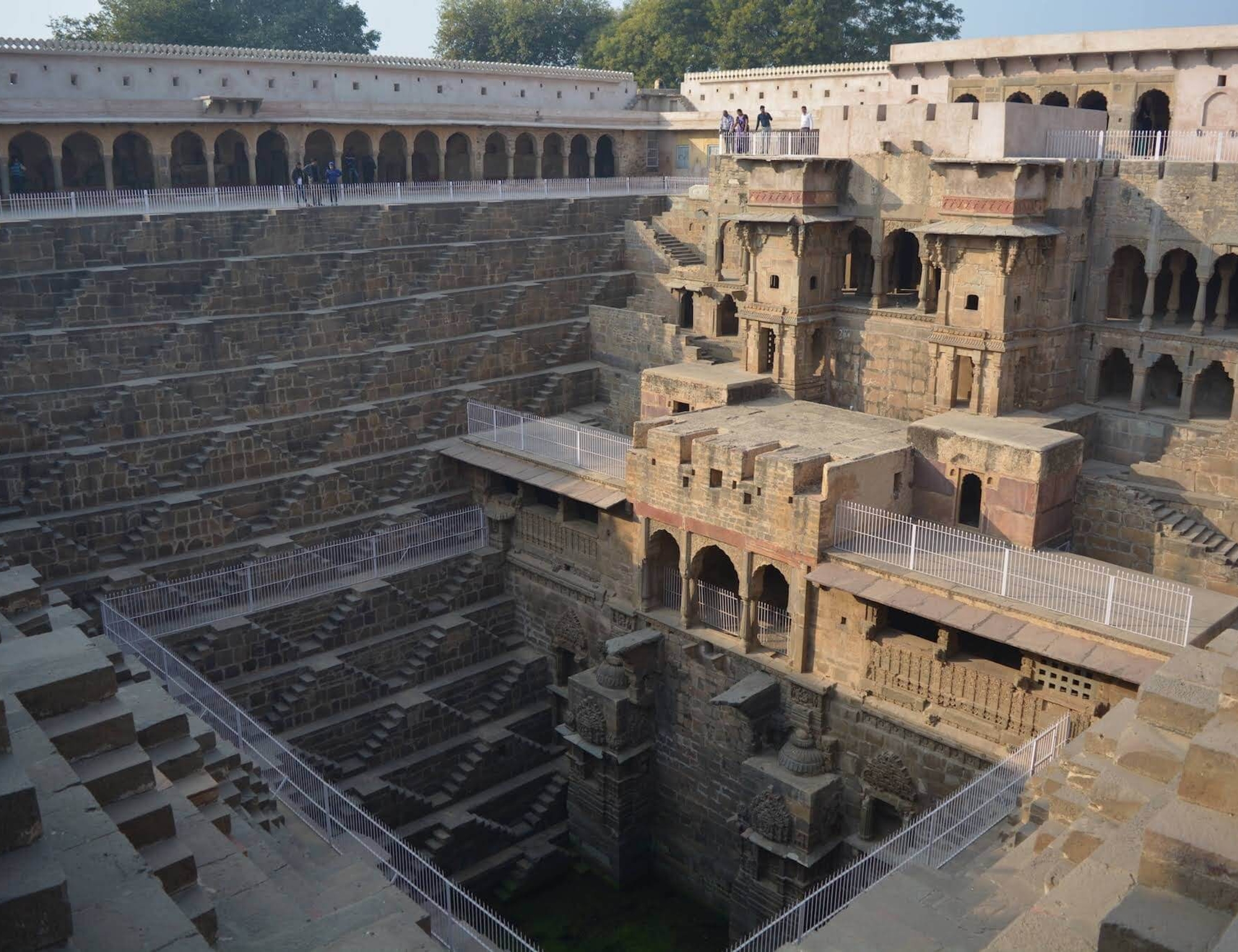 Day 11: Bharatpur
Begin the day with a hearty breakfast at the hotel, then set off on a bike ride through the picturesque countryside, chequered with mustard fields and millet farms to the Bharatpur. On the way, we make a stop at Abhaneri for lunch and visit Chand Baori, one of the largest stepwell built over a thousand years ago in the Abhaneri village of Rajasthan.
Later in the evening, we explore the Bharatpur Bird Sanctuary on a bike, famous for the avifauna sanctuary that plays host to thousands of birds, where you have an opportunity to interact with the local guide and gain greater insight into the bird lives.
Meals:
B, L, D
Cycling Distance:
45km / 27mi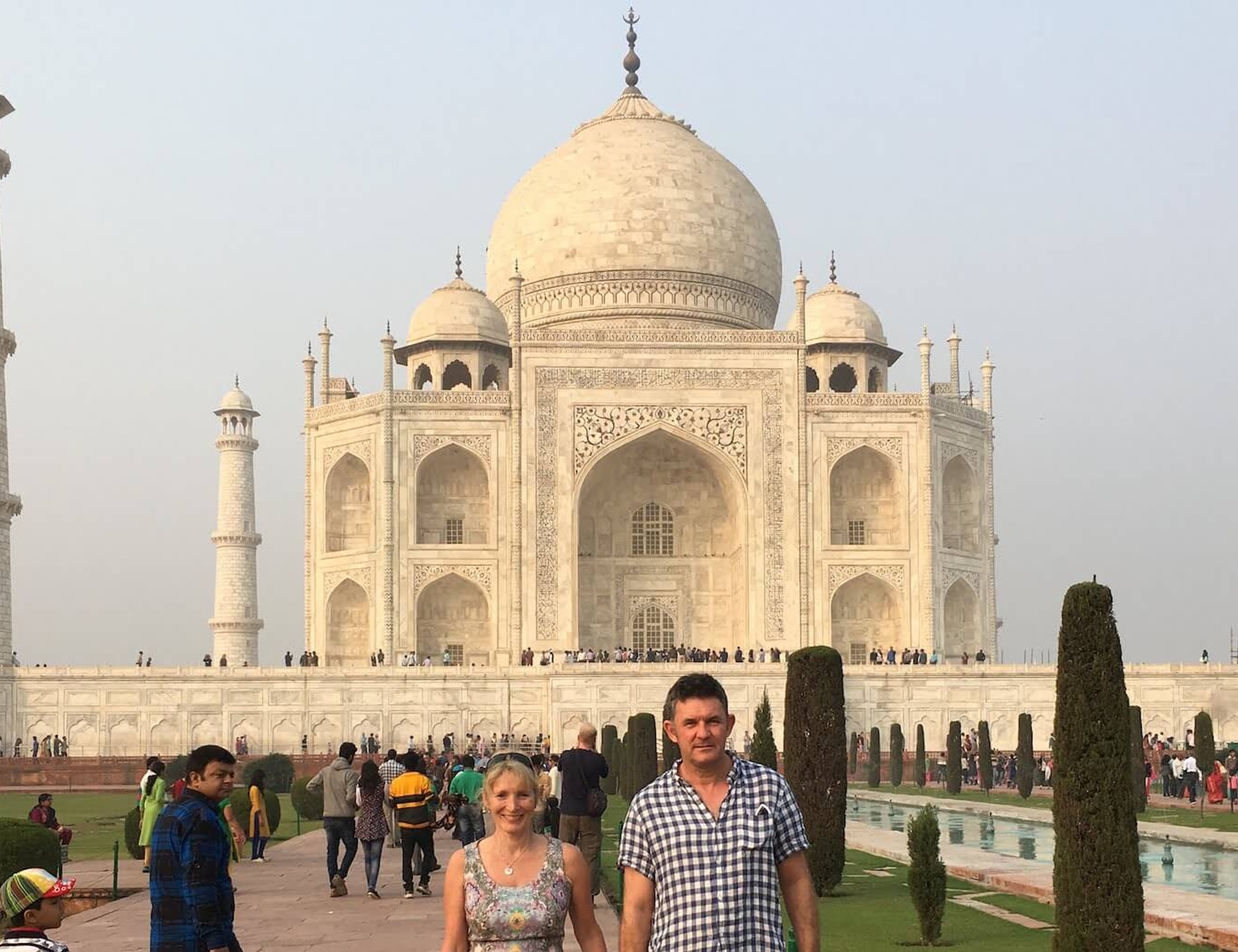 Day 12: Delhi via Taj Mahal
In the late morning, we take a transfer to Agra for a visit to the Taj Mahal. We have a good half-day to visit one of the most awesome and extravagant monuments ever built – the Taj Mahal. It was constructed by Emperor Shah Jahan in memory of his beloved wife in 1631-1653, with thousands of semiprecious stones inlaid.
Meals:
B, L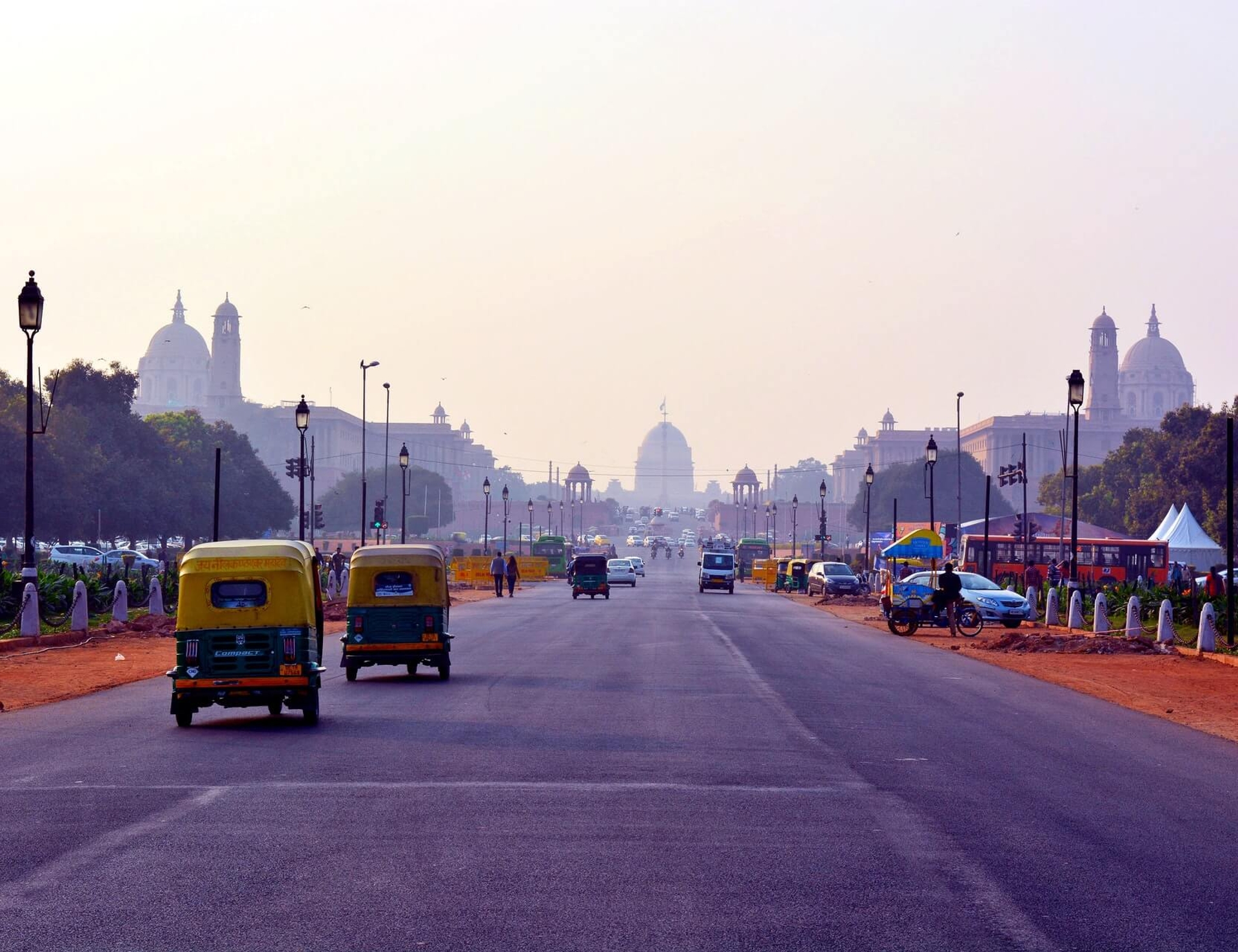 Day 13: Delhi
Delhi hoards centuries of history, remnants of which, lie unassumingly in all parts of the city. Weathered monuments mingle with modern life seamlessly. Plan your own day today, if you have time.
We recommend taking a walk in the old city, an area called Chandni Chowk. Old crumbling houses precariously line the edge of narrow streets while old wires obstruct your view of the sky here – with so much going on in one place, yet the warmth and acceptance of the area are heart-warming. If you have an appetite for street food, we recommend a bite of the oily parathas, kachoris, lassi, and some tea.
Meals:
B
Dates and Prices
NOTE:
Our base pricing is in USD. However, we can also quote in AUD, GBP, CAD, and EUR, and you can pay in the same. Please write us.
---
Couldn't find a trip with convenient dates?
Open your date as a join-in tour or customize further as private one.
We offer private departures on almost all our itineraries, and for groups of four or more, they cost the same as our standard trips!
---
Essential Info
Inclusions
LODGING
All hotels as mentioned in the tour details or similar (subject to availability).
trip leader
Expert Trip Leader(s) who look after your every need and add meaning to your vacation.
bike
Immaculately maintained bike with helmet, suited to a terrain.
shuttle
A Van support that follows the group of riders and carries all belongings.
meals
Meals as per itinerary. Guests are given the opportunity to dine on their own so that they discover a location independently.
refreshments
Refreshments and mineral water while cycling.
entrance
Entrance fees to most of the monuments and temples.
E-bikes
E-bikes are available on this trip at a surcharge. Please send a note to your tour consultant to book one.
Bikes
When you have a road and the thrill of a journey ahead of you, it's imperative to have a good bike to enjoy it. Our fleet majorly consists of the below bike as a part of this tour. However, sometimes due to height or availability constraints, we may provide a different but similar quality bike.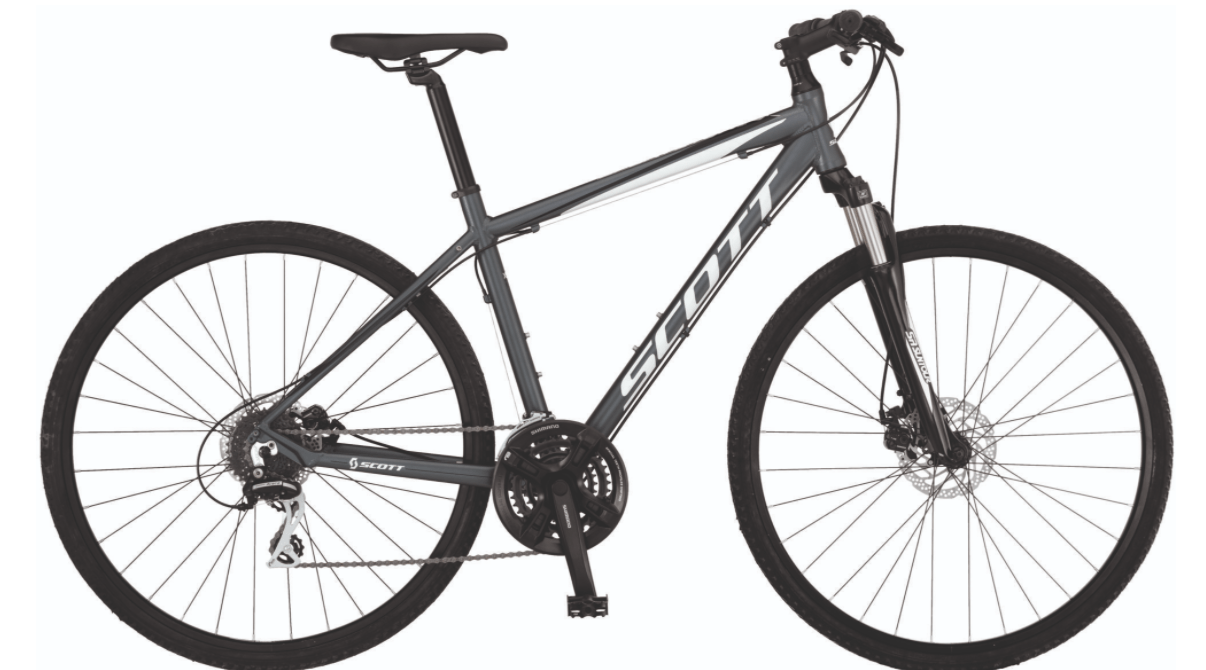 hybrid
Included in your trip price
Exclusions
Airport pickup and drop
We recommend to book direclty from airport or hotel.
meals
Some meals may not be included. Please check your itinerary.
Beverages
Beverages such as alcohol, tea, coffee, juice at a hotel or restaurant.
Reviews from our friends
Great trip!
Great trip! I enjoyed that the cycling was always in the first half of the day and the culture portion was in the latter part of the day. Our guide Kamal was very knowledgeable and the guides enlisted at each historical site gave us a thorough understanding of all we visited. We really enjoyed cycling through the small villages and interacting with the locals.
overall the organization was flawless
We have done many self-organized bike tours on our own, but this was the first guided bike tour we had been on. It was absolutely the best bike tour we have ever done, anywhere, ever. The route was stunning - not difficult, very accessible; the sights were amazing; the guides - Poonchi (sp?), Qutub, Hussein - were exemplary; the bikes excellent; the hotels exuded charm and character; the food was high quality; and the other clients extremely congenial. There was excellent pre-tour communication, and overall the organization was flawless. I just cannot say enough about how much we enjoyed this trip, and how impressed we were with the professionalism of the company. We would not hesitate to do another trip with this company, and have recommended them to a number of our friends.
Stephen Broadbery from CA
5.0
A fabulous way to see and experience the real Rajasthan
A fabulous way to see and experience the real Rajasthan; the sounds, smells, tastes, colours and people. The stays were excellent, the hospitality friendly. I will be going back to soak up more of this country and with this company which was responsible for the trip of my life.