Colorful Rajasthan Luxury Bike Tour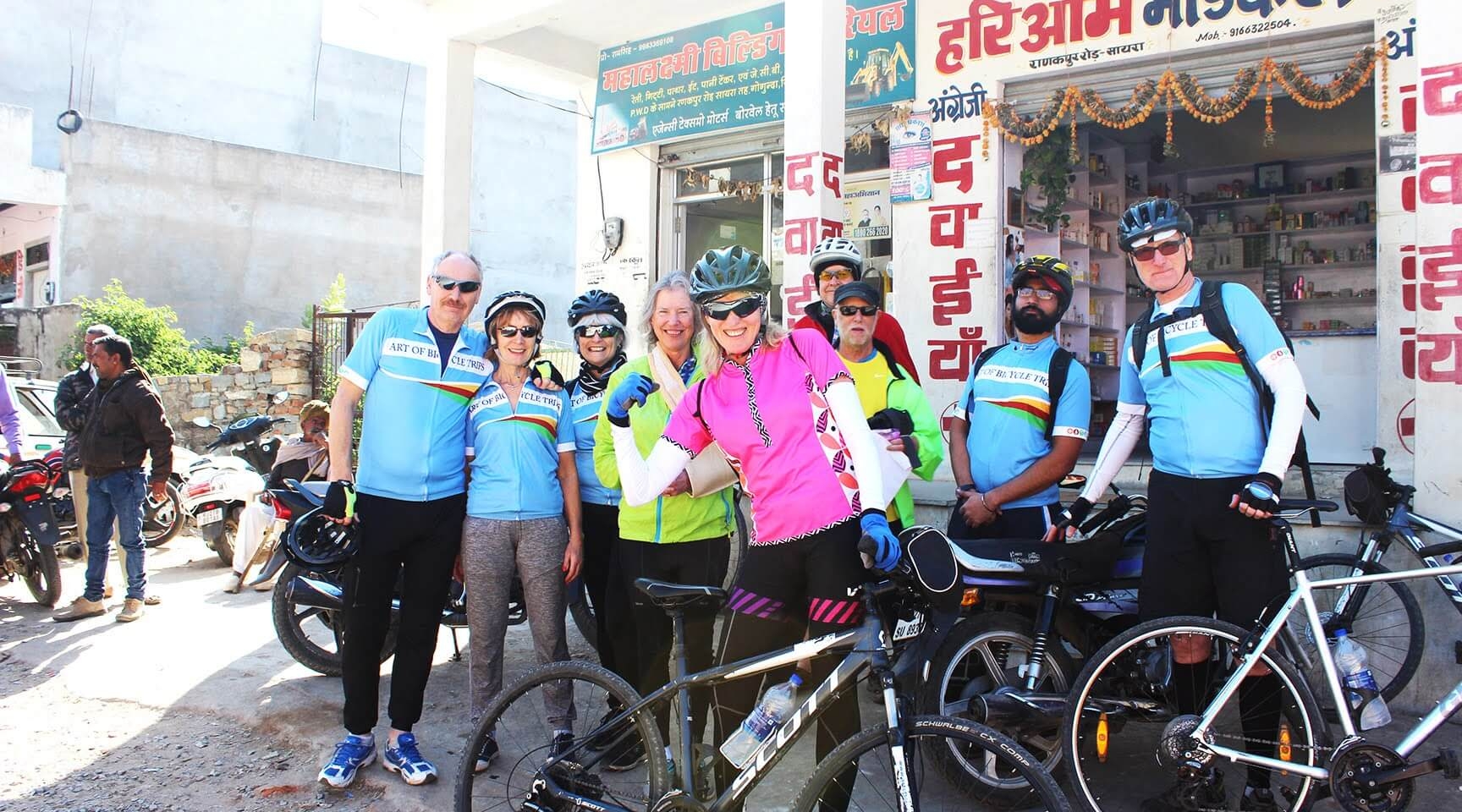 Overview
Rajasthan defines the 'quintessential' India experience – vibrant colors, abundant wildlife, pale brown ornate palaces emerging from the sands of the Thar Desert, vivacious dances, unblemished villages in the interiors, and delicious distinct food from the rest of the country.
You ride past villages in an unparalleled expanse of sandy settings and Aravalli hills. Parts of your trip will transport you back into the world of Kings, Forts, and Battles. As you lose yourself in the local folklore and fascinating tales spinning from every crevice of this magnificent state, be sure to keep your eye on the road. An eclectic array of splendid forts, grand palaces, and revered temples will make the journey even more salubrious! And you actually get to play 'royalty' by staying in some of the best-restored 'havelis' (traditional palatial homes) and hotels. All in all, a prolific cultural and rural biking trip that will leave you in absolute wonder! India's pride on the travel map of the world, the unique landscape and architectural marvels of Rajasthan provide the most exotic backdrop to your cycling vacation in India!
Avg. dist. cycled
50km or 30mi
Highlights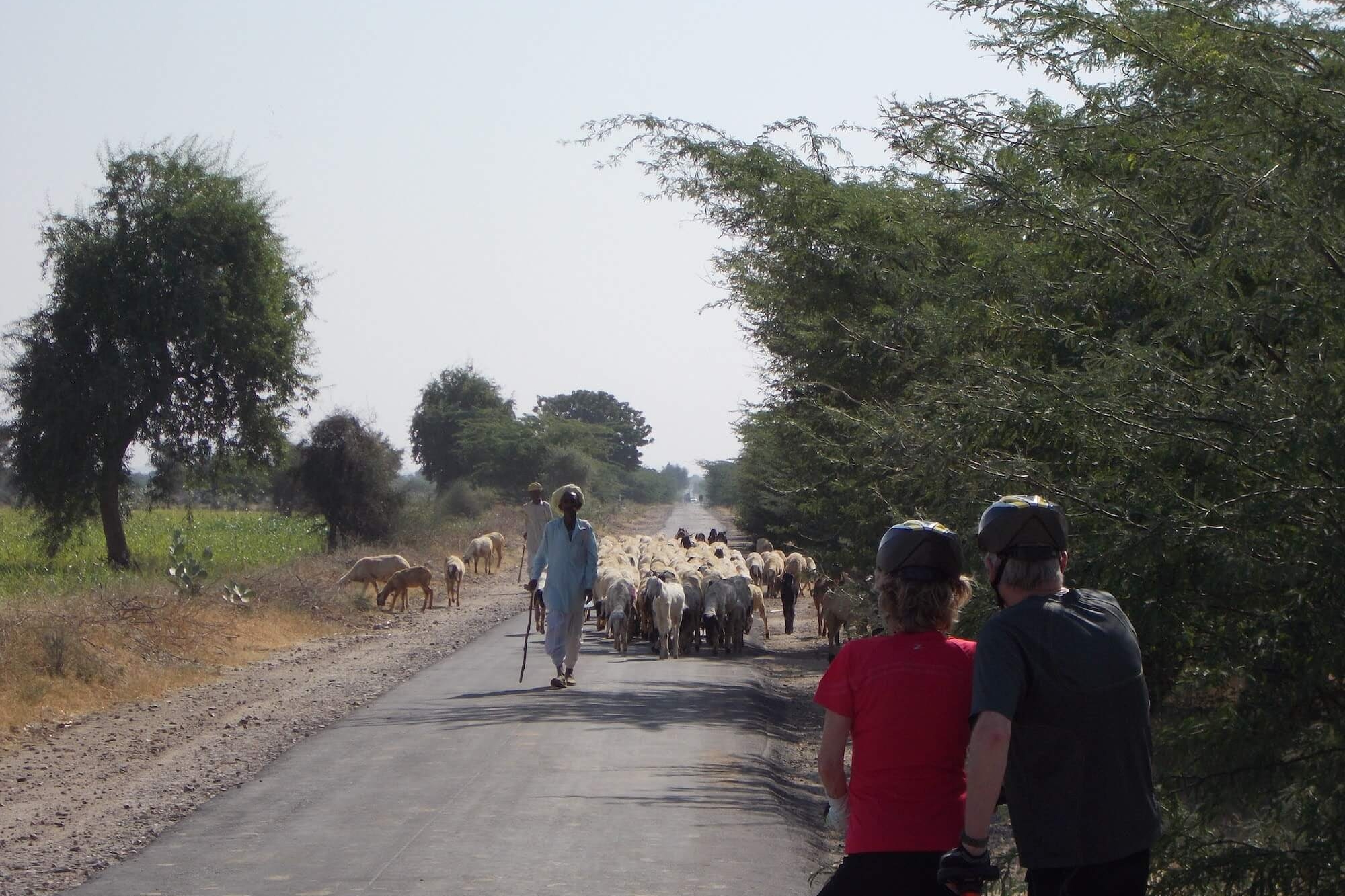 Countryside cycling
Ride past undulating sand dunes flanked by the Aravalli mountain range and the typical rural countryside
Brief Itinerary
| Day | Place | Hotel | Meals | Distance | Activity |
| --- | --- | --- | --- | --- | --- |
| DAY 1 | Udaipur | Bujera Fort | D | | |
| DAY 2 | Udaipur | Bujera Fort | B, L | 40km / 24mi | cycling |
| DAY 3 | Kumbhalgarh | The Aodhi* | B, L, D | 50km / 30mi | cycling |
| DAY 4 | Bera | Castle Bera | B, L, D | 50km / 30mi | cycling |
| DAY 5 | Bera | Castle Bera | B, L, D | | |
| DAY 6 | Chanod | Chanod Garh | B, L, D | 60km / 36mi | cycling |
| DAY 7 | Jodhpur | Raas | B, L, D | 45km / 27mi | cycling |
| DAY 8 | Jodhpur | | B | | |
Detailed Itinerary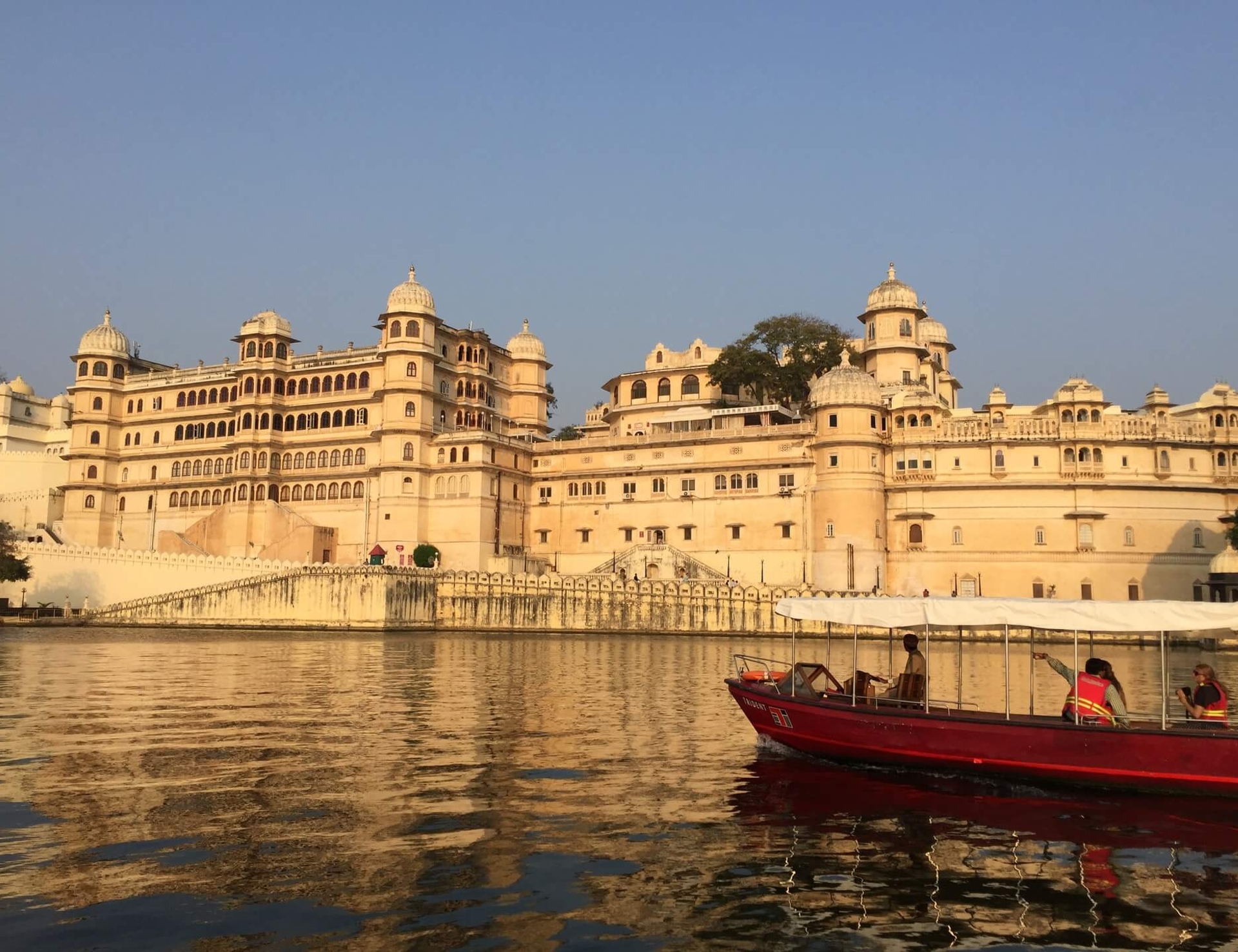 Day 1: Udaipur
Udaipur can be a jumble of sights, sounds, and smells but is an absolute must for travelers. On the first day of the trip, our guide meets you at your hotel at 13:00, and we cover some Udaipur highlights – a guided walk of the City Palace. The City Palace is enclosed in a large complex on the banks of Lake Pichola and has many more palaces inside.
Enjoy walking the old market and eating street food at Paliwal Kachori, take an amazing cooking class with Sashi, or a boat ride on Pichola Lake.
We convene tonight at the dinner, next to the beautiful lake, to celebrate the start of a fabulous cycling journey.
Meals:
D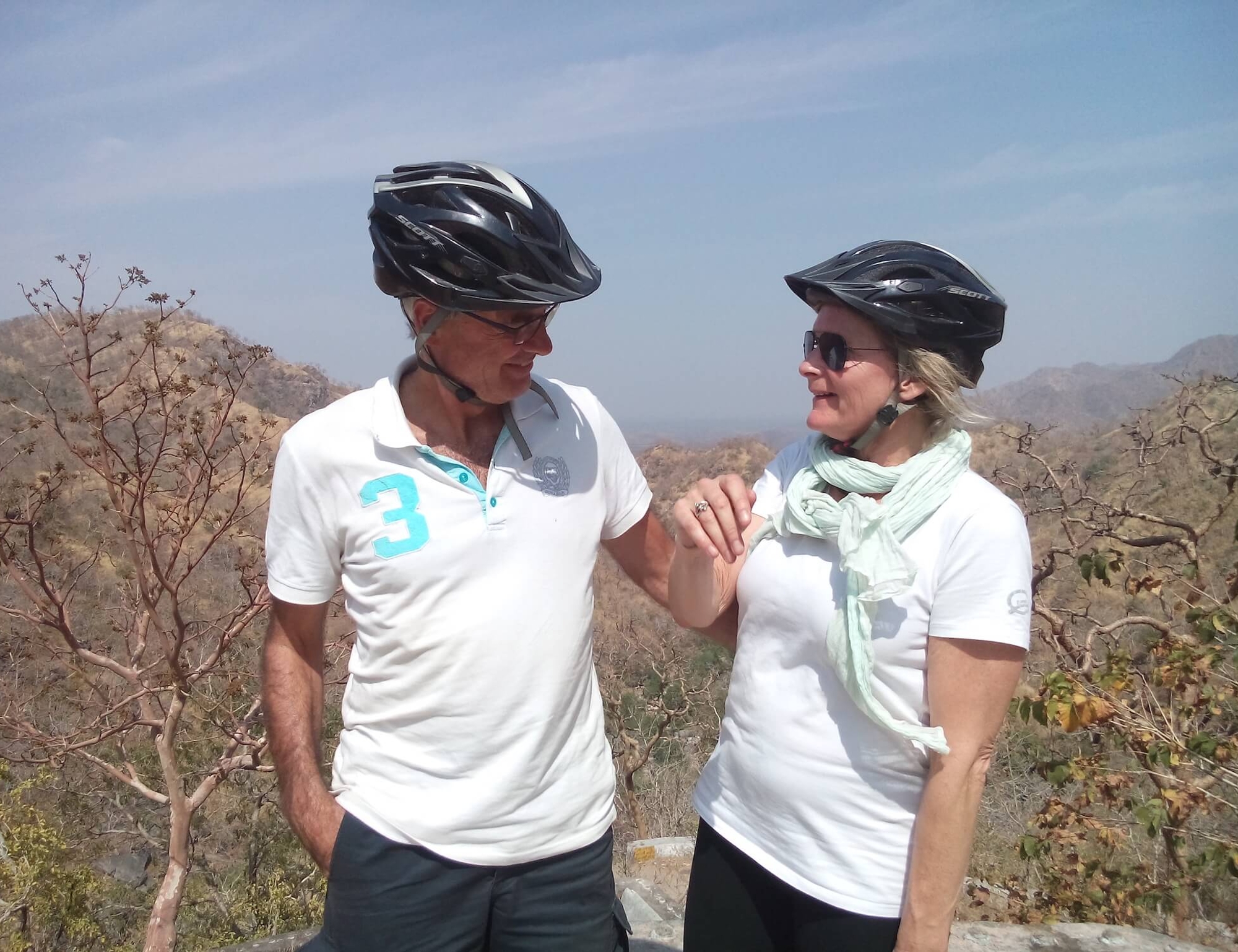 Day 2: Udaipur
Today we explore the 'City of lakes' on a short half-day-long loop on a bike, swerving to untreaded nooks and corners through the beautiful rural countryside and absorbing this historic capital of Mewar at your own pace. A colorful landscape unfolds here with brightly clothed village women. Here you can see a typical hamlet of Rajasthan with people busy with farming. We get to discover kingfisher, langurs, cows, goats, and peacocks along the way, and a chance to take a refreshing ride around Lake Pichola, Fateh Sagar, and Badi Lake.
In the evening, we recommend enjoying an enthralling cultural show organized at Bagore Ki Haveli.
Meals:
B, L
Cycling Distance:
40km / 24mi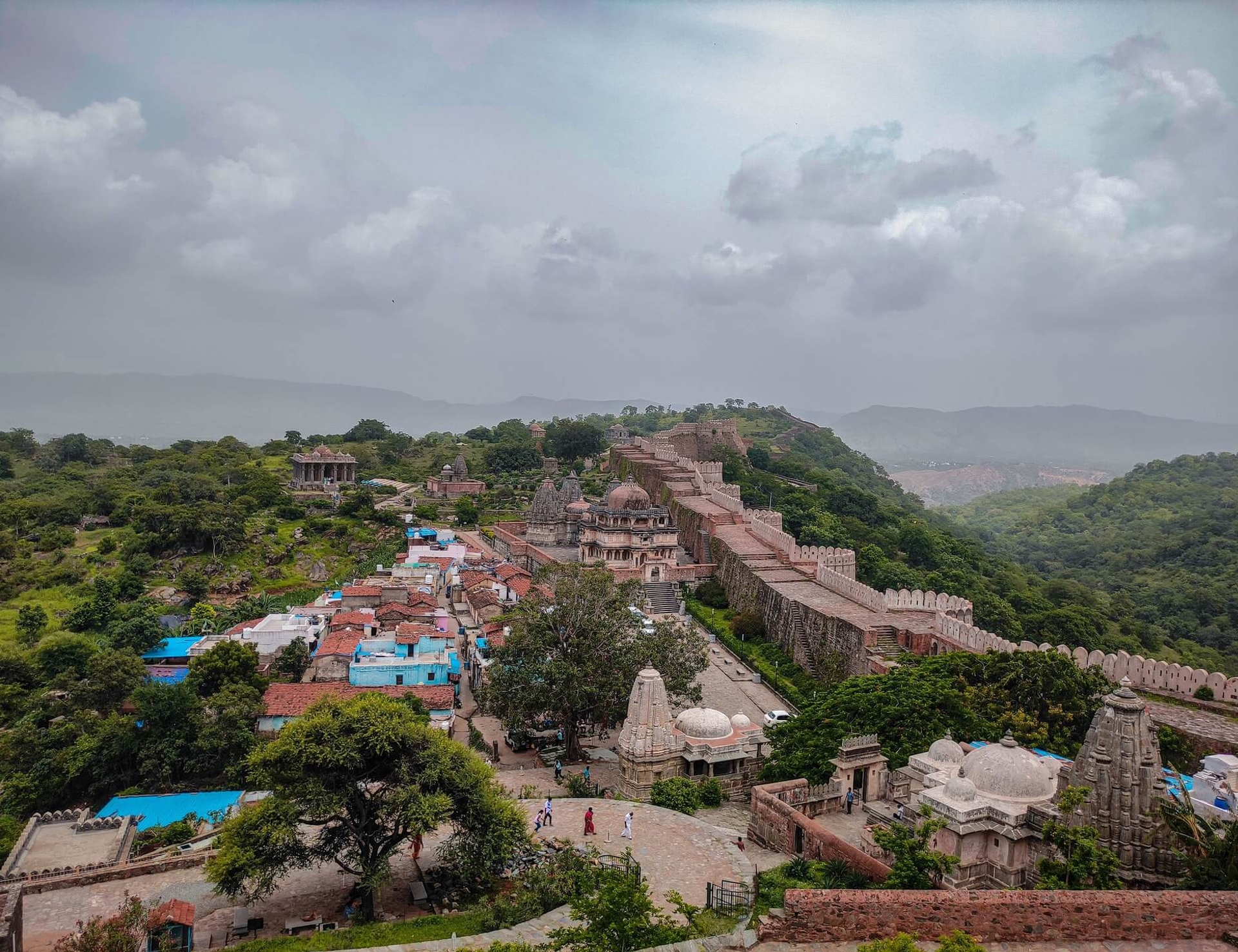 Day 3: Kumbhalgarh
On this day we start early and take a shuttle to a short distance and ride to the next town of Kumbhalgarh. This is the most scenic ride of the trip as you climb the Aravalis, maneuver through the rolling hills, and cycle past a Dhonk (Anogeissus Pendula) strewn topography. The plant adds a spattering of color to the pale brown stretches along the way. Kumbalgarh is yet another historic fort town from the 15th century.
In the evening, we climb the rugged Kumbalgarh Fort, surrounded by a 35km wall with 365 temples within.
Meals:
B, L, D
Cycling Distance:
50km / 30mi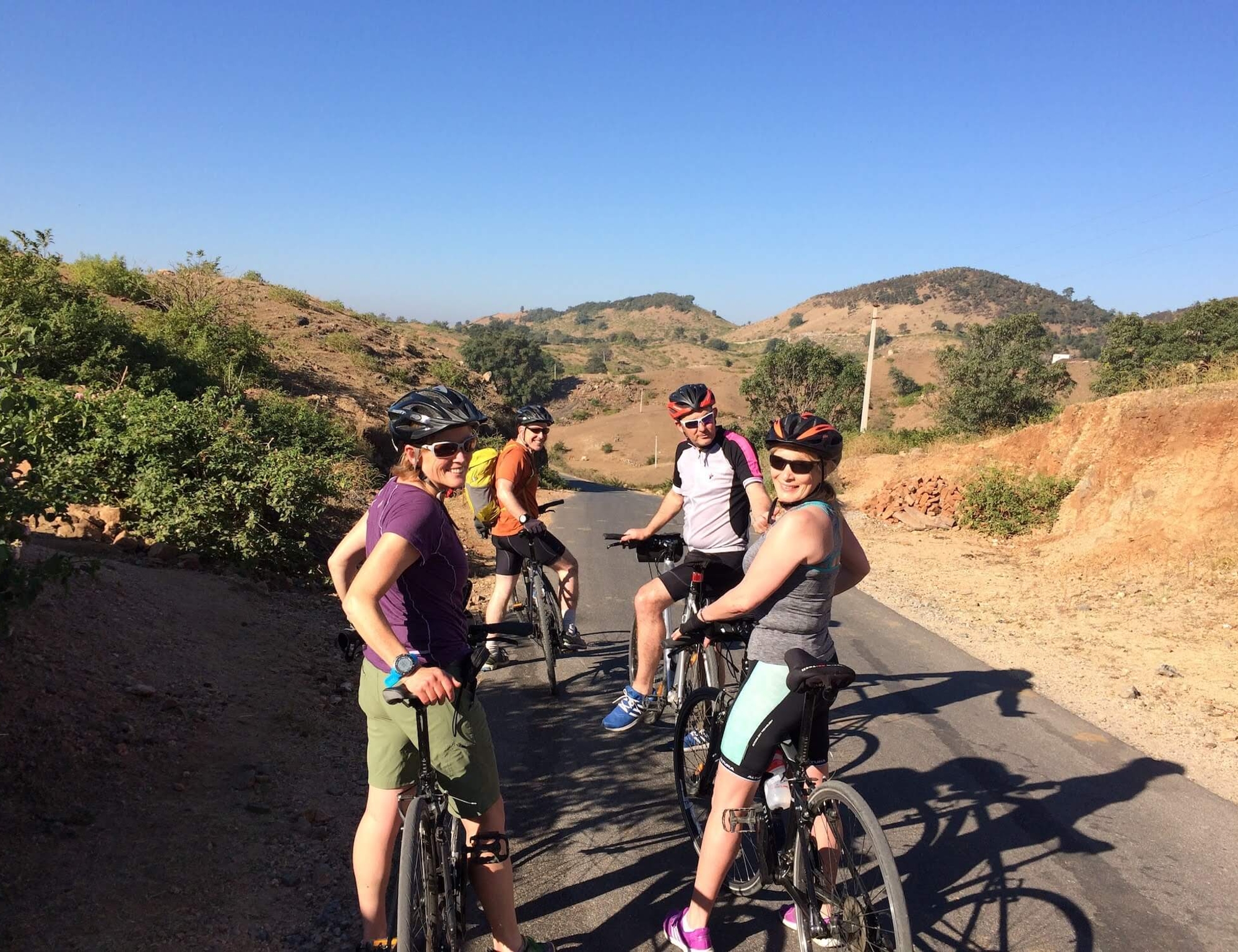 Day 4: Bera
The Aravallis are one of the oldest mountain ranges in the world and its rugged, worn hills are thickly wooded and littered with numerous mountain streams and brooks. The terrain is slightly challenging and offers excellent opportunities to experience at close quarters the lifestyles of the Bhil tribals – an indigenous tribal people of India and one of the oldest inhabitants of the subcontinent.
Another beautiful day on a bike through the dense forest and gradual inclines take you close to the Aravalis. En route, we visit Ranakpur Jain Temple. Jainism is an ancient religion from India that teaches that the way to liberation and bliss is to live a life of harmlessness and renunciation. This architectural wonder in white marble is known for exquisitely carved 1444 pillars.
Castle Bera, set in tranquil surroundings of the low-lying Jawai hill ranges, and vast shrubby forests teeming with wildlife, Bera is a great stop. This is the most wholesome ride of the tour as you get a balanced day of different topographies.
Meals:
B, L, D
Cycling Distance:
50km / 30mi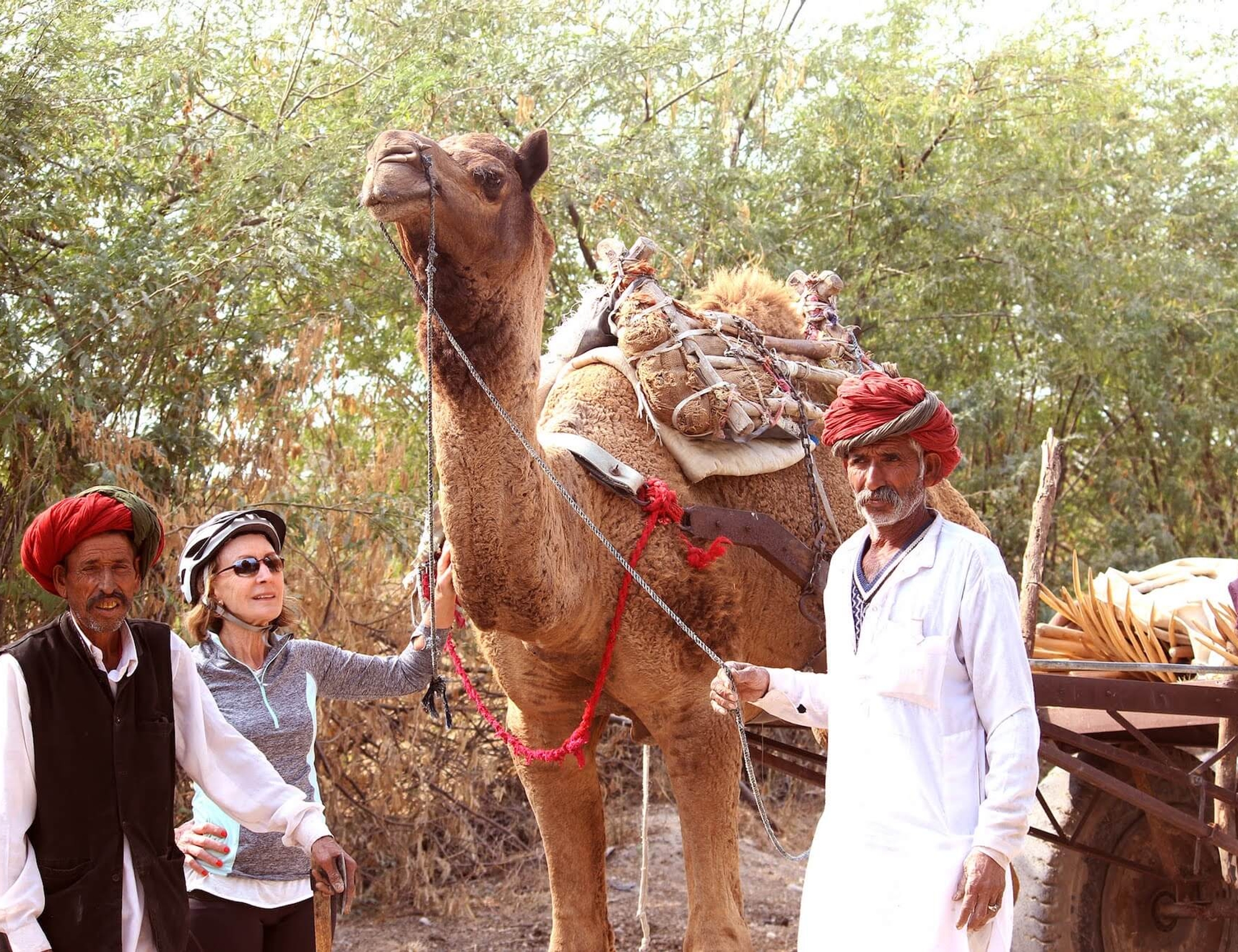 Day 5: Bera
Wake up to a dramatic wilderness. Enjoy a fabulous early morning leopard safari, where leopards roam wild and free in an untrammeled wilderness, coexisting comfortably with the charismatic communities.
Later go on a little tour of a nearby village on foot, to get up close and personal with the rural life of Rajasthan.
Meals:
B, L, D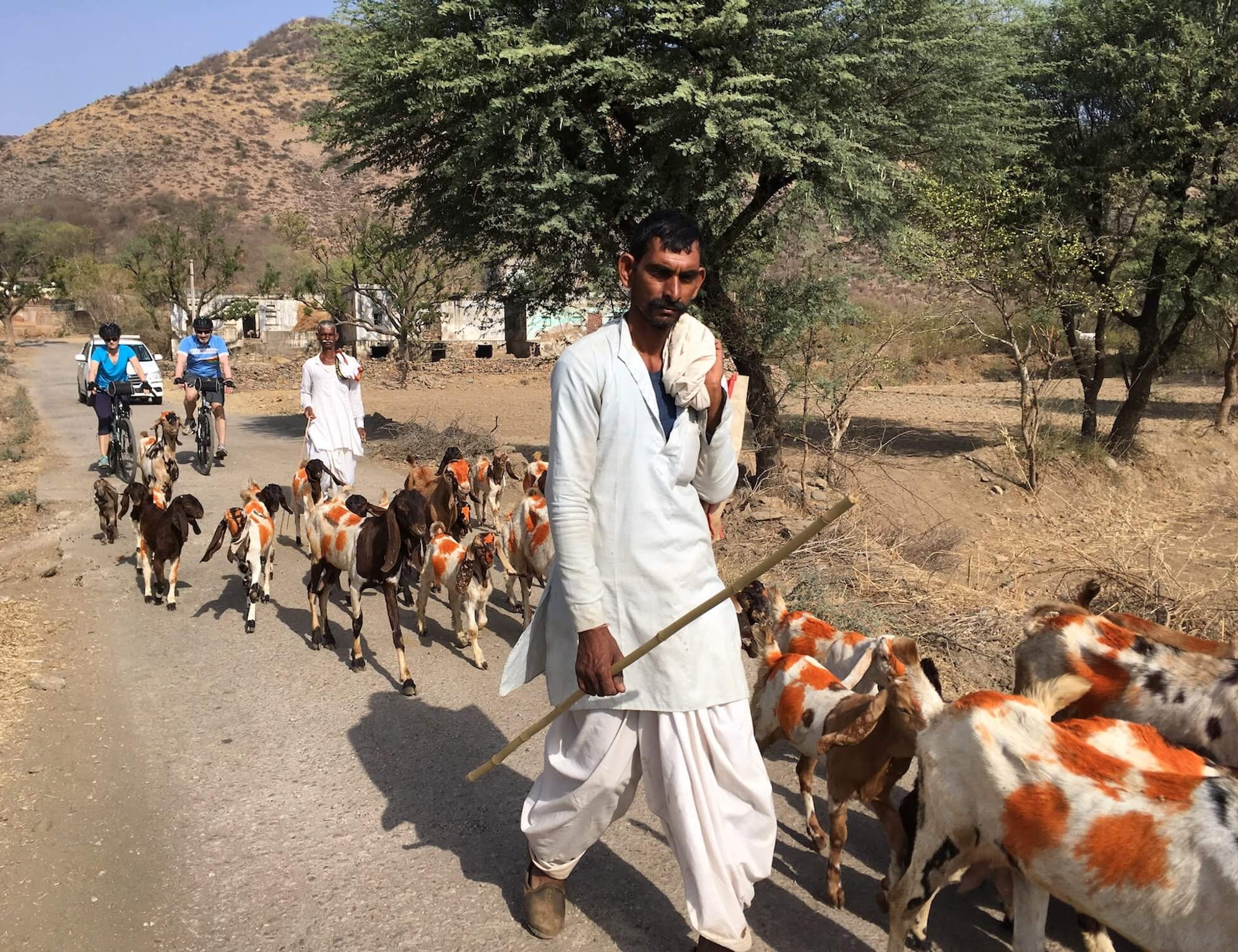 Day 6: Chanod
We ride through a quiet and narrow backroad that offers ample opportunities for spotting wild animals like the blackbuck, blue bulls and if you're lucky, the shy but extremely graceful Indian Gazelle too. As you ride past swaying masses of yellow mustard and wheat, you'll meet run into hordes of camels and goats as well as friendly villagers always happy to pose for a photograph or two.
The ride remains largely flat. You can enjoy the vistas with ease and look forward to your stay at the Chanoud.
Meals:
B, L, D
Cycling Distance:
60km / 36mi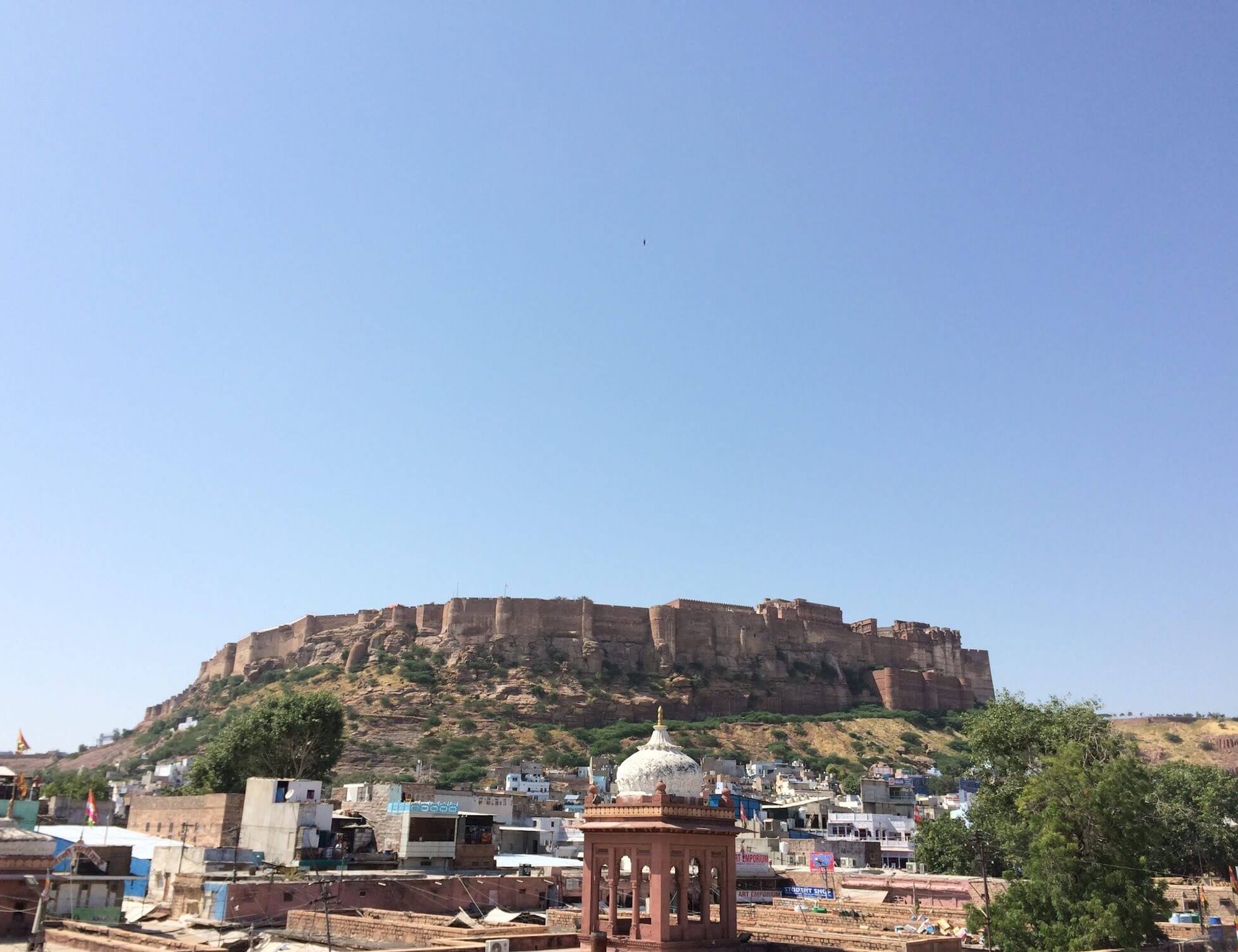 Day 7: Jodhpur
On this day we cycle to Jodhpur along a beautiful route that, despite the barren landscape is known to support a surprising diversity of fauna. En route, you may spot animals like deer, blackbucks, camels, and blur bulls as you ride past swaying masses of yellow mustard and wheat.
Later we take a shuttle and arrive at Jodhpur, the second-largest city of Rajasthan, which have earned the moniker of 'Sun City' for its bright clear skies and sunny weather. Notice how a large number of houses here are blue in color – a striking contrast to the pale sandy color of the city. The towering Mehrangarh Fort, a key highlight of Jodhpur, looms over the city from a small hill and can be seen everywhere.
In the afternoon, we explore the magnificent 15th-century Mehrangarh fort built by Maharaja Man Singh. Clutching onto a 100 feet perpendicular cliff, the fort epitomizes the majestic history of Rajasthan. One of the best-preserved forts of India, it is replete with antiques, artifacts, palanquins, and intricate carvings spread over the period rooms and galleries. The fort expands over 5kms on top of the hill. So colossal are its proportions that Rudyard Kipling called it "the work of giants".
Here we have chosen one of the most architecturally delightful hotels in Jodhpur, to fill your journey with complete immersion in history and a charming slice of Rajasthan's grandeur, at the Raas Hotel. Winding through the quaint streets of the city, the hotel comes as a pleasant luxurious oasis in the jumble of houses and markets – undoubtedly an authentic location for you to get inducted into the Rajasthan culture. Check in and relax in this perfect synthesis of contemporary designs, modern facilities, and the old-world charm of Jodhpur – you can see the famous Mehrangarh Fort from every room here.
Meals:
B, L, D
Cycling Distance:
45km / 27mi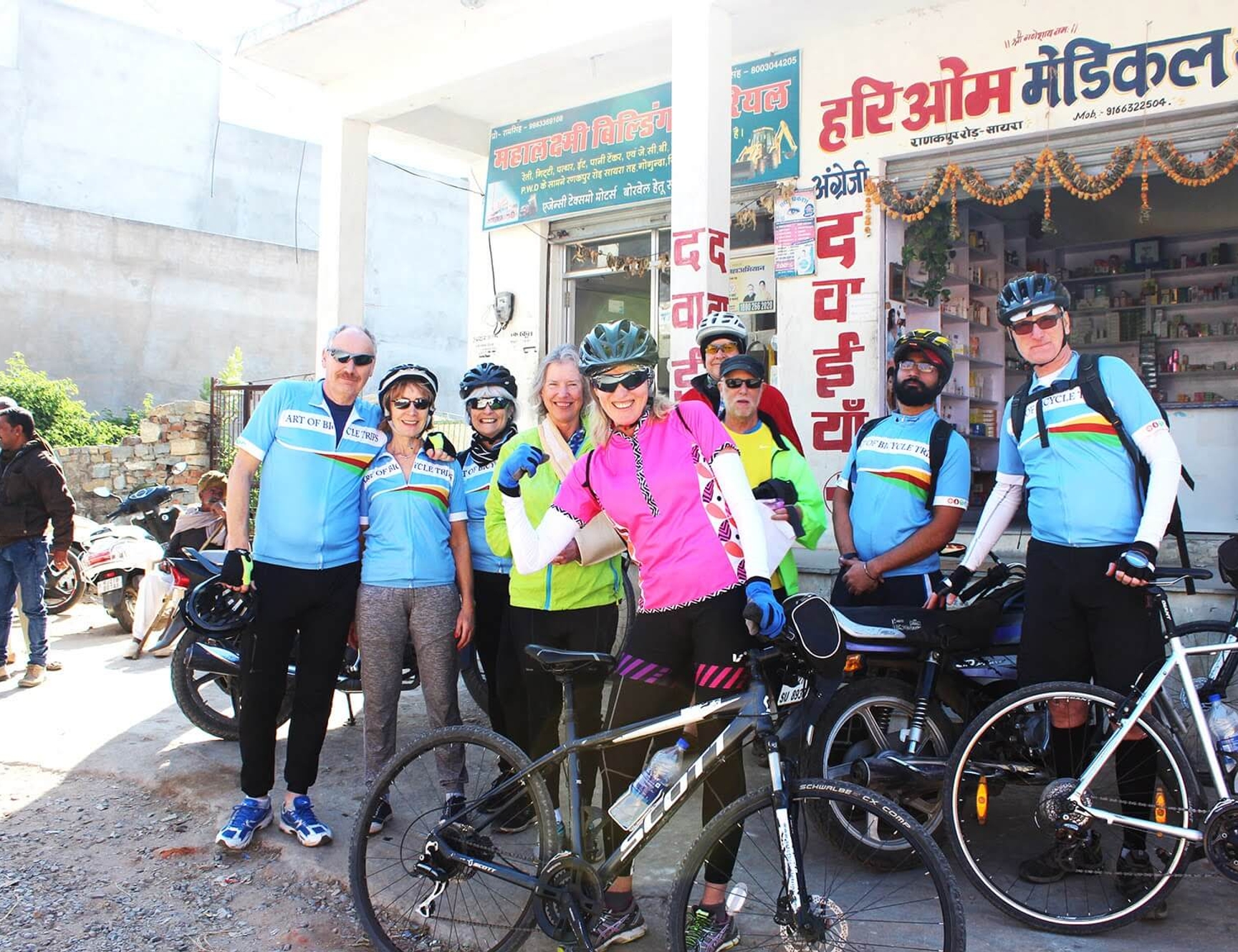 Day 8: Jodhpur
Today, you can venture out into the markets on your own. The narrow market streets splashed with colour in the form of bright textiles, silver jewelry, ethnic bags, and more – a classic taste of Rajasthan's vibrant culture.
Meals:
B
Ready to plan your adventure? Download a print-ready detailed itinerary.
Map
Accommodation
Each hotel has been thoughtfully selected to ensure an exceptional and memorable experience for guests.
Bujera Fort
In one of the most beautiful cities in the world, Bujera Fort, a spectacular, newly built fortress, in the Aravali hills, on the west side of Lake Pichola, with views of the City Palace, Lake Palace and the Monsoon Palace and Fateh Garh Castle.
Dates and Prices
Members get an estimated 10% off on this trip.
---
$50/yearLearn more
---
Couldn't find a trip with convenient dates?
Open your date as a join-in tour or customize further as a private one.
---
Essential Info
Inclusions
LODGING
All hotels as mentioned in the tour details or similar (subject to availability).
trip leader
Expert Trip Leader(s) who look after your every need and add meaning to your vacation.
bike
Immaculately maintained bike with helmet, suited to a terrain.
shuttle
A Van support follows the group of riders and carries all belongings.
meals
Meals as per itinerary. Guests are given the opportunity to dine on their own so that they discover a location independently.
refreshments
Refreshments and mineral water while cycling.
entrance
Entrance fees to most of the monuments and temples.
E-bikes
E-bikes are available on this trip at a surcharge. Please send a note to your tour consultant to book one.
Exclusions
Airport pickup and drop
We recommend to book direclty from airport or hotel.
meals
Some meals may not be included. Please check your itinerary.
Beverages
Beverages such as alcohol, tea, coffee, juice at a hotel or restaurant.
Bikes
When you have a road and the thrill of a journey ahead of you, it's imperative to have a good bike to enjoy it. Our fleet majorly consist of the below bikes as a part of this tour. However, sometimes due to height or availability constraints, we may provide a different but similar quality bike.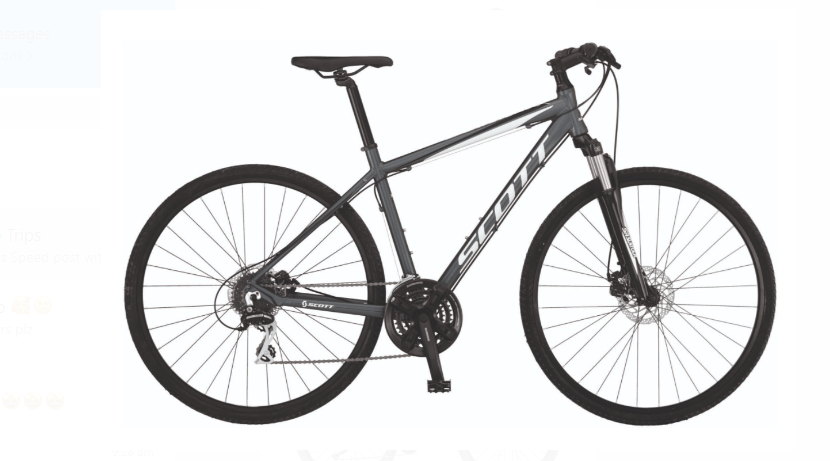 hybrid
Included in your trip price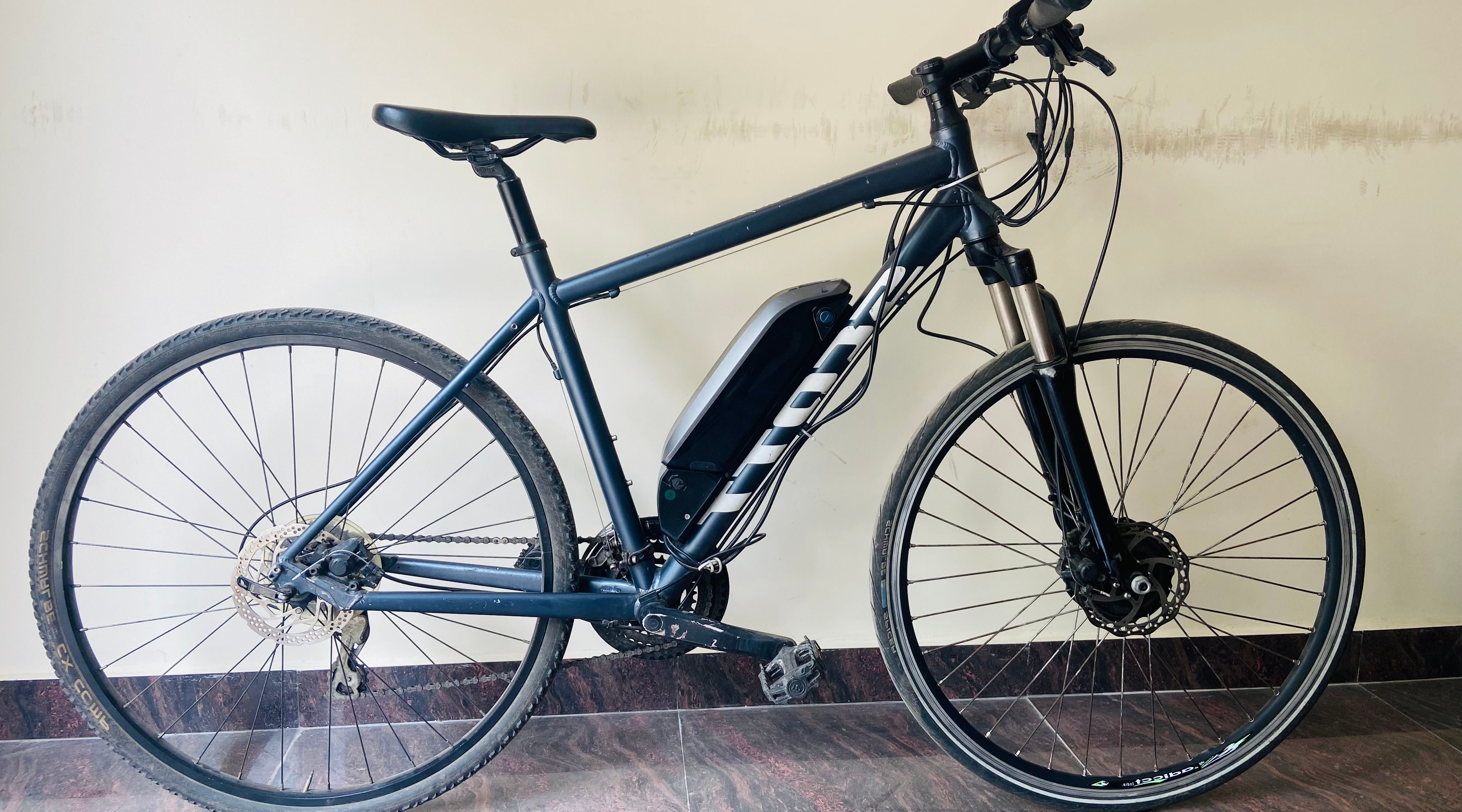 Weather
August and September mark the monsoon season in Rajasthan and the countryside feels alive. The temperature (similar to March) could be close to 25-30 degree Celsius at night, but the days are sunny & humid with temperatures around 30-35 degrees Celsius. Though it may be a bit hot, it is still a good time for biking as the countryside is amazingly green with many water bodies. Generally, it rains for a short period and then settles down which makes the condition much cooler and perfect for biking.
November, December, January & February marks the winter season in Rajasthan. The monsoon season has ended. The temperature could be close to 2-5 degree Celsius on nights in Dec-Jan, but the days are sunny with temperatures around 15-20 degrees Celsius. Nights can get chilly in the highlands. It is recommended to carry warm clothes and a breathable windproof jacket. These are the best months for cycling in Rajasthan. By March, the temperature starts picking up and is around 25-30 degree Celsius at night, but the days are sunny with temperatures around 30-40 degrees Celsius.
In a nutshell, our bike tours in Rajasthan run from August to March. April to July is a complete no-go.
Visa
All foreign nationals entering India are required to possess a valid international travel document in the form of a national passport with a valid visa obtained from an Indian Mission or Post abroad. E-Visa has been made available by the Government of India to citizens of certain countries, including the United States of America. Details of the scheme are available on the dedicated website created for this purpose: e-Visa
e-Visa has 5 sub-categories viz. e-Tourist Visa (for 30 days/01 year/ 05 years), For e-Tourist and e-Business visa, Applicants may apply online minimum 4 days in advance of the date of arrival. Recent front-facing photographs with white backgrounds and photo pages of passports containing personal details like name, date of birth, nationality, expiry date etc, are to be uploaded mandatorily by the applicant. Additionally, one more document depending upon the e-Visa type would also be required to be uploaded. The application is liable to be rejected if the uploaded documents and photograph are not clear / as per specification.