Colorful Rajasthan Premiere Bike Tour
---
Overview
Rajasthan defines the 'quintessential' India experience – vibrant colours, abundant wildlife, pale brown ornate palaces emerging from the sands of the Thar Desert, vivacious dances, unblemished villages in the interiors and delicious distinct food from the rest of the country.
You ride past villages in an unparalleled expanse of sandy setting and Aravalli hills. Parts of your trip will transport you back into the world of Kings, Forts and Battles. As you lose yourself in the captivating folklores and fascinating tales spinning from every crevice of this magnificent state, be sure to keep your eye on the road. An eclectic array of splendid forts, grand palaces and revered temples will make the journey even more salubrious! And you actually get to play 'royalty' by staying in some of the best-restored 'havelis' (traditional palatial homes) and hotels. All in all, a prolific cultural and rural biking trip that will leave you in absolute wonder! India's pride on the travel map of the world, the unique landscape and architectural marvels of Rajasthan provide the most exotic backdrop to your cycling vacation!
Avg. dist. cycled
50km or 30mi
Group size
Min. 2, Max. 14
Highlights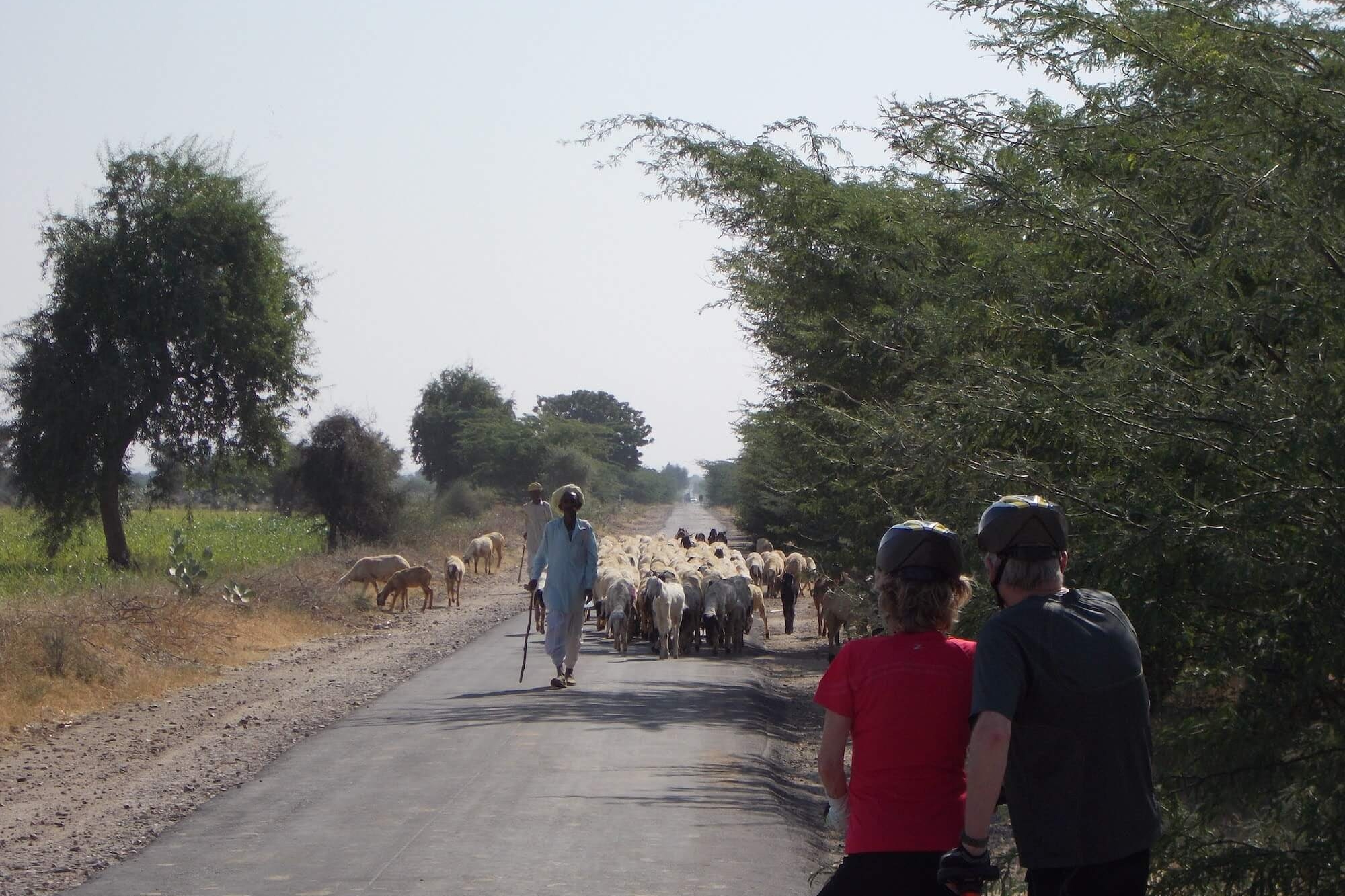 Countryside cycling
Ride past undulating sand dunes flanked by the Aravalli mountain range and the typical rural countryside
Itinerary
Brief Itinerary
| Day | Place | Hotel | Meals | Distance | Activity |
| --- | --- | --- | --- | --- | --- |
| DAY 1 | Jaipur | Samode Haveli | D | | |
| DAY 2 | Jodhpur | Raas | B, D | | |
| DAY 3 | Chanod | Chanod Garh | B, L, D | 60km / 36mi | cycling |
| DAY 4 | Narlai | Rawla Narlai | B, L, D | 50km / 30mi* | cycling |
| DAY 5 | Deogarh | Deogarh Mahal | B, L, D | 60km / 36mi | cycling |
| DAY 6 | Deogarh | Deogarh Mahal | B, L, D | | |
| DAY 7 | Kumbhalgarh | The Aodhi* | B, L, D | 80km / 48mi* | |
| DAY 8 | Udaipur | Bujera Fort | B, D | 50km / 30mi | cycling |
| DAY 9 | Udaipur | | B | | |
Detailed Itinerary
Day 1: Jaipur
Our guide meets at your hotel around 08:30hrs. We take an Arts & Crafts Walk with our local expert Vineet, in the pink city bazaar, to get up-close and personal with the life of Jaipur. The walk covers areas of Marble statue makers, lacquer bangle makers, Metalworkers, Jewelry workers, Embroidery workers, etc. In this walk, we crisscross the medieval center of the city, recapping the most important historical events, while briefly introducing the basic cultural fabric that Jaipur has to offer from its history.
Post-lunch, we do bike fit before starting with a visit to Amer Fort. After bike fit, visit the famous fortress of Kacchawaha kings at Amber. Large courtyards, intricate carvings on formidable structure, and nuances of Rajput rule can be seen in the fort overlooking the Maota Lake. If you're up for a walk, take a tunnel to Jaigarh Fort.
The rest of the day is at leisure. Jaipur is the erstwhile capital of the ruling Kacchawahas in the early eighteenth century. We recommend taking a walk in the old city and experience the delightful ancient markets at ease. Hawa Mahal and the numerous bazaars selling bright textiles and silver are worth every hour spent.
Meals:
D
Day 2: Jodhpur
This day we start early in the morning and take a train (06:00 – 10:50) from Jaipur to Jodhpur.
We arrive at Jodhpur, the second largest city of Rajasthan, and has earned the moniker of 'Sun City' for its bright clear skies and sunny weather. Notice how a large number of houses here are blue in colour – a striking contrast to the pale sandy colour of the city. The towering Mehrangarh Fort, a key highlight of Jodhpur, looms over the city from a small hill and can be seen from everywhere.
In the afternoon, we explore the magnificent 15th century Mehrangarh fort built by Maharaja Man Singh. Clutching onto a 100 feet perpendicular cliff, the fort epitomises the majestic history of Rajasthan. One of the best-preserved forts of India, it is replete with antiques, artifacts, palanquins and intricate carvings spread over the period rooms and galleries. The fort expands over 5kms on top of the hill. So colossal are its proportions that Rudyard Kipling called it "the work of giants".
Here we have chosen one of the most architecturally delightful hotels at Jodhpur, to start your journey with complete immersion in history and a charming slice of Rajasthan's grandeur, at the Raas Hotel. Winding through the quaint streets of the city, the hotel comes as a pleasant luxurious oasis in the jumble of houses and markets – undoubtedly an authentic location for you to get inducted into the Rajasthan culture. Check in and relax in this perfect synthesis of contemporary designs, modern facilities and old world charm of Jodhpur – you can see the famous Mehrangarh Fort from every room here.
Meals:
B, D
Day 3: Chanod
We start cycling early this day across lush millet vegetation and carpets of yellow mustard fields. En route, you may spot animals like deer, blackbucks, camels, and blur bulls as you ride past swaying masses of yellow mustard and wheat. The riding is through the typical hinterland to get up close and personal with the rural life of Rajasthan. Small shrines and village huts of the hamlets are extremely picturesque. The ride remains largely flat and you can enjoy the vistas with ease and look forward to your stay at the Chanoud.
Meals:
B, L, D
Cycling Distance:
60km / 36mi
Day 4: Narlai
This morning, we hop onto the bikes and make our way to Narlai. Narlai lies at the epicenter of an area rich with more than 400 historic temples. Arriving in Narlai, settle into the Rawla Narlai, an enchanting 17th-century mansion. Formerly used as a hunting lodge, it is located in the heart of a typical rustic Rajasthan village amidst a craggy rockscape interjected with village houses. Rawla boasts of an esteemed guest list with the likes of Mick Jagger and Francesco Clement having stayed here.
The hotel lies under the shadow of Elephant Hill, a massive granite monolith. In the evening, climb the 700 steps to the top for a panorama over lakes, fields and forests, and beautiful sunset.
Meals:
B, L, D
Cycling Distance:
50km / 30mi*
Day 5: Deogarh
We ride through a quiet and narrow backroad that offers ample opportunities for spotting wild animals like the blackbuck, blue bulls and if you're lucky, the shy but extremely graceful Indian Gazelle too. As you ride past swaying masses of yellow mustard and wheat, you'll meet run into hordes of camels and goats as well as friendly villagers always happy to pose for a photograph or two. The rugged Aravalis runs alongside the flat route and the last leg involves a short climb as you arrive at Deogarh, set in tranquil surroundings of the low lying Aravalli hill ranges, vast shrubby forests teeming with wildlife, Deogarh is a great stop. This is the most wholesome ride of the tour as you get a balanced day of different topographies.
Meals:
B, L, D
Cycling Distance:
60km / 36mi
Day 6: Deogarh
We take a break from the bike and on a little tour of a nearby village on foot, to get up close and personal with the rural life of Rajasthan. Hanging acacias, small shrines, and village huts of the hamlets close to Deogarh are extremely picturesque. Back at the hotel, you can relax, browse through books, and know more about the history from the host itself.
A half-day trip can also be taken on the meter gauge train that still runs through the beautiful countryside.
Meals:
B, L, D
Day 7: Kumbhalgarh
The Aravallis are one of the oldest mountain ranges in the world and its rugged, worn downhills are thickly wooded and littered with numerous mountain streams and brooks. The terrain is slightly challenging and offers excellent opportunities to experience at close quarters the lifestyles of the Bhil tribals – an indigenous tribal people of India and one of the oldest inhabitants of the subcontinent.
Another beautiful day on a bike through the dense forest and gradual inclines takes you close to the Aravalis and later to the famous Kumbhalgarh, a historic fort town from the 15th century, through the rugged Aravalis and undulating stretches. This is the most wholesome ride of the tour as you get a balanced day of different topographies.
In the evening, we climb the rugged Kumbalgarh Fort, surrounded by a 35km wall with 365 temples within.
Meals:
B, L, D
Cycling Distance:
80km / 48mi*
Day 8: Udaipur
This is the most scenic ride of the trip as you climb the Aravalis, maneuver through the rolling hills, and cycle past a Dhonk (Anogeissus Pendula) strewn topography. The ride is extremely gorgeous today and takes you through the interior parts of Rajasthan. The beautiful landscape unfolds like poetry in motion as you bike through picturesque countryside to Udaipur. Udaipur can be a jumble of sights, sounds, and smells but is an absolute must for travelers.
In the afternoon, we cover some Udaipur highlights – a guided walk of the City Palace. The City Palace is enclosed in a large complex on the banks of Lake Pichola and has many more palaces inside.
In the evening, we recommend enjoying an enthralling cultural show organized at Bagore Ki Haveli.
We convene tonight at the dinner, next to the beautiful lake, to celebrate the end of a fabulous cycling journey.
Meals:
B, D
Cycling Distance:
50km / 30mi
Day 9: Udaipur
Today, you can venture out into the markets on your own. The narrow market streets splashed with colour in the form of bright textiles, silver jewelry, ethnic bags, and more – a classic taste of Rajasthan's vibrant culture.
Meals:
B
Dates and Prices
---
Couldn't find a trip with convenient dates?
Open your date as a join-in tour or customize further as private one.
We offer private departures on almost all our itineraries, and for groups of four or more, they cost the same as our standard trips!
---
Essential Info
Inclusions
LODGING
All hotels as mentioned in the tour details (subject to availability). All options are personally reviewed.
trip leader
Expert Trip Leader(s) who look after your every need and add meaning to your vacation.
bike
Immaculately maintained bike with helmet, suited to a terrain.
shuttle
A Van support that follows the group of riders and carries all belongings.
meals
Meals as per itinerary. Guests are given the opportunity to dine on their own so that they discover a location independently.
refreshments
Refreshments and mineral water while cycling.
entrance
Entrance fees to most of the monuments and temples.
E-bikes
E-bikes are available on this trip at a surcharge. Please send a note to your tour consultant to book one.
Exclusions
Airport pickup and drop
We recommend to book direclty from airport or hotel.
meals
Some meals may not be included. Please check your itinerary.
Beverages
Beverages such as alcohol, tea, coffee, juice at a hotel or restaurant.
Reviews from our friends
Barbara Sparrow from CA
5.0
We thoroughly enjoyed
We thoroughly enjoyed our Glimpse of Rajasthan 6 day, 200+km ""easy ride"" cycle tour from Udaipur to Jodhpur! Our trip leader Hussain was amazing, he looked after every little detail for us and went above and beyond in so many ways. This route took us on the back country roads through little villages and rural areas. All along the way, we felt like celebrities as everyone was waving and excited to see us, especially the little children who would come running and shrieking and then got so excited when we waved back or said hello. We are a fairly active middle aged couple from Canada, but I was a little nervous about whether I would be able to keep up. The first day had some hills, but the following days were very easy cycling. The bikes were very good quality; Hussain checked them frequently and they were always clean and ready to go every morning. Vijay who was driving the support vehicle was never very far away from us, so we always had access to the vehicle if we needed it. We had booked the ""Premium Inns"" accommodations, which for the most part far exceeded our expectations. Even though these are all top notch hotel choices, I had expected to be booked into their basic room types, but at each hotel, it seemed that we got the best room in the hotel. The trip included a lot of sightseeing and village walks, all with excellent professional tour guides at every location. We loved the village walk in Narlai where we were invited into people's homes and offered chai tea, it was such a great experience! One of our stops was at a little village school, where we had a tour & got to watch the kids recite their times tables and English alphabet - this was truly special! I highly recommend the Art of Bicycle trips & would give them way more than 5 stars if I could! A very big thank you to Hussain and Vijay and the rest of the crew, you made our trip to India such a wonderful experience !!
a great window into a world
Thank you for helping us explore Rajasthan by bike. It was a great window into a world we would otherwise have been unlikely to see/experience.
changes perspective
We are home and every day remembering things we enjoyed about our bicycle trip. Thanks again for everything you did to make it great for us. As your sign on the office in Udaipur says, it "changes perspective," and it will stick with us for a lifetime. Rajasthan was so much more (beautiful, lively, crazy, stunning, peaceful, rural, mesmerizing, etc) than we imagined. Definitely "art of the bicycle trip."