Wild South Luxury Bike Tour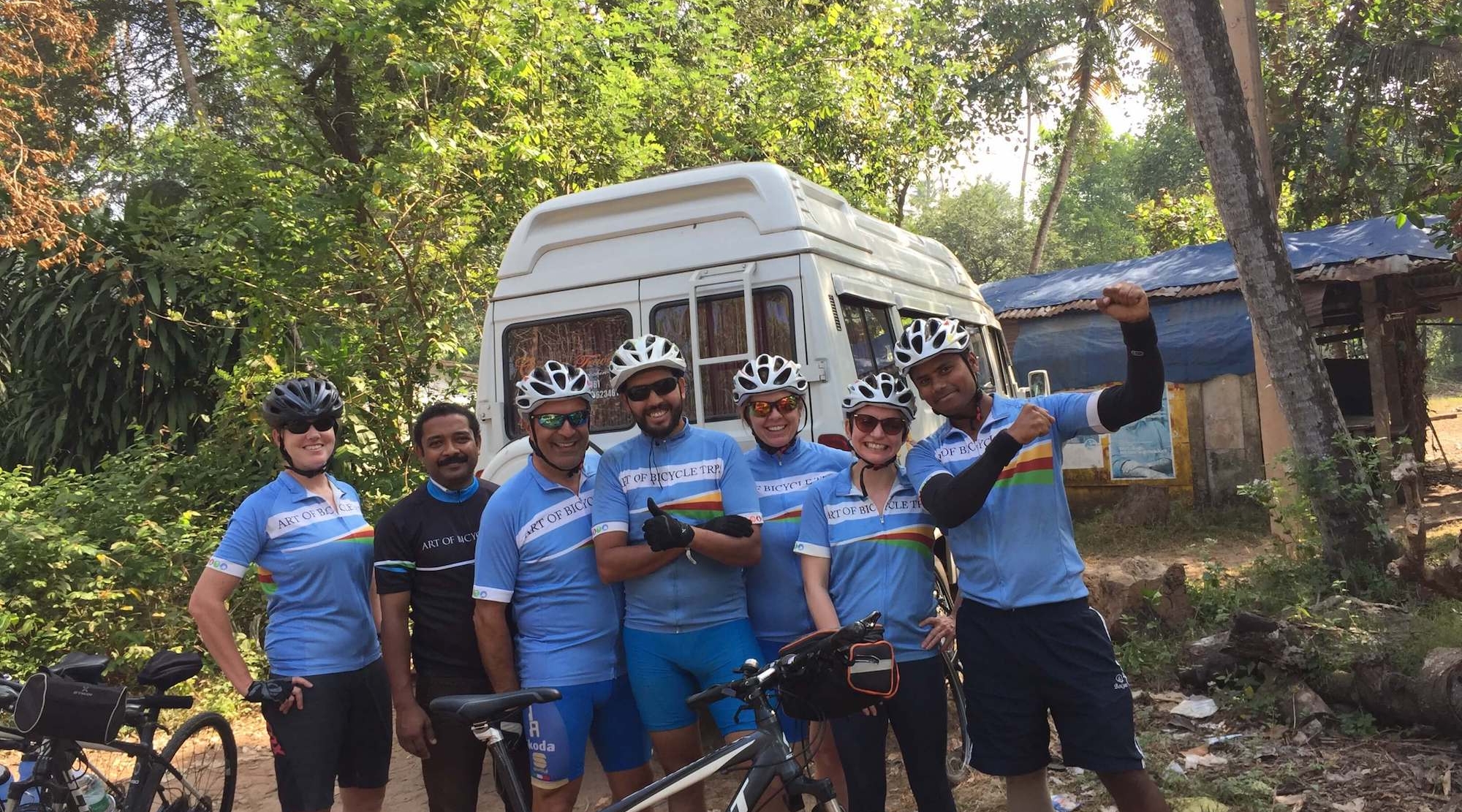 ---
Overview
This tour combines the three spectacular states of Southern India: Karnataka, Tamil Nadu, Kerala. Be ready for some serious green therapy and abundant wildlife riding amidst the Western Ghats – the long stretch of mountains on the South Western edge of the country. Considered a notable hotspot for bio diversity, it is a UNESCO World Heritage Site. Expect to be submerged in the lush environs of national parks, wildlife sanctuaries and reserve forests along.
Start
Bangalore | 17:00hrs
Avg. dist. cycled
50km or 30mi
Highlights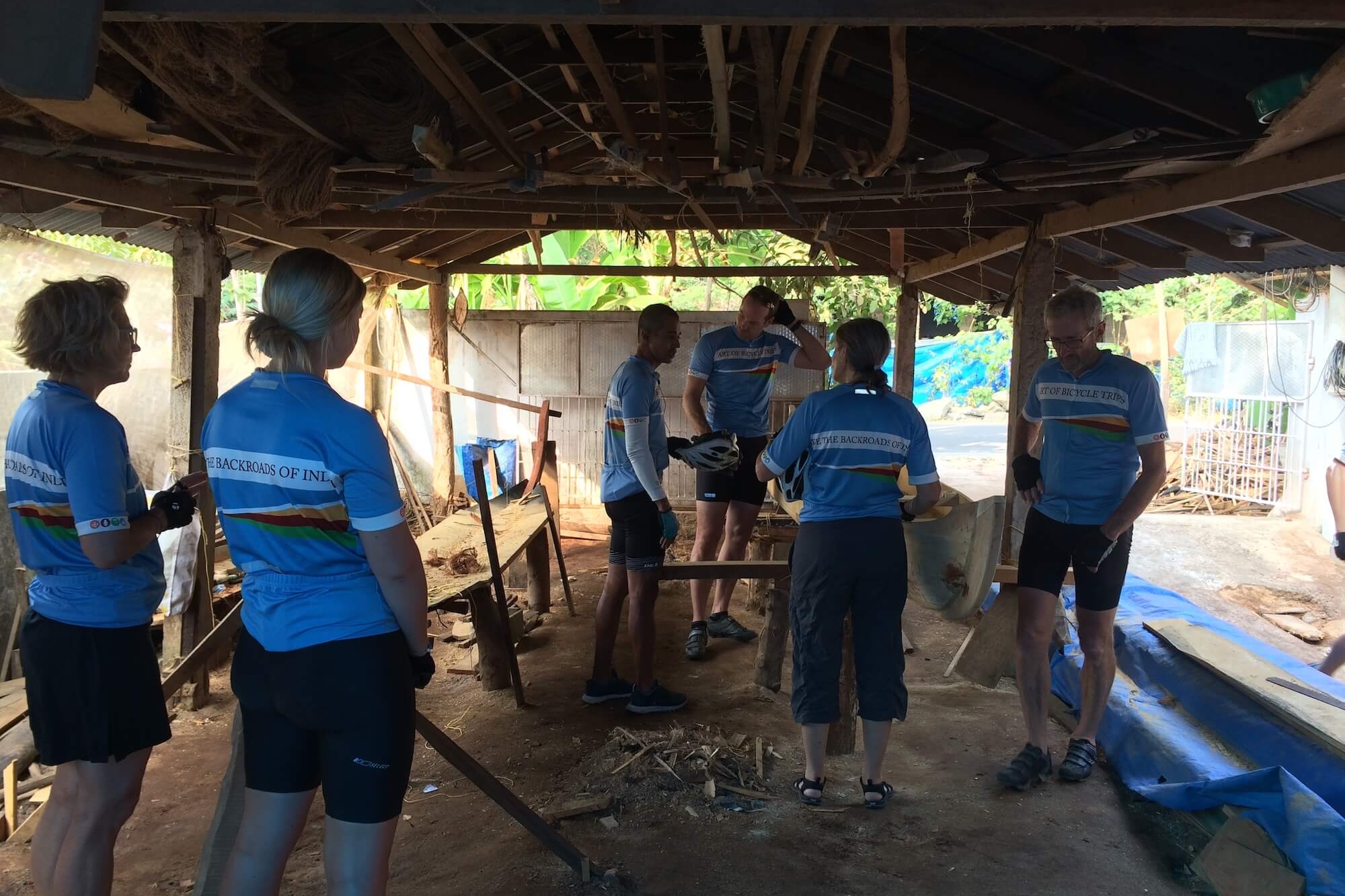 culinary experience
Diverse food of Karnataka, Tamil Nadu and Kerala will definitely enthrall your taste buds
Brief Itinerary
| Day | Place | Hotel | Meals | Distance | Activity |
| --- | --- | --- | --- | --- | --- |
| DAY 1 | Bangalore | Leela Palace | D | | |
| DAY 2 | Train to Mysore | The Royal Orchid | B, L, D | | |
| DAY 3 | Mysore | The Royal Orchid | B, L | 50km / 30mi* | cycling |
| DAY 4 | Kabini | The Serai | B, L, D | 60km / 36mi* | cycling |
| DAY 5 | Kabini | The Serai | B, L, D | 30km / 18mi* | cycling |
| DAY 6 | Wayanad | Wayanad Wild | B, L, D | 50km / 31mi* | cycling |
| DAY 7 | Wayanad | Wayanad Wild | B,L,D | | |
| DAY 8 | Mudumalai | Jungle Retreat | B, L, D | 80km / 48mi* | cycling |
| DAY 9 | Red Hills | Red Hills Nature Resort | B, L, D | 35km / 21mi | cycling |
| DAY 10 | Red Hills | Red Hills Nature Resort | B, L, D | | hiking |
| DAY 11 | Coimbatore | | B, L | 40km / 24mi | cycling |
Detailed Itinerary
Day 1: Bangalore
Arrive at Bengaluru Airport and get transferred to your hotel, in the heart of the city. After resting for a short while, hit the arterial high street of the city, M.G Road. Criss-crossed by narrow streets lined with bookshops, contemporary clothes, pubs, cafes, and trinkets, the place is abuzz with shoppers in the evenings. Bangalore acquired the moniker of the 'beer capital' of India, with around 70 pubs in a radius of 2 km in this area.
Your Art of Bicycle Trips (ABT) tour leader meets you at 17:00hrs for bike fit and briefing over dinner tonight.
Meals:
D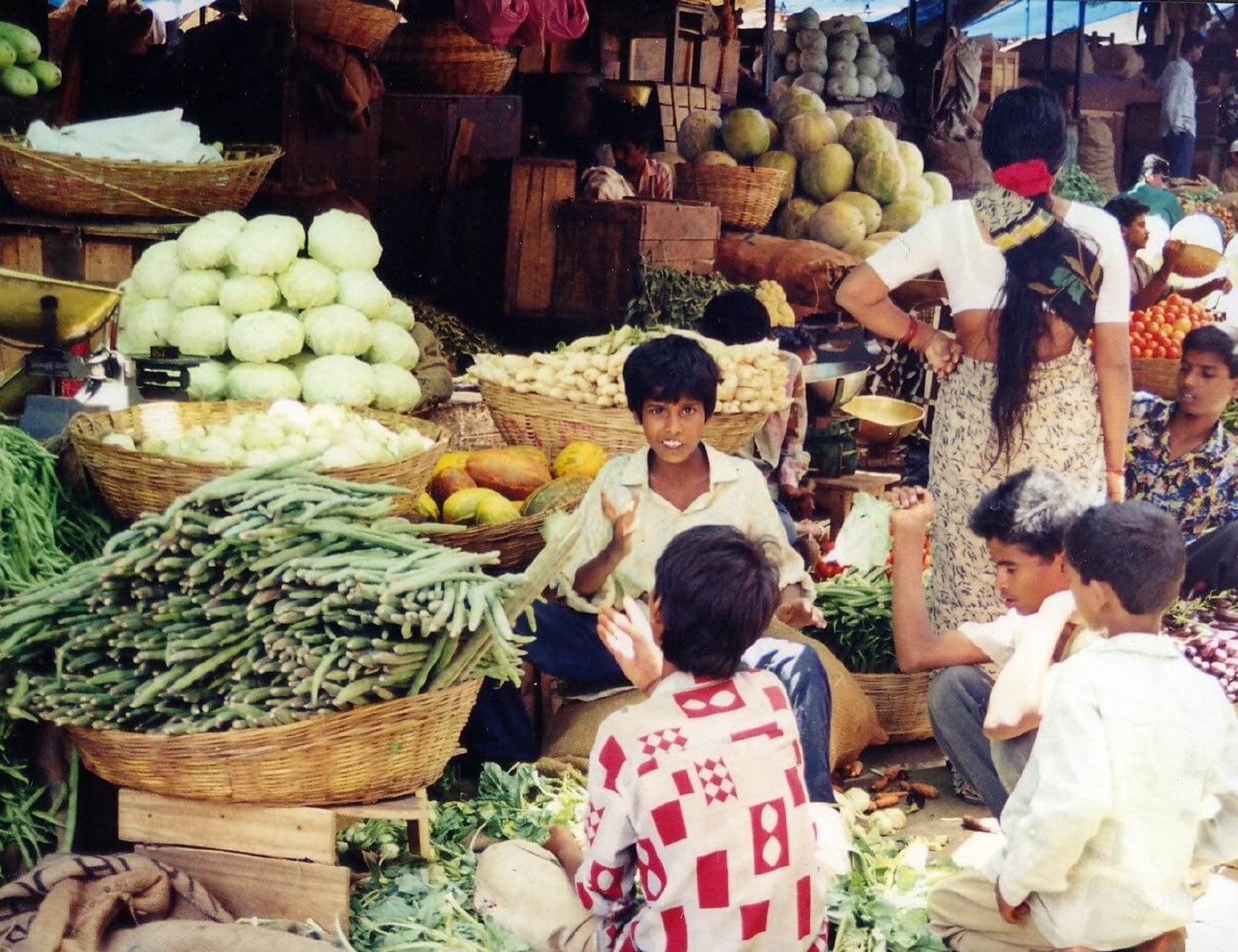 Day 2: Train to Mysore
We know you are eager to ride, but we get on a different set of wheels (a train), to omit the traffic and long transfer between the cities. Post-lunch (lunch is served on the train) is to take in the magnificent structures of Mysore.
We start with the palace, also known as Amba Vilas Palace is a 14th-century enthralling structure, which is beautifully lit at night on special days. After the historic sight, we make our way into the busy Devaraj market. The market is a concoction of sights, sounds, and smells – a real visual treat. Walk around the stalls stacked with conical mounds of Kumkum, stacks of glittering bangles, blocks of jaggery, and huge mounds of fragrant marigolds, jasmine, asters, and even antiques!
We convene tonight at the dinner to celebrate the start of a fabulous cycling journey.
Meals:
B, L, D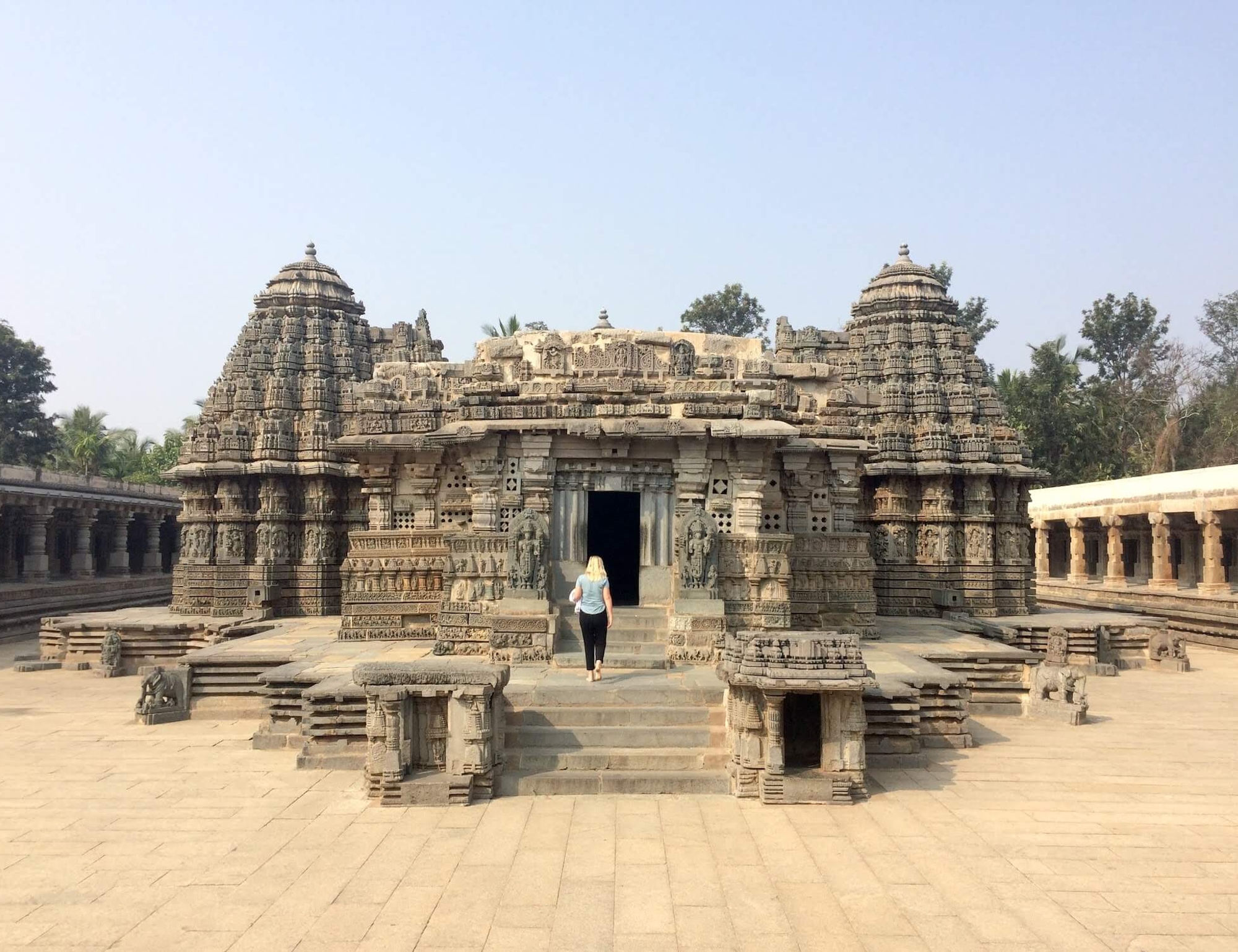 Day 3: Mysore
A short transfer of about 1hr brings us to Somnathpur Temple, a 13th century Vaishnava Hindu temple on the banks of River Kaveri at Somanathapura, Karnataka. The ornate temple is a classic illustration of the Hoysala architecture, built-in soapstone. Enjoy the stunning temple with our local guide.
Bike from here along the idyllic river Kaveri past paddy fields, sugarcane, banana plantations towards Srirangapatna, enclosed by the river Kaveri to form a river island. Srirangapatna was a scene of the decisive battle fought between Tipu Sultan and the British East India Company, a turning point in Indian history. End the ride with a well-deserved local meal.
Meals:
B, L
Cycling Distance:
50km / 30mi*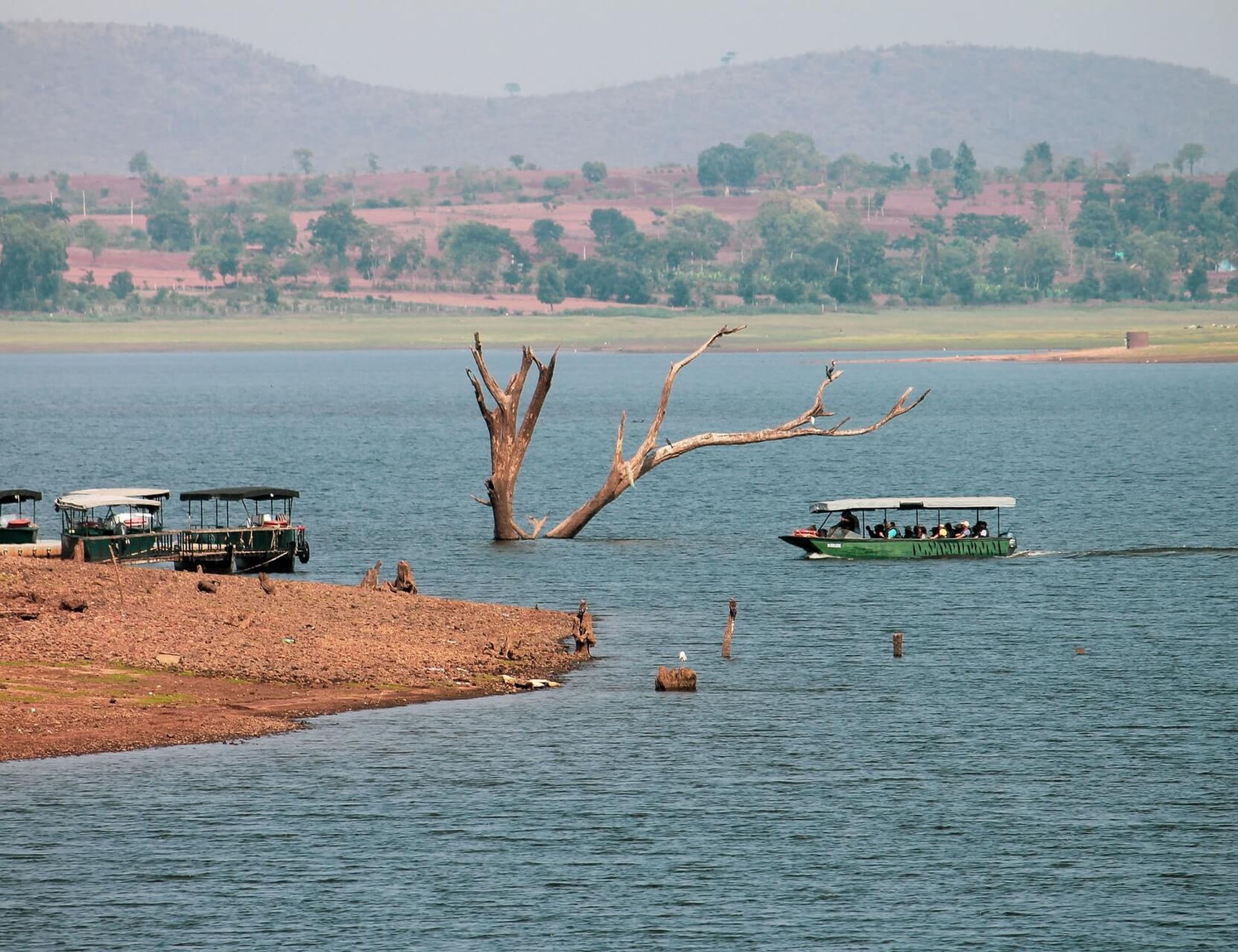 Day 4: Kabini
The river Kabini flows alongside us as we cycle through farms and forests to Kabini. Located on the southern fringes of the Nagarahole National Park, nature has endowed Kabini with excellent weather throughout the year. Damned in 1974, the Kabini reservoir supports a fascinating range of wildlife – tiger, leopard, elephant, gaur, crocodile, blackbuck, sloth bear, and peafowl. During the dry season as the lake dries the resulting open plains create an abundance of fresh grass creating a unique microhabitat making the river a life-giving source for the park and an excellent time for sighting wildlife.
Meals:
B, L, D
Cycling Distance:
60km / 36mi*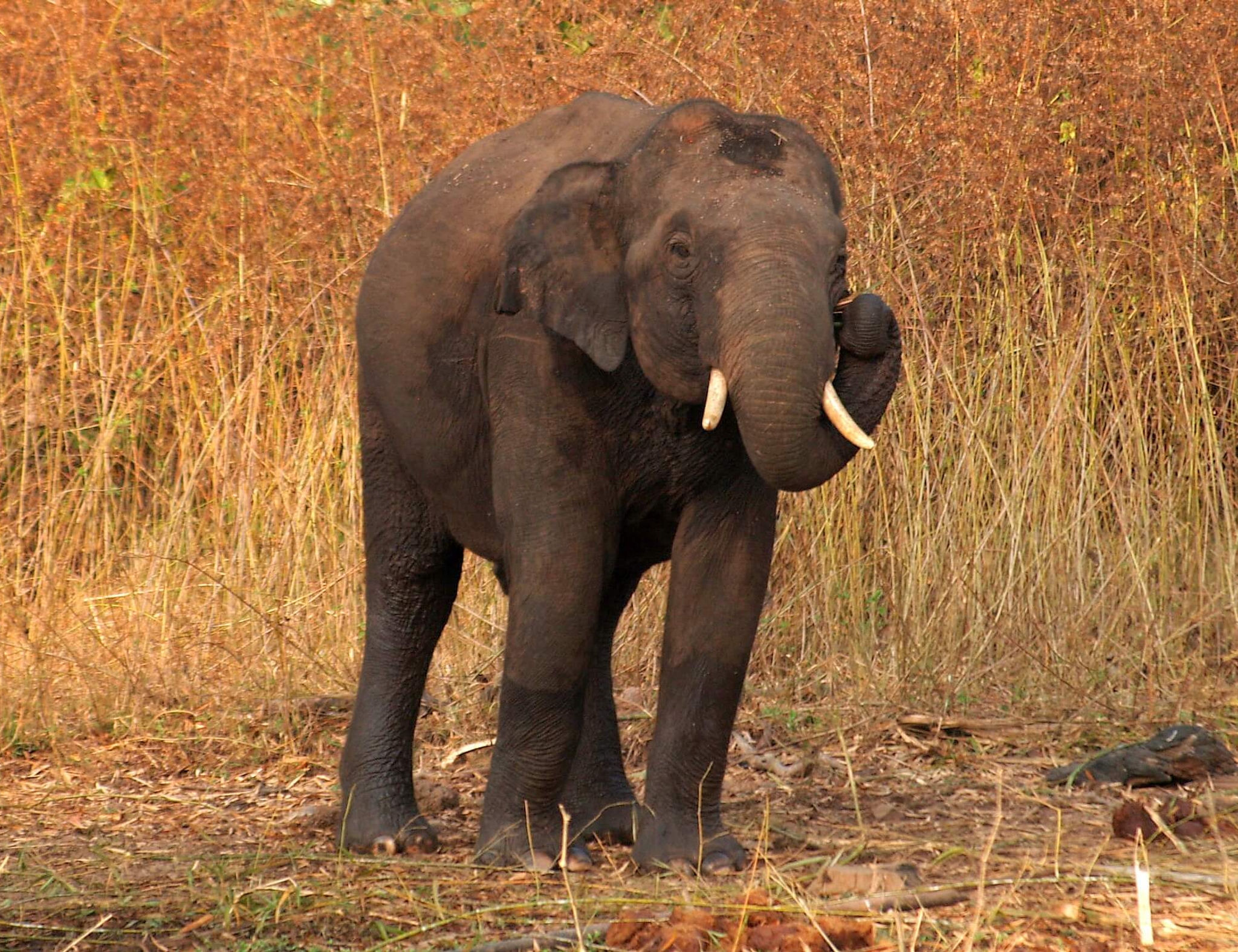 Day 5: Kabini
Go for an early Morning Safari/ Boat ride. Late morning, start your ride from the resort by circumnavigating the Kabini reservoir which stretches over an area of 55 acres. Here you pass through tribal areas, villages, farms, and a mini Tibetan Colony. The ride is gentle and relaxed bordering the national park. We stop for a picnic lunch at a nice scenic location.
Meals:
B, L, D
Cycling Distance:
30km / 18mi*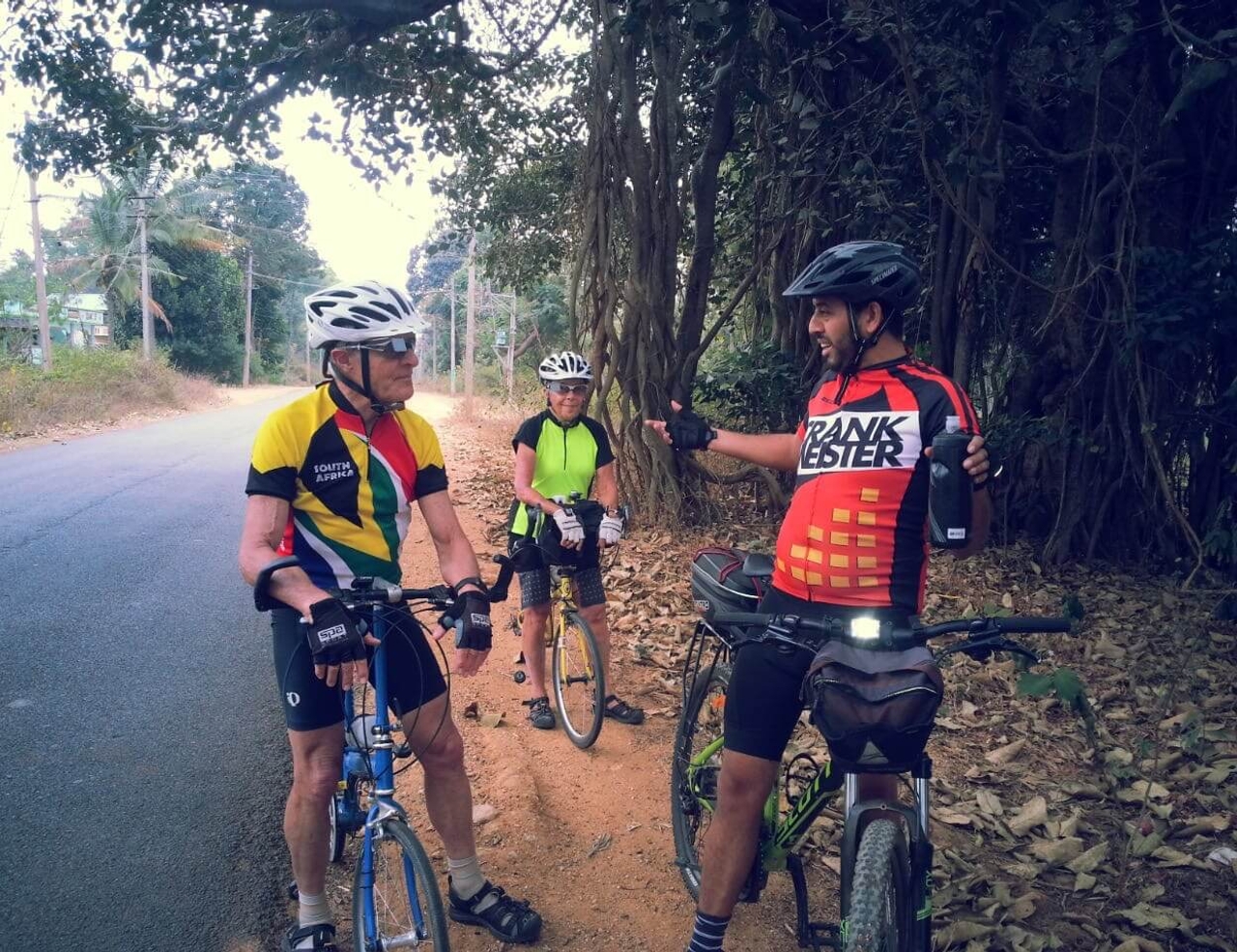 Day 6: Wayanad
The gradual rising trail winds its way through dense teak and sandalwood forests. Further, we cross the Karnataka border to reach the state of Kerala, also promoted as God's Own Country. The ride largely remains a rolling one.
Tonight, we stay in a Wayanad Wild in the hilly town of Wayanad. Later take a dip into their gorgeous pool or tread into the darkness for a rendezvous with Wayanad Wild's resident nocturnal friends. See the unseen during the night expedition with their Naturalist.
Meals:
B, L, D
Cycling Distance:
50km / 31mi*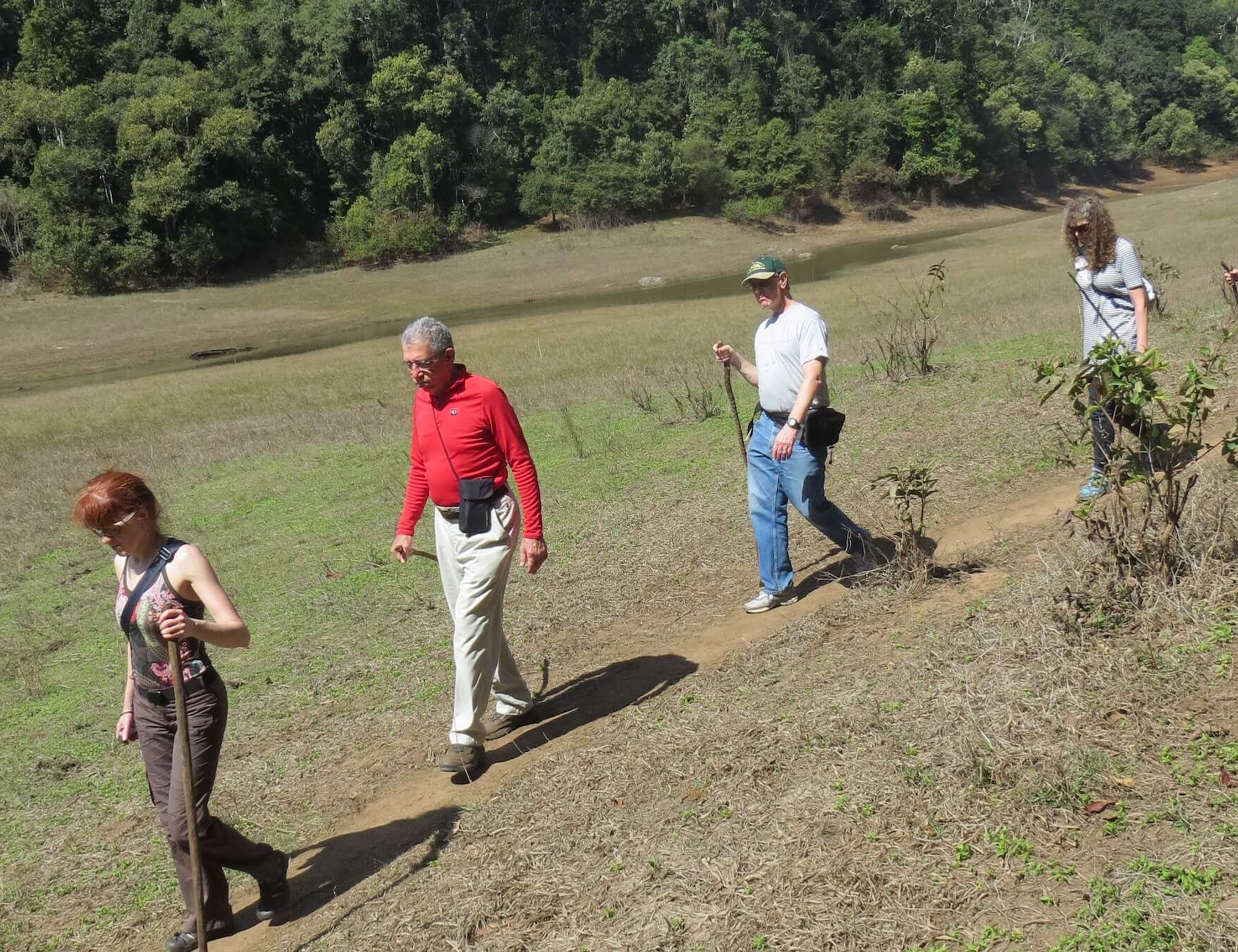 Day 7: Wayanad
Today you can plan your own day. Go hiking to nearby forests and mountain peaks or spend the day at leisure.
Meals:
B,L,D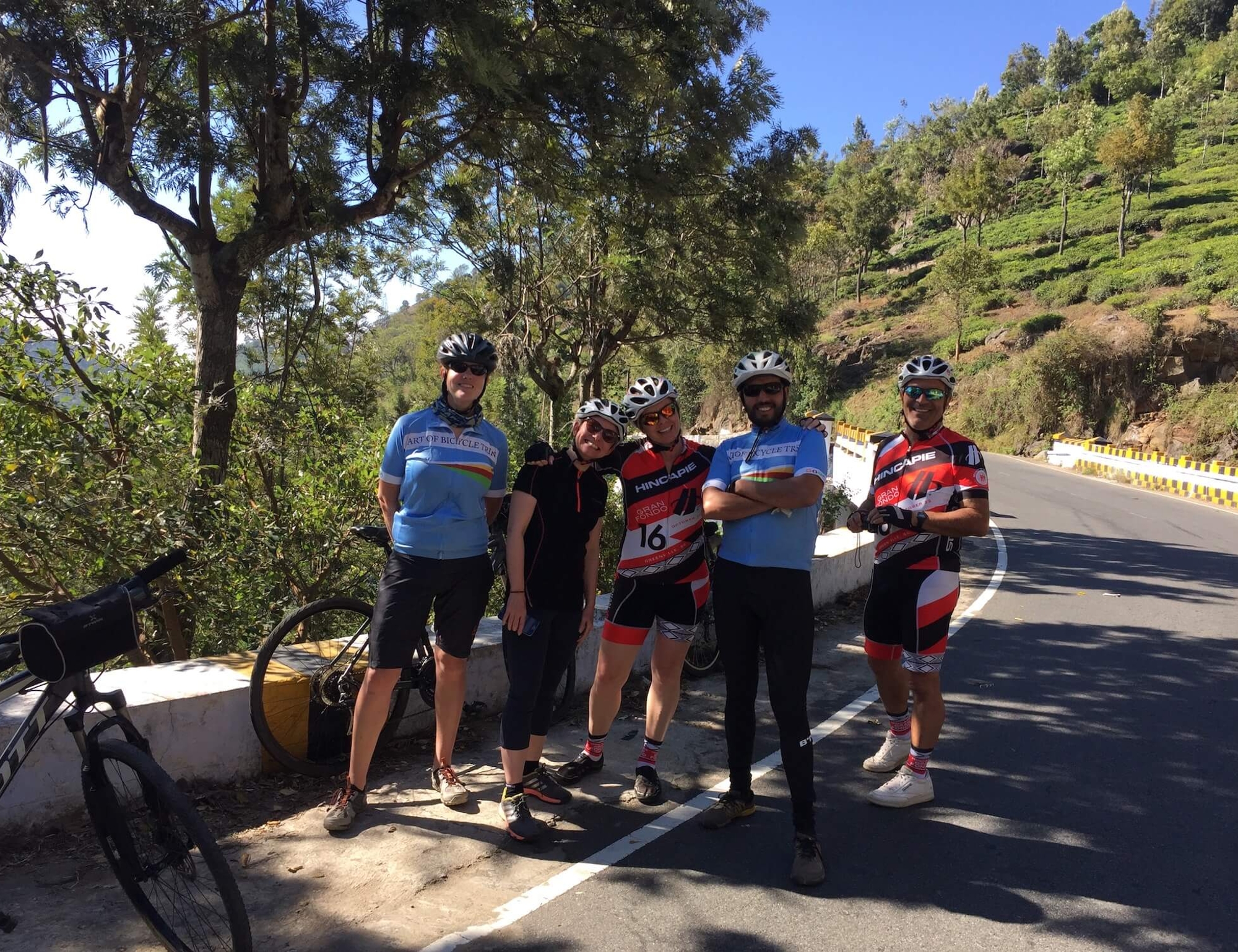 Day 8: Mudumalai
This morning, wind your way through the tropical forest and tea plantations to enter the state of Tamil Nadu and immerse yourself in a complete wilderness as we cycle through. The initial leg of the ride is through a canopy of dense forest largely consisting of teak trees and the second leg is past gorgeous tea plantations. Today is a stunning day on the saddle.
Later we take a short transfer to Mudumalai National Park, a favorite haunt of wildlife buffs & professional wildlife photographers from around the world.
Meals:
B, L, D
Cycling Distance:
80km / 48mi*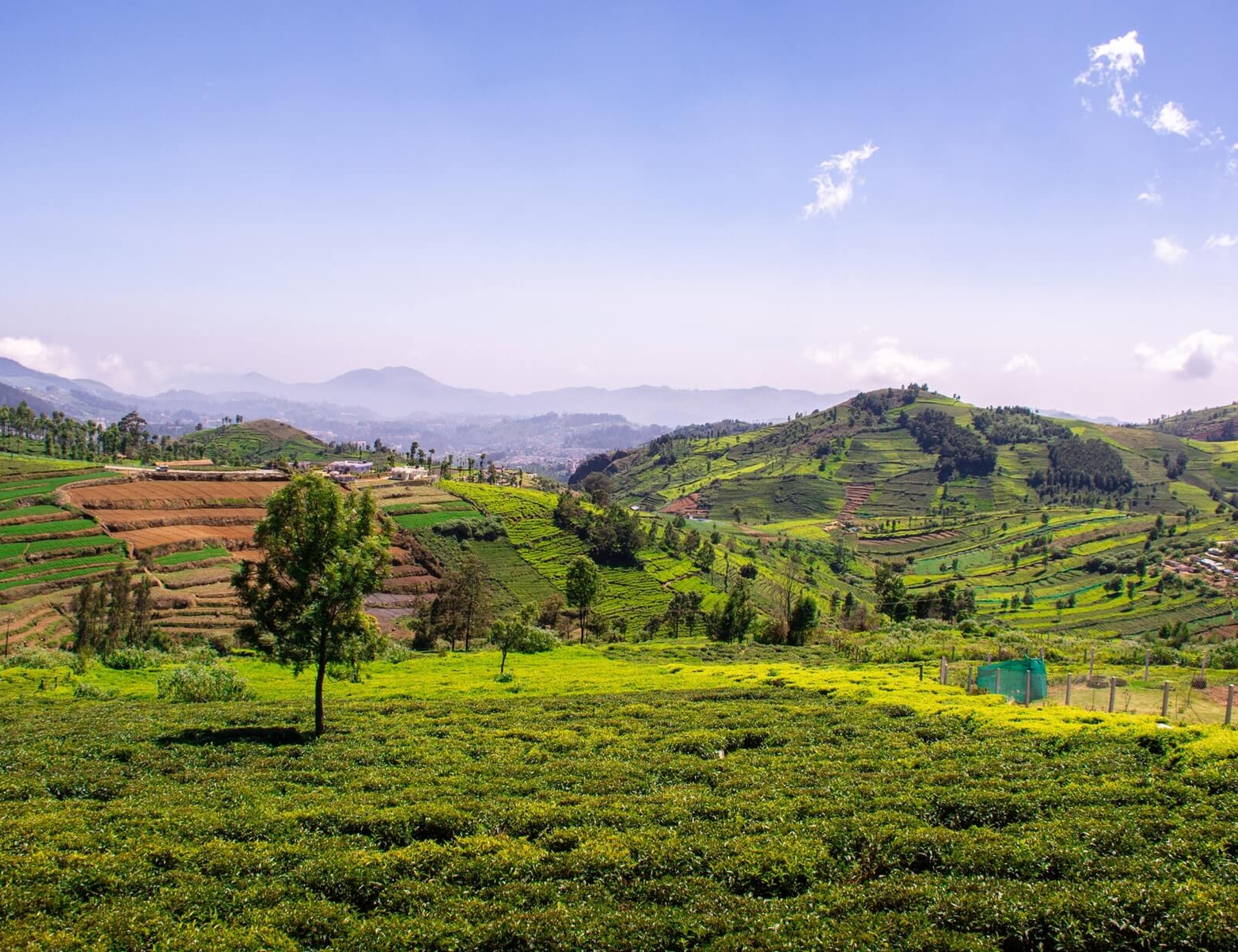 Day 9: Red Hills
Take an early morning safari in Mudumalai National Park.
We begin our journey with a drive to Ooty. Be rewarded with a breathtaking misty view of rolling hills carpeted with shola forest as we shuttle through hairpin bents and reach Ooty, situated at a level above 2,000m and part of the amazing Nilgiris biosphere. This combination of high elevation and low latitude is typical of the Nilgiris, giving them their unique equatorial highland climate.
From Ooty, we begin the day's cycling by heading due west. The terrain consists of undulating hills covered by Shola forests – a tropical montane forest-grassland complex endemic to the Nilgiris. The Shola forests consist of stunted forests and grasslands that occur together covering entire mountains whose monotony is broken only by numerous crystal clear lakes gleaming under a mellow sun, giving the appearance of a patchwork quilt of multiple hues. We ride through villages where forests have been cleared to plant cash crops such as tea, coffee, wattle, blue gum, and exotic spices such as cardamom.
The British found the Nilgiris climate so salubrious that they introduced the cultivation of their favorite drink, tea, to this region. Red Hills is thus a place that is surrounded by lush green forests and tea estates that spread out over its mountain slopes like exotic oriental rugs of green velvet. We end the day with a cup of the finest Nilgiri tea, a befitting toast to the commencement of an unforgettable journey.
Meals:
B, L, D
Cycling Distance:
35km / 21mi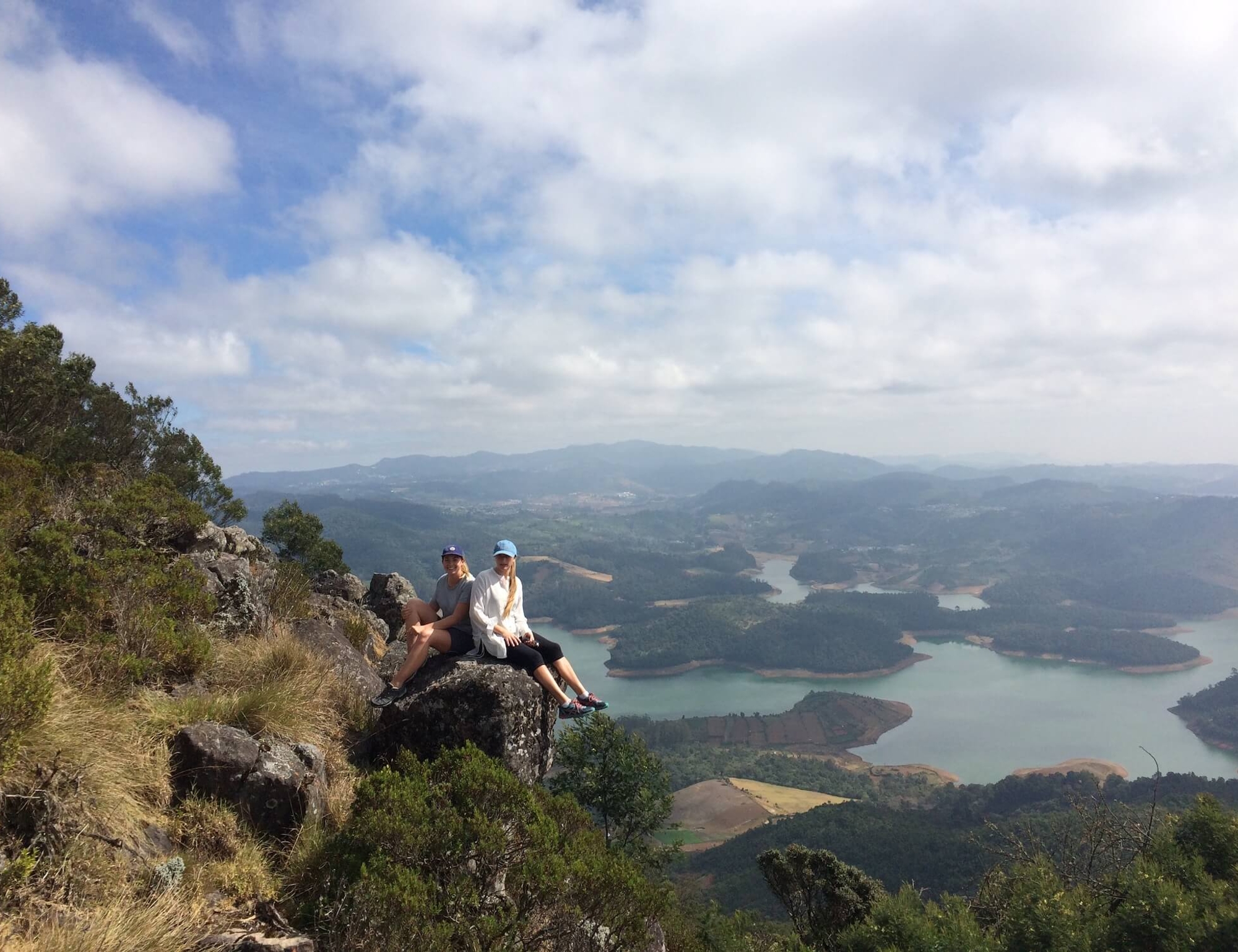 Day 10: Red Hills
Today we exchange our cycling gear for hiking boots as we go hiking into the Nilgiri forests. The Nilgiri Biosphere Reserve is recognized as a biodiversity hotspot and a world heritage site by UNESCO on account of the extremely rich flora and fauna it supports, much of which is not found anywhere else in the world. Some of the rare animals found in this region are the Nilgiri Tahr, a critically endangered mountain goat of which a little over 3000 individuals are left in the wild today, and the Gaur or Indian bison. In the distance, we can spot the Doddabetta peak, the highest mountain in the Nilgiris standing tall at 2637m above sea level. We hike for 3-4 hours through the picture-postcard landscape of the Nilgiris. The rest of the day is free for relaxing and enjoying the fabulous views from your window. We recommended trying some traditional Badaga cuisine today that is prepared by the Badaga tribal community of the region using locally available ingredients and traditional techniques such as cooking in wood-fired ovens.
Meals:
B, L, D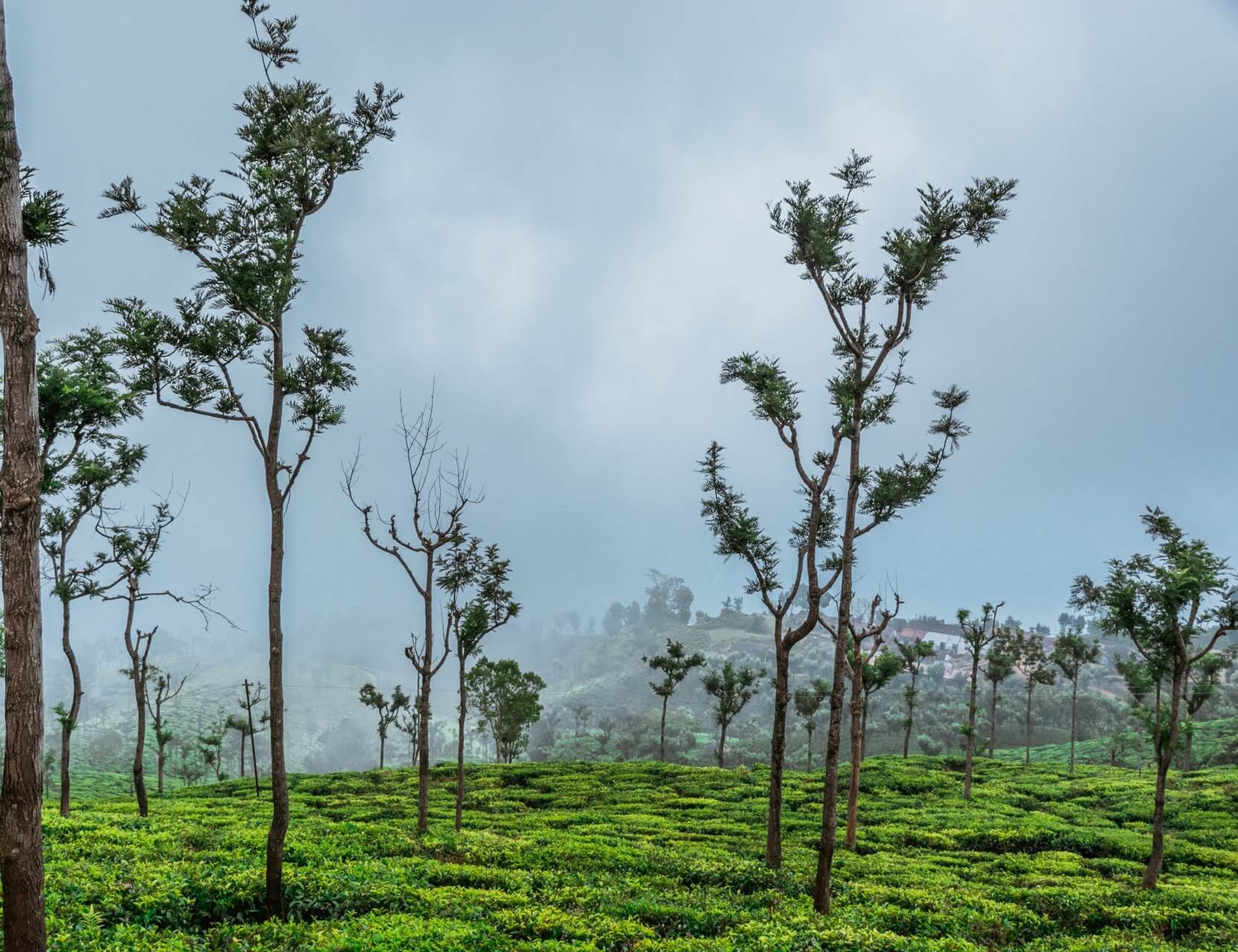 Day 11: Coimbatore
We get back on our bikes today and cycle towards the hill station of Coonoor, a quaint town surrounded by tea estates and drenched in an old-world, colonial charm. The twin towns of Ooty and Coonoor, once ruled by Toda tribals, were discovered for the modern world by the British civil servant John Sullivan who wrote that they "resembled Switzerland more than any country of Europe, the hills beautifully wooded and fine, strong springs with running water in every valley". It is a description that still holds true, the only difference being that the beautifully wooded hills and strong springs have been added the charm of verdant tea gardens and quaint colonial bungalows. As we ride past garden upon a garden of lush green tea leaves glistening under a soft highland sun, kissed ever so lightly by the cool mountain breeze so that the very air is diffused with their pleasing aroma, we know we are in a region that produces one of the finest teas in the world.
We then transfer via shuttle to Coimbatore airport from where we proceed according to our onwards travel plans.
Meals:
B, L
Cycling Distance:
40km / 24mi
Map
Accommodation
Each hotel has been thoughtfully selected to ensure an exceptional and memorable experience for guests.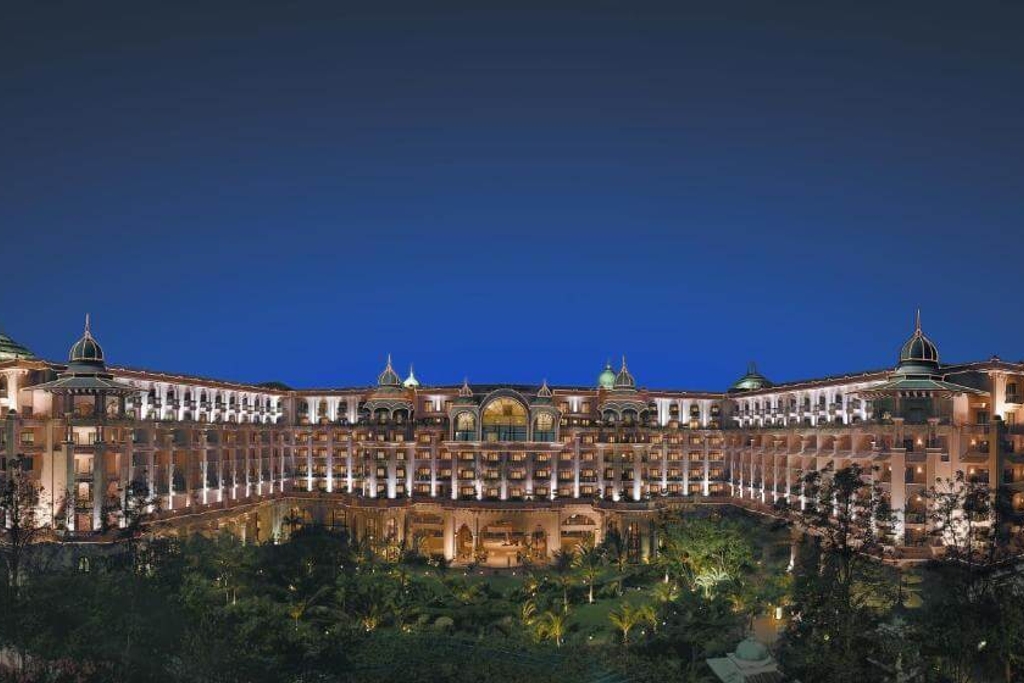 Leela Palace
Immerse yourself in this plush palace that invites you to take a walk down memory lane. The majestic setting brings back the opulence and magnificence that's synonymous with the erstwhile Vijayanagara empire, along with modern comforts.
Dates and Prices
Note:
Our base pricing is in USD. However, we can also quote in AUD, GBP, CAD, and EUR, and you can pay in the same. Please write us.
---
Couldn't find a trip with convenient dates?
Open your date as a join-in tour or customize further as private one.
We offer private departures on almost all our itineraries, and for groups of four or more, they cost the same as our standard trips!
---
Essential Info
Inclusions
LODGING
All hotels as mentioned in the tour details or similar (subject to availability).
trip leader
Expert Trip Leader(s) who look after your every need and add meaning to your vacation.
bike
Immaculately maintained bike with helmet, suited to a terrain.
shuttle
A Van support follows the group of riders and carries all belongings.
meals
Meals as per itinerary. Guests are given the opportunity to dine on their own so that they discover a location independently.
refreshments
Refreshments and mineral water while cycling.
entrance
Entrance fees to most of the monuments and temples.
E-bikes
E-bikes are available on this trip at a surcharge. Please send a note to your tour consultant to book one.
Exclusions
Airport pickup and drop
We recommend to book direclty from airport or hotel.
meals
Some meals may not be included. Please check your itinerary.
Beverages
Beverages such as alcohol, tea, coffee, juice at a hotel or restaurant.
Bikes
When you have a road and the thrill of a journey ahead of you, it's imperative to have a good bike to enjoy it. Our fleet majorly consist of the below bikes as a part of this tour. However, sometimes due to height or availability constraints, we may provide a different but similar quality bike.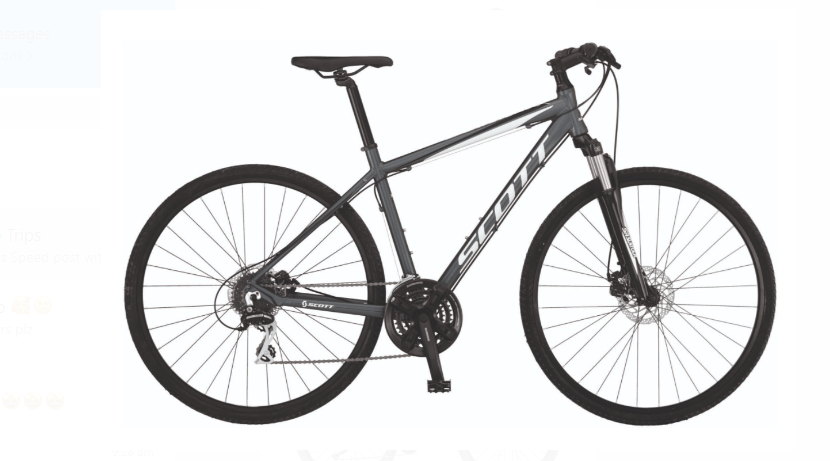 hybrid
Included in your trip price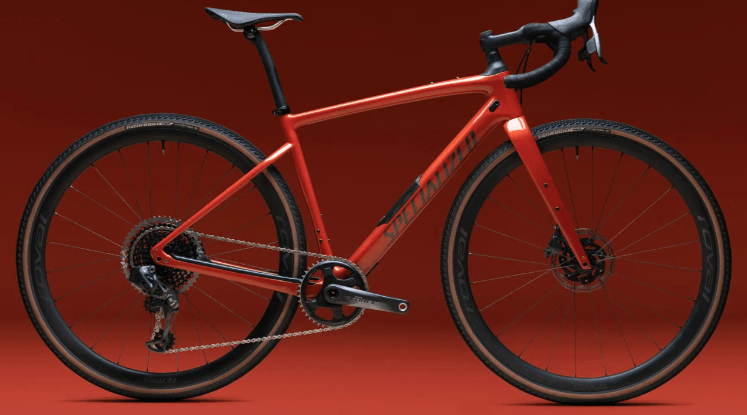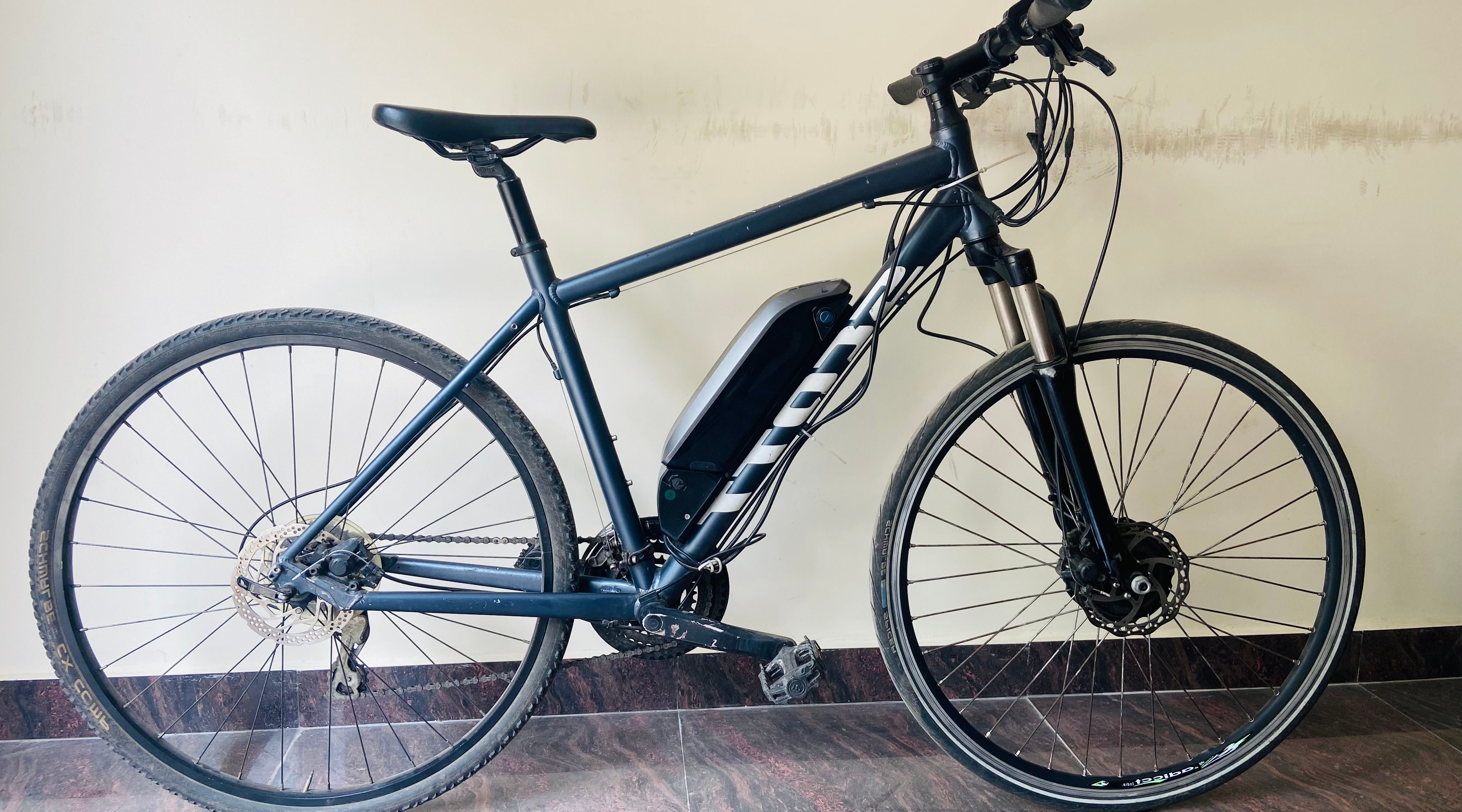 Weather
With varied terrain, starting from below sea level in coastal plains to 1900m in the mountains, Kerala has a diverse climate. A typical tropical climate remains cooler in the highlands and hot and humid in the coastal plain throughout the year.
Mid-November to the end of February is the winter time in Kerala, which is best experienced in the highlands with a pleasant climate in the mornings and temperature falling below 10°C at the night. A fleece jacket or warm sweater and long pants may be needed for the cooler evenings and mornings in hill stations. The temperature in plains averages between 25°C to 31°C during this time.
From the beginning of March till the end of May, it is summer. The temperatures go above 40°C during some days in coastal pains and generally remain very hot and humid. The highlands still offer some relief during this time with comparatively cooler climates.
The start of June is the beginning of the Monsoon season in Kerala. Kerala receives two cycles of Monsoon. From June till September, it's the southwest monsoon, which brings heavy rainfalls till mid of August and it slowly weakens towards the end of September. The second cycle, the Northeast monsoon, starts from the beginning of October till mid-November with light to heavy showers mainly during the evening hours.
Visa
All foreign nationals entering India are required to possess a valid international travel document in the form of a national passport with a valid visa obtained from an Indian Mission or Post abroad. E-Visa has been made available by the Government of India to citizens of certain countries, including the United States of America. Details of the scheme are available on the dedicated website created for this purpose: e-Visa
e-Visa has 5 sub-categories viz. e-Tourist Visa (for 30 days/01 year/ 05 years), For e-Tourist and e-Business visa, Applicants may apply online minimum 4 days in advance of the date of arrival. Recent front-facing photographs with white backgrounds and photo pages of passports containing personal details like name, date of birth, nationality, expiry date etc, are to be uploaded mandatorily by the applicant. Additionally, one more document depending upon the e-Visa type would also be required to be uploaded. The application is liable to be rejected if the uploaded documents and photograph are not clear / as per specification.
Reviews from our friends
A great experience
A great experience. Our guides, Dibin and Poonch were excellent and overall it was a well run tour. We would definitely recommend this trip with this company.
Mary Ann Mundy from AU
5.0
simply awesome
Great tour guide and driver. Lots of information on the culture and customs of India.