Southern Thailand Bike Tour
---
Overview
This beach hopping trip takes us to the thick of things in Southern Thailand where old school meets the new and lush countrysides and pristine beaches go hand in hand with bustling fishing villages, charming beach sides, and national parks. There is something for everyone who ventures here.
Explore rainforests, enjoy bucolic island life, snorkel at Ko Tao, or seek out some of the world's best warm water beaches. Welcome to Thailand!
Avg. dist. cycled
65km or 40mi
Highlights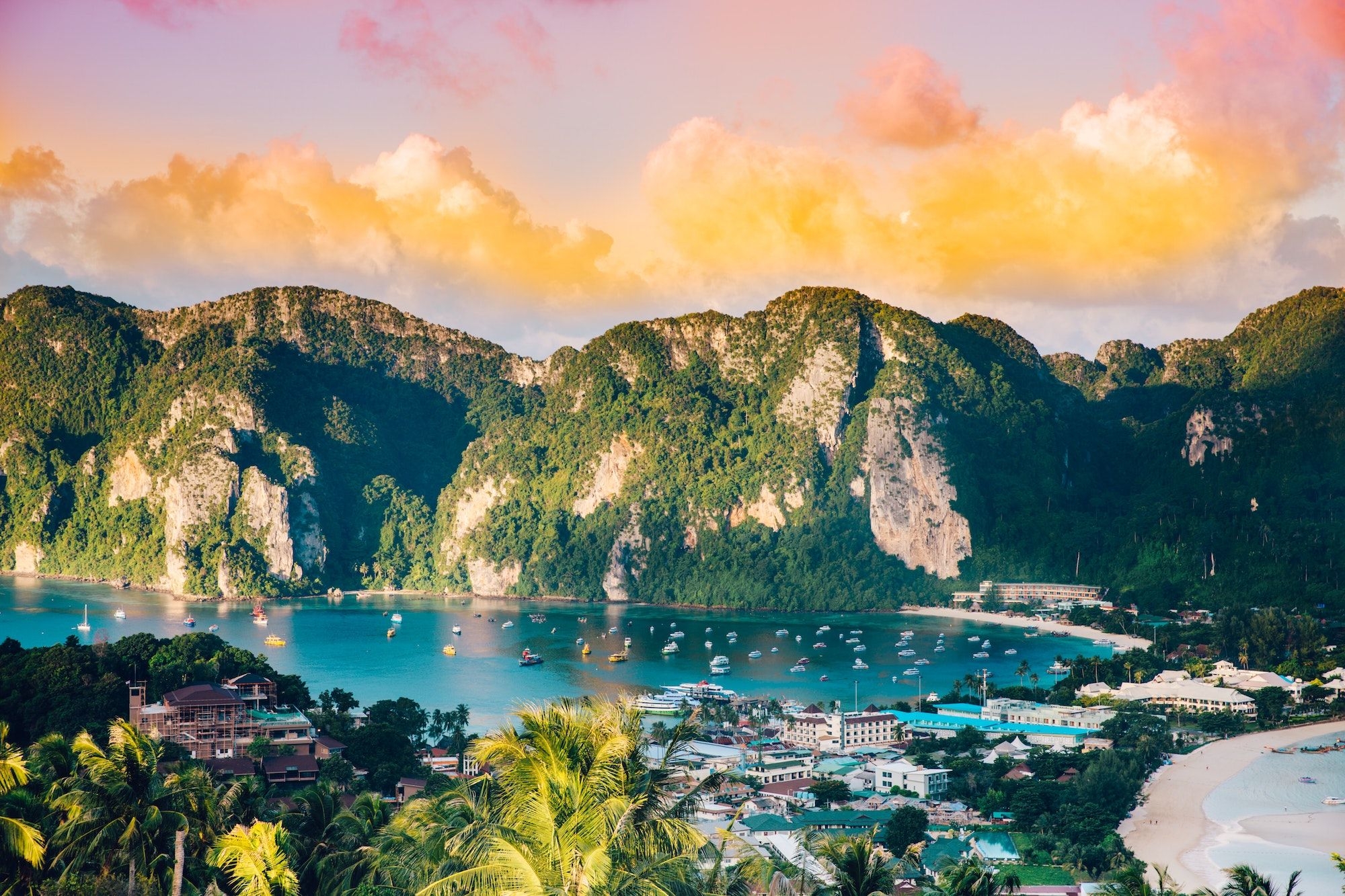 serene landscapes
Energize you mind, body and soul in the serene hills, springs, beaches and islands of South Thailand
Itinerary
Day 1: Bangkok
Arrive in Bangkok and settle into your hotel. Today you can plan your own day visiting some of the classic highlights of Bangkok. Our guide meets you at 17.00pm at your hotel lobby for a tour briefing. We convene tonight to celebrate the start of our awesome journey on a bike.
Day 2: Hua Hin
Our guide meets you at your hotel lobby at 7:30 am and we transfer about two hours before the cycling begins. Today we ride past a vast expanse of paddy fields and palm trees. End day with a ride along the coast to a splendid crescent beach situated in the middle of an airbase.
Day 3: Kui Buri
A flat terrain combined with few hills to a dam takes us to Sam Roi Yot National Park having spectacular limestone mountain scenery and freshwater marshes. The last leg of the ride is along the beach to Kui Buri.
Day 4: Ban Krut
After a hearty breakfast, we begin riding off-the-beaten-track with spectacular views of winding paths, wooden fishing boats, coconut groves, palm oil plantations.
Our route skirts the coast with sea views to the left and rugged mountains to our right, passing numerous bird condos that are built to collect the nests of swiftlets for bird's nest soup. We end the ride at our beachside hotel in Ban Krut.
Day 5: Ban Krut
After a hearty breakfast, we leave the hotel at 08.45am and take the van transfer to the Bangsaphan pier. Alternatively, we wake up in the early morning and leave the hotel at 07.00am to cycle about 30km to Bangsaphan Pier. Today is an easy ride along the deserted coastline passing through a little fishing community. We then take a join-in boat that will whisk us away to our own private island, Koh Talu. Snorkel watching colorful sea creatures and colored coral reefs (09.00 hrs.-13.00 hrs.) with lunch box on the boat. Transfer back to the hotel after arriving back at the pier.
This day is planned as a semi-rest day and savor the island life at leisure.
Day 6: Saplee
Today bike in the tropical countryside, past tree-canopied rice farms and lush green fields and paddies.
DAY 7
Lang Suan
Ban Lae Resort
B,L,D
80km / 48mi*
cycling
Day 7: Lang Suan
A relatively flat ride today as we cycle through shrimp farms, fishing villages, and along coconut palm plantations and mangrove forests. Along the way, we break to see a shrine of Prince of Chumphon, founder of the modern navy in Thailand and then continue cycling along the coast to Chumphon.
DAY 8
Laem Thong Beach
Laem Sai Resort
B,L,D
80km / 48mi*
cycling
Day 8: Laem Thong Beach
We continue riding south and are now truly off the beaten track with endless sandy beaches. Today, we are riding to Chaiya, one of the oldest cities of Thailand, and dating back to the 5th to 13th centuries when it was a regional capital in the Srivijaya kingdom, based in Sumatra, Indonesia. Our accommodation tonight is a bit more rustic as it is where local Thais stay. For those with energy in the evening, a squid fishing excursion can be arranged.
DAY 9
Cheow Larn Lake
Phupha Waree
B,L,D
60km / 36mi*
cycling
Day 9: Cheow Larn Lake
Today we bike towards the small inland town of Ban Ka Thun and head inland, leaving behind the Gulf of Thailand we have traversed so far, and trade the beach for the lush green jungle.
We ride past rubber and coconut plantations and bucolic villages. One short but steep climb takes us to the top of Ratchaprapa Dam, sight for stunning water views of Cheow Larn lake. Once we reach the pier, around 3:00 pm, take a 30min boat ride to our rafts, and overnight on the lake. We have the opportunity to swim directly from a raft, set amidst spectacular karst cliffs.
DAY 10
Khao Sok National Park
Khao Sok River Lodge
B,L,D
50km / 30mi*
cycling
Day 10: Khao Sok National Park
The morning is free to go for a kayak or another swim. We head out for a ride around 10:00 am. Today is an undulating terrain that winds through a series of magnificent limestone cliffs and green jungle along the edge of Khao Sok National Park, one of the world's oldest rainforests.
DAY 11
Khao Sok National Park
Khao Sok River Lodge
B
cycling
Day 11: Khao Sok National Park
You are free to spend the day at leisure or take part in various activities around the park such as elephant bathing, jungle river canoe, and jungle trekking.
DAY 12
Khao Lak
The Leaf on the Sands
B,L,D
60km / 36mi
cycling
Day 12: Khao Lak
Ride along the edge of Khao Sok National Park to the outskirts of Takua Pa. Here ride through the old town and see traditional wooden buildings blended with Portuguese colonial buildings. En-route visit the Tsunami Victim Cemetery which memorializes the victims from 39 countries.
We then take quiet backroads through small villages, shady rubber plantations, and cross rivers as we cycle to the small waterfall of Sam Rung. We keep following the mountain road and arrive at coastal road, riding south for a fine beach time at Khao Lak.
DAY 13
Phuket
Nai Yang Beach Resort
B,L,D
90km / 54mi
cycling
Day 13: Phuket
This is our last day of riding along the Thailand coast and it's a long ride. Enjoy it to the fullest.
We ride along canals, past palm and rubber plantations, shrimp farms, and along the beach to the bridge that connects the island of Phuket with the mainland. Some riding is on the main highway. The last leg is with views of the Andaman Sea.
Enjoy Phuket at leisure. Extend your stay here or depart as per your onward travel plans.
Day 14: Phuket
Please make arrangements as per your onward travel plans.
Dates and Prices
---
Couldn't find a trip with convenient dates?
Open your date as a join-in tour or customize further as private one
---
Essential Info
Inclusions
LODGING
All hotels as mentioned in the tour details (subject to availability). All options are personally reviewed.
shuttle
A Van support that follows the group of riders and carries all belongings.
refreshments
Refreshments and mineral water while cycling.
trip leader
Expert Trip Leader(s) who look after your every need and add meaning to your vacation.
meals
Meals as per itinerary. Guests are given the opportunity to dine on their own so that they discover a location independently.
entrance
Entrance fees to most of the monuments and temples.
bike
Immaculately maintianed bike with helmet, suited to a terrain.
Exclusions
Airport pickup and drop
We recommend to book direclty from airport or hotel.
meals
Some meals may not be included. Please check your itinerary.
Beverages
Beverages such as alcohol, tea, coffee, juice at a hotel or restaurant.