Petra & Wadi Rum Bike Tour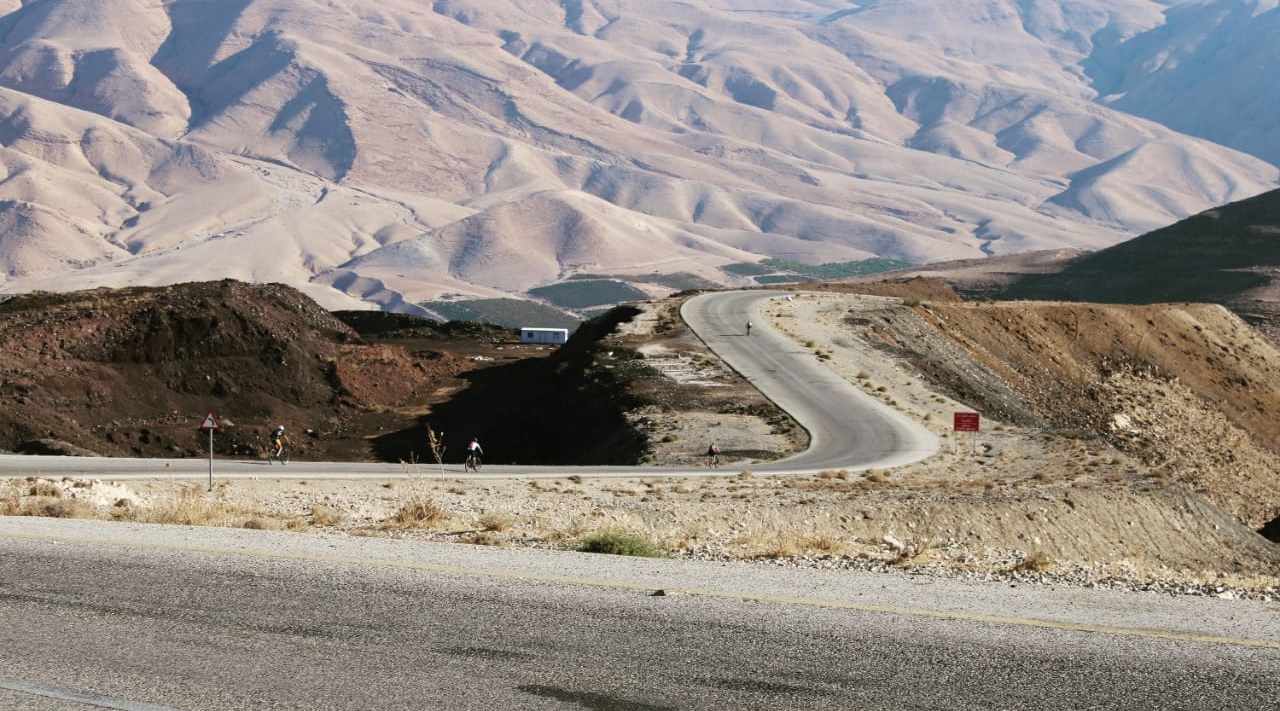 Overview
Framed like a sepia postcard between the Red Sea, the Dead Sea, and the Arabian Desert, Jordan is an elevated table land with a wide variety of climates and remarkable biodiversity for a country of its size.
Discover the best of Jordan on this 8-day bicycle tour that takes you from the Dead Sea to the Red Sea through an array of mountains and desert landscapes and the stunning rose city, Petra. Get ready to transition from vistas of alpine to the Mediterranean to a desert landscape all within the span of a few hundred kilometers. The trip is deeply rooted in Jordan's ancient hospitality, World Heritage Sites, and Bedouin culture.
We ride past villages in an unparalleled expanse of sandy settings and Jordanian Highlands. Parts of the trip transport you back into the world of Kings, Castles, and Battles. An eclectic array of grand palaces and architectural wonders makes the journey even more salubrious! All in all, a prolific cultural and rural Jordanian biking tour that will leave you in an absolute wonder!
Avg. dist. cycled
40km or 24mi
Highlights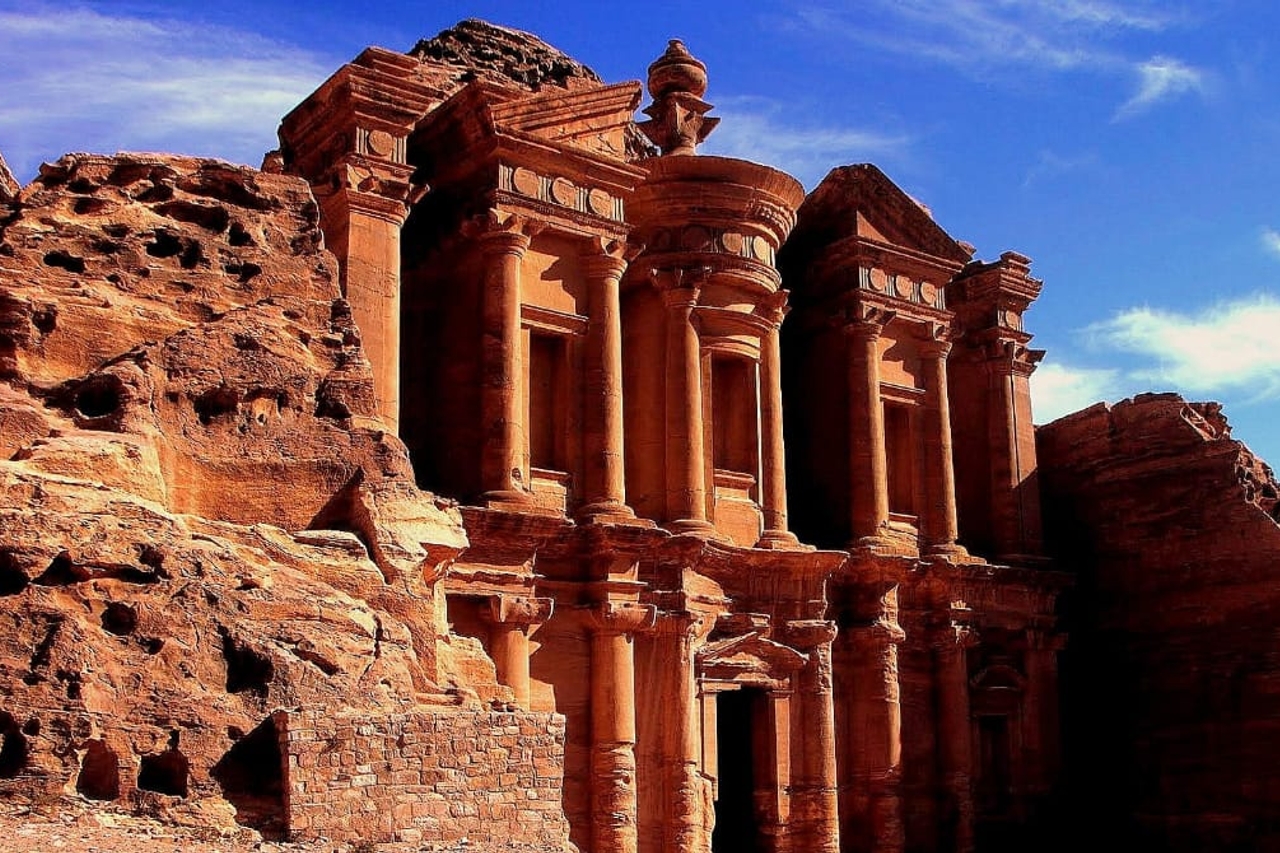 Visit the Ruins of Petra
A UNESCO World Heritage Site and widely regarded as one of the 7 wonders of the world
Brief Itinerary
Detailed Itinerary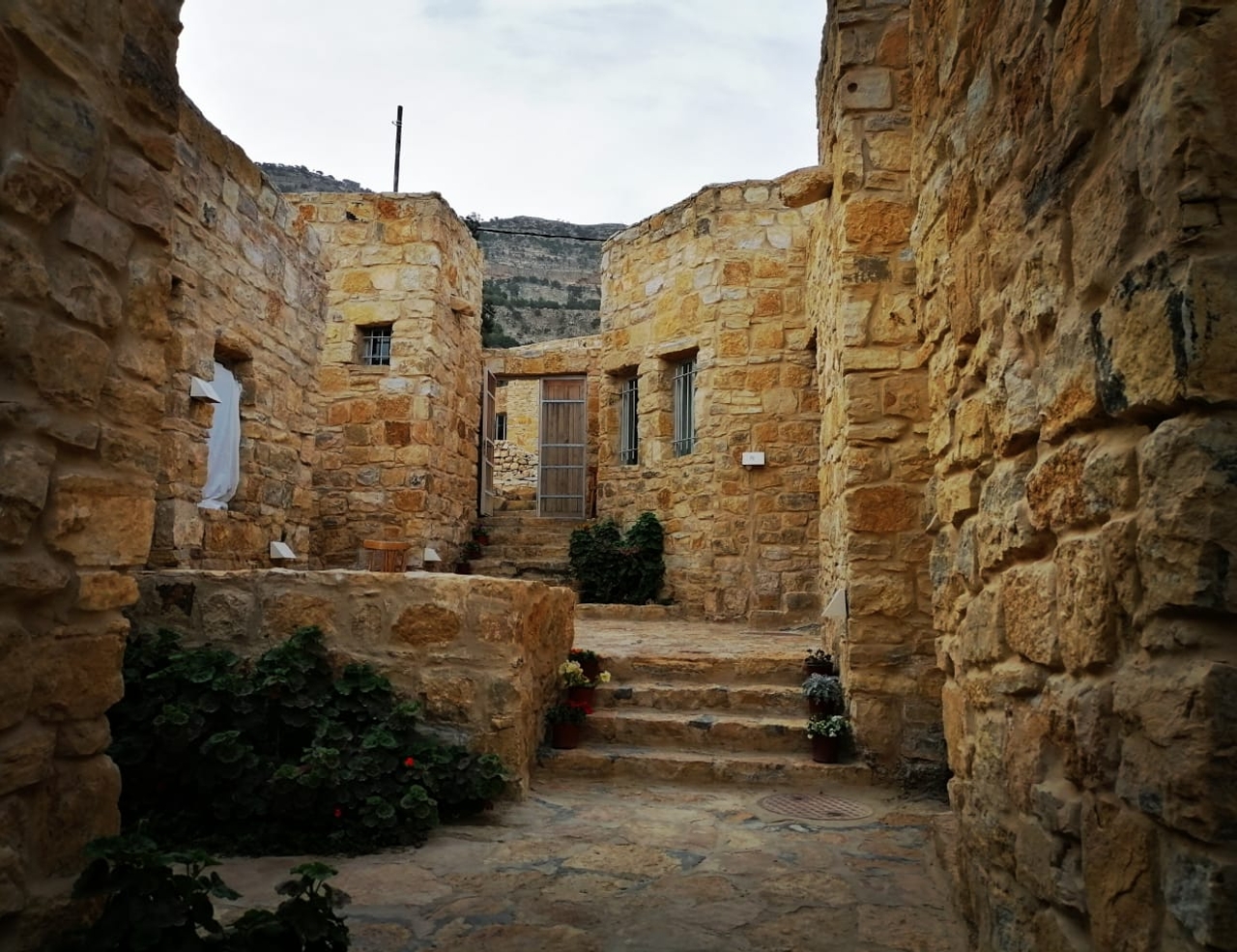 Day 1: Madaba
We begin our Jordan bike journey from the city of Madaba, an ancient city of mosaics that lies 760m above sea level, southwest of the capital Amman. Like much of Jordan, Madaba is located on an elevated plateau rising 750m above the sea level, which imparts it a Mediterranean climate despite its relatively southern latitude of 31°43′N.
Our guide meets you at your hotel at 13:00hrs for a bike fit and later takes you on a tour of must-visit attractions of Madaba. Madaba is known as the city of mosaics, and for good reason. Its most famous mosaic, known as the Map of Madaba is a 6th-century mosaic map of Jerusalem painstakingly put together using two million pieces of colored stone. The map is housed in St George's Church, a must-visit on a Jordan trip.
Arrival Note:
The nearest airport to Madaba is Queen Alia International Airport, Amman. Madaba lies 22 kilometers from the airport, so we recommend directly hiring a taxi from the airport. The journey should take you about 30 to 40 minutes.
Meals:
D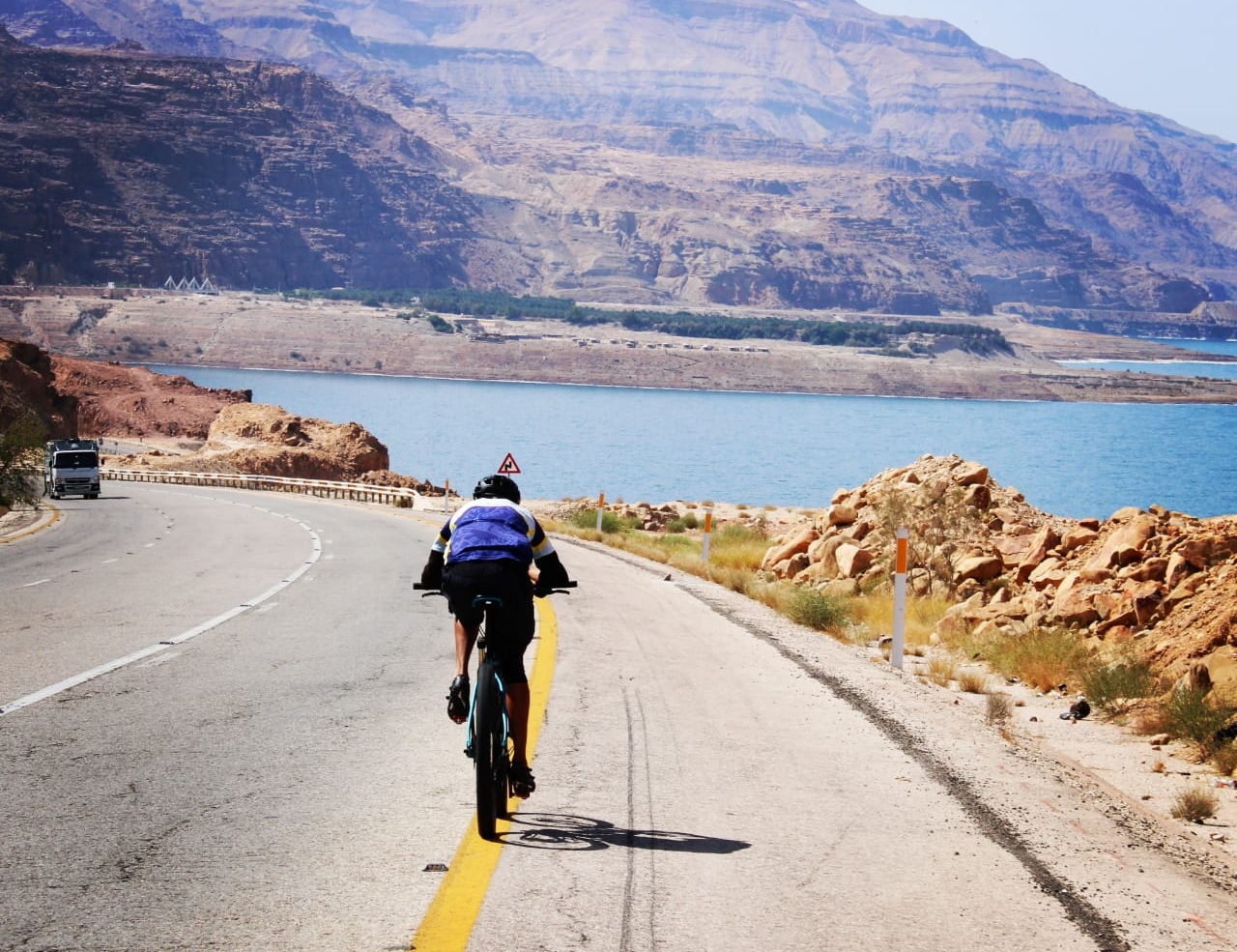 Day 2: Mukawir & The Dead Sea
We begin our day with a short shuttle transfer out of Madaba, driving on the famous King's Highway that has connected Egypt to Arabia since Biblical times and has been the nerve center carrying trade, commerce, and culture in the region. The highway even finds a mention in the Book of Genesis, Chapter 14.
We head to Mount Nebo, a ridge that, on clear days, offers views of Jerusalem, Jericho, and the Jordan Valley. According to the Bible, it was at Mount Nebo that Moses was offered a view of the Promised Land before his death.
After the visit to Mount Nebo, we set out on bikes through a narrow valley to reach the village of Mukawir which overlooks the Dead Sea. Mukawir is no ordinary village. It is known to antiquity as Machaerus and is famous as the site of King Herod's castle where St John the Baptist was imprisoned and executed. Mukawir/Machaerus lies on a sheer hill that rises 1100 m above the level of the Dead Sea, offering breathtaking views all around.
We stop to rest our legs after a hard 16 km climb and have lunch with a local family at Mukawir.
We then head to the Dead Sea - the lowest point on earth. The Dead Sea gets its name from the extraordinarily high content of salt and minerals in its water that makes life impossible in its water but bestows upon it therapeutic properties that are known to cure several ailments. The high atmospheric pressure due to its depth below the earth's surface also makes the Dead Sea a good spot for people suffering from respiratory ailments.
We spend the night at a hotel by the banks of the Dead Sea and enjoy spellbinding views of the starlit sky above the sea.
Meals:
B,L,D
Cycling Distance:
50km/31mi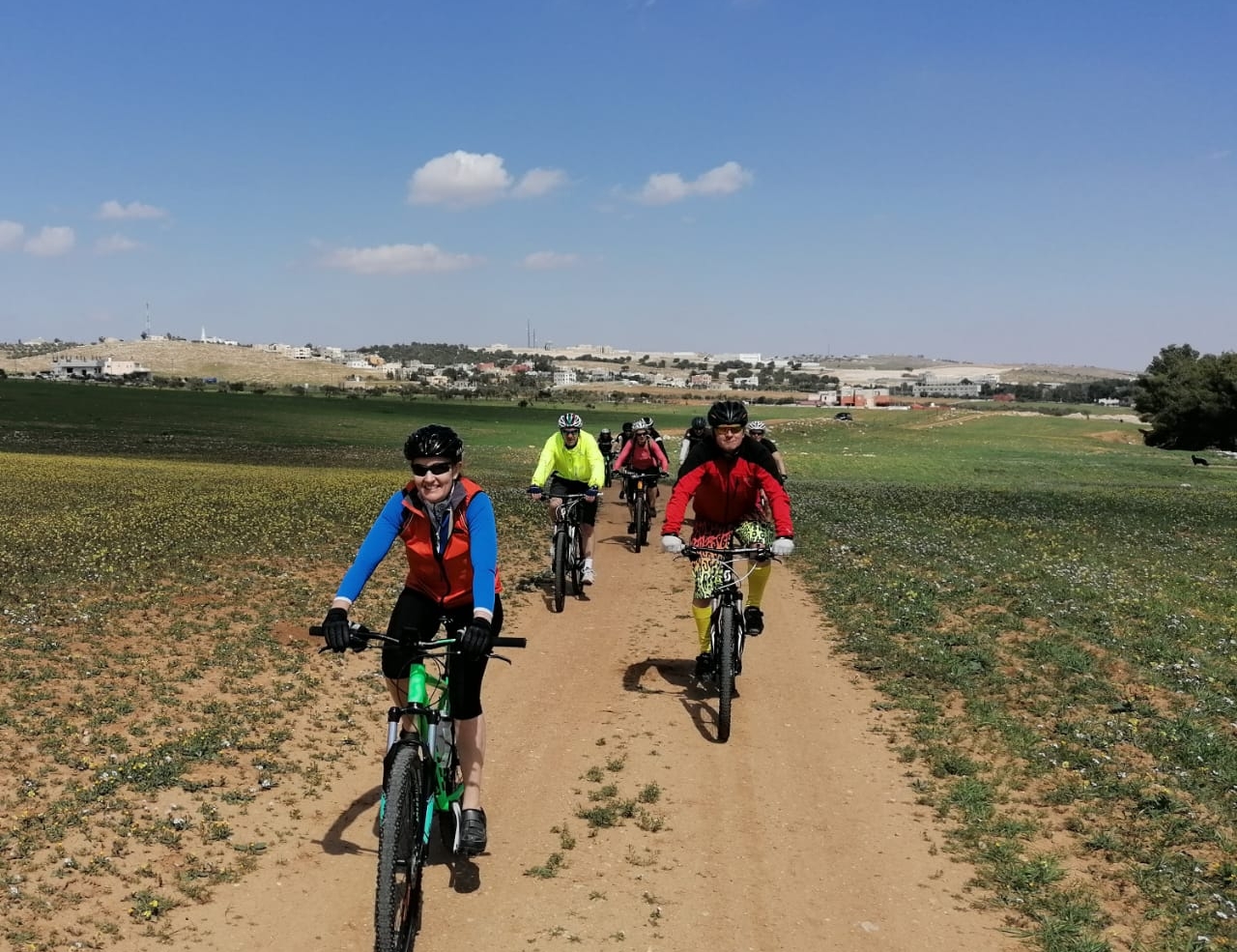 Day 3: Dana
We begin the day with a short shuttle transfer from our hotel. Driving back on our old friend, the King's Highway, we pass farms and oases on our way to the Wadi Al-Hasa - an ancient canyon-like rock formation made of sandstone, with a little brook flowing in between its gradually narrowing walls. The Wadi is more than 24 km long and its water is a lifeline for the human population that lives in its vicinity. We stop to admire the beautiful views before embarking on a 22 km long climb up the mountains to the village of Dana, located 1250 m above sea level.
Dana is the gateway to the Dana Biosphere Reserve - Jordan's largest nature reserve. A vast spread of sandstone, limestone, and granite mountains that is stunning in its stark barrenness, the Dana Biosphere is home to over 1000 species of flora and fauna, several of them endemic only to its unique landscape.
We spend the night at a simple hotel in Dana.
Meals:
B,L,D
Cycling Distance:
45km/28mi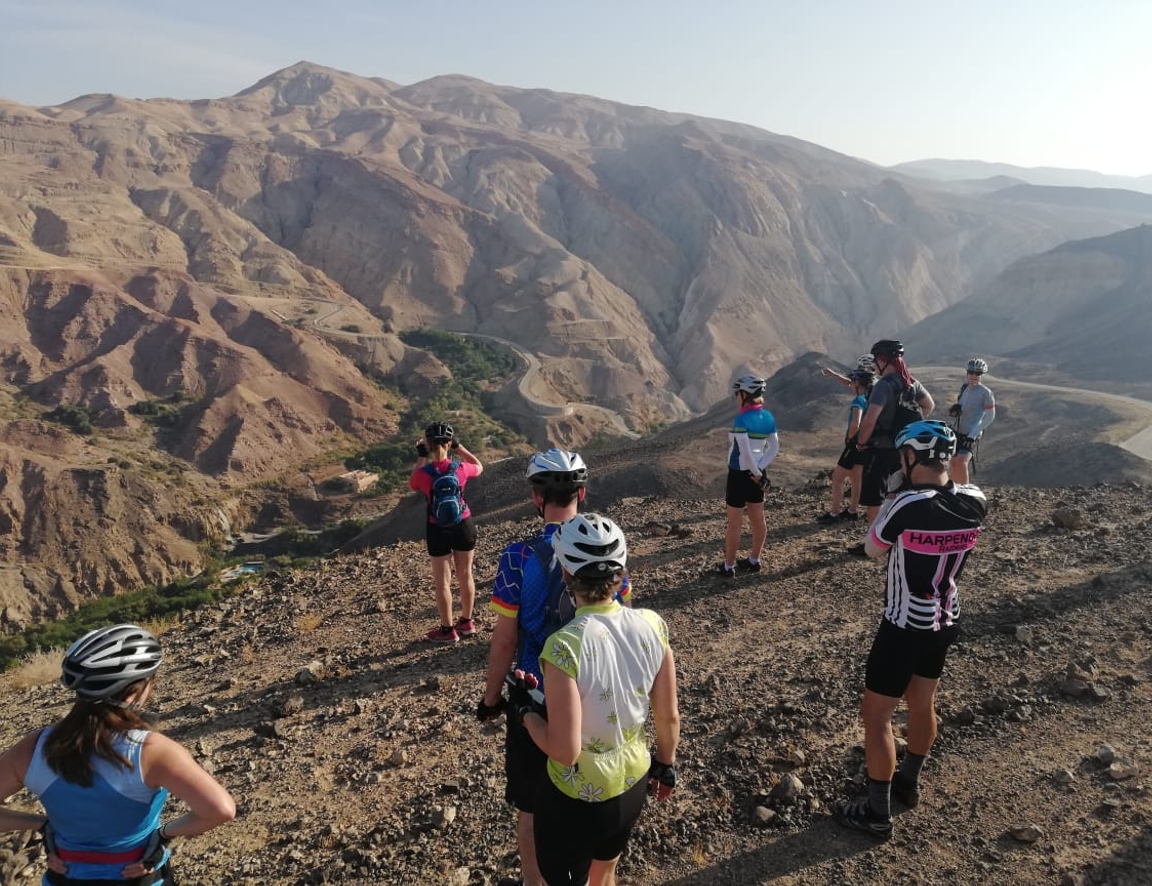 Day 4: Little Petra
We start the day with a short shuttle transfer to Shobak, the site of millennia-old battles fought by the crusaders. Built-in 1115 CE by the French crusader king Baldwin I, the Shobak castle passed hands several times between Christian and Muslim forces as each side struggled to control the holy city of Jerusalem. Today an abandoned, beautiful ruin sitting atop a hill and overlooking fruit orchards, the castle sings ballads of fallen warriors and lost glories to harsh desert winds.
We ride on along a well-paved track offering excellent views of the Wadi Araba - a magnificent landscape of brilliantly colored rocks standing defiantly against the dun-colored desert landscape.
Across the Wadi Araba lies Israel.
We ride through an enjoyable, rolling landscape with a few uphills and downhills till we reach the town of Little Petra and set camp.
Meals:
B,L,D
Cycling Distance:
35km/21mi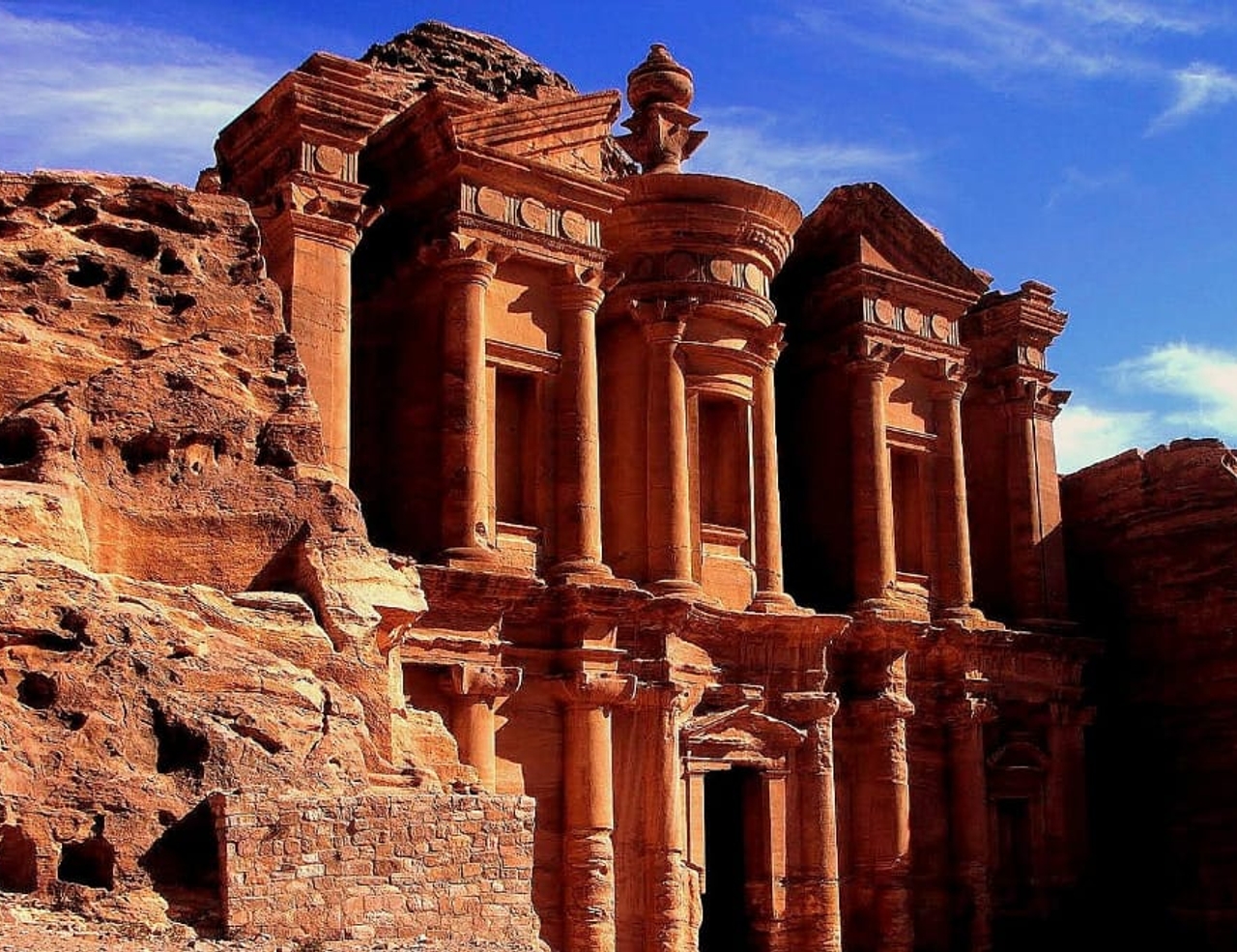 Day 5: Petra
This is the day we get to see one of the seven wonders of the world, and in honor, we exchange our bikes for our walking boots.
Except this is no ordinary walk.
The Petra Trail is a spectacular walk through smooth, red mountains rising up starkly from the parched desert land, spectacular views of the Jordan Rift Valley, and charming farmland that will leave you awestruck
After three hours of mesmerizing walk through this surreal landscape, we arrive at the prize that has awaited us all this while - the ruins of Petra.
Dating back to the First century BCE, Petra was built by the Nabatean people, an ancient Arab tribe, before being annexed to the Roman Empire. The most famous of the ruins is the Ad Deir monastery, an awe-inspiring wonder carved out of sheer rock that is reached after labor of climbing 800 steps over 40 minutes.
Needless to say, the labor is more than worth the sweat.
From its commanding heights, the Ad Deir monastery offers stunning views of the surrounding countryside.
We spend the rest of the afternoon immersed in exploring the wonders of this UNESCO World Heritage site.
Meals:
B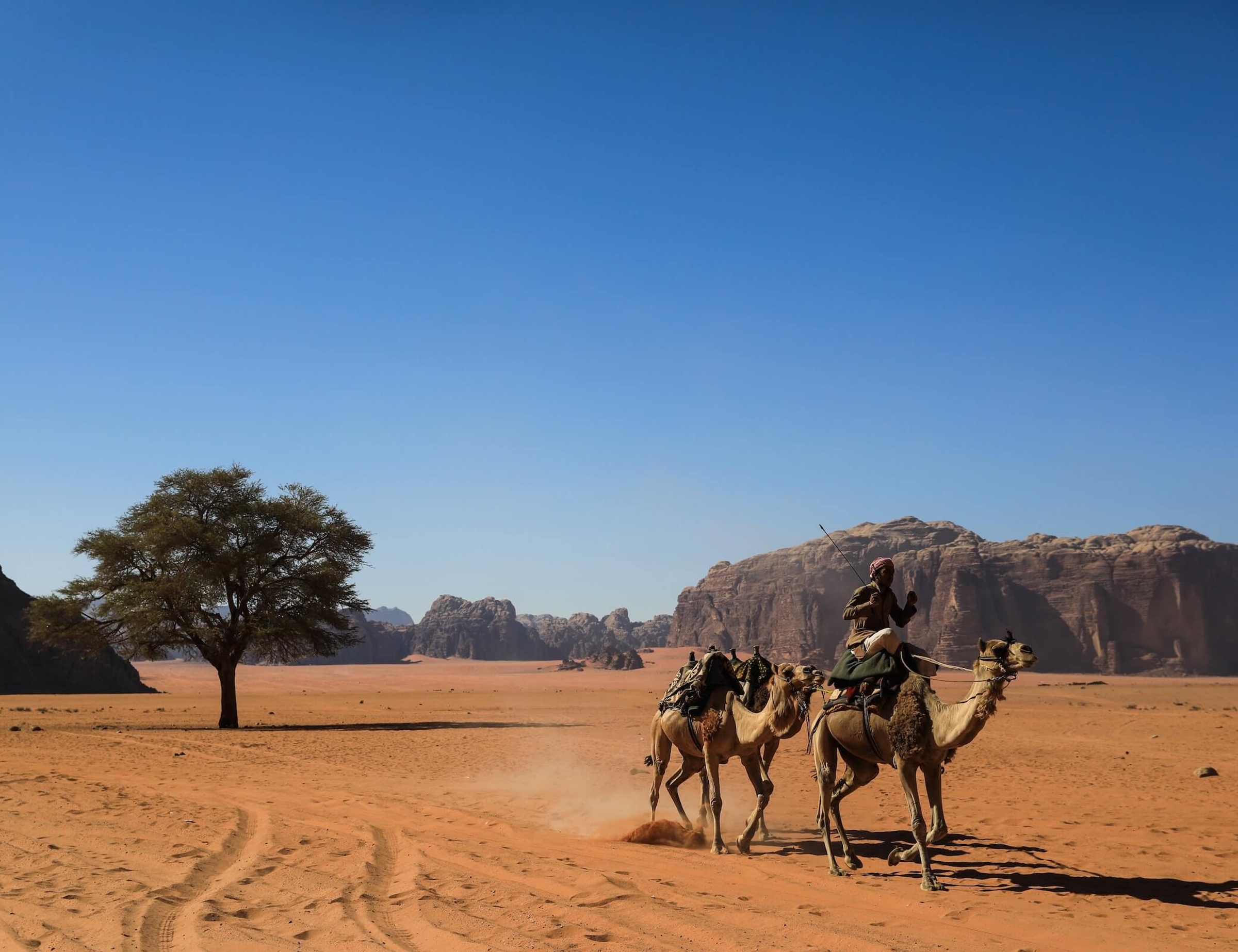 Day 6: Wadi Rum
We start the day with a short shuttle transfer before getting on to our bikes to enjoy a pleasant day of biking through desert trails. After a good 40 km of biking, we stop for lunch at an ancient trading town called Humayma.
Afterward we continue biking southwards, and shortly before we arrive at the famous Wadi Rum, end the day's biking and drive the rest of the way.
Wadi Rum is famous for several reasons.
The first of these is because, it is, quite simply, one of the most spectacular landscapes on earth. Bare, barren, burnt red land for as far as the eye can see, and mountains of sandstone and granite arising out of it give the Wadi Rum the appearance of a place out of a dream. Not for nothing has it been called the closest thing to the surface of Mars on earth. In fact, some of the most popular sci-fi movies including Star Wars, Prometheus, The Martian, and Dune have used the Wadi Rum's stunning landscape as the setting for their interplanetary tales.
The other reason for the Wadi Rum's fame is its connection with the British officer T.E. Lawrence - better known as Lawrence of Arabia - and his autobiography The Seven Pillars of Wisdom. Lawrence of Arabia used the Wadi Rum as his base as he tried to unite the Bedouins to rise against the Ottoman Empire during the First World War.
Finally, petroglyphs dating back to the 8th century BCE can also be seen carved on the Wadi Rum's sandstone mountains.
Dinner tonight is with a Bedouin family - a simple but delicious affair consisting of meat and vegetables cooked in a clay-fired oven called the Zerb.
We spend the night in a tented accommodation made of goat hair in the heart of the Wadi Rum as the stars shine brilliantly in the night sky above us.
Meals:
B,L,D
Cycling Distance:
40km/25mi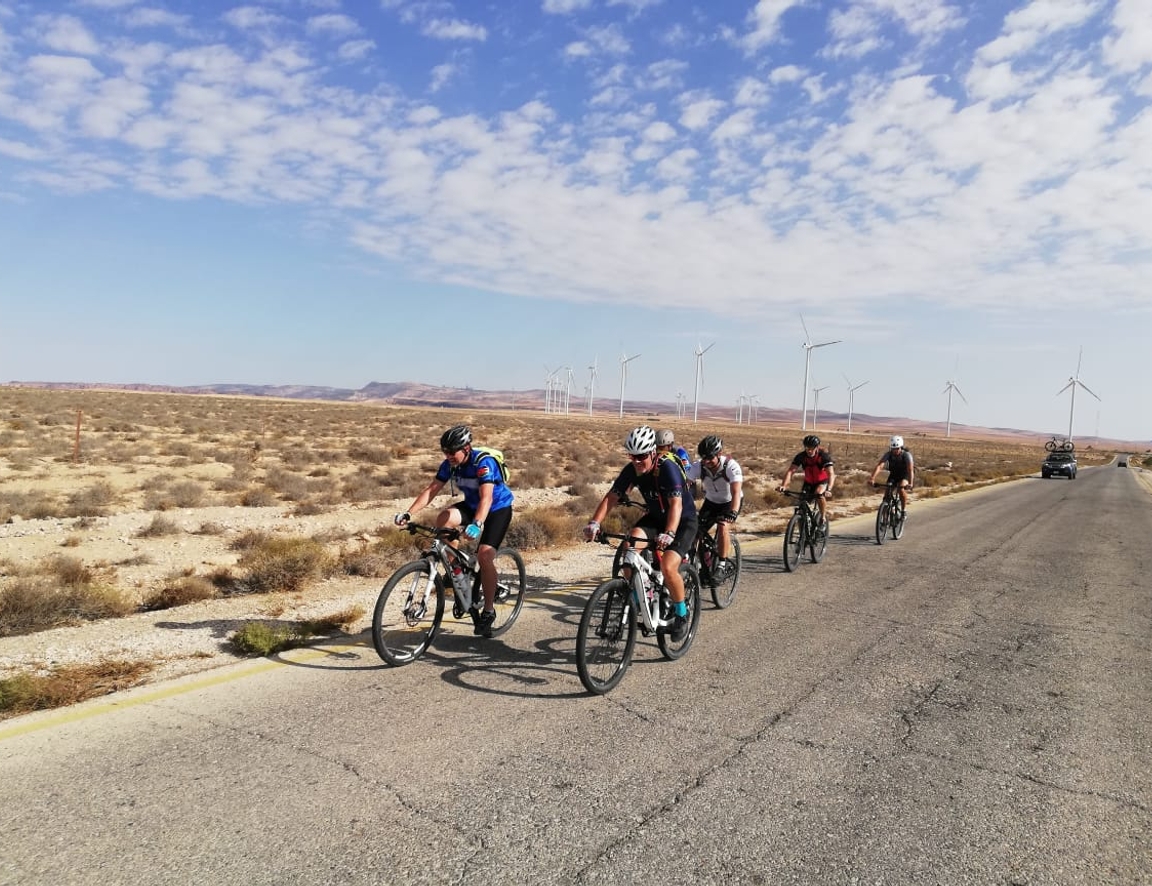 Day 7: Aqaba
We start the day's biking by riding through the desert on an unmetalled track, occasionally running into patches of soft, golden sand. After some 30 km, we finally hit a paved road that leads us to the port town of Aqaba on the Red Sea.
Aqaba is Jordan's only port city, and one of the most important ports in the Levant. We bike all the way to the edge of the Red Sea, sitting down to relax by the sandy beaches of this historic city.
And thus, having begun from high plateaus, riding through sandy deserts, and arrived at the sea - our epic journey through Jordan come to a close.
Meals:
B,L
Cycling Distance:
30km/18mi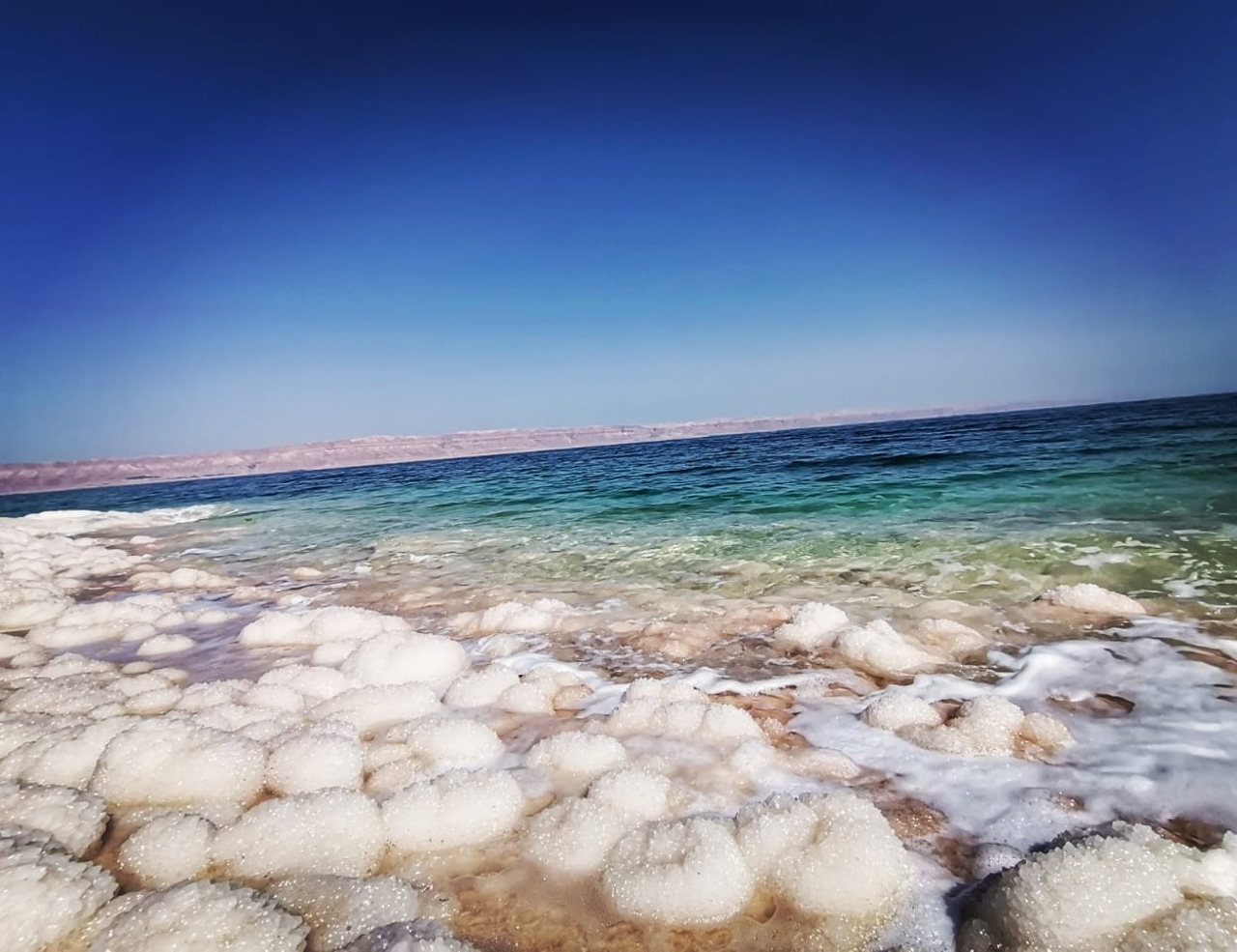 Day 8: Departure
We recommend extending at Aqaba, the only coastal city in Jordan that is wonderful to explore both by land and sea. One of its most unique and attractive features is the coral reefs of the Red Sea.
Meals:
B
Ready to plan your adventure? Download a print-ready detailed itinerary.
Map
Dates and Prices
Members get an estimated 10% off on this trip.
---
$50/yearLearn more
Single Supplement
From US $335
---
Couldn't find a trip with convenient dates?
Open your date as a join-in tour or customize further as a private one.
---
Essential Info
Inclusions
LODGING
All hotels as mentioned in the tour details or similar (subject to availability).
trip leader
Expert Trip Leader(s) who look after your every need and add meaning to your vacation.
bike
Immaculately maintained bike with helmet, suited to a terrain.
shuttle
A Van support follows the group of riders and carries all belongings.
meals
Meals as per itinerary. Guests are given the opportunity to dine on their own so that they discover a location independently.
refreshments
Refreshments and mineral water while cycling.
entrance
Entrance fees to most of the monuments and temples.
E-bikes
E-bikes are available on this trip at a surcharge. Please send a note to your tour consultant to book one.
Exclusions
Airport pickup and drop
We recommend to book direclty from airport or hotel.
meals
Some meals may not be included. Please check your itinerary.
Beverages
Beverages such as alcohol, tea, coffee, juice at a hotel or restaurant.
Arrival & Departure Details
Fly In: Amman (Queen Alia International Airport)
The nearest airport to Madaba is Queen Alia International Airport, Amman. Madaba lies 22 kilometers from the airport, so we recommend directly hiring a taxi from the airport. The journey should take you about 30 to 40 minutes.
Fly Out: Aqaba (King Hussein International Airport)
Weather
Jordan offers a diverse and exciting climate for cycling enthusiasts, making it a suitable destination for this outdoor activity. The country's weather varies depending on the season and region, but here's an overview of Jordan's climate that is suitable for cycling:
Spring (March to May): Spring is one of the best times for cycling in Jordan. The weather is pleasantly mild, with temperatures ranging from 15°C to 25°C (59°F to 77°F) in most regions. Wildflowers bloom, and the landscapes come alive with greenery, making it a visually appealing time to explore the country on two wheels.
Autumn (September to November): Similar to spring, autumn is another excellent season for cycling. Temperatures are comfortable, typically ranging from 18°C to 28°C (64°F to 82°F). The autumn months offer clear skies, making it a great time for long rides and exploration.
Visa
Most citizens do not need to obtain a visa in advance to enter Jordan. Instead, visas can be obtained upon arrival in Jordan. We have your arrival details, and our airport representative will be there to warmly welcome and assist you with all necessary formalities, ensuring a seamless and stress-free experience. They will also work on acquiring a complimentary visa for you. To easily locate our representative, please look for the individual holding a sign with your name. Throughout the process, our representative will guide you and provide any needed assistance until you safely exit the airport terminal.
Reviews from our friends
I enjoyed it immensely
I enjoyed it immensely. The leaders had an informal style which allowed for changes to reflect the wishes of the group, weather, road conditions etc. The leaders were always ready to discuss aspects of local culture, local history etc and that added a lot to the trip. Mechanical problems were dealt with in a caring manner but with a low key approach. I really recommend the firm.
Wonderful
Wonderful! The cycling was hard work at times but very rewarding. The accommodation was comfortable and clean. The food was excellent and plenty of it. The guides were very committed and took great care of us. I will definitely be using this company again to explore another part of Asia.
Overall we had a wonderful experience
Overall we had a wonderful experience on our bike tour. It allowed us to see and do things we wouldn't have been able to on our own. There were a few small logistical glitches, but overall the tour was well-organized. Our guide was knowledgeable and friendly. The bikes were in good condition. It will be a while before we go back but if/when we do we'd definitely consider doing another tour with Art of Bicycle Trips.