Kerala in Style
---
Overview
Bursting with a variety of experiences, Kerala throws up myriad experiences; deep-rooted culture, verdant surroundings, unique food, and a slice of India like none other. Experience stretches of biking through God's own country, hiking and overnight camping at the hill station, and kayaking in the backwaters! The diverse landscape apart, Kerala's cultural hook is also what intrigues visitors. You can see Kathakali closely or stay in hundreds of years old houses – Kerala throws a cultural surprise at you at every corner.
In this multi-sport trip in Kerala, we have covered as many experiences for you! Be it the history immersed narrow streets of Fort Kochi, floating in the backwaters in a houseboat, or a wildlife trip into the thick forests. The blend of exquisite heritage places to stay or experience and the combination of bike, hike, and kayak is bound to make this an unforgettable journey.
Avg. dist. cycled
50km or 30mi
Highlights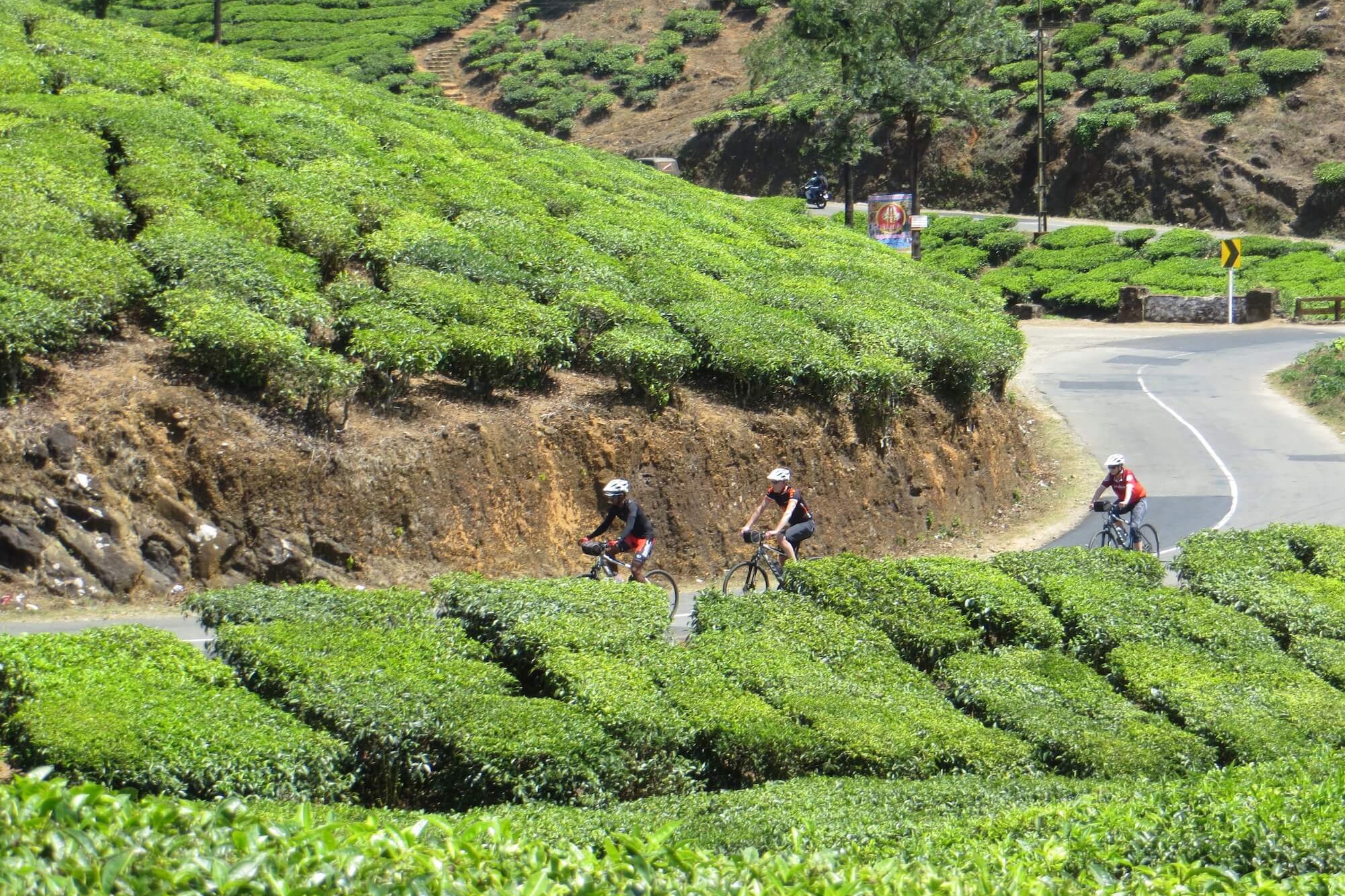 scenic backroads
Bike in the God's own scenic backroads
Itinerary
Day 1: Cochin
Meet your trip leader post-lunch, 02:00 pm at your hotel of stay in Fort Kochi and head out to see Fort Kochi by foot.
One of the foremost trading hubs on the western coast of India, Fort Kochi drew colonial interest with its aromatic spices. Along with traders from China, Portugal, Arab and Holland, came a cocktail of religions, cultural practices, and diverse food. Kerala owes its cosmopolitan vibe to the traders who braved the seas to come to this land.
Later, in the evening, go to see the traditional dance form, Kathakali (you can also see the face painting before the show). After the show, we will have dinner at a seaside restaurant known for seafood and Indian delicacies.
There is a lot to pack in this day but be well rested for the night as we start early on the next day.
Day 2: Thattekad
This morning we start with a 2.5 hours shuttle bus to get out of traffic-clogged roads. We start cycling along the canal route to Thattekad. This first tryst with Kerala on the wheels will enthrall you. A scenic route, this smooth road along a canal is perfect to see birdlife and the verdant environs of real Kerala. Our destination is the outdoors camping facility- The Hornbill Camp.
We check into our snug and comfortable Swiss tents and get ready for an activity-packed day. Hornbill Camp offers Kayaking in the Periyar River, bird watching, and plantation walk around the property. The stay gives you a taste of the wilderness of Kerala along with all the comforts. The camp is situated in the environs of a tropical forest where you have nothing but birdsong for company!
DAY 3
Munnar
Aranyaka
B, L, D
65km/40mi*
cycling
Day 3: Munnar
Today we ride into the countryside and follow the Periyar River. The gradual rising trail winds its way through rubber and pineapple plantations to the Idukki forest reserve. We continue our gradual climb towards our lunch stop at a local restaurant. After lunch, bike amongst enormous grass plants, eucalyptus trees, and past alpine tea plantations in the rugged Munnar hills to your hotel.
DAY 4
Munnar
Aranyaka
B, L, D
40km/25mi*
cycling
Day 4: Munnar
After sipping hot tea in your bed, get ready to bike into the wilderness. Overlooking the town, Annamalai peak at 2695 m is the highest mountain in Kerala and well worth the ride to Top Station 1,950 m/ 6,397 ft for the fine views over the town and neighboring Tamil Nadu. You'll ascend 500 m in this gradual uphill climb.
Later we head to Munnar town to visit the market.
DAY 5
Munnar
Camping
B, L, D
hiking
Day 5: Munnar
A rest day for biking, but never really a rest day. We hike through tea plantations and rainforests. The hiking path is easy to walk through, with less variation in altitude. We reach our campsite located at 1600 m/ 5249 ft. Overnight in a simple tent camp. The camp area are is bordering the grassland and forests. The area is rich in birds and butterflies. With the best position to view the sunset, sunrise, night sky, you will be just lost in time. Oh never to miss is the beautiful and panoramic view of western ghat mountains ranges.
Day 6: Thekkady
Wake up along with birds, watch the sunrise sipping a hot cup of tea. Prepare for the hike to the high-altitude forest and grasslands. The hiking ends at the Great escape gap.
If you still have power left in your legs, you can cycle a bit today along a winding country road, passing small hamlets and spice plantation villages to Thekkady.
Day 7: Thekkady
This morning we take a nature walk in Periyar National Park in search of mongooses, elephants and learn about the flora and fauna in Periyar Tiger Reserve. Later, we head to a garden of spices and learn about the spices from a local farmer.
Day 8: Vagamon
This is going to be a beautiful ride – from the Cardamom Hills of Thekkady to the tea gardens of Vagamon, and that too, through the rubber plantations. A hilly ride, with both dips and steep climbs, but the cool weather helps you grapple with this challenging ride better.
Vagamon is an enchanting hill station where you can either relax or indulge in outdoor activities like paragliding, easy hikes, or explore nature trails.
Day 9: Kumarakom
The ride today takes us near spectacular Vembanad Lake. Enjoy stunning vistas in all directions. We bike and transfer the rest in the van.
Day 10: Alleppey
Today step into a kayak. Soon you will be kayaking the backwaters, through inland canals, with people living very close to the water edges. Enjoy a simple lunch in a local village restaurant. See the village life in action and hear the stories from our local guide.
Post-lunch, if time permits, ride through the narrow trails and experience a fabulous birdlife, situated right at the edge of mesmerizing Vembanad Lake.
DAY 11
Kochi
B
40km/25mi*
cycling
Day 11: Kochi
On the last biking day, we ride along the beach road and the journey will be refreshing and easy. We ride past fishing villages and numerous Christian churches along the coast will to a small village named Ezhupunna and then to Kochi.
Dates and Prices
---
Couldn't find a trip with convenient dates?
Open your date as a join-in tour or customize further as private one
---
Essential Info
Inclusions
LODGING
All hotels as mentioned in the tour details (subject to availability). All options are personally reviewed.
shuttle
A Van support that follows the group of riders and carries all belongings.
refreshments
Refreshments and mineral water while cycling.
trip leader
Expert Trip Leader(s) who look after your every need and add meaning to your vacation.
meals
Meals as per itinerary. Guests are given the opportunity to dine on their own so that they discover a location independently.
entrance
Entrance fees to most of the monuments and temples.
bike
Immaculately maintianed bike with helmet, suited to a terrain.
Exclusions
Airport pickup and drop
We recommend to book direclty from airport or hotel.
meals
Some meals may not be included. Please check your itinerary.
Beverages
Beverages such as alcohol, tea, coffee, juice at a hotel or restaurant.