Kerala Backwaters Bike Tour
---
Overview
Ride along the coast of Kerala on a bike and kayak in the backwaters! The mix of beautiful places to stay and the combination of bike and kayak will make this short tour a memorable one for you.
Avg. dist. cycled
35km or 21mi
Highlights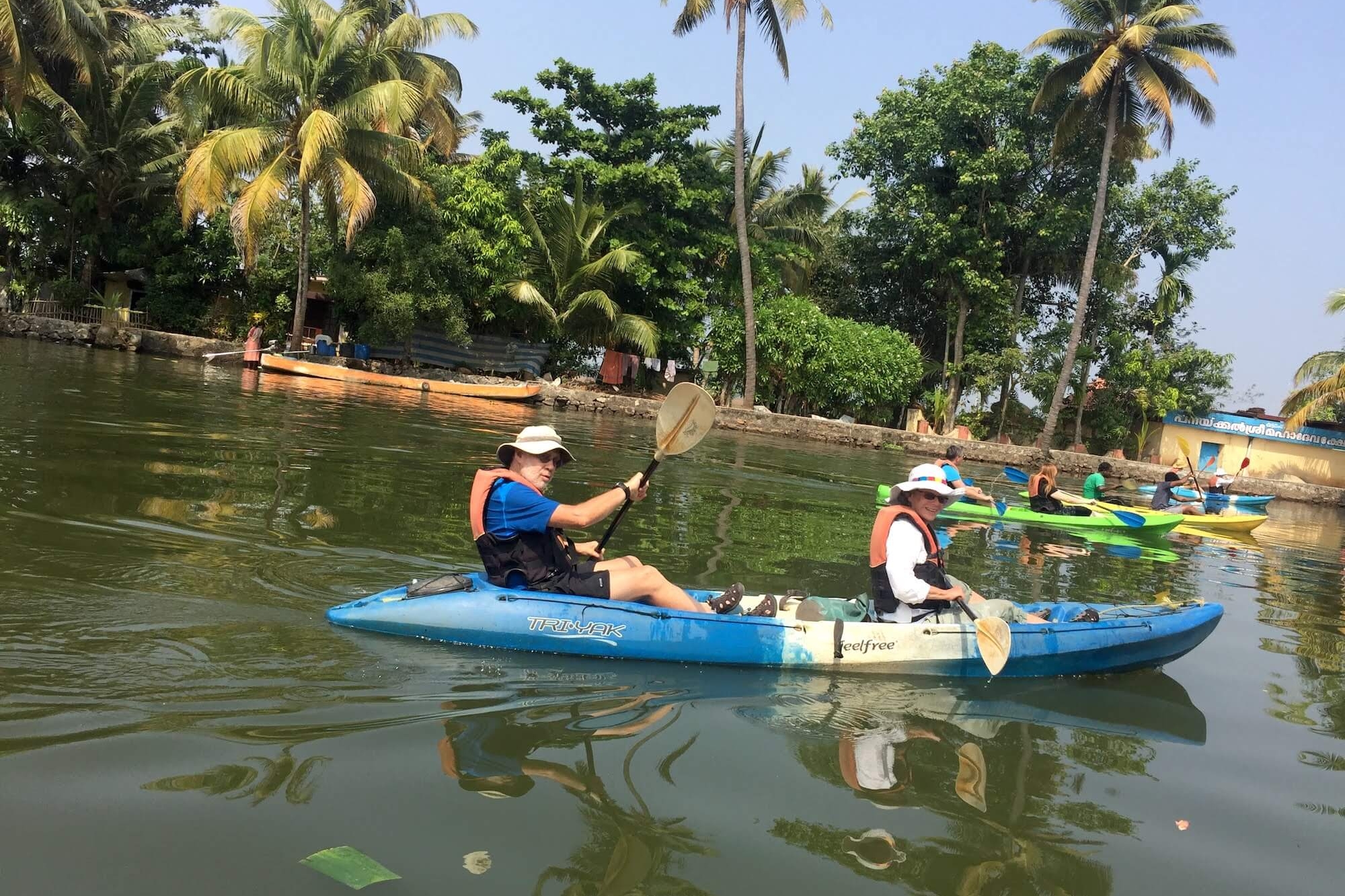 bike and kayak
Bike and kayak in the God's own country of South India
Itinerary
DAY 1
Kochi to Kumarakom
Abad Whispering Palms Lake Resort
L,D
40km/24mi*
cycling
Day 1: Kochi to Kumarakom
Caught between the backwaters and the Arabian sea, this is simply the best rural biking trail combined with village life experiences around Kochi. It's a day-cycle ride that lets you feel the charm of simple Keralan backwater villages. We ride through vast paddy fields, fish farms, coconut tree canopies to reach one of the backwater edges. Learn about fish farming, traditional boat making, and other local traditions. A beautiful ride today takes us near spectacular Vembanad Lake.
DAY 2
Alleppey
Pamba Heritage Villa
B,L,D
30km / 19mi*
cycling
Day 2: Alleppey
Enjoy stunning vistas in all directions. Small canals, country canoes, fisherman throwing nets into the water, a coconut climber climbing up the coconut tree, women working in the rice fields, all come into scene one after the other. We ride to the lowest altitude region in India called Kuttanad, known as the rice bowl of Kerala.
DAY 3
Ezhupunna
Villa de Parrai
B,L,D
, kayaking
Day 3: Ezhupunna
We step into a kayak today. Soon you will be kayaking the backwaters, through inland canals, with people living very close to the water edges. See the village life in action and hear the stories from our local guide. Enjoy a simple lunch. We reach the beautiful backwaters countryside of Ezhupunna today.
DAY 4
Fort Kochi
B
25km / 15mi
cycling
Day 4: Fort Kochi
Today morning we cycle back to Kochi and the tour ends as we reach Fort Kochi by noon.
Dates and Prices
---
Couldn't find a trip with convenient dates?
Open your date as a join-in tour or customize further as private one
---
Essential Info
Inclusions
LODGING
All hotels as mentioned in the tour details (subject to availability). All options are personally reviewed.
shuttle
A Van support that follows the group of riders and carries all belongings.
refreshments
Refreshments and mineral water while cycling.
trip leader
Expert Trip Leader(s) who look after your every need and add meaning to your vacation.
meals
Meals as per itinerary. Guests are given the opportunity to dine on their own so that they discover a location independently.
entrance
Entrance fees to most of the monuments and temples.
bike
Immaculately maintianed bike with helmet, suited to a terrain.
Exclusions
Airport pickup and drop
We recommend to book direclty from airport or hotel.
meals
Some meals may not be included. Please check your itinerary.
Beverages
Beverages such as alcohol, tea, coffee, juice at a hotel or restaurant.