Enchanting South India Bike Tour
---
Overview
From coastal South to east of South India, starting from Kochi and ending in Chennai, this tour takes you through two contrasting; backwaters and hills of Kerala to rural & coastal sides of Tamil Nadu.
This trip entails traveling back in time to 2500 years ago to the heart of the Dravidian civilization. Besides the easy-paced coastal cycling stretch, you can look forward to significant historical monuments, largely temples from the significant dynasties that ruled Southern India. Fresh seafood, scenic fishing villages, and a variety of social and topographical landscapes await you on this cycling tour. Enjoy India's architectural grandeur at the rock-cut temples of Mahabalipuram, mammoth Gopurams of the Meenakshi temple, and the large complex of the Thanjavur temple. Besides the temple trail, enjoy the short rendezvous with the ex-French colony, Pondicherry, home to the international community village of Auroville. Along with a slice of culture and history, expect to cycle down pristine coastlines, forested mountains, and bucolic small villages where children run to greet you with a big smile.
Avg. dist. cycled
55km or 33mi
Highlights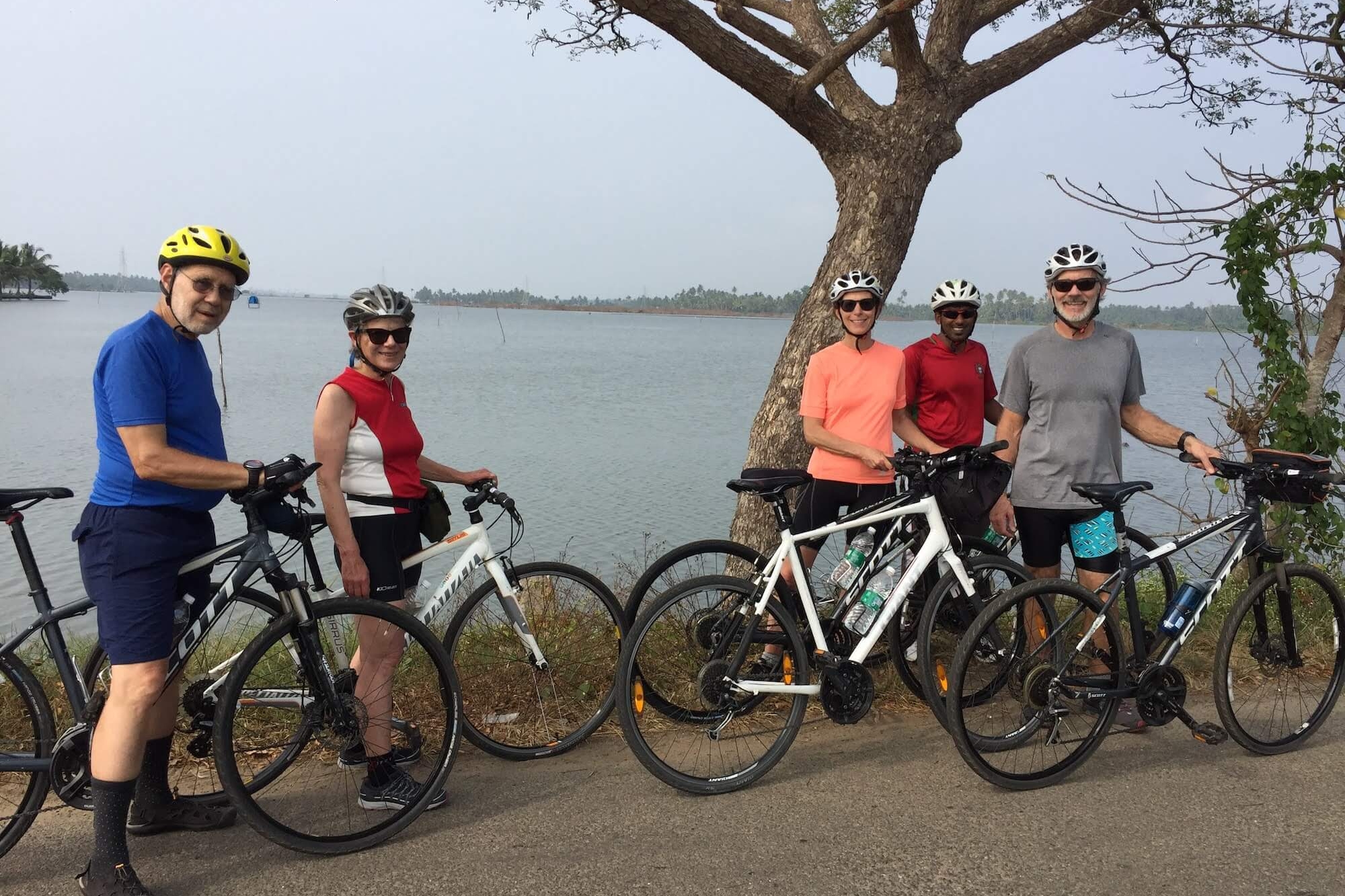 Kerala
Get to see the very best of Kerala – sandy beaches, meandering backwater canals, the lush green hills, and thick wilderness
Itinerary
DAY 1
Cochin
Xandari Harbour
D
cycling
Day 1: Cochin
Meet your trip leader at the hotel and head out to see Fort Kochi on foot.
One of the foremost trading hubs on the western coast of India, Fort Kochi drew colonial interest with its aromatic spices. Along with traders from China, Portugal, Arab and Holland, came a cocktail of religions, cultural practices, and diverse food. Kerala owes its cosmopolitan vibe to the traders who braved the seas to come to this land.
Later, in the evening, go to see the traditional dance form, Kathakali (you can also see the face painting before the show). After the show, we will have dinner at a seaside restaurant known for seafood and Indian delicacies.
There is a lot to pack in this day but be well rested for the night as we start early on the next day.
DAY 2
Alleppey
Purity
B,L,D
50km / 30mi
cycling
Day 2: Alleppey
A classic coastal ride along a beautiful stretch of white sandy beach on one side and unevenly spread serene backwaters on the other. Ride through small fishermen villages, lush coconut trees, and plentiful fish farms and enjoy a picnic lunch at the beach. The ride finishes at your hotel in Alleppey.
DAY 3
Alleppey
Purity
B,L,D
30km/18mi
cycling
Day 3: Alleppey
Ride through the narrow lanes and experience a fabulous birdlife before arriving at Kumarakom, situated right at the edge of mesmerizing Vembanad Lake.
DAY 4
Thekkady
Spice Village
B,L,D
50km/30mi
cycling
Day 4: Thekkady
This is going to be a beautiful ride – from the backwaters to the midlands of Kerala and that too, through the rubber plantations.
DAY 5
Madurai
Heritage Madurai
B,L,D
60km/42mi
cycling
Day 5: Madurai
We take in the spectacular views of the western ghat mountains before descending to Madurai. As you are riding, the 360 degrees view of the lush green forest will be forever etched in your mind.
Madurai one of South India's oldest cities and has been a centre of learning and pilgrimage for centuries. This is where Mahatma Gandhi took the decision, in 1921, to wear nothing but khadi (homespun cloth). Khadi textiles and tailors' shops are everywhere in town.
DAY 6
Chettinad
Chettinad Visalam Hotel
B,L,D
50km / 30mi
cycling
Day 6: Chettinad
It's best to visit the main temple early in the morning when it's relatively less busy. Meenakshi Amman (Sri Meenakshi) temple is dedicated to Lord Shiva and his consort, Goddess Parvati. The temple forms the heart and lifeline of the 2500-year-old city of Madurai. The temple complex houses 14 magnificent Gopurams or towers including two golden Gopurams for the main deities.
We ride to Chettinad, famous for its cuisine, architecture, and temples. The evening is at leisure.
DAY 7
Chettinad
Chettinad Visalam Hotel
B,L,D
Day 7: Chettinad
Today the day is at leisure and you can plan your own day. Take a walk in a nearby village or spend time reading a book.
DAY 8
Thanjavur
Svatma
B,L,D
60km / 30mi
cycling
Day 8: Thanjavur
After breakfast, we ride into the adjoining temple village, Thanjavur. The World Heritage–listed Brihadishwara Temple is the main highlight here with its large Maratha Palace complex. Thanjavur is dotted with beautiful living temples in the entire region and we head out with a guide to see the important ones. The village is also known for its bronze paintings that can be bought as souvenirs.
DAY 9
Kumbakonam
Mantra Koodam
B,L,D
70km / 42mi
cycling
Day 9: Kumbakonam
Today is a classic ride where we pass through small villages and see plenty of rice fields on one side and the river Kaveri flowing on the other.
Kumbakonam dates back to a historically significant period and was ruled by many distinguished dynasties of India – the Early Cholas, Pallavas, Medieval Cholas, Later Cholas, Pandyas, the Vijayanagar Empire, Madurai Nayaks, Thanjavur Nayaks, and the Thanjavur Marathas. It rose to be a prominent city between the 7th and 9th centuries AD when it served as a capital of the Medieval Cholas. The town reached the zenith of its prosperity during the British Raj when it was a prominent centre of European education and Hindu culture; an apt moniker, "Cambridge of South India" was attributed to the city. Kumbakonam is known for its temples and religious groups, called 'maths'. There are around 188 Hindu temples within the municipal limits of Kumbakonam. Apart from these, there are several thousand temples around the town thereby giving it another apt sobriquet, the 'City of temples'.
DAY 10
Pondicherry
Maison Perumal
B,L,D
70km / 42mi
cycling
Day 10: Pondicherry
The ride to Pondicherry is slightly long but not difficult. It's easy to pace up given that there are no major climbs. You will find fishing villages and salt plains, as you ride along the breezy sea. A former French colony, Pondicherry is a quaint seaside town with cobble-stoned boulevards, bright cafes, buildings remnant of French architecture, and the famous Aurobindo Ashram. The town was distinctly divided into the Black (local) and White (for Europeans) town and has a vast amount of history and architectural interest.
Head out in the evening to explore the Pondicherry town. You can walk along the main Goubert Avenue where the whole town congregates in the evenings for walks as the breeze from the sea makes the weather ever pleasant.
DAY 11
Pondicherry
Maison Perumal
B,L
30km / 18mi
cycling
Day 11: Pondicherry
This morning, we ride to Auroville. A unique township, Auroville was constructed to include communities from all over the world, based on the vision of Sri Aurobindo and The Mother. It wants to be a universal town where men and women of all countries are able to live in peace and progressive harmony above all creeds, all politics, and all nationalities. It has ballooned to encompass more than 80 rural settlements spread over 20km and about 1800 residents. If you're really interested in the philosophy it's worth the ride out to the visitors centre to find out how it all works and eat some great food at the café.
You can also try your hand at surfing in the mild waves of the Tamil Nadu coast or take a quick dip with scuba experts on this day.
DAY 12
Mahabalipuram
Taj Fisherman's Cove Resort & Spa
B,L,D
70km / 42mi
cycling
Day 12: Mahabalipuram
After breakfast enjoy a gorgeous ride to Mahabalipuram through the coastal route; the East Canal Road (highway) stretches along the coast and you can detour anytime into the untouched beaches for a quick dip. Cycling is easy as there are no ascents – you will only have to hydrate yourself a lot due to the clammy weather. Famous for its ancient rock carvings, especially the Shore Temple, Mahabalipuram was once the second capital and seaport of the Pallava kings of Kanchipuram. Mahabalipuram is listed as a UNESCO World Heritage site and has various historic monuments built largely between the 7th and the 9th centuries and remains a renowned center for stone carving. As you enter the village, you'll see and hear the constant tapping of hammer and chisel as artisans chip away at exquisite sculptures.
Day 13: Chennai
Mahabalipuram is a very small town, most of which you can cover on foot. It wakes up to the sound of sculptors' chisels on granite, creating impressive sculptors, which make for great souvenirs. You can browse hassle-free and buy from the fixed-price Poompuhar Handicrafts Emporium or from the craft shops that line the main roads. Explore the lighthouse and take a guided trip to the temples of Mahabalipuram.
After the morning exploration of Mahabalipuram's age-old temples, we take a transfer to Chennai. Explore a bit of Chennai if you have the time. The hot sultry seaside city represents a wonderful cusp of traditions and contemporary lifestyle. Visit the busy Mylapore temple area to see pilgrims buzzing in and out of the famous temple and the streets drenched in a splash of color.
Dates and Prices
---
Couldn't find a trip with convenient dates?
Open your date as a join-in tour or customize further as private one
---
Essential Info
Inclusions
LODGING
All hotels as mentioned in the tour details (subject to availability). All options are personally reviewed.
shuttle
A Van support that follows the group of riders and carries all belongings.
refreshments
Refreshments and mineral water while cycling.
trip leader
Expert Trip Leader(s) who look after your every need and add meaning to your vacation.
meals
Meals as per itinerary. Guests are given the opportunity to dine on their own so that they discover a location independently.
entrance
Entrance fees to most of the monuments and temples.
bike
Immaculately maintianed bike with helmet, suited to a terrain.
Exclusions
Airport pickup and drop
We recommend to book direclty from airport or hotel.
meals
Some meals may not be included. Please check your itinerary.
Beverages
Beverages such as alcohol, tea, coffee, juice at a hotel or restaurant.