Spellbinding Kerala Bike Tour
---
Overview
Ride through the God's Own Route and leisurely float across the backwaters of Kerala on this timeless Kerala cycling tour. With its evergreen mountains, dense forests, swift-flowing rivers, abundant wildlife, extensive backwaters, and blue lagoons, Kerala looks like a fairyland.
This Kerala bicycle tour offers a rich mix of diverse terrains from tall mountains and deep valleys to endless backwaters and wide sandy beaches. You will be cycling through roads flanked by thick forests, breezy seashores, tea & coffee carpeted hills, and a long canal. Apart from the diverse topography, this Kerala cycling holiday will be a great opportunity to immerse yourself in Keralan life.
Avg. dist. cycled
50km or 30mi
Highlights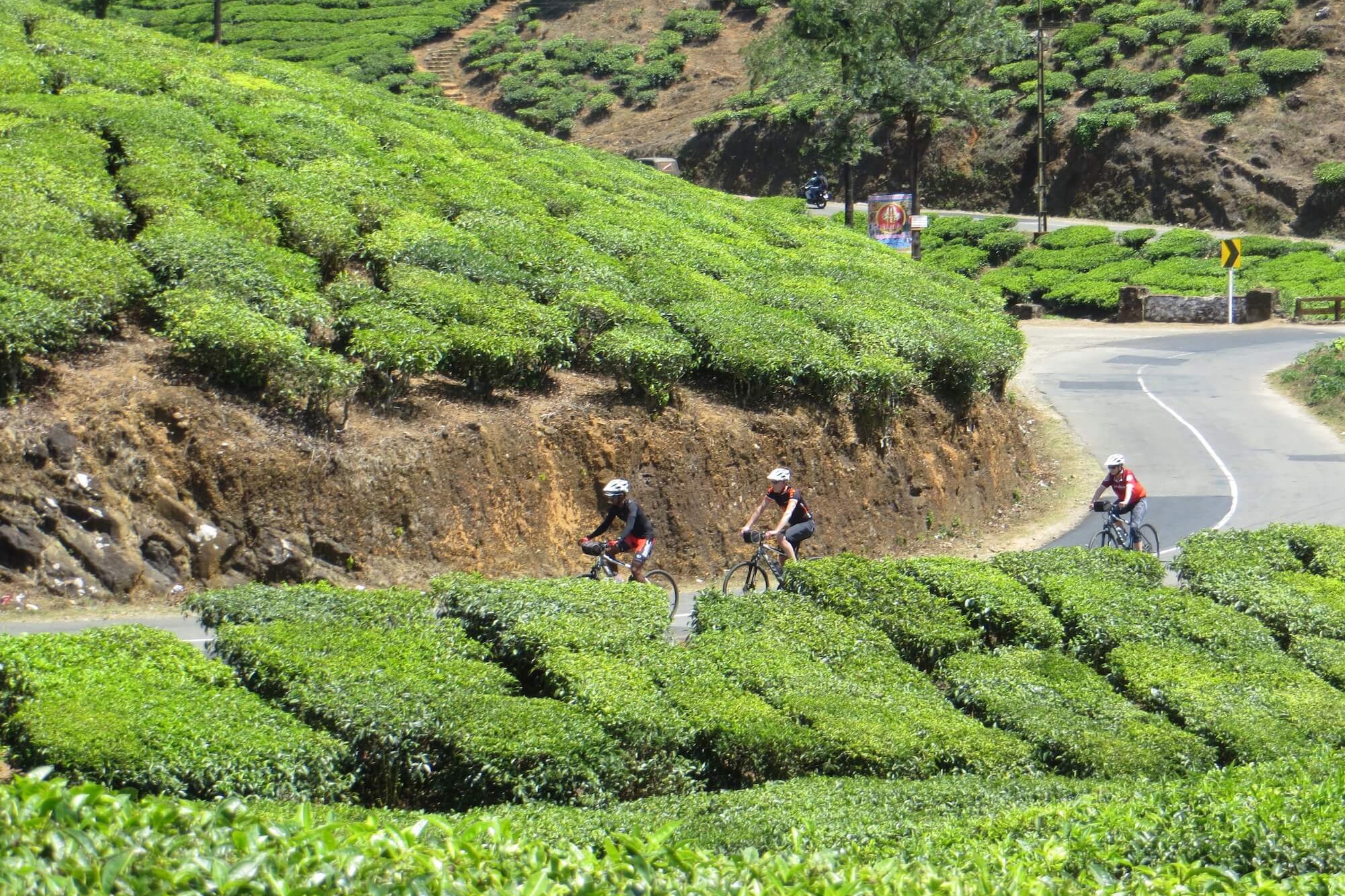 scenic backroads
Ride through the God's own scenic backroads
Itinerary
Brief Itinerary
| Day | Place | Hotel | Meals | Distance | Activity |
| --- | --- | --- | --- | --- | --- |
| DAY 1 | Fort Kochi | The Killians | D | | |
| DAY 2 | Thattekad | Hornbill Camp | B,L,D | 35km / 21mi | cycling |
| DAY 3 | Munnar | Olive Brooke | B,L,D | 65km / 40mi | cycling |
| DAY 4 | Munnar | Olive Brooke | B,L,D | 40km / 24mi | cycling |
| DAY 5 | Thekkady | Forest Canopy | B,L,D | 60km / 37mi | cycling |
| DAY 6 | Vagamon | Foggy Knols Resort | B,L,D | 50km / 30mi | cycling |
| DAY 7 | Kumarakom | Lakesong | B,L,D | 75km / 46mi | cycling |
| DAY 8 | Alleppey | Emerald Isle | B,L,D | 30km/18mi | cycling |
| DAY 9 | Kochi | | B,L | 50km / 31mi | cycling |
Accommodation - Casual Inns
Small luxury and boutique hotels that are true to their heritage and character and reflect local ethos are listed here as Casual Inns. They hold within them an unassuming charm and regional character that is an extension of the destination itself. Most of them fall under the 3-star or 4-star category with a possible mix of homestays.
We have chosen them carefully so that you are well-rested; get a drift of the local character or an enthralling view from your verandah. The above brief itinerary gives you a clickable list of hotels for your perusal.
Detailed Itinerary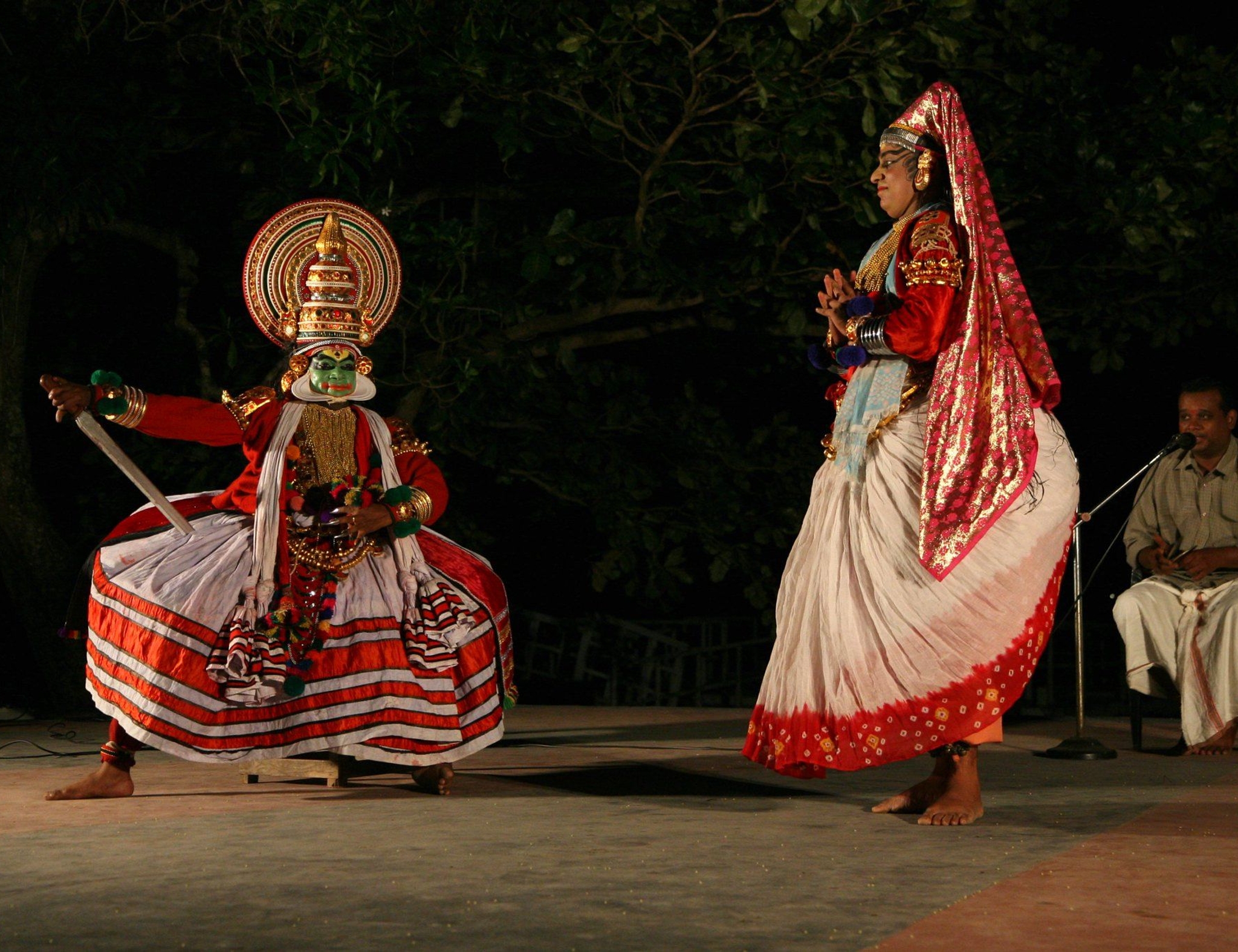 Day 1: Fort Kochi
Meet your trip leader at the hotel around 13:00hrs and head out to see Fort Kochi by bike and foot.
One of the foremost trading hubs on the western coast of India, Fort Kochi drew colonial interest with its aromatic spices. Along with traders from China, Portugal, Arabs, and Holland came a cocktail of religions, cultural practices, and diverse food. Kerala owes its cosmopolitan vibe to the traders who braved the seas to come to this land.
Fort Kochi is dotted with remnants of the past, which you can discover by bike and foot. Step out to see the Vasco Church, Basilica, Dutch Cemetery, Jew Town and the Paradesi Synagogue, and the famous Chinese fishing nets, which lie within a 2km radius.
In the evening, we convene over dinner tonight at a seaside restaurant known for seafood and Indian delicacies.
Meals:
D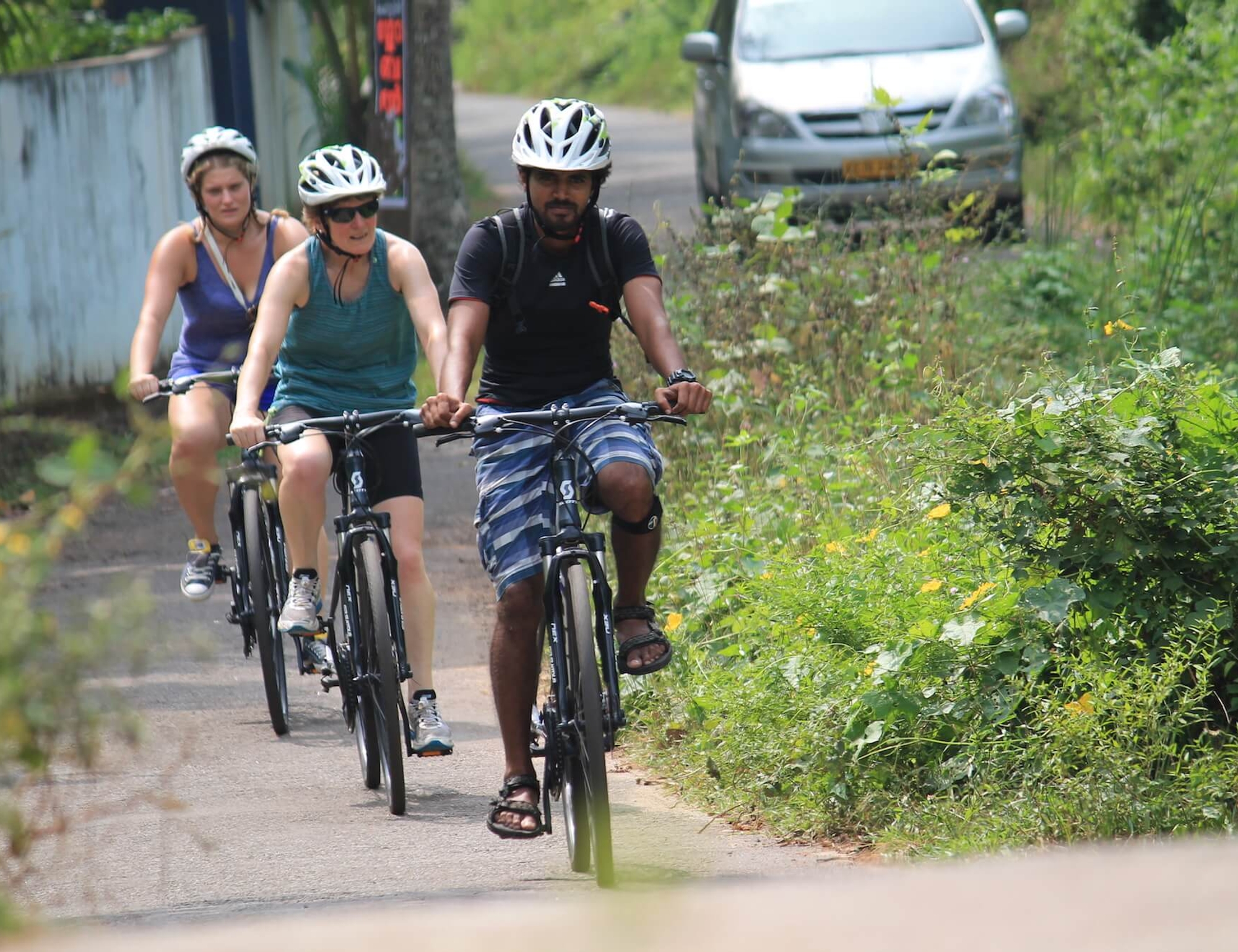 Day 2: Thattekad
Our guide meets you at your hotel at 07:30hrs. This morning we start with a 2.5 hours shuttle bus to get out of traffic-clogged roads. We start cycling along the canal route to Thattekad. This first tryst with Kerala on the wheels will enthrall you. A scenic route, this smooth road along a canal is perfect to see birdlife and the verdant environs of real Kerala. Our destination is the outdoor camping facility- The Hornbill Camp.
We check into our snug and comfortable Swiss tents and get ready for an activity-packed day. Hornbill Camp offers Kayaking in the Periyar River, bird watching, and plantation walk around the property. The stay gives you a taste of the wilderness of Kerala along with all the comforts. The camp is situated in the environs of a tropical forest where you have nothing but birdsong for company!
Meals:
B,L,D
Cycling Distance:
35km / 21mi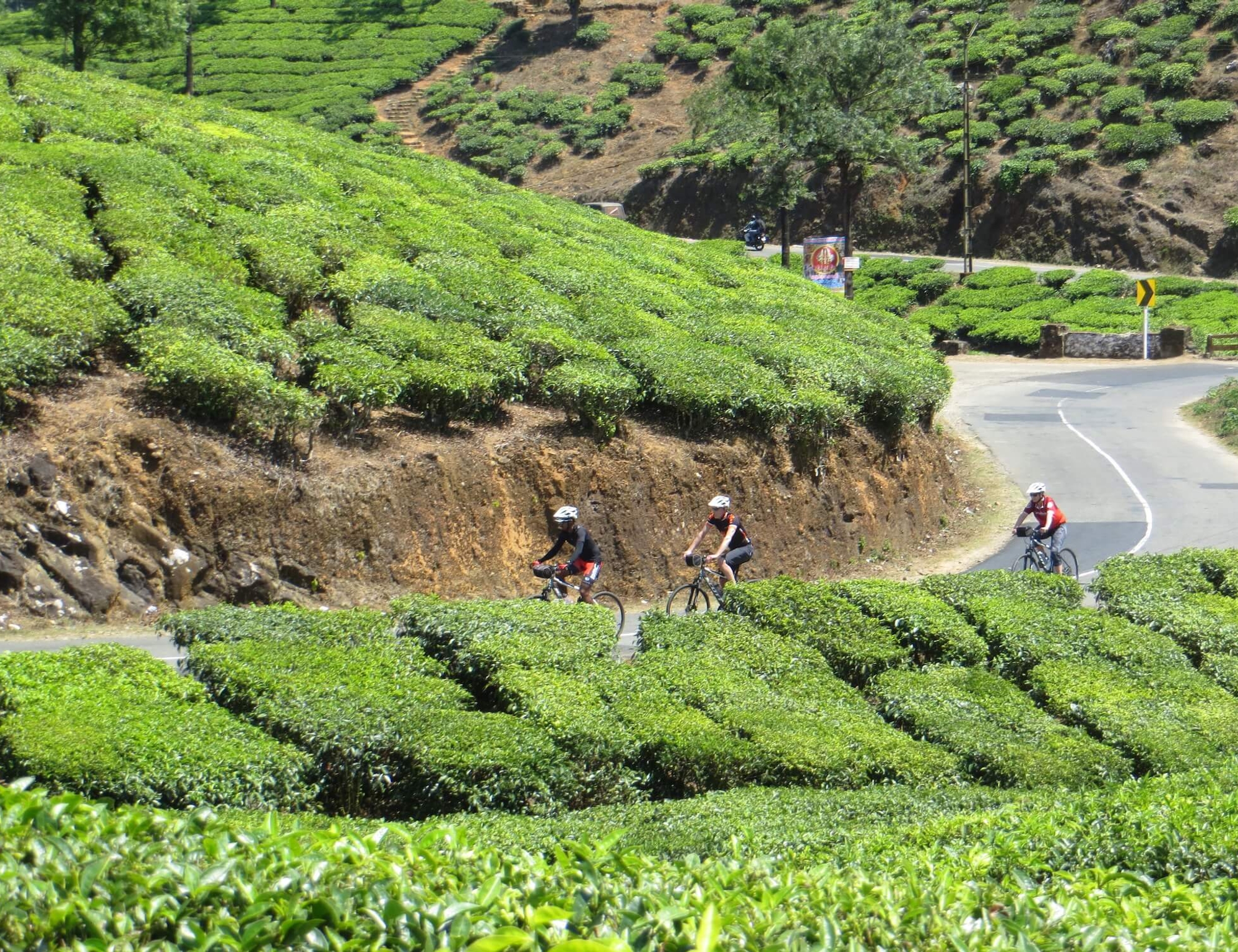 Day 3: Munnar
Today we ride into the countryside and follow the Periyar River. A scenic route, along a river, is perfect to see birdlife and the verdant environs of real Kerala. The gradual rising trail winds its way through rubber and pineapple plantations to the Idukki forest reserve. We continue our gradual climb towards our lunch stop at a local restaurant. After lunch, bike amongst enormous grass plants, and eucalyptus trees, and past alpine tea plantations in the rugged Munnar hills to your hotel.
Meals:
B,L,D
Cycling Distance:
65km / 40mi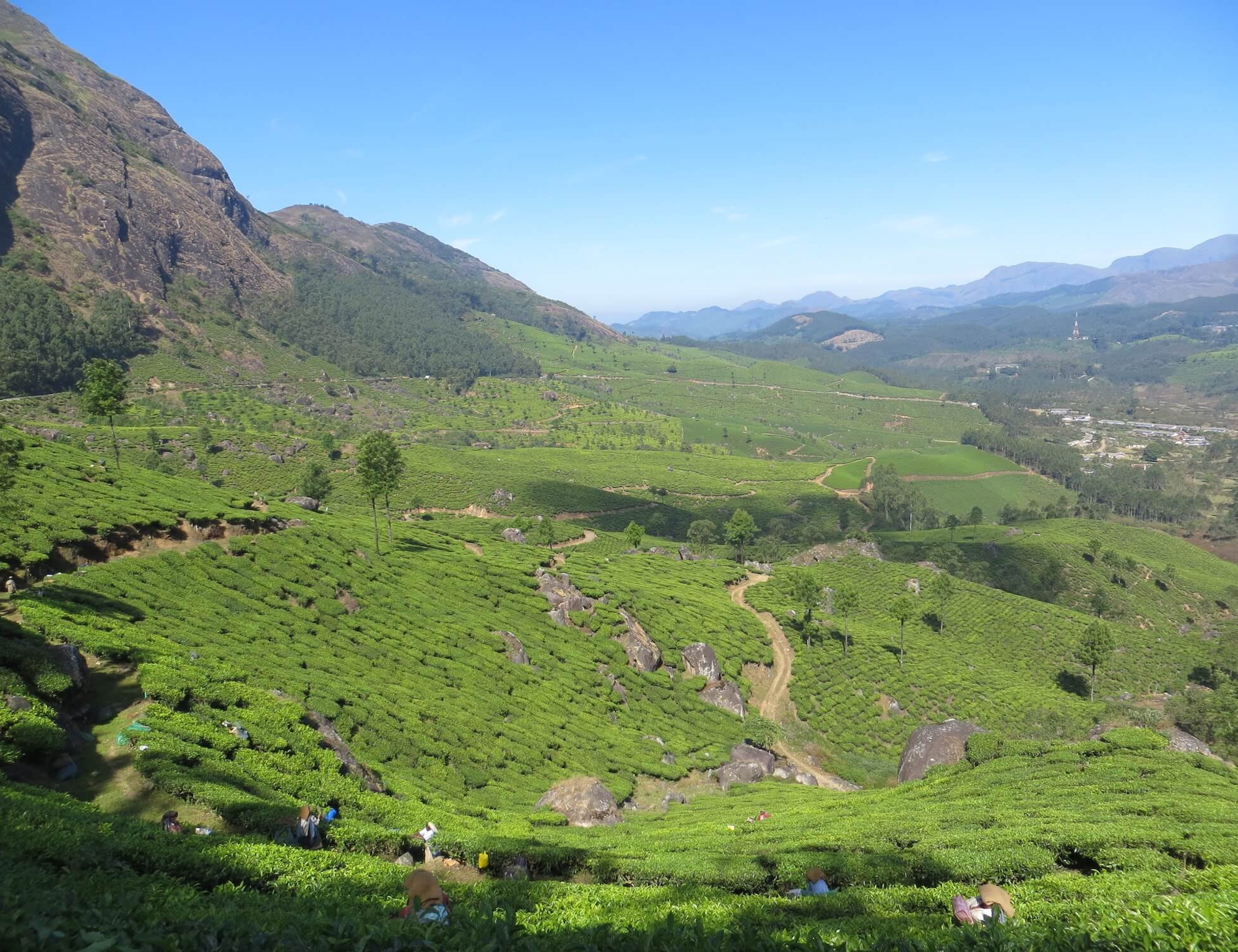 Day 4: Munnar
Munnar is a pleasant contrast to the beach-lined destinations or backwaters of Kerala. A hill station, which has been immortalized by movies, Munnar is great to cycle in. The routes are undulating and sometimes challenging, but you will find an equal amount of downhill slopes to bring relief to steep climbs.
We head out to Top Station, a viewpoint of great touristic eminence. The riding stretch to Top station is one of our favorite cycling routes in Kerala. As we ride all the way up to Top Station, you will be stunned by a brilliant view of the stacked mountains and deep valleys below. After this ride, you would have certainly earned yourself a hot crisp cup of tea.
Roll down the hills and we end the cycling near Mattupetty dam. A short transfer and we reach Munnar town. If you are interested in visiting markets, the Munnar market is good to explore.
Meals:
B,L,D
Cycling Distance:
40km / 24mi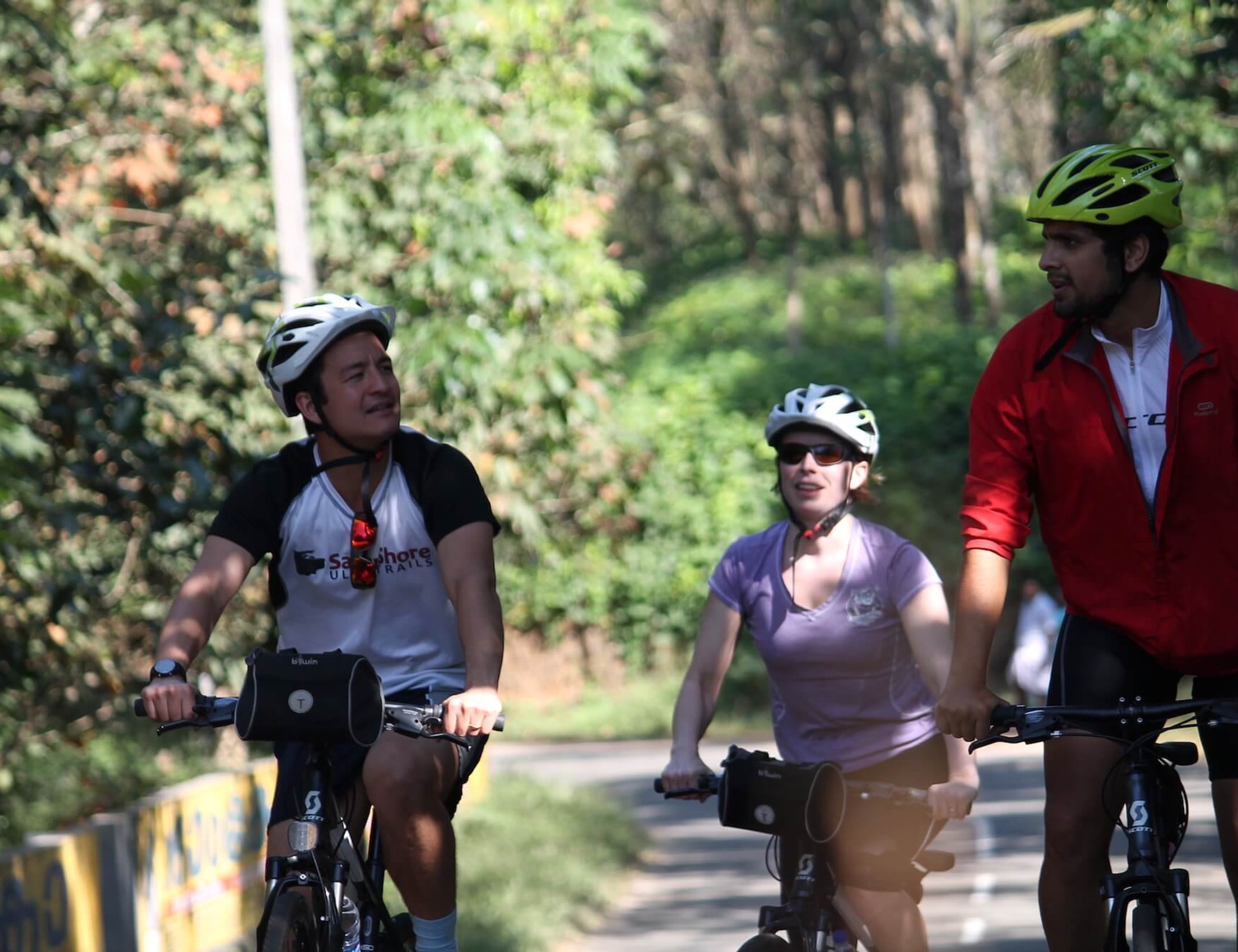 Day 5: Thekkady
We bid adieu to Munnar and head towards the cardamom hills of Kerala, a small town of Kumily. We take in the spectacular views of tea-clad western ghat mountains, near Lockhart Gap. As you are riding, the 360 degrees view of the lush tea plantations will be forever etched in your mind. The smell of cardamom draws you quickly from the tea-lined mountains to the unmanicured mish-mash of cardamom plantations, interjected by pepper vines clinging to Tall trees.
After cycling, the last stretch is covered in the shuttle.
Meals:
B,L,D
Cycling Distance:
60km / 37mi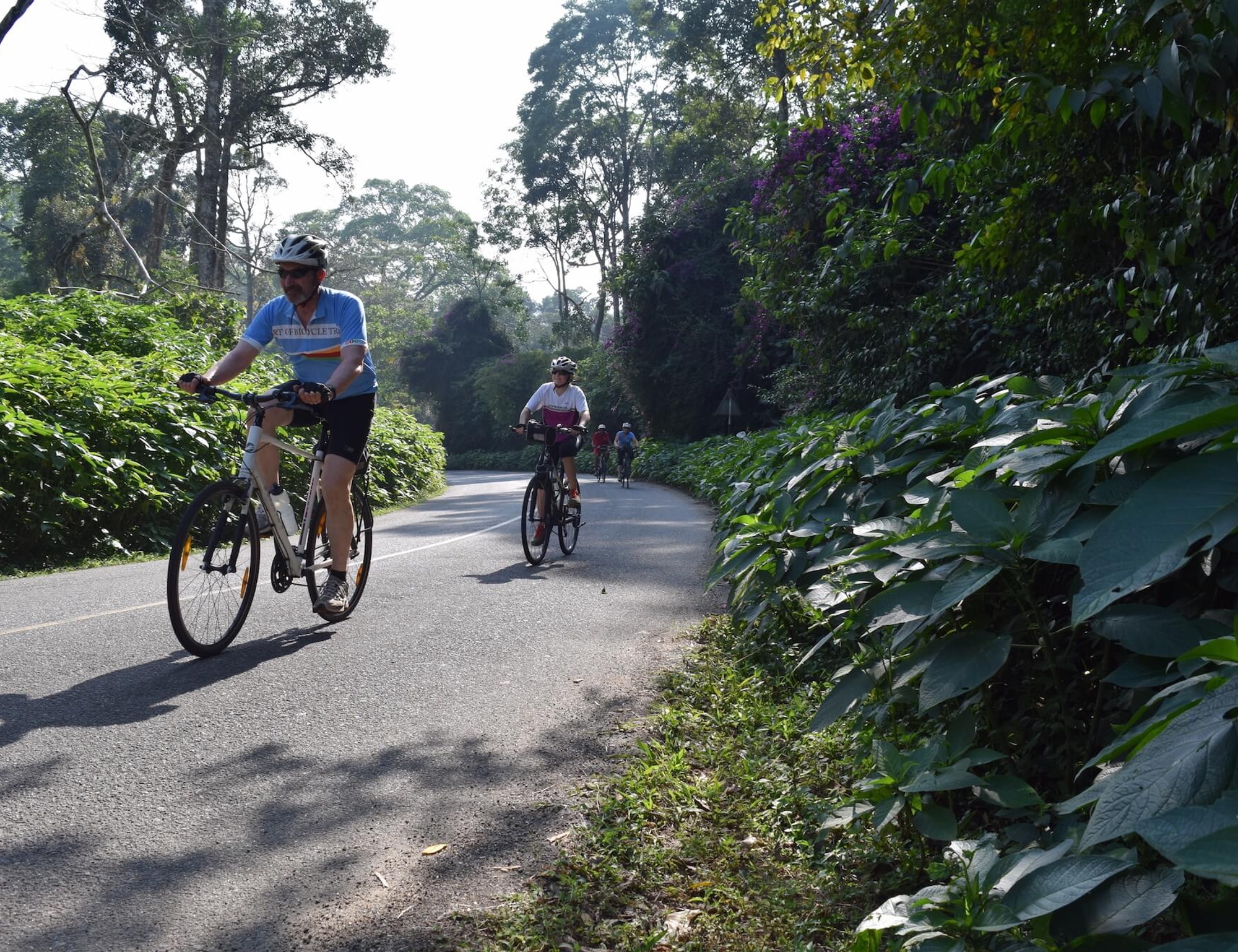 Day 6: Vagamon
This is going to be a beautiful ride – from the Cardamom Hills of Thekkady to the tea gardens of Vagamon, and that too, through the rubber plantations. A hilly ride, with both dips and steep climbs, but the cool weather helps you grapple with this challenging ride better.
Vagamon is an enchanting hill station where you can either relax or indulge in outdoor activities like paragliding, easy hikes, or exploring nature trails.
Meals:
B,L,D
Cycling Distance:
50km / 30mi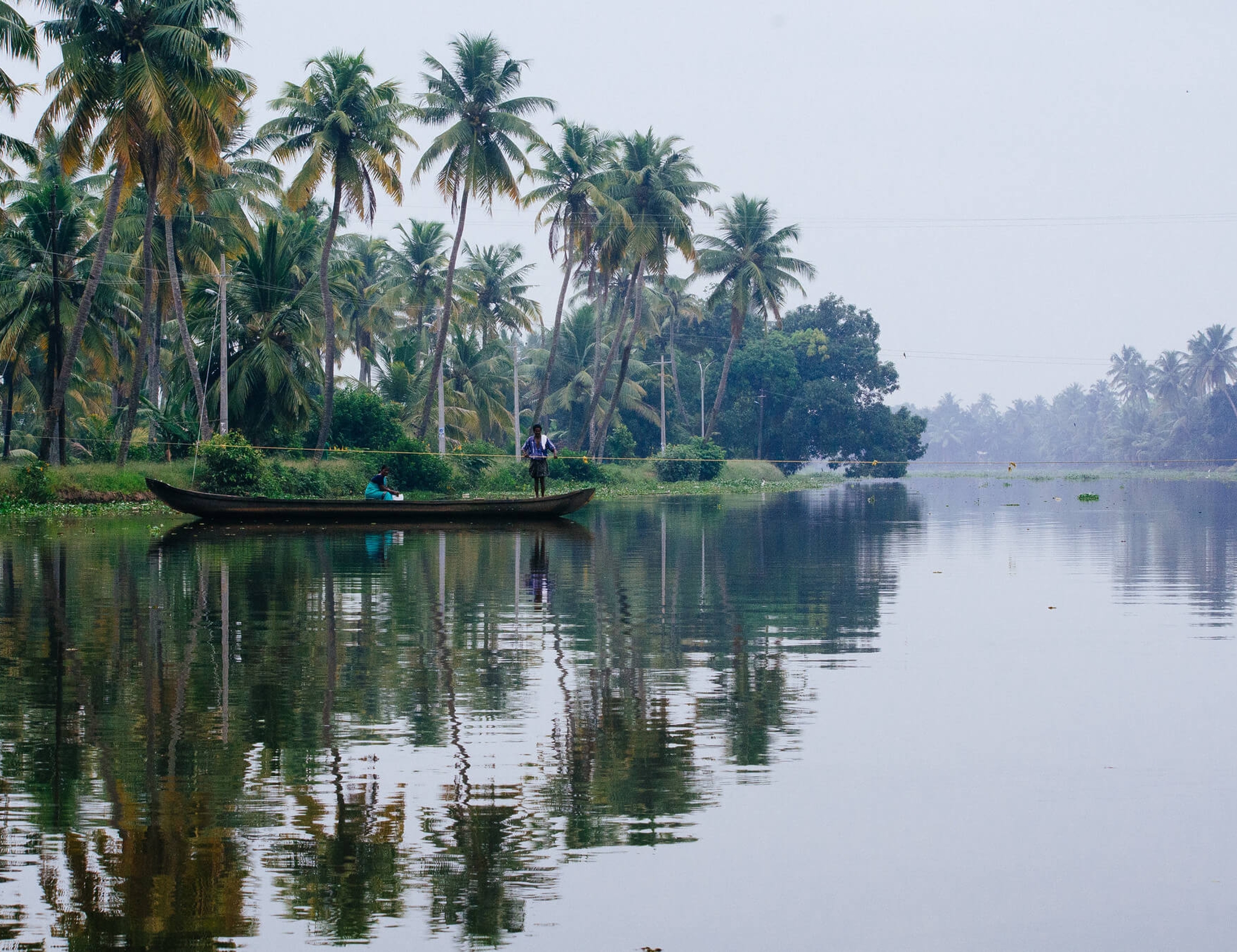 Day 7: Kumarakom
Start the day with an exhilarating downhill for about 15kms and see the landscape changing from tea plantations to rubber and spice plantations. The next stretch remains largely undulating with the last leg being completely flat and along the backwater and paddy fields. A wholesome day of riding with a variety of terrain.
The ride today takes us near to spectacular Vembanad Lake. After reaching here enjoy stunning vistas in all directions.
Meals:
B,L,D
Cycling Distance:
75km / 46mi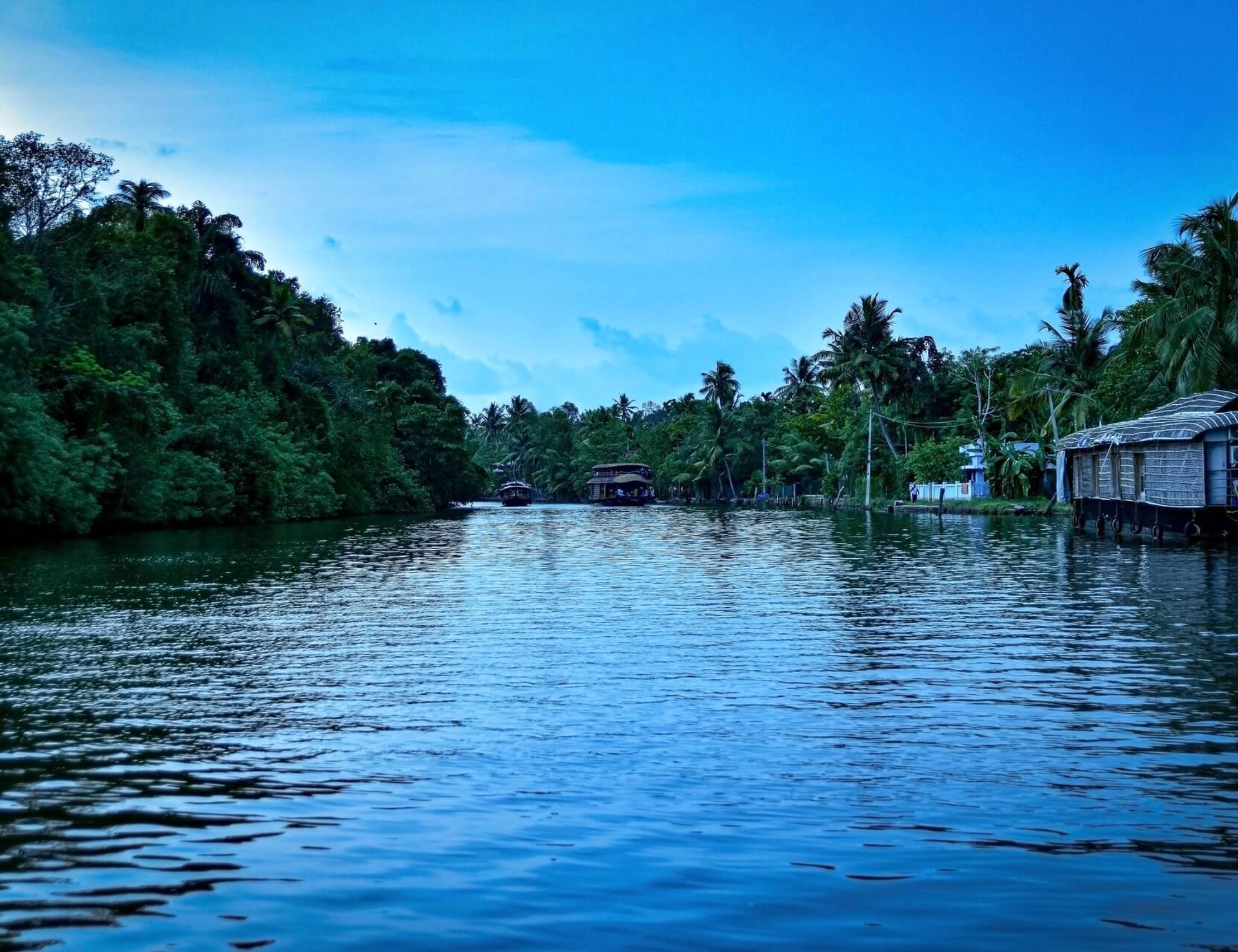 Day 8: Alleppey
Today is planned as a semi-rest day. In the morning, we will visit the Kumarakom Bird sanctuary which is the most popular bird-watching spot in the country.
Later start riding along spectacular backwaters. Enjoy stunning vistas in all directions. Small canals, country canoes, fishermen throwing nets into the water, a coconut climber climbing up the coconut tree, and women working in the rice fields, all come into the scene one after the other. Our stay today is at a stunning Pamba Heritage Villa. The villa is more than a 110-year-old wooden mansion, situated on the eastern bank of the holy river Pamba, the edge of mesmerizing Vembanad Lake.
Meals:
B,L,D
Cycling Distance:
30km/18mi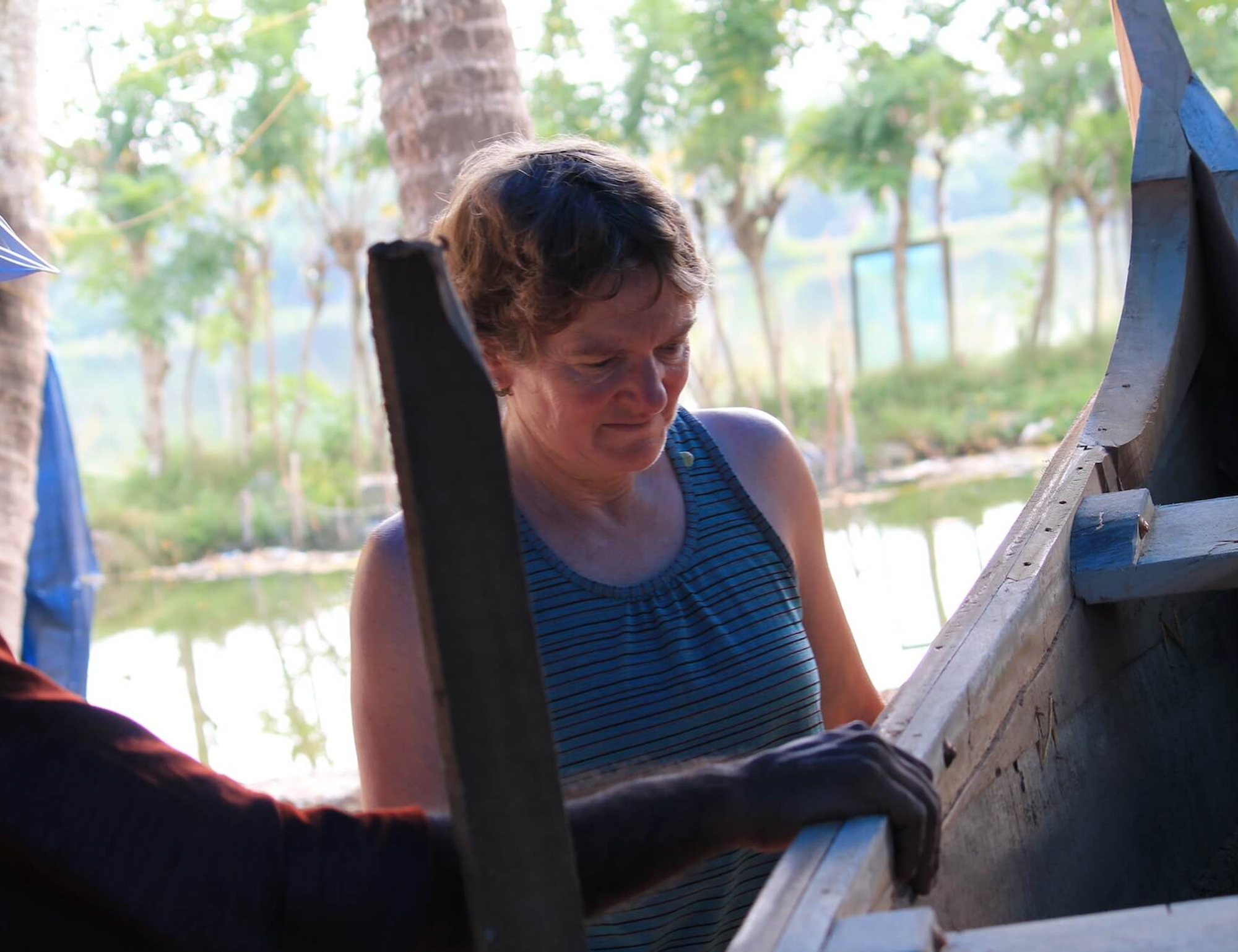 Day 9: Kochi
On the last biking day, we ride along the beach road and the journey will be refreshing and easy. We ride past fishing villages and numerous Christian churches along the coast and reach Fort Kochi.
One of the foremost trading hubs on the western coast of India, Fort Kochi drew colonial interest with its aromatic spices. Along with traders from China, Portugal, Arabs, and Holland came a cocktail of religions, cultural practices, and diverse food. Kerala owes its cosmopolitan vibe to the traders who braved the seas to come to this land.
In the evening, we recommend seeing the traditional dance form, Kathakali (you can also see the face painting before the show).
Meals:
B,L
Cycling Distance:
50km / 31mi
Map
Dates and Prices
Note:
Our base pricing is in USD. However, we can also quote in AUD, GBP, CAD, and EUR, and you can pay in the same. Please write us.
---
Couldn't find a trip with convenient dates?
Open your date as a join-in tour or customize further as private one.
We offer private departures on almost all our itineraries, and for groups of four or more, they cost the same as our standard trips!
---
Essential Info
Inclusions
LODGING
All hotels as mentioned in the tour details or similar (subject to availability).
trip leader
Expert Trip Leader(s) who look after your every need and add meaning to your vacation.
bike
Immaculately maintained bike with helmet, suited to a terrain.
shuttle
A Van support that follows the group of riders and carries all belongings.
meals
Meals as per itinerary. Guests are given the opportunity to dine on their own so that they discover a location independently.
refreshments
Refreshments and mineral water while cycling.
entrance
Entrance fees to most of the monuments and temples.
Weather
With varied terrain, starting from below sea level in coastal plains to 1900m in the mountains, Kerala has a diverse climate. A typical tropical climate remains cooler in the highlands and hot and humid in the coastal plain throughout the year.
Mid-November to the end of February is the winter time in Kerala, which is best experienced in the highlands with a pleasant climate in the mornings and temperature falling below 10°C at the night. A fleece jacket or warm sweater and long pants may be needed for the cooler evenings and mornings in hill stations. The temperature in plains averages between 25°C to 31°C during this time.
From the beginning of March till the end of May, it is summer. The temperatures go above 40°C during some days in coastal pains and generally remain very hot and humid. The highlands still offer some relief during this time with comparatively cooler climates.
The start of June is the beginning of the Monsoon season in Kerala. Kerala receives two cycles of Monsoon. From June till September, it's the southwest monsoon, which brings heavy rainfalls till mid of August and it slowly weakens towards the end of September. The second cycle, the Northeast monsoon, starts from the beginning of October till mid-November with light to heavy showers mainly during the evening hours.
Exclusions
Airport pickup and drop
We recommend to book direclty from airport or hotel.
meals
Some meals may not be included. Please check your itinerary.
Beverages
Beverages such as alcohol, tea, coffee, juice at a hotel or restaurant.
Reviews from our friends
Philip Hemsted from UK
5.0
Wonderful two week experience
Wonderful two week experience of Kerala backwaters and mountains. Biking 40-60km day, couple of days hiking and a day kayaking, with plenty of time to relax and explore. Great for wildlife. Highlights include watching sunrise from Western Ghats, nature walk in Periyar wildlife sanctuary, kayaking through backwaters. Additional visits to spice gardens, tea factory, boat builder and toddy restaurant made it feel more than a holiday and more of an education. Knowledgable guides and good minibus support made the daily routing comfortable. Cycling in Indian traffic does take some getting used to, especially frequent use of horns and buses running to a timetable. Our guide Dibin was very safety conscious and had no problems in traffic.
A fantastic and memorable ride through the back roads of Kerala
Dibin was the perfect guide - very keen to ensure we enjoyed the trip, a lovely person to spend time with and a fountain of knowledge on the local area and the many questions about India that we peppered him with. The 6 day route through Kerala was full of the beauty of the country, the people, the food and the local way of life. All of which we were able to experience up close and personally with Dibin's expert local knowledge. Fascinating. Our driver and support person Raju, was also the best, a skilled and careful driver, very polite and concerned for our safety and enjoyment. This trip ranks as one of the highlights of our many years of travel.
We had the most amazing cycling trip
We had the most amazing cycling trip on the backroads of Kerala with this company. We were on a nine day trip with a guide and driver who were the most amazing people to spend time with, looked after us and kept us safe, and taught us so much about the culture and food. And while some areas had been badly affected by floods this year, this did not affect our trip. The cycling allowed us to see and visit areas that otherwise we would have been unlikely to have seen, on good quality, well-maintained bicycles. We stayed in homestays which were beautiful and individually chosen by the team, and received a warm welcome everywhere. We can genuinely say this was the best trip we have ever been on, and want to experience more of what they offer in other parts of India.