Cycling Chile: Lakes and Volcanoes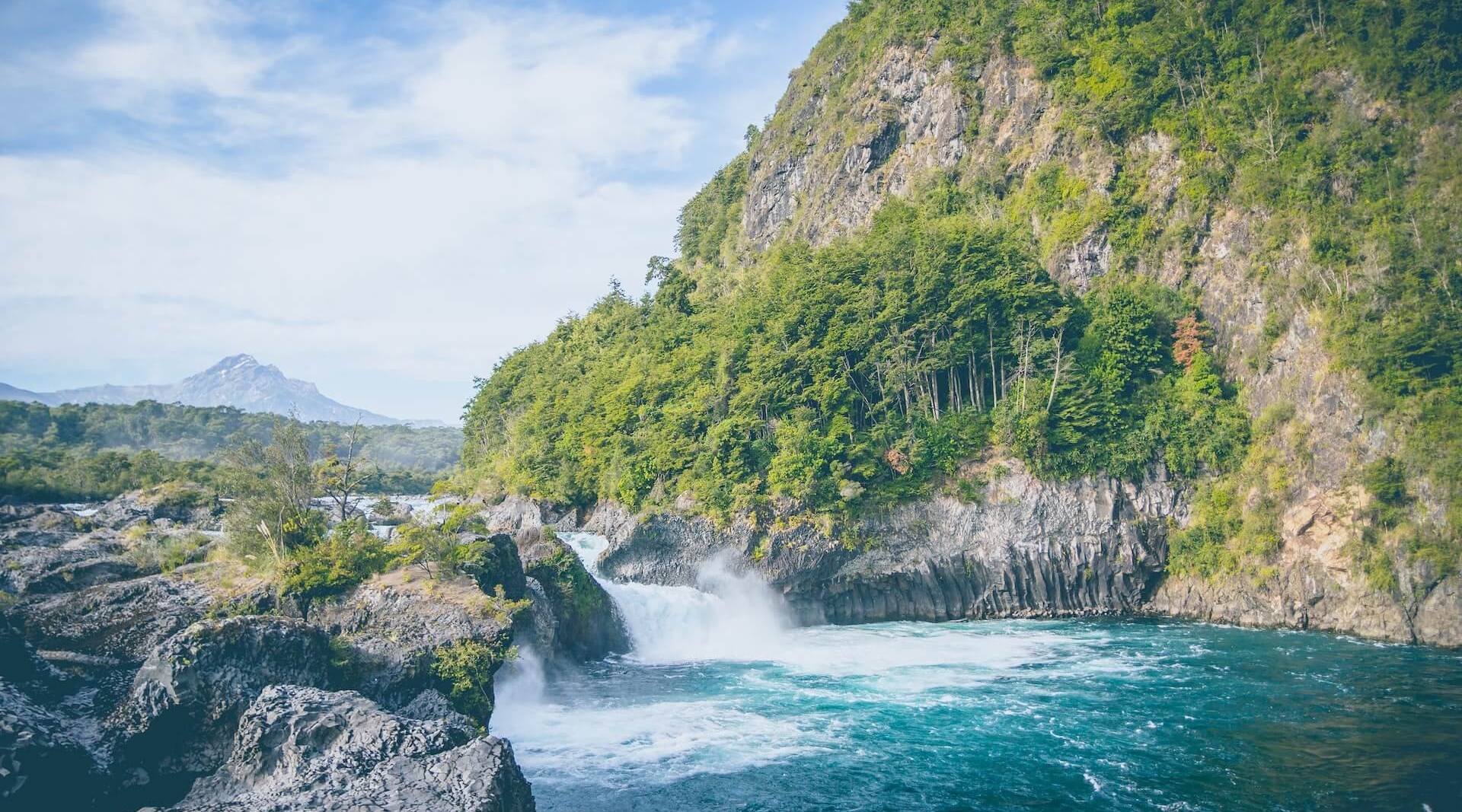 ---
Overview
The Chile Lakes and Volcano Tour is an 8-day road cycling trip that takes you through Chile's famed lakes and volcanoes, introduces you to the indigenous Mapuche culture and cuisine, and lets you ride through some of the most beautiful landscapes on earth.
The best time to enjoy this tour is from October to April. Temperature varies from 10°C to 25°C ( 50°F to 77°F) from October to November, and can occasionally rise to 35°C (95°F) in January and February which is the peak of the summer in the southern hemisphere. From March, fall sets in, and the mercury begins to drop again. Since you are never too far from the sea in Chile, and always riding in the shadow of the great Andes mountain range, expect unexpected rainfall!
If you feel you've earned your sweat despite the cool Chilean weather by burning enough rubber on smooth asphalt, feel free to take a swim in some of the most beautiful, untouched lakes you will ever see.
Avg. dist. cycled
55km/34mi
Highlights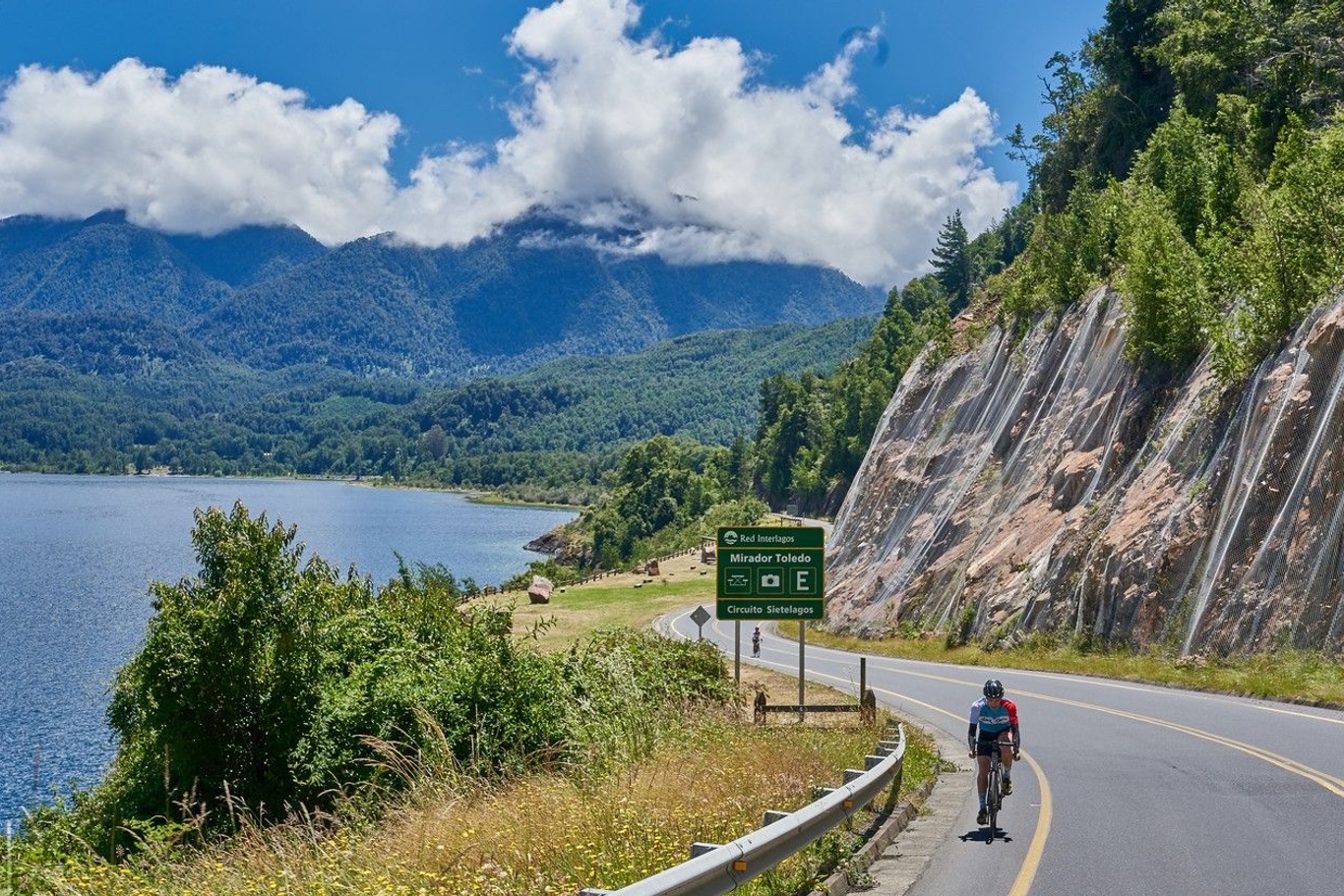 Lakes and Volcanoes
Bike in the shadow of Chile's snow-capped volcanoes and along its numerous untouched lakes
Brief Itinerary
Detailed Itinerary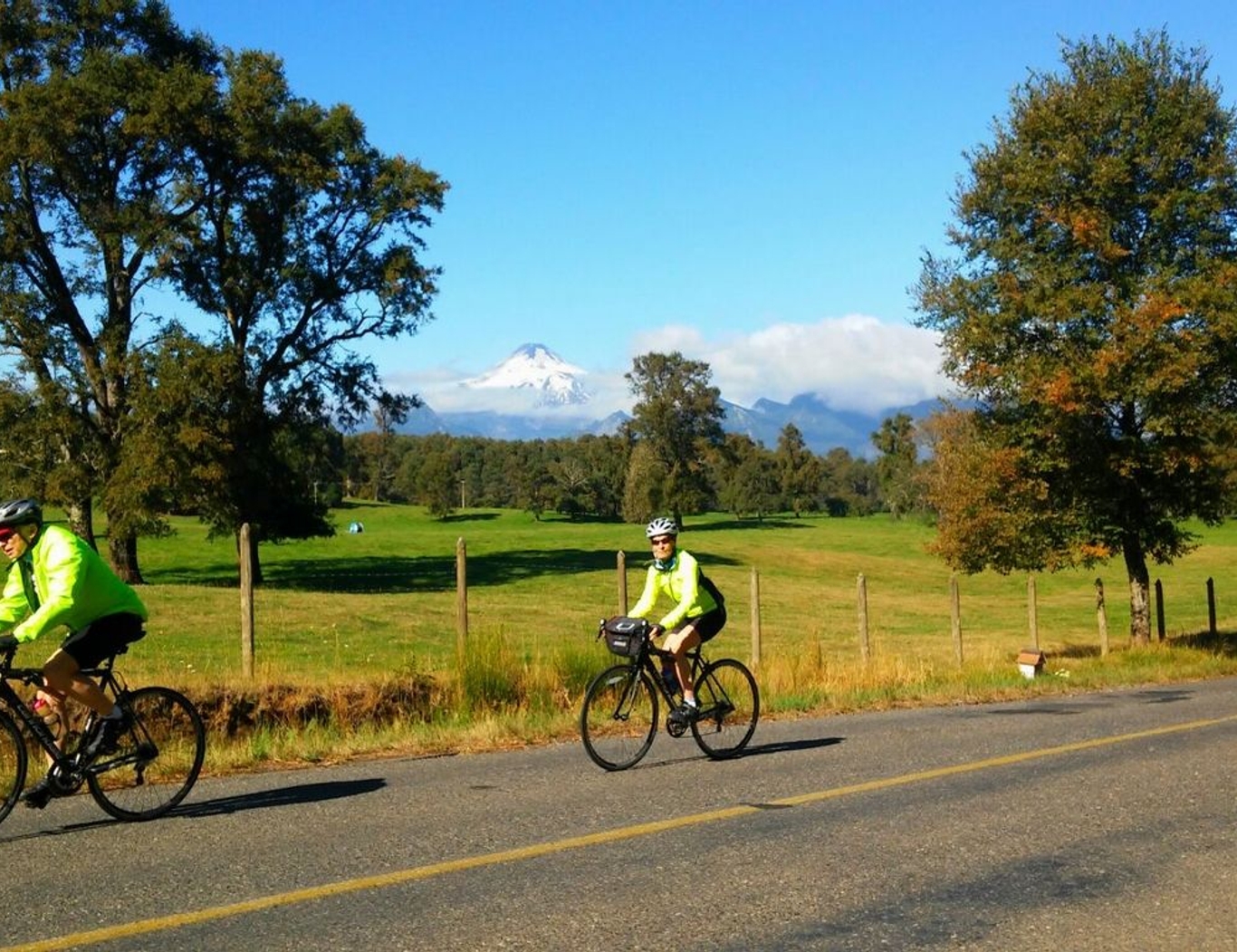 Day 1: Pucon
Pucon is a city of some 22,000 inhabitants that sits at the base of the Villarica volcano and on the edge of the Villarica lake. This makes it a hub for adventure enthusiasts and nature lovers.
We recommend arriving at Pucon a day earlier. The nearest airport is Temuco, located some 100 km to the north. TransAraucania is the official, and the only shuttle company at the Temuco airport, and they operate daily shuttle services from Temuco to Pucon. Expect the drive from Temuco to Pucon to take around 1 hour and 30 minutes.
The day's cycling begins with a short ride to the Villarica lakefront through some pretty countryside that allows you to acclimatize yourself and get a feel of the bikes. We then take a shuttle back to the hotel.
You are free to explore the city for the rest of the day. Alternatively, you can sit on your hotel's balcony and enjoy the view with a glass of a vintage Chilean vine to say Bienvenidos to the journey of a lifetime.
Meals:
D
Cycling Distance:
39km/24mi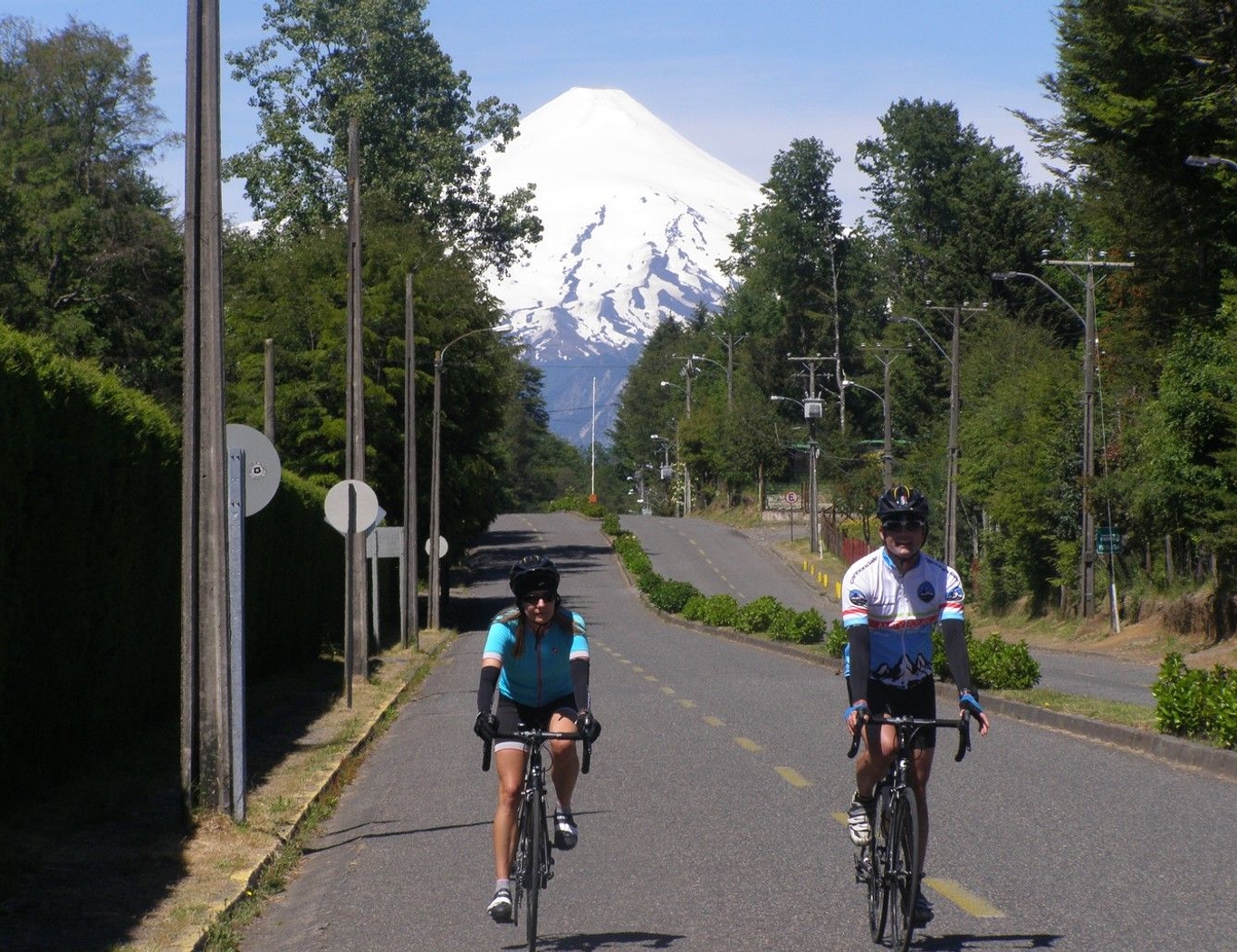 Day 2: Pucon - Caburgua Lake & Huife Hot Springs
On this day we head to Lake Caburgua which lies on the edge of Huerquehue national park - a temperate rainforest home to some of the most endangered fauna on the planet such as the Kodkod cat and the Pudu deer, the smallest deer on the earth.
The terrain gets hilly as we approach the lake and you should expect a few climbs that will test your legs.
To wash away the fatigue of the ride, we head to the highlight of the day - the Huife hot springs. The natural hot springs of Pucon are geysers of mineral-rich water with therapeutic properties. They are surrounded by lush green forests, as well as trees of cinnamon and myrtle that fill the air with their sweet aroma.
After a relaxing session, we drive back to our hotel in Pucon.
The rest of the day is free for you to explore the town and its surroundings.
Meals:
B,L
Cycling Distance:
50km/31mi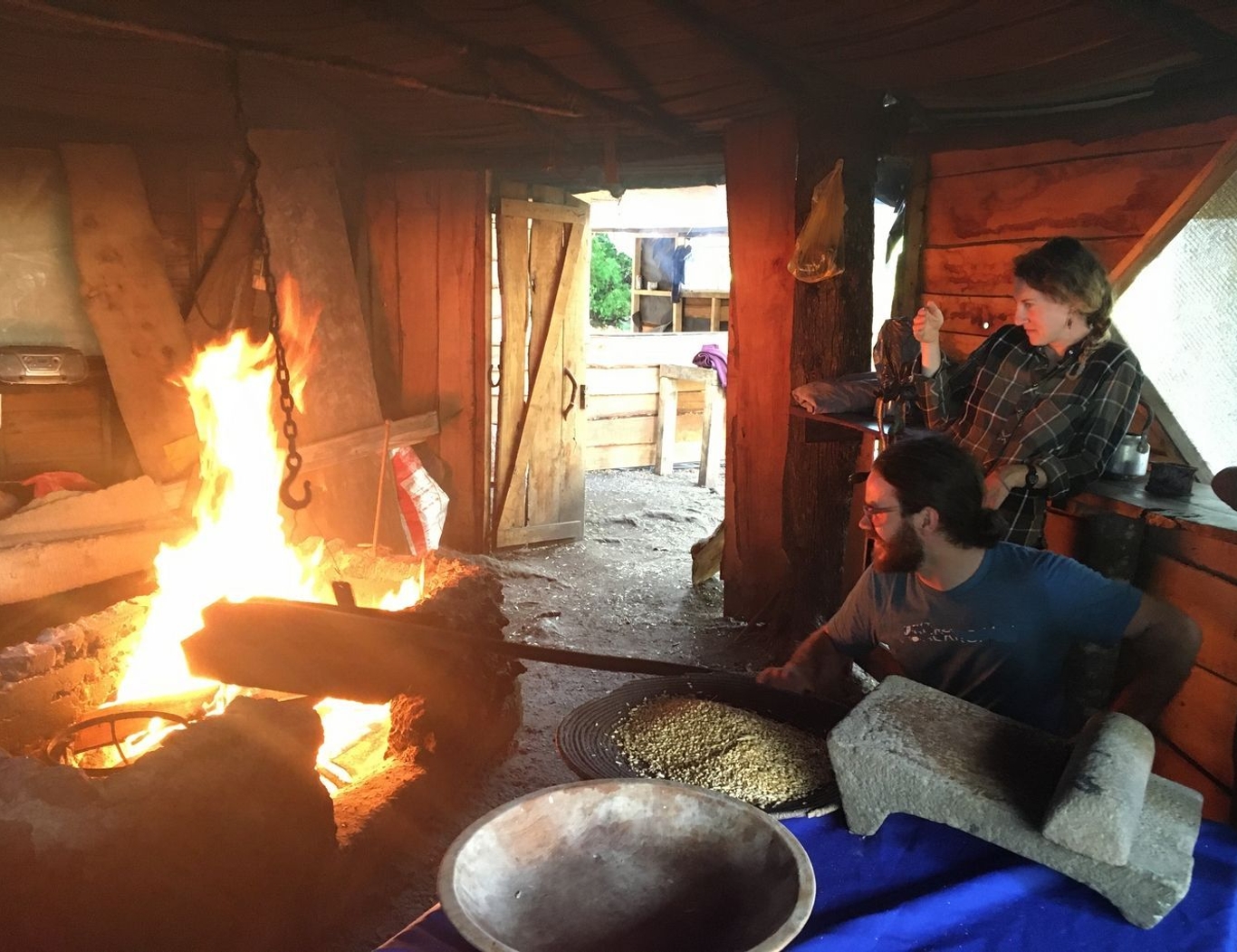 Day 3: Panguipulli
Today we drive out of Pucon to the resort town of Lican Ray some 27km from Pucon. Lian Ray sits on the edge of Lake Calafquen, and our day's bike ride takes us skirting the edge of this beautiful lake as we head towards Panguipulli. We get beautiful views of Lake Calafquen, which remains our constant companion as we ride over rolling hills. The snow-clad Villarica volcano continues to keep a watchful eye on us.
Panguipulli is a small town of around 32,000 inhabitants with an alpine landscape. After the day's ride, you are free to explore this beautiful town with its quaint wooden architecture and beautiful views of thickly forested hills.
We meet for dinner with a Mapuche family. The Mapuche are the most important indigenous community of Chile and are known for their strong connection with nature. This reflects in their cuisine which is based on seasonal and local cereals, nuts, fruits, vegetables, and forest produce prepared according to ways passed down the generations for millennia.
Meals:
B,L,D
Cycling Distance:
55km/34mi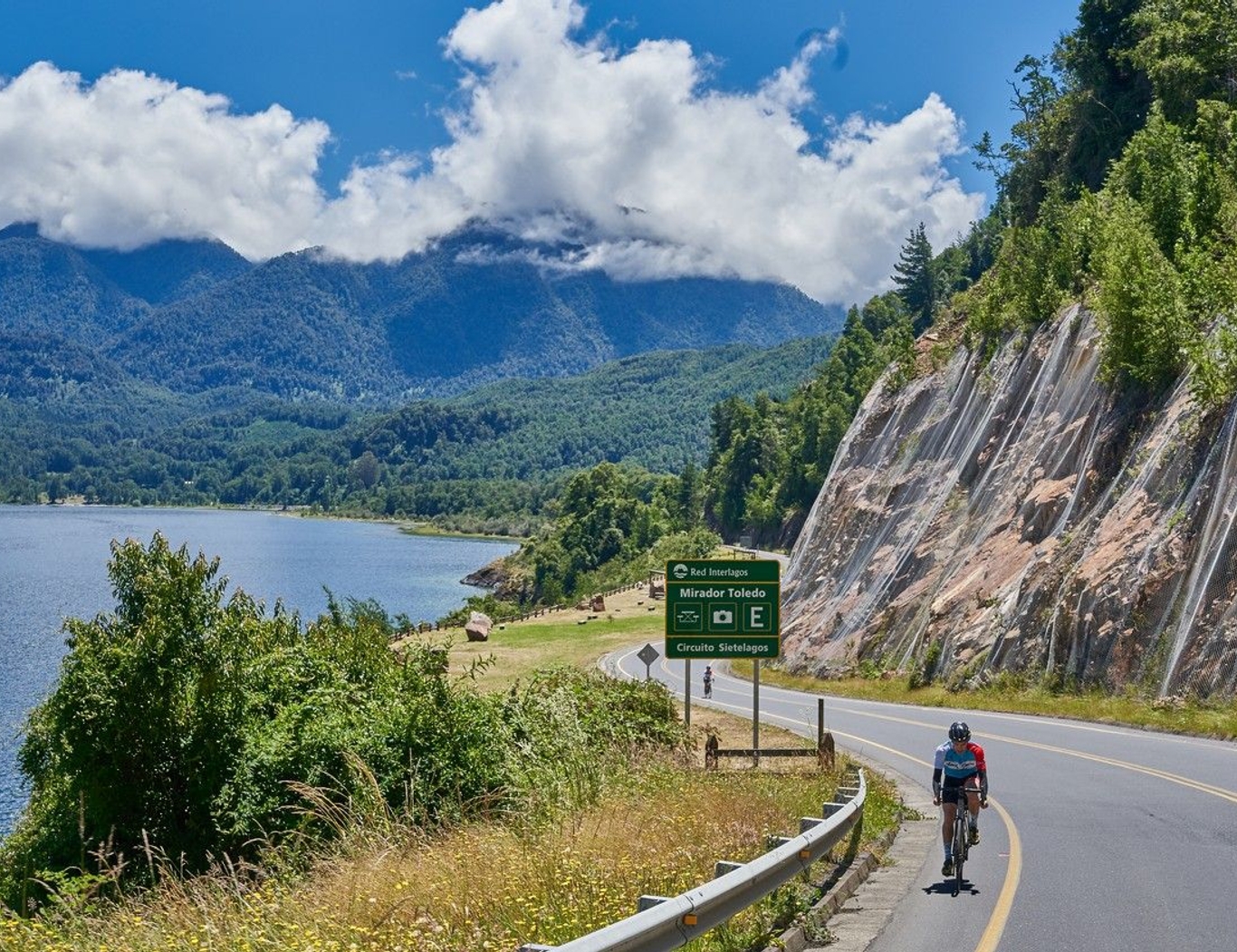 Day 4: Panguipulli - Seven Lakes Ride
There are no shuttle transfers today. We start biking from our hotel, and bike almost the entire way along the shores of Lake Panguipulli. This is one of the quietest days of the tour as there is almost no vehicular traffic, and the surface is smooth and paved. Expect the sun-kissed breeze from Lake Panguipulli to rustle your hair ( or your helmet) all through the ride.
After several stops to admire the stunning views, we reluctantly part company with Lake Panguipulli to set up camp at the quaint hamlet of Puerto Fuy.
Puerto Fuy is a picture-postcard village framed by the snow-clad Mocho-Choshuenco volcano on the one hand and the Pirihueico Lake on the other hand. Like something out of a medieval fairy tale, it seems almost too pretty to be real.
Meals:
B,L,D
Cycling Distance:
60km/37mi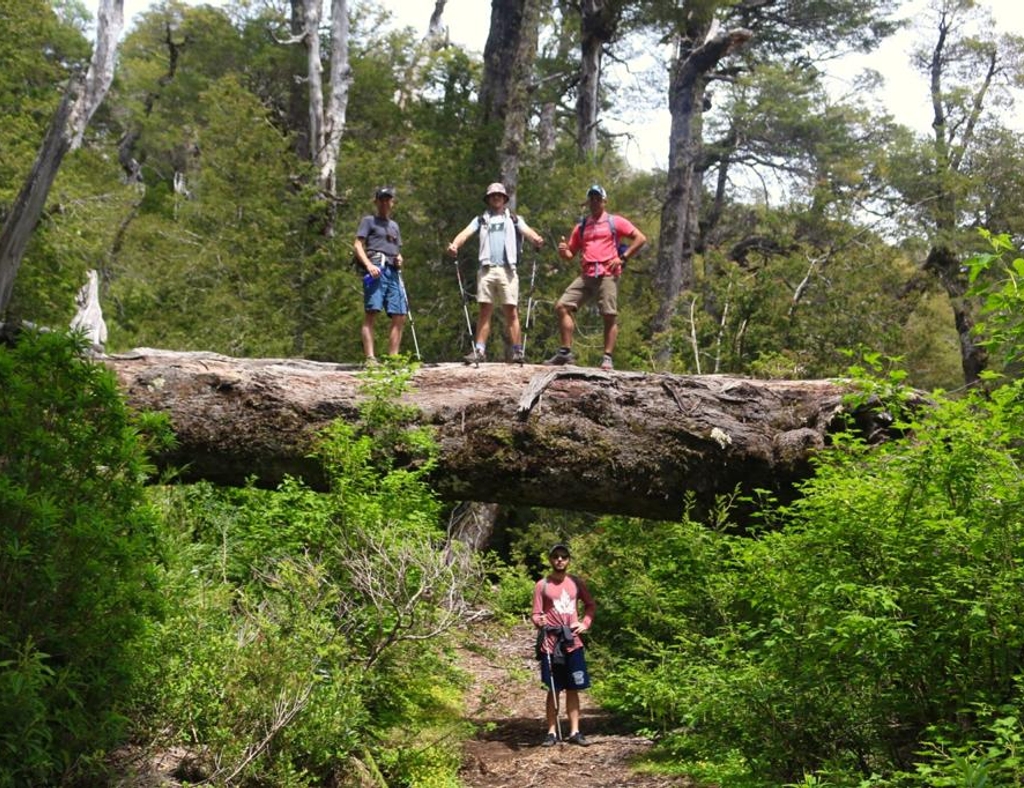 Day 5: Hiking Darwin's Trail
On this day we exchange our biking cleats for hiking boots as we go trekking into the footsteps of the father of evolution, Charles Darwin.
Nearly two centuries ago, Darwin arrived in Chile aboard the HMS Beagle and was amazed by the unusually rich biodiversity of the Andes mountains. Here he discovered, among other remarkable fauna, a species of frog named after him called the Darwin's Frog.
Native only to Chile and some parts of Argentina, Darwin's Frog is special as the male of the species holds eggs laid by the female in its vocal sacs until they hatch into tadpoles. The Darwin's Frog is a highly endangered species and is on the IUCN Red List. Luckily, we have a good chance of encountering this unique species along with other rare fauna such as the Condor on our trek through the Huilo Huilo biological reserve where the Darwin's Trail is located.
The terrain is hilly yet presents an easy hike suitable for families and children. The trail is surrounded by temperate rainforests and passes along the Fuy river with small waterfalls along the way.
The hike takes up the first half of our day, after which we return to our hotel to relax.
Meals:
B,D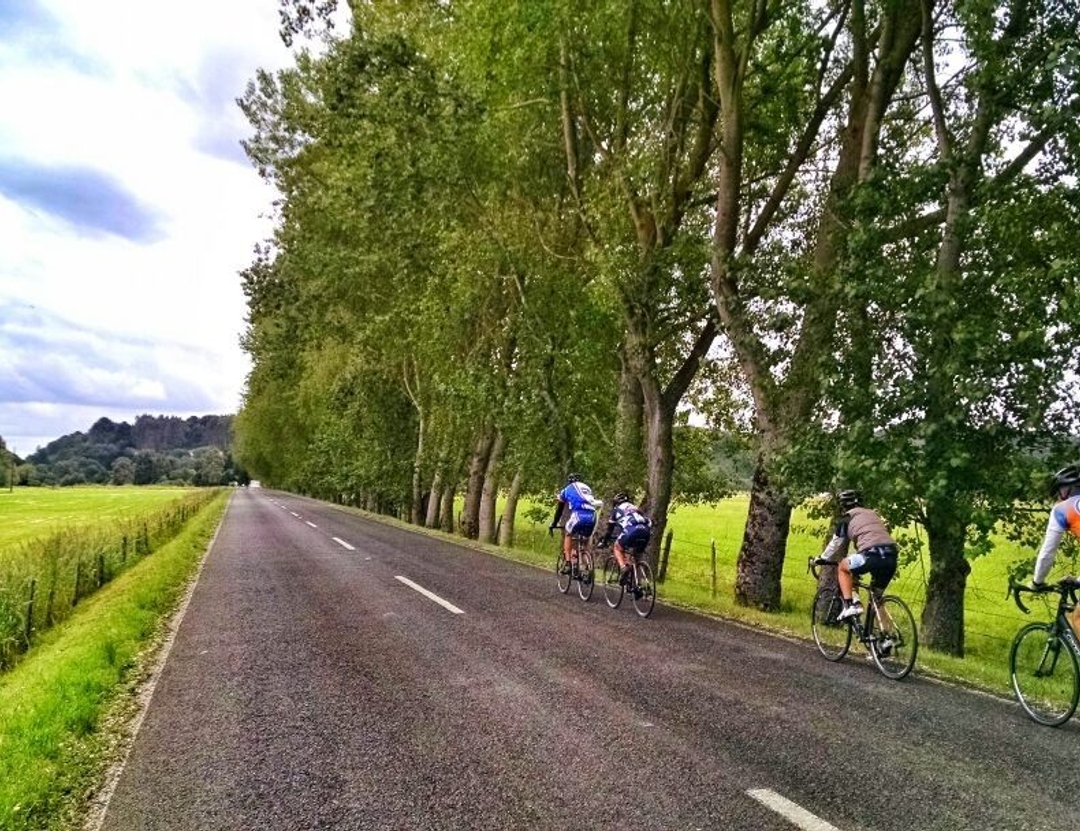 Day 6: Puerto Varas - German Settlers Route
Today we say goodbye to the hamlet of Fuy and start driving south towards the town of Puerto Varas also known as the city of roses. The day's bike ride begins after a 3-hour drive along lakes, forests, and farms.
The area around Puerto Varas has a strong German heritage. German immigrants began arriving in Chile in the mid-19th after the German revolution of 1848 and were granted land in Southern Chile which they made their home. Through their hard work and industry, the German immigrants soon prospered and turned this once a vast expanse of forests into one of the most prosperous regions in the world.
Today the town of Puerto Varas bears a distinctly German imprint. With towering Gothic spires, wooden cabins, craft beer, and German Kuchen cake, it presents a small slice of Germany in Latin America.
The highlight of this town however is the Osorno Volcano - a 2652 m high gentle giant that is renowned for its near-perfect conical peak perennial capped with snow. From its location high up in the misty clouds, it watches over Puerto Varas like Mount Fuji does over Tokyo.
After a long day of riding, we spend the evening exploring the enchanting, fairy-tale-like town of Puerto Varas. It has numerous German eateries, pubs, cafes, and inns, besides several heritage buildings of historical importance.
Meals:
B,L
Cycling Distance:
65km/40mi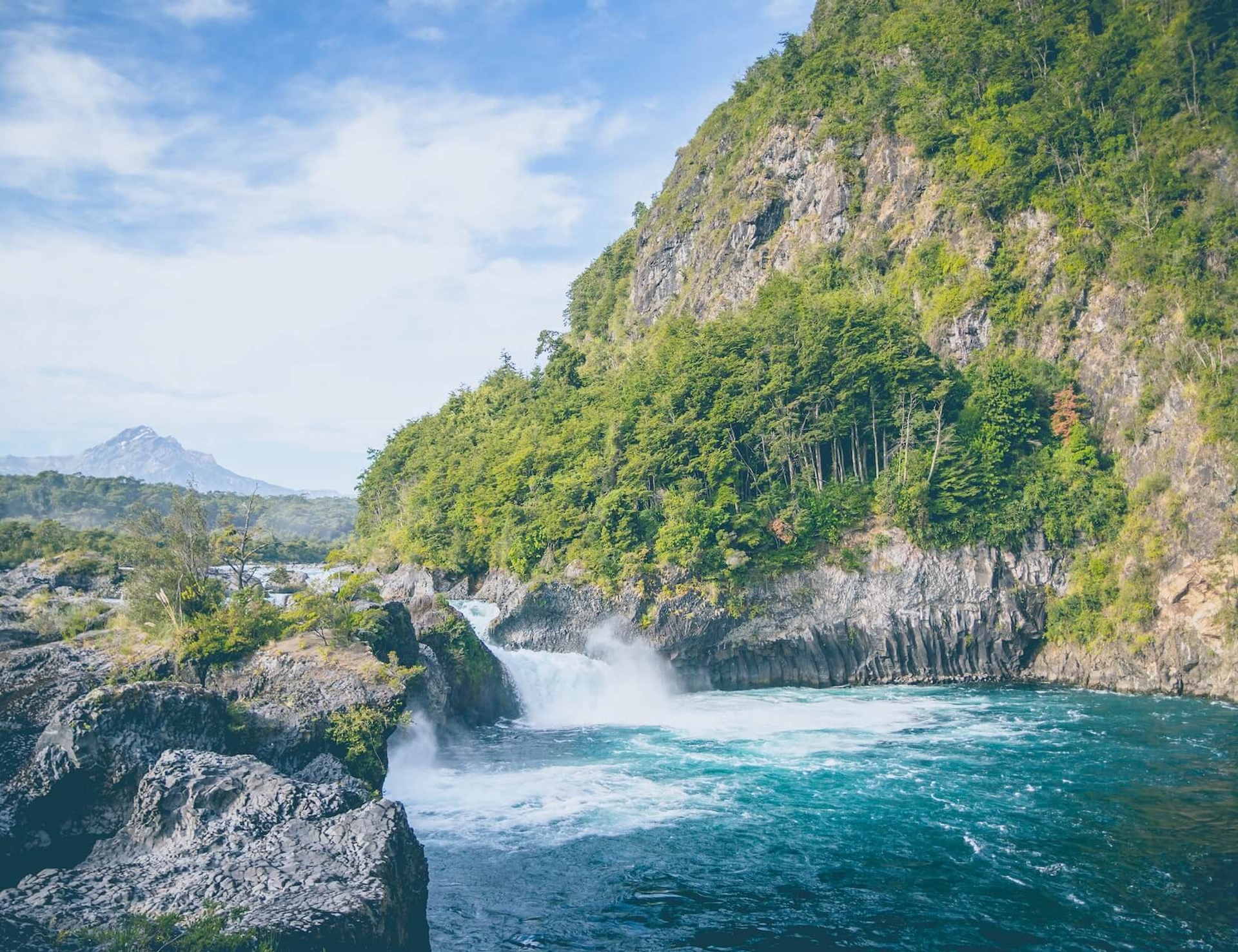 Day 7: Puerto Varas
On this day we answer the call of the magical Mount Osorno as it beckons us, and begin riding in its direction. On the way, we stop and admire the beautiful Petrohue waterfalls.
This is the longest day we spend cycling, and every minute of it is a cyclist's delight. The roads are paved, with little to no traffic to distract us. All the while, the mesmerizing cone of Mount Osorno, with its white spread of snow like a dollop of vanilla ice cream atop it constantly beckons us towards it.
If you have the legs and the heart for it, you can try to bike all the way to the top of the Osorno volcano. Not many people make it, but those who do, vouch for the stunning views.
We end the day's biking at the Petrohue falls and drive back to the town of Puerto Varas.
This is also the end of our cycling adventure. We say, Prost! to a magical journey with some German craft beer and a slice of German Kuchen cake in Puerto Varas.
Meals:
B,L,D
Cycling Distance:
70km/43mi
Day 8: Transfer to Puerto Montt
We take a shuttle out from Puerto Varas to Puerto Montt located 20 kms down south. Puerto Montt is an important commercial town in Chile known especially for its salmon farming. Chile is the second largest producer of Salmon in the world after Norway, producing more than a quarter of all the Salmon consumed in the world, and the port town of Puerto Montt is the epicenter of Chilean salmon industry.
As we drive to the Puerto Montt airport to catch our onward flight, we say goodbye to a memorable tour that is likely to remain etched in our memories for a long time to come.
Meals:
B
Map
Accommodation
Each hotel has been thoughtfully selected to ensure an exceptional and memorable experience for guests.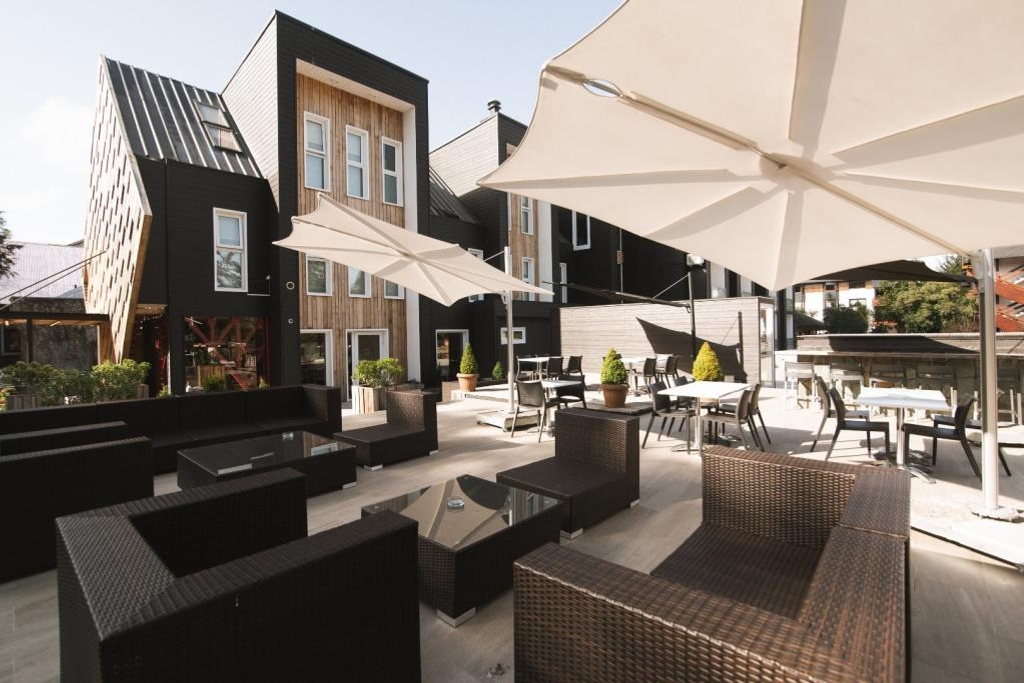 Hotel Casa Solaria
Indulge in comfort and luxury during your stay at Casa Solaria. well-maintained facilities are equipped with all the modern amenities to ensure the utmost comfort to create unforgettable moments during the stay in Pucón.
Dates and Prices
Note:
Our base pricing is in USD. However, we can also quote in AUD, GBP, CAD, and EUR, and you can pay in the same. Please write us.
Single Supplement
From US $675
E-Bike Upgrade
From US $450
---
Couldn't find a trip with convenient dates?
Open your date as a join-in tour or customize further as private one.
We offer private departures on almost all our itineraries, and for groups of four or more, they cost the same as our standard trips!
---
Essential Info
Inclusions
LODGING
All hotels as mentioned in the tour details or similar (subject to availability).
trip leader
Expert Trip Leader(s) who look after your every need and add meaning to your vacation.
bike
Immaculately maintained bike with helmet, suited to a terrain.
shuttle
A Van support follows the group of riders and carries all belongings.
meals
Meals as per itinerary. Guests are given the opportunity to dine on their own so that they discover a location independently.
refreshments
Refreshments and mineral water while cycling.
entrance
Entrance fees to most of the monuments and temples.
E-bikes
E-bikes are available on this trip at a surcharge. Please send a note to your tour consultant to book one.
Exclusions
Airport pickup and drop
We recommend to book direclty from airport or hotel.
meals
Some meals may not be included. Please check your itinerary.
Beverages
Beverages such as alcohol, tea, coffee, juice at a hotel or restaurant.
Bikes
When you have a road and the thrill of a journey ahead of you, it's imperative to have a good bike to enjoy it. Our fleet majorly consist of the below bikes as a part of this tour. However, sometimes due to height or availability constraints, we may provide a different but similar quality bike.
hybrid
Included in your trip price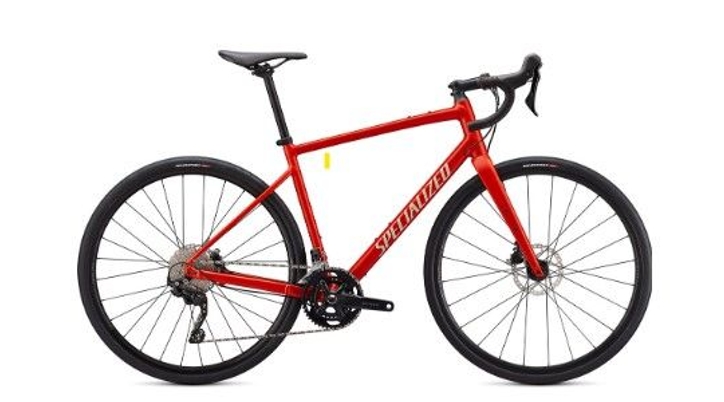 Specialzed Diverge Elite E5
road
Included in your trip price
road
Included in your trip price
Trek Domane SL7 Ultegra DI2
road
Weather
Generally, the weather in this area is very similar to Northern California, especially the coast side. Late October and November (springtime in the southern hemisphere) present milder temperatures 10ºC to 25ºC (50°F to 77°F) with some scattered rain (likewise during our Fall, march, and April). During December you can start feeling the beginning of the summer with temperatures around 10ºC to 27ºC (50°F to 81°F). In January and February temperatures range between 15ºC and 35ºC (60°F/95°F). Remember that you are visiting the Lake & Volcano district, so always expect some rain!
Reviews from our friends
Great Adventure
Chile bike tour was a great adventure!!!!!!!! The sights, smells and scenery were all unforgettable. The trip description promised "Chile's famed lakes and volcanoes" and we were not disappointed. We enjoyed the variety of bicycling experiences through many different terrains.