Cycling Charismatic Cambodia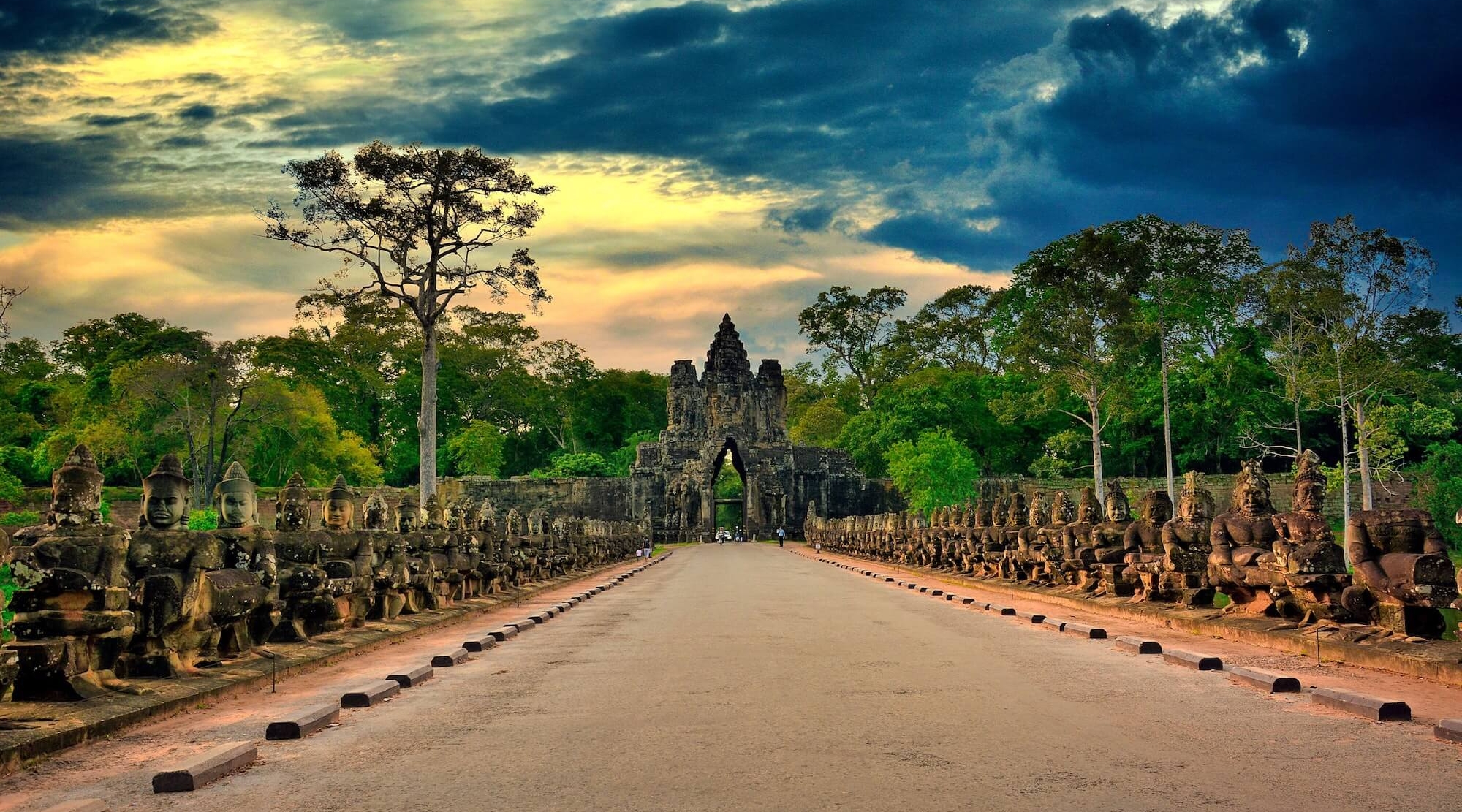 ---
Overview
The land of the majestic Angkor Wat and home to some of the most pristine and untouched sceneries on earth, Cambodia is sure to leave you wonderstruck. Ride through the 'Temple City' under blue skies, swim around riverine islands and along virgin beaches on your journey through Cambodia. Enjoy pulsating history stored in its vivid monuments, local culture rife on its river banks, warm and welcoming people, and awesome food.
Start
Siem Reap | 14:00hrs
Avg. dist. cycled
50km or 30mi
Highlights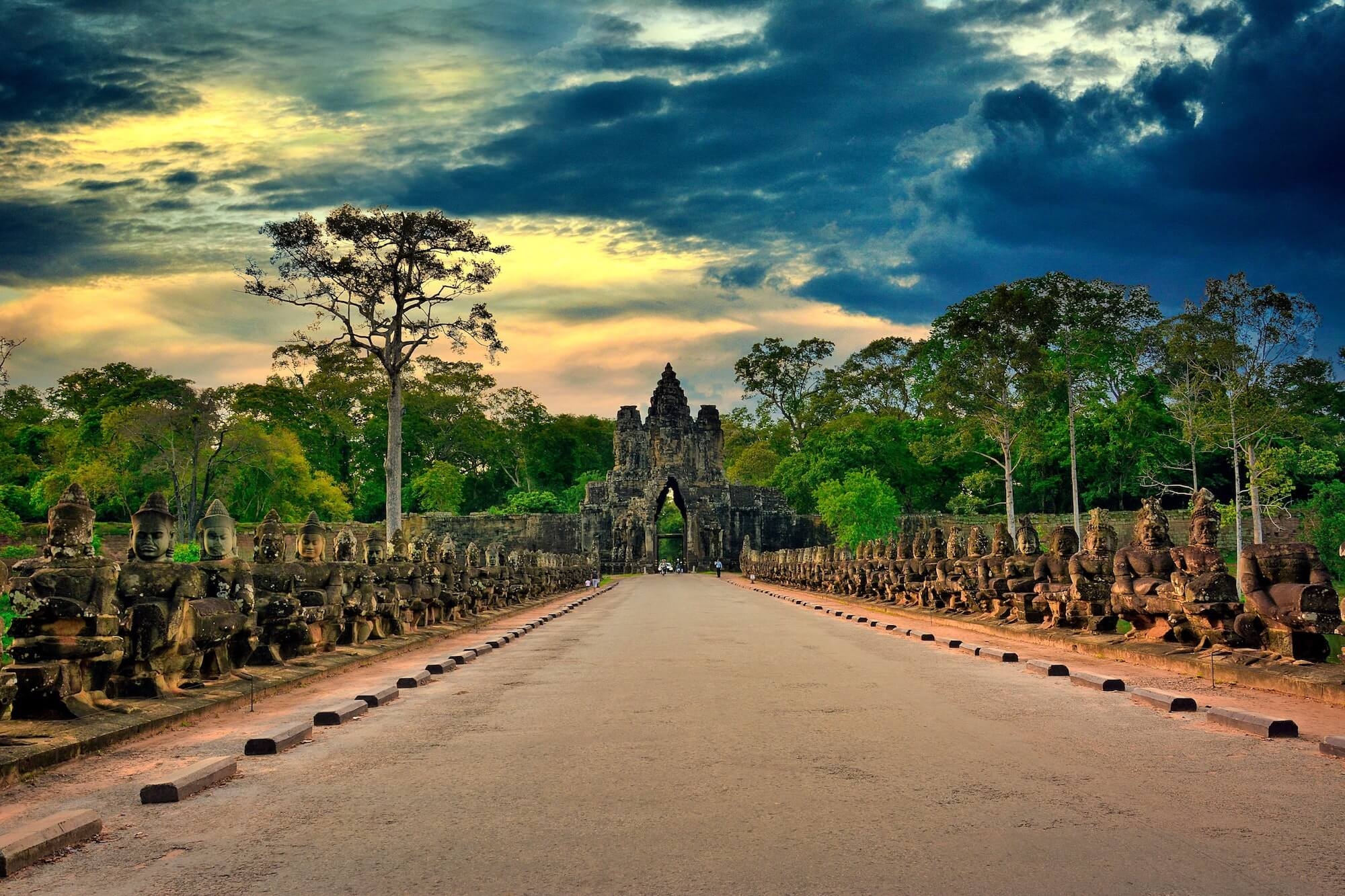 Angkor wat
A peek into history, at the Angkor Wat temple complex
Brief Itinerary
| Day | Place | Hotel | Meals | Distance | Activity |
| --- | --- | --- | --- | --- | --- |
| DAY 1 | Siem Reap | Steung Siemreap | D | | |
| DAY 2 | Siem Reap | Steung Siemreap | B,L | 30km / 18mi | cycling |
| DAY 3 | Kampong Thom | Sambor Village | B,L,D | 55km / 33mi* | cycling |
| DAY 4 | Kampong Cham | LBN Asian Hotel | B,L,D | 60km / 36mi | cycling |
| DAY 5 | Phnom Penh | Duong Chan Hotel | B,L,D | 70km / 42mi* | cycling |
| DAY 6 | Phnom Penh | Duong Chan Hotel | B,L | | |
| DAY 7 | Ta Keo | Meas Homestay | B,L,D | 80km / 50mi* | cycling |
| DAY 8 | Kep | Sabbay Kep | B,L | 60km / 36mi* | cycling |
| DAY 9 | Kampot | Old Hotel Cinema | B,L,D | 25km / 15mi* | cycling |
| DAY 10 | Departure | | B | | |
Detailed Itinerary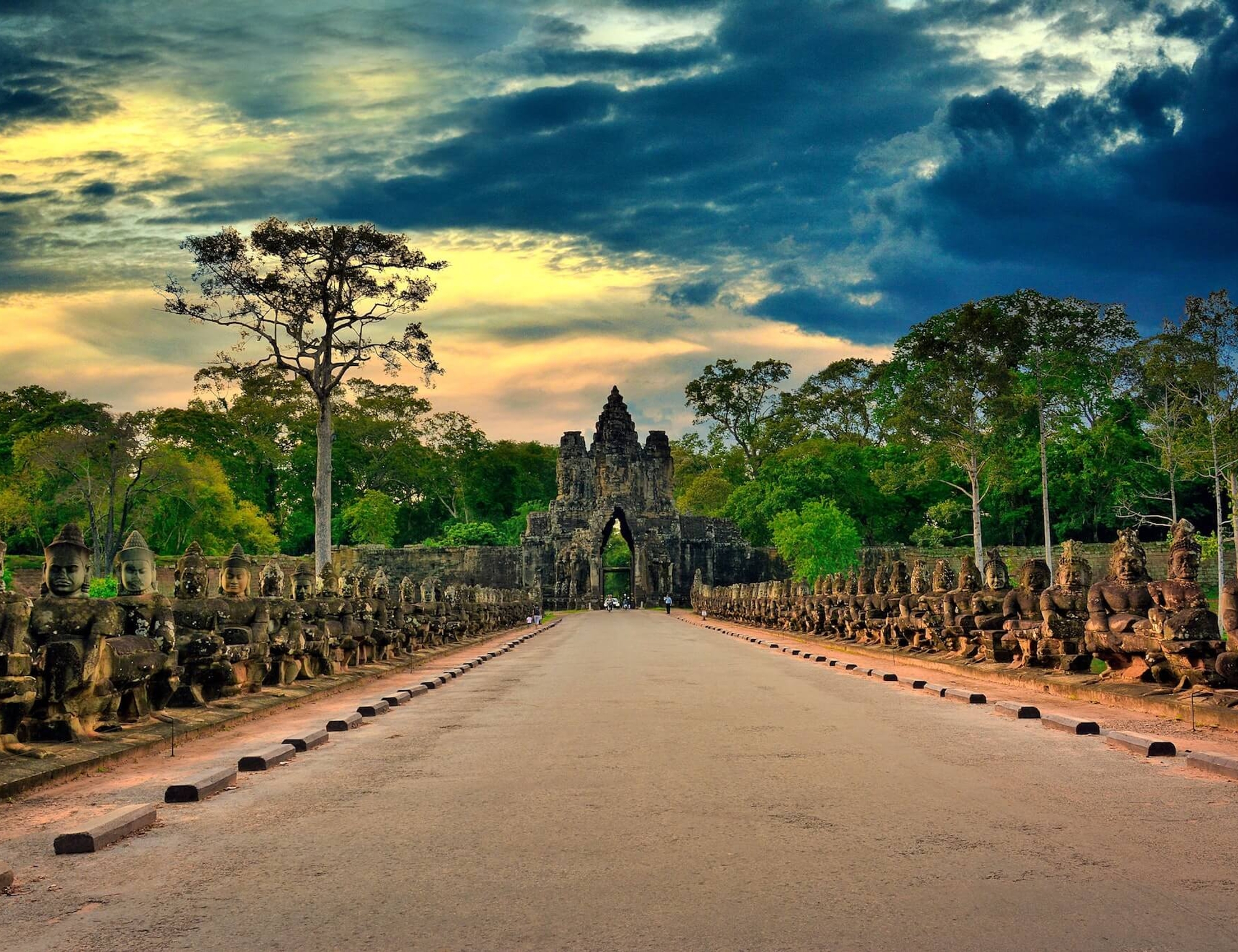 Day 1: Siem Reap
Arrive and settle at your hotel. Local history, architecture, and aesthetics unfold in front of you as you enter Siem Reap. We leave the day free for you to relax after you arrive at Siem Reap.
Our guide meets you post-lunch at 2 pm at your hotel for a bike fit followed by a brief walking tour of Siem Reap and ending with dinner.
Meals:
D
Day 2: Siem Reap
Visit Angkor and witness the magnificent views in the backdrop of sunrise. The Angkor temple complex is synonymous with Cambodia, so a ride around the temple is essential. We start riding directly from the hotel and reach the moat of Angkor Wat. Exquisite sculptures, tall towers, and maze-like trails flanked by large banyan roots, you might want to spend ample time photographing as you would have seen nothing like this before. We will loop back to Angkor Wat for a detailed tour at the end of our ride.
Continue riding towards Angkor Thom and enter the city from the South gate. Beat the crowd and climb the surrounding wall of the city and ride on top of it. Take a break here for a rich fascinating account of the city from our guide. A further ride through East gate takes us to Bayon, a richly decorated face temple within the Angkor complex is one of the highlights here. Exit from the second East gate of the city and ride towards jungle-clad TA Prohm. Our guide shares historical anecdotes and walks you through temples along the way.
The Angkor Wat requires more than a morning, so we loop back for a more detailed guided tour. The UNESCO World Heritage Site is considered one of the largest religious complexes in the world and it's bound to enthrall you. If time permits, climb Phnom Bakheng for a classic view of Angkor during sunset.
In the evening, explore some of the local food in the cafes that flank the narrow roads.
Meals:
B,L
Cycling Distance:
30km / 18mi
Day 3: Kampong Thom
An early start today, travel to Beng Mealea (~65km), a sprawling mass of a temple hidden in the jungle which has only recently become accessible. After exploration, ride through the bucolic countryside with a spectacular view of paddy fields. End ride at Makak Dam, a man-made dam built during Khmer Rouges regime and is useful even today. After a short break, take a shuttle transfer to Kampong Thom, a picturesque town on the banks of the Stung Sen River.
Meals:
B,L,D
Cycling Distance:
55km / 33mi*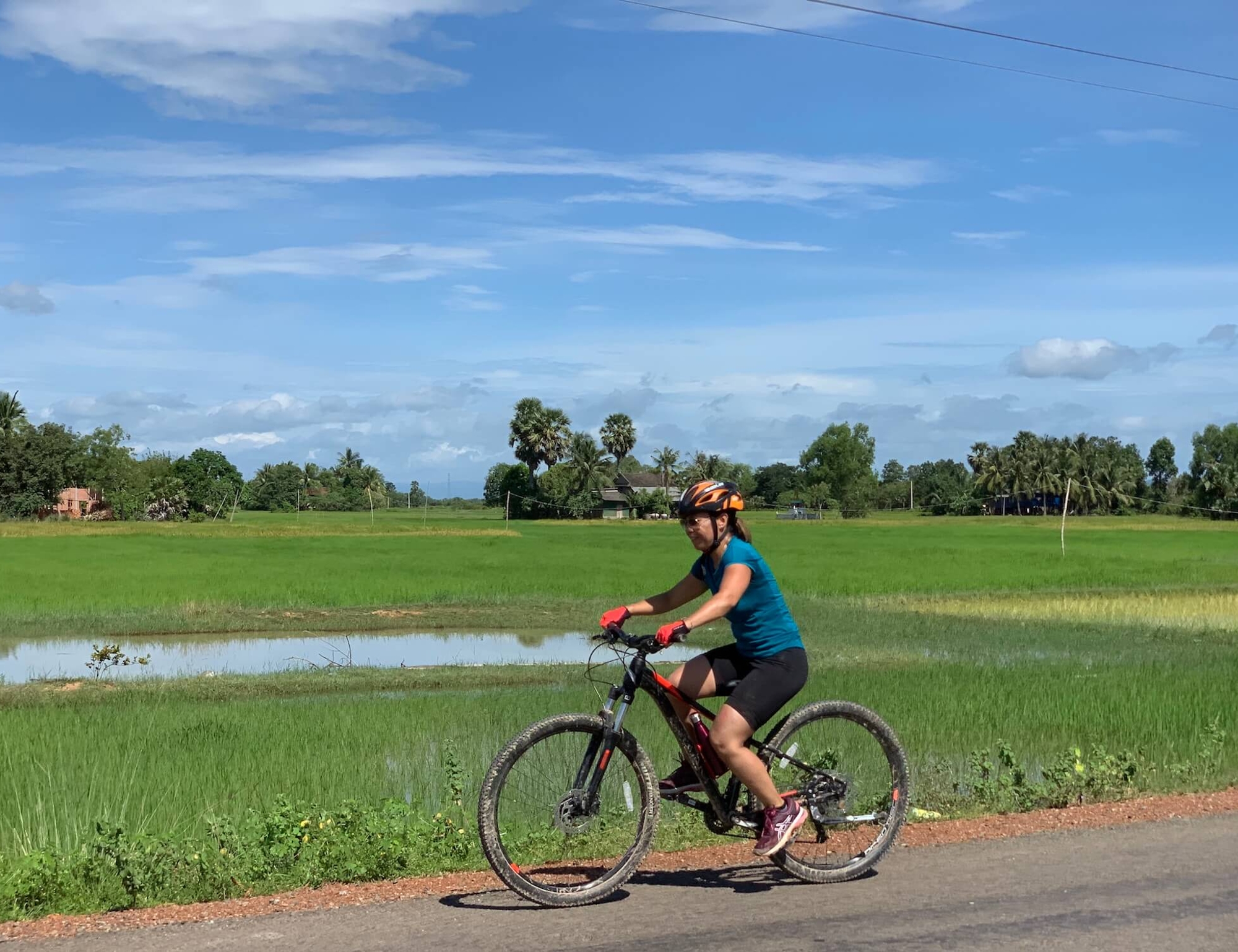 Day 4: Kampong Cham
In the morning, ride around Kampong Thom's Sambor Prei Kuk temple complex, which predates Angkor Wat by at least 200 years.
Later ride past varied plantation landscape consisting of rubber, cashew, and cotton. We also ride along the Mekong river bank and arrive at Kompong Cham.
Meals:
B,L,D
Cycling Distance:
60km / 36mi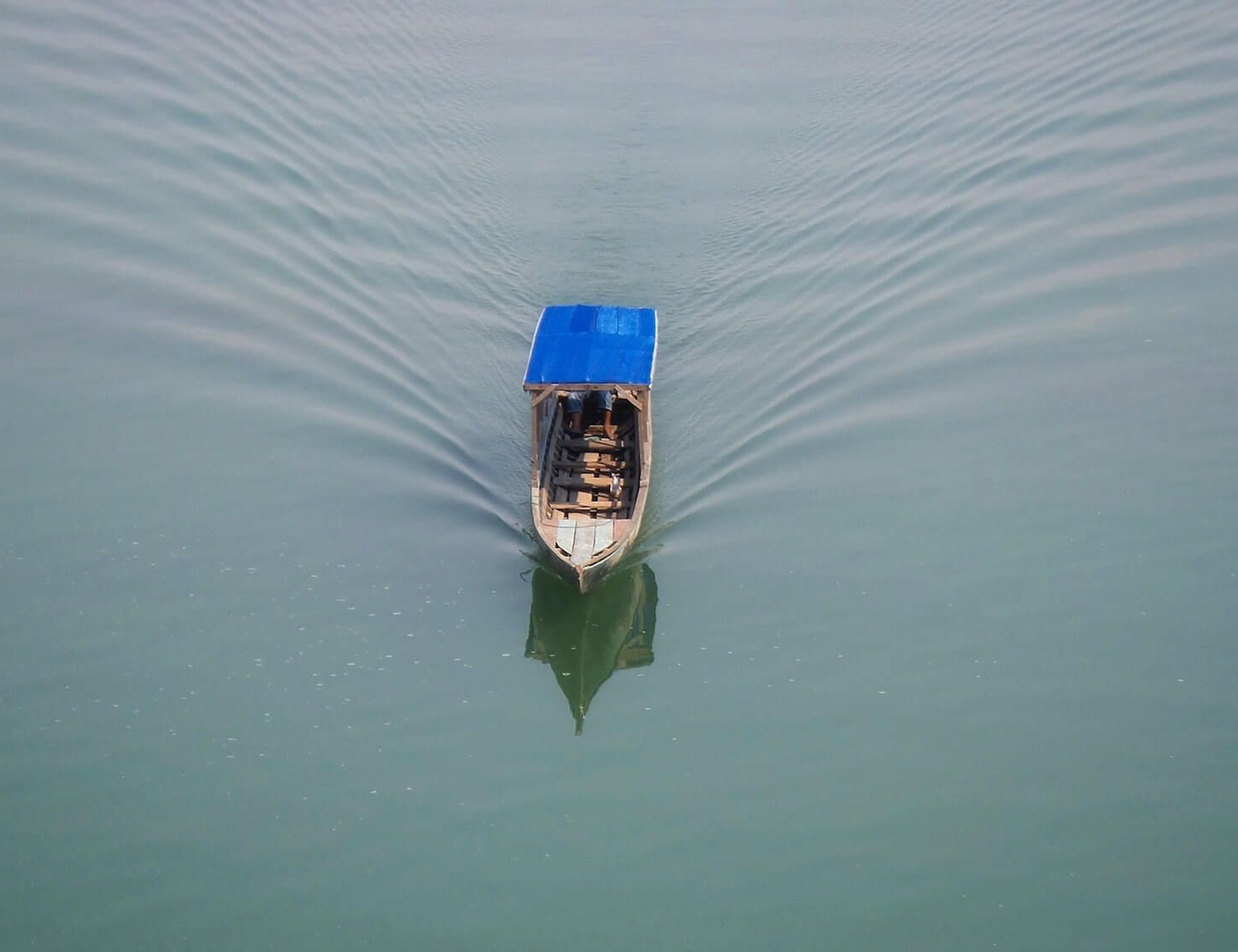 Day 5: Phnom Penh
It's a classic ride today along the Mekong River to Phnom Penh, and through a tropical plantation landscape consisting of rubber, cashew, and cotton. Today's ride takes us through remote bucolic villages, and past beautiful wats and riverside towns. The last stretch of ride is covered in the shuttle to avoid busy traffic. Arrive at the capital city of Cambodia, Phnom Penh, at the edge of the Mekong River. Historical splendors are spread in every corner whether it's the local palace or the horrific remnants of the Khmer atrocities.
In the evening, taste some local Khmer cuisine at one of Phnom Penh's finest dining place Romdeng. End day with a walk or tuk-tuk ride back to the hotel.
Meals:
B,L,D
Cycling Distance:
70km / 42mi*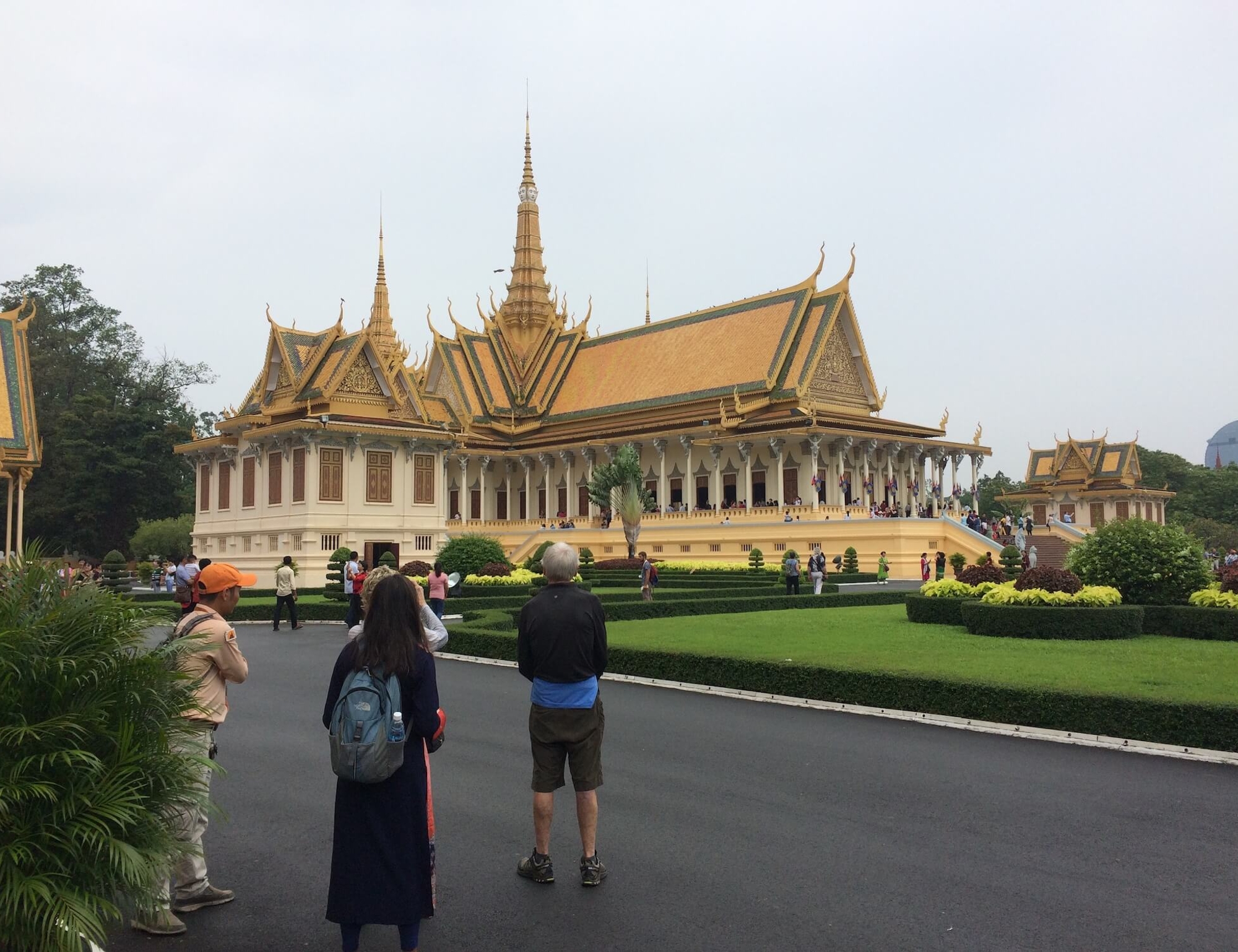 Day 6: Phnom Penh
Today get ready to be immersed in the Cambodian culture and history of the city as we kick off our walking tour from Independence Monument. Enjoy walking along the Tonle Sap river, considered the lifeline of the region. Continue towards the National Museum, which houses several national treasures from three different eras: Pre-Angkorian, Angkorian, and Post-Angkorian, giving the flavor of diverse culture and architecture. The last leg of our walk takes us to the gilded Royal Palace, shimmering with silver tiles and sculptures of Buddha, which gives an insight into Cambodian Royal Life. After the museum, hike up the steps of a small hill to see Wat Phnom Temple, the birthplace of Phnom Penh.
We insist that you step outside for dinner after a short break, to enjoy the local nightlife and enjoy the street food. Traditional dishes like amok (coconut fish curry served in a banana leaf), bobor (rice porridge), and lok lak (stir-fried beef) are easy to find by the streets.
Meals:
B,L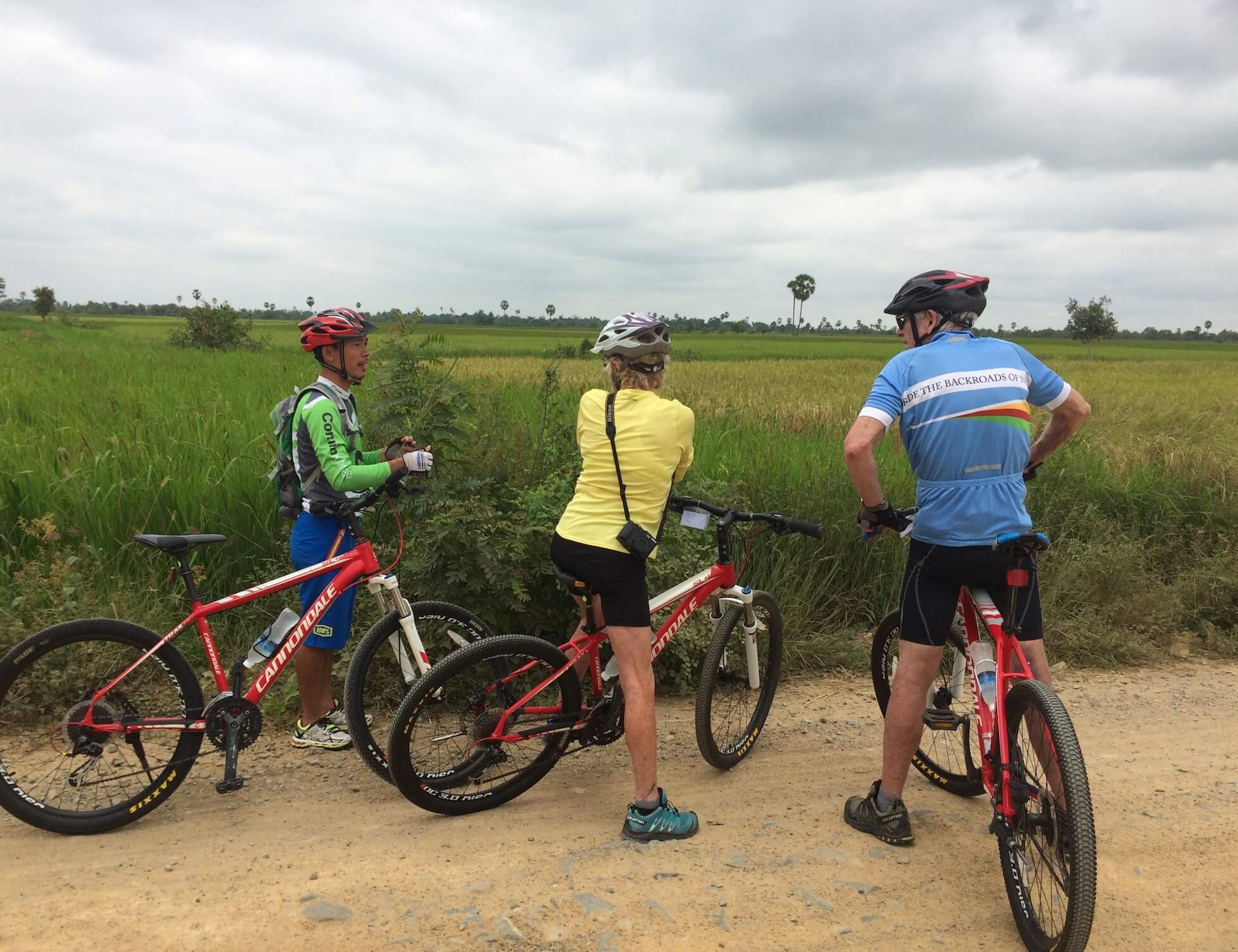 Day 7: Ta Keo
Get up early and start with a shuttle transfer to Killing Fields. An essential on the itinerary due to the historic hook and for understanding the country better, we walk through the killing fields. Experience the painful story of a country that leads to the death of 2 million Cambodian people between 1974-1979. A short shuttle transfer from here brings us to Preah Theat Pagoda, our starting point for a bike ride towards the Angkor era Ta Prohm temple, located in Tonle Bati. Take a quick tour of the temple and continue riding to Phnom Chiso Temple, situated on the top of a hill with 400 steps to climb up. Continue riding towards Takeo past some amazing lake scenery surrounded by paddy fields and lotus farms. Ta Keo is a small town situated amidst beautiful lakes. Enjoy the rest of the evening walking around the town.
Meals:
B,L,D
Cycling Distance:
80km / 50mi*
Day 8: Kep
After a good breakfast, we take a short transfer to our starting point. We then start riding the back roads past villages. The topography that will be forever etched in your mind is that of a sprawling countryside of fields, palm trees, and lotus farms. We ride slowly, taking pictures along the way and taking in the stunning vistas.
Kep's seaside front is the perfect place for weary legs to feel rejuvenated. Earthy colors and breezy wind make for the perfect ambiance to unwind.
Meals:
B,L
Cycling Distance:
60km / 36mi*
Day 9: Kampot
Another stretch of riverside villages and exquisite countryside awaits the cyclists today. We ride to the quaint riverside town of Kampot. We ride on small trails then minor roads past 'Secret Lake', also known as "Brateak Krola Lake", a man-made reservoir. Along the way, visit the stunning cave temple of Phnom Chhnork and pepper plantations. After lunch at a beautiful riverside restaurant, step out to discover local life at Kampot. Enough anecdotes and local street food flow to keep us engaged. Enjoy a sunset cruise behind Bokor Mountain as you chug upstream. Do try the pungent Durian fruit, famous of this place. Kampot is also known for its salt and pepper production.
Meals:
B,L,D
Cycling Distance:
25km / 15mi*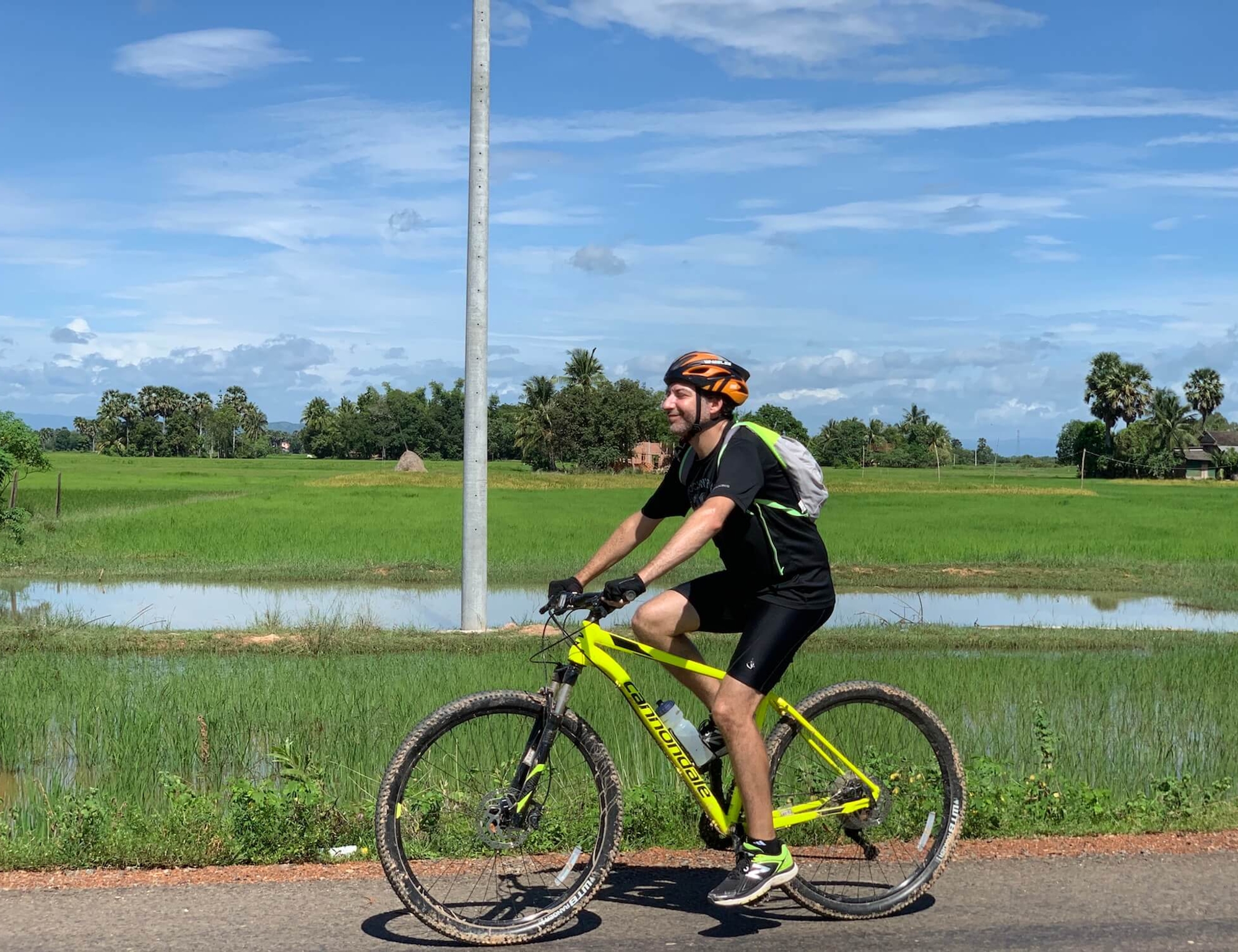 Day 10: Departure
We recommend combining this bike tour with some beach time at Koh Rong Island, Cambodia, or Phu Quoc Island, Vietnam, or departing in our support vehicle to Phnom Penh. Surcharge may apply.
Meals:
B
Map
Dates and Prices
Note:
Our base pricing is in USD. However, we can also quote in AUD, GBP, CAD, and EUR, and you can pay in the same. Please write us.
Single Supplement
From US $335
E-Bike Upgrade
From US $266
---
Couldn't find a trip with convenient dates?
Open your date as a join-in tour or customize further as private one.
We offer private departures on almost all our itineraries, and for groups of four or more, they cost the same as our standard trips!
---
Essential Info
Inclusions
LODGING
All hotels as mentioned in the tour details or similar (subject to availability).
trip leader
Expert Trip Leader(s) who look after your every need and add meaning to your vacation.
bike
Immaculately maintained bike with helmet, suited to a terrain.
shuttle
A Van support follows the group of riders and carries all belongings.
meals
Meals as per itinerary. Guests are given the opportunity to dine on their own so that they discover a location independently.
refreshments
Refreshments and mineral water while cycling.
entrance
Entrance fees to most of the monuments and temples.
E-bikes
E-bikes are available on this trip at a surcharge. Please send a note to your tour consultant to book one.
Exclusions
Airport pickup and drop
We recommend to book direclty from airport or hotel.
meals
Some meals may not be included. Please check your itinerary.
Beverages
Beverages such as alcohol, tea, coffee, juice at a hotel or restaurant.
Bikes
When you have a road and the thrill of a journey ahead of you, it's imperative to have a good bike to enjoy it. Our fleet majorly consist of the below bikes as a part of this tour. However, sometimes due to height or availability constraints, we may provide a different but similar quality bike.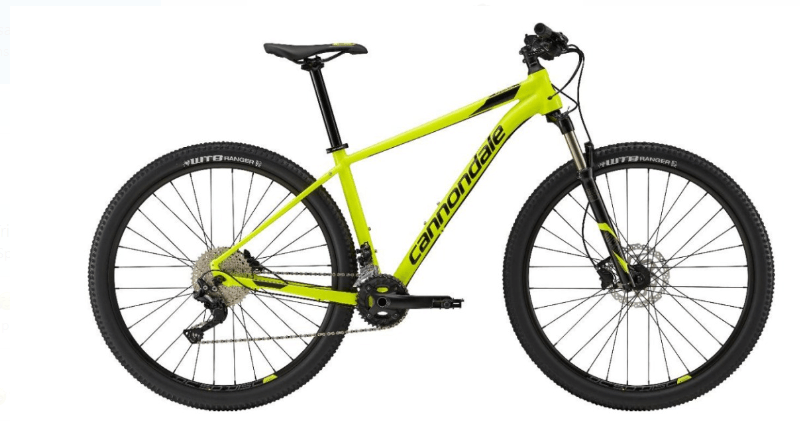 mountain
Included in your trip price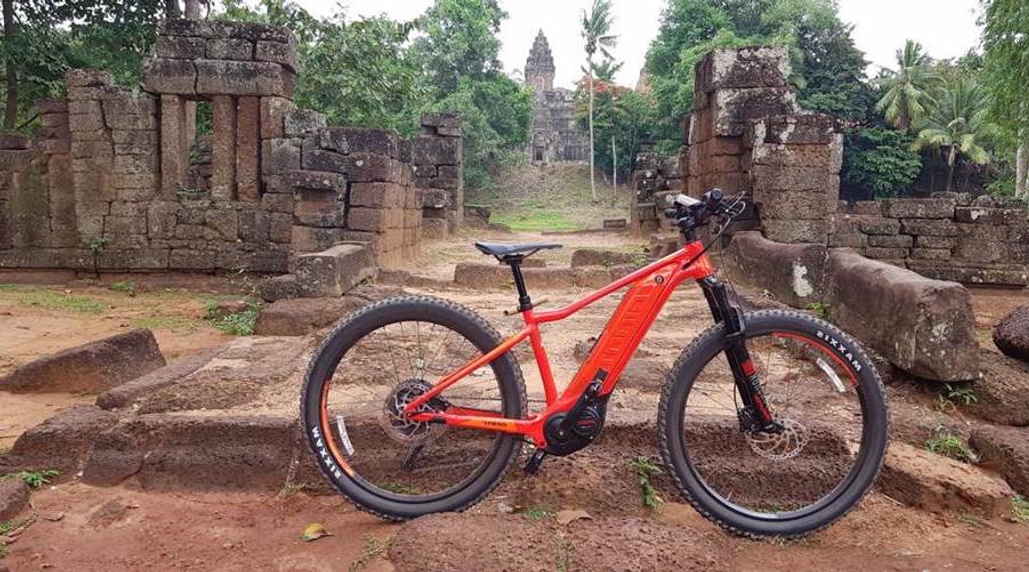 Weather
Cambodia is a year-round cycling destination on account of its pleasant tropical climate. April and May can be hot, but for the rest of the year, the temperature hovers around 30°C. There is moderate rainfall from May to early November but it settles soon, leaving the weather cool and the countryside looking lush. November to February are the best time for cycling in South Vietnam with warm weather, clear blue skies, and a light ocean breeze blowing in from the Pacific.
Visa
Cambodia has three international gateways for arrival by air – Phnom Penh, Siem Reap, and Sihanoukville – and a large number of land borders with neighboring Thailand, Vietnam, and Laos. Formalities at Cambodia's international airports are generally smooth.
Travelers can get a Cambodia visa upon arrival at the airport with a valid passport for 6 months and no longer need to have a pre-arrival COVID-19 test, present a full COVID-19 vaccination card/certificate, or a passenger's health declaration form on arrival in Cambodia. Remote electronic temperature-checking systems remain at the entry and exit gates for Immigration officers to check and advise passengers who may have COVID-19 symptoms.
Reviews from our friends
The best
Trip was excellent, our Guide Art, and driver John made it a very memorable experience. They could not do enough for you, far exceeded expectations. Thank you guys.