Classic Kerala Premiere Bike Tour
---
Overview
The narrow strip of land in the South West edge of India, straddling the sandy coastline and being thrashed by waves from the Arabian Sea, is hard to ignore. Bursting with a variety of experiences, it figures in top 'travel to' destinations for its plethora of culture, verdant surroundings, unique food and a bite of India like none other. From pristine beaches, lush interiors, coffee and spice plantations, misty hills, and the famous backwaters, Kerala is a marvel of exotic landscapes! Added to this, the access to its traditional art forms and culture makes it even more exquisite!
In this inland cycling trip in Kerala, we have spiced the challenge of riding in myriad landscapes, with plenty of 'not to miss' experiences. You will be cycling through roads flanked by thick forests, breezy seashores, tea & coffee carpeted hills, and by a long canal. Apart from the diverse topography, this cycling trip will be a great opportunity to immerse yourself in Keralan life – learn how to cook a few local dishes, watch captivating Kathakali performances and take a walk in the spice & tea plantations with experts. Be it the history-soaked streets of Fort Kochi, a relaxing day in the backwaters, or proximity to wildlife in thick forests, you will love the plethora of experiences Kerala throws at you. The amalgamation of comfort in luxurious atmospheric places, sweat and sinew on the road, and fresh experiences will enthrall you.
Avg. dist. cycled
50km or 30mi
Group size
Min. 2, Max. 14
Highlights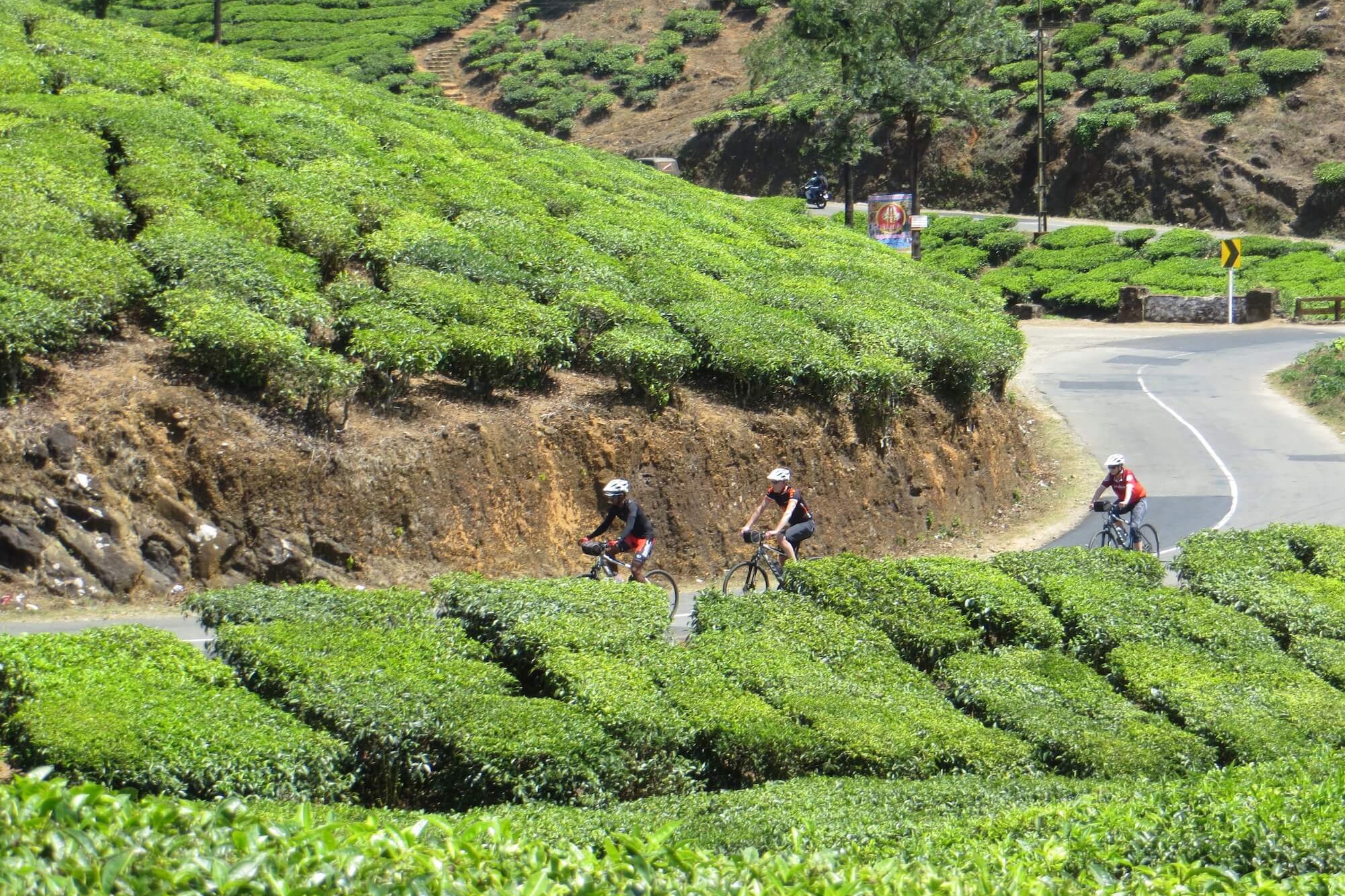 scenic backroads
Ride through the God's own scenic backroads
Itinerary
Brief Itinerary
| Day | Place | Hotel | Meals | Distance | Activity |
| --- | --- | --- | --- | --- | --- |
| DAY 1 | Kochi | Old Harbour Hotel | D | 28km / 17mi* | cycling |
| DAY 2 | Munnar | Windermere Estate | B, L, D | 50km / 31mi* | cycling |
| DAY 3 | Munnar | Windermere Estate | B, L, D | 40km / 24mi* | cycling |
| DAY 4 | Thekkady | Spice Village | B, L, D | 60km / 37mi* | cycling |
| DAY 5 | Thekkady | Spice Village | B, L | | |
| DAY 6 | Kumarakom | Coconut Lagoon | B, L, D | 40km / 24mi* | cycling |
| DAY 7 | Kumarakom | Coconut Lagoon | B, L, D | | |
| DAY 8 | Marari Beach | Marari Beach Resort | B, L, D | 30km / 18mi* | cycling |
| DAY 9 | Kochi | | B | 45km / 27mi | cycling |
Map
The above map gives you an excellent idea about the region on the trip. Though there may be internal flights and trains, shuttle transports and hence the cycling route may be a bit different than shown, however, it allows you to understand the overall geography of the tour.
Accommodation - Premiere Inns
Premiere accommodations include some of the most prestigious hotels. These hotels have won accolades and awards or are acclaimed as 'the best by credible publications such as Condé Nast Traveler and Travel+Leisure. Heritage properties, art décor contemporary places, or chic boutique stays that are a notch above the rest are a part of this list.
Restored palaces, resorts on the edge of the backwaters, or a plush Swiss tent in the middle of the jungle - these inns provide an unforgettable experience. Expect a spa experience, swimming pools, and excellent service. The above brief itinerary gives you a clickable list of hotels for your perusal.
Detailed Itinerary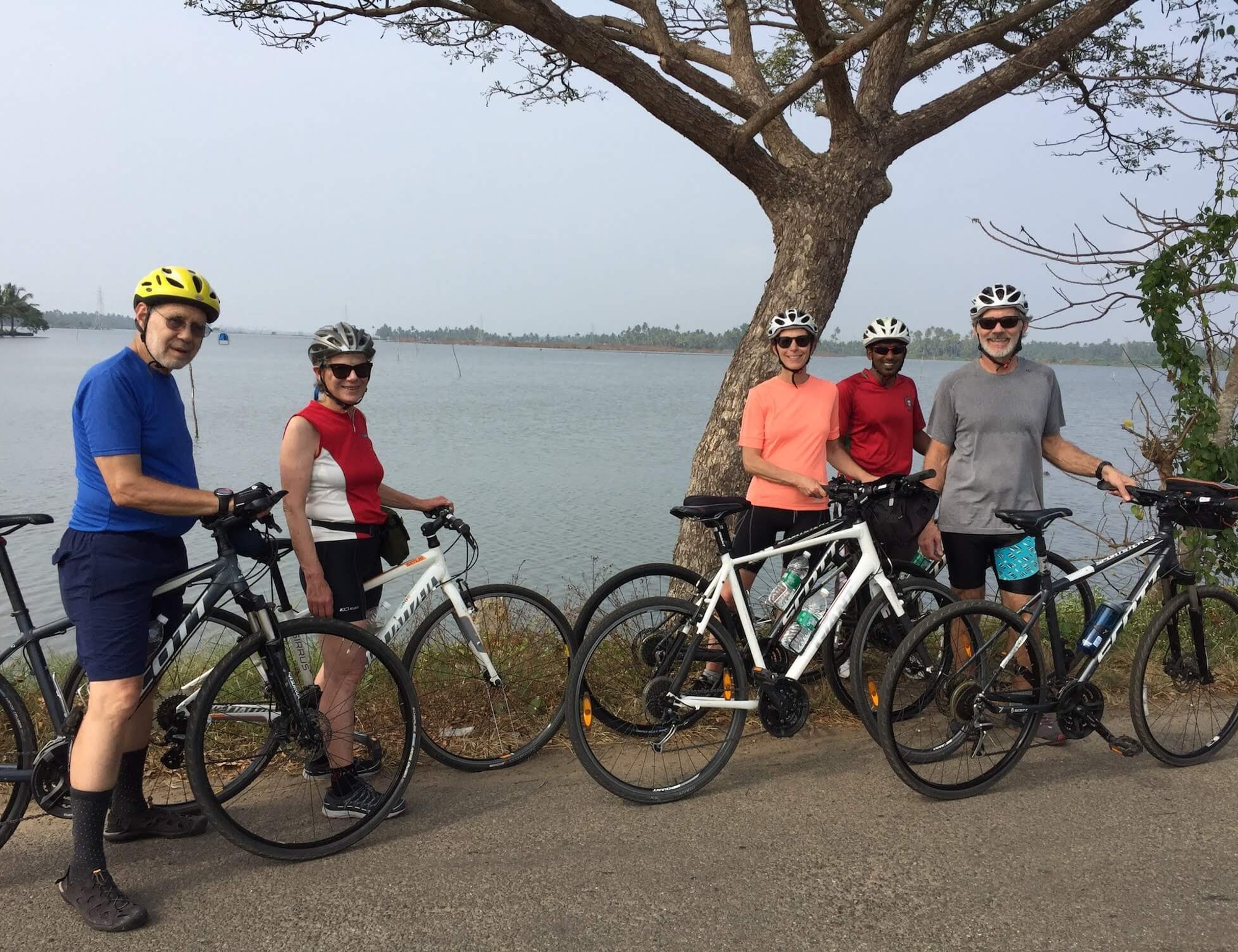 Day 1: Kochi
Arrive in Ernakulam, the commercial capital of Kerala, and make your way to the satellite town of Fort Kochi, from where we will start the trip.
Meet your trip leader at your hotel around 13:00hrs. If you arrive early, we recommend heading out in the morning to explore the town.
One of the foremost trading hubs on the western coast of India, Fort Kochi drew colonial interest with its aromatic spices. Along with traders from China, Portugal, Arab and Holland, came a cocktail of religions, cultural practices, and diverse food. Kerala owes its cosmopolitan vibe to the traders who braved the seas to come to this land.
Fort Kochi is dotted with remnants of the past, which you can discover on foot/ bike. Step out to see the Vasco Church, Basilica, Dutch Cemetery, and the famous Chinese fishing nets, which lie within a 2km radius.
Afternoon, we get on to the bikes! Caught between the backwaters and the Arabian sea, this is simply the best rural biking trail combined with village life experiences around Kochi. It's a day-cycle ride that lets you feel the charm of simple Kerala backwater villages. We ride through vast paddy fields, fish farms, coconut tree canopies to reach one of the backwater edges. Later, take a canoe through a backwater village and connect yourself to the traditional ways of villagers. Learn about fish farming, traditional boat making, and other local traditions. What you take back from this beautiful ride is a true village experience spiced up with few untold local stories.
Meals:
D
Cycling Distance:
28km / 17mi*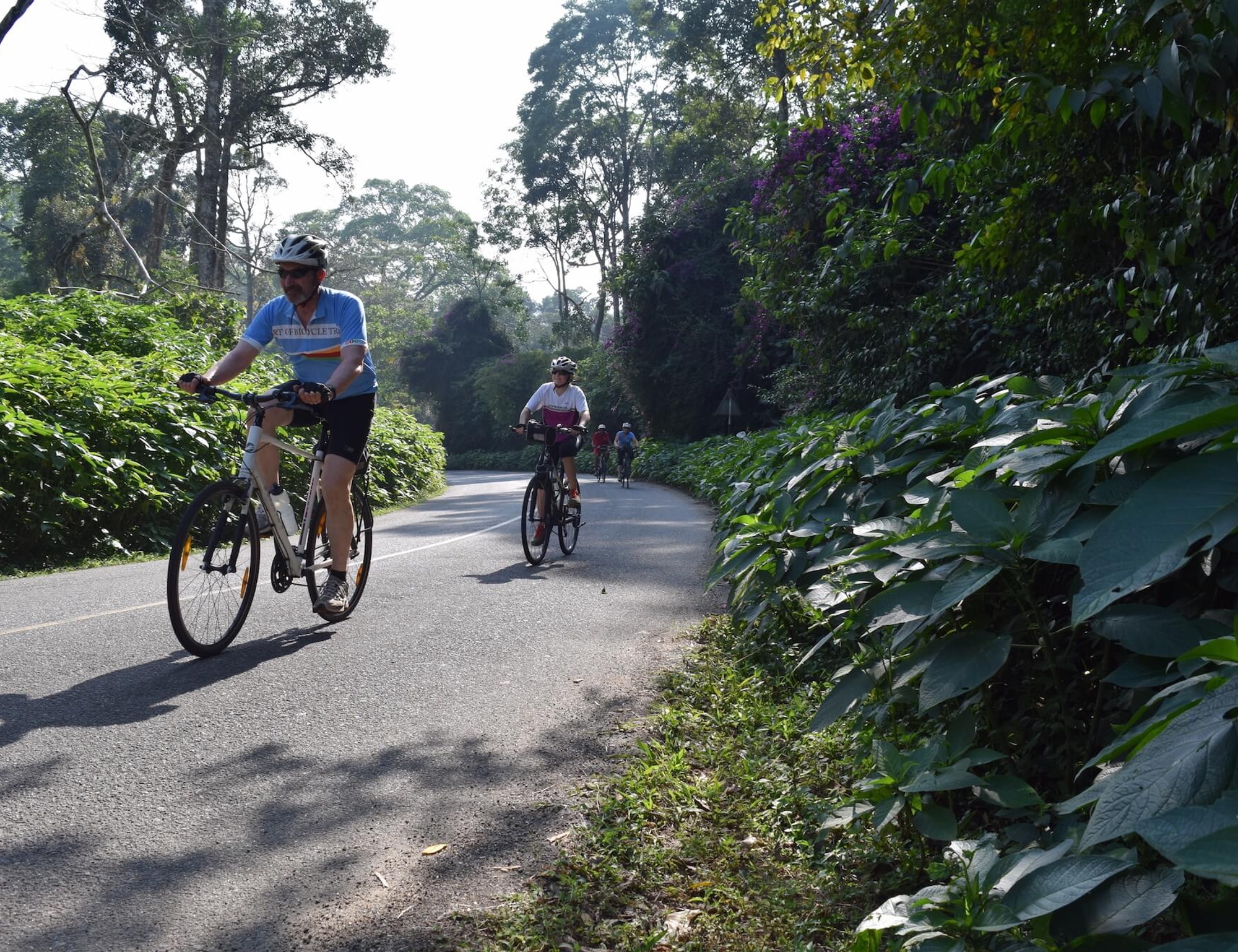 Day 2: Munnar
This morning we start with a 2 hours shuttle to get out of traffic-clogged roads. Today, the initial 25km is an easy ride, on a smooth plain next to rubber and pineapple plantations, also with a stretch along an irrigation canal. Post lunch, we will be greeted by a long stretch of the gradual climb. For miles ahead, you can only see a ridiculous amount of green! Seeing this, you are sure to forget the weary legs. We stop cycling as the climbs start to challenge us and take a transfer to Munnar. As the hills of Munnar start emerging, you will be simply amazed to see the neat hills and mountains carpeted with tea bushes.
We head straight to the British-styled farm retreat, Windermere Estate. Stylish cottages with their plantation ambience intact are inviting after a hard day of cycling. Enjoy the copious cups of tea, relax in the library or if you are feeling energetic enough, head out for a plantation walk. Enjoy a goodnight's rest here so you are ready to explore Munnar the next day.
Meals:
B, L, D
Cycling Distance:
50km / 31mi*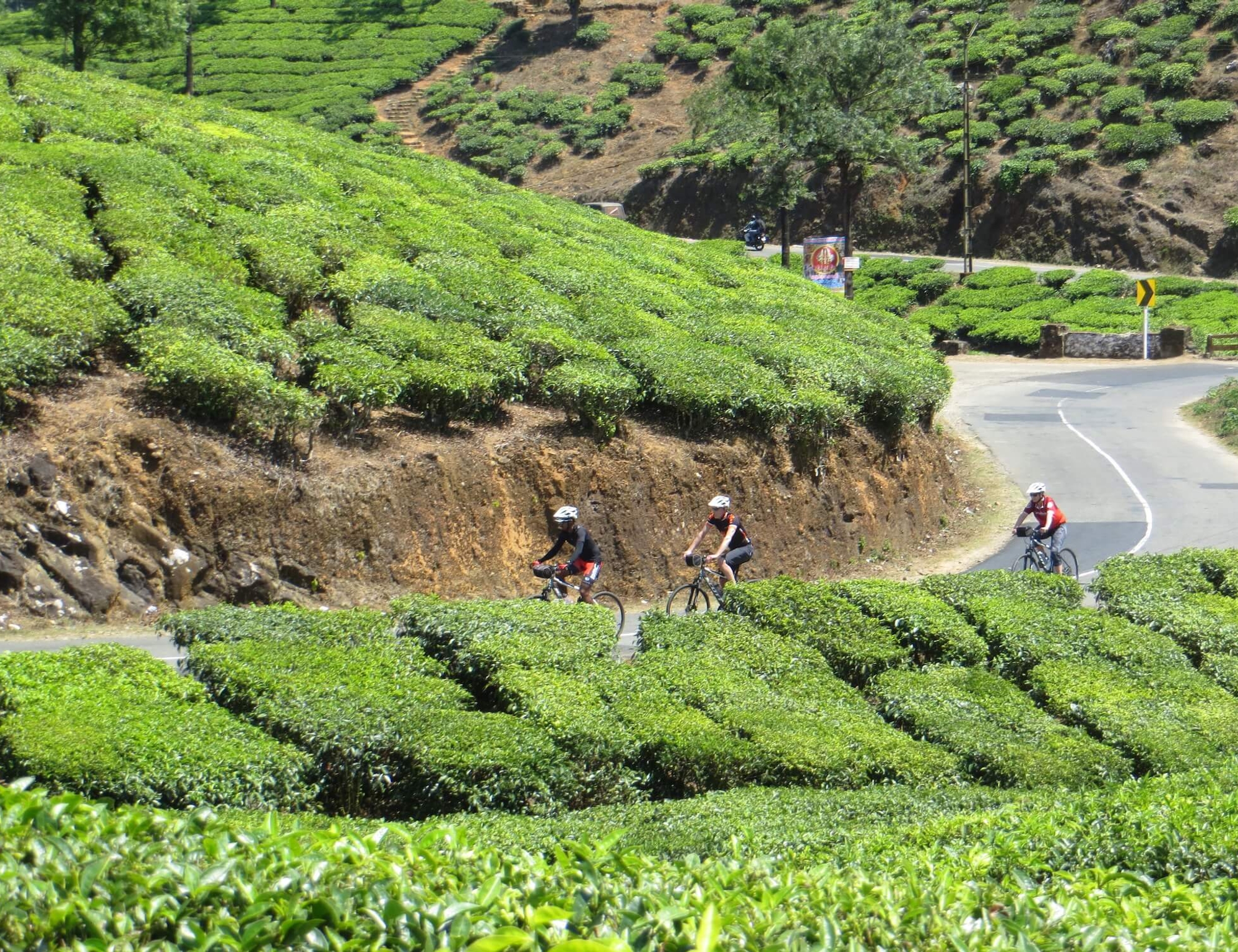 Day 3: Munnar
Munnar is a pleasant contrast to the beach-lined destinations or lagoon backwaters of Kerala. A hill station, which has been immortalized by movies, Munnar is great to cycle in. The routes are undulating and sometimes challenging, but you will find an equal amount of downhill slopes to bring relief to steep climbs.
Enjoy a morning of Yoga if you please and head out to Top Station, a viewpoint of great touristic eminence. The riding stretch to Top station is one of our favourite cycling routes in Kerala. As we ride all the way up to Top Station, you will be stunned by a brilliant view of the stacked mountains and deep valleys below. After this ride, you would have certainly earned yourself a hot crisp cup of tea.
Roll down the hills to then visit the Tea Museum – this is a historic treasure and takes you through the journey of Munnar's metamorphosis as a tea destination in the late 1800s when A.H. Sharp planted the first sapling. You can also pick up the handmade jam, tea leaves, and recycled paper products as souvenirs.
Meals:
B, L, D
Cycling Distance:
40km / 24mi*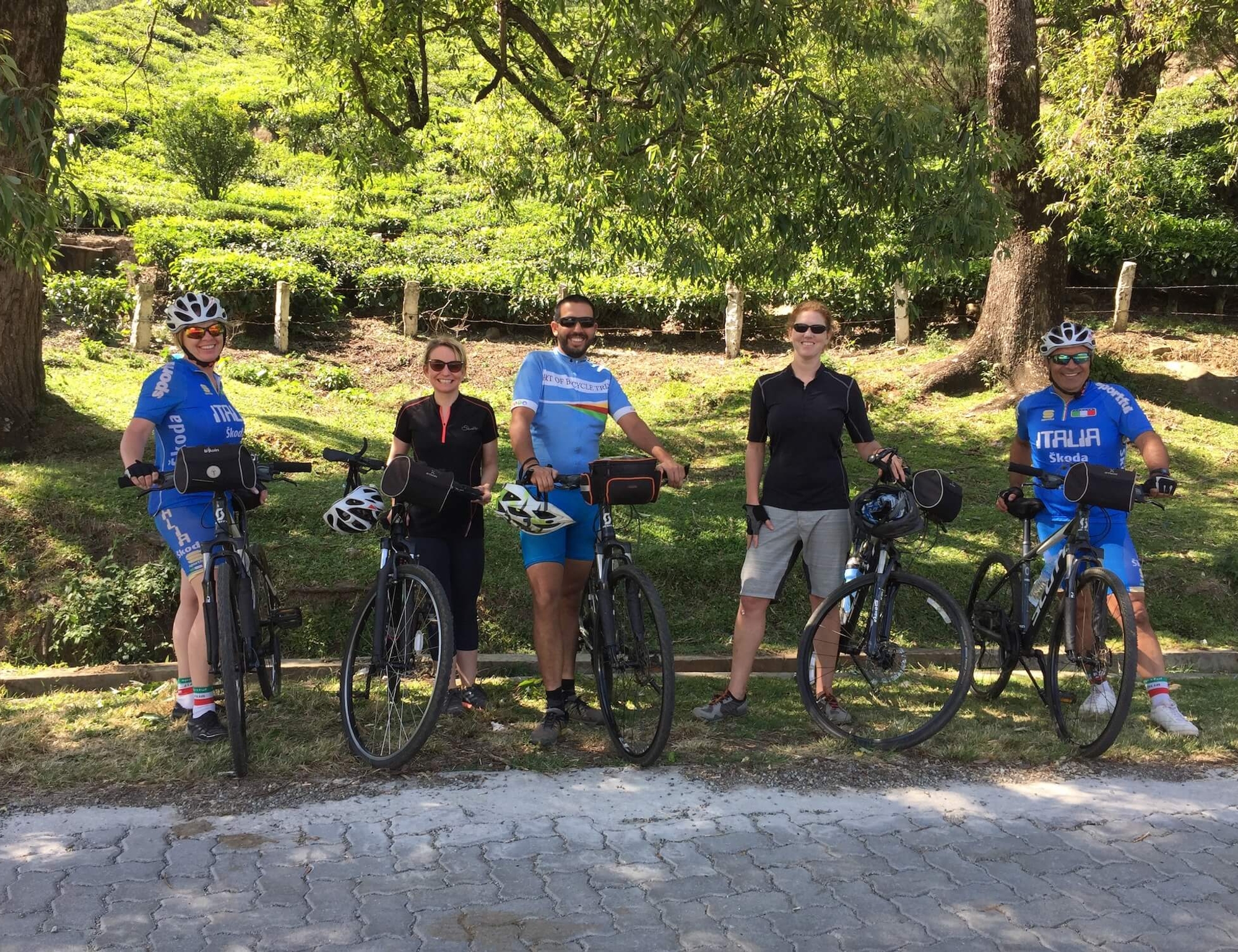 Day 4: Thekkady
We bid adieu to Munnar and head towards the cardamom hills of Kerala, a small town of Kumily. We take in the spectacular views of tea-clad western ghat mountains, near Lockhart Gap. As you are riding, the 360 degrees view of the lush tea plantations will be forever etched in your mind. The smell of cardamom draws you quickly from the tea-lined mountains to the unmanicured mish-mash of cardamom plantations, interjected by pepper vines clinging to silver oak trees. The last stretch is covered in the shuttle before we reach the wonderful award winning property of Spice Village.
Eco-conscious nuances of Spice Village seamlessly bound with modern comforts is what makes Spice Village special. If you have the energy, head out for a short spice plantation walk. Else, you can relax by the pool or get a drink at the historic library bar of the resort.
Meals:
B, L, D
Cycling Distance:
60km / 37mi*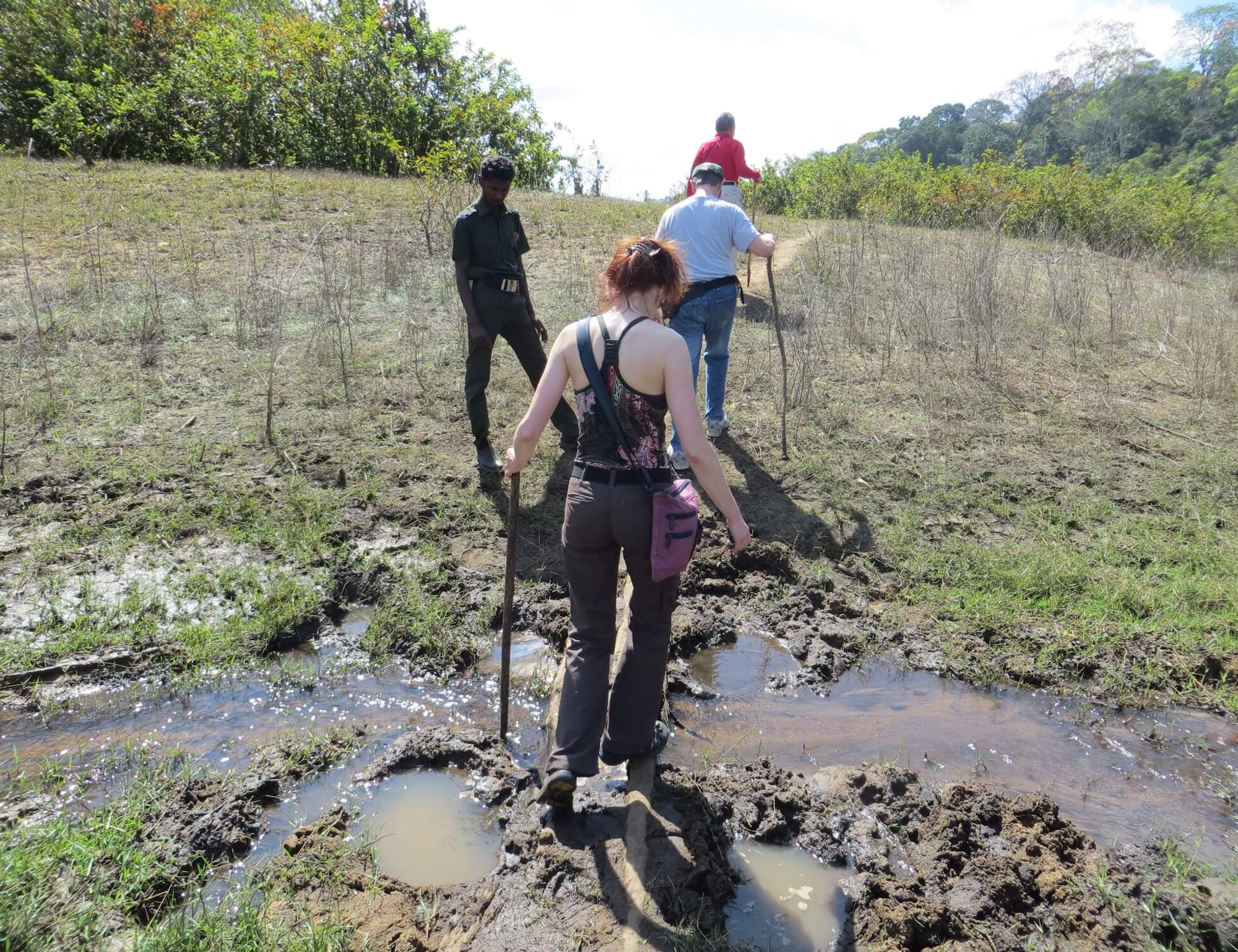 Day 5: Thekkady
You can explore the small town of Kumily at your own pace today. We recommend that you try and spend as much time at the Periyar National Park in Thekkady. One of the best managed in India, the national park is known for its innovative sightseeing options. We recommend a short Nature Walk through Periyar National Park, which gives you a glimpse of the wildlife in the area. Later, we head to a garden of spices and learn about the spices from a local farmer.
Meals:
B, L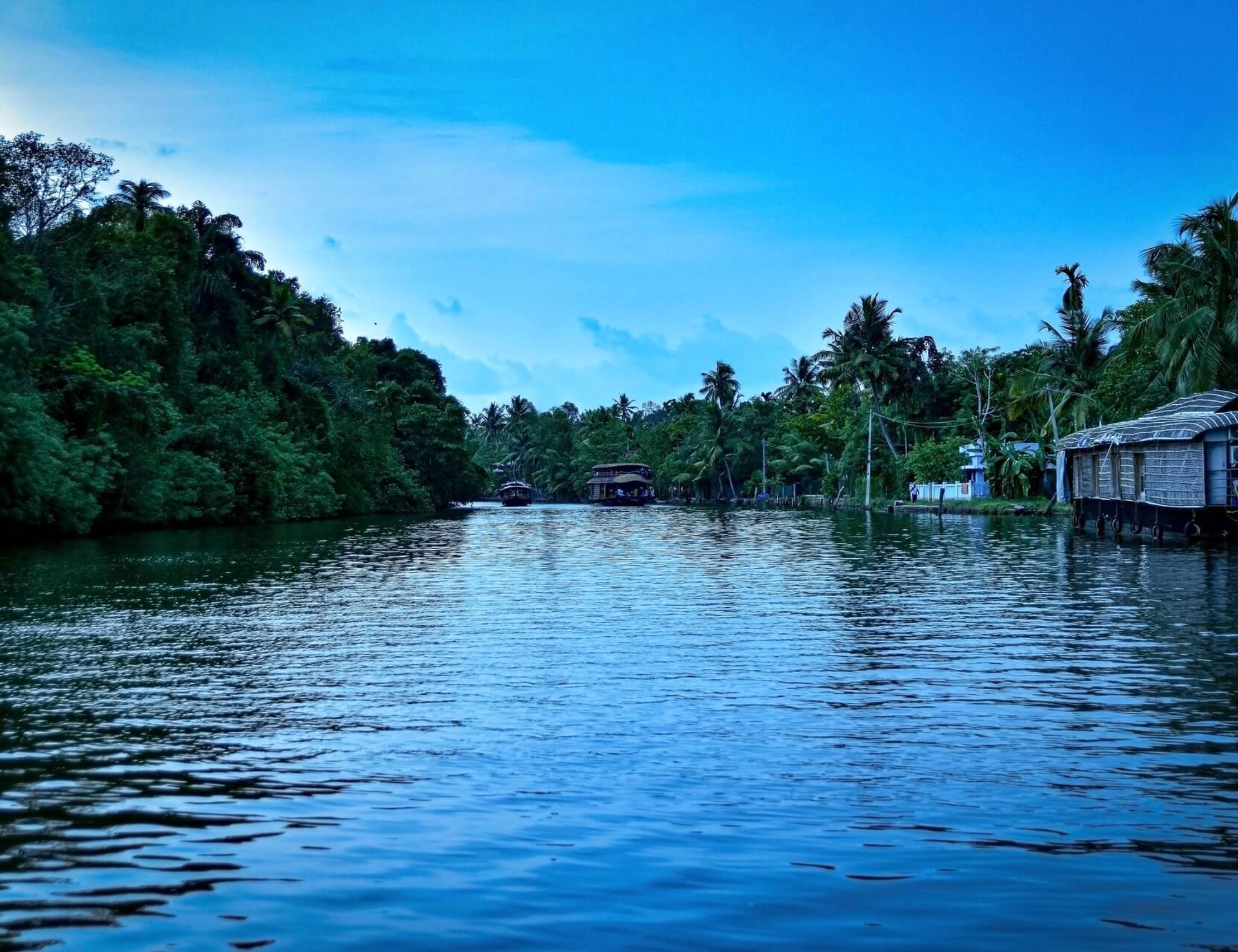 Day 6: Kumarakom
This is going to be a beautiful ride – from the Cardamom Hills to the tea gardens of Vagamon. A hilly ride, with both dips and steep climbs, but the cool weather helps you grapple with this challenging ride better. Vagamon is an enchanting hill station where we will stop by for lunch.
From Vagamon, we take a van transfer to Kumarakom. Kumarakom is one of the finest backwater destinations of India, as it lies at the edge of the massive Vembanad Lake.
Meals:
B, L, D
Cycling Distance:
40km / 24mi*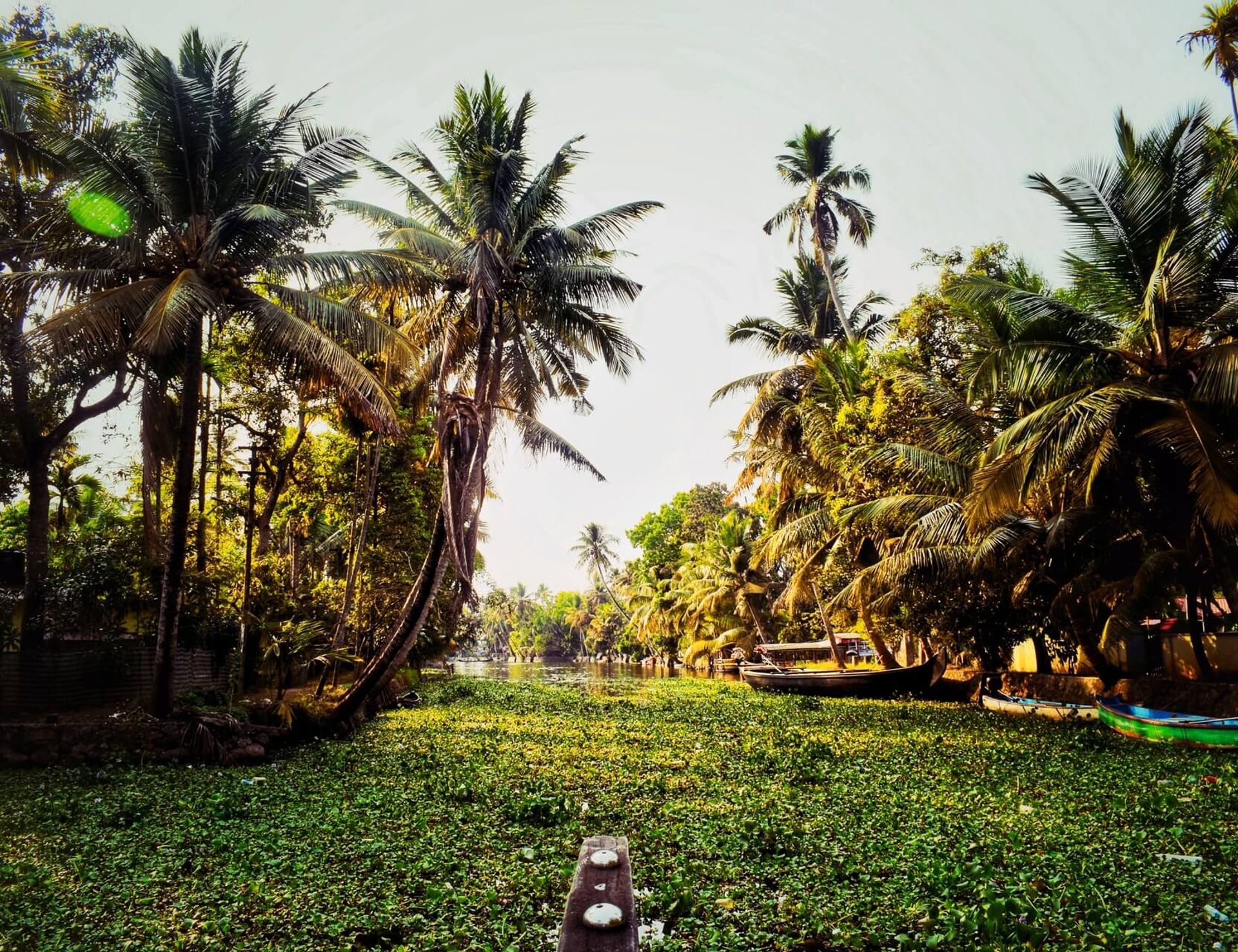 Day 7: Kumarakom
Trade bike with the boat today that takes us through hyacinth carpeted canals, which meander close to the villages; a great way to see the backwater countryside and habitat near the water.
Meals:
B, L, D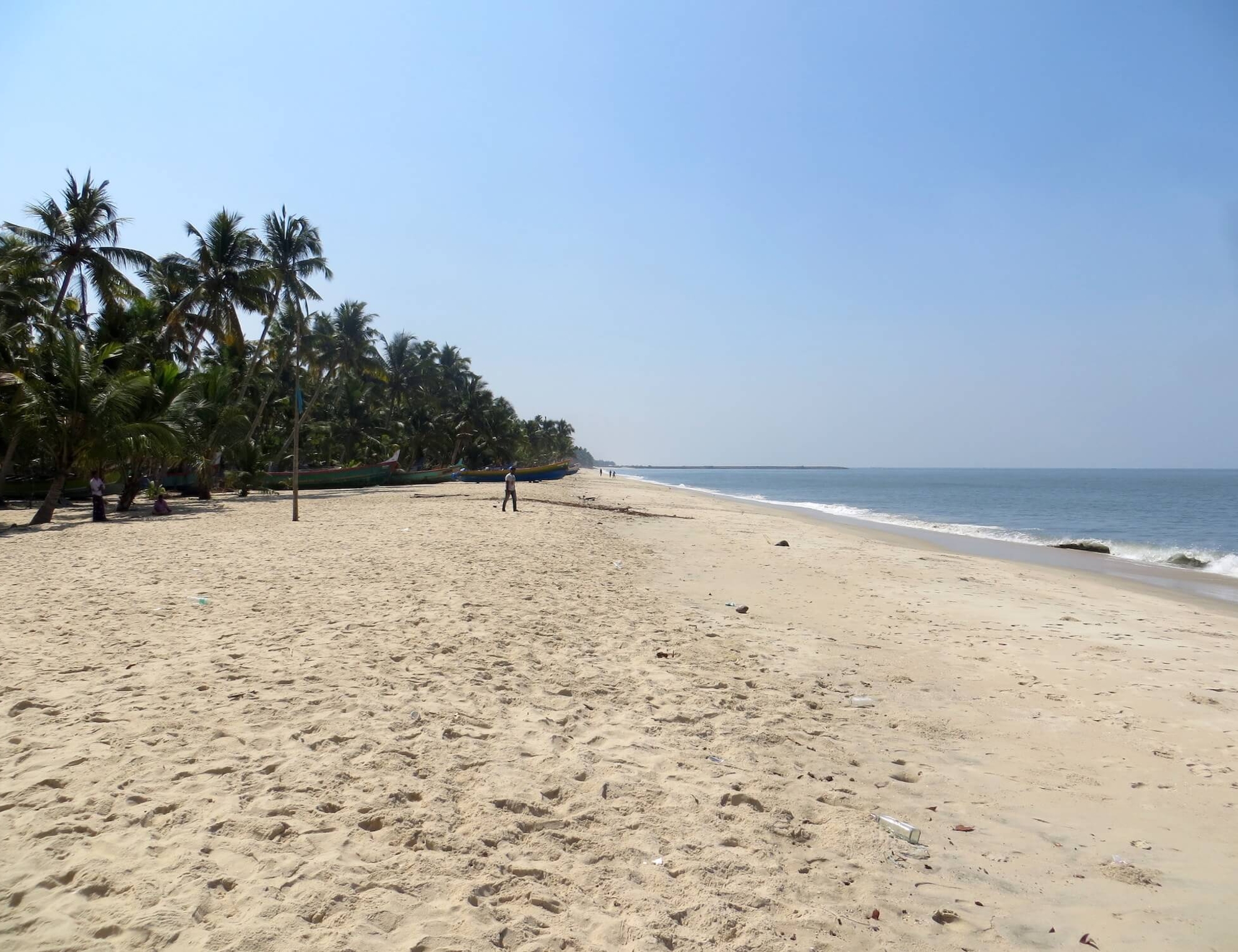 Day 8: Marari Beach
This is not a hectic day except for the humidity in the air, which may exhaust you a bit. Arrive at the Marari Beach Resort, one of the poshest addresses on this serene fishing village. Check in and immerse yourself in all the comforts of the world – massage by experts, delicious local food, even a dance performance in the hotel. What you are going to love here most is the proximity to one of the loveliest beaches on this stretch. On this day, you can just relax by the pool or walk on the beach, watching the fishing boats coming in and the place bursting with activity as the catch is sorted.
Meals:
B, L, D
Cycling Distance:
30km / 18mi*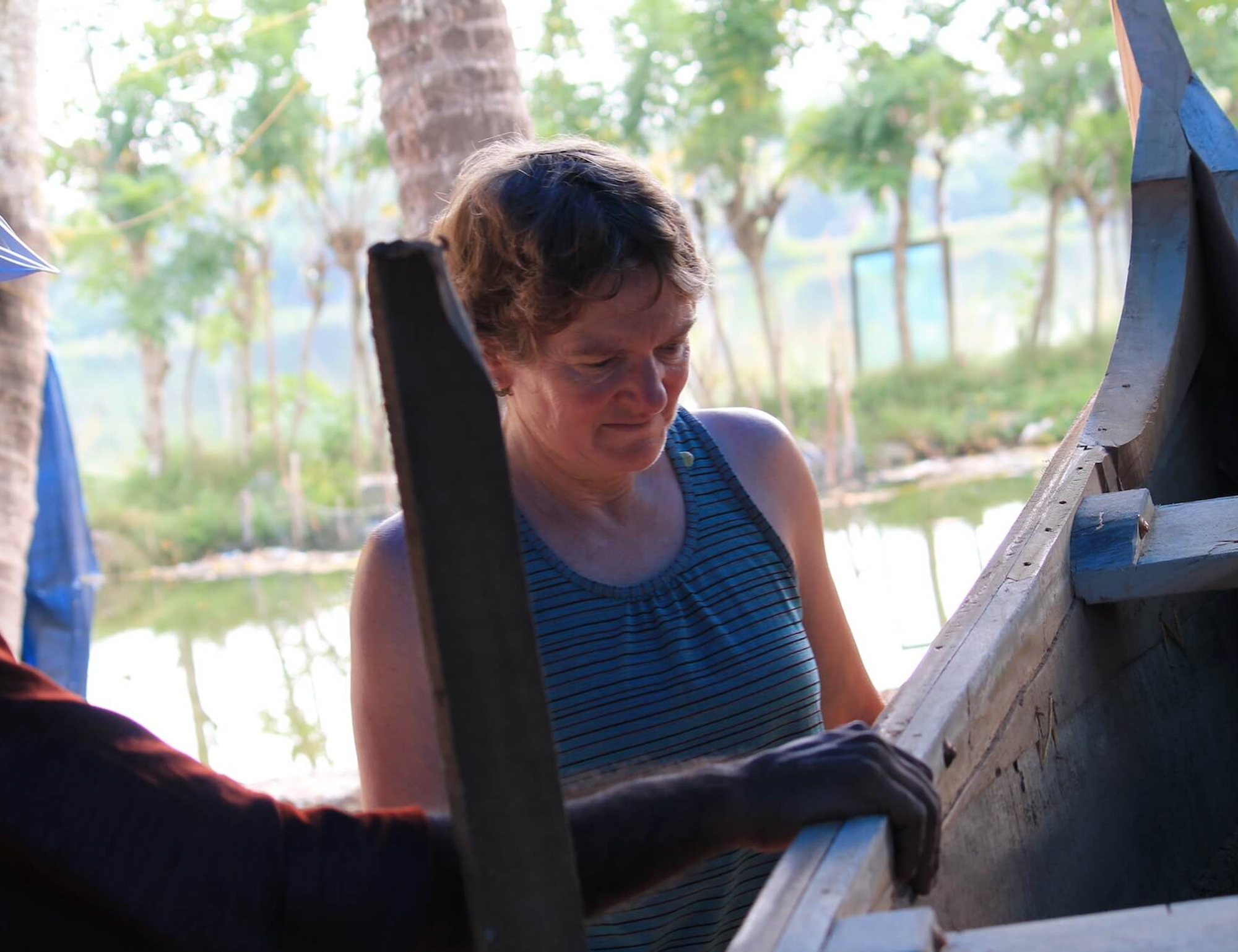 Day 9: Kochi
For a leisurely final morning in Marari Beach, consider taking a stroll along the beach and see the sights of the fishing village nearby.
If you have time and wish to relax for few more days, we recommend extending at the beach before departing from Kochi.
Enjoy last day a classic coastal ride along a beautiful stretch of white sandy beach on one side and unevenly spread serene backwaters on the other. Ride through small fishermen villages, lush coconut trees and plentiful fish farms. The ride finishes at Fort Kochi.
Meals:
B
Cycling Distance:
45km / 27mi
Dates and Prices
NOTE:
Our base pricing is in USD. However, we can also quote in AUD, GBP, CAD, and EUR, and you can pay in the same. Please write us.
---
Couldn't find a trip with convenient dates?
Open your date as a join-in tour or customize further as private one.
We offer private departures on almost all our itineraries, and for groups of four or more, they cost the same as our standard trips!
---
Essential Info
Inclusions
LODGING
All hotels as mentioned in the tour details or similar (subject to availability).
trip leader
Expert Trip Leader(s) who look after your every need and add meaning to your vacation.
bike
Immaculately maintained bike with helmet, suited to a terrain.
shuttle
A Van support that follows the group of riders and carries all belongings.
meals
Meals as per itinerary. Guests are given the opportunity to dine on their own so that they discover a location independently.
refreshments
Refreshments and mineral water while cycling.
entrance
Entrance fees to most of the monuments and temples.
E-bikes
E-bikes are available on this trip at a surcharge. Please send a note to your tour consultant to book one.
Bikes
When you have a road and the thrill of a journey ahead of you, it's imperative to have a good bike to enjoy it. Our fleet majorly consists of the below bike as a part of this tour. However, sometimes due to height or availability constraints, we may provide a different but similar quality bike.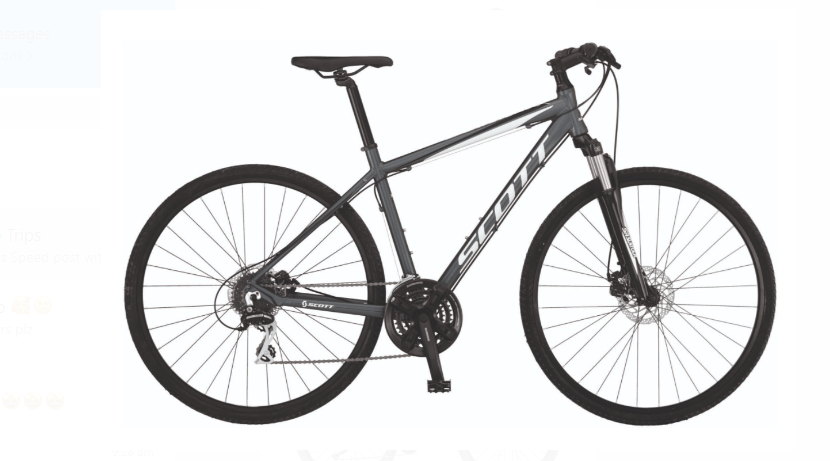 hybrid
Included in your trip price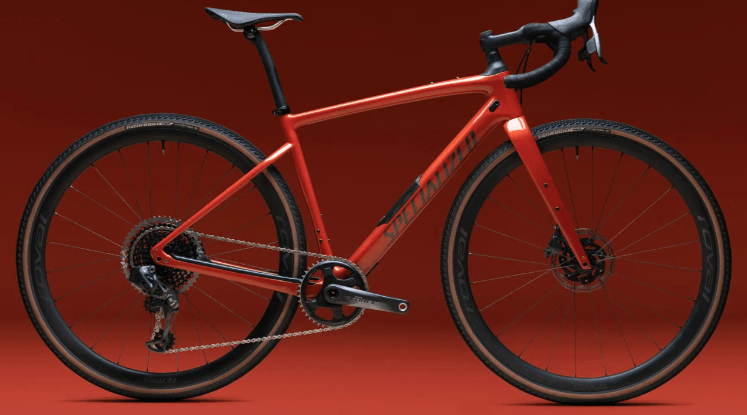 Exclusions
Airport pickup and drop
We recommend to book direclty from airport or hotel.
meals
Some meals may not be included. Please check your itinerary.
Beverages
Beverages such as alcohol, tea, coffee, juice at a hotel or restaurant.
Reviews from our friends
Classic Kerala was a great adventure
Classic Kerala was a great adventure!!!!!!!! The sights, smells and scenery were all unforgettable. The trip description promised "a ridicous amount of green" and we were not disappointed. We enjoyed the variety of bicycling experiences through many different terrains. Dibin was impressive as a superb guide. He and the driver, Dipu, were both very knowledgable, helpful and shared their culture freely. WE HIGHLY RECOMMEND THIS TRIP!!!!!!!
Gina Cadenasso from CA
5.0
truly a trip of a lifetime
My ten day tour with ABT in Kerala was truly a trip of a lifetime. Incredible views, challenging rides, luxurious accommodations, and a crew who could not be more kind and attentive. It was a wonderful way to take in a small part of such a vast country. I hope to do more tours with ABT and am so grateful to have come across them. Their friendly manner and small groups are just what I was looking for. I would recommend their trips wholeheartedly!
Go for it
Do not hesitate to trust the team at Art of the Bicycle with your holiday... we have just returned from 10 spectacular days touring the backwaters, the tea gardens, the spice plantations and the beaches of this incredible place. Luckily we decided to tour around on a bike and therefore have indulged in platefuls of the most tremendous food without noticeable weight gain. The team at Art of the Bicycle are great company, good fun and certainly go out of their way to make sure you have a holiday to remember. Go for it!