Slow Laos Luxury Bike Tour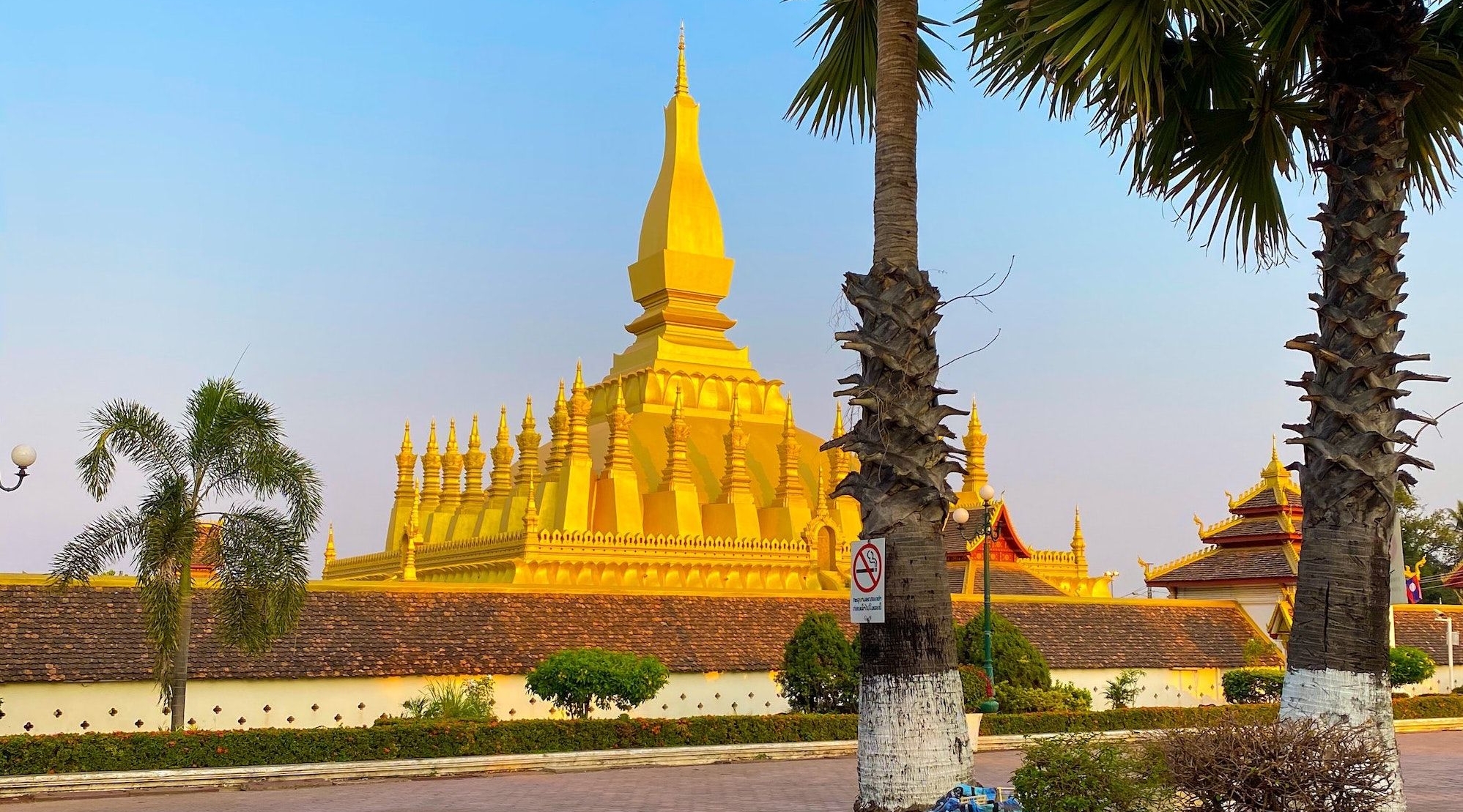 ---
Overview
Destinations that skirt rivers have some of the most interesting topographies and experiences. Laos is certainly one such place. Situated along the iconic Mekong River, Laos is the perfect destination for a slow vacation. The rolling terrain combined with gradual climbs from low-lying riverside valleys is just perfect – a cyclist's delight. Here we get to ride along the three beautiful rivers viz. Mekong, Nam Ou, and Nam Pak. We will also meander past many Buddhist 'Wats' on our bikes here, and there is plenty of sections where we will go down the river by boat. The river plays a big part in this cycling journey, and there are mountains, caves, limestone hills, and villages to explore along the shores.
Come cycle with us to fall in love with Laos. And if you want to fall in love harder, we suggest you read the book - River Tale: A year on the Mekong by Edward Gargan.
Start
Luang Prabang | 13:00hrs
Avg. dist. cycled
50km or 30mi
Highlights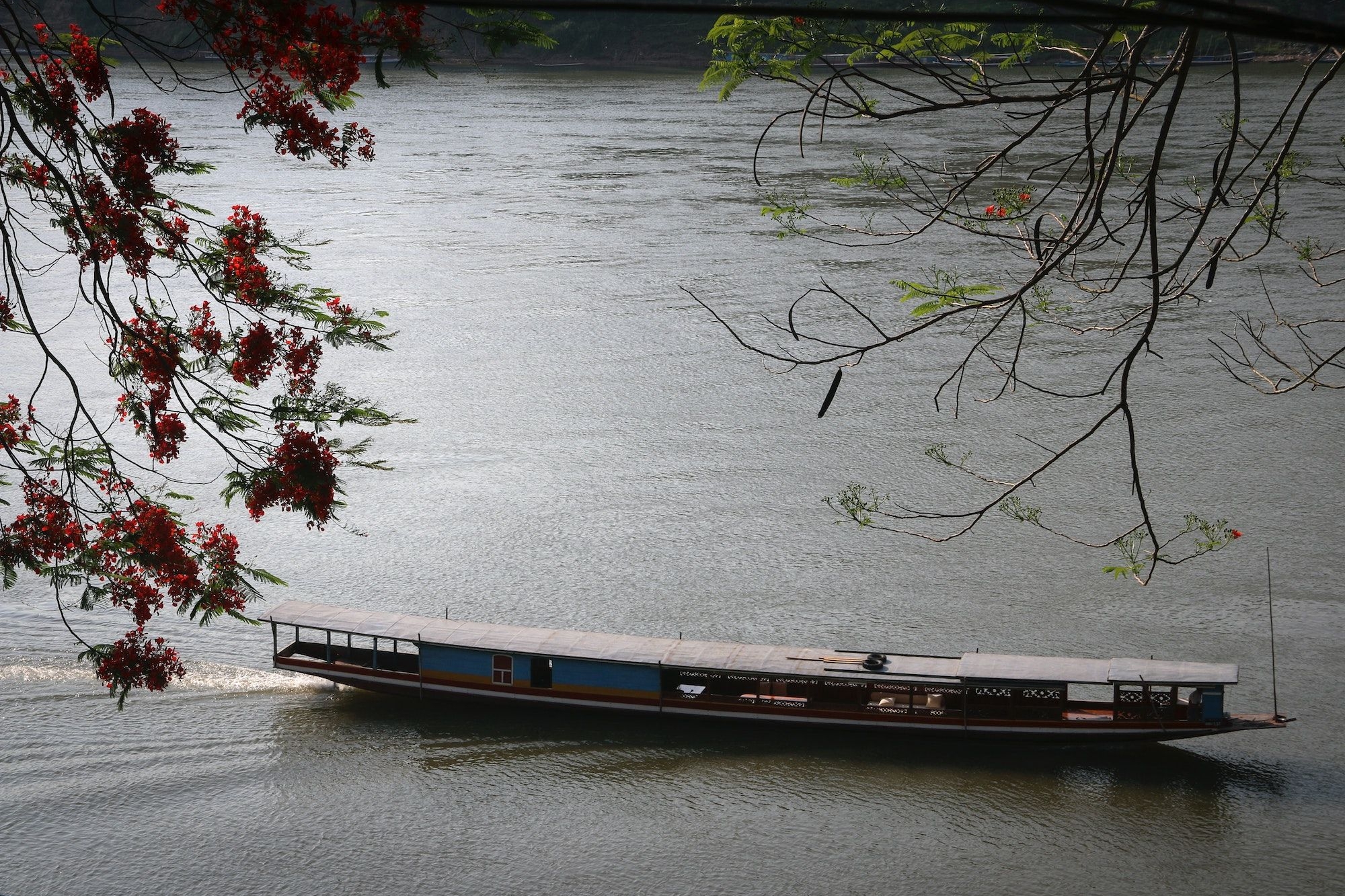 Sleepiest destinations of the world
One of the 'sleepiest destinations of the world'. We invite you to join in at a slow and easy paced trip.
Brief Itinerary
| Day | Place | Hotel | Meals | Distance | Activity |
| --- | --- | --- | --- | --- | --- |
| DAY 1 | Luang Prabang | Avani+ | D | 12km / 7mi | cycling |
| DAY 2 | Luang Prabang | Avani+ | B,L | 40km / 24mi | cycling |
| DAY 3 | Luang Prabang | Avani+ | B,L | 30km / 18mi | cycling |
| DAY 4 | Nong Khiaw | Maison De Nong Khiaw | B,L,D | 60km / 37mi* | cycling |
| DAY 5 | Nong Khiaw 100 Waterfalls Hike | Maison De Nong Khiaw | B,L | | hiking |
| DAY 6 | Oudomxay | Namkat Yorla Pa Resort | B,L,D | 70km / 42mi | cycling |
| DAY 7 | Pakbeng | Pakbeng Lodge | B,L,D | 60km / 36mi* | cycling |
| DAY 8 | Boat to Luang Prabang | | B,L | | |
Detailed Itinerary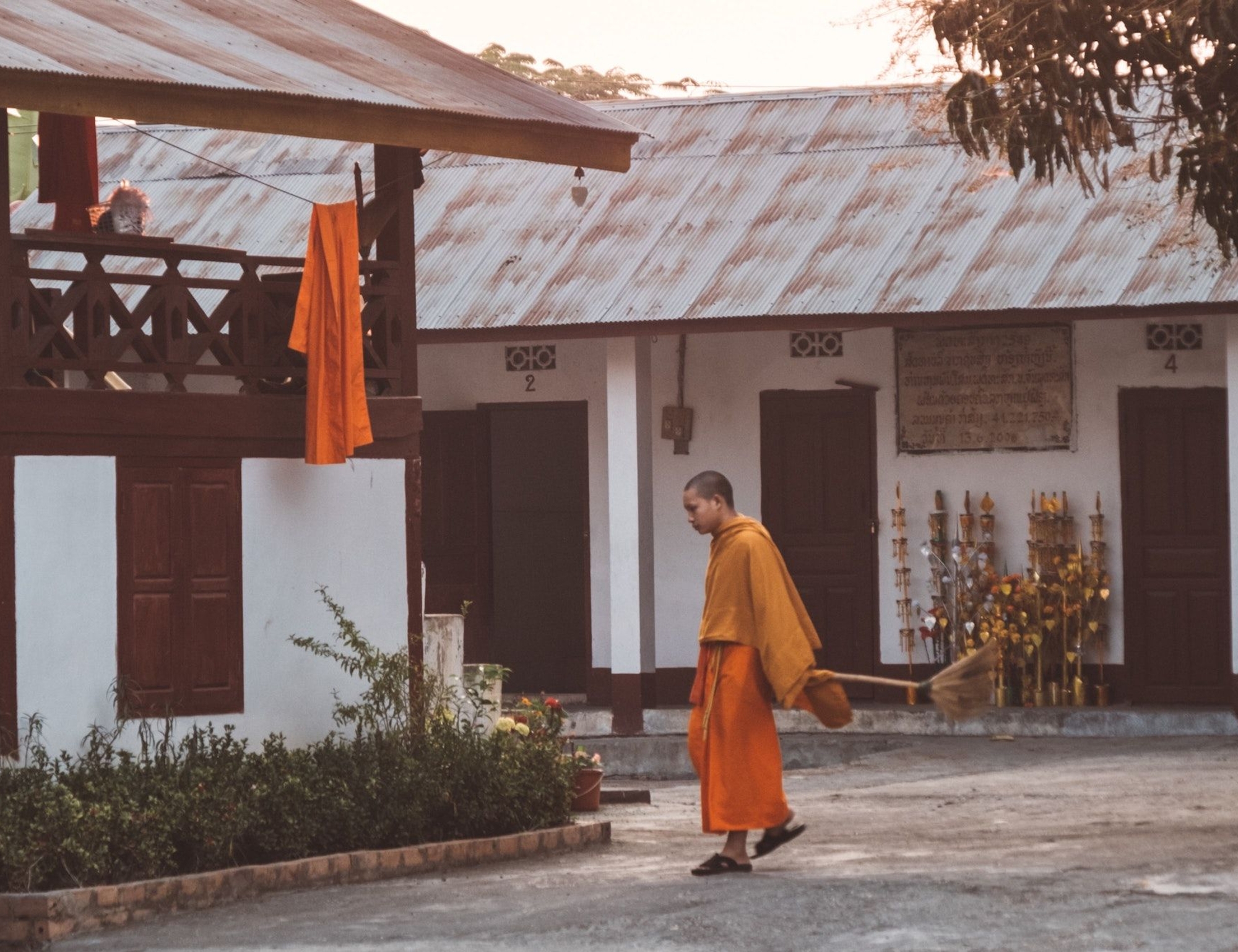 Day 1: Luang Prabang
Arrive at Luang Prabang and meet the trip leader. Check into Avani Hotel, which will be your base for the next three days. Being over 100 years old, Avani as a veritable relic of the city! The boutique hotel synthesizes the original architecture with modern aesthetics to create a charming ambiance for guests. It lies in the old quarter of the town, which means that one is never too far from a walk that will be brimming with historic nuances. After rest and a short orientation, we leave to see the UNESCO world heritage city from the seat of a bicycle. This is a good way to warm up for riding on these roads and also see the most famous sights of Luang Prabang. The city has traces of French architecture as an erstwhile colony but is largely dotted with golden roofed wats (temples) amidst the raw topography of rugged mountains and lush environs. The combination is stunning!
Our guide meets you at your hotel at about 13:00hrs. Begin the afternoon tour by cycling around the old quarter of Luang Prabang, starting at Heuan Chan Heritage House and after to Luang Prabang's National Museum, formerly the Royal Palace. Displayed within is a collection of personal artifacts of the former Laotian Royal Family. Visit nearby Wat Mai – the five-tiered roof epitomizes the graceful Luang Prabang architectural style. Continue cycling along the Mekong River and stop at the hillside temple of Wat That Luang. Take a short walk and visit the ancient stupa called That Dam (the Black Stupa) before biking to Wat Visoun, the oldest living temple in Luang Prabang. Wat Visoun dates back to 1513 and contains a collection of antique wooden Buddha images. Continue along the Nam Khan River to Wat Xieng Thong – often considered to be Luang Prabang's most elegant. The temple is characterized by tiered roofs sweeping low to the ground and the impressive "tree of life" mosaic. Before sunset, cycle back to your hotel on the town's main street, stopping at Wat Sop and Wat Sen along the way.
We meet for dinner back at the hotel and get rested for the exciting week ahead.
Meals:
D
Cycling Distance:
12km / 7mi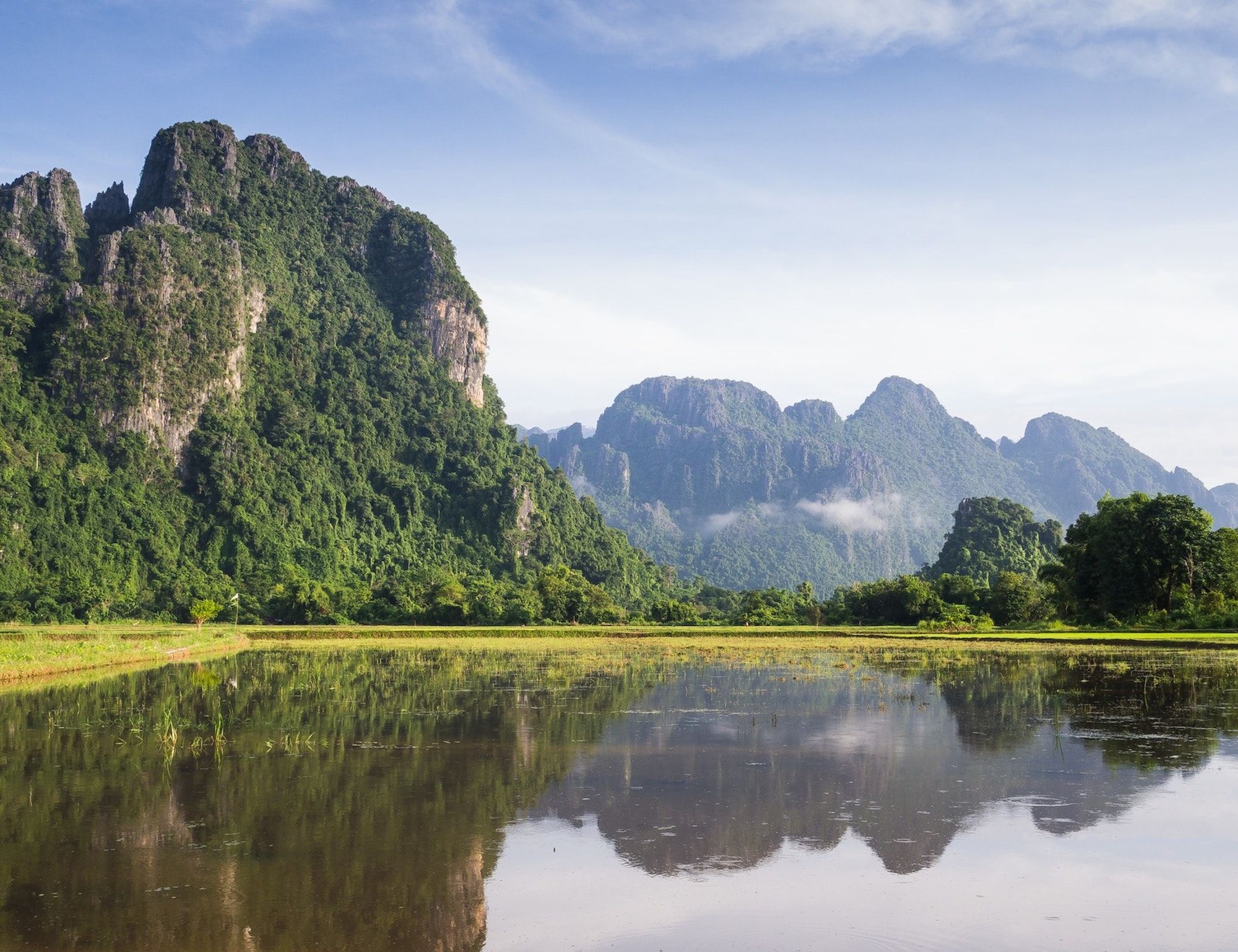 Day 2: Luang Prabang
This day is going to draw you into the spiritual ambiance of Luang Prabang. We wake up as early as 5.30 to offer alms to monks at the giving ceremony. The pious tradition is still followed in the city, and to be a part of it, is truly heartwarming. We get down on our knees and offer rice to red-robed monks who line up on the main street. After this, we head out for a half-day tour to some of the handicraft villages around. The trip takes us to Saa paper village where we get to see local life at close quarters. The locals are very friendly and wouldn't mind inviting you into their homes for a quick chat or showing you their craft from up close. Weaving and handmade papermaking are the main crafts here. You can pick up exquisite shawls and scarves right from the weavers' homes. The colors are riveting!
We continue riding and reach the non-riding elephant experience facility called Chateau Orientale on the banks of the Nam Khan River. Enjoy an elephant experience across the river before lunch by the river. After eating embark on a boat trip upstream to visit Tad Sae Waterfall, a lovely, natural water garden in the jungle. Enjoy a refreshing swim in the clear, cool water before continuing by boat to Ban Aen where we mount your bicycles for an enjoyable ride back to Luang Prabang, passing through rolling hills and local villages along the way.
Later in the evening, we make our way to Mount Phousi for a beautiful tinge of orange in the sky and seeing the city bathe in the warm glow of the setting sun. This is an easy hike but is optional in case you are not feeling up to it, though we highly recommend it.
Today's dinner is on your own. There are numerous riverside restaurants with a mix of French and Lao cuisine. We can recommend one as per your taste and liking.
Meals:
B,L
Cycling Distance:
40km / 24mi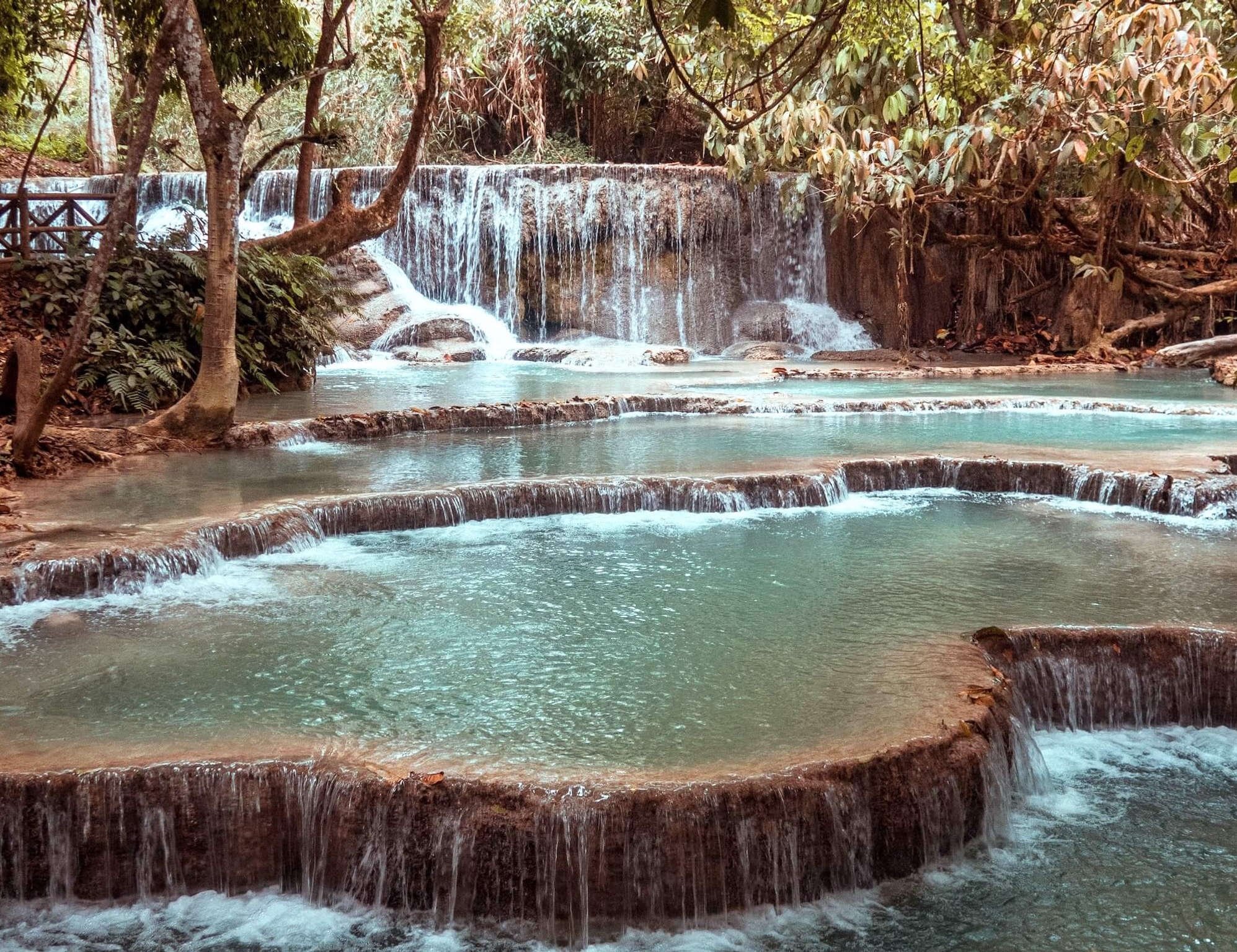 Day 3: Luang Prabang
Today we stretch ourselves slightly further and ride for a total of 40kms. Our main destination for the day is the hidden waterfall, Kung Si. Tucked away between thick foliage, the famous waterfall feels like a secret. The aquamarine waters are tempting, so do carry your swimwear along.
On our way to the waterfalls, we make a stop at the Great Project (called the Laos Buffalo Dairy), a project designed to educate the Rural communities in Animal Husbandry and basic animal health care. They rent the Cattle from the villagers to enable a secure income for the community and use the milk to create Cheese and Spectacular Ice Cream. Lunch is served Picnic style here and there is also an opportunity to get an unforgettable 'Buffalo Selfie'.
We also hike to the top of the falls. We spend until afternoon here and return to the town by a long-tail boat skirting the spectacular Mekong river. In the evening, we recommend visiting the famous night handicraft market. Shopping for local delights can be great fun, so enjoy your shopping time for the day.
Today's dinner is on your own. We suggest eating dinner at a street stall so you can dig into the local delicacies. street stall so you can dig into the local delicacies. Lao food can be very meat-oriented. Chopped meat, chicken, or duck are common, but there are plenty of options for vegetarians as well. Our personal recommendation is the light and tasty Tam Mak houng or papaya salad, which is made from sliced raw papaya, garlic, chilly, peanuts, sugar, fermented fish sauce, and lime juice.
Meals:
B,L
Cycling Distance:
30km / 18mi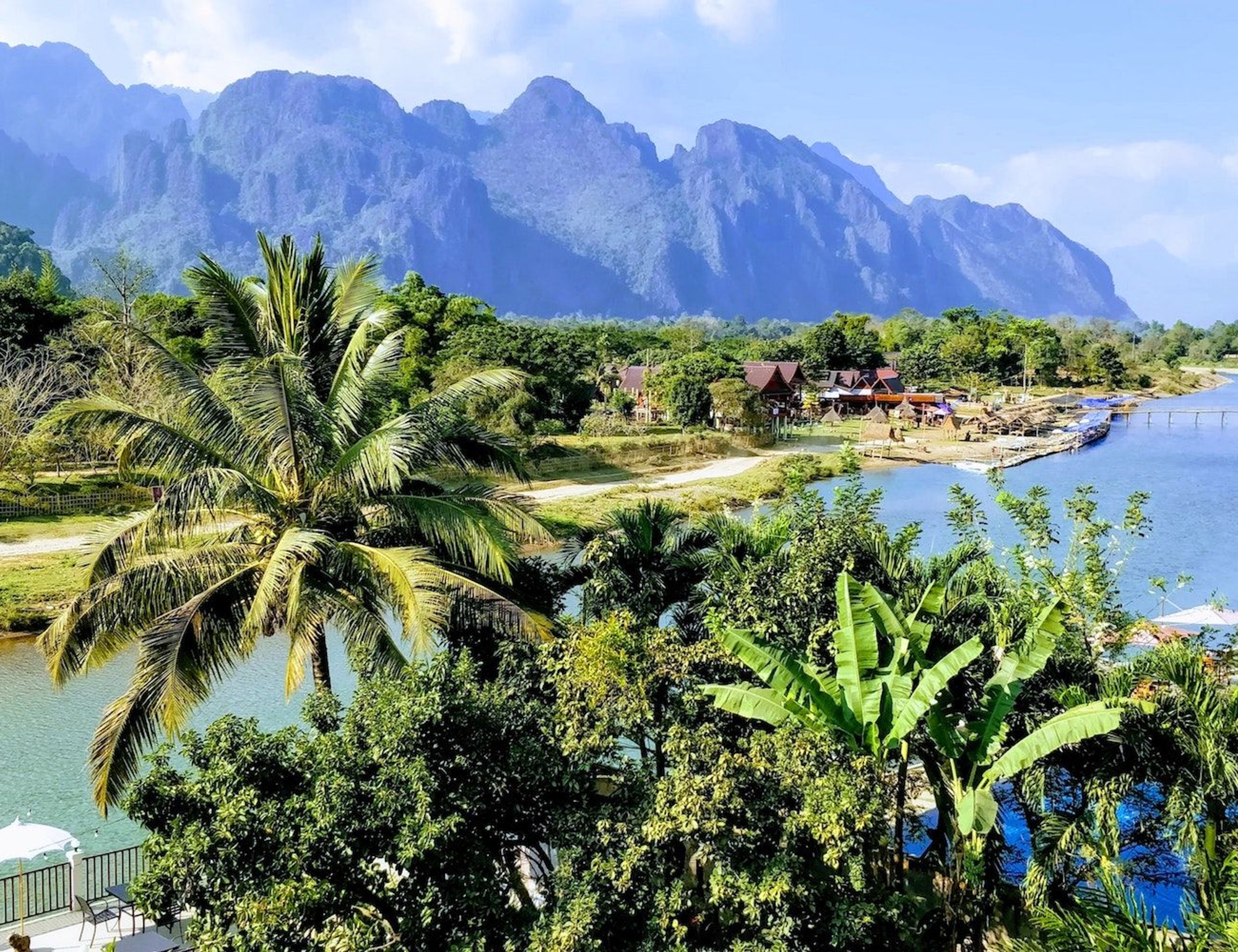 Day 4: Nong Khiaw
We start early to get out of the busy area and reach the Nam Ou River Bridge. We get on the bike here and ride along the undulating countryside along the Nam Pak River to a small settlement called Nong Khiaw. This is truly a place, which will be appreciated by the offbeat traveler. Nong Khiaw is best known for its idyllic setting with forests, mountains, and abundant greenery.
Meals:
B,L,D
Cycling Distance:
60km / 37mi*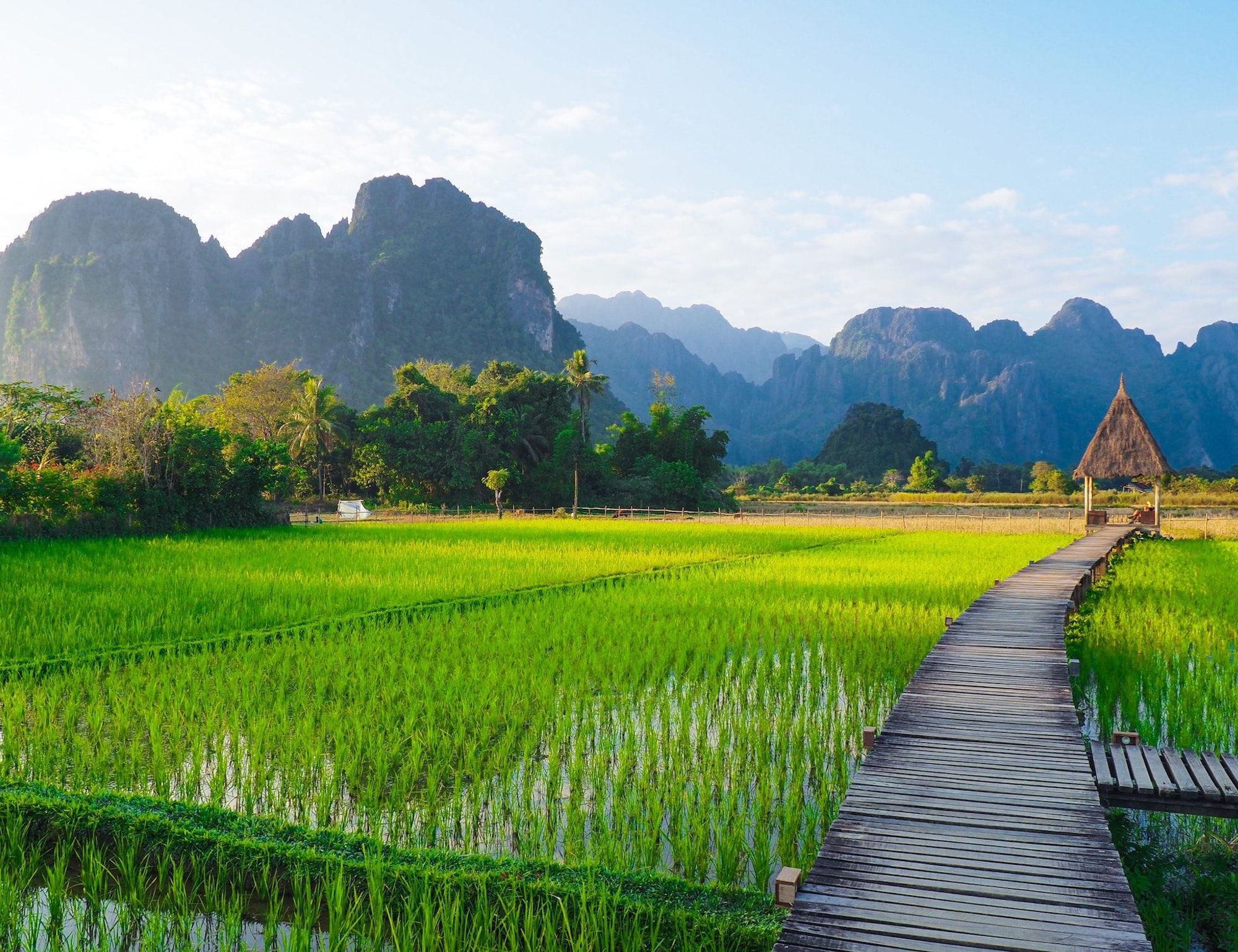 Day 5: Nong Khiaw 100 Waterfalls Hike
Start the day with a boat ride on the Nam Ou to a small village where you can learn about the way of life along this river. Then trek through small streams and rice paddies to reach the base of the 100 waterfalls. For the next few hours, you will see only water and jungle and hear the sound of clear waterfall cascades. The pools around you are very inviting for a refreshing splash.
Our guide leads us through the cascades and prepares a local-style lunch on the falls in the middle of it all. Then take a small villagers' trail from the top of the falls back down into the valley; along the way, you'll take in views of the landscapes of the Nam Ou Valley.
Hiking back to the village, we'll have more time to observe the daily life here before heading back by a small boat to Nong Khiaw.
Meals:
B,L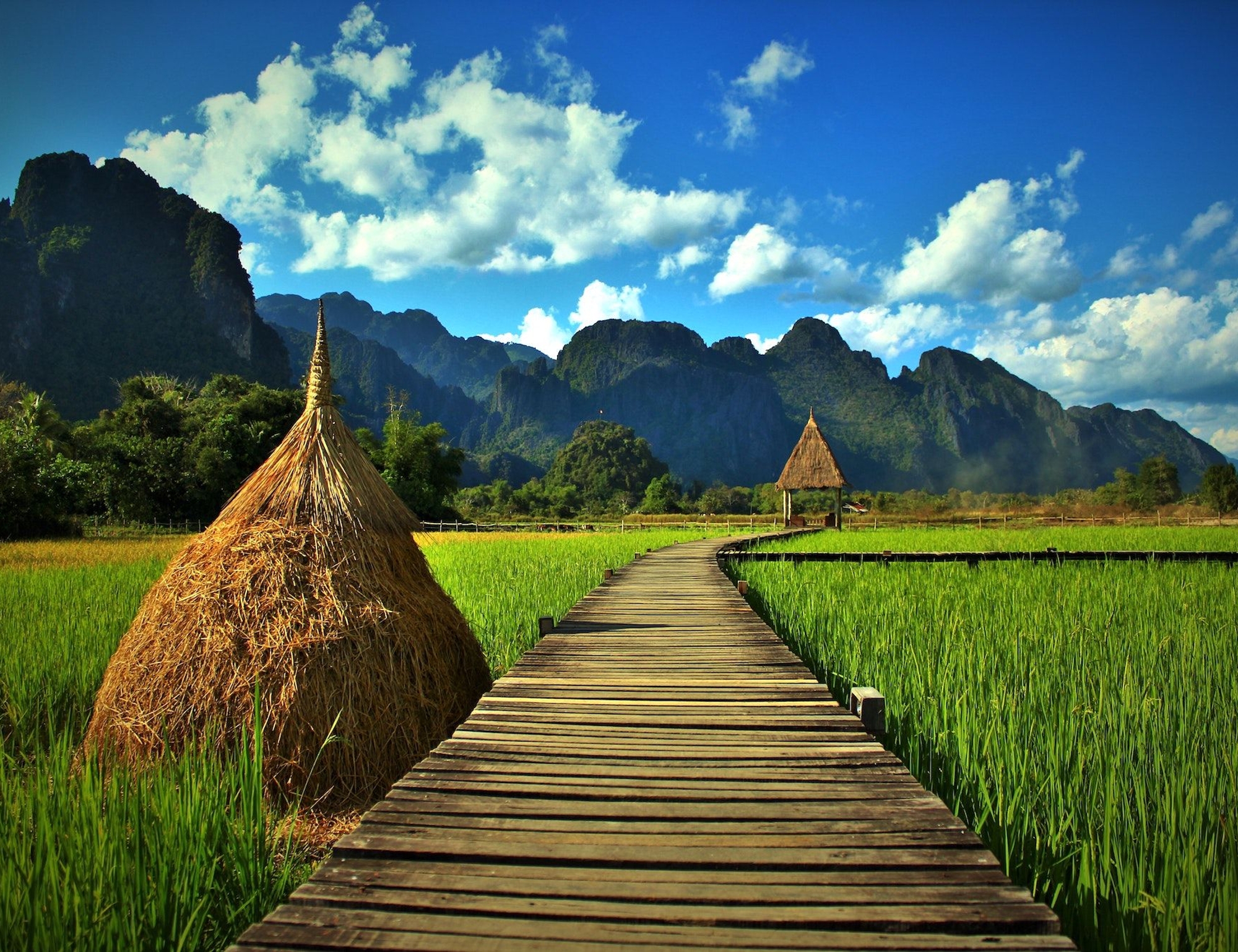 Day 6: Oudomxay
The jaw-dropping landscape keeps you hooked to this for a long, till it's time to hop on a bike and pedal along to Oudomxay. This part of the journey can be slightly challenging, but the backup van is close at hand and you can choose to use that at any time.
We settle into the rustic Namkat Yorla Pa Resort. Enjoy great views and local food right at the resort, or we can step out in the evening for some local fare.
Meals:
B,L,D
Cycling Distance:
70km / 42mi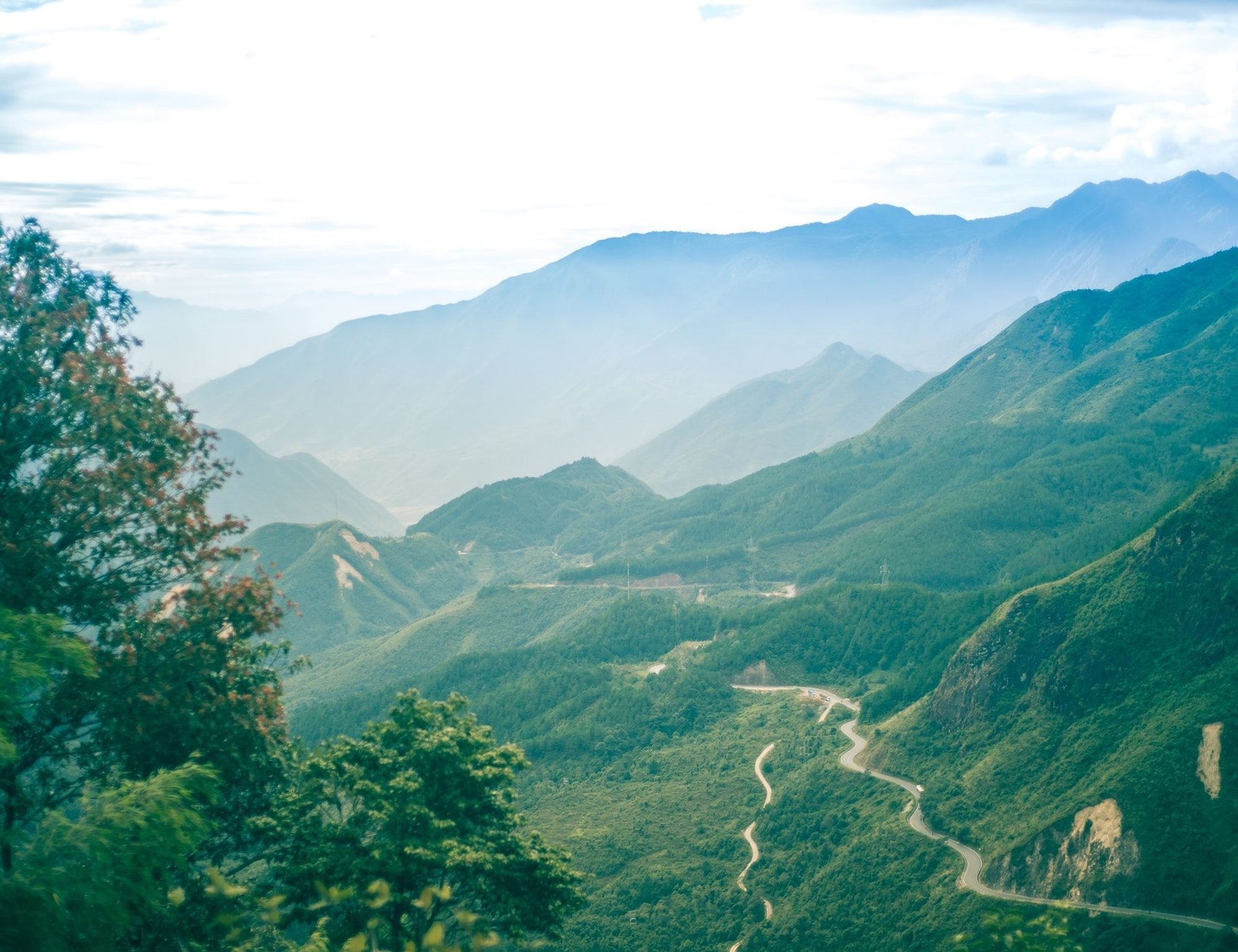 Day 7: Pakbeng
Today cycling is through one of the most spectacular stretches of long mountain road. The road is dotted with small villages and this is a great way to get acquainted with local rural life. The dramatic limestone and green rolling hills formations make for great photographic opportunities. There will be plenty of opportunities to stop and admire the wonderful scenery. The journey passes through beautiful mountain ranges and Hmong hill tribe villages.
A good day on the saddle. Post-lunch, we take a shuttle transfer of about 2 to 2:30hrs for the last section to Pakbeng.
Meals:
B,L,D
Cycling Distance:
60km / 36mi*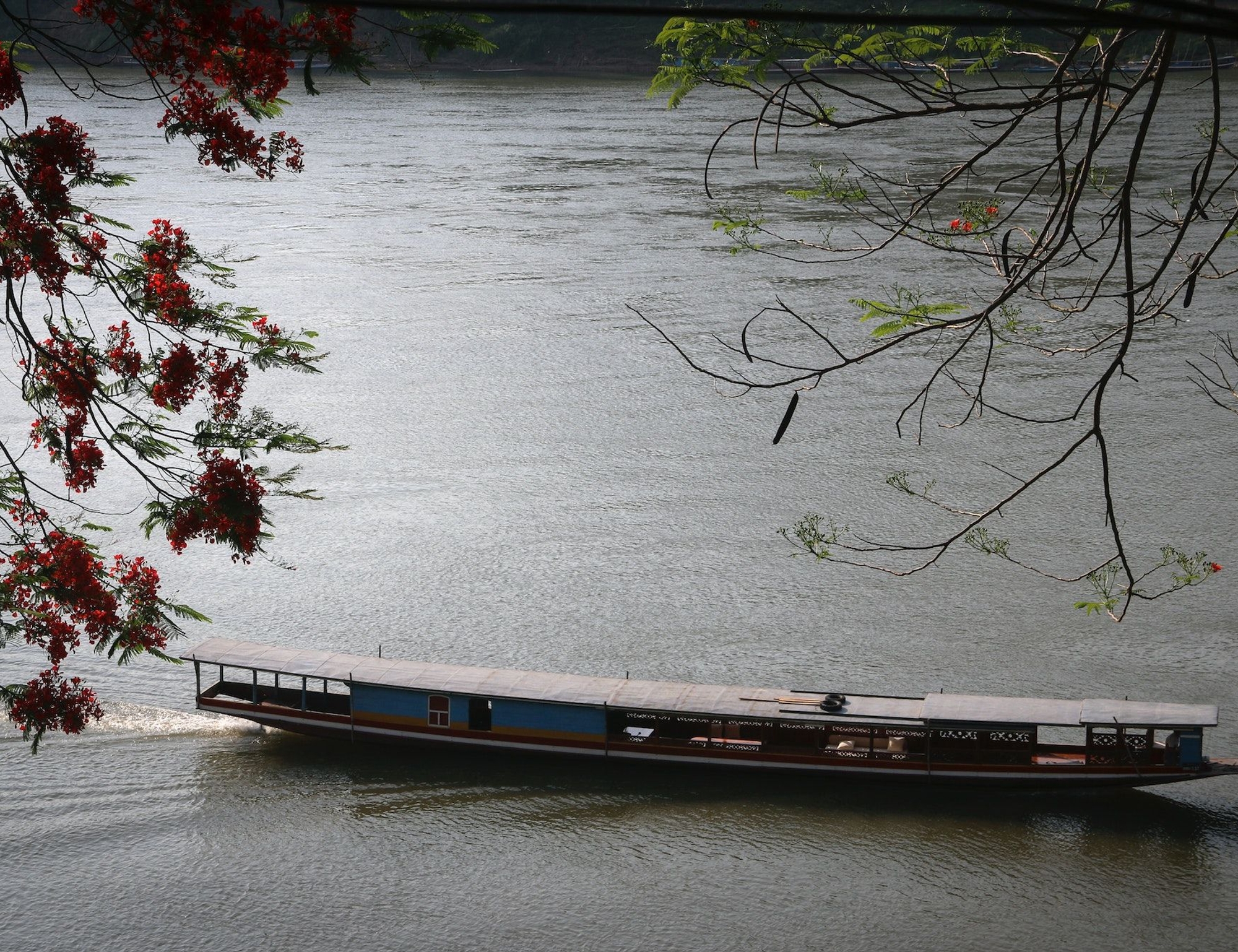 Day 8: Boat to Luang Prabang
We transfer to the pier and board a huge traditional Mekong riverboat for the upstream cruise to Pak Beng, departure at 08.00 hrs. This portion of the Mekong is very remote, which sometimes allows glimpses of wildlife in the extensive forests. There are occasional stops at local hill tribe villages to meet people and observe life on the riverside. Lunch will be served on a boat and you may have the opportunity to stop and visit local villages. Enjoy the lovely scenery along both sides of the Mekong cruising to today's destination.
Arrive at Luang Prabang and make arrangements as per our onward travel plans.
Meals:
B,L
Map
Accommodation
Each hotel has been thoughtfully selected to ensure an exceptional and memorable experience for guests.
Avani+
Escape to Luang Prabang's ultimate oasis of relaxation, where history meets modern luxury at Avani+ Hotel - perfectly situated in the heart of the old town, surrounded by temples, vibrant cafes, and bustling markets, offering an unforgettable stay amidst the beauty and serenity of Laos.
Dates and Prices
Note:
Our base pricing is in USD. However, we can also quote in AUD, GBP, CAD, and EUR, and you can pay in the same. Please write us.
---
Couldn't find a trip with convenient dates?
Open your date as a join-in tour or customize further as private one.
We offer private departures on almost all our itineraries, and for groups of four or more, they cost the same as our standard trips!
---
Essential Info
Inclusions
LODGING
All hotels as mentioned in the tour details or similar (subject to availability).
trip leader
Expert Trip Leader(s) who look after your every need and add meaning to your vacation.
bike
Immaculately maintained bike with helmet, suited to a terrain.
shuttle
A Van support follows the group of riders and carries all belongings.
meals
Meals as per itinerary. Guests are given the opportunity to dine on their own so that they discover a location independently.
refreshments
Refreshments and mineral water while cycling.
entrance
Entrance fees to most of the monuments and temples.
E-bikes
E-bikes are available on this trip at a surcharge. Please send a note to your tour consultant to book one.
Exclusions
Airport pickup and drop
We recommend to book direclty from airport or hotel.
meals
Some meals may not be included. Please check your itinerary.
Beverages
Beverages such as alcohol, tea, coffee, juice at a hotel or restaurant.
Bikes
When you have a road and the thrill of a journey ahead of you, it's imperative to have a good bike to enjoy it. Our fleet majorly consist of the below bikes as a part of this tour. However, sometimes due to height or availability constraints, we may provide a different but similar quality bike.
hybrid
Included in your trip price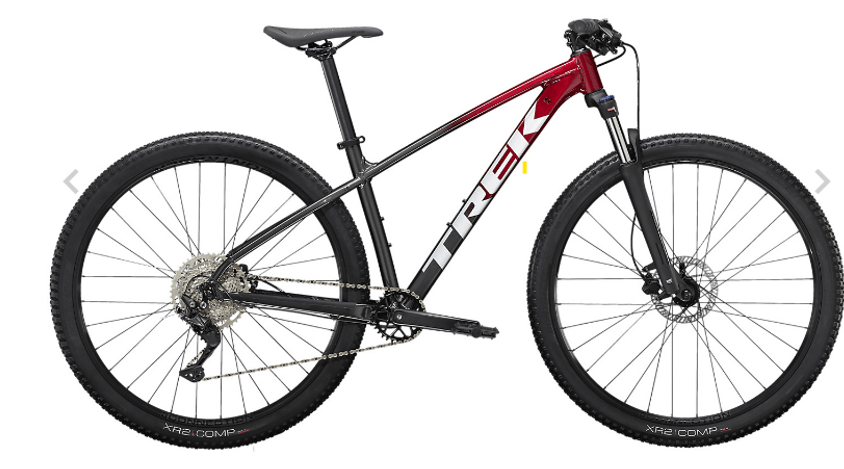 mountain
Included in your trip price
mountain
Included in your trip price
Trek 3900 Ebike (conversion kit)
ebike
Weather
The dry season runs from late October until May; June to October is characterized by heavy rainfall. The southwest monsoon generally arrives around May/July. Until July, rain comes mostly in the form of short downpours for an hour or so, clearing the way for clear skies. After July, rain reaches peak levels in August and September.
Though the weather can be sometimes quite unpleasant from June to September, there are benefits to this season. Nature comes to life, dry brown grasslands and forests become lush and green, the farmers welcome the season with full productivity, and lakes and rivers as well as waterfalls fill up and become stronger than ever.
Our cycling tours in Northern Laos majorly run from September to mid-April with Oct to Feb being the best months having low humidity and plenty of sunshine. Mar to May is characterized by high humidity and some smokey skies due to slash-and-burn agriculture.
Visa
Tourist visas on arrival are available at certain ports of entry, and generally permit a stay of 30 days. At certain ports of entry, you can use an eVisa. See laoevisa.gov.la for more information. We recommend applying for e-visa in advance as that expedites the immigration process on arrival at Laos airport.
Reviews from our friends
Nicole & Andrew from US
5.0
phenomenal trip
Dao was phenomenal, the best guide I have ever had in all of my travels. He made us feel like family and taught us so much about Laos, the people, cuisine etc. It was a very special trip because of him. Driver mr dan was great too! Thank you Pankaj, we had a fantastic time and appreciate all you did to organize and make the trip special for us. Please keep us posted on any additional trips that you add! Happy new year!