Royal Rajasthan Premiere Bike Tour
---
Overview
Rajasthan offers the 'quintessential' India experience with its vivacious energy of colors, dances, history, and warm hospitality. Let the Thar Desert amaze you with its diverse topography shifting from pale brown sand dunes to the green Aravalis, dotted with quaint villages, architectural marvels in forts & palaces, and food that will keep your palate tingling for a long time. India's pride on the travel map of the world, the unique landscape, and architectural marvels of Rajasthan provide the most exotic backdrop to your cycling vacation!
Avg. dist. cycled
50km or 30mi
Group size
Min. 2, Max. 14
Highlights
Countryside cycling
Ride past undulating sand dunes flanked by the Aravalli mountain range and the typical rural countryside
Itinerary
Brief Itinerary
| Day | Place | Hotel | Meals | Distance | Activity |
| --- | --- | --- | --- | --- | --- |
| DAY 1 | Udaipur | Bujera Fort | D | | |
| DAY 2 | Kumbhalgarh | The Aodhi* | B,L,D | 50km / 30mi | cycling |
| DAY 3 | Narlai | Rawla Narlai | B,L,D | 50km / 30mi | cycling |
| DAY 4 | CHANOD | Chanod Garh | B,L,D | 60km / 36mi | cycling |
| DAY 5 | Jodhpur | Raas | B,L | 45km / 27mi | cycling |
| DAY 6 | Departure | | B | | |
Accommodation on this trip - Premiere Inns
Premiere accommodations include some of the most prestigious hotels. These hotels have won accolades and awards or are acclaimed as 'the best by credible publications such as Condé Nast Traveler and Travel+Leisure. Heritage properties, art décor contemporary places, or chic boutique stays that are a notch above the rest are a part of this list.
Restored palaces, resorts on the edge of the backwaters, or a plush Swiss tent in the middle of the jungle - these inns provide an unforgettable experience. Expect a spa experience, swimming pools, and excellent service. The above brief itinerary gives you a clickable list of hotels for your perusal.
Detailed Itinerary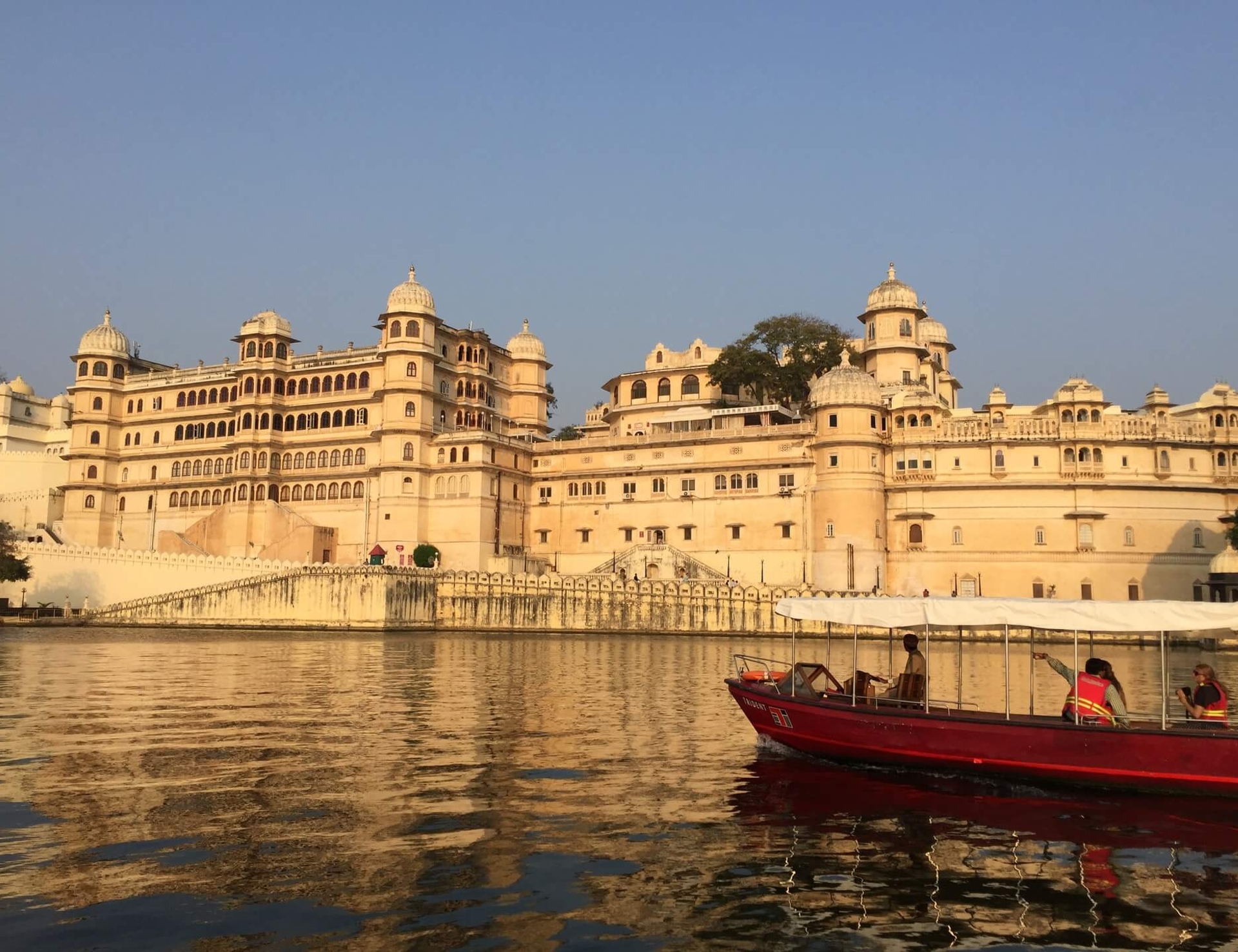 Day 1: Udaipur
Udaipur can be a jumble of sights, sounds, and smells but is an absolute must for travelers. On the first day of the trip, our guide meets you at your hotel at 13:00, and we cover some Udaipur highlights – a guided walk of the City Palace. The City Palace is enclosed in a large complex on the banks of Lake Pichola and has many more palaces inside.
Enjoy walking the old market and eating street food at Paliwal Kachori, take an amazing cooking class with Sashi, or a boat ride on Pichola Lake.
Alternatively, we can also explore the 'City of lakes' on a short half-day-long loop on a bike, swerving to untreaded nooks and corners through the beautiful rural countryside and absorbing this historic capital of Mewar at your own pace. A colorful landscape unfolds here with brightly clothed village women. Here you can see a typical hamlet of Rajasthan with people busy with farming. We get to discover kingfisher, langoors, cows, goats, and peacocks along the way, and a chance to take a refreshing ride around Lake Pichola, Fateh Sagar, and Badi Lake.
We convene tonight at the dinner, next to the beautiful lake, to celebrate the start of a fabulous cycling journey.
Meals:
D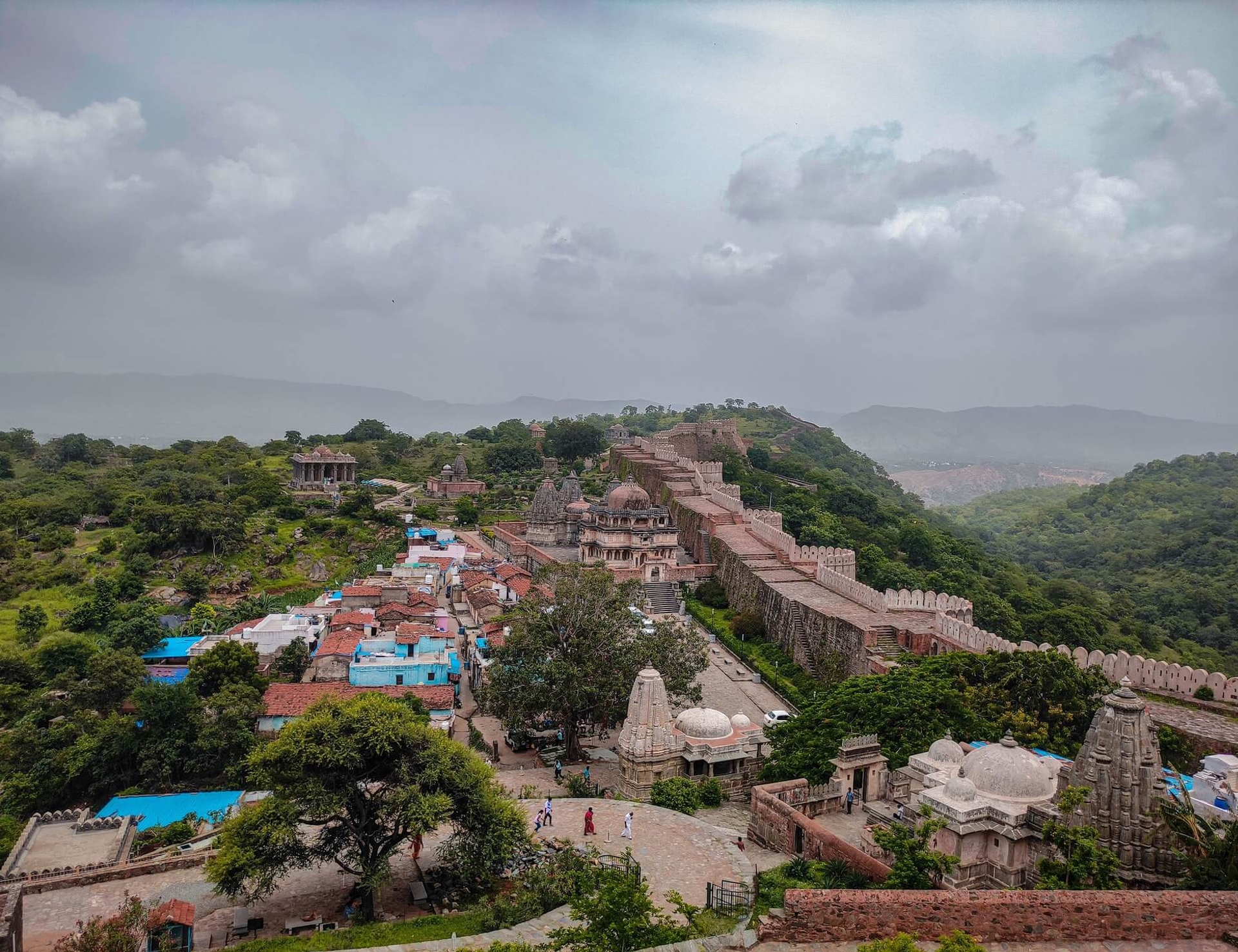 Day 2: Kumbhalgarh
On this day we start early and take a shuttle to a short distance and ride to the next town of Kumbhalgarh. This is the most scenic ride of the trip as you climb the Aravalis, maneuver through the rolling hills, and cycle past a Dhonk (Anogeissus Pendula) strewn topography. The plant adds a spattering of colour to the pale brown stretches along the way. Kumbalgarh is yet another historic fort town from the 15th century.
In the evening, we climb the rugged Kumbalgarh Fort, surrounded by a 35km wall with 365 temples within.
Meals:
B,L,D
Cycling Distance:
50km / 30mi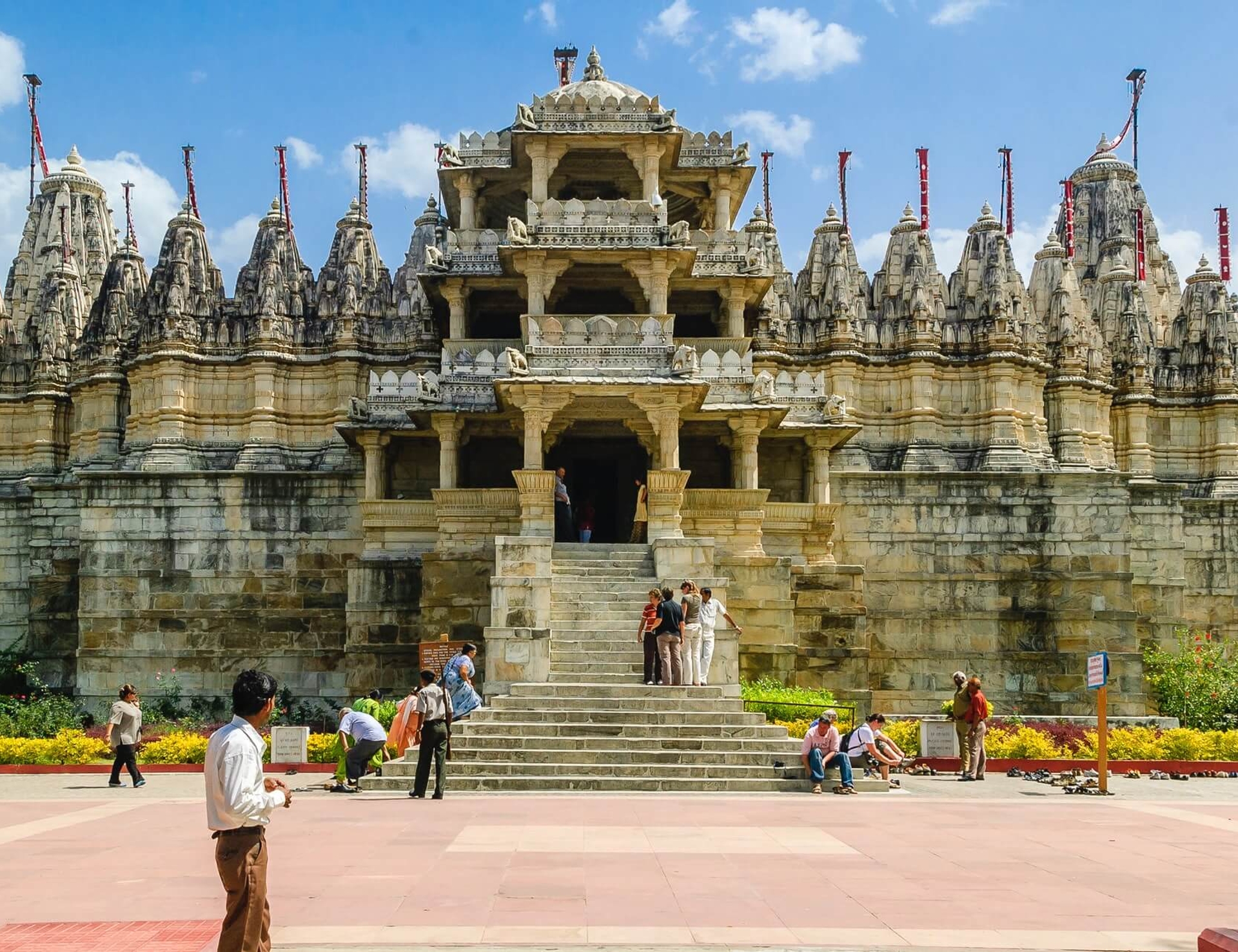 Day 3: Narlai
This morning, we hop onto the bikes and make our way to Narlai, through the dense forest and undulating stretches. This is the most wholesome ride of the tour as you get a balanced day of different topographies.
En route, we visit Ranakpur Jain Temple. Jainism is an ancient religion from India that teaches that the way to liberation and bliss is to live a life of harmlessness and renunciation. This architectural wonder in white marble is known for exquisitely carved 1444 pillars.
Narlai lies at the epicenter of an area rich with more than 400 historic temples. Arriving in Narlai, settle into the Rawla Narlai, an enchanting 17th-century mansion. Formerly used as a hunting lodge, it is located in the heart of a typical rustic Rajasthan village amidst a craggy rockscape interjected with village houses. Rawla boasts of an esteemed guest list with the likes of Mick Jagger and Francesco Clement having stayed here.
The hotel lies under the shadow of Elephant Hill, a massive granite monolith. In the evening, climb the 700 steps to the top for a panorama over lakes, fields and forests, and beautiful sunset.
Meals:
B,L,D
Cycling Distance:
50km / 30mi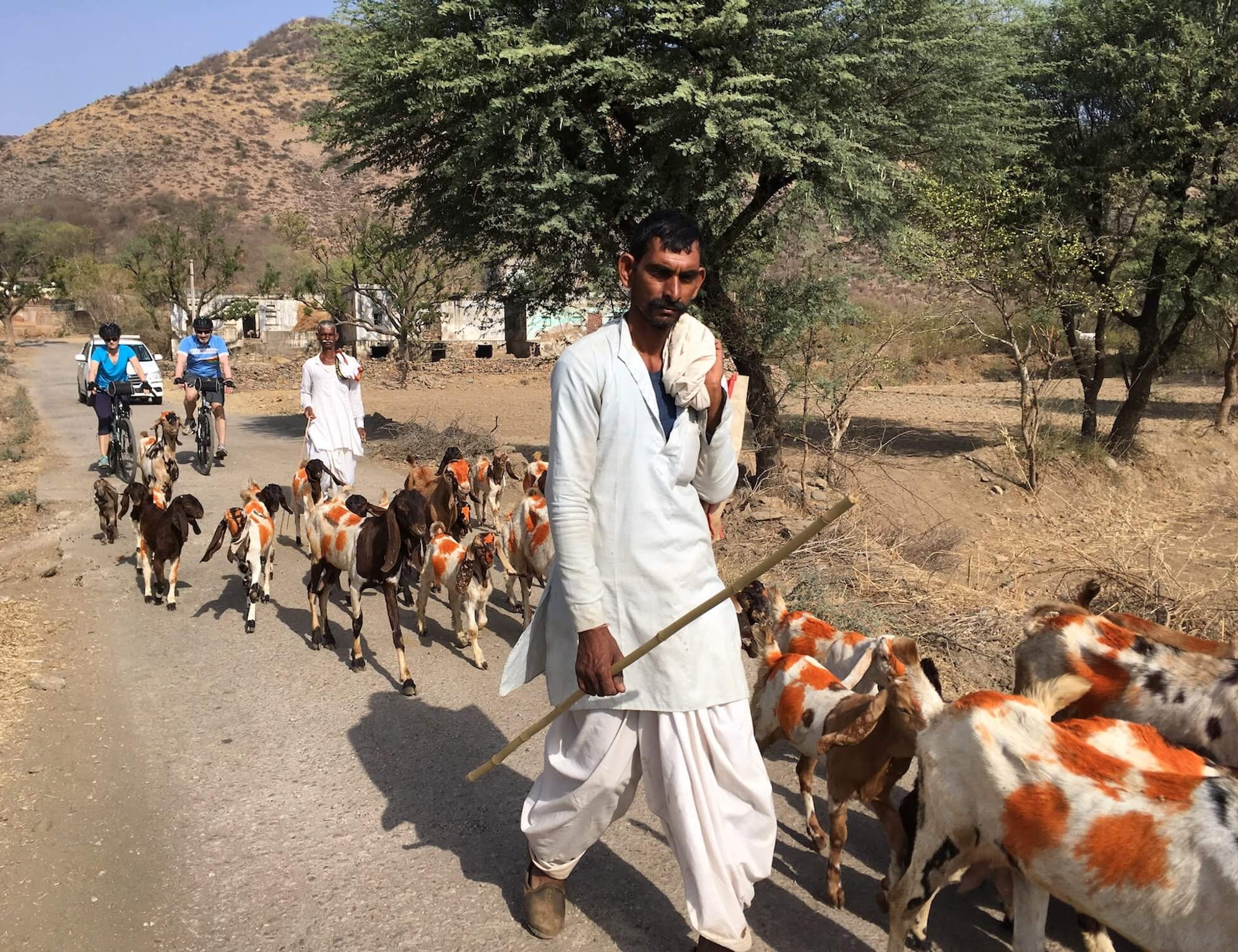 Day 4: CHANOD
We start cycling early this day across lush millet vegetation and carpets of yellow mustard fields. The ride remains largely flat. You can enjoy the vistas with ease and look forward to your stay at the Chanoud.
Meals:
B,L,D
Cycling Distance:
60km / 36mi
Day 5: Jodhpur
On this day we cycle to Jodhpur along a beautiful route that, despite the barren landscape is known to support a surprising diversity of fauna. En route, you may spot animals like deer, blackbucks, camels, and blur bulls as you ride past swaying masses of yellow mustard and wheat.
Later we take a shuttle and arrive at Jodhpur, the second-largest city of Rajasthan, and have earned the moniker of 'Sun City' for its bright clear skies and sunny weather. Notice how a large number of houses here are blue in colour – a striking contrast to the pale sandy color of the city. The towering Mehrangarh Fort, a key highlight of Jodhpur, looms over the city from a small hill and can be seen from everywhere. In the afternoon, we explore the magnificent 15th-century Mehrangarh fort built by Maharaja Man Singh. Clutching onto a 100 feet perpendicular cliff, the fort epitomizes the majestic history of Rajasthan. One of the best-preserved forts of India, it is replete with antiques, artifacts, palanquins, and intricate carvings spread over the period rooms and galleries. The fort expands over 5kms on top of the hill. So colossal are its proportions that Rudyard Kipling called it "the work of giants".
In the evening, you can venture out into the markets on your own. The narrow market streets splashed with colour in the form of bright textiles, silver jewelry, ethnic bags and more – a classic taste of Rajasthan's vibrant culture.
Here we have chosen one of the most architecturally delightful hotels at Jodhpur, to fill your journey with complete immersion in history and a charming slice of Rajasthan's grandeur, at the Raas Hotel. Winding through the quaint streets of the city, the hotel comes as a pleasant luxurious oasis in the jumble of houses and markets – undoubtedly an authentic location for you to get inducted into the Rajasthan culture. Check-in and relax in this perfect synthesis of contemporary designs, modern facilities, and the old-world charm of Jodhpur – you can see the famous Mehrangarh Fort from every room here.
Meals:
B,L
Cycling Distance:
45km / 27mi
Day 6: Departure
Depart as per your onward travel plans.
Meals:
B
Dates and Prices
NOTE:
Our base pricing is in USD. However, we can also quote in AUD, GBP, CAD, and EUR, and you can pay in the same. Please write us.
---
Couldn't find a trip with convenient dates?
Open your date as a join-in tour or customize further as private one.
We offer private departures on almost all our itineraries, and for groups of four or more, they cost the same as our standard trips!
---
Essential Info
Inclusions
LODGING
All hotels as mentioned in the tour details (subject to availability). All options are personally reviewed.
trip leader
Expert Trip Leader(s) who look after your every need and add meaning to your vacation.
bike
Immaculately maintained bike with helmet, suited to a terrain.
shuttle
A Van support that follows the group of riders and carries all belongings.
meals
Meals as per itinerary. Guests are given the opportunity to dine on their own so that they discover a location independently.
refreshments
Refreshments and mineral water while cycling.
entrance
Entrance fees to most of the monuments and temples.
E-bikes
E-bikes are available on this trip at a surcharge. Please send a note to your tour consultant to book one.
Exclusions
Airport pickup and drop
We recommend to book direclty from airport or hotel.
meals
Some meals may not be included. Please check your itinerary.
Beverages
Beverages such as alcohol, tea, coffee, juice at a hotel or restaurant.
Reviews from our friends
changes perspective
We are home and every day remembering things we enjoyed about our bicycle trip. Thanks again for everything you did to make it great for us. As your sign on the office in Udaipur says, it "changes perspective," and it will stick with us for a lifetime. Rajasthan was so much more (beautiful, lively, crazy, stunning, peaceful, rural, mesmerizing, etc) than we imagined. Definitely "art of the bicycle trip."