South to the Sea Bike Tour
---
Overview
The land of the majestic Angkor Wat and home to some of the most pristine and untouched sceneries on earth, Cambodia is sure to leave you wonderstruck. Ride through the spectacular countryside under blue skies, swim around riverine islands and along virgin beaches on your journey through Cambodia. Enjoy pulsating history stored in its vivid monuments, local culture rife on its river banks, warm and welcoming people, and awesome food.
Start
Phnom Penh | 07:30hrs
Finish
Sihanoukville | 12:00hrs
Avg. dist. cycled
50km or 30mi
Highlights
Captivating beaches
The relatively unknown beaches of Kep, where you can swim in the warm clear waters
Brief Itinerary
Detailed Itinerary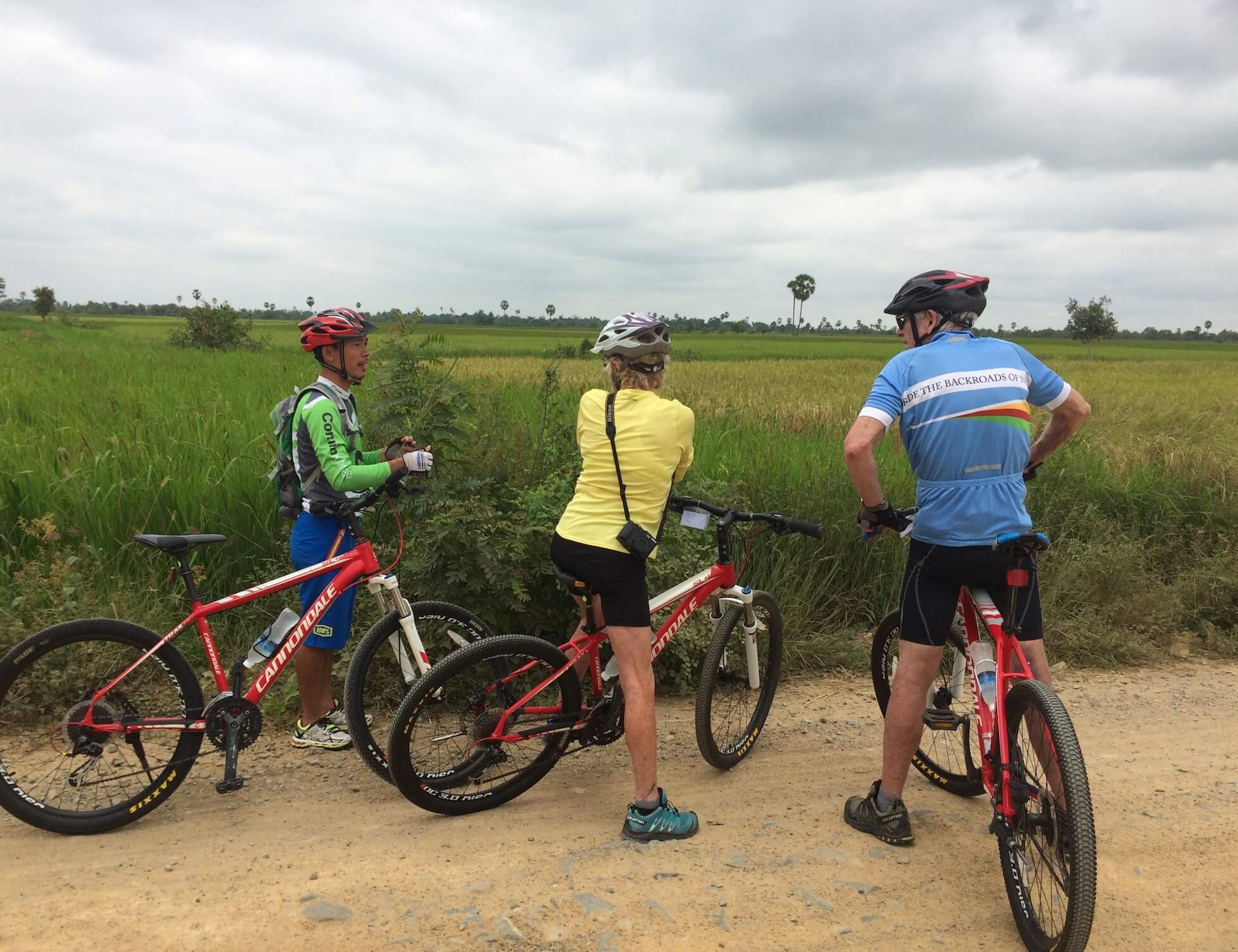 Day 1: Phnom Penh to Ta Keo
Our guide meets you at your hotel in Phnom Penh at about 08:00hrs.
Get up early and start with a shuttle transfer to Killing Fields. An essential on the itinerary due to the historic hook and for understanding the country better, we walk through the killing fields. Experience the painful story of a country that leads to the death of 2 million Cambodian people between 1974-1979. A short shuttle transfer from here brings us to Angkor era Ta Prohm temple. Take a quick tour of the temple and get ready for a ride towards Phnom Chiso Temple, situated on the top of a hill with 400 steps to climb up. Continue riding towards Takeo past some amazing lake scenery surrounded by paddy fields and lotus farms. Ta Keo is a small town situated amidst beautiful lakes. Enjoy the rest of the evening walking around the town.
Meals:
L,D
Cycling Distance:
60km / 37mi*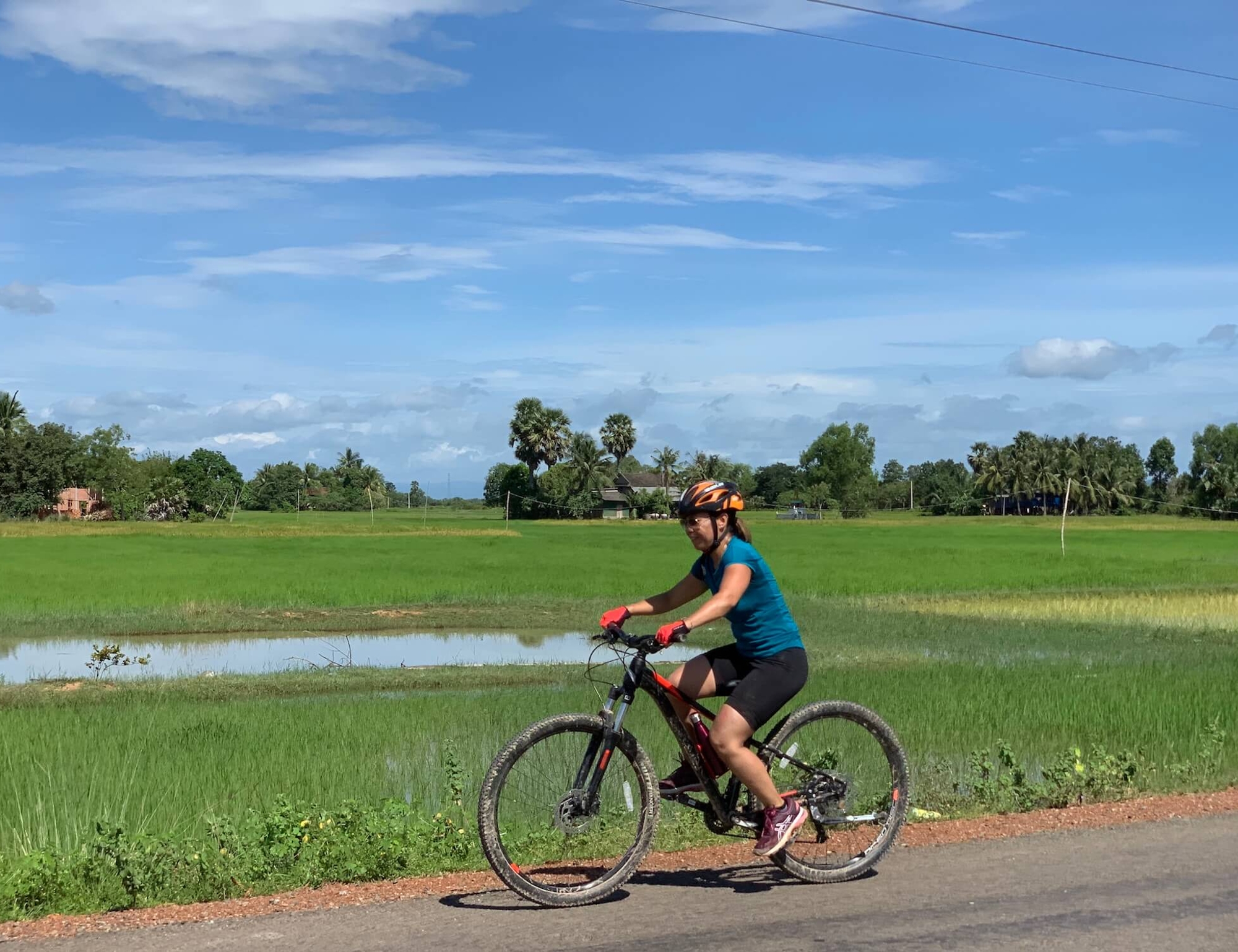 Day 2: Kep
We gradually amp up the tempo by picking up on the kilometers. Today, it's a long ride to Kep and we end the ride with a short transfer. The topography that will be forever etched in your mind is that of a sprawling countryside of fields, palm trees, and lotus farms. We ride slowly, taking pictures along the way and taking in the stunning vistas.
Kep's seaside front is the perfect place for weary legs to feel rejuvenated. Earthy colours and breezy wind make for the perfect ambiance to unwind.
Meals:
B,L
Cycling Distance:
50km / 30mi*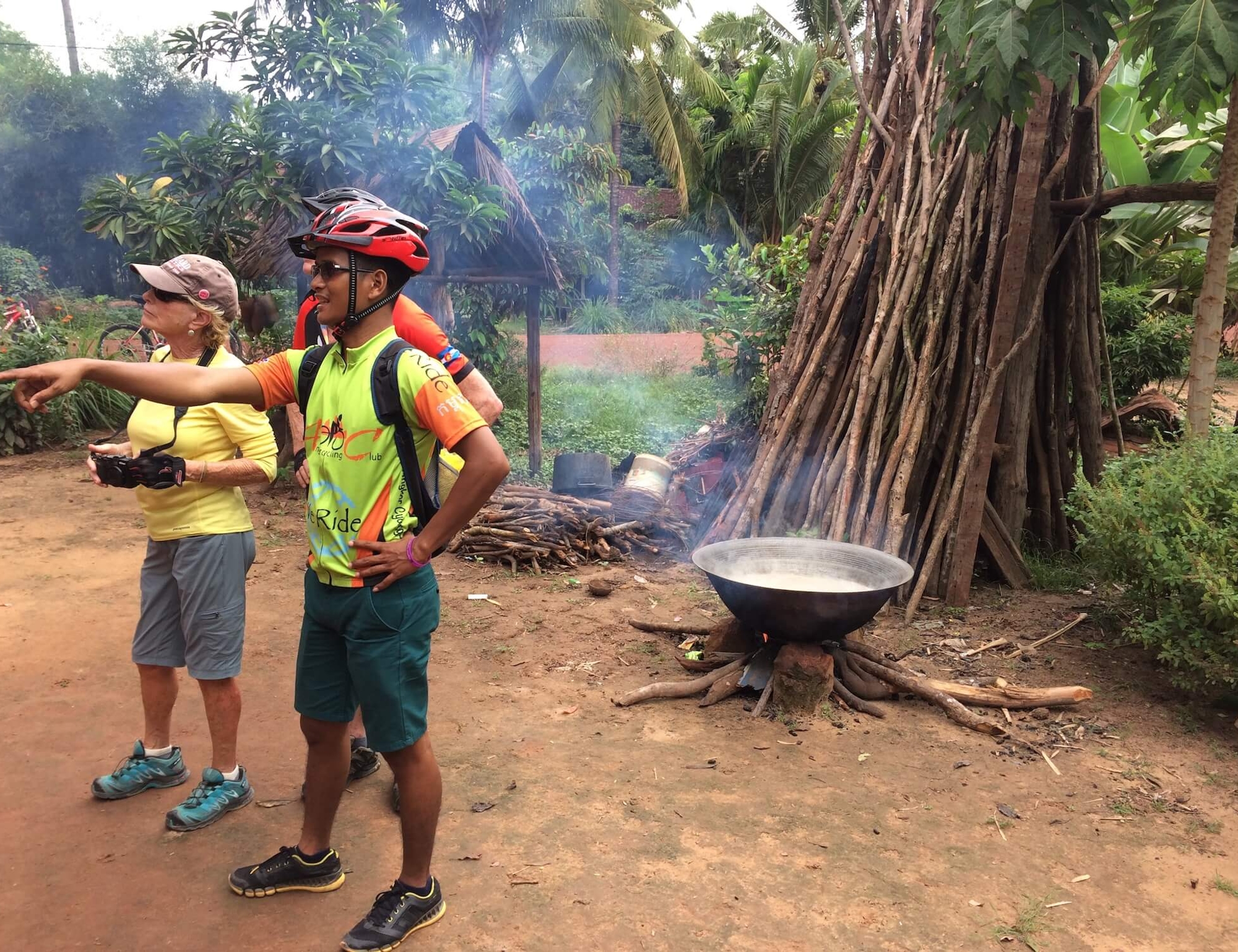 Day 3: Kampot
Another stretch of riverside villages and exquisite countryside awaits us today. You can see the bright green pepper vines crawling up along tree trunks. Visit a stunning cave along the way and later ride to the quaint riverside town of Kampot. After lunch at a beautiful riverside restaurant, step out to discover local life at Kampot. Enough anecdotes and local street food flows to keep us engaged.
Meals:
B,L,D
Cycling Distance:
25km / 15mi*
Day 4: Koh Rong Island
Today you can plan your own day.
Take the winding roads and climb the Bokor mountain today. Admire the views of the stunning bay and forest before descending to the base by bike or shuttle.
If you want to avoid hills then you can also transfer to Sihanoukville airport where we'll hit the bikes and cycle to the beach through pleasant little fishing villages with colorful boats bobbing in the gentle swell. We ride over a hill and on the hard-packed beach sands at one point as we near Ores Beach. A low hill or two make for a last-day challenge.
Transfer to Sihanoukville for your onward travel to Koh Rong Island or fly to Siem Reap.
Note: Please do let us know about your onward travel plans at the time of your booking so that we can make the necessary arrangements for your departure.
Meals:
B
Cycling Distance:
40km / 24mi* or 28km/ 18mi*
Map
Dates and Prices
Note:
Our base pricing is in USD. However, we can also quote in AUD, GBP, CAD, and EUR, and you can pay in the same. Please write us.
Single Supplement
From US $100
---
Couldn't find a trip with convenient dates?
Open your date as a join-in tour or customize further as private one.
We offer private departures on almost all our itineraries, and for groups of four or more, they cost the same as our standard trips!
---
Essential Info
Inclusions
LODGING
All hotels as mentioned in the tour details or similar (subject to availability).
trip leader
Expert Trip Leader(s) who look after your every need and add meaning to your vacation.
bike
Immaculately maintained bike with helmet, suited to a terrain.
shuttle
A Van support follows the group of riders and carries all belongings.
meals
Meals as per itinerary. Guests are given the opportunity to dine on their own so that they discover a location independently.
refreshments
Refreshments and mineral water while cycling.
entrance
Entrance fees to most of the monuments and temples.
Exclusions
Airport pickup and drop
We recommend to book direclty from airport or hotel.
meals
Some meals may not be included. Please check your itinerary.
Beverages
Beverages such as alcohol, tea, coffee, juice at a hotel or restaurant.
Bikes
When you have a road and the thrill of a journey ahead of you, it's imperative to have a good bike to enjoy it. Our fleet majorly consist of the below bikes as a part of this tour. However, sometimes due to height or availability constraints, we may provide a different but similar quality bike.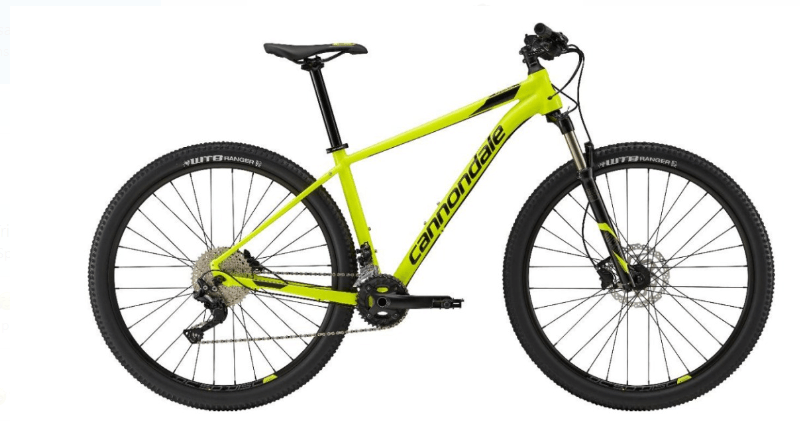 mountain
Included in your trip price
Weather
Cambodia is a year-round cycling destination on account of its pleasant tropical climate. April and May can be hot, but for the rest of the year, the temperature hovers around 30°C. There is moderate rainfall from May to early November but it settles soon, leaving the weather cool and the countryside lush. November to February is the best time for cycling in South Vietnam with warm weather, clear blue skies, and a light ocean breeze blowing in from the Pacific.
Visa
Cambodia has three international gateways for arrival by air – Phnom Penh, Siem Reap, and Sihanoukville – and a large number of land borders with neighboring Thailand, Vietnam, and Laos. Formalities at Cambodia's international airports are generally smooth.
Travelers can get a Cambodia visa upon arrival at the airport with a valid passport for 6 months and no longer need to have a pre-arrival COVID-19 test, present a full COVID-19 vaccination card/certificate, or a passenger's health declaration form on arrival in Cambodia. Remote electronic temperature-checking systems remain at the entry and exit gates for Immigration officers to check and advise passengers who may have COVID-19 symptoms.