Mongolia Gobi Desert Bike Tour
---
Overview
Located at an average altitude of 1000m above sea level and an average latitude of 42°N, the Gobi Desert in southern Mongolia is the coldest sandy desert in the world. White snow on its golden sand dunes is not an uncommon occurrence.
Despite being a nearly treeless expanse, the Gobi is home to some of the most endangered fauna on earth that is not found elsewhere. These include the wild two-humped Bactrian camel, of which less than 1000 remain in the wild, and the Gobi bear of which less than 50 individuals remain in the wild. All this, in addition to the famous Cashmere goat reared by nomadic tribesmen who live on the edges of the Gobi desert, and from which comes Mongolia's most famous export — Cashmere wool.
All of this makes this Gobi Desert cycling tour a once-in-a-lifetime experience of biking through some of the most stunning desert landscapes, rare fauna, and culturally rich nomadic settlements.
This 10-day cycling tour traverses a distance of 450 km over 7 cycling days through the Gobi desert. The Gobi desert lies on an elevated plateau with several mountain ranges crisscrossing it. The terrain thus consists of both flats and hills with a total ascent of 3482m and a total descent of 3418m.
Avg. dist. cycled
60km/37mi
Highlights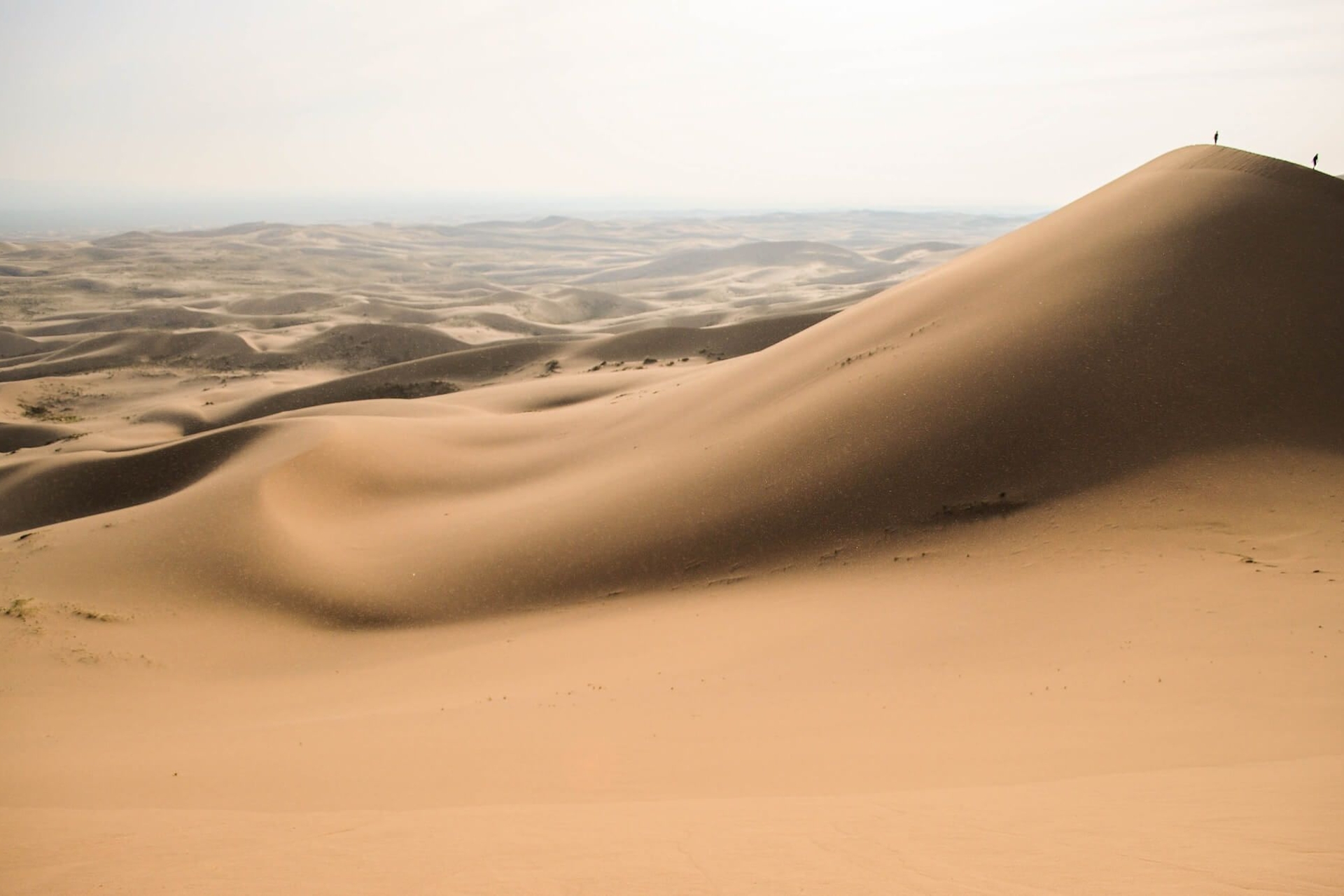 Landscape of the Gobi desert
Cycle through the extraordinarily beautiful landscape of the Gobi desert
Brief Itinerary
| Day | Place | Hotel | Meals | Distance | Activity |
| --- | --- | --- | --- | --- | --- |
| DAY 1 | Ulaanbaatar | Bayangol Hotel | D | | |
| DAY 2 | Fly to Dalanzadgad, Cycle to Gobi Mirage Camp | Ger Camp | B,L,D | 45km/28mi | cycling |
| DAY 3 | Gegeet Valley | Tented Camp | B,L,D | 75km/46.6mi | cycling |
| DAY 4 | Khongor Els | Ger Camp | B,L,D | 50km/31mi | cycling |
| DAY 5 | Khaitar Zag Valley | Tented Camp | B,L,D | 70km/43mi | cycling |
| DAY 6 | Tevsh Mountain | Tented Camp | B,L,D | 40km/25mi | cycling |
| DAY 7 | Arts Bogd Mountain | Tented Camp | B,L,D | 80km/50mi | cycling |
| DAY 8 | Bayanzag Flaming Cliffs | Ger Camp | B,L,D | 60km/37mi | cycling |
| DAY 9 | Fly to Ulaanbaatar | Bayangol Hotel | B,L,D | | |
| DAY 10 | Departure | | B | | |
Detailed Itinerary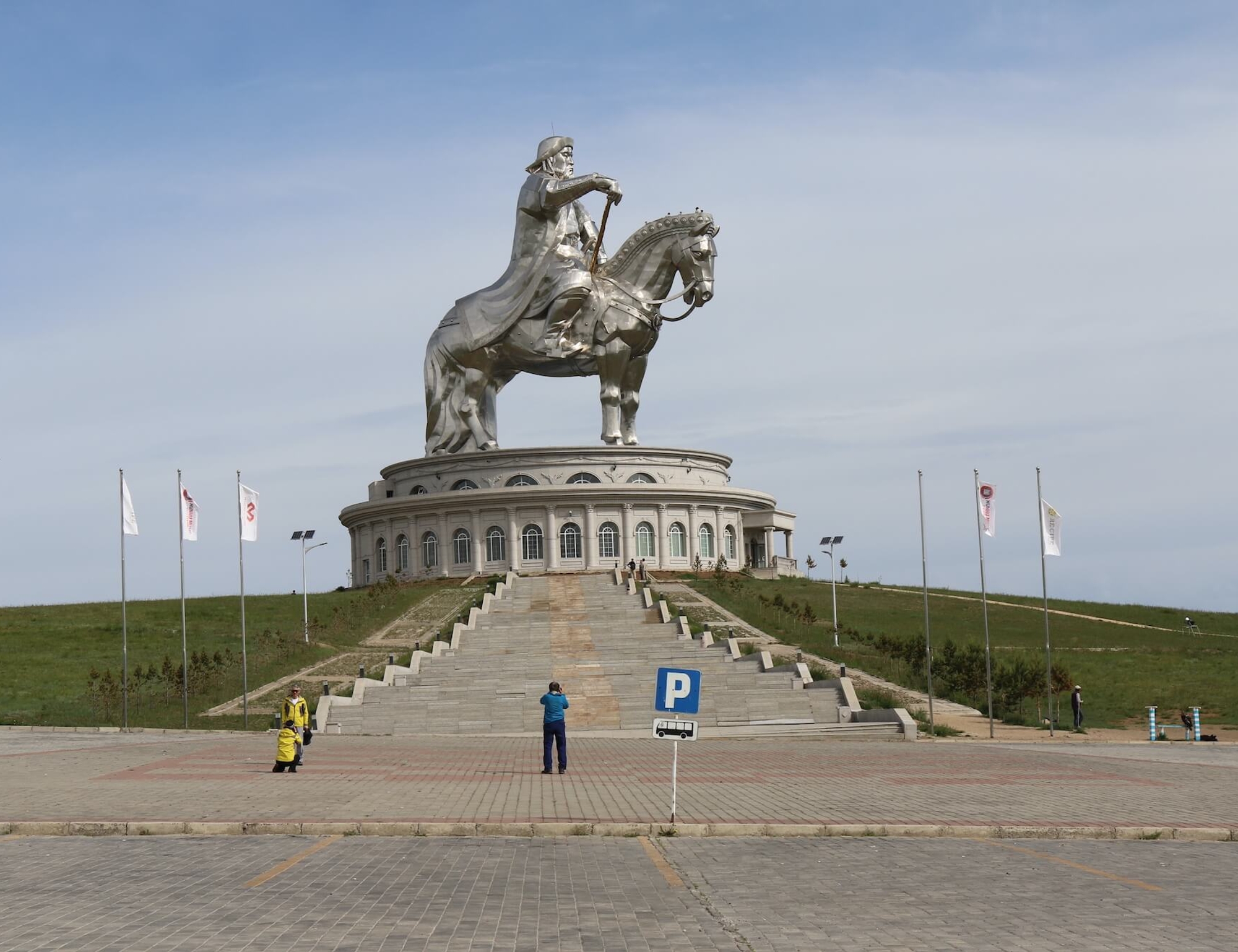 Day 1: Ulaanbaatar
Arrive at Ulaanbaatar and take a transfer to a hotel. Ulaanbaatar is the capital of Mongolia and also its largest city, being home to about half of Mongolia's population. As a result, the city is rich in cultural, historical, and culinary experiences. Later in the day, we attend a performance of Tumen Ekh, an ensemble of traditional Mongolian music and dance. Performed to the accompaniment of Mongolian folk instruments and vivid, colorful costumes, the Tumen Ekh is sure to leave you spellbound.
Meals:
D
Accommodation:
Bayangol Hotel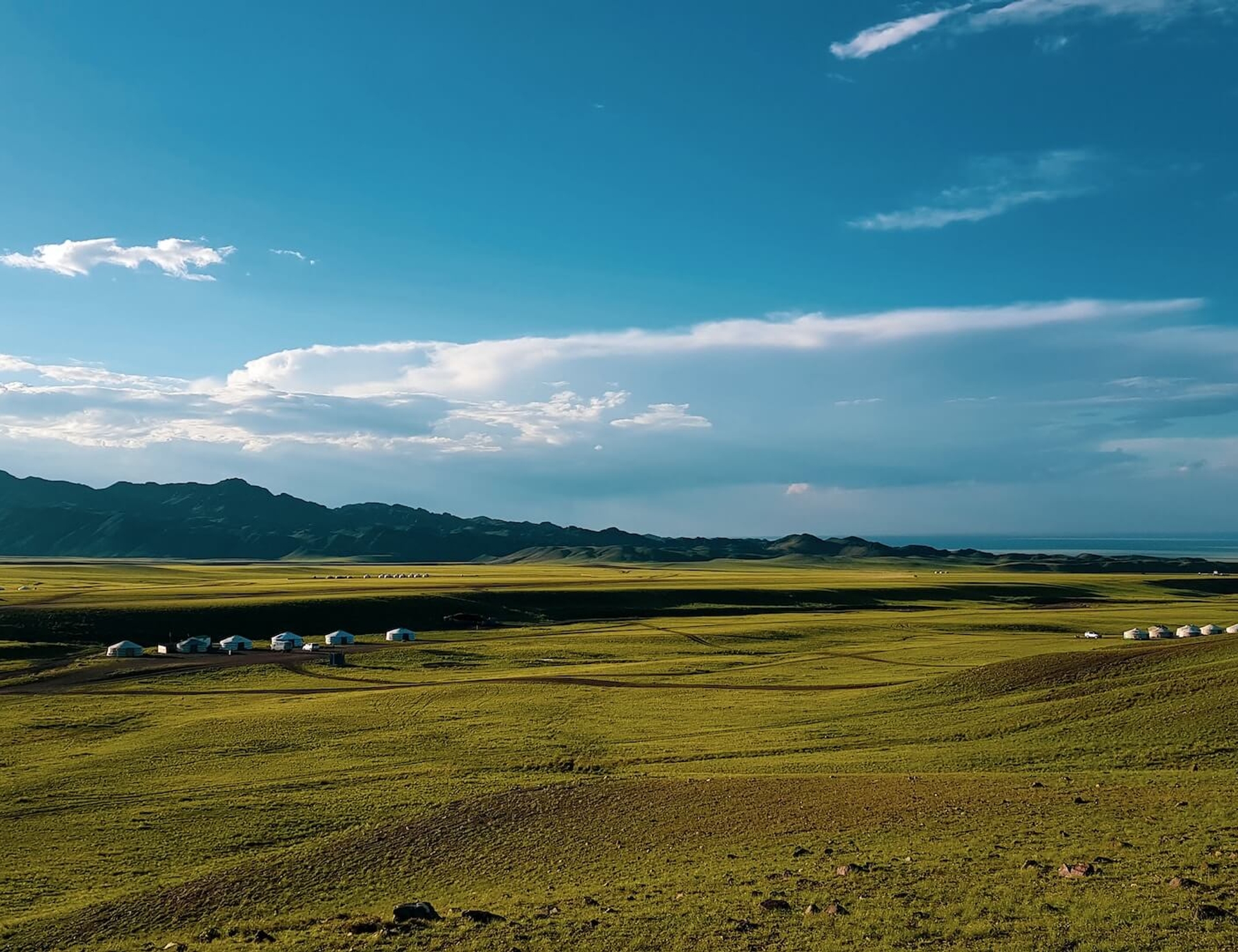 Day 2: Fly to Dalanzadgad, Cycle to Gobi Mirage Camp
We take a flight in the morning to the provincial town of Dalanzadgad, located some 540 kms south of Ulaanbaatar. A small town of about 25,000 inhabitants, Dalanzadgad, nonetheless, has an airport and serves as the entry point to cycling expeditions into the Gobi Desert. Sitting at an altitude of 1470m above sea level, Dalanzadgad has a relatively mild climate compared to the rest of Mongolia. This is because of its altitude, and the presence of glacial ice fields in its vicinity. We drive to these ice fields, known locally as Yolyn Am. Another short drive later, we begin our day's biking through a steppe terrain that eventually opens up into the desert. Stay for the night is in a traditional Mongolian ger camp.
Meals:
B,L,D
Cycling Distance:
45km/28mi
Day 3: Gegeet Valley
We bike through a very unique landscape today. Though we're now riding through the arid desert, the Gurvan Saikhan mountain range is our constant companion. While the winter snow is still sitting atop its peaks, it presents a mesmerizing picture of a sandy desert fringed by snow-clad hills. The foothills of these mountains provide pasture for nomadic herds who can be found grazing their herds of sheep, goats, camel, and horses here. Expect a few tough climbs today as we head toward the Gegeet Valley to set up camp for the night.
Meals:
B,L,D
Cycling Distance:
75km/46.6mi
Accommodation:
Tented Camp
Day 4: Khongor Els
Today's ride is perhaps the most spectacular of the trip as we ride towards the singing sand dunes of Khongor Els. While most of the Gobi Desert is arid, large sand dunes are found only in a few places. At the Khongor Els, dunes as high as 200m rise above the surrounding grassland, extending for well over 846 sq. km. The dunes in turn sit under the shadow of the rugged Altai mountains, presenting to the sight a unique, three-layered vista of grassland, sand dunes, and high mountains. As the wind from the Altai mountains blows the sand from these dunes, they make a distinctive humming sound, thus giving them the moniker of singing dunes. We reach our destination a little early today and head to hike up to the top of one of the sand dunes and enjoy the great views all around.
Meals:
B,L,D
Cycling Distance:
50km/31mi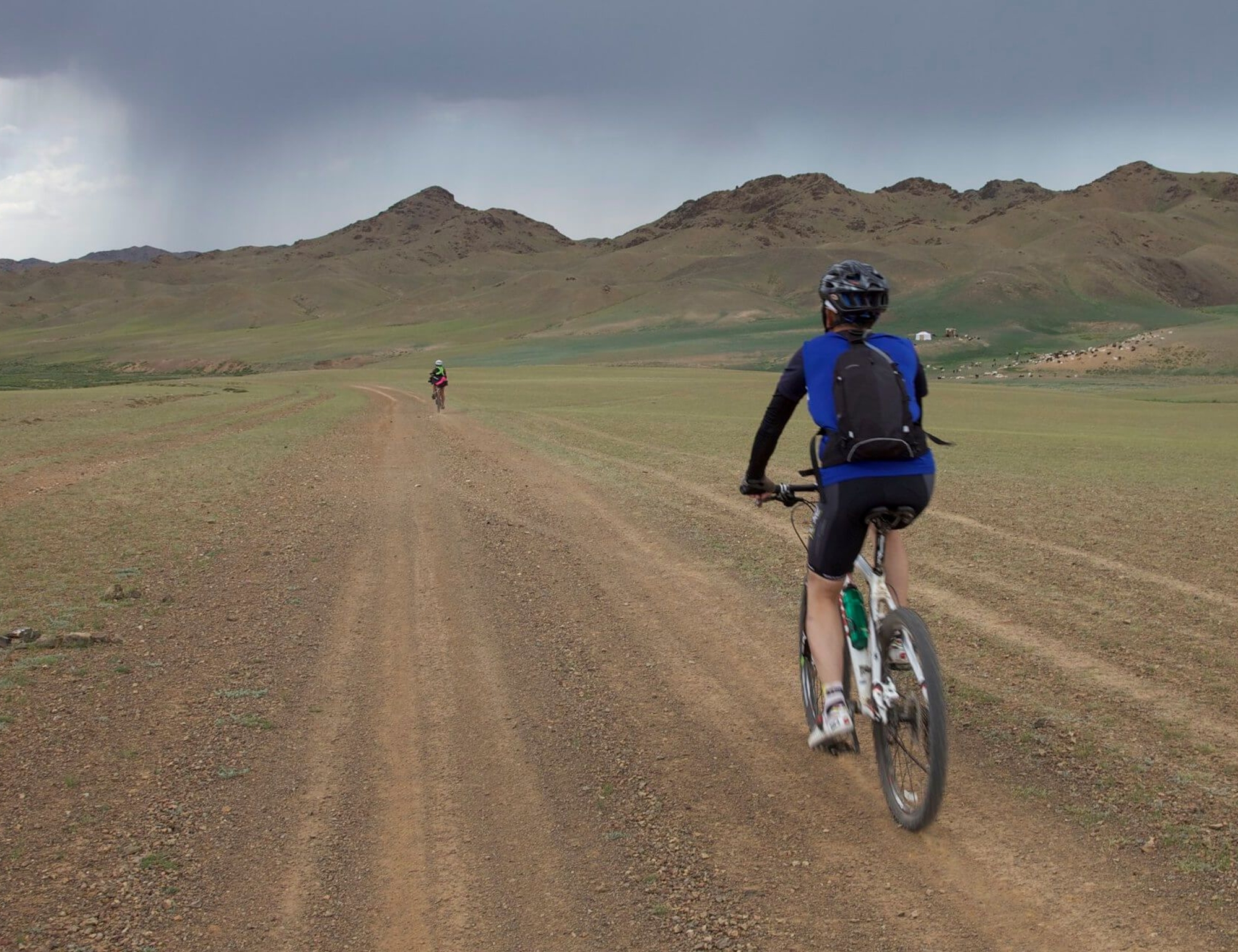 Day 5: Khaitar Zag Valley
As we bike north, we enter the Khaltar Zag valley and the landscape changes once again to one of steppe grassland. The day's ride is mostly smooth and flat with pleasant views all around. We make the most of the pleasant riding conditions o cover a good 70 kms on our bikes today.
Meals:
B,L,D
Cycling Distance:
70km/43mi
Accommodation:
Tented Camp
Day 6: Tevsh Mountain
We ride out today towards Tevsh Uul, an extinct volcano rising up 1957 m above the sea level. The rock formations in the area are noted for their bronze-age petroglyphs, burial mounds, and rock carvings. The ride is a steady uphill for the first half of the day, before entering an equally steady descent for the second half. We camp for the night in the shadow of the Tevsh Mountain.
Meals:
B,L,D
Cycling Distance:
40km/25mi
Accommodation:
Tented Camp
Day 7: Arts Bogd Mountain
We continue biking through a steppe landscape as we head towards our destination for the night — the 2219 m high Arts Bogd mountain. Today is a very pleasant ride as we begin by riding through some rolling hills before hitting a long patch of gentle downhill. Despite this being the longest biking day of the tour, we don't really feel it as the pleasant surroundings and the gentle downhills make riding an absolute delight.
Meals:
B,L,D
Cycling Distance:
80km/50mi
Accommodation:
Tented Camp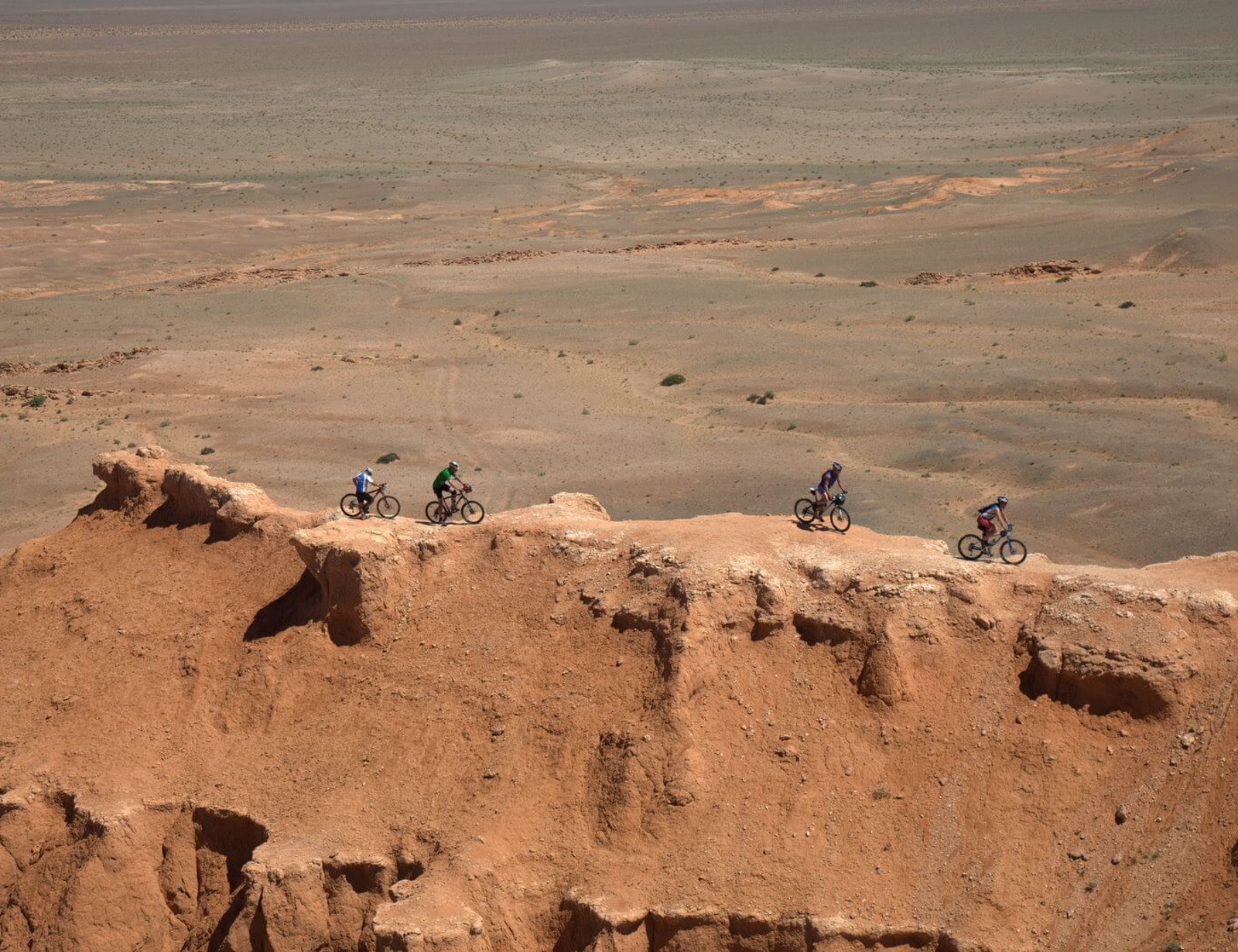 Day 8: Bayanzag Flaming Cliffs
Today is the last day of cycling and we make sure that the best is saved for the last. The Bayanzag Flaming Cliffs is a range of eroded ravines of stark red sandstone that get their name because they gleam a brilliant flaming orange in the light of the setting sun. It was among these rocks that American paleontologists discovered the first dinosaur fossils in the 1920s. We try to get to the site by lunch and have a picnic lunch with the cliffs in the backdrop. As the sun begins to set, we set out into cliffs to watch the sun go to work with its magic palette on the cliffs. The region also has several groves of the saxual tree native to the Gobi desert that holds the soil together and is important to the livelihoods of local nomads and herdsmen.
Meals:
B,L,D
Cycling Distance:
60km/37mi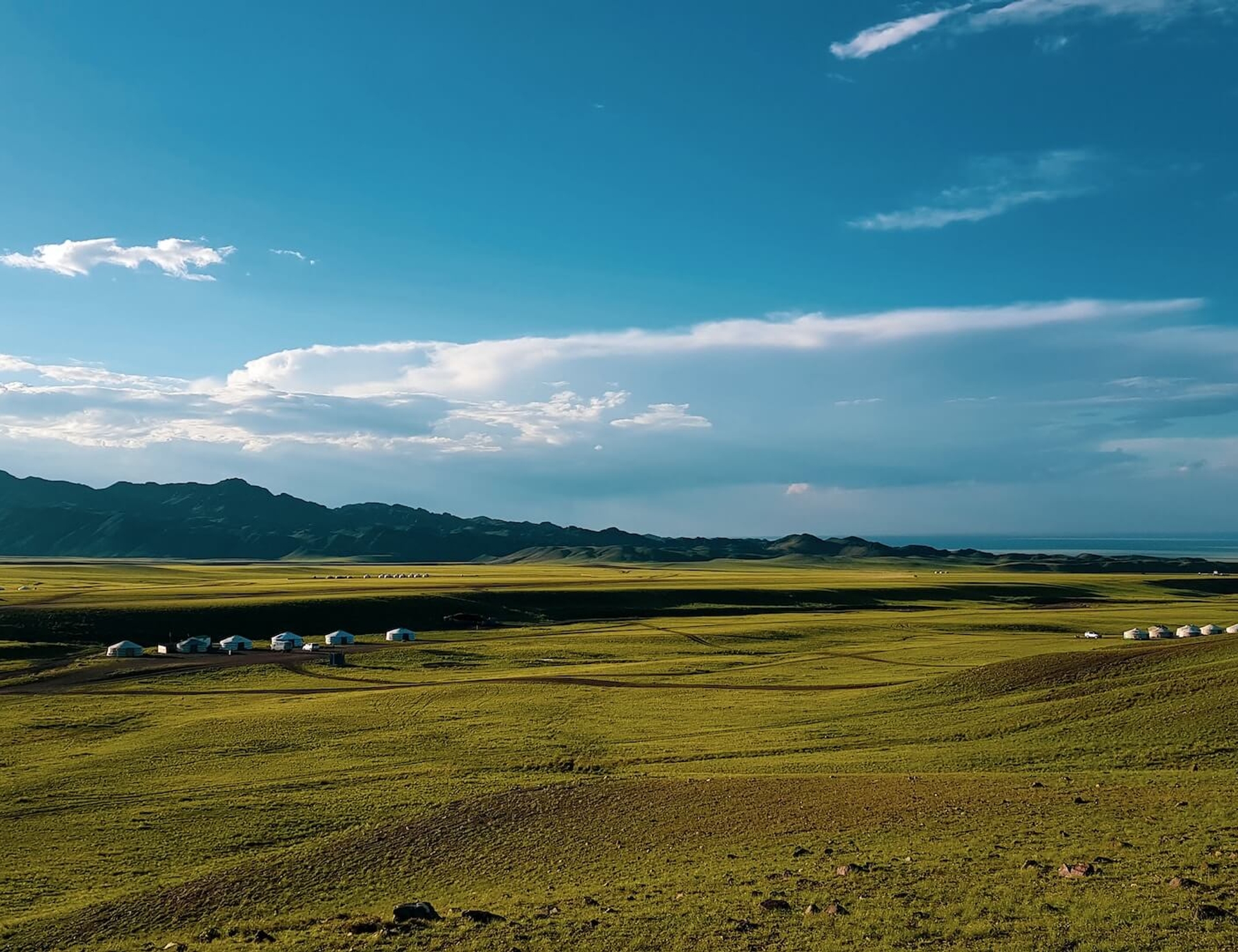 Day 9: Fly to Ulaanbaatar
We drive back to Dalanzadgad and take the flight back to Ulaanbaatar. No trip to Mongolia is complete without its famous Cashmere. In the evening we take a trip to a Cashmere factory to see how the world's favorite wool is turned into premium clothing for export. We meet again for a farewell dinner and marvel over an adventure that will remain etched in our memories for a long time to come. After more than a week of camping, the stay tonight will be in a hotel.
Meals:
B,L,D
Accommodation:
Bayangol Hotel
Day 10: Departure
Our team will drive you to the Ulaanbaatar airport for your onward journey.
Meals:
B
Map
Dates and Prices
Note:
Our base pricing is in USD. However, we can also quote in AUD, GBP, CAD, and EUR, and you can pay in the same. Please write us.
---
Couldn't find a trip with convenient dates?
Open your date as a join-in tour or customize further as private one.
We offer private departures on almost all our itineraries, and for groups of four or more, they cost the same as our standard trips!
---
Essential Info
Inclusions
LODGING
All hotels as mentioned in the tour details or similar (subject to availability).
trip leader
Expert Trip Leader(s) who look after your every need and add meaning to your vacation.
bike
Immaculately maintained bike with helmet, suited to a terrain.
shuttle
A Van support that follows the group of riders and carries all belongings.
meals
Meals as per itinerary. Guests are given the opportunity to dine on their own so that they discover a location independently.
refreshments
Refreshments and mineral water while cycling.
entrance
Entrance fees to most of the monuments and temples.
Exclusions
Airport pickup and drop
We recommend to book direclty from airport or hotel.
meals
Some meals may not be included. Please check your itinerary.
Beverages
Beverages such as alcohol, tea, coffee, juice at a hotel or restaurant.