Krabi to Koh Samui Bike Tour
Overview
Explore southern Thailand's stunning landscape on this popular cycling tour. Starting in Ao Nang, cyclists will journey through Laem Sak's karst limestone outcroppings and cliffs before taking a boat trip to Phang Nga Bay's Koh Phing Kan and Koh Tapu. The route then heads inland, crossing the Isthmus through Khao Sok National Park to reach Chiew Larn Lake's floating hotel. On the sixth day, explore rubber-making and historic temple caves before arriving in Surat Thani. The tour ends on Koh Samui, where you can enjoy beach time or catch flights home.
This adventure showcases a diverse range of landscapes, including lush countryside, pristine beaches, fishing villages, old towns, and trendy cities, offering an unforgettable experience of coastal Thailand.
Avg. dist. cycled
55km/34mi
Highlights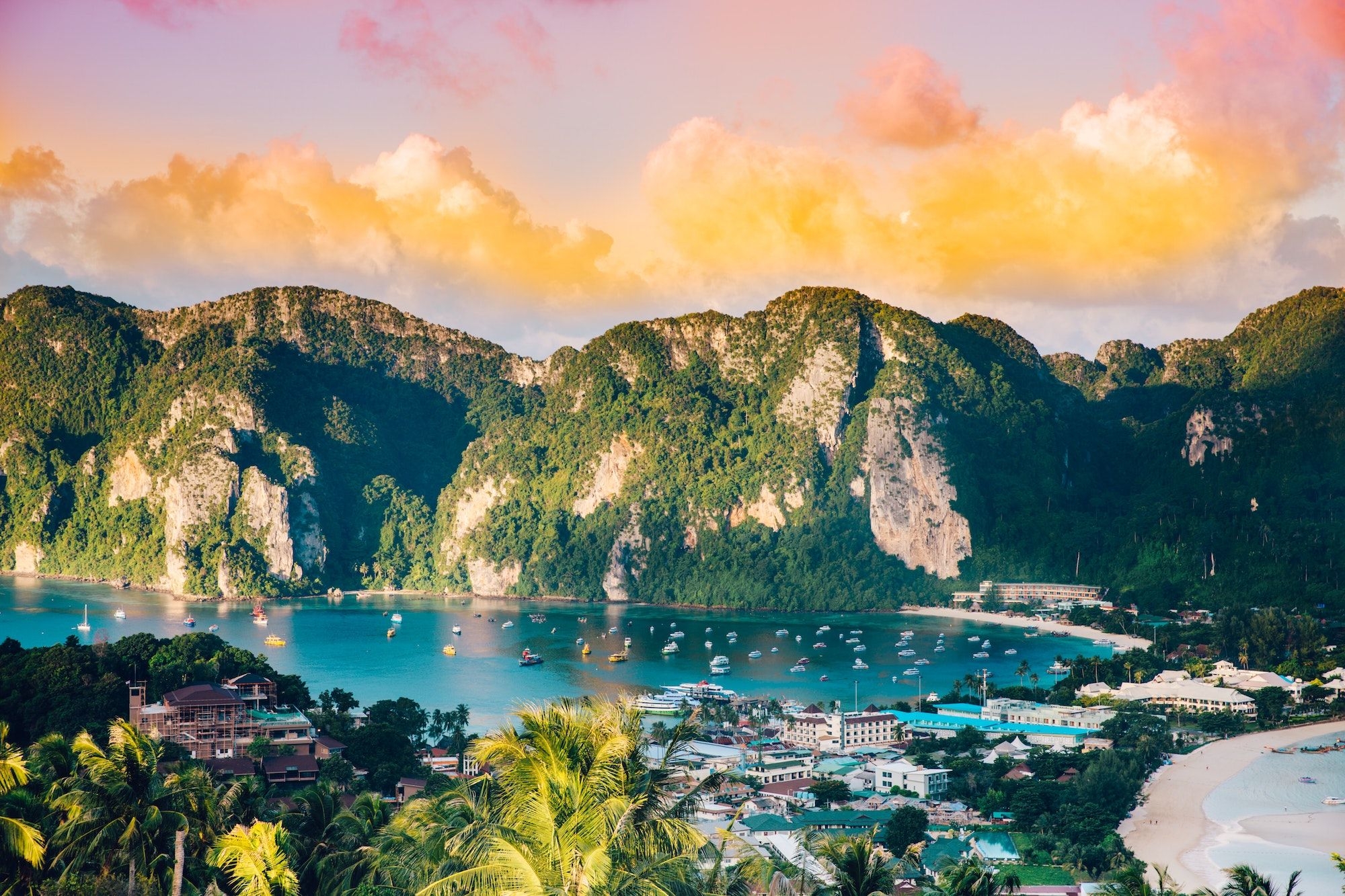 serene landscapes
Energize you mind, body and soul in the serene hills, springs, beaches and islands of South Thailand
Brief Itinerary
Detailed Itinerary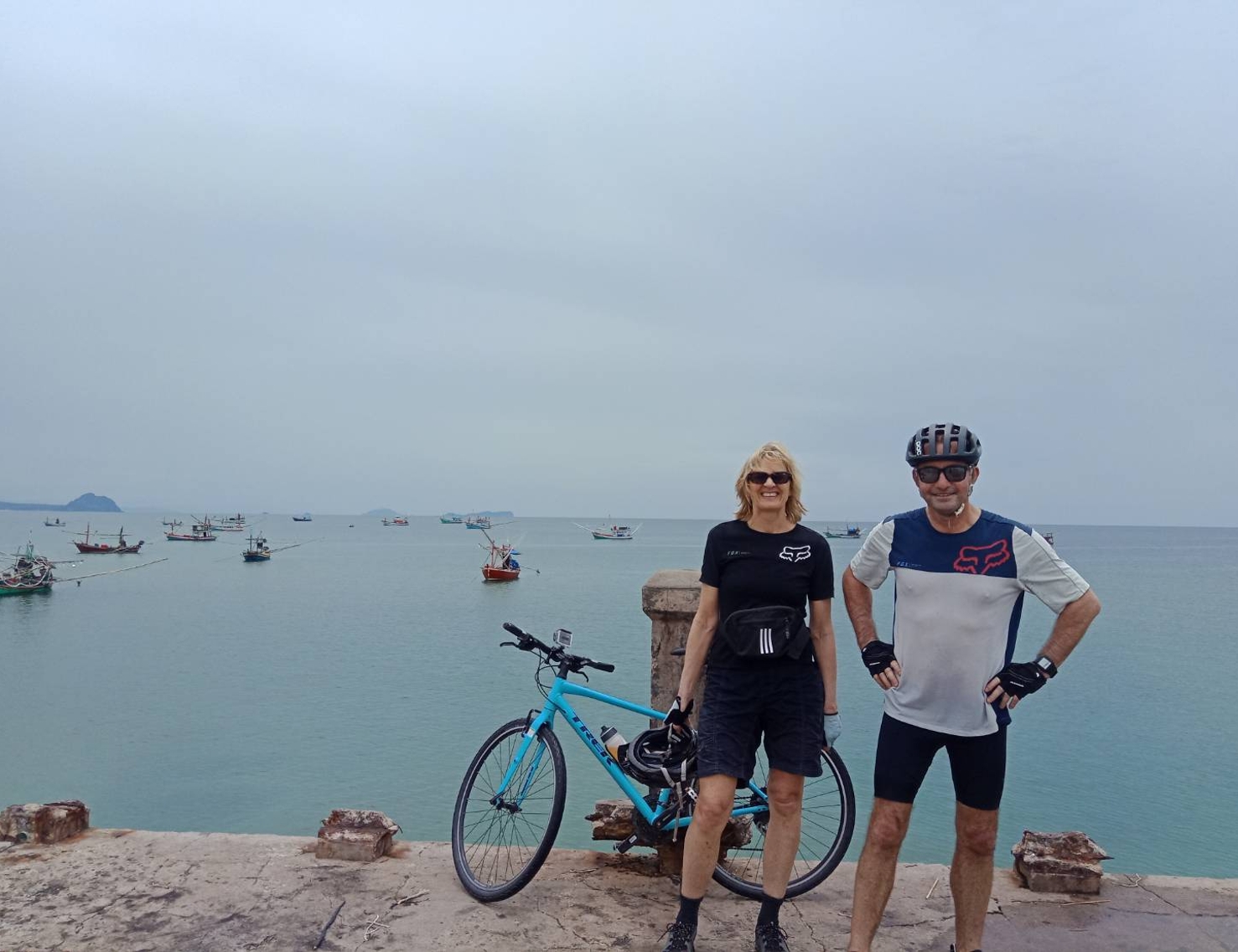 Day 1: Ao Nang
Our guide meets you at your hotel beach town of Ao Nangat at 17:00hrs. After a bike fit and brief orientation head out to Nopparat Thara National Park to a tiny seafood restaurant with an incredible selection of fresh fish, crabs, and shellfish for a welcome dinner.
Meals:
D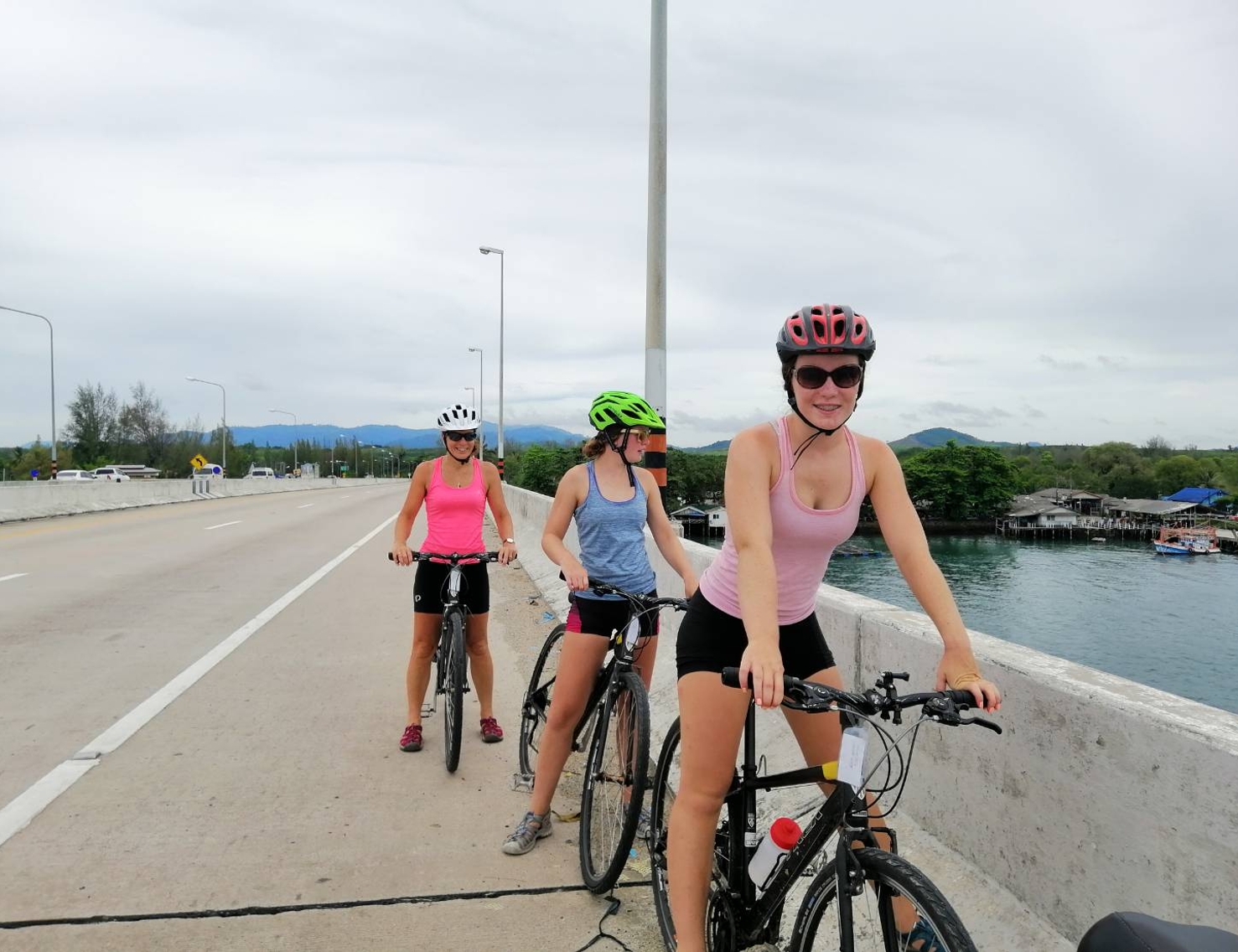 Day 2: Laem Sak
The region through which we ride for these first few days is filled with karst limestone outcroppings and dramatic cliff faces, surrounded by dark green palm oil and rubber tree plantations. There is a new photo op at literally every turn. This part of Thailand is predominantly Muslim, so calls to prayer are heard over loudspeakers and grilled chicken is the king of roadside cafés. The tiny town of Laem Sak is our overnight stop where we relax at a small family-run inn.
Meals:
B,L,D
Cycling Distance:
65km/40mi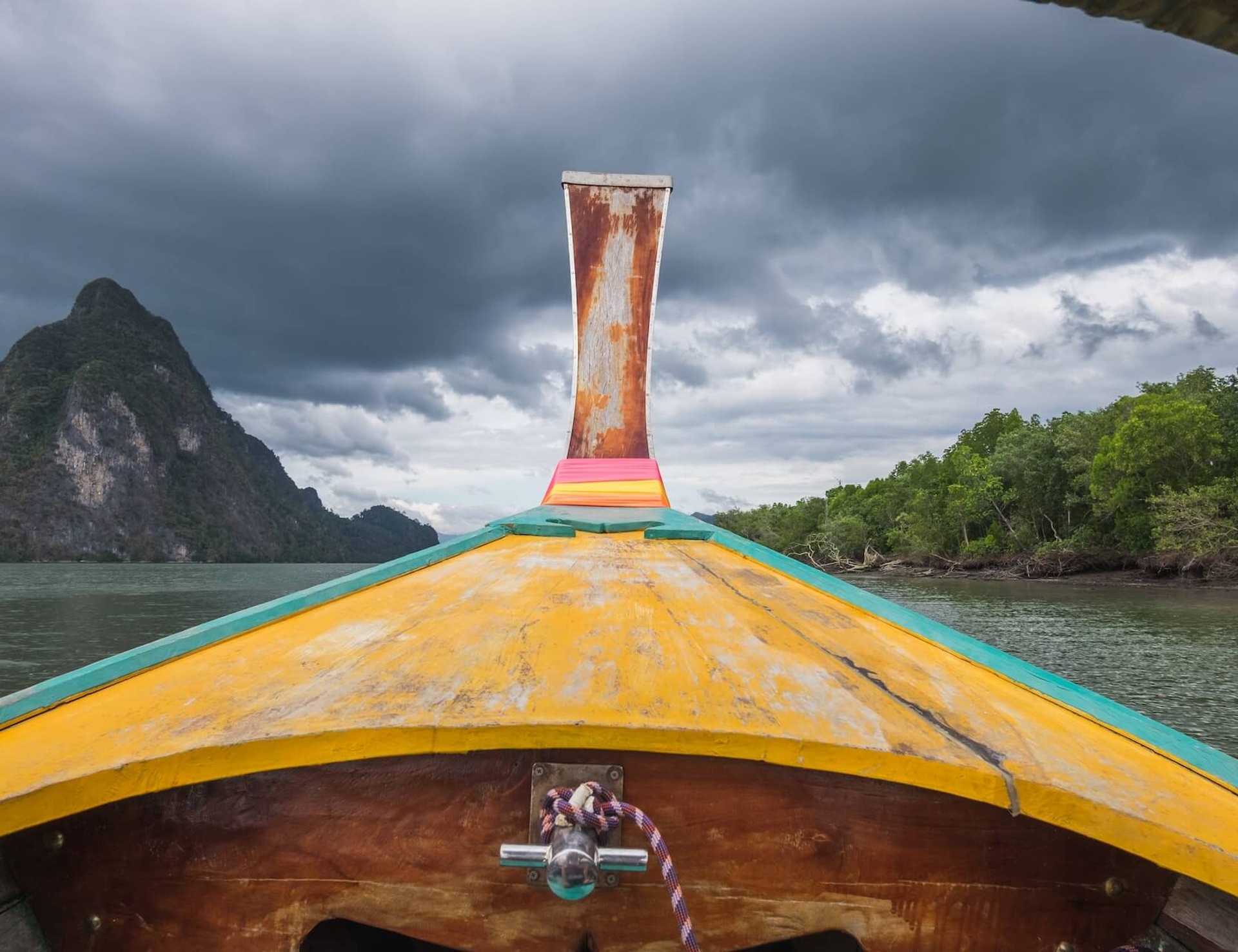 Day 3: Boat to Phang Nga Bay
We leave the bikes on shore and travel by long-tail boat out to Phang Nga Bay, renowned for its karst islands towering above the blue waters. We'll explore a bit by boat visiting Koh Phing Kan and Koh Tapu, the latter gaining fame as Scaramanga's missile launching platform in the 007 Man With The Golden Gun.
Explore the sea gypsy floating town of Koh Panyee before returning to shore. Cycle into Phang Nga town, where we bed down in a 100-year-old Hotel, the first hotel in town, built by a Chinese businessman and lovingly restored by his grandson. Dine Thai style tonight, by grazing in the market where vendors offer a wide variety of finger foods and small dishes.
Meals:
B,L,D
Cycling Distance:
25km/15mi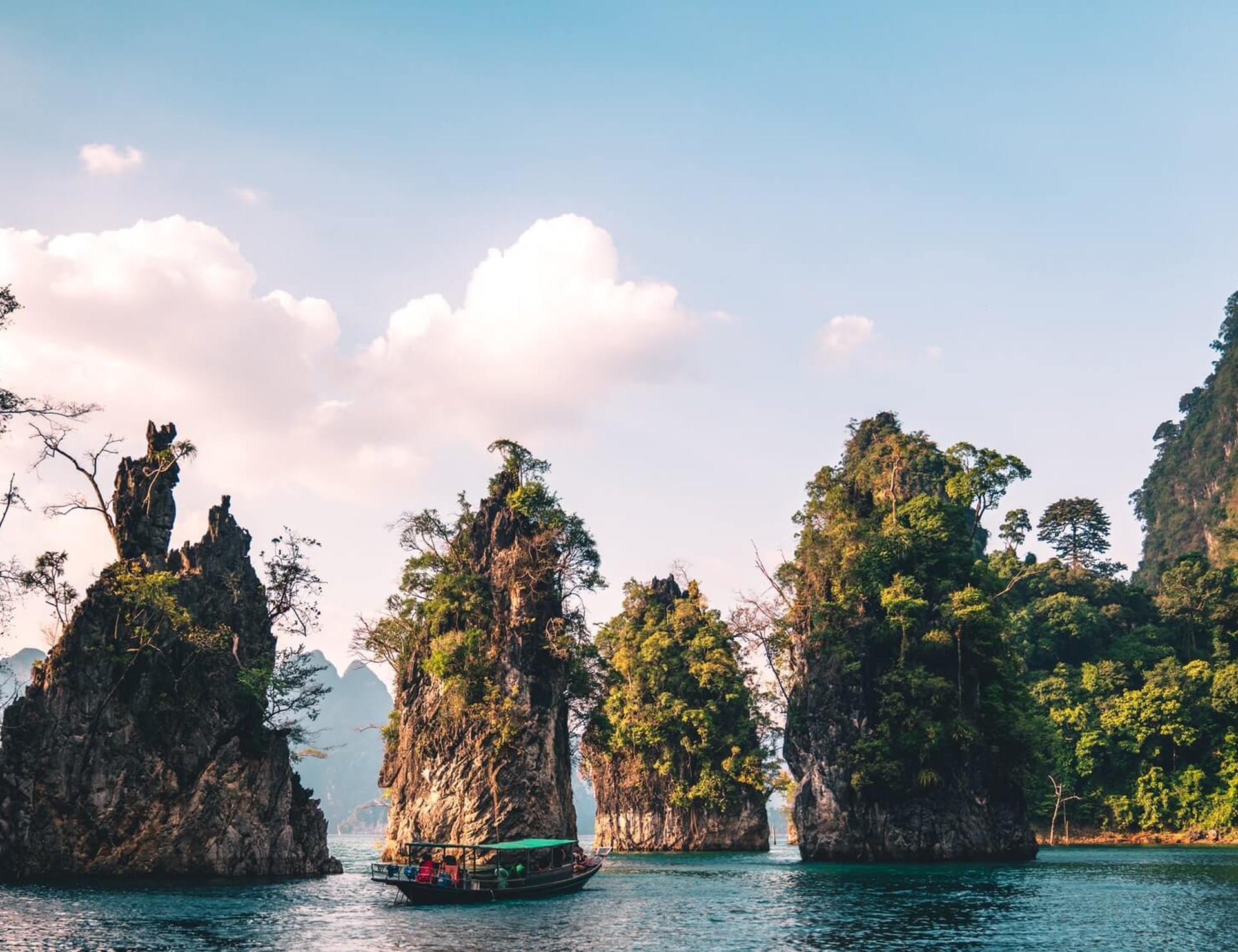 Day 4: Khao Sok National Park
The route turns away from the coast, as you start across the Isthmus. Rolling hills covered with rubber tree farms and oil palm plantations, provide a lush green environment for cycling, as we work our way toward Khao Sok National Park. As we cross the coastal ranges, a vast area of karst outcroppings spreads out as far as the eye can see, our cycling turf for the next few days. At the bottom of the descent is Khao Sok National Park's headquarters area where we bed down tonight.
Meals:
B,L,D
Cycling Distance:
80km/50mi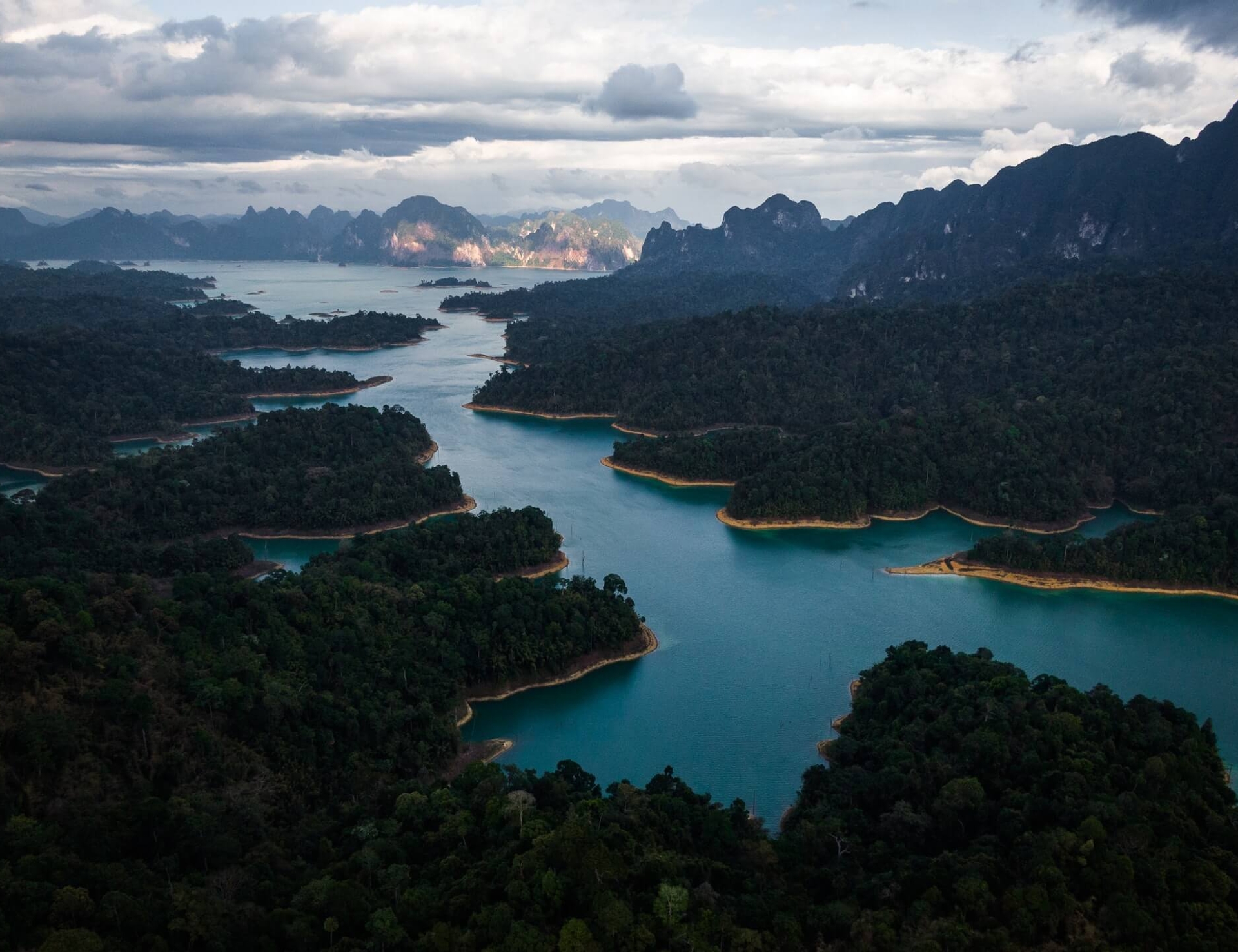 Day 5: Chiew Larn Lake
Pedaling deeper into the park region today, we are en route to Chiew Larn Lake, created by the massive Ratchaprapha Dam. The forested mountains surrounding the lake hold a variety of wildlife, hornbills, deer, gaur, and more. When we reach the dam, we board a boat to travel to our hotel, floating on the lake underneath the towering limestone cliffs.
Meals:
B,L,D
Cycling Distance:
65km/40mi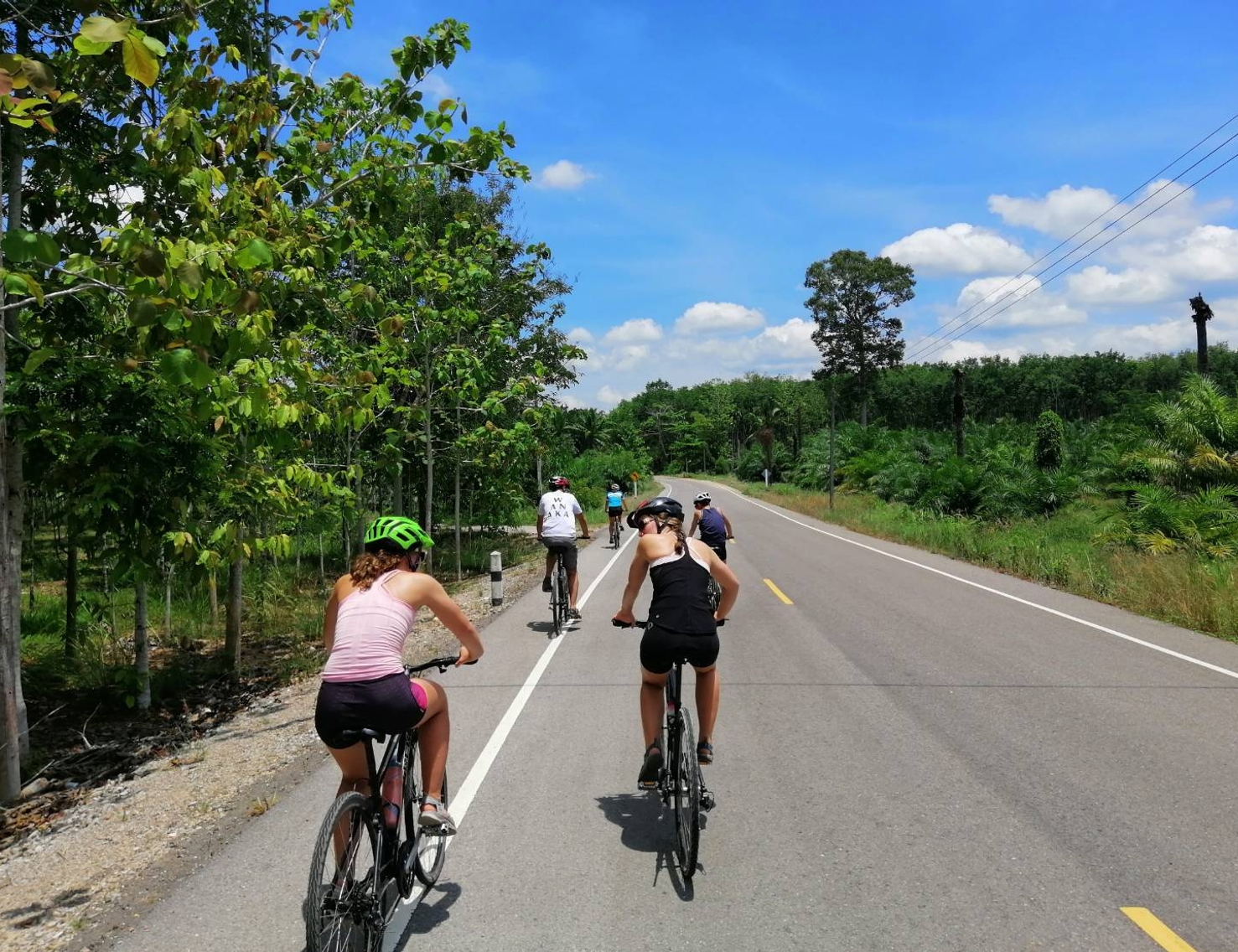 Day 6: Surat Thani
Our boat driver will return you to shore after breakfast, where the bikes await. The ride today is fairly flat, following the Phum Duang River to the coast. Along the way, your guides will introduce you to the rubber-making process, as well as explore the historic temple cave - Wat Tham Singkhon, dating back many hundreds of years. We'll shuttle into Surat Thani to avoid rush hour traffic, then finish the day out with a great Thai dinner at one of the town's renowned seafood restaurants.
Meals:
B,L
Cycling Distance:
55km/34mi
Day 7: Koh Samui
After breakfast, we drive to Donsak Pier to catch the ferry to Koh Samui. When we reach the island, we load up on the bikes and cycle to our ocean-view resort in the Bophut Area area. Before checking in to our hotel, we'll continue by bike to visit Wat Phra Yai sitting just offshore on Koh Pan (better known as Big Buddha). The balance of the day is yours to relax before our final dinner.
Meals:
B,L,D
Cycling Distance:
40km/25mi
Day 8: Departure
Transfer to Samui Airport for your flights home or stay off for some beach time.
Meals:
B
Ready to plan your adventure? Download a print-ready detailed itinerary.
Map
Dates and Prices
Members get an estimated 10% off on this trip.
---
$50/yearLearn more
Single Supplement
From US $440
---
Couldn't find a trip with convenient dates?
Open your date as a join-in tour or customize further as a private one.
---
Essential Info
Inclusions
LODGING
All hotels as mentioned in the tour details or similar (subject to availability).
trip leader
Expert Trip Leader(s) who look after your every need and add meaning to your vacation.
bike
Immaculately maintained bike with helmet, suited to a terrain.
shuttle
A Van support follows the group of riders and carries all belongings.
meals
Meals as per itinerary. Guests are given the opportunity to dine on their own so that they discover a location independently.
refreshments
Refreshments and mineral water while cycling.
entrance
Entrance fees to most of the monuments and temples.
E-bikes
E-bikes are available on this trip at a surcharge. Please send a note to your tour consultant to book one.
Exclusions
Airport pickup and drop
We recommend to book direclty from airport or hotel.
meals
Some meals may not be included. Please check your itinerary.
Beverages
Beverages such as alcohol, tea, coffee, juice at a hotel or restaurant.
Bikes
When you have a road and the thrill of a journey ahead of you, it's imperative to have a good bike to enjoy it. Our fleet majorly consist of the below bikes as a part of this tour. However, sometimes due to height or availability constraints, we may provide a different but similar quality bike.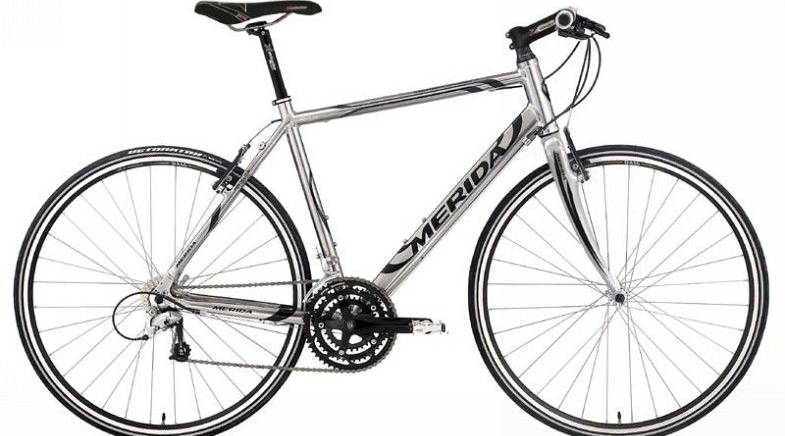 hybrid
Included in your trip price
Weather
Southern Thailand is coastal and mostly flat. The cycle tour season here runs from November to March when the weather is sunny and pleasant. April to June are the hot summer months and July to October is the rainy season when southern Thailand receives considerable rainfall.
The best time of year is winter (November through February). It is the dry season and temperatures are cooler. The south gets a scattered shower every few days. Temperatures in the South are in the low 30s.
March through May in the South is warmer, but only fluctuates a couple of degrees during the year.
June through October is the rainy season (or green season as the hotels like to call it). September and early October peak in the south. Rain tends to be short but heavy tropical downpours, then clearing out, usually happening in the afternoon or evening, so cycling tours are still possible.
In a nutshell, winter is great (Nov - Mar), and the rest of the year is ok in the South.
Visa
Travelers wishing to enter Thailand have two options: through an airport or overland. Regardless of the mode of entry, the same rules apply to all travelers. Citizens of countries that can enter visa-free will receive a 30-day entry stamp, while those with a Tourist Visa will receive a 60-day entry stamp. Travelers from countries eligible for a Visa on Arrival will receive a 15-day entry stamp and a visa at the airport.
To comply with the rules, travelers entering visa-free or applying for a VOA must present an airline ticket that departs Thailand before their initial entry period ends (30 and 15 days, respectively). Other travelers may also be asked by the airline to show proof of a departing flight.
When applying for a VOA, travelers must be able to demonstrate that they have 10,000 THB for an individual or 20,000 THB for a family. For those entering visa-free or with a Tourist or Non-Imm visa, proof of financial ability must be shown in the form of 20,000 THB and 40,000 THB, respectively. It's important to note that cash is the only acceptable form of proof of financial ability, and credit cards or bank statements do not count. Any major currency is equivalent is acceptable.
Although the majority of travelers are not asked to show proof of financial ability, some travelers may occasionally be asked to do so at Immigration. Therefore, travelers should always be prepared to provide evidence of their financial ability.
Here is an excellent resource on Thailand visas that may be worth to look at.