Kerala in Style: bike, kayak
---
Overview
Bursting with a variety of experiences, Kerala throws up myriad experiences; deep-rooted culture, verdant surroundings, unique food, and a slice of India like none other. Experience stretches of biking through God's own country, and kayaking in the backwaters! The diverse landscape apart, Kerala's cultural hook is also what intrigues visitors. You can see Kathakali closely or stay in hundreds of years old houses – Kerala throws a cultural surprise at you at every corner.
On this Kerala bike tour, we have covered as many experiences for you! Be it the history immersed narrow streets of Fort Kochi, kayaking in the backwaters, or a wildlife trip into the thick forests. The blend of exquisite heritage places to stay or experience and the combination of bike, and kayak is bound to make this an unforgettable journey.
Start
Thattekad | 13:00hrs
Avg. dist. cycled
50km or 30mi
Group size
Min. 2, Max. 14
Highlights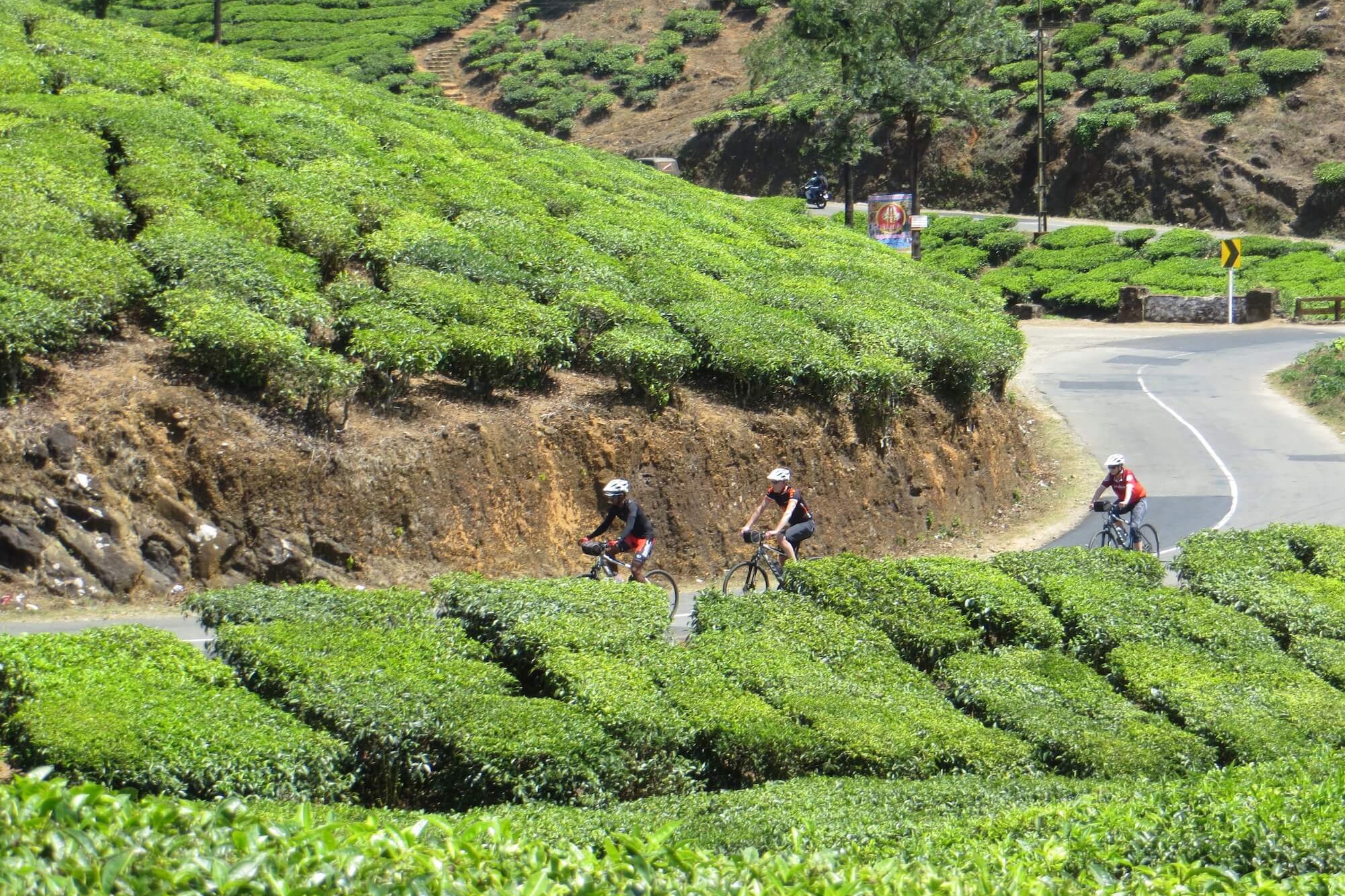 scenic backroads
Bike in the God's own scenic backroads
Itinerary
Brief Itinerary
| Day | Place | Hotel | Meals | Distance | Activity |
| --- | --- | --- | --- | --- | --- |
| DAY 1 | Thattekad | Hornbill Camp | D | 20km/12mi | cycling |
| DAY 2 | Munnar | Aranyaka | B, L, D | 65km/40mi* | cycling |
| DAY 3 | Munnar | Aranyaka | B, L, D | 40km/25mi* | cycling |
| DAY 4 | Thekkady | Wildernest | B, L, D | 60km / 37mi | cycling |
| DAY 5 | Thekkady | Wildernest | B, L | | hiking |
| DAY 6 | Vagamon | Winter Wale | B, L, D | 50km/30mi | cycling |
| DAY 7 | Kumarakom | Abad Whispering | B, L, D | 75km / 46mi | cycling |
| DAY 8 | Alleppey | Pamba Heritage Villa | B, L, D | 40km/28mi* | cycling |
| DAY 9 | Allepey | Pamba Heritage Villa | B, L, D | | kayaking |
| DAY 10 | Kochi | Abad Dutch Bungalow | B,L | 40km / 28mi | cycling |
| DAY 11 | Departure | | B | | cycling |
Map
The above map gives you an excellent idea about the region on the trip. Though there may be internal flights and trains, shuttle transports and hence the cycling route may be a bit different than shown, however, it allows you to understand the overall geography of the tour.
Accommodation - Casual Inns
Small luxury and boutique hotels that are true to their heritage and character and reflect local ethos are listed here as Casual Inns. They hold within them an unassuming charm and regional character that is an extension of the destination itself. Most of them fall under the 3-star or 4-star category with a possible mix of homestays.
We have chosen them carefully so that you are well-rested; get a drift of the local character or an enthralling view from your verandah. The above brief itinerary gives you a clickable list of hotels for your perusal.
Detailed Itinerary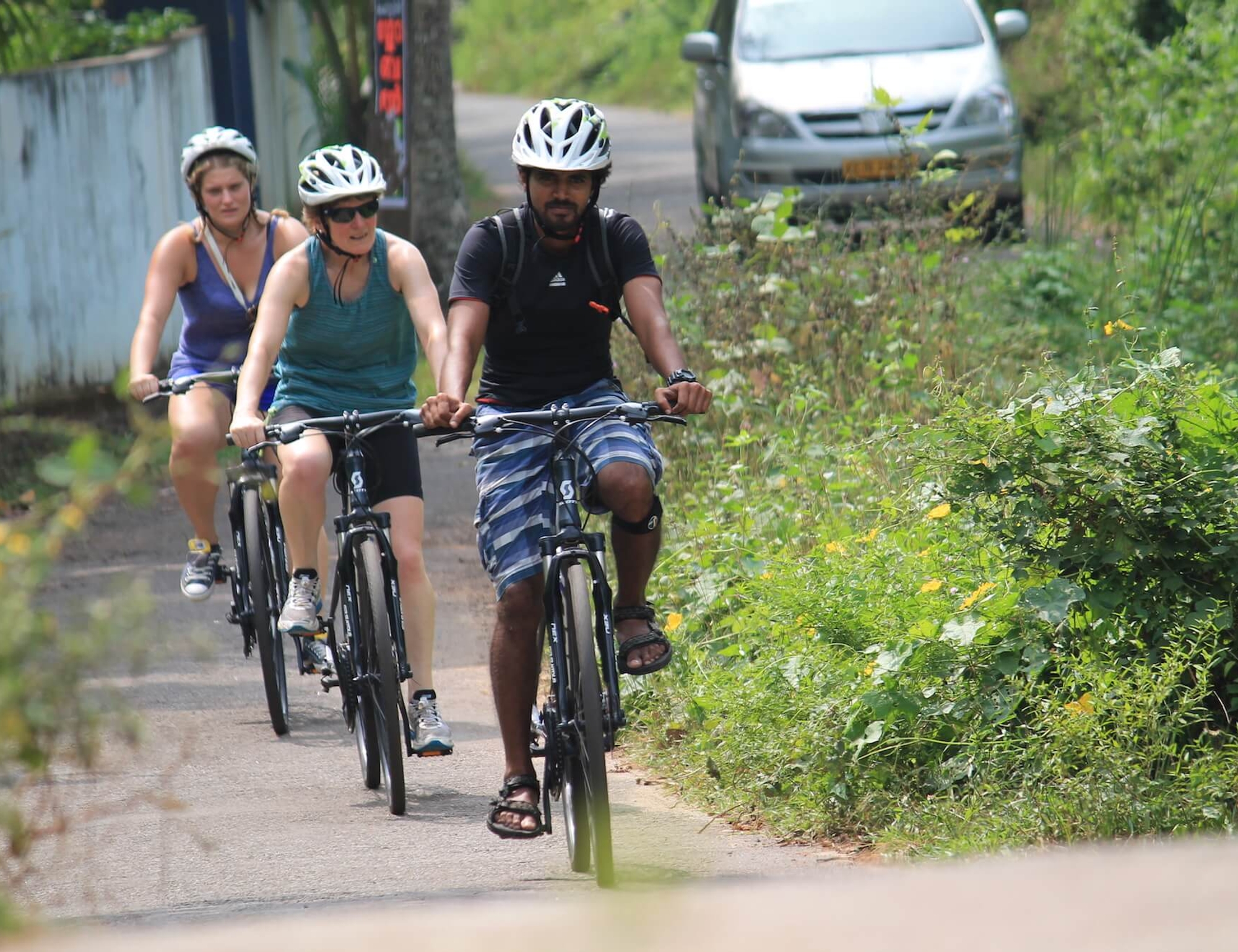 Day 1: Thattekad
You easily hire a taxi from the Kochi airport for Thattekad. Arrive and check into our snug and comfortable Swiss tents. Meet your trip leader post-lunch, at 1:00 pm at your Camp and we will do a short warmup ride to the bridge over the Periyar river.
Hornbill Camp offers Kayaking in the Periyar River, bird watching, and plantation walking around the property. The stay gives you a taste of the wilderness of Kerala along with all the comforts. The camp is situated in the environs of a tropical forest where you have nothing but birdsong for company!
Meals:
D
Cycling Distance:
20km/12mi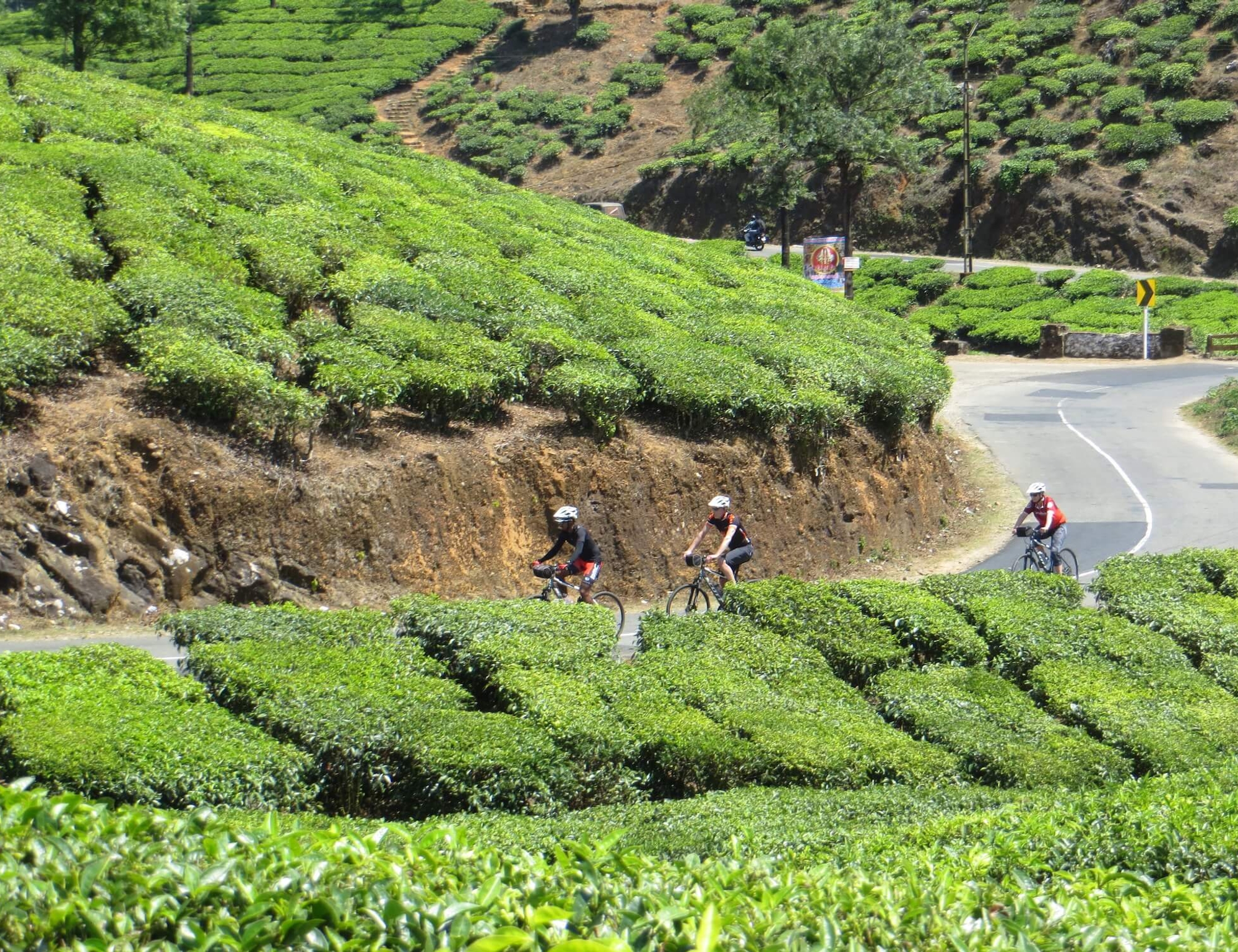 Day 2: Munnar
Today we ride into the countryside and follow the Periyar River. A scenic route, along a river, is perfect to see birdlife and the verdant environs of real Kerala. The gradual rising trail winds its way through rubber and pineapple plantations to the Idukki forest reserve. We continue our gradual climb towards our lunch stop at a local restaurant. After lunch, bike amongst enormous grass plants, and eucalyptus trees, and past alpine tea plantations in the rugged Munnar hills to your hotel.
Meals:
B, L, D
Cycling Distance:
65km/40mi*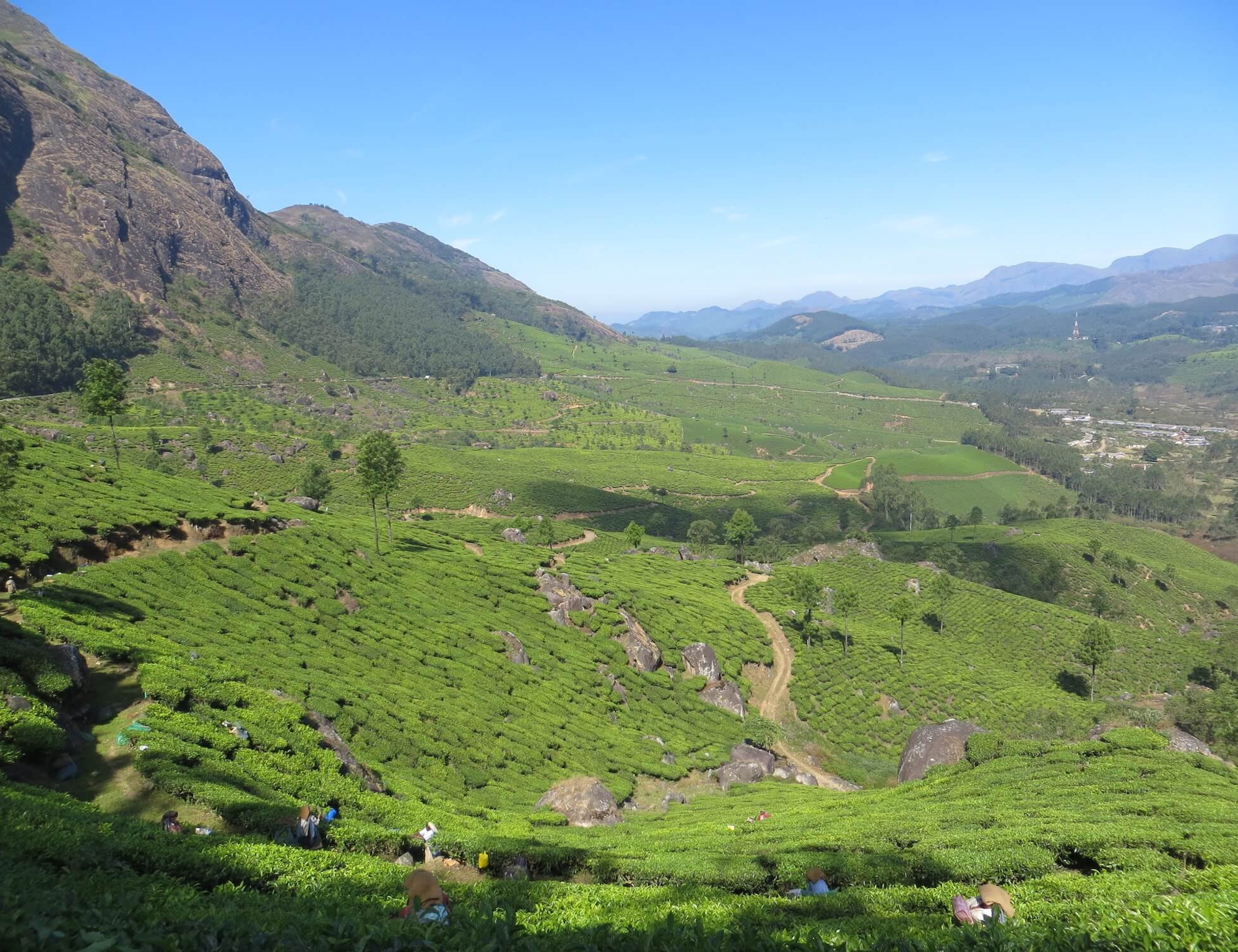 Day 3: Munnar
Munnar is a pleasant contrast to the beach-lined destinations or backwaters of Kerala. A hill station, which has been immortalized by movies, Munnar is great to cycle in. The routes are undulating and sometimes challenging, but you will find an equal amount of downhill slopes to bring relief to steep climbs.
We head out to Top Station, a viewpoint of great touristic eminence. The riding stretch to Top station is one of our favorite cycling routes in Kerala. As we ride all the way up to Top Station, you will be stunned by a brilliant view of the stacked mountains and deep valleys below. After this ride, you would have certainly earned yourself a hot crisp cup of tea.
Roll down the hills and we end the cycling near Mattupetty dam. A short transfer and we reach Munnar town. If you are interested in visiting markets, the Munnar market is good to explore.
Meals:
B, L, D
Cycling Distance:
40km/25mi*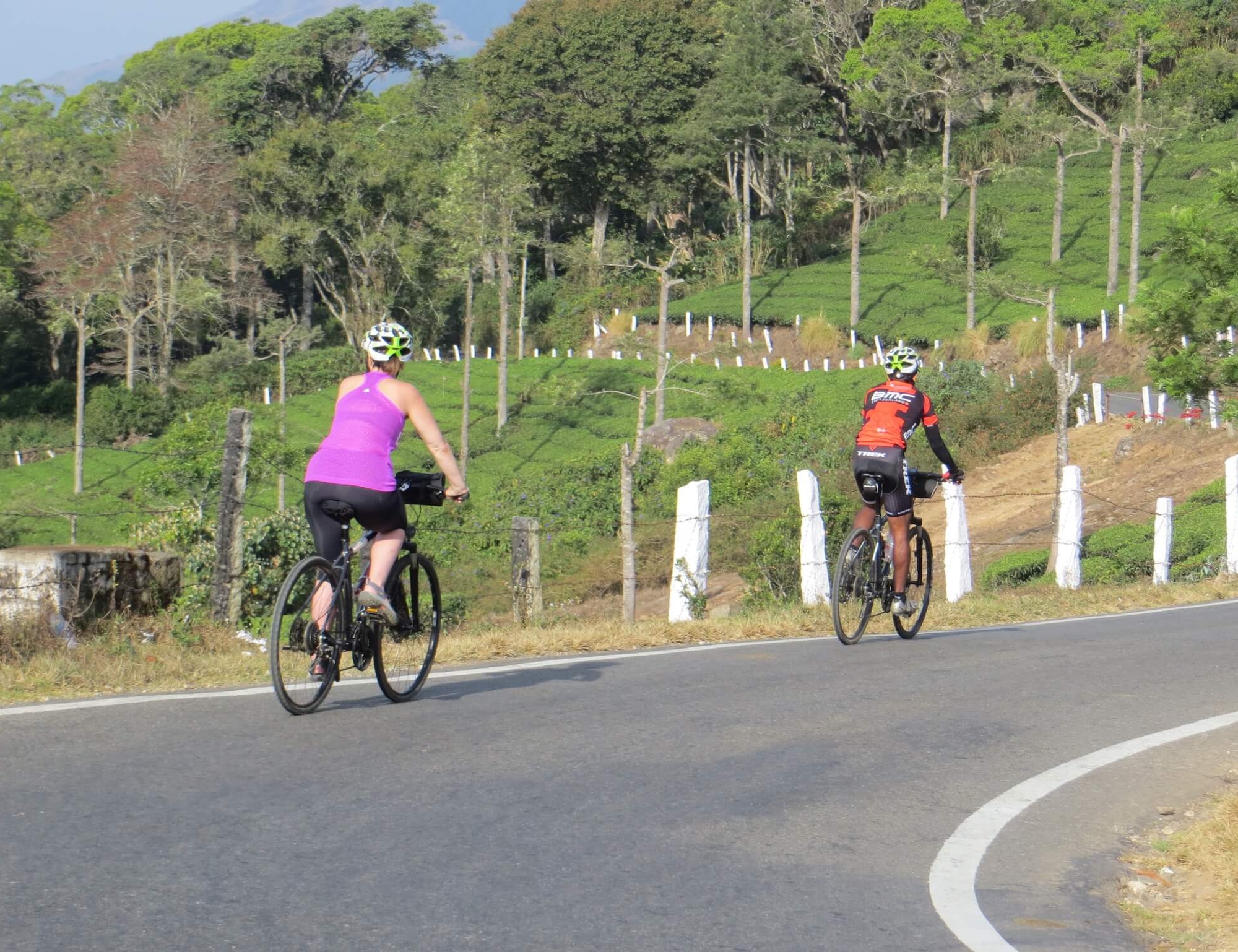 Day 4: Thekkady
We bid adieu to Munnar and head towards the cardamom hills of Kerala, a small town of Kumily. We take in the spectacular views of tea-clad western ghat mountains, near Lockhart Gap. As you are riding, the 360 degrees view of the lush tea plantations will be forever etched in your mind. The smell of cardamom draws you quickly from the tea-lined mountains to the unmanicured mish-mash of cardamom plantations, interjected by pepper vines clinging to Tall trees.
The last stretch is covered in the shuttle.
Meals:
B, L, D
Cycling Distance:
60km / 37mi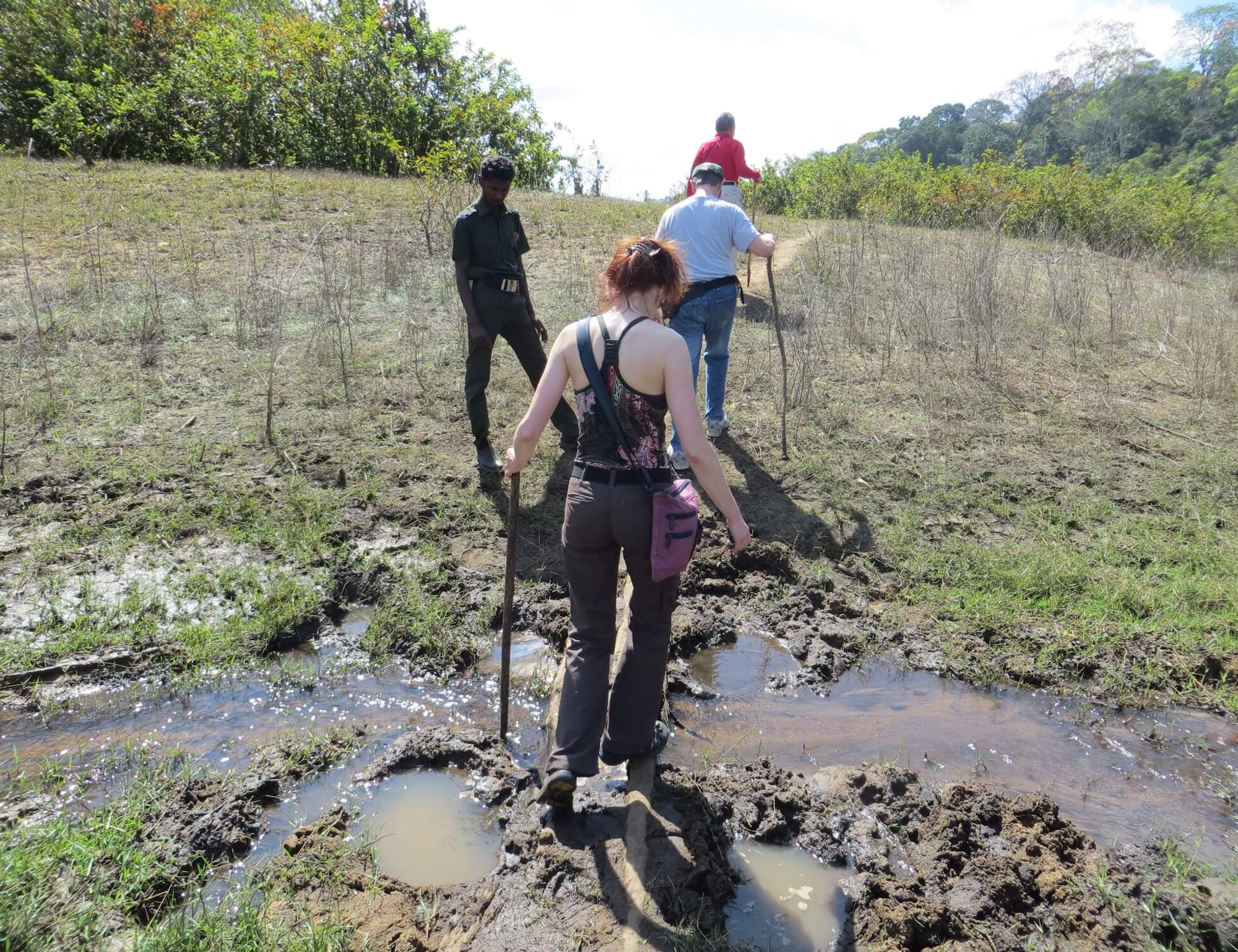 Day 5: Thekkady
This morning we take a nature walk in Periyar National Park in search of mongooses, and elephants and learn about the flora and fauna in Periyar Tiger Reserve. Later, we head to a garden of spices and learn about the spices from a local farmer.
Meals:
B, L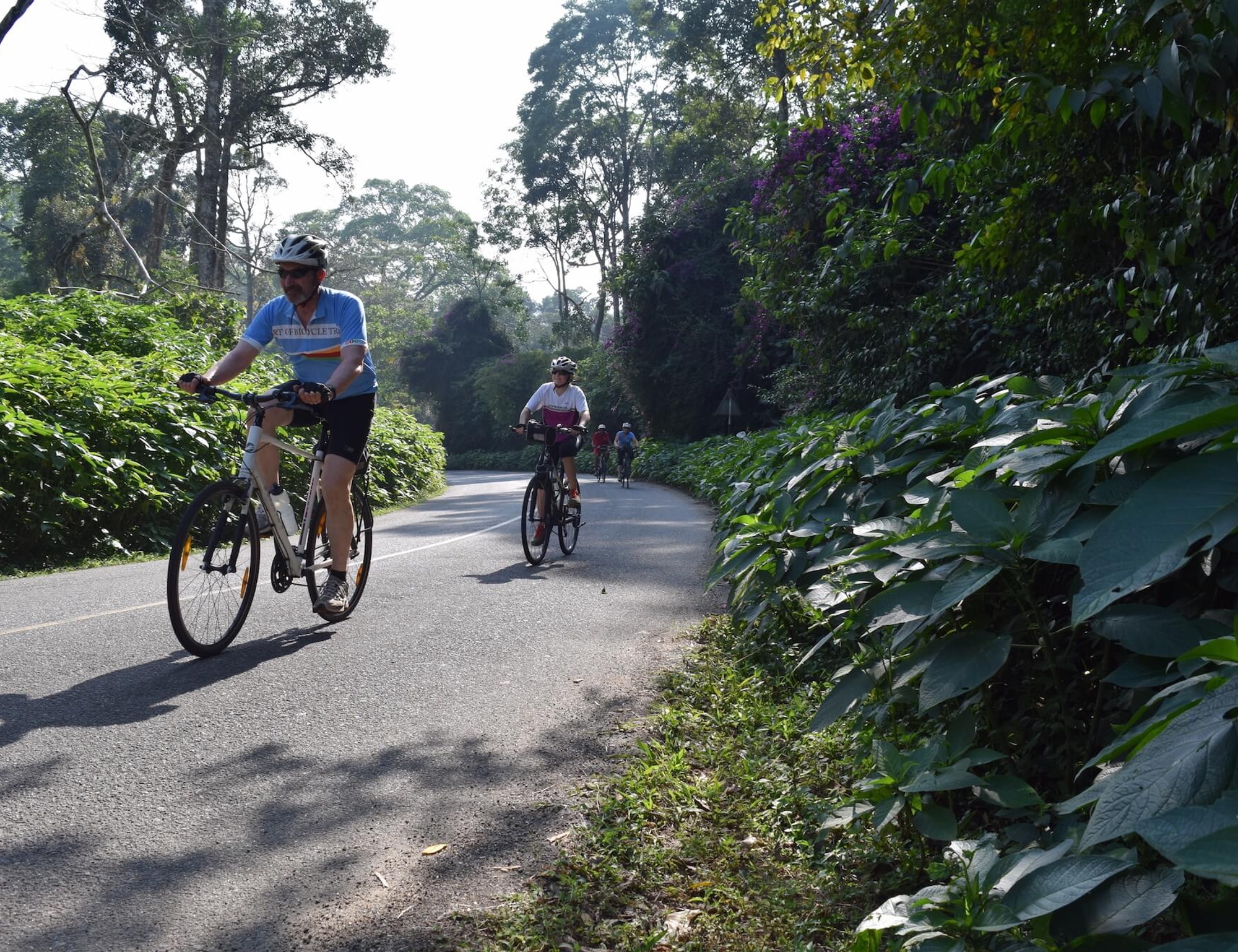 Day 6: Vagamon
This is going to be a beautiful ride – from the Cardamom Hills of Thekkady to the tea gardens of Vagamon, and that too, through the rubber plantations. A hilly ride, with both dips and steep climbs, but the cool weather helps you grapple with this challenging ride better.
Vagamon is an enchanting hill station where you can either relax or indulge in outdoor activities like paragliding, easy hikes, or explore nature trails.
Meals:
B, L, D
Cycling Distance:
50km/30mi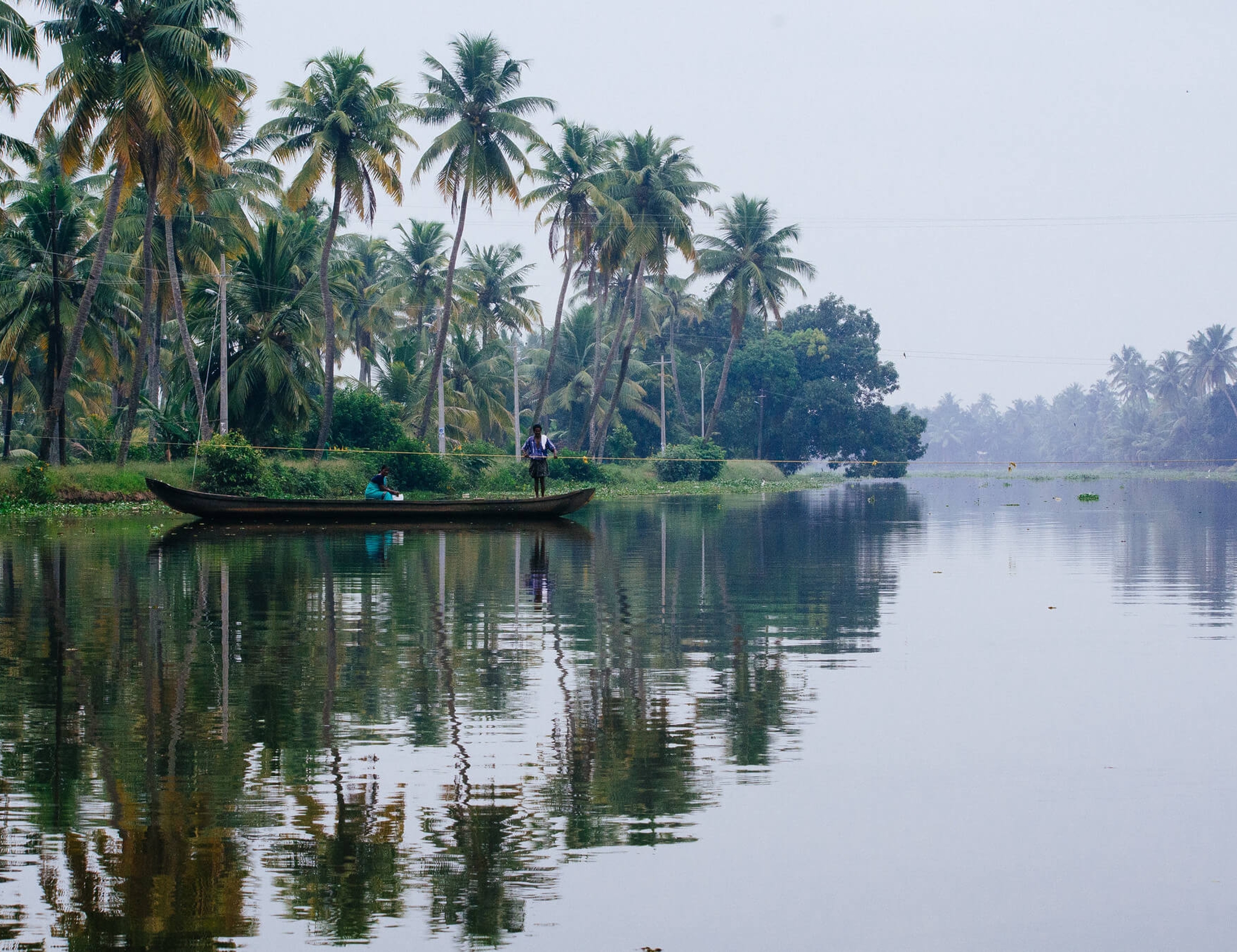 Day 7: Kumarakom
Start the day with an exhilarating downhill for about 15kms and see the landscape changing from tea plantations to rubber and spice plantations. The next stretch remains largely undulating with the last leg being completely flat and along the backwater and paddy fields. A wholesome day of riding with a variety of terrain.
The ride today takes us near to spectacular Vembanad Lake. After reaching here enjoy stunning vistas in all directions.
Meals:
B, L, D
Cycling Distance:
75km / 46mi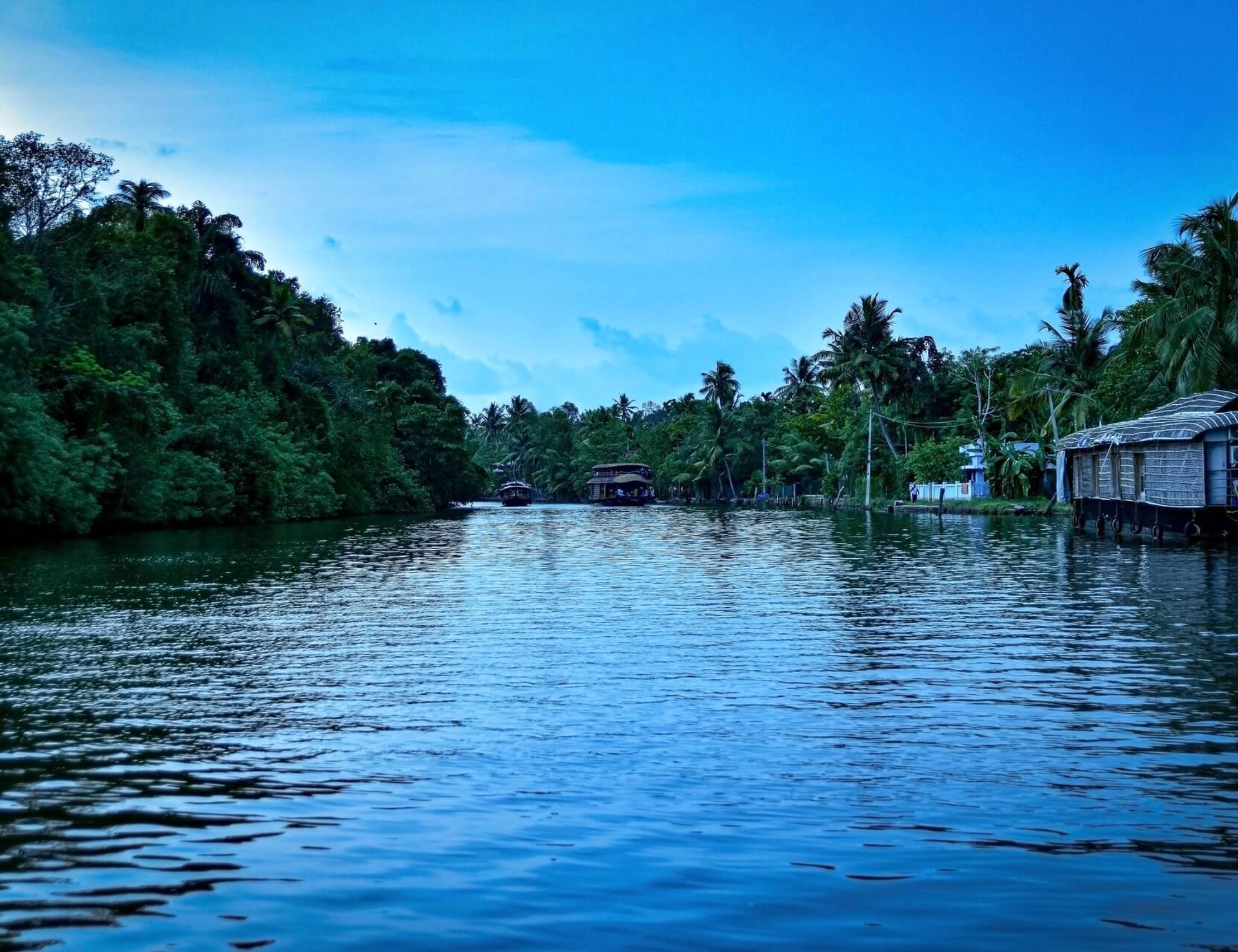 Day 8: Alleppey
Today we will visit the Kumarakom Bird sanctuary which is the most popular bird-watching spot in the country.
Later start riding along spectacular backwaters. Enjoy stunning vistas in all directions. Small canals, country canoes, fishermen throwing nets into the water, a coconut climber climbing up the coconut tree, and women working in the rice fields, all come into the scene one after the other. Our stay today is at a stunning Pamba Heritage Villa. The villa is more than a 110-year-old wooden mansion, situated on the eastern bank of the holy river Pamba, the edge of mesmerizing Vembanad Lake.
Meals:
B, L, D
Cycling Distance:
40km/28mi*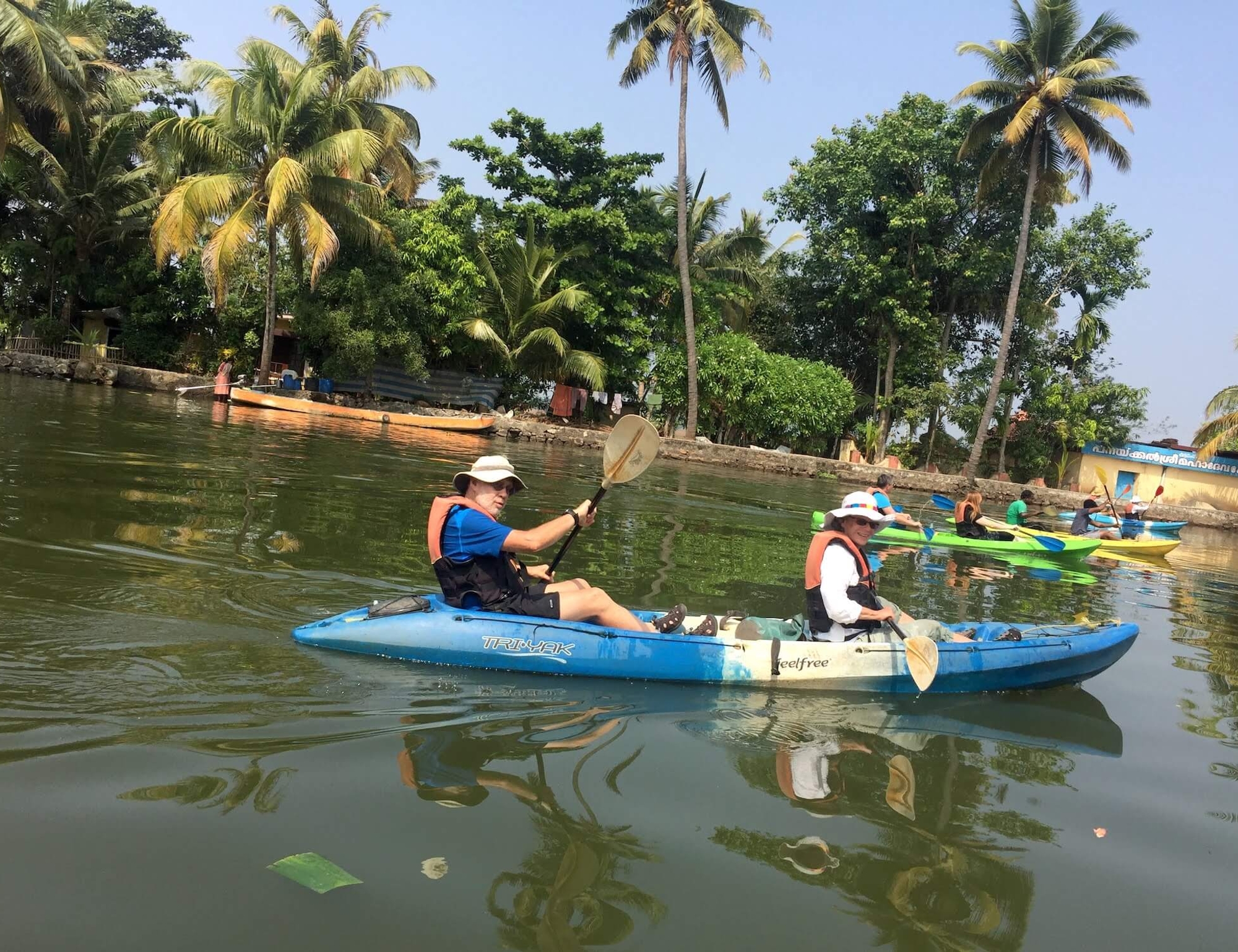 Day 9: Allepey
Today step into a kayak. Soon you will be kayaking the backwaters, through inland canals, with people living very close to the water edges. Enjoy a simple lunch in a local village restaurant. See the village life in action and hear the stories from our local guide.
Post-lunch, if time permits, ride through the narrow trails and experience fabulous birdlife, situated right at the edge of mesmerizing Vembanad Lake.
Meals:
B, L, D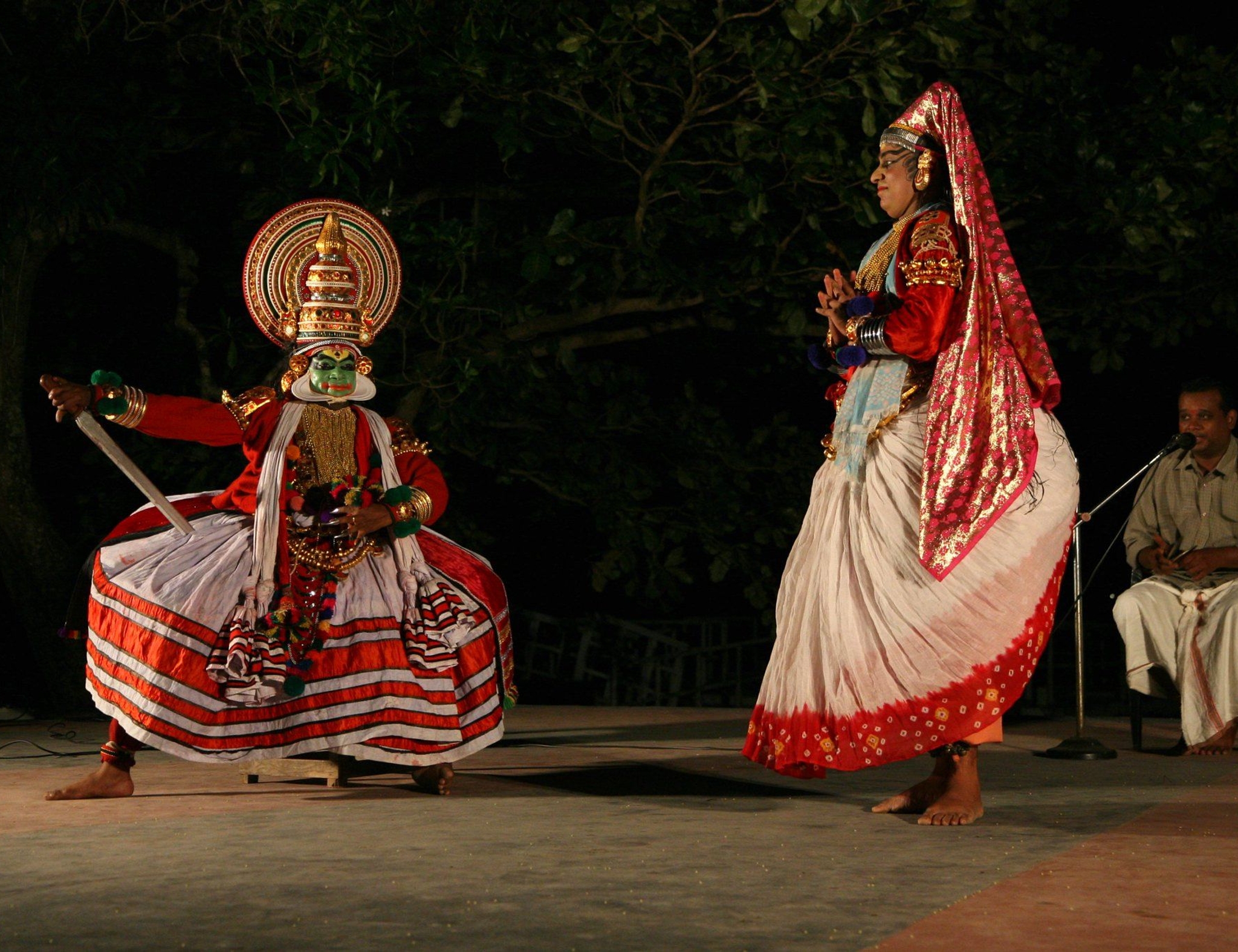 Day 10: Kochi
On the last biking day, we ride along the beach road and the journey will be refreshing and easy. We ride past fishing villages and numerous Christian churches along the coast and reach Fort Kochi.
One of the foremost trading hubs on the western coast of India, Fort Kochi drew colonial interest with its aromatic spices. Along with traders from China, Portugal, Arab, and Holland came a cocktail of religions, cultural practices, and diverse food. Kerala owes its cosmopolitan vibe to the traders who braved the seas to come to this land.
In the evening, we recommend seeing the traditional dance form, Kathakali (you can also see the face painting before the show).
Meals:
B,L
Cycling Distance:
40km / 28mi
Day 11: Departure
Depending on your time in the morning you can explore Fort Kochi and learn more about the history of this old port city.
Please make your arrangements for onward travel.
Meals:
B
Dates and Prices
NOTE:
Our base pricing is in USD. However, we can also quote in AUD, GBP, CAD, and EUR, and you can pay in the same. Please write us.
---
Couldn't find a trip with convenient dates?
Open your date as a join-in tour or customize further as private one.
We offer private departures on almost all our itineraries, and for groups of four or more, they cost the same as our standard trips!
---
Essential Info
Inclusions
LODGING
All hotels as mentioned in the tour details or similar (subject to availability).
trip leader
Expert Trip Leader(s) who look after your every need and add meaning to your vacation.
bike
Immaculately maintained bike with helmet, suited to a terrain.
shuttle
A Van support that follows the group of riders and carries all belongings.
meals
Meals as per itinerary. Guests are given the opportunity to dine on their own so that they discover a location independently.
refreshments
Refreshments and mineral water while cycling.
entrance
Entrance fees to most of the monuments and temples.
E-bikes
E-bikes are available on this trip at a surcharge. Please send a note to your tour consultant to book one.
Bikes
When you have a road and the thrill of a journey ahead of you, it's imperative to have a good bike to enjoy it. Our fleet majorly consists of the below bike as a part of this tour. However, sometimes due to height or availability constraints, we may provide a different but similar quality bike.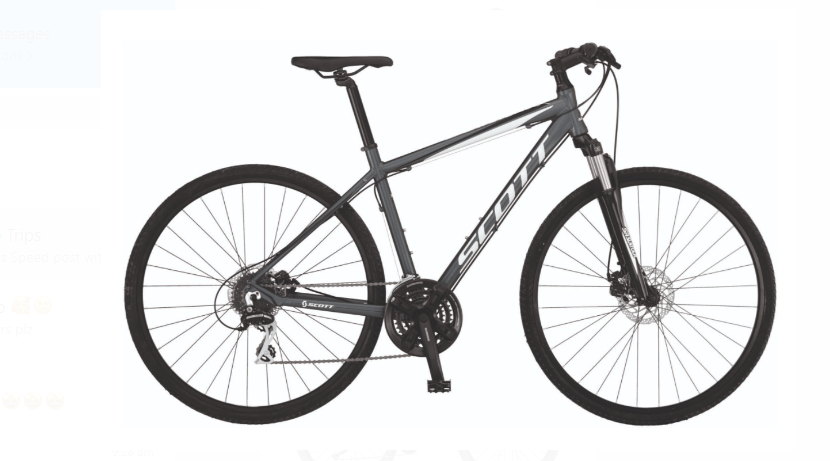 hybrid
Included in your trip price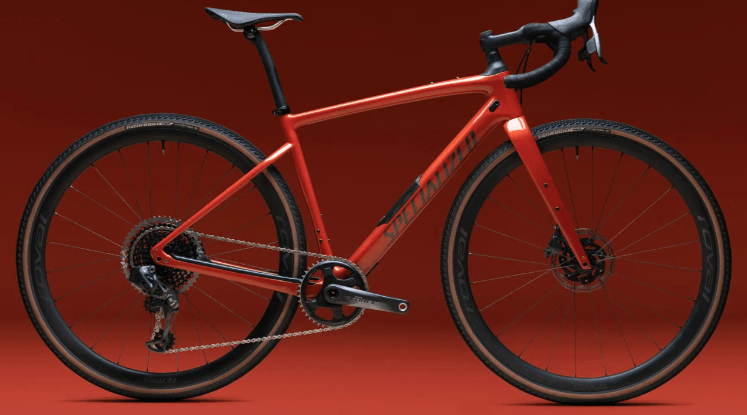 Exclusions
Airport pickup and drop
We recommend to book direclty from airport or hotel.
meals
Some meals may not be included. Please check your itinerary.
Beverages
Beverages such as alcohol, tea, coffee, juice at a hotel or restaurant.
Reviews from our friends
Philip Hemsted from UK
5.0
Wonderful two week experience
Wonderful two week experience of Kerala backwaters and mountains. Biking 40-60km day, couple of days hiking and a day kayaking, with plenty of time to relax and explore. Great for wildlife. Highlights include watching sunrise from Western Ghats, nature walk in Periyar wildlife sanctuary, kayaking through backwaters. Additional visits to spice gardens, tea factory, boat builder and toddy restaurant made it feel more than a holiday and more of an education. Knowledgable guides and good minibus support made the daily routing comfortable. Cycling in Indian traffic does take some getting used to, especially frequent use of horns and buses running to a timetable. Our guide Dibin was very safety conscious and had no problems in traffic.
Linda & Robert from CA
5.0
Thank you for such a well planned, superbly led trip
Thank you for such a well planned, superbly led trip. We learned so much more about Kerala and it's unique characteristics and beauty than we thought we would. This was our first trip to India and our first "organized tour group". Both exceeded our expectations. We will surely return. Dibin – personable, knowledgeable, flexible. Sajib- good natured, patient. Dibin's style, competence and communication skills were invaluable assets for the success and enjoyment of this trip. Bikes were solid — easy to handle and needed for some of the bumpy roads.
Michael Szilagyi from UK
5.0
Highly recommend this bike ride
Highly recommend this bike ride – I had a great time every day of the tour! The 'Taste of Kerala' bike trip is one of the best vacations I have ever taken, if not the best of them all! It was my first multi-day bike tour (11 days total), and Art of Bicycle Trips made the entire trip a truly unique and wonderful experience! Kerala is referred to as 'God's Own Country', and after all the sights you will discover on this tour, the description is true to word. The biking itself was fantastic, but all other non-biking aspects of the tour were just as delightful. From start to finish, including initial correspondence prior to arrival, Dibin responded promptly to my inquiries, answered all my questions, and half way through the trip was very helpful in extending my stay in Cochin to include a beach side stay with some kayaking along the backwaters. And best of all, he is an AWESOME bike tour guide!! I cannot say enough about how great and truly amazing it was to be a rider on his bike tour. Dibin's English is excellent and being from Kerala, he has an impressive knowledge of the history and culture of the area. And the van driver Shajee, was also very supportive and equally great in his job bringing up the rear via the support van. I felt very safe, was well looked after by both guide and driver, and in good hands through the entire journey. The ride itinerary as posted on Art of Bicycle Trips webpage is exactly how the ride went, and all accommodations, etc. were as indicated on the itinerary. I appreciate the fact that Art of Bicycle Trips was also able to outfit me with an XL bike frame, which made the ride much more comfortable for someone of my height. Dibin is also a good teacher - though I do exercise extensively, I do not bike ride regularly, and Dibin taught me a lot about biking technique and methods all along the rides. The bike rides were a perfect mix of city, country, mountain, and coastal riding through the many beautiful parts of Kerala. I especially enjoyed the rides through the tea plantations and the ride up and over the border with Tamil Nadu to Top Station – where it becomes nicely cooler at 2,000 meters as well! They drive on the left side of the road in India, and traffic can be a bit intimidating at first if you are not accustomed to it, but I always maintained the line behind Dibin, who was very good at pointing out potholes, bumps, heavy traffic, etc., along the way, and after a day or so I felt like I fit right in with the all traffic flow around me – rickshaws, cars, scooters, motorbikes, etc., and even cows - all of which are a unique part of the Indian experience. Road traffic in Kerala is minimal compared to Delhi or other large cities I visited in India. The traffic diminished significantly after leaving Cochin early on in the tour. I did not fall down, run off the road, or crash into a cow or anything else – not once! As I requested, Dibin kept the pace just challenging enough to keep me at my best riding form. I loved every kilometer of this 500km bike tour, even the uphill rides, and anxiously looked forward to each new day of riding and the adventures it would bring. I did this trip in August, which can be rainy season, but my trip was only interrupted by heavy rain once, and for less than two hours one afternoon. I was lucky in that sense as it could have rained much more. We rode in some misty rains for short periods, but with rain jacket, it was all good, and just as fun – most of the trip had plenty of sunshine. The accommodations were unique, charming, and always pleasant. It was so nice to stay in such comfortable places after a good day of biking! The overnight stay on the house boat and cruise through the backwaters was one of the many ways Art of Bicycle Trips made the trip special. All the meals were delicious, as I found the many foods of Kerala to be highly agreeable with me. The non-biking activities provided alternate and enjoyable breaks after riding - tea museum tour, spice garden visit, etc., but I especially liked the hike through the nature preserve via a park guide -- it was a good way to get some different outdoor activity on a non-biking day. And everyone in Kerala is super friendly too, which further enhanced my love of the place and its people. I took my own gel bike seat cover, which helped minimize any saddle soreness for me. I wore dri-fit athletic clothes which worked perfectly. And laundry service was often available at most of the stays, and for an inexpensive price too. WI-FI too was available in every stay except the house boat. Knowing what I know now, I would have used pedals with toe cages, to help maintain a better cadence and let my top of leg muscles assist the uphill efforts versus solely pushing down on the pedals, but even without the toe cages, I did just fine. Beyond that, all equipment on the bike was perfect and functioned great. Helmet and water bottle were also provided along with a small carry case on the handle bars, and snacks along the way (loved the soft peanut brittle snack). I opted to carry a very small and lightweight waterproof day pack type backpack on the rides, in which I kept my wallet, rain jacket, insect repellent, small camera, etc. – but not much more as I wanted to stay light. Other belongings can be kept in the van, and no day pack of any kind is needed as you bike, as the support van is never more than 10-15 minutes away – so just personal preference in this respect. Thank you so much Art of Bicycle Trips, and Dibin, for all you did to make this an amazing tour!! I will have many lasting memories of my Kerala biking adventure as a result of your tour and the fine work you all do! I look forward to doing another bike tour with Art of Bicycle Trips again on a future trip to Asia. If you are relatively bike fit, no need to be a hard core rider, just fit enough to ride a bike at least 25-30km a day and open to the challenge of some longer rides, with some uphill trials here and there for 2-3 days of the trip, then I highly recommend this Kerala bike tour!!! And the uphill climbs are nicely rewarded with downhill coasts all along the way. And as always, the support van is always there, to pick you up if you want to cut a ride short or take a break and ride in the van for a bit on longer bike rides. Apologies for the lengthy review, but also an indication of how much I enjoyed and recommend this tour! :))))