Rambling Mekong Delta Bike Tour
---
Overview
Enjoy the best of Mekong on this spectacular winding loop through the rural landscape of the Mekong Delta. Life here is brimming with the fulness of fish farming, coconut plantations, lush paddy fields, and the tranquility of rural delta life.
The terrain is absolutely flat and we get to share interior narrow trails with local people either riding typical french bikes or 2-wheelers, criss-cross the rivers in local ferries, and ride over a multitude of bridges. The amazing stops along the way such as the coconut candy factory, and anecdotes shared by our local guide only complement the ride further. The region here is the epitome of slow life and the only way to experience this is on your bike!
Start
Saigon (HCM) | 08:00hrs
Finish
Saigon (HCM) | 17:00hrs
Avg. dist. cycled
50km or 30mi
Highlights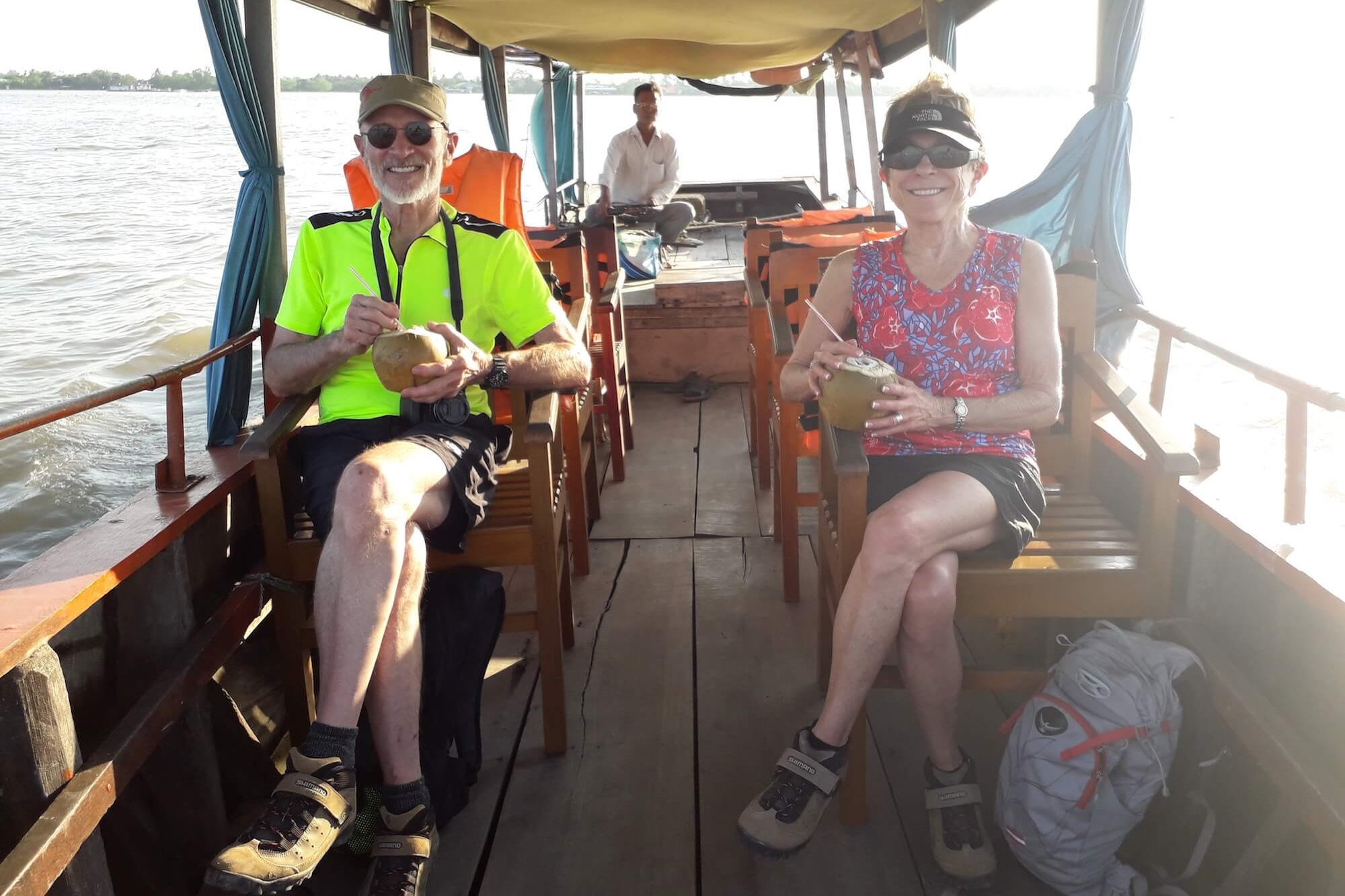 Mekong Delta
Ride through the interior trails of Mekong Delta and live the life around it.
Itinerary
Brief Itinerary
| Day | Place | Hotel | Meals | Distance | Activity |
| --- | --- | --- | --- | --- | --- |
| DAY 1 | Ho Chi Minh to Tra Vinh | Coco Riverside Lodge | L,D | 50km / 30mi | cycling |
| DAY 2 | Can Tho | TTC Premium | B,L,D | 50km / 30mi | cycling |
| DAY 3 | Cai Be | Ba Linh Homestay | B,L,D | 50km / 30mi | cycling |
| DAY 4 | Ho Chi Minh | | B,L | 40km / 24mi | cycling |
Accommodation - Casual Inns
Small luxury and boutique hotels that are true to their heritage and character and reflect local ethos are listed here as Casual Inns. They hold within them an unassuming charm and regional character that is an extension of the destination itself. Most of them fall under the 3-star or 4-star category with a possible mix of homestays.
We have chosen them carefully so that you are well-rested; get a drift of the local character or an enthralling view from your verandah. The above brief itinerary gives you a clickable list of hotels for your perusal.
Detailed Itinerary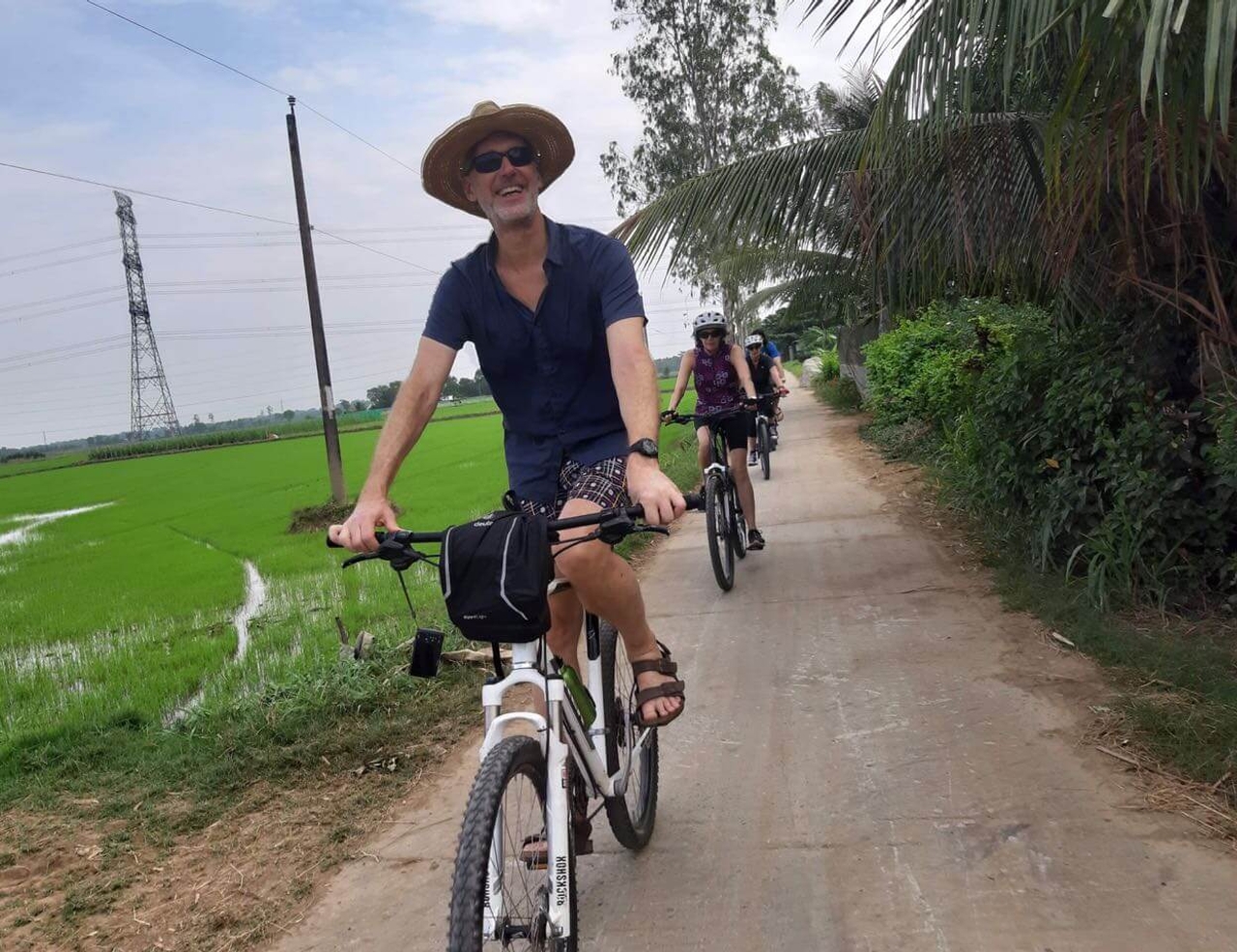 Day 1: Ho Chi Minh to Tra Vinh
Our guide meets you at your hotel at 8 am.
A short shuttle transfer brings us to My Tho – the gateway of the Mekong delta. Ride along a small creek to the Mekong estuary past gorgeous paddy fields and lush orchards. Along the way, we may also see how local people use water-coconut leaves to make thatch roofs. We break for lunch en route at a local restaurant.
Meals:
L,D
Cycling Distance:
50km / 30mi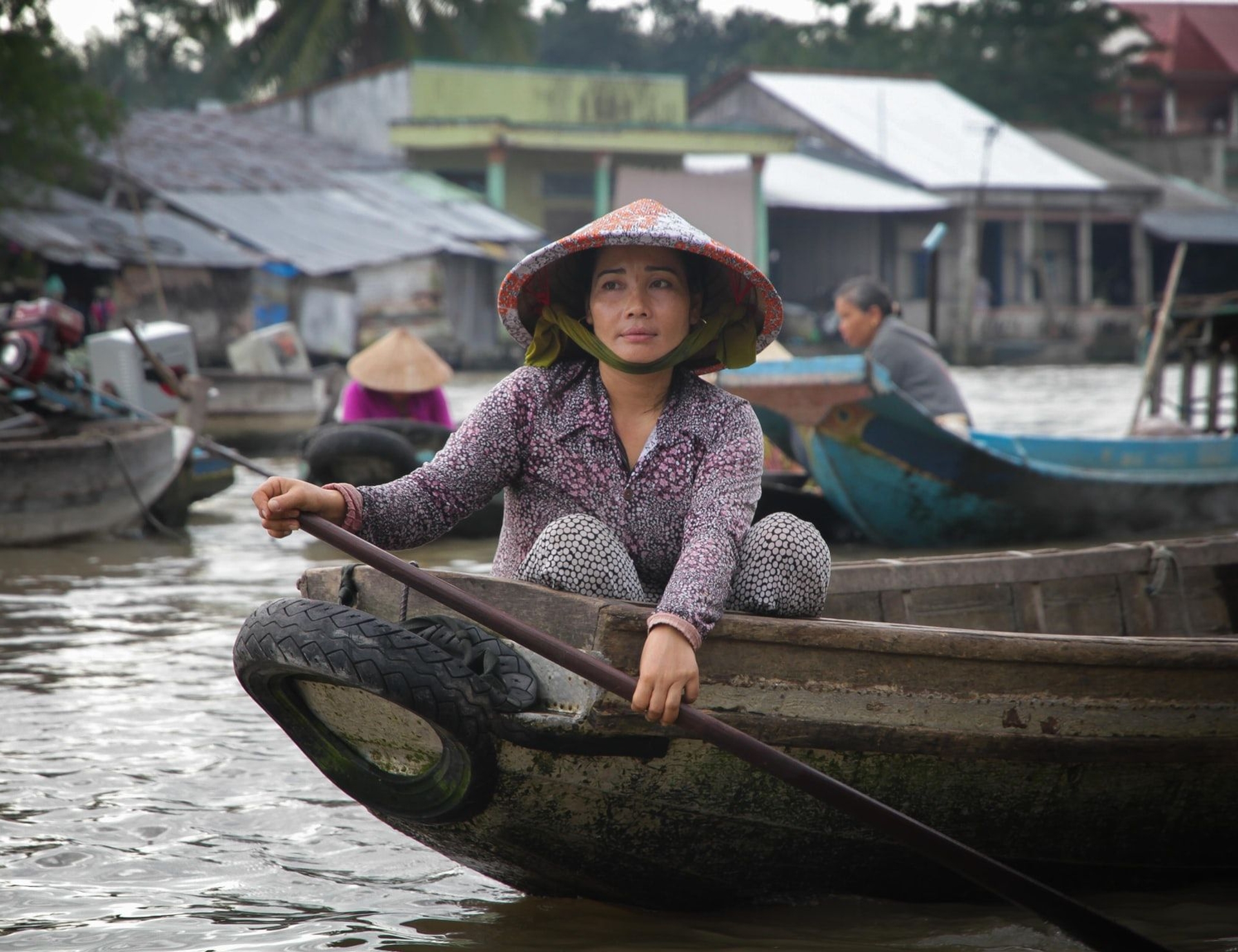 Day 2: Can Tho
We go deeper into the delta. We ride past numerous rice fields, rivers, canals, and over a multitude of bridges that may offer views of floating villages. Apart from rice fields, the region is dotted with plantations of banana, coconut, and citrus trees. It's a long ride today through the interior trails of Mekong Delta to Can Tho. Set on the southern bank of the Hau River, Can Tho is known for its network of canals and nearby floating markets.
Meals:
B,L,D
Cycling Distance:
50km / 30mi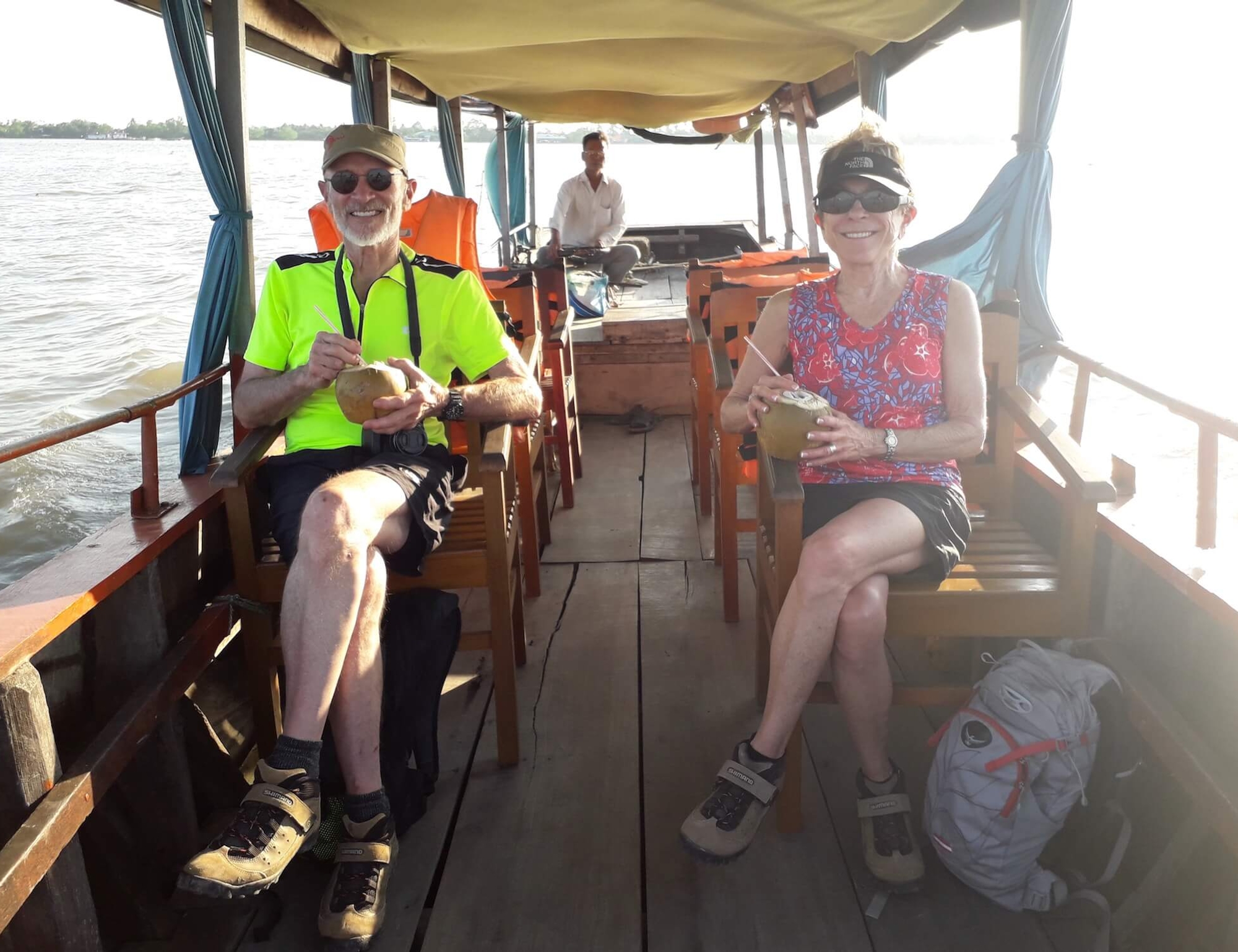 Day 3: Cai Be
Experience early morning Cai Rang floating market on a boat ride. Life here is brimming with the hustle-bustle of local vendors selling agricultural produce, household and working tools, and various other products, including Vietnamese food.
Later ride into the heartland of the Mekong Delta, past the pristine hamlets nestled in the orchards and coconut plantations. Along the way, see farmers working in nursery fruit tree gardens.
Meals:
B,L,D
Cycling Distance:
50km / 30mi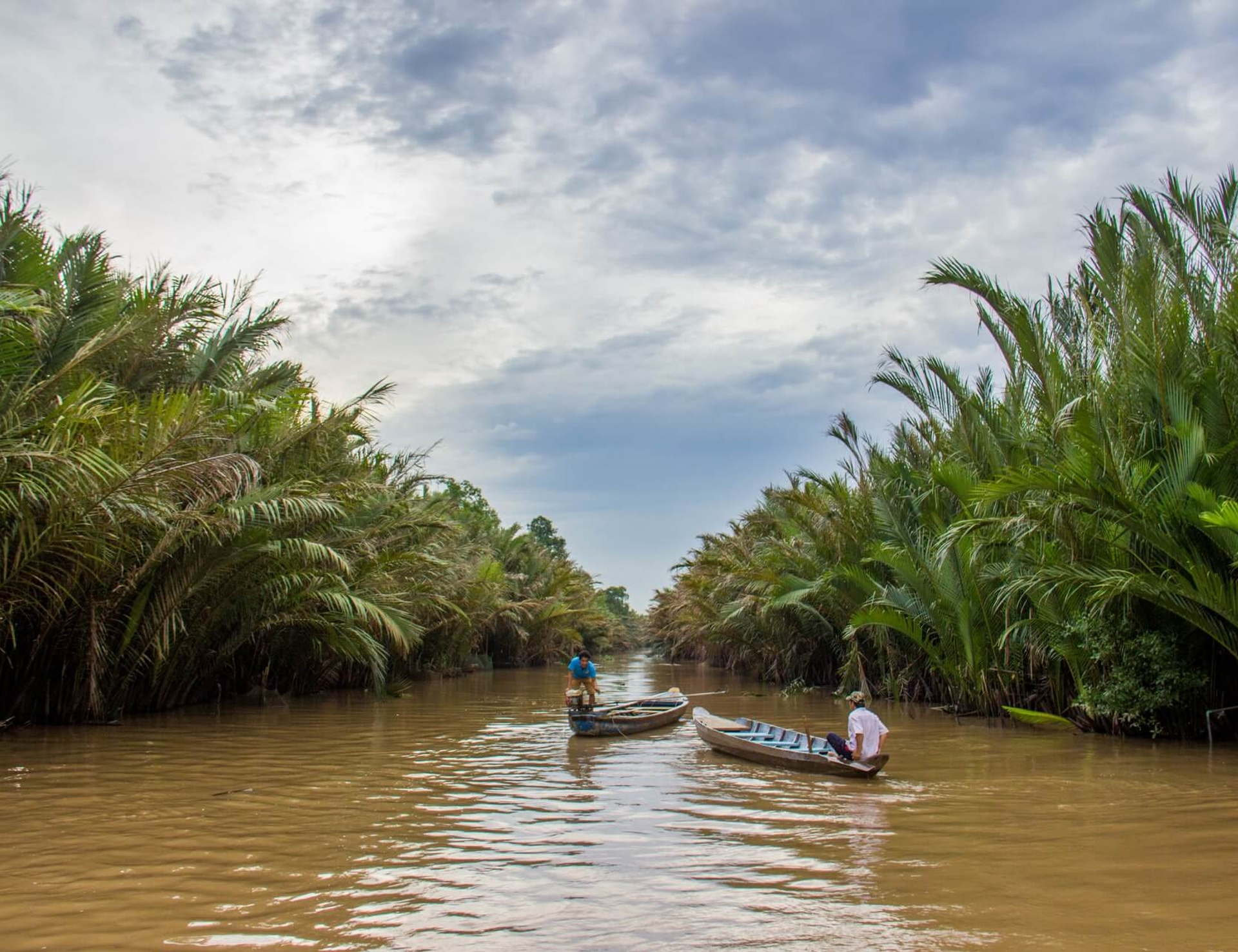 Day 4: Ho Chi Minh
Take an early morning boat trip to the bustling floating market, and visit handicraft villages and the Cai Be market on land. After the boat trip, cycle to Cai Lay and along the way discover the gardens of Longan (Dragon eyes). We continue cycling to My Tho and visit the ornamental Khmer pagoda of Vinh Trang. Later shuttle to your hotel in Saigon or the airport.
We plan to reach HCM before 17:00hrs.
Meals:
B,L
Cycling Distance:
40km / 24mi
Map
Dates and Prices
NOTE:
Our base pricing is in USD. However, we can also quote in AUD, GBP, CAD, and EUR, and you can pay in the same. Please write us.
---
Couldn't find a trip with convenient dates?
Open your date as a join-in tour or customize further as private one.
We offer private departures on almost all our itineraries, and for groups of four or more, they cost the same as our standard trips!
---
Essential Info
Inclusions
LODGING
All hotels as mentioned in the tour details or similar (subject to availability).
trip leader
Expert Trip Leader(s) who look after your every need and add meaning to your vacation.
bike
Immaculately maintained bike with helmet, suited to a terrain.
shuttle
A Van support that follows the group of riders and carries all belongings.
meals
Meals as per itinerary. Guests are given the opportunity to dine on their own so that they discover a location independently.
refreshments
Refreshments and mineral water while cycling.
entrance
Entrance fees to most of the monuments and temples.
E-bikes
E-bikes are available on this trip at a surcharge. Please send a note to your tour consultant to book one.
Bikes
When you have a road and the thrill of a journey ahead of you, it's imperative to have a good bike to enjoy it. Our fleet majorly consist of the below bikes as a part of this tour. However, sometimes due to height or availability constraints, we may provide a different but similar quality bike.
mountain
Included in your trip price
Exclusions
Airport pickup and drop
We recommend to book direclty from airport or hotel.
meals
Some meals may not be included. Please check your itinerary.
Beverages
Beverages such as alcohol, tea, coffee, juice at a hotel or restaurant.
Reviews from our friends
Brian Sherrell from AU
5.0
A well organised, enjoyable cycling experience
A well organised, enjoyable cycling experience. Local guide knew all the best sights and experiences. A very good variety of accommodation. So highly recommended by me.
We loved our bike tour
Brilliant way of seeing the real countryside. Our guide was absolutely fantastic and the scenery was stunning. We loved our bike tour and would recommend it to anyone wanting to see the rural villages and real countryside. A good alternative to the big tourist cities
Becky Breshears from US
5.0
It was a very memorable tour
We toured the back roads in the Mekong Delta. We loves the friendly people, the beautiful shaded paths, the village way of life that could only be seen from the ground level. It was a very memorable tour that endeared Vietnam to us in our hearts forever.