Glimpse of Kerala Bike Tour
---
Overview
Ride through the God's Own Route and leisurely float across the backwaters of Kerala on this timeless Kerala safari. With its evergreen mountains, dense forests, swift-flowing rivers, abundant wildlife, extensive backwaters, and blue lagoons, Kerala looks like a fairyland.
This safari offers a rich mix of diverse terrains from tall mountains and deep valleys to endless backwaters and wide sandy beaches. You will be cycling through roads flanked by thick forests, breezy seashores, tea & coffee carpeted hills, and by a long canal. Apart from the diverse topography, this cycling trip will be a great opportunity to immerse yourself in Keralan life.
Avg. dist. cycled
50km or 30mi
Highlights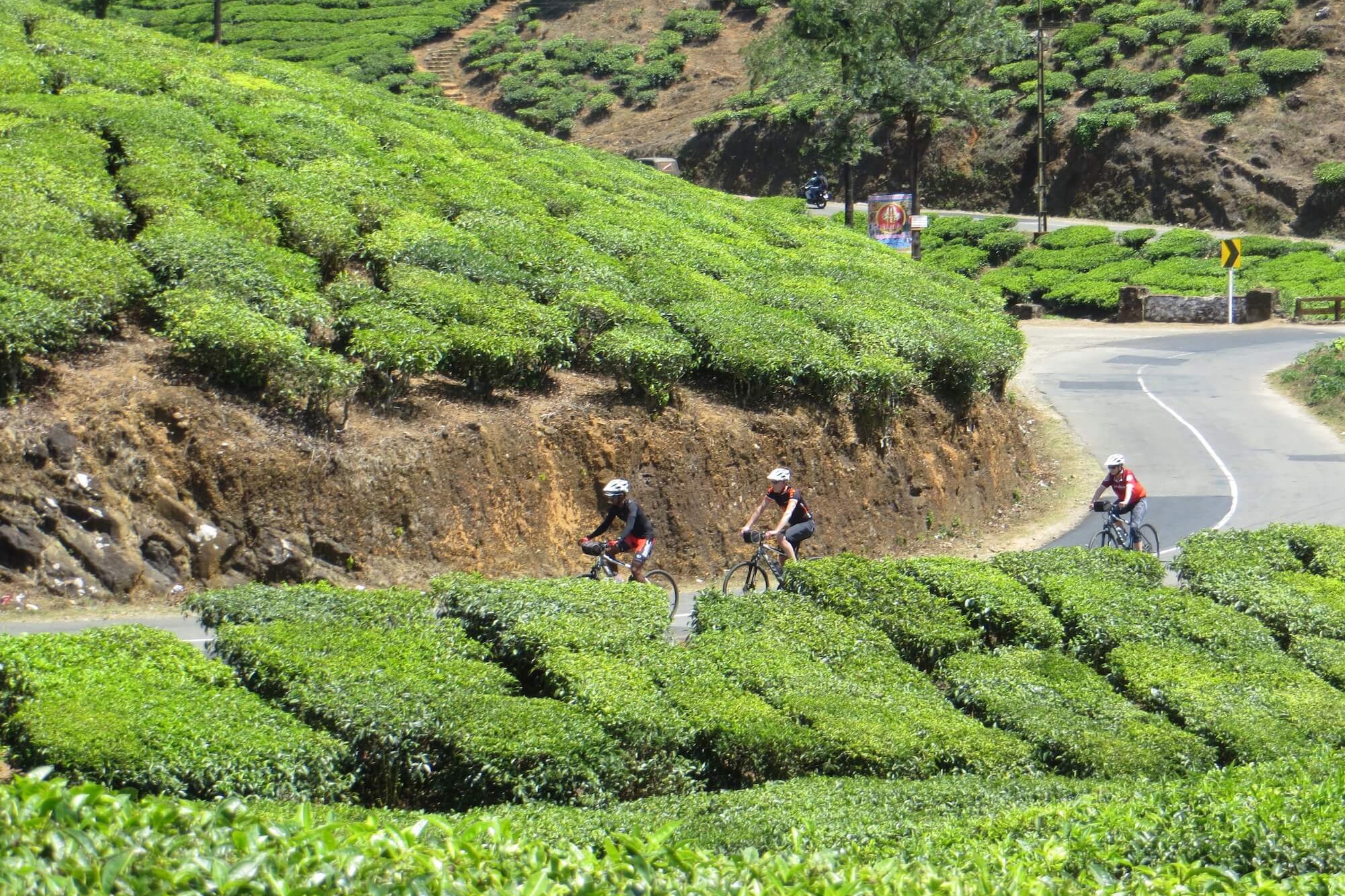 scenic backroads
Ride through the God's own scenic backroads
Itinerary
Day 1: Cochin
Meet your trip leader post-lunch, 02:00 pm at your hotel of stay in Fort Kochi and head out to see Fort Kochi by foot.
One of the foremost trading hubs on the western coast of India, Fort Kochi drew colonial interest with its aromatic spices. Along with traders from China, Portugal, Arab and Holland, came a cocktail of religions, cultural practices, and diverse food. Kerala owes its cosmopolitan vibe to the traders who braved the seas to come to this land.
Later, in the evening, go to see the traditional dance form, Kathakali (you can also see the face painting before the show). After the show, we will have dinner at a seaside restaurant known for seafood and Indian delicacies.
There is a lot to pack in this day but be well rested for the night as we start early on the next day.
DAY 2
Munnar
Aranyaka
B,l,d
50km / 30mi*
cycling
Day 2: Munnar
We start with a 2 hours shuttle bus to get out of traffic-jammed roads till we reach the scenic stretch. The first 15kms we ride through rubber plantations. The road is smooth with occasional climbs to get you warmed up for the rest of the day. You also get to see a lot of pineapple farms and cocoa plantations along the route. The ride is a scenic one with short stretches of canal and varying terrain. We ride for another 20km before we stop for a lunch break. The next part of the ride has gradual climbs as we head towards Munnar. We ride through wild plantations and get glimpses of the Periyar river along the way. All you can see here is a ridiculous amount of green – refreshing after a day of cycling.
We head straight to your hotel in Munnar. Enjoy a goodnight's rest here so you are ready to explore Munnar the next day.
DAY 3
Munnar
Aranyaka
B, L, D
40km/25mi*
cycling
Day 3: Munnar
Munnar is a pleasant contrast to the beach-lined destinations or backwaters of Kerala. A hill station, which has been immortalized by movies, Munnar is great to cycle in. The routes are undulating and sometimes challenging, but you will find an equal amount of downhill slopes to bring relief to steep climbs.
We head out to Top Station, a viewpoint of great touristic eminence. The riding stretch to Top station is one of our favourite cycling routes in Kerala. As we ride all the way up to Top Station, you will be stunned by a brilliant view of the stacked mountains and deep valleys below. After this ride, you would have certainly earned yourself a hot crisp cup of tea.
Roll down the hills and we end the cycling near Mattupetty dam. A short transfer and we reach Munnar town. If you are interested in visiting markets, the Munnar market is good to explore.
Day 4: Thekkady
We bid adieu to Munnar and head towards the cardamom hills of Kerala, a small town of Kumily. We take in the spectacular views of tea-clad western ghat mountains, near Lockhart Gap. As you are riding, the 360 degrees view of the lush tea plantations will be forever etched in your mind. The smell of cardamom draws you quickly from the tea-lined mountains to the unmanicured mish-mash of cardamom plantations, interjected by pepper vines clinging to Tall trees.
After cycling, the last stretch is covered in the shuttle.
Day 5: Alleppey
It's a long day towards Alleppey and we need to start early. A 06:30am start would be ideal to escape the heat and cycle in cooler hours of the day. This is going to be a beautiful ride – from the Cardamom Hills to the backwater plains. A hilly ride, with both dips and steep climbs, but the cool weather helps you grapple with this challenging ride better.
We stop cycling by 10:30am and take a van transfer to Alleppey. The transfer normally takes 3 hours to reach Alleppey.
Meals: Breakfast, Lunch, Dinner
Day 6: Alleppey
Ride through the narrow trails and experience a fabulous birdlife, situated right at the edge of mesmerizing Vembanad Lake.
DAY 7
Kochi
50km / 31miles*
B
cycling
Day 7: Kochi
On the last biking day, we ride along the beach road to Fort Kochi. We will reach Fort Kochi by afternoon and the tour ends.
Dates and Prices
---
Couldn't find a trip with convenient dates?
Open your date as a join-in tour or customize further as private one
---
Essential Info
Inclusions
LODGING
All hotels as mentioned in the tour details (subject to availability). All options are personally reviewed.
shuttle
A Van support that follows the group of riders and carries all belongings.
refreshments
Refreshments and mineral water while cycling.
trip leader
Expert Trip Leader(s) who look after your every need and add meaning to your vacation.
meals
Meals as per itinerary. Guests are given the opportunity to dine on their own so that they discover a location independently.
entrance
Entrance fees to most of the monuments and temples.
bike
Immaculately maintianed bike with helmet, suited to a terrain.
Exclusions
Airport pickup and drop
We recommend to book direclty from airport or hotel.
meals
Some meals may not be included. Please check your itinerary.
Beverages
Beverages such as alcohol, tea, coffee, juice at a hotel or restaurant.